Lake Garda is the biggest lake in Italy in the northern part of the country. Glaciers formed the lake at the end of the last ice age in an alpine region. Today, it is breathtaking from every angle, and the towns surrounding the lake all bring something exciting to its visitors.
There are five islands in Lake Garda. Those names are Isola del Garda, Isola San Biagio, Isola dell' Olivo, Isola di Sogno, and Isola di Trimelone. Some are ideal for scuba divers, some are exclusive destinations where you can enjoy unspoiled nature and crystal clear waters, and some are places with cultural and historical sights.
Isola del Garda
Isola del Garda is the biggest of all five islands. It is not far from the bay of San Felice del Benaco, near Salo on the northwest bank of the lake. The island is privately owned and can only be visited by appointment and with an authorized guide. The history of Isola del Garda is fascinating, so if you would like to learn more about it, the island is open for tours from May to September.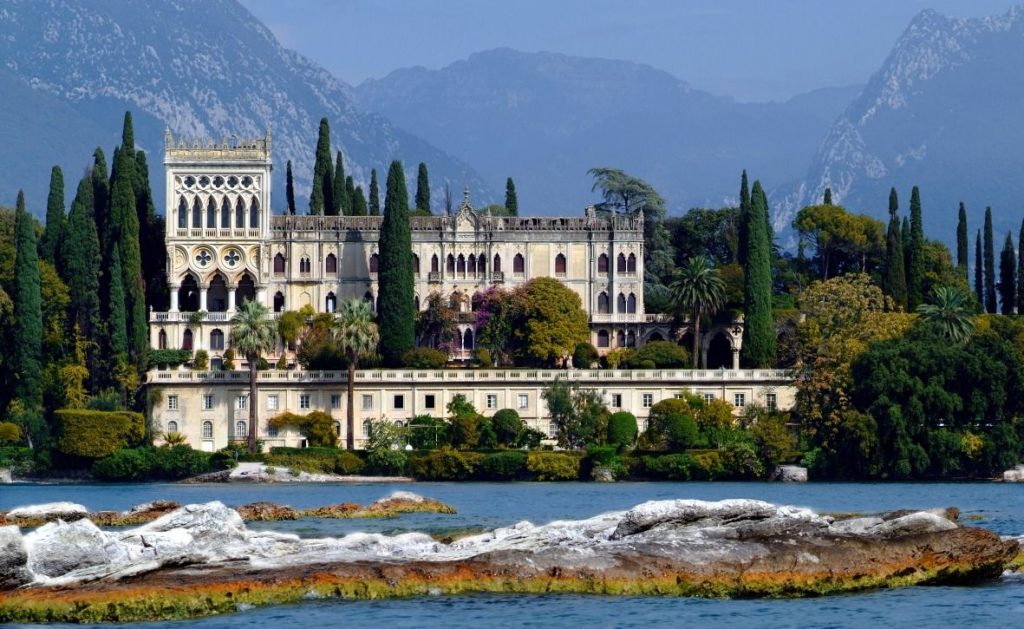 The guided tour will last about 2 hours, and you will see a few rooms of beautiful Villa Borghese, the 20th-century neo-gothic Venetian-style villa. Also, you can explore a garden with lush and intact vegetation, exotic plants, and unique flowers.
The garden is full of cypresses, acacias, lemons, magnolias, and agaves. At the end of the tour, you will get the opportunity to taste some local products like wine, olive oil, and some snacks.
Visiting Isola del Garda is something the whole family will enjoy doing together. If you plan a trip to the island in a big tour group, you need to contact the lady who works with the tours via their website. You can get a discount and a tour guide to tell you all the little stories about the great history of this place.
Isola San Biagio
Isola San Biagio is the second largest of the five islands. Like the first one, the beauty is amazing, something you will only appreciate when seen in real life. The island is located next to the Punta Belvedere peninsula near Manerba on the west bank of Lake Garda.
For a long time, one of its peculiarities was the presence of numerous rabbits on the island. That is why the island is known as the "Rabbit Island."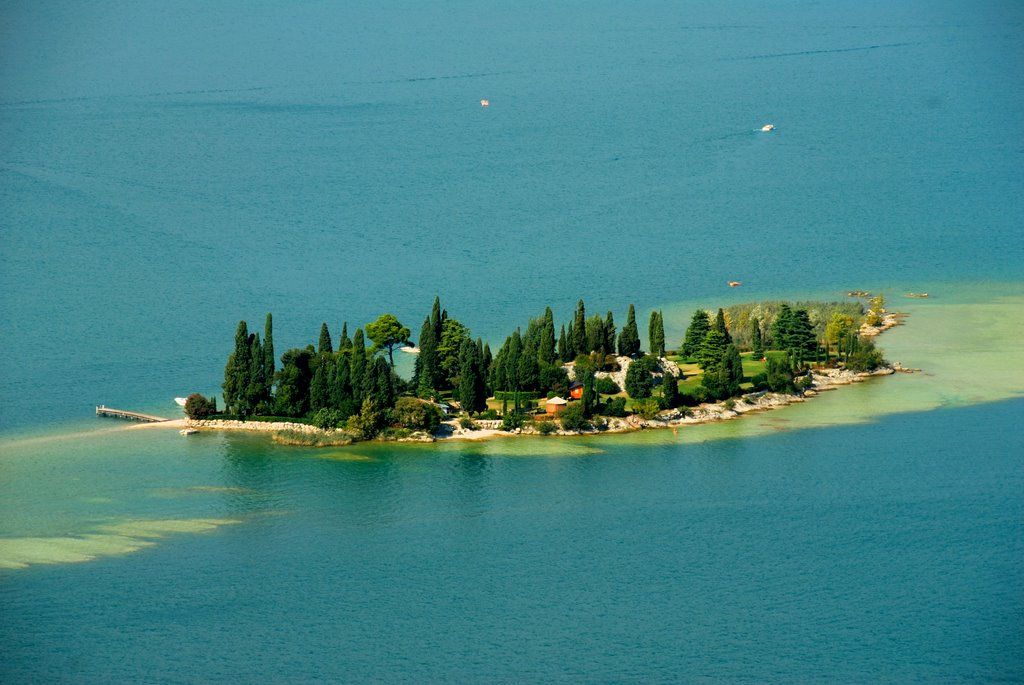 But unfortunately, in recent years, there is almost no trace of them. San Biagio can be reached on foot through the shallow water from the shore or by boat. It has a great camping park which offers a magnificent view of the lake and surroundings.
There are numerous open-air concerts with different musical styles such as classical or jazz in the summer months. Being in such a magical place will give you time to think and refresh your mind before returning to your hectic life.
Isola del Sogno
The Isola del Sogno is located near Malcesine on the eastern shore of Lake Garda near Val di Sogno. This uninhabited small island is only 20 meters far from the shore, so it can be reached on foot in some periods of the year when the lake level drops. The island is very popular among surfers, sailors, and other water sports enthusiasts.
Furthermore, many divers come to Isola del Sogno to explore a wreck sunk in 1987. The wreck is located at 40 meters depth, 50 meters far from the shore, and it is long about 16 meters.
Isola dell'Olivo
Isola dell'Olivo is not far from Isola del Sogno. This tiny island, located near Malcesine on the east bank, is currently uninhabited and can only be reached by boat. The island is very wild, but there are numerous smooth rocks where you can lie down and enjoy the sun.
Due to its position, this island is often used as a reference point for many important sailing races and regattas such as the "Centomiglia." Isola dell'Olivo is also a great destination for divers, who can explore a small cave at a depth of about 13 meters.
Isola di Trimelone
Isola di Trimelone, located in front of Assenza di Brenzone on the east bank, is the third-largest Lake Garda island. It is currently uninhabited and has the remains of an old fortress from the First World War. But there was also a fortress earlier built in the 10th century and later destroyed by King Barbarossa.
This 200 meters long island is now a restricted area because of many explosive devices that were left around it from World War. You can get relatively close to the island by boat and watch military buildings and many birds from a distance.
Are islands in Lake Garda worth visiting?
If you want a unique experience away from crowds and noises while in Lake Garda, islands are must-go places. Not only you will be in the middle of unspoiled nature, but you will also see breathtaking sights. Therefore, if you feel adventurous and want to explore unknown paths and routes, going to Lake Garda islands will be the perfect trip for you.
Read more articles about Lake Garda:
Hey there! Some links on this page are affiliate links which means that, if you choose to make a purchase, we may earn a small commission at no extra cost to you. We greatly appreciate your support!