Italy is the home of delicious pizza and pasta dishes, unique local wines, historic landmarks, and spectacular coastal and lake views. It's no wonder it's one of the most visited countries in Europe. Halfway between Brescia and Verona, you will find the picturesque communities that surround Lake Garda. It's a major tourist spot – and it's easy to see why.
More beautiful than you can imagine, this region promises great weather, spectacular scenery, and culinary delights that you won't find anywhere else in the world. Many of the restaurants here overlook the lake and sit within the welcoming communities that call Lake Garda their home. There is something for every type of foodie here, no matter your palette.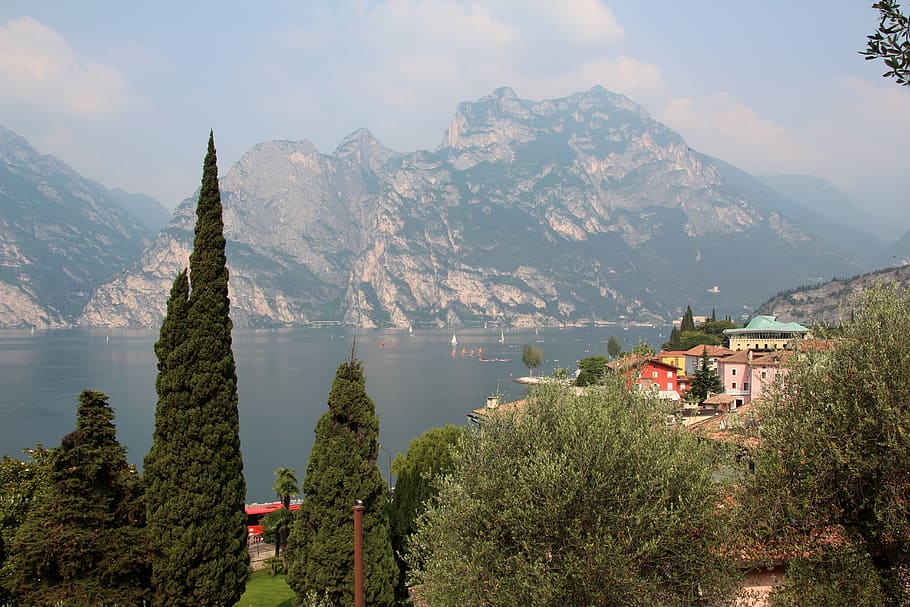 Being by the water, you will find delicious seafood dishes plus, of course, traditional Italian plates to boot. Expect morish main courses and scrumptious desserts made with fresh ingredients. Lake Garda's restaurant scene boasts exceptional chefs who have made an art form out of food preparation and waiting staff who are on hand to create truly unique experiences.
Every diner on Lake Garda can expect to be treated to high-quality service, including attentive bar staff and knowledgeable waiters. In this list, you will learn about the fine-dining eateries that make Lake Garda one of the world's best places to eat and drink. Here are the best restaurants with a view in Lake Garda:
(This article contains 5 restaurants in Lake Garda, which are best in our subjective opinion. The order of the restaurants is not related to the quality they offer. Every restaurant has its pros and cons, so choose the one based on your personal preferences.)
Ristorante Lido 84 (Gardone Riviera)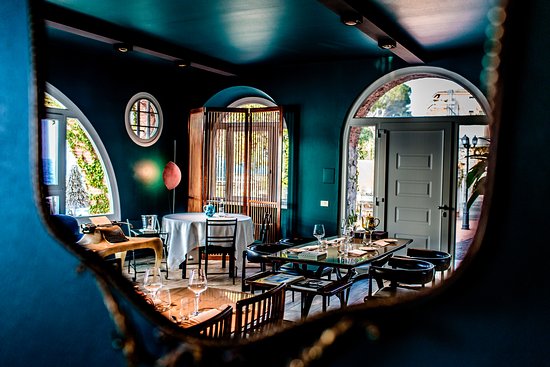 If great views, inventive plates, and colorful decor are what you look for in an eatery, then Ristorante Lido 84 on Corso Giuseppe Zanardelli is the perfect place for you. It promises a high-end dining service where you will be treated like royalty as you eat foods that are traditional to the region. 
Every inch of this experience is overflowing with immense character and sophistication, and the attention to detail on display is simply unbelievable. Expect a memorable night tasting inventive cuisine. We guarantee that you have never seen plates like this because each dish is a piece of artwork. Some dishes include steamed purple prawns, fried eel, and even charcoaled pigeon.
The staff here is second-to-none, meaning you can expect high-quality service from the second you step foot inside the door. Your server is the same person who cooked your dish, creating a great sense of continuity and a clear example of the pride that this establishment has in the food being crafted. This restaurant overlooks the west side of Lake Garda, and the views are truly breathtaking.
It's a perfect place for a range of different traveling parties, whether you want a romantic conversation with your other half or a place to catch up with friends and family. The restaurant is also ideal for solo diners who will enjoy the opportunity to reflect and relax as they look out across the water. 
Ristorante Lido 84 is best enjoyed during the evening when the terrace becomes a tranquil space with beautiful lighting, and you are able to see the dazzling lights across the lake. It is open every day except Tuesday and Wednesday from 12:30 PM (12:30 hours) to 2:30 PM (14:30 hours) and from 7:30 PM (19:30 hours) to 10:30 PM (22:30 hours).
Distance: 1.6 kilometers (1 mile) from Piazza Marconi (main square) in Gardone Riviera
Phone: +39 036 520 019
Ristorante & Locanda Alla Fassa (Castelletto)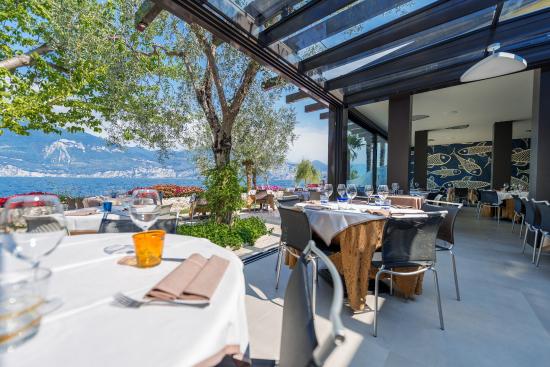 Ristorante & Locanda Alla Fassa is a well-located spot on the east side of Lake Garda. As well as being a much-loved restaurant, it doubles as a hotel, offering the chance to stay overnight and appreciate the views and food here at your own pace. Don't worry – you don't have to use the hotel for dining in the restaurant, which promises a delightful array of tasty meat dishes and Italian wines.
Thanks to its waterfront location, you can dine on locally-sourced fish dishes that will wow you with every bite. The fish ball starters are a favorite among locals, so you can trust that they are worth trying. The tiramisu is another favorite dish that we recommend. This hidden gem is staffed by friendly people who offer great service. They speak a range of different languages, which makes this restaurant a great tourist-friendly venue.
From the moment you are taken to your table right through to paying the bill, this eatery promises high-quality attentive service that is competent and professional. The lakeside terrace at Ristorante & Locanda Alla Fassa offers brilliant views of the lake, so it is a perfect place to eat on warmer days. Plus, being situated at the narrower top end of the lake, you will have great views of the communities on the other side of the water.
We recommend booking a table to coincide with the sunset. The sunbeams bouncing off the lake provide the perfect setting for a romantic night. Reserving your spot beforehand is advised, especially for evening service. Ristorante & Locanda Alla Fassa is open every day except Tuesday from 12:00 PM (12:00 hours) to 2:00 PM (14:00 hours) for lunch and from 7:00 PM (19:00 hours) to 9:30 PM (21:30 hours) for dinner. Keep in mind that the restaurant is only open for lunch on Monday.
Distance: 400 meters (0.2 miles) from Castelletto di Brenzone harbor
Phone: +39 045 743 0319
Al Bacio Restaurant (Malcesine)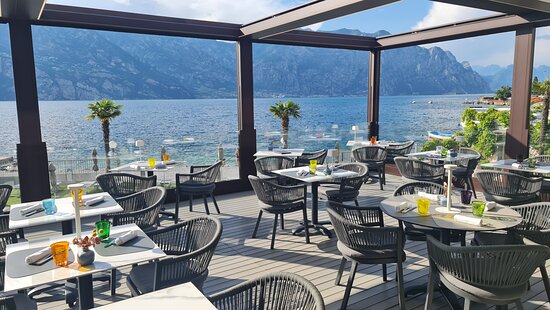 This restaurant to the north of Lake Garda is one of our favorite spots – and it's earned its place on the list. The Al Bacio Restaurant experience includes helpful staff, gorgeous views, and an intimate atmosphere. It's been designed with the views in mind, having large glass windows throughout the indoor dining area. The furniture is traditional, and the decor is elegant.
The fun of traveling to new places is trying the popular dishes from the region, and this eatery is certainly committed to its roots on the water. Lake Garda's most popular plates are seafood dishes, as well as Italian staples like pizza. Our food recommendations at Al Bacio Restaurant include the marinated trout and sautéed mussel starters, risotto and potato gnocchi main courses, and black cherry meringue and lemon sorbet desserts. It's worth visiting twice just to try all six of our favorites!
There are also seven different pizzas to enjoy here: Margherita, dried ham, mushroom, capricious, spicy salami, gourmet, and vegetarian. As well as the elegant indoor seating venue, you will also find an outdoor terrace, which is perfect for guests who want to get closer to the scenery while enjoying the Italian sunshine on their faces.
Given the spectacular views and service on offer, you may expect to pay a high price for the dishes here. On the contrary, the prices here are very reasonable at the time of writing. Expect pizzas for as little as 8.50 euros and desserts starting at 5.00 euros. Al Bacio Restaurant is open daily from 12:00 PM (12:00 hours) to 2:30 PM (14:30 hours) for lunch service and for dinner from 6:30 PM (18:30 hours) to 9:30 PM (21:30 hours).
Location: Via Paina 21 in Malcesine
Website: H-C.it
Distance: 500 meters (0.3 miles) from Malcesine harbor
Phone: +39 045 740 0233
Ristorante Sostaga (Gargnano)
Perched atop the west side of Lake Garda is a remarkable establishment called Ristorante Sostaga. Located within a hotel complex on Via Sostaga, you will find a high-end dining experience loved by residents and tourists alike. This venue is a modern and stylish space but with traditional features, including antique fireplaces and candle lighting. Combine these with unusual dishes and quality wines, and you are in for a real treat that you will spend years talking about.
With a perfect diversity of delicious plates, it can be hard to know which ones you should order. We are confident there is something for everyone, and with no need to rush, you will have plenty of time to browse and find your favorite. If you need inspiration, our go-to meal combination is the cod and courgette chunks in rice tempura starter, beef fillet with butter and anchovy crust main, and fresh fruit salad dessert. 
You will find white and red wine here, as well as champagne to make your night extra special. For those wanting to keep costs low, the Chardonnay Santa Cristina is a great choice. If you want to splash out, the Champagne Krugg offers the perfect luxury tipple.
The outdoor dining area here is set within a beautiful garden with ornate ornaments and different table types, so you can choose how formal you want your experience to be. For those rare moments when the skies may open, the outdoor seating area is covered. Luckily, the rain on Lake Garda doesn't last very long, so you will be back to enjoying the sunshine in no time. Ristorante Sostaga is open daily from 12:30 PM (12:30 hours) to 2:00 PM (14:00 hours) for lunch and from 7:00 PM (19:00 hours) to 10:00 PM (22:00 hours) for dinner.
Distance: 9 kilometers (5.5 miles) from Piazza Feltrinelli (main square) in Gargnano
Phone: +39 036 579 1218
Osteria al Pescatore (Castelletto)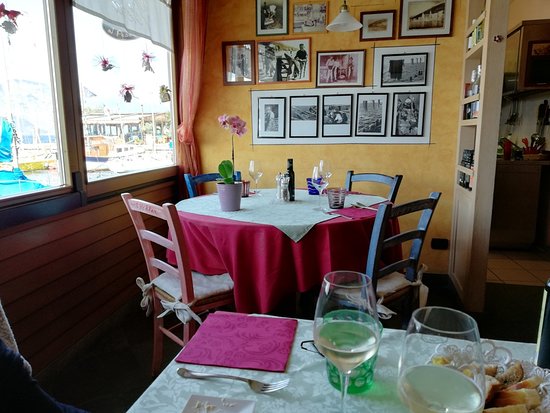 Osteria al Pescatore is a unique food establishment on Lake Garda. It's easy to spot, being brightly painted inside and out with pastel oranges, pinks, and greens. By dining here, you will enjoy a great view of the lake and spot the boats that regularly frequent it. It's right on the harbor – a great spot that is perfect for a short stroll after your meal.
If you love fish dishes, you will find plenty to choose from here. The fish is fresher here than in most other places in Italy since it's literally caught from the adjacent lake. All the food on offer at this stylish eatery is perfectly cooked, beautifully presented, and served alongside world-class Italian wines. Osteria al Pescatore is a family-owned restaurant, so you can be sure that your meal will be prepared with special care.
There's a real sense of pride on display that is symptomatic of family-run businesses. The staff working here are knowledgeable about the dishes and wine and are on hand to make recommendations. The restaurant is very popular, especially during the summer months, so it is advisable to reserve your table in advance.
Distance: Right at Castelletto di Brenzone harbor
Phone: +39 347 979 8200
Where to find the best restaurants with a view in Lake Garda?
If you love eating in restaurants that, besides the delicious food, offer spectacular views, Lake Garda won't disappoint you. There are so many of them that it is impossible to visit and review them all. Restaurants with a view in Lake Garda are usually located a little bit away from the main squares because they want to offer relaxing and peaceful scenery for their guests.
Therefore, you will mostly take a car ride to get to these restaurants. However, there are some lovely restaurants with a view that are within walking distance in Lake Garda's towns. These restaurants near the main squares are usually very popular because of their availability to a bigger group of tourists, so it is advisable to book tables in advance.
Check out more articles about Lake Garda:
Hey there! Some links on this page are affiliate links which means that, if you choose to make a purchase, we may earn a small commission at no extra cost to you. We greatly appreciate your support!