Amalfi Coast has been a luxury destination for a long time. A bunch of tourists, celebrities, jet-set people, and influencers come to this gorgeous coastline every year to enjoy the warm and crystal blue sea, outstanding landscape, breathtaking views, authentic towns, and exclusive hotels and apartments.
Amalfi town is no exception to that. It is a lovely town with a mixture of luxurious houses, historical sights, and beautiful beaches. Even though there are only three 5-star hotels in Amalfi town, they will fulfill everyone's standards, no matter how high they are. Here are the best luxury hotels in Amalfi town:
(This article contains luxury 5 star hotels in Amalfi town. The order of the hotels is not related to the quality they offer. Every hotel has its pros and cons, so choose the hotel based on your personal preferences.)
NH Collection Grand Hotel Convento di Amalfi
The Convento di Amalfi is an outstanding and very unique 5 star hotel in a magical, quiet location with wonderful views in every direction. It is converted from a 13th-century monastery, so the place is nowadays a great mixture of history and modern luxury. The hotel stands high on the cliffs of the Amalfi Coast in a great location that is near enough to stroll down to the Amalfi town but far away enough from noisy crowds.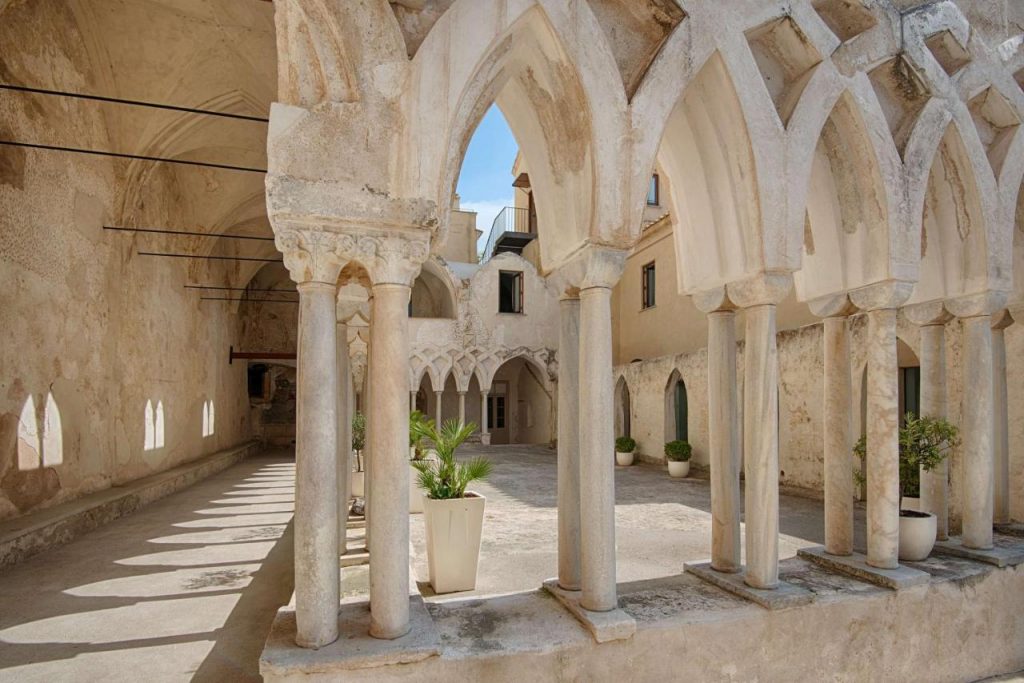 It is surrounded by beautiful gardens full of flowers, hundred-year-old Yuca, orange, lemon, and olive trees, which are full of shady little relaxation spots. There are also loads of quiet little terraces around the hotel with comfy seats that are great for spending romantic evenings with your partner.
What makes this hotel unique is an infinity pool carved in the mountain and overlooking the bay. It will truly make you feel like you are floating on the top of the ocean.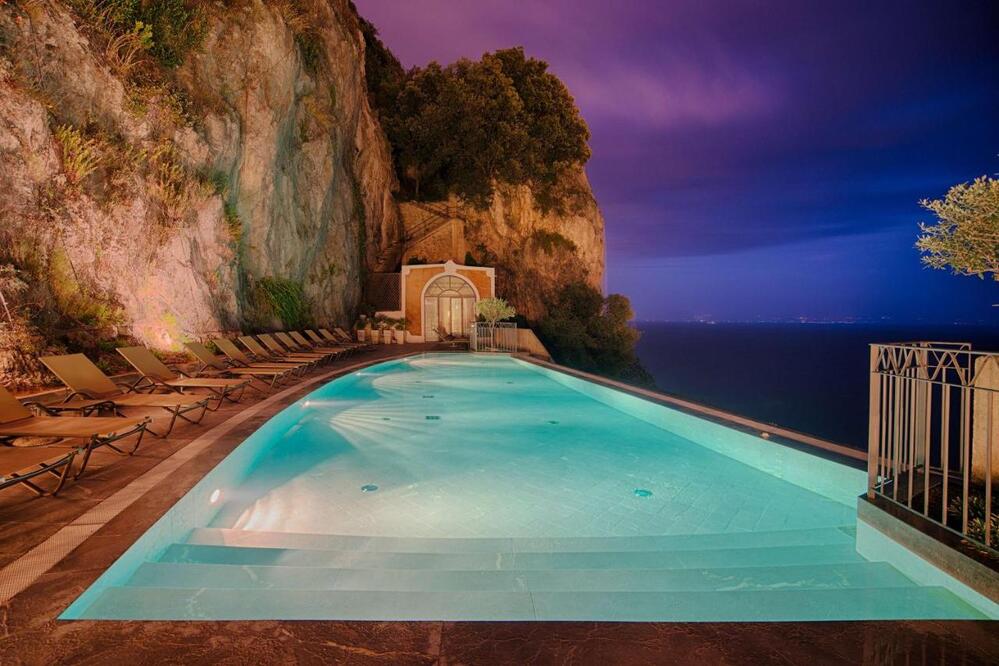 The breakfast buffet is incredible with so many choices and pleasantly located on the outside balcony overlooking the sea. The size of the eating area is pretty good, and there are a lot of tables, so you will never feel cramped.
All rooms have breathtaking sea views, a simple design with terracotta floors, a very comfortable bed, and marble bathrooms full of high-quality toiletries. There is also a lovely balcony where you can spend hours with a cocktail in your hands just watching all the activity on shore and on the water.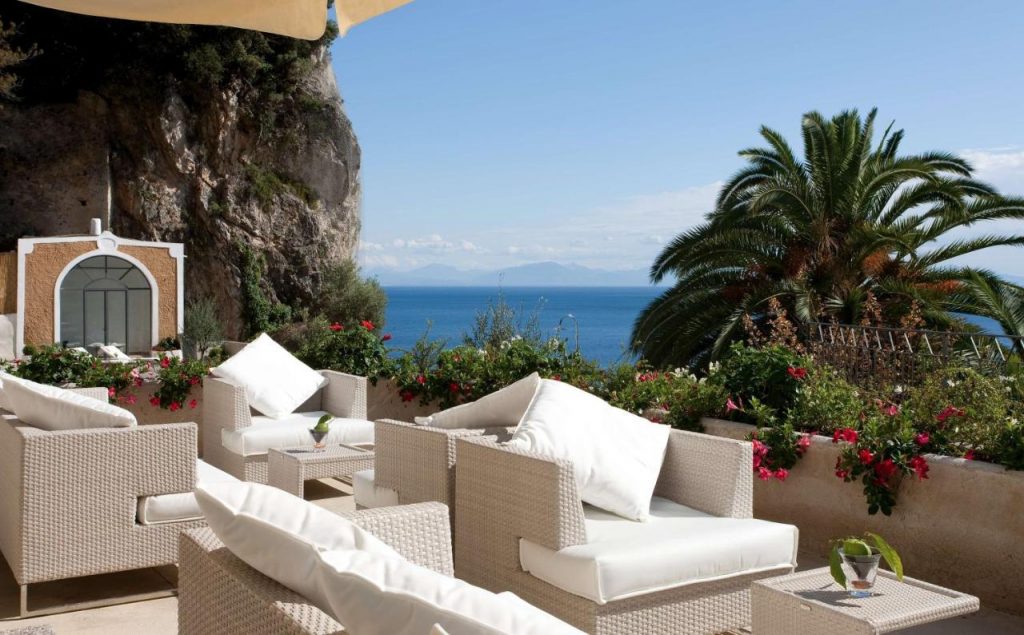 NH Convento di Amalfi offers a free fitness and wellness center with quite a small spa and an amazing patio massage with a view. In the winter, a heated swimming pool is available for those who like to swim. The hotel is located right on the edge of Amalfi town, high on the cliff, and therefore you can use a minivan down to the town that goes every hour if you don't want to walk. But, there are also lots of safe winding paths down to the town as well.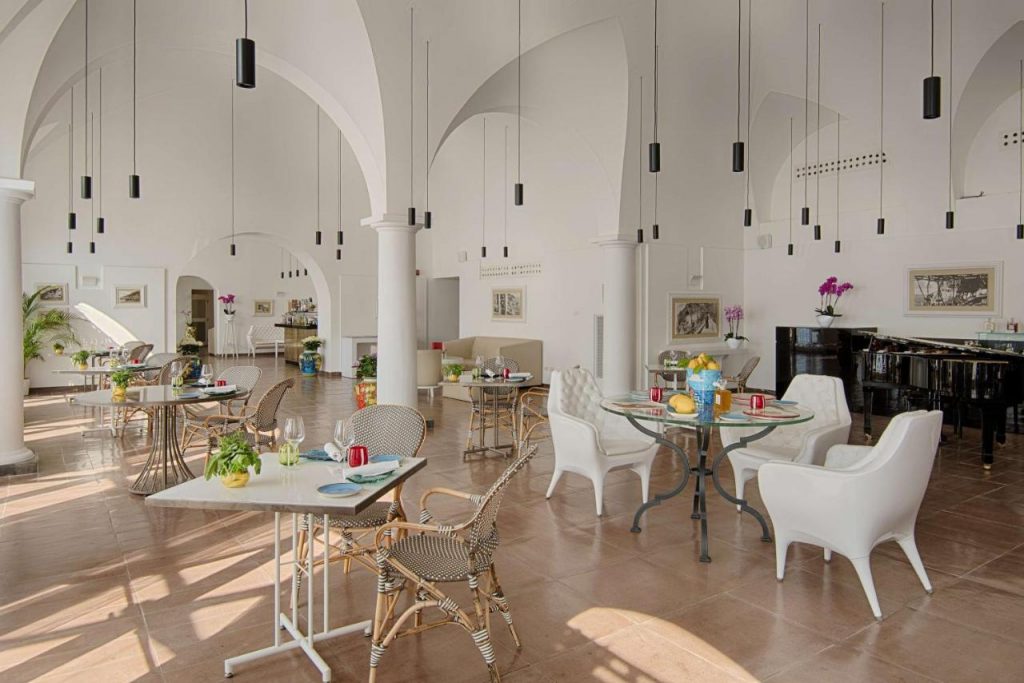 The hotel staff is always smiling and is happy to help you with everything. They can even adapt menus to suit dietary requirements or book some amazing tours for you. Overall, the NH Collection Convento di Amalfi is probably not the place for overly budget-conscious people. However, for those looking for a luxury experience on the Amalfi Coast, this should be high on a list of places to consider.
| | |
| --- | --- |
| Pros | Cons |
| Breathtaking views | Paid parking |
| Infinity pool with a view | |
| Free shuttle service | |
| Excellent breakfast | |
| Pets are allowed | |
| Children of all ages are welcome | |
| Free fitness center | |
| Free wellness and spa center | |
Hotel Santa Caterina
Hotel Santa Caterina is a magnificent 5-star hotel located high on the cliffs above the Tyrrhenian Sea. It offers spectacular views that neither words nor photos can describe. The hotel is a little bit away from the hustle and bustle of the town, but not too far.
You can stroll for about 10-minutes through the gorgeous, meandering terrace gardens nestled in the cliffs to reach the center of Amalfi town. Along the way, you will experience the intoxicating scent of jasmine blossoms in the salty evening air as well as other sorts of plants and flowers tended with loving care.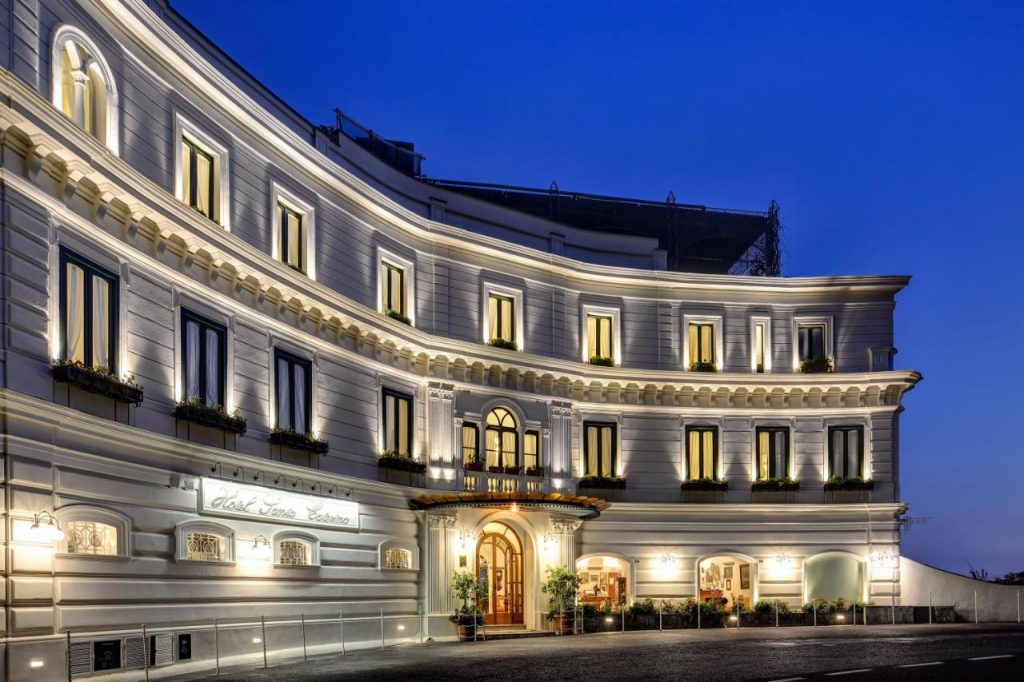 If you decide not to walk, a free minibus ride takes you to the center every hour until midnight. The highlight of this gorgeous hotel is definitely its private beach with a pool built into the rock.
They are both located below the hotel, so you can go down in a private glass elevator carved in rock or by walking down the path through the hotel's gardens. There is also a beach bar by the pool with lounge chairs overlooking the sea and roped-off areas to swim in the water. Good to know is that you can eat at the pool restaurant or have poolside service.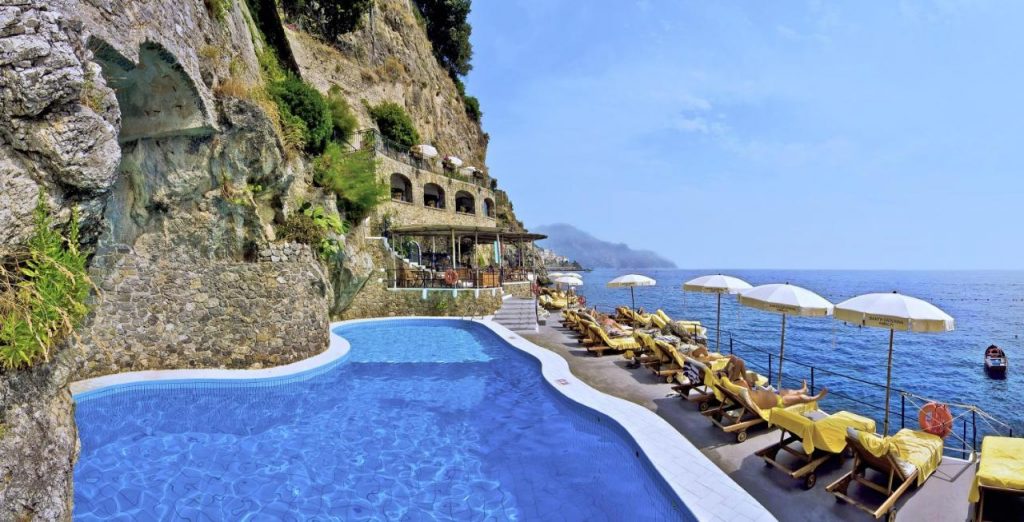 If you plan to rent a boat, there is a private dock where you can be picked up. This whole area below the hotel looks truly unbelievable, like something you see in celebrity Instagram photos. The breakfast has a wide selection of hot and cold specialties and individually cooked meals of whatever you ask for. Candles light the bar area at night, and there is usually a pianist in the corner, creating a romantic and relaxed atmosphere.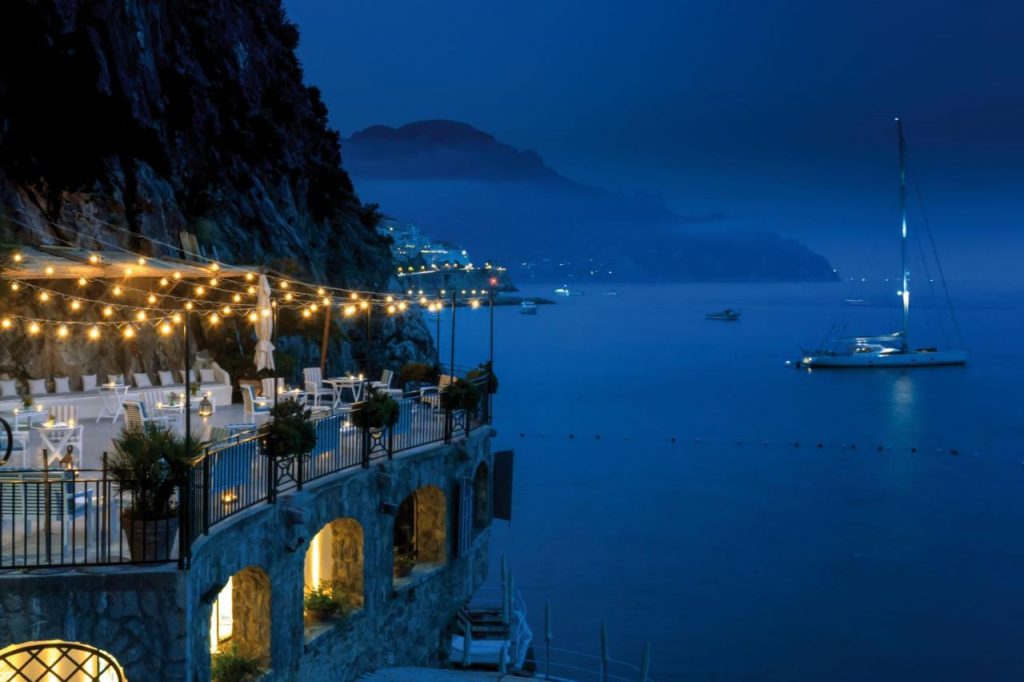 You can choose between rooms with and without sea views. Both rooms are very stylish, spacious, clean, and comfortable. There are high-quality, crisp linen sheets and Bvlgari toiletries. Rooms with sea views have a lovely balcony where you can enjoy sunsets with a glass of wine.
In your free time, you can go to amazing full-body massages at the spa or train in a small fitness center overlooking the sea. Besides massage service, Santa Caterina's wellness area includes a sauna and a Turkish bath.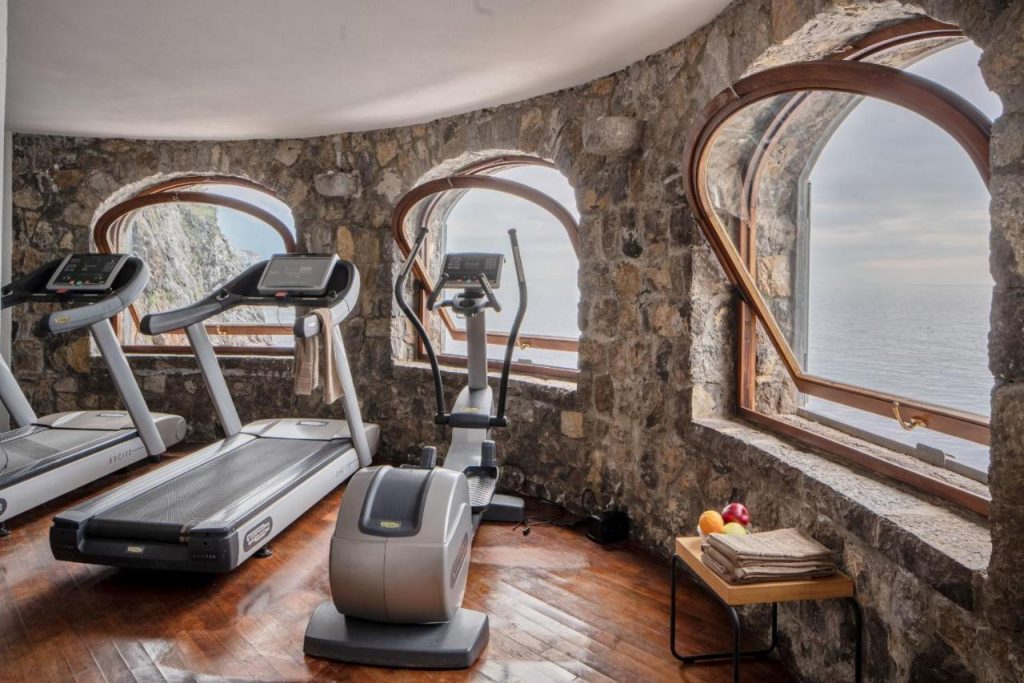 The hotel staff is exceedingly gracious, uncommonly kind, and dedicated to ensuring every detail of old-world charm meets with your delight. Hotel Santa Caterina is the perfect place for those looking for romantic, old-fashioned, elegant staying in a quiet area with exceptional service. Even though the hotel is quite expensive, it will justify every cent you pay for this magnificent place.
| | |
| --- | --- |
| Pros | Cons |
| Breathtaking views | Pets are not allowed |
| Pool with a view | |
| Private beach | |
| Free shuttle service | |
| Private dock | |
| Excellent breakfast | |
| Children of all ages are welcome | |
| Free fitness center | |
| Free spa and wellness center | |
| Free parking | |
Borgo Santandrea
Borgo Santandrea is a newly opened 5-star hotel perched on a cliff, secluded in a natural corner of the Amalfi coast, surrounded by incredible rocks, and with amazing views of the Tyrrhenian Sea. The location is away from all the chaos of both Positano and Amalfi but at the same time only 10 minutes away by car or boat.
The biggest advantages of this impressive hotel are a private dock, a lovely saltwater pool, and a private beach with a beach club. A beach club is an awesome place to try delicious fish and chips, burgers, and homemade pizza when you get hungry on the beach.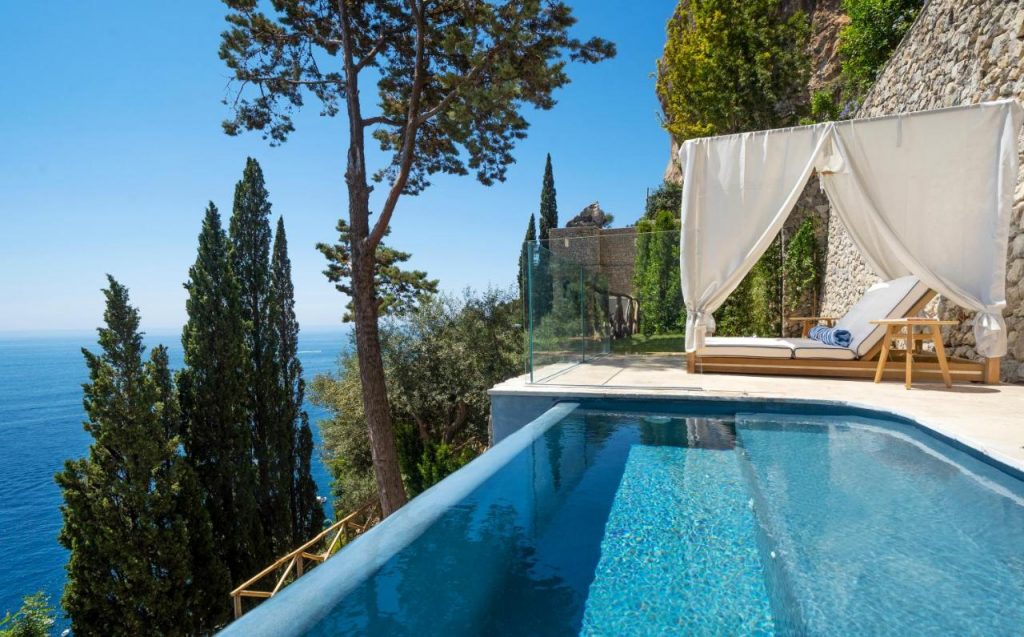 Worth mentioning is that access to the private beach is very easy and fast by elevators hidden in the rocks, or you can use stairs and enjoy the view while going up or down. The breakfast in Borgo Santandrea is a buffet in the open kitchen with everything you can imagine. The terrace where breakfast and dinner are served offers a spectacular view, so having a meal in this hotel is an experience on its own.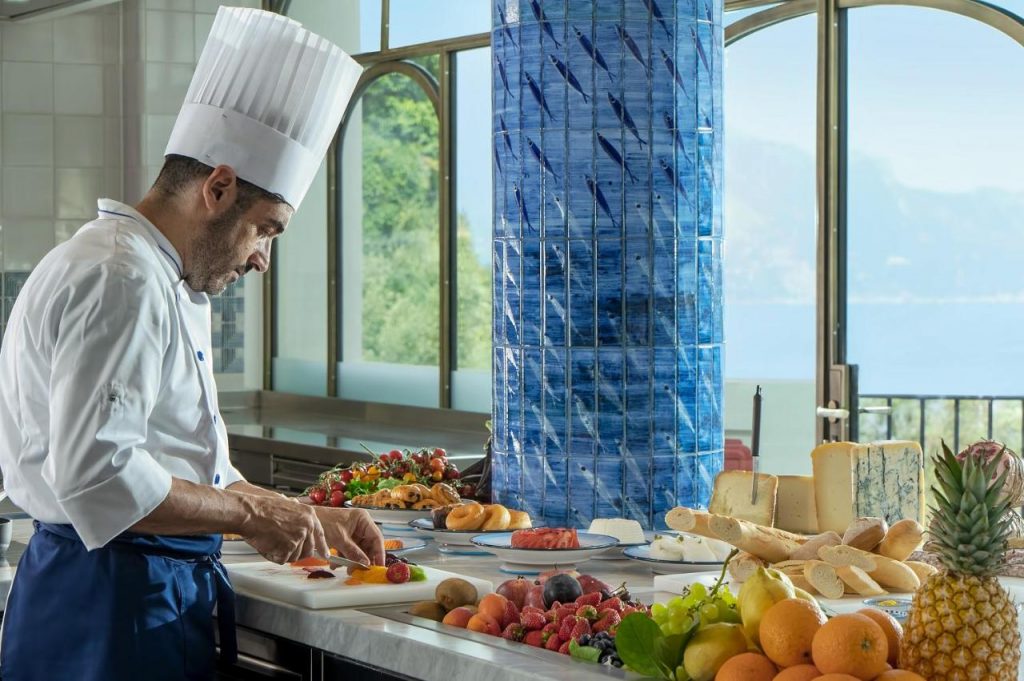 The hotel is also known for its stylish interior that contains a private collection of mid-century furniture, artwork pieces, and varying hand-made blue and white tiles throughout. Each room is unique, spacious, and beautifully decorated, while the beds are incredibly comfortable.
Another special thing about this hotel is the fact that you can enjoy incredible views everywhere, from the restaurant to the room and even the bathroom. There is also a spa, solarium, and well-equipped fitness center.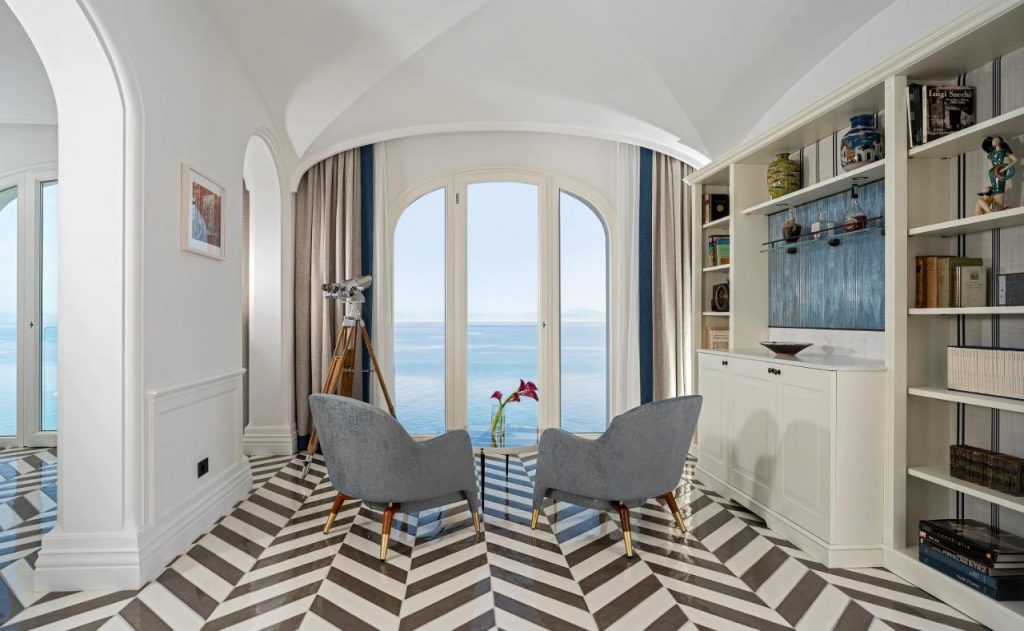 The staff is friendly, funny, playful, and joyful. All of them always have big smiles on their faces and will serve and help you in any possible way. To sum up, Borgo Santandrea has everything you need for luxury and amazing staying on the gorgeous Amalfi Coast. If you are looking to be close enough to Amalfi town but not in the hustle and bustle, this is the perfect place to be.
| | |
| --- | --- |
| Pros | Cons |
| Breathtaking views | Children under 8 years old are not allowed |
| Pool with a view | Pets are not allowed |
| Private beach | |
| Private dock | |
| Excellent breakfast | |
| Free fitness center | |
| Free parking | |
Check out more articles about Amalfi town:
Hey there! Some links on this page are affiliate links which means that, if you choose to make a purchase, we may earn a small commission at no extra cost to you. We greatly appreciate your support!