Amalfi town is a lovely historical place on the Amalfi Coast suitable for everyone, from families with children to tourists that come to Amalfi because of gorgeous beaches, warm sea, and exciting nightlife. Amalfi in the evening is full of young, happy people that hang around in bars or stroll along the coast. The night out usually starts with a few cocktails on the terrace of some bars or drinking wine on the beach.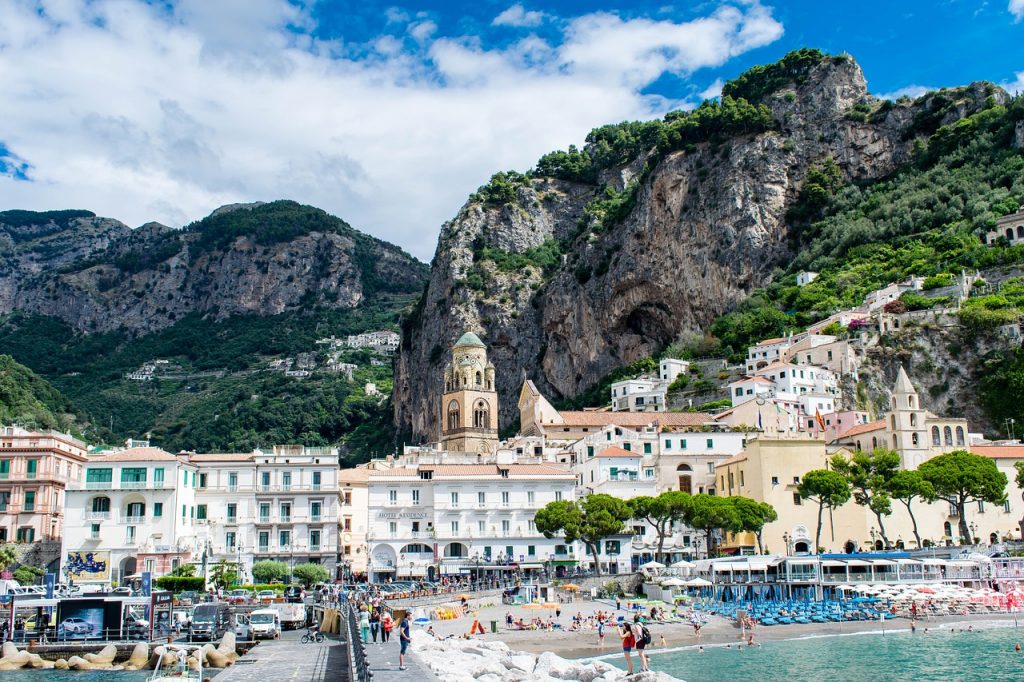 After that, the party moves into numerous wild and loud clubs in Amalfi town and along the Amalfi Coast. The best clubs are scattered throughout the coast, and they are easily reachable in a few minutes by car or taxi.
But, if you want to have fun in Amalfi town, there are also many bars, pubs, and clubs in the center of the town. Those bars almost every night have some live music, whether some band that plays popular songs or some Dj that plays dance music. Here are the best bars and clubs in Amalfi town:
(This article contains 3 places for nightlife in Amalfi town, which are best in our subjective opinion. The order of these places is not related to the fun they offer. Every place has its pros and cons, so choose the right one based on your personal preferences.)
Gerry's Pub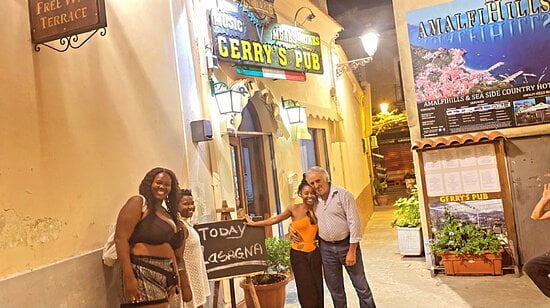 Gerry' Pub is a family-run pub overlooking the fabulous scenery of the Amalfi coast. It is located in Pogerola, a small village Easily reachable by bus from the main bus station in Amalfi town.
The bar is also an authentic Italian restaurant with delicious food mainly made in a traditional way. The Pub is open until 2:00 AM (2:00 hours) from April to October, so it is an excellent place for a casual night out.
Every Wednesday and Saturday, you can enjoy live music performed by the owner Gerry who sings popular songs while playing piano on the keyboard. Also, there are often karaoke nights when you can test your singing skills and have a lot of fun. Therefore, if you want to chill away in Amalfi town, in the Pub with funky decor, breathtaking views (especially at night), and a great atmosphere, Gerry's Pub is the perfect place to go.
Masaniello Art Cafe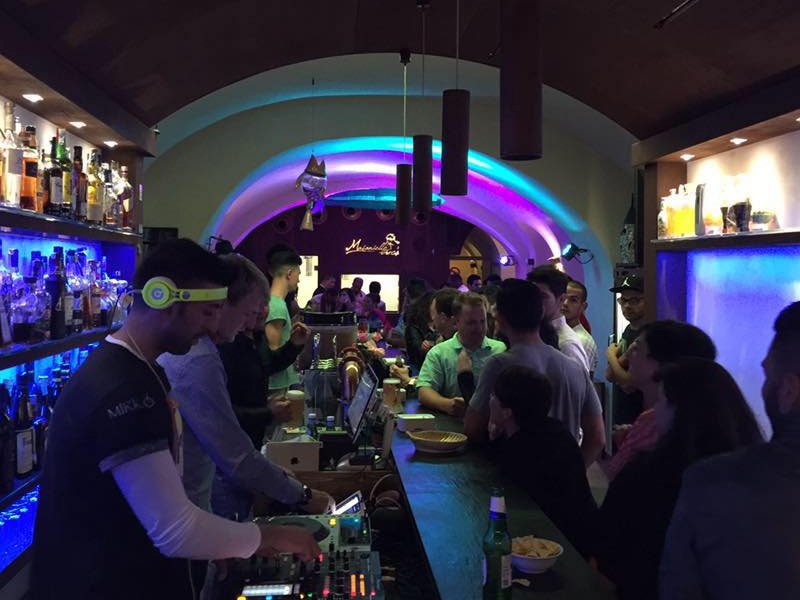 Masaniello Art Cafe is one of the best spots in Amalfi to have a drink and a dance. It is located near the center and bus station of Amalfi town, and close to the sea, so it is very easy to find this place.
In summer, this cafe bar is open until late at night. There is a great and youthful atmosphere, everyone is dancing, and DJ is playing loud awesome music. Cocktails are fairly priced, delicious, and prepared with a lot of care.
In addition to the wide choice of cocktails that satisfy any taste, Masaniello Art Cafe also offers tasty fried snacks, such as pasta omelets and crocchè, delicious sandwiches, pizza, and large burgers. The choice of craft beers is quite limited, but there is a good selection of red and white wines.
If you want to have a wild night out with a lot of dancing, hanging around with local youth people, and listening to loud music in Amalfi town, this cafe bar is the right place for you.
Silver Moon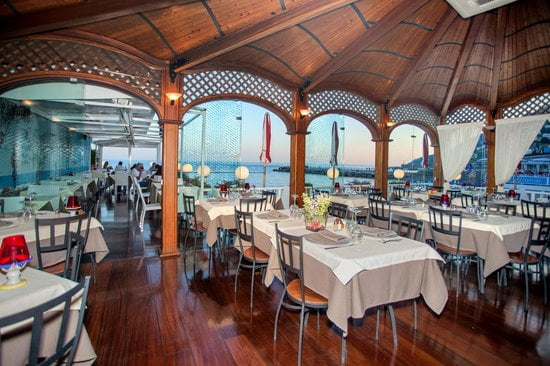 Silver Moon is actually a beautiful restaurant located right on the main beach of Amalfi town. It offers a fantastic sea view, a friendly atmosphere with pleasant music, and delicious food.
The restaurant is known for exceptional courtesy and attention, excellent pizza and pasta, and fresh, delicious seafood. The drink selection is also very good. You can choose from many tasty cocktails that look very artistic, and there is also a list of high-quality white and red wines.
This restaurant is perfect for those who want to spend their evening in a romantic atmosphere with slow music, attentive staff, and high-quality food and drinks. Therefore, you can usually see many couples that are enjoying views from the beautiful terrace while sitting at the table located right on the beach.
Where to go for the best nightlife in Amalfi town?
The best nightlife in Amalfi town depends mostly on your own preferences. If you want to have a wild night out, with young people, DJ sets, and a lot of dancing, Masaniello Art Cafe is the best place in Amalfi town. There are also some popular nightclubs nearby, like the Africana club in Praiano and Music on the Rocks club in Positano. Those who want a relaxing atmosphere with singers and entertainers should go to Gerry's Pub.
If you want a slow, pleasant evening in a romantic atmosphere with your partner, there are many cozy restaurants in Amalfi town, so you will not have a problem finding one for yourself. Amalfi town is a popular vacation place, so there are many restaurants and bars with live music, especially in the summer months. Therefore, you can have fun in other bars that are not mentioned in this article.
Read more articles about Amalfi town:
Hey there! Some links on this page are affiliate links which means that, if you choose to make a purchase, we may earn a small commission at no extra cost to you. We greatly appreciate your support!