Amalfi town is one of the most historic towns along the beautiful Amalfi Coast. Once, it was a very powerful medieval town with a strong fleet that dominated the Mediterranean's trade routes. Nowadays, this lovely town attracts hundreds of thousands of tourists every year because it has a lot to offer. Those tourists who have never visited Amalfi town often ask: "Is there a beach in Amalfi town?"
Well, there are actually several beautiful beaches that you should visit while being in Amalfi town. Furthermore, the first thing you will see when you come to this town is a large beach full of sunbeds and umbrellas. This article will show you both equipped and busier beaches and small hidden beaches in Amalfi town.
Is there a beach in Amalfi town
Amalfi town is rich with artistic beauties and traditions but also with amazing landscapes. When you come to Amalfi town, you will first see the main and the largest beach called Spiaggia Grande. It is located right in front of the center of the town, across from Piazza Duomo. This 300 meters long beach has a mixture of pebbles and sand and is pretty busy, especially in the summer months.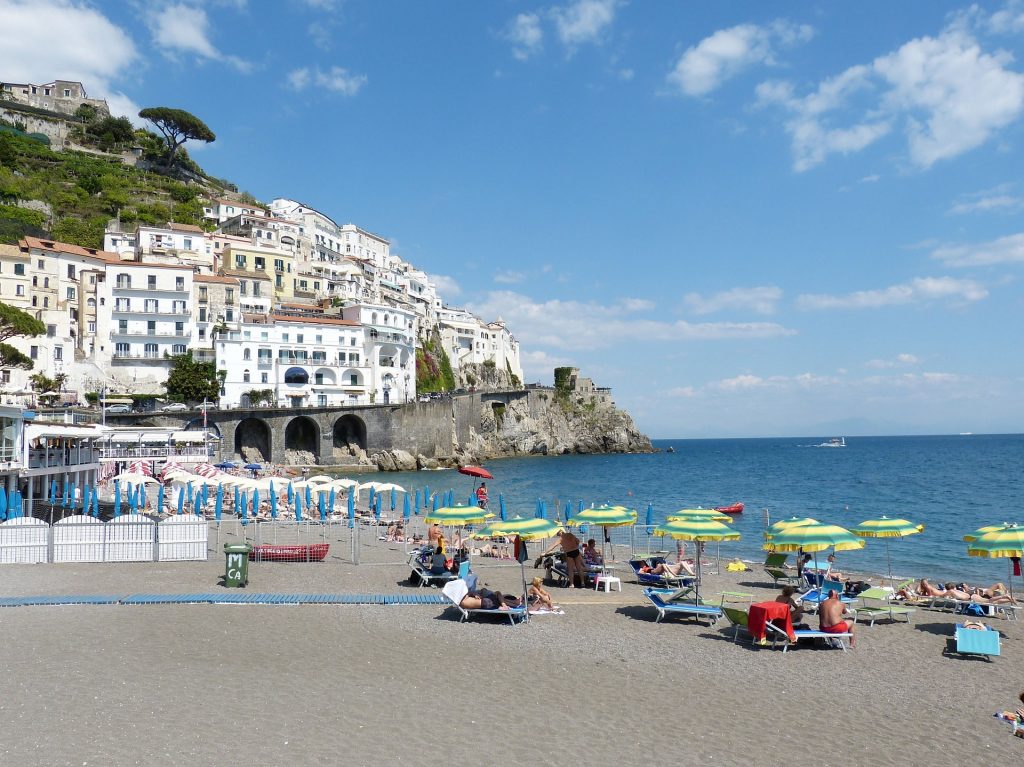 Furthermore, the beach is full of rows of brightly colored beach umbrellas and sunbeds for rent, but there is also a small area where you can put your towel for free. Spiaggia Grande is equipped with showers, toilets, snacks, drinks, and restaurants. It is perfect for those who do not mind many people and want to be close to the center of the town. If you prefer quieter and less crowded beaches, there are also many options for you in Amalfi town.
Beaches near Amalfi town
Around Amalfi town, but still, very close to the center of the town, there are a few small beaches where you can leisurely sunbathe. These beaches are usually less crowded than the main beach, but they also offer fewer amenities than Spiaggia Grande. Here are the small beaches near Amalfi town:
Lido delle Sirene in Amalfi
If the main beach in Amalfi town is too crowded for your taste, you can walk along the harbor to the other end of Amalfi, where you will find a small beach called Lido delle Sirene. This rocky beach is located 5 minutes walking distance beyond the confine of the port.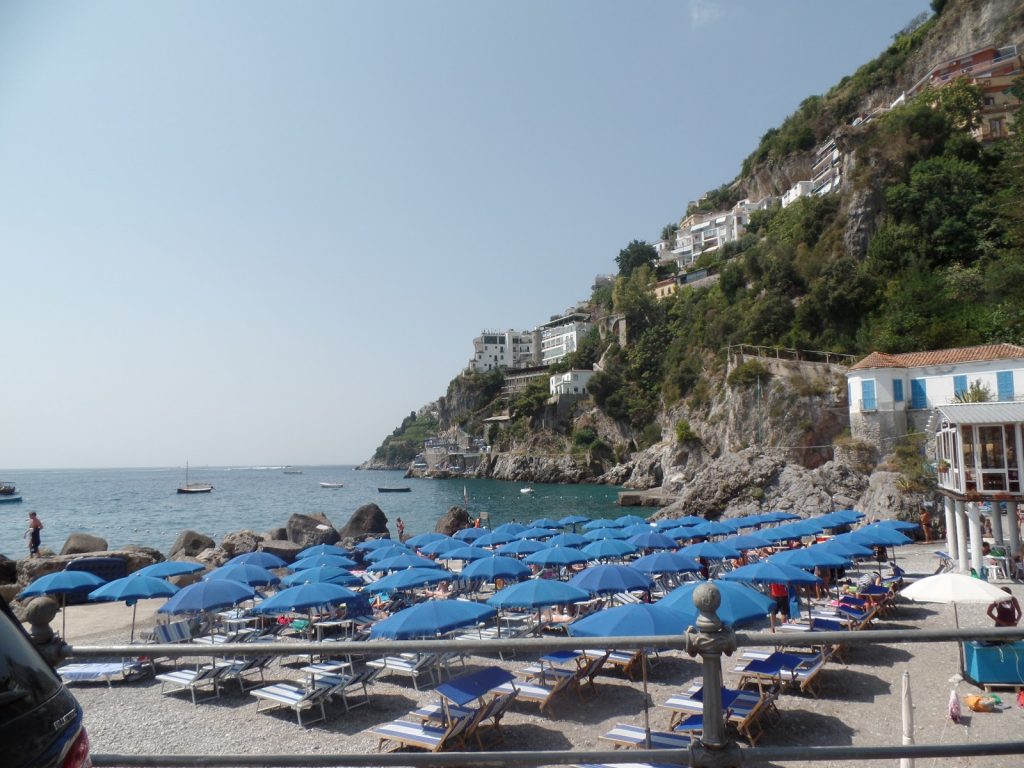 It is equipped with a shower, changing rooms, and a restaurant overlooking the beach. The restaurant is excellent for those who want to take a break from the sun and enjoy delicious meals or cold cocktails. There are also umbrellas and sunbeds for those who want to have a more relaxing time on the beach.
La Marinella beach in Amalfi
This is the smallest beach in Amalfi town but very special because generations of locals have taken their first dip in the Mediterranean exactly at this beach. It is located beside the restaurant La Marinella, below the deck, and it is equipped with a few sunbeds and umbrellas.
Even though this beach has a very small swimming area, it is very popular since there is plenty of shade below the deck and the water is crystal clear. Also, nearby is the restaurant where you can get yourself a drink or a delicious meal.
Porto beach in Amalfi
If you walk along the harbor from Spiaggia Grande to the Lido delle Sirene beach, you will pass by a small beach area covered with towels and surrounded by docked boats. This beach is very popular with locals and families with young kids since the swimming area is shallow and the sea is calm.
This beach is not for those who want a quiet and relaxing time on the beach without kids playing and yelling nearby. Still, in Amalfi surroundings, you can find beautiful quiet beaches, but you will have to make an effort to get there.
Near Amalfi town, there are only a few hidden beaches, but they are particularly gorgeous. They are not so easily reachable, but it totally worth the effort to go there. Here are the small hidden beaches near Amalfi town:
Duoglio beach in Amalfi
One kilometer from the center of Amalfi, sheltered by high cliffs, Duoglio beach is certainly one of the most enchanting bays, with incredibly clean water. Access to the beach is via a staircase of over 400 steps or by sea, thanks to the boats that shuttle from the port. If you decide to take a boat transfer, you will have to pay 2 euros per person for one direction, which is a reasonable price, and it takes only 5 minutes to get to the beach.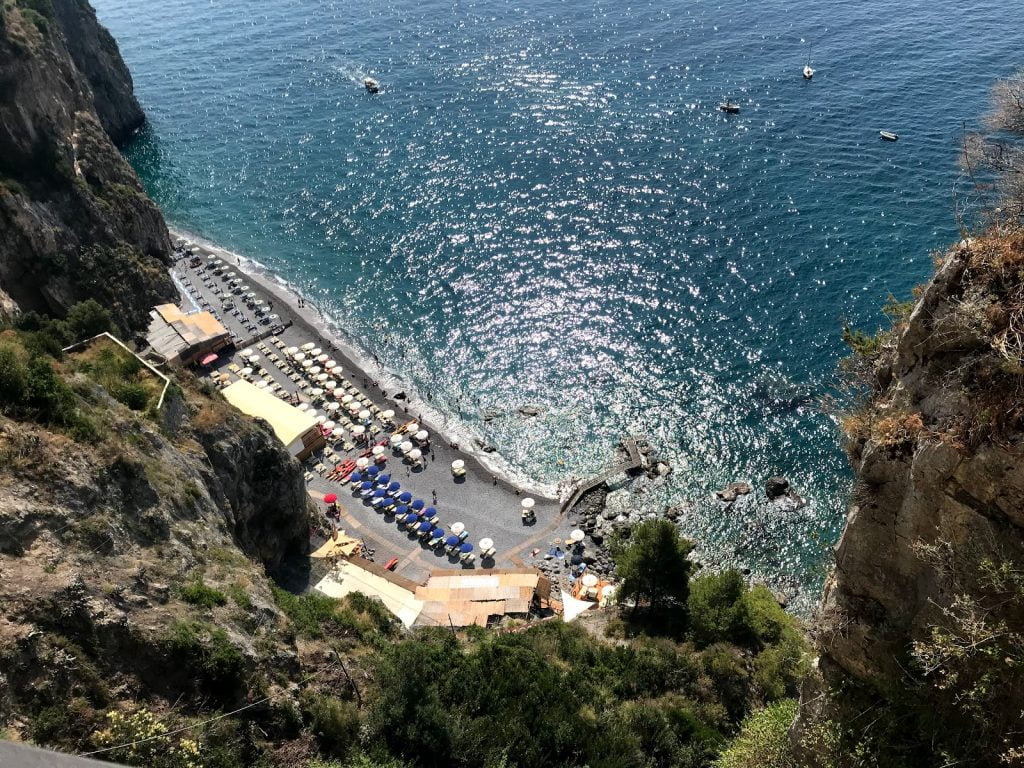 The beach has a lot of free areas, but there are also two bathing establishments where you can rent sunbeds, umbrellas, canoes, and windsurfers. Furthermore, Duoglio beach houses a bar and two restaurants where you can taste typical dishes and enjoy cold drinks.
Santa Croce beach in Amalfi
Immediately after the Duoglio, you will find Santa Croce beach, reachable only by sea. It is a small beach facing south and kissed by the sun for most of the day. Therefore, the beach is perfect for those who love tanning in the sun.
Also worth seeing is the large cave on the beach that has the remains of the Chapel of Santa Croce. This lovely hidden beach is also equipped with umbrellas and sunbeds, as well as two restaurants where you can take a break from sunbath activities.
O'Rarone beach in Amalfi
Last but not least is the O'Rarone beach, a small pearl that you should not miss if you want a natural, uncrowded and quiet beach. It is a small pebble beach, located far from the city center, and reachable only by boat. This beach is ideal, especially if you are looking for a relaxing vacation or traveling as a couple, as there is a graceful natural arch on the beach known as the "lover's bow."
Read more articles about Amalfi town:
Hey there! Some links on this page are affiliate links which means that, if you choose to make a purchase, we may earn a small commission at no extra cost to you. We greatly appreciate your support!