The crystal clear water, beautiful white buildings spread over the mountain, and long attractive beach make a vacation in Amalfi unforgettable. In addition to that, the small coastal town and its surroundings offer numerous cultural attractions.
Amalfi is one of the most historic towns along the Amalfi Coast. It was very successful for a long time during the Middle Ages when its fleet dominated the Mediterranean's trade routes. Today, you can still see many historical buildings that prove the former city's wealth.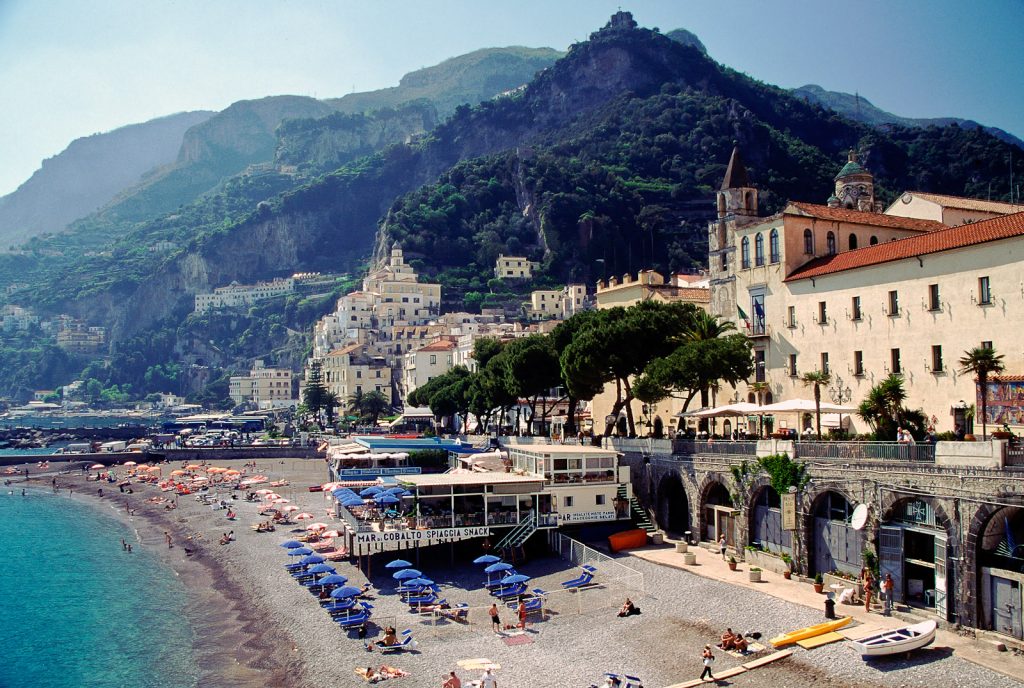 Even though Amalfi is a small town, there are plenty of ways how you can spend your time there. Enjoy the sunshine, visit historical attractions, swim in the sea, and relax while drinking a cocktail with a view. Here are all the things you can do in Amalfi:
Wander the narrow streets
Amalfi has hundreds of tiny, charming streets that are not big enough for cars. Therefore, you can enjoy peaceful walking around the town. There is a real maze of small narrow streets, so exploring most of them can be really exciting because you can easily get lost. Keep in mind that Amalfi has a lot of stairs, so you will have to walk uphill a lot.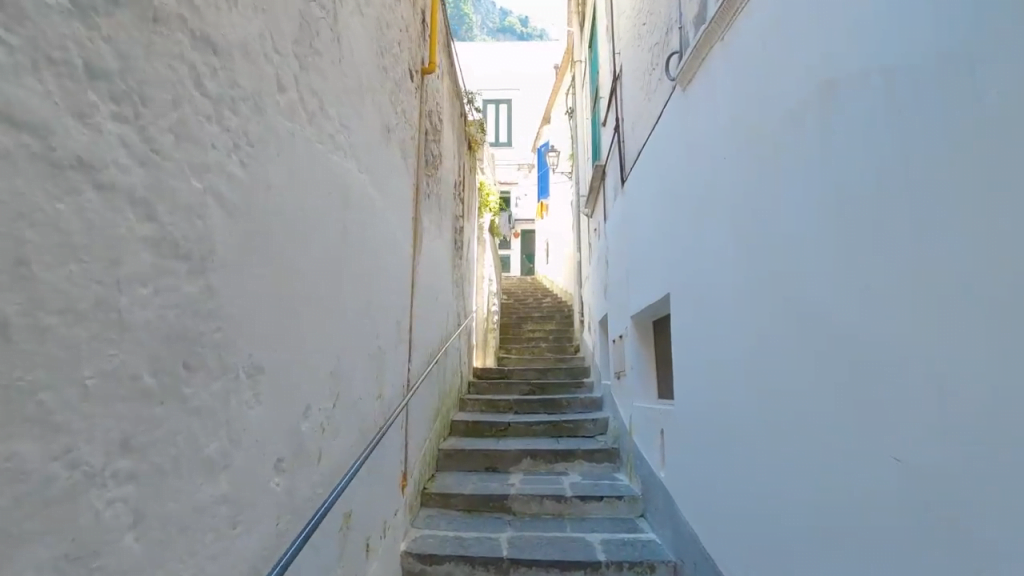 Capture amazing photos
The Amalfi Coast is one of the most photographed stretches of coastline in the world. So remember to charge all your batteries before heading out and capture stunning photos at dawn, sunset, or during the beautiful sunny day. Taking a lot of beautiful photos is a great thing to do in Amalfi while exploring the town.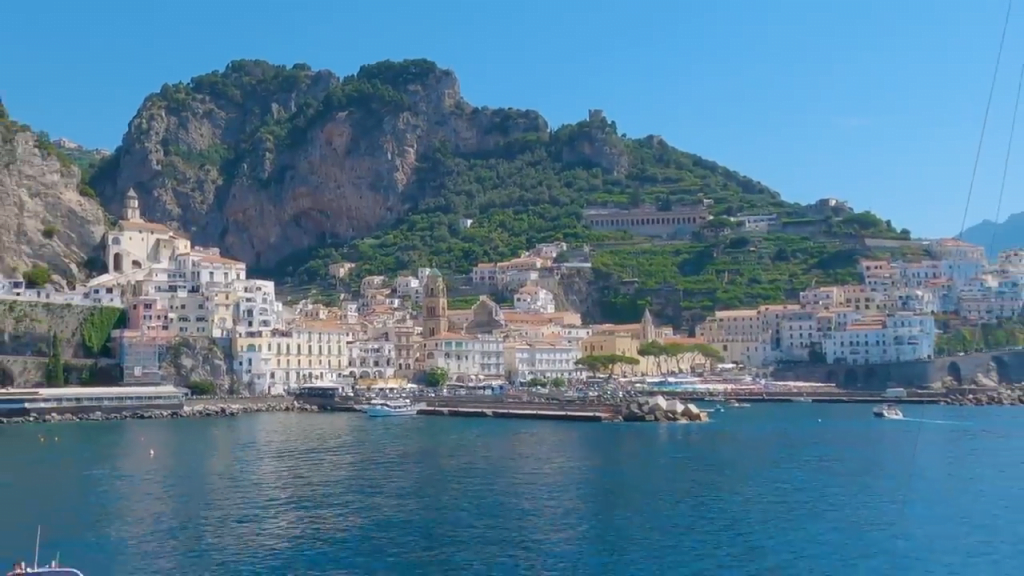 Visit historical attractions in Amalfi
Amalfi is not only visited for its warm sea, wonderful views, and exciting streets, but it also has a wealthy historical heritage. Although it was known in the 4th century, Amalfi was a powerful maritime town between the 9th and 12th centuries. In the 1920s and 1930s, Amalfi became a popular holiday destination for the British upper class.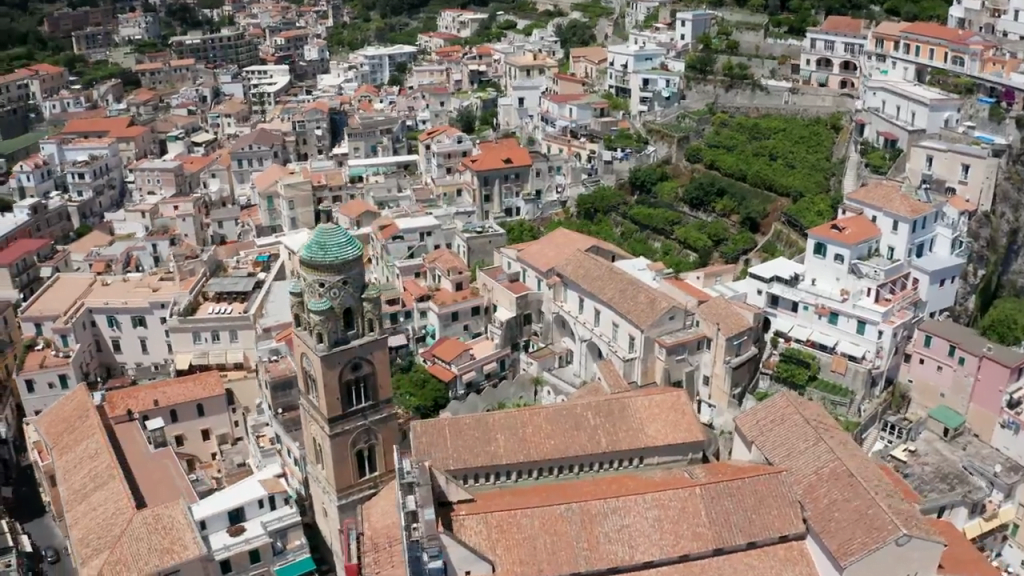 Today, hundreds of thousands of people from all over the world are visiting this lovely town every year. Here are historical attractions you should not miss when visiting Amalfi:
Duomo di Sant'Andrea
This magnificent cathedral, located in Amalfi's main square, is the most recognizable town image. It was built in the 10th century and redesigned in the 13th century in the Arab-Norman style. The cathedral has a shining golden mosaic on the top, the intricate Moorish details of the facade, and the portico.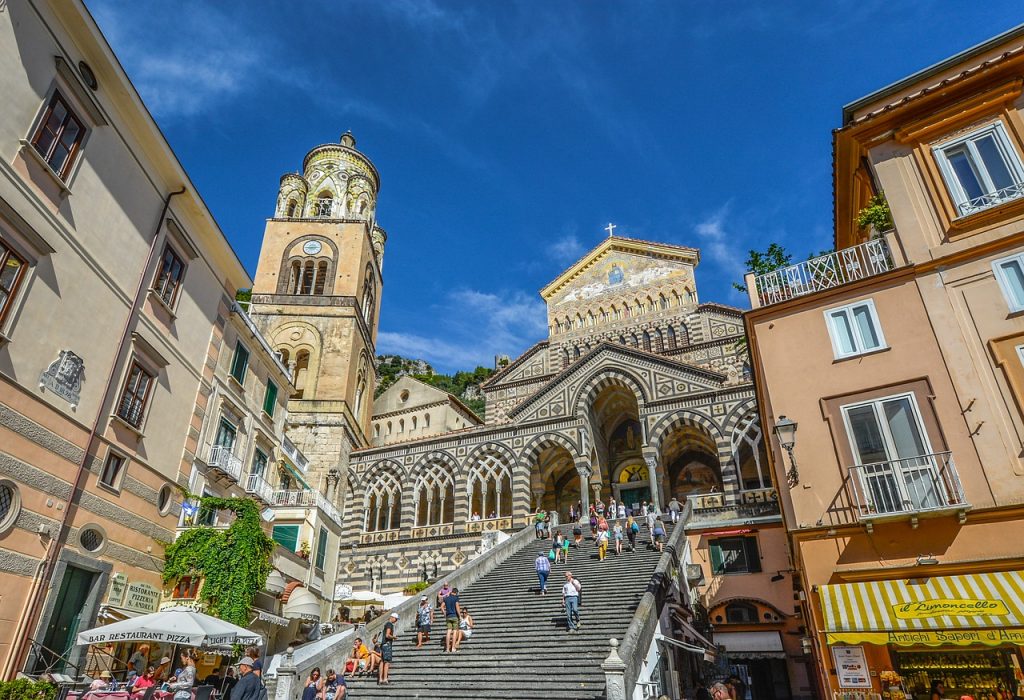 62 steps lead to the entrance of the cathedral, and on the left, there is the bell tower with a precious majolica finish on the top. The interior of the church is in Baroque style with a ceiling covered with paintings. The ticket to visit the Duomo costs 3 euros and includes the cloister, as well as a small museum and the crypt.
Chiostro del Paradiso
The Cloister of Paradise is part of the Cathedral of Sant'Andrea. It is an elegant Arabic-style building which was built between 1266 and 1268 by archbishop Filippo Augustariccio. There you will find nice details and amazing original frescoes. In the middle is a lovely garden with palms and from there you will have the best possible views of the bell tower.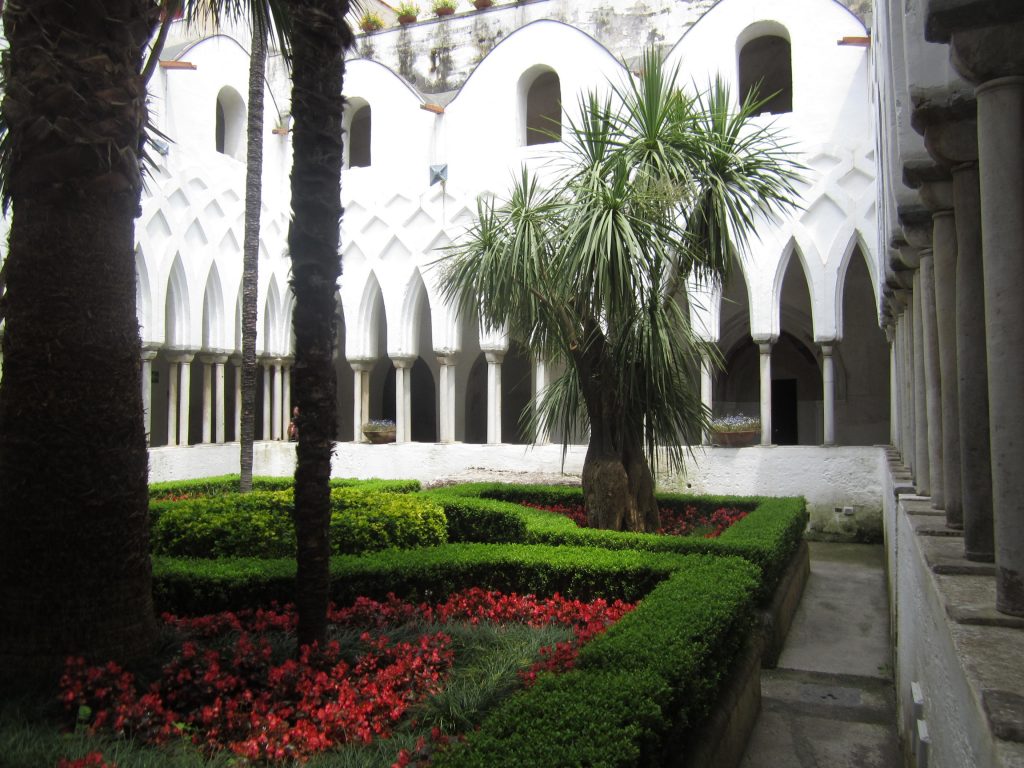 Fontana Sant'Andrea
If you wonder what else you can do near Amalfi's cathedral, you should see Fontana Sant'Andrea. This beautiful fountain is a feature of the square in front of the cathedral and a place where many locals come to get a drink of fresh water. Its current location dates back to 1869, and it mainly serves as a meeting point for the tourist hordes that flood Amalfi.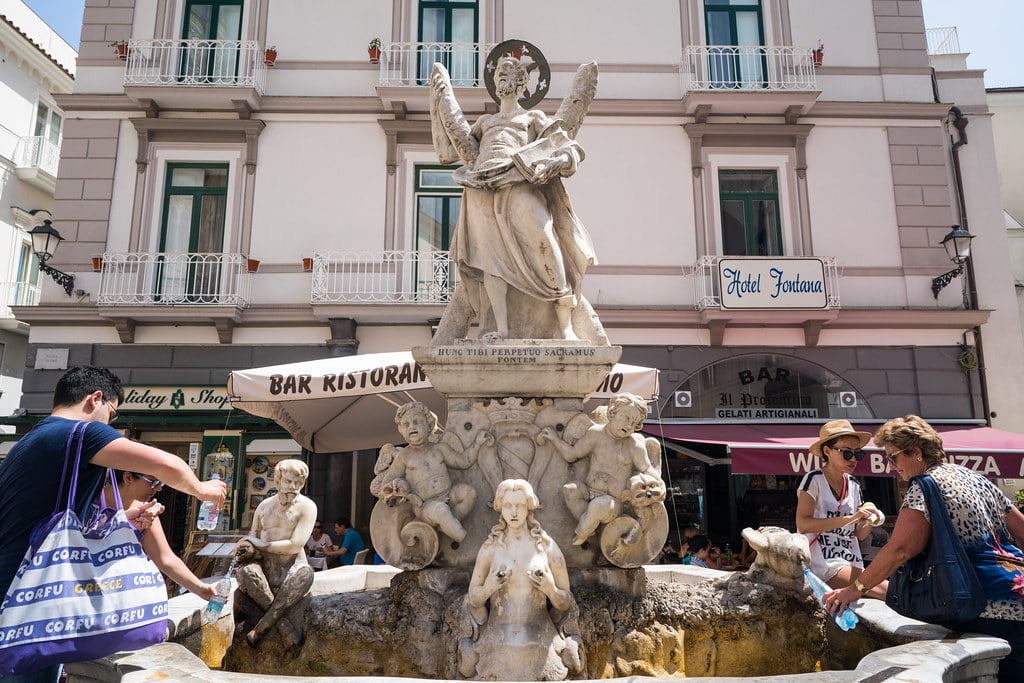 Museo Della Carta
Museo Della Carta is a paper museum located up towards the town's mountain end (15 minutes walk from the center). The museum is housed in an authentic paper mill dating back to the 13th century. For 4,50 euros you will get a guided tour around the museum. The tour lasts about an hour, and you learn about Amalfi's history as a medieval papermaking center.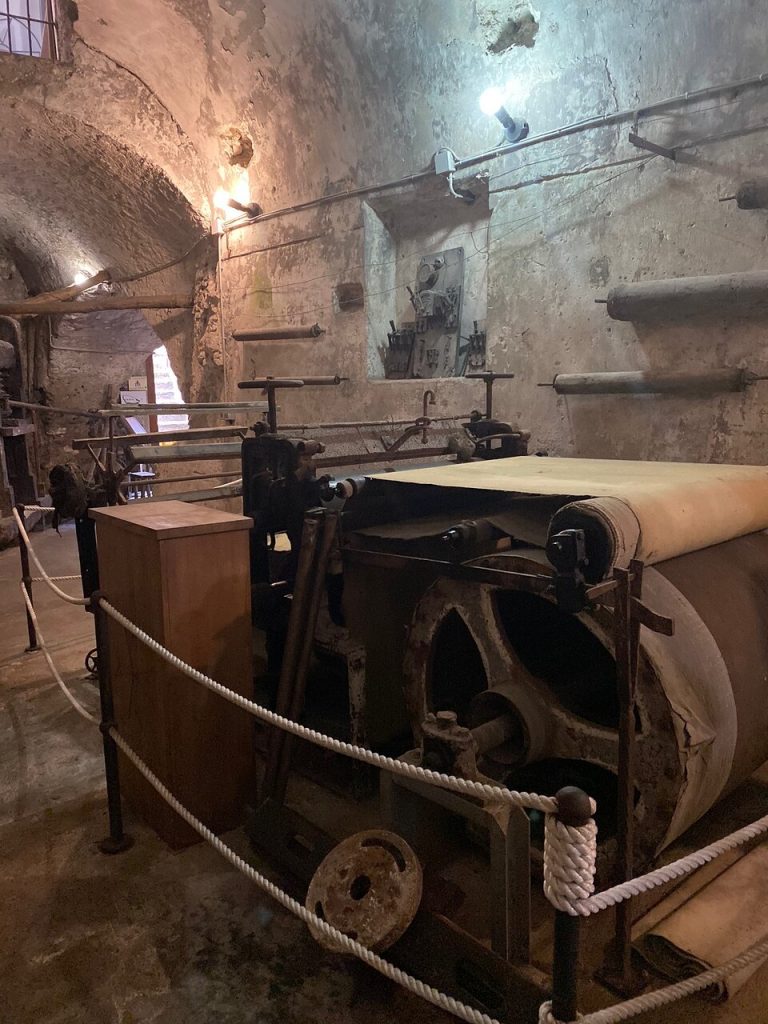 There will be a demonstration of the paper-making process, and you will be invited to make the wet paper by yourself. Furthermore, you will see centuries-old machinery used in the production of paper like wooden hammers, water wheels, hemp rags, and more.
There is also the gift shop that has some lovely handmade items, including pressed flowers, notebooks, and personalized wax seals.
Arsenale della Republica
If you want to know more about Amalfi's glorious past, you should visit Arenale della Republica. It is a 12th-century medieval shipyard that is turned into a museum. Exhibits include a centuries-old copy of the 66-chapter medieval laws of the sea, banners, ancient compasses and period clothing.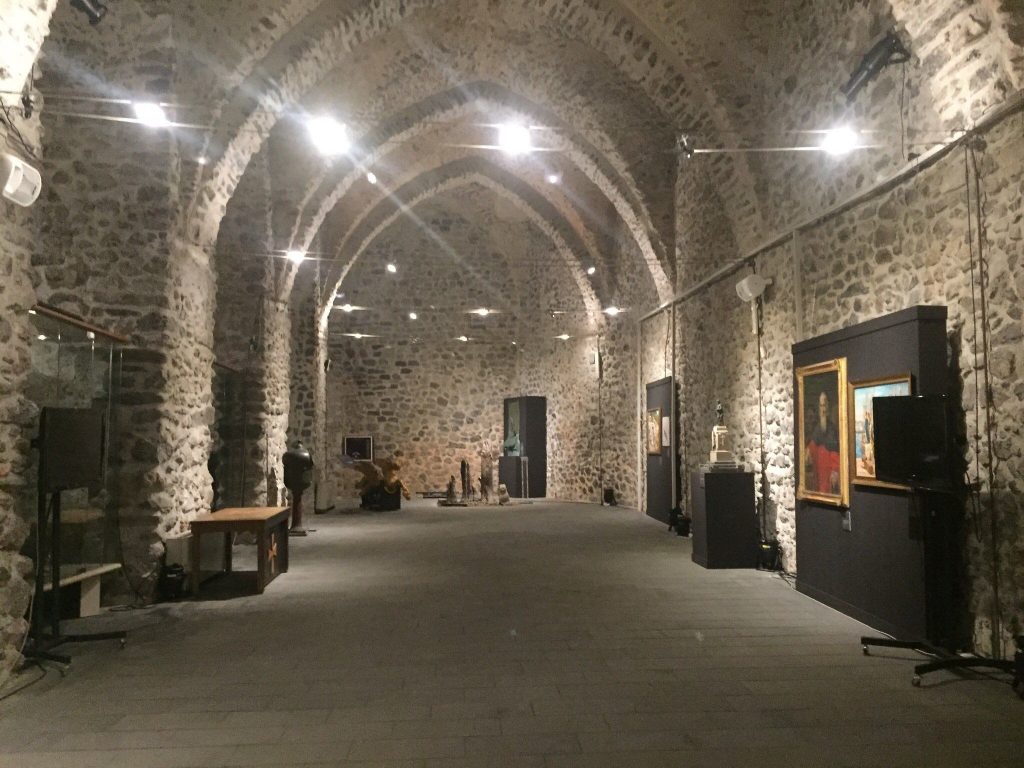 The museum's entrance ticket costs 4 euros, and it is a nice way of spending around 30 minutes. This museum is also home to the Amalfi Musical Show, a live theatre that is narrating an interesting story about the history of Amalfi.
Don't miss Amalfi Musical Show
Spending your time listening to great vocal artists is another great thing you can do in Amalfi. Located in Arsenale di Amalfi, this musical show is taking place every Wednesday and Saturday at 9 PM (21:00 hours). You will hear a story set in the ninth-century about Amalfi's liberation from bloodthirsty Lombard supremacy.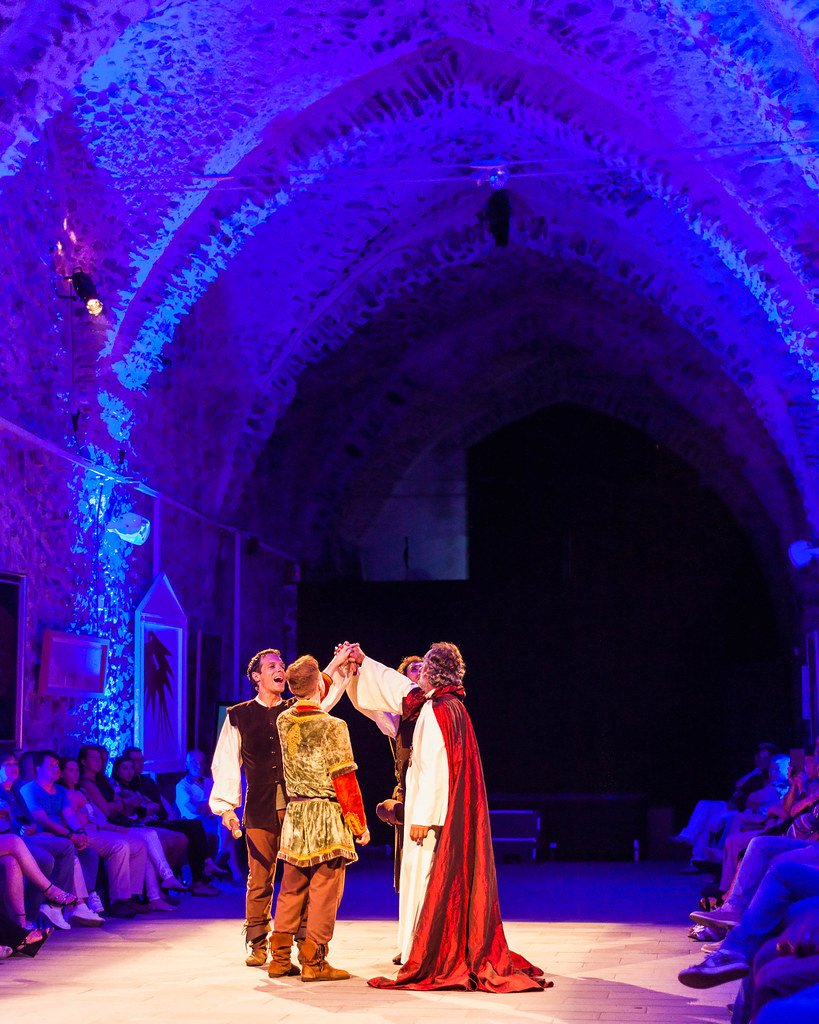 The performers are very passionate, committed and energetic, so I guarantee you that you will be blown away by the performance. Most visitors claim that they had goosebumps at least once while listening to the musical.
The performance is in the Italian language with subtitles in English and other languages. You need to reserve your seat in advance if you want to attend the musical. The ticket price is ranging from 15 to 35 euros depending on the location of your seat.
Amalfi musical is a unique live theatre and the best way to spend your evening in Amalfi, so don't miss the opportunity to experience this amazing show.
Relax on Amalfi's beaches
The first thing you notice when you come to Amalfi is a large beach with many people sitting there, chatting and enjoying the view of the sea. And you probably ask yourself, why is this so inviting and why I am not already there. The Amalfi's beaches are a great way to relax your soul, enjoy the fresh air and a beautiful sea view, and meet some new people.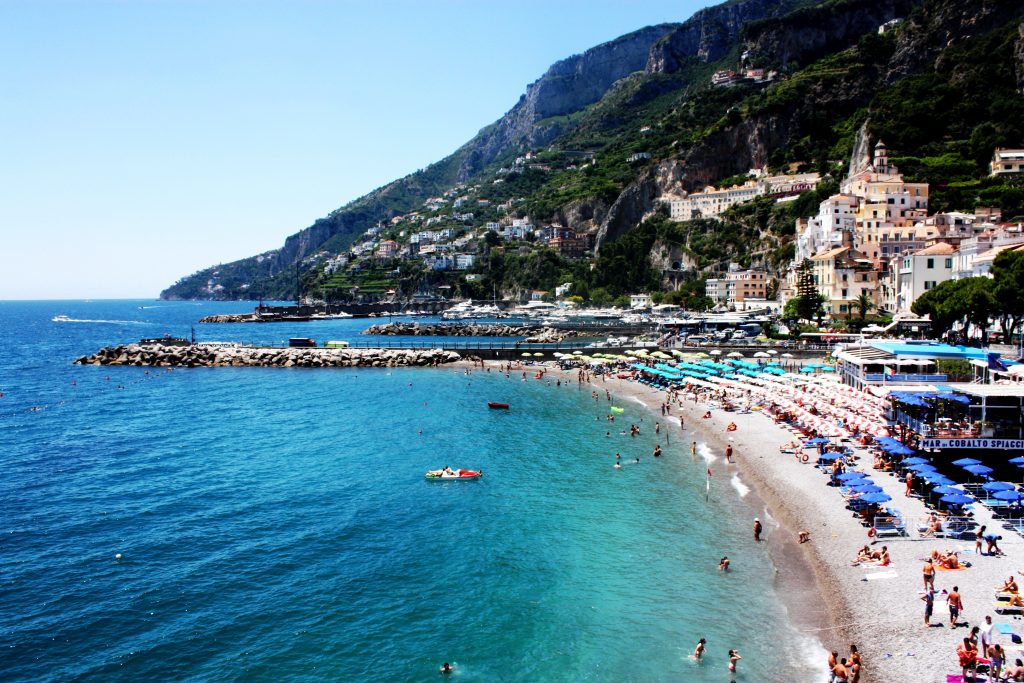 You will find sunbeds, parasols, showers, changing cabins, restaurants, cafes, bars, and shops on the beaches. In addition to the charged services, each beach has a free section to spread out a towel. Most beaches have small pebbles, so I advise taking bathing shoes if you are bothered by pebbles under your feet.
Spiaggia Grande beach
Spiaggia Grande is the main and the busiest beach of Amalfi. This 300 meters long beach has a mixture of pebbles and sand and offers stunning views of the town behind you. Since Spiaggia Grande beach is close to the center, it is often crowded with tourists during the summer months.
Therefore, most part of the beach is filled with sunbeds and parasols. But still, there is a small area of the beach where you can put your towel for free.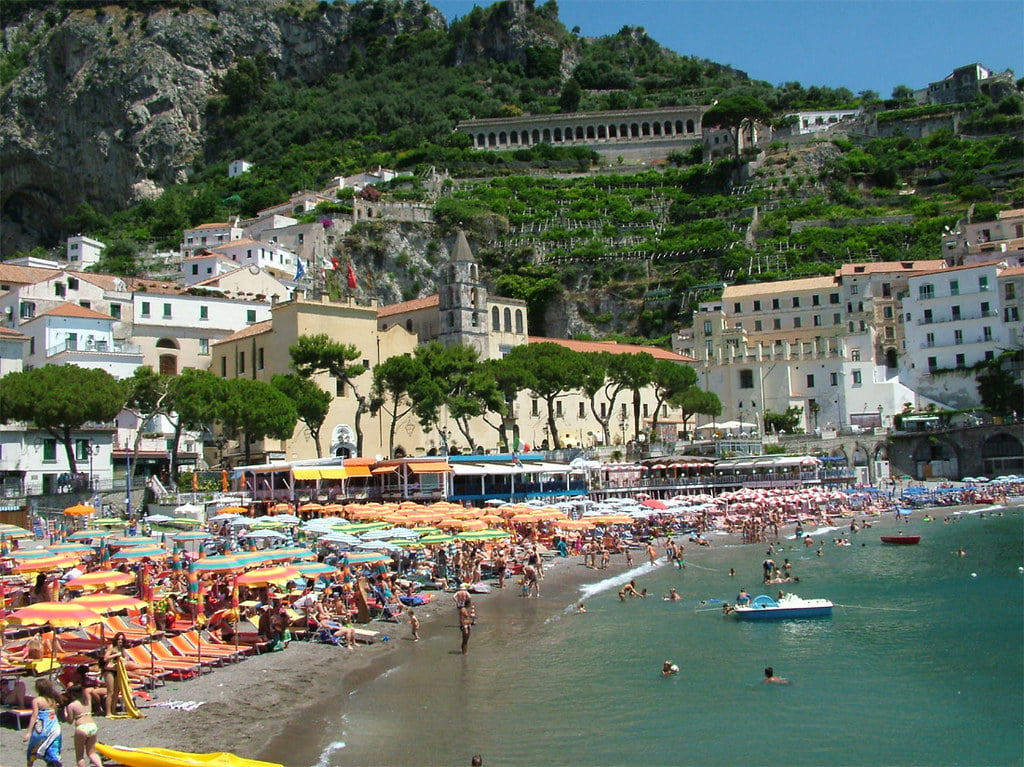 Duoglio Spiaggia beach
Duoglio Spiaggia beach is one of the most beautiful pebbly beaches on the Amalfi Coast. This beautiful beach is located 1 km away from Amalfi, and it can be reached walking down 400 steps from the motorway. For coming to the beach, you can choose between a bus or boat. The entrance to the beach is free and there is plenty of space to put your towel.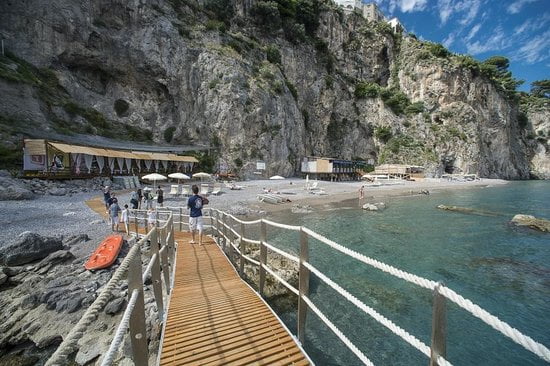 In my opinion, the best way to go to the beach is by boat, which costs 2 euros per person and takes 5 minutes. Duoglio Spiaggia beach is not so busy as Spiaggia Grande, and it offers clean water as there is not so much sea traffic. Also, there are 2 restaurants where you can refresh yourself with a cold drink on a sunny day.
Shopping in Amalfi
You can't miss shopping in Amalfi! It is a "must" thing to do in Amalfi town. Do you want a unique souvenir that will remind you of the perfect vacation, a carefully selected gift for your loved ones, or simply treat yourself? Here is a list of ideas and popular stores in Amalfi.
Ceramics
If you want to buy ceramics or tiled goods, visit one of the many ceramics stores. I suggest you visiting Milleunaceramica, which is considered a real pearl among ceramic shops in Amalfi. The store has many pieces that are different from the standard Amalfi ceramics you see displayed in all the shops.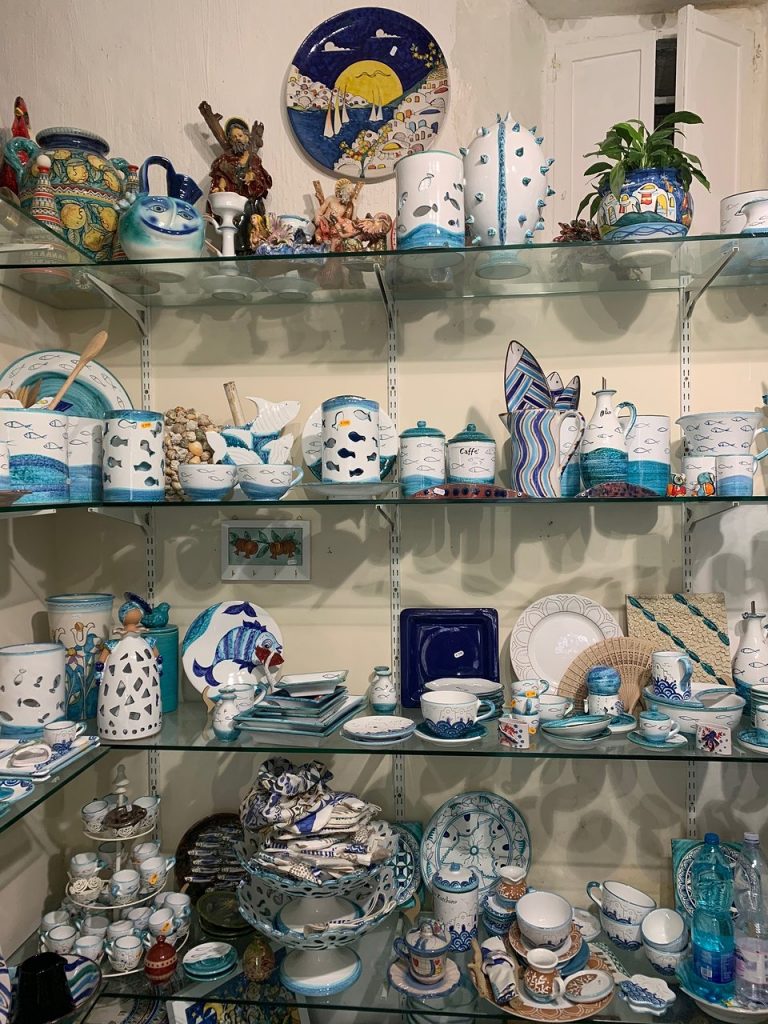 Choose from a multitude of different designs, colors, and patterns on the pottery. You can find watches, bowls, platters, plates, trivets, and many other products in the store. Local artists make all the ceramics with fresh, interesting designs using local clay.
Tourists agree that this store's prices are affordable, and the products are high quality and beautiful. There is also an option to get your products to your home address via international shipping.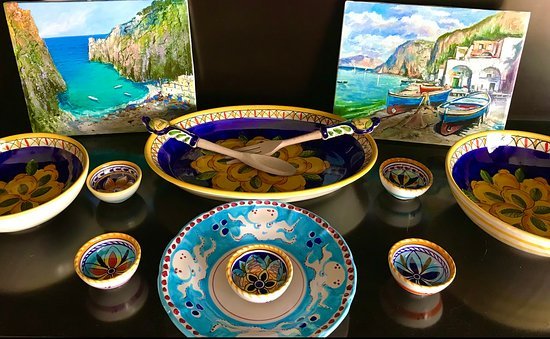 Visit Ceramiche il Ninfeo if you are a fan of Italian art and ceramics. There is something for everyone in this large hillside pottery shop. The store sells hand-painted tables, platters, bowls, vases, and giftwares with a plenty of different designs and colors. The choice is great, and the prices are reasonable. Ceramic products are an excellent souvenir of the time you spent in Amalfi.
Limoncello and lemon products
It would be a sin to come home from your Amalfi Coast trip without a bottle of limoncello or other lemon product. Therefore, I recommend visiting the Antichi Sapori d'Amalfi store. It is a family-run shop in Amalfi's main square, where you can find unique and high-quality lemon products.
There you will find various local drinks made of lemon and melon as well as everything from limoncello liqueurs to limoncello chocolates!
Also, there is a great selection of lemon products (home scents, fragrances, candies, soaps, etc.). The great thing is that you can do a lot of taste sampling, so you can pick a product that you like the most! Furthermore, in the shop, you will find beautiful craftwork on the glass and ceramic bottles.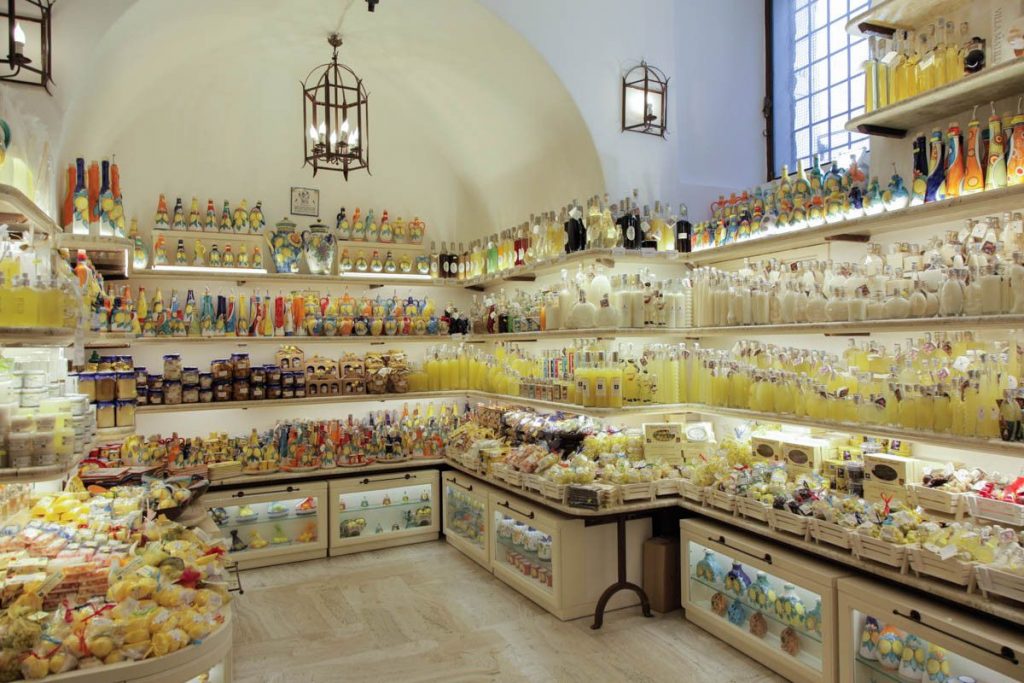 In Antichi Sapori d'Amalfi, you can try the best limoncello according to the family recipe. You can also hear and watch how limoncello is made and learn how to distinguish between recognizing a real limoncello. Their prices are reasonable, and the owners are very kind and helpful.
Handmade paper
How cool it would be to have handmade paper as a souvenir from Amalfi. Well, you can buy it in the Tabula store. It offers a pure cotton handmade paper that is made according to ancient handicraft techniques. You can hear more about the papermaking process in the store, and you can even try writing with the handmade glass ink pens.
The handmade paper is a bit expensive souvenir, but it is highly durable. If you visit this store, you will get a complete experience of Amalfi's paper's history.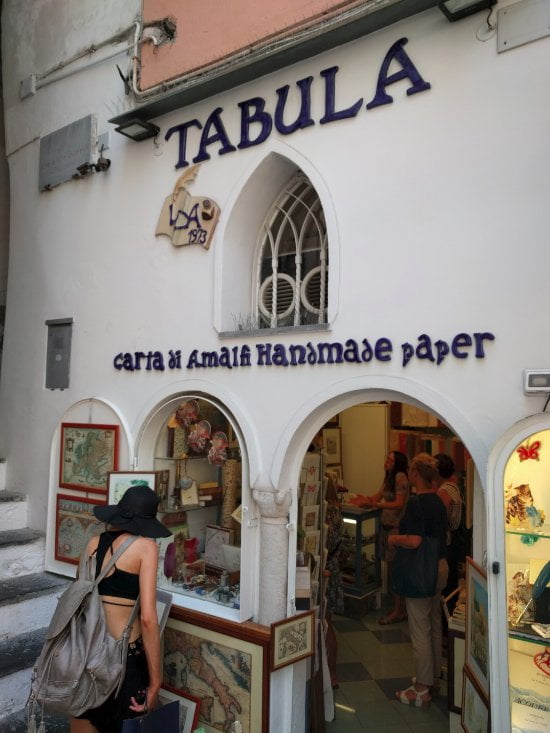 In the Tabula store, there are also papers for writing letters, envelopes, journals, wedding invitations, showers and birthdays, letters and business cards, watercolor papers, handwriting items, seals, inks and wax, albums, notebooks, book covers with leather covers, and many other products!!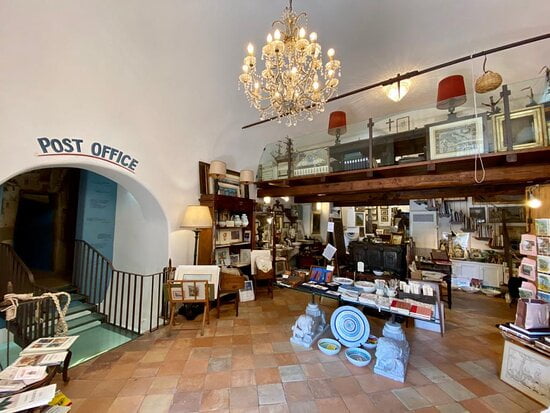 Another lovely shop with handmade paper is called La Scuderia del Duca. It is a small shop that is offering beautiful paper and pen themed products. It is a great place to find many souvenirs for your friends and family!
Perfumes and colognes
If you want a unique scent that will always remind you of the time spent in Amalfi, be sure to visit Goccia d'Oro. This is an Italian scent shop where you can mix your own natural scents and make your own perfume! You can't get an experience like this everywhere.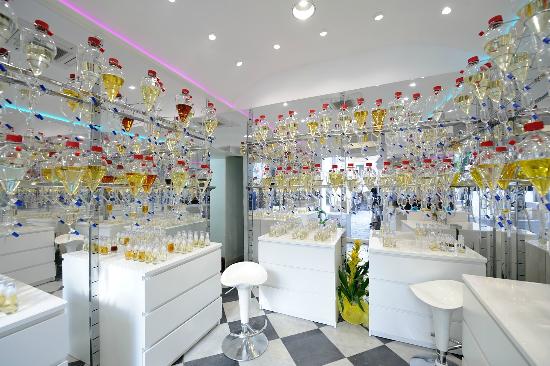 Bags and sandals
If you are looking for high-quality bags, purses, briefcases, wallets, and belts made of soft leather, you should visit Bazar Florio. The family that owns this store makes these leather products by themselves. The selection is huge, the designs are unique, and the prices are reasonable for good quality. Believe me, you will not be able to decide what to buy!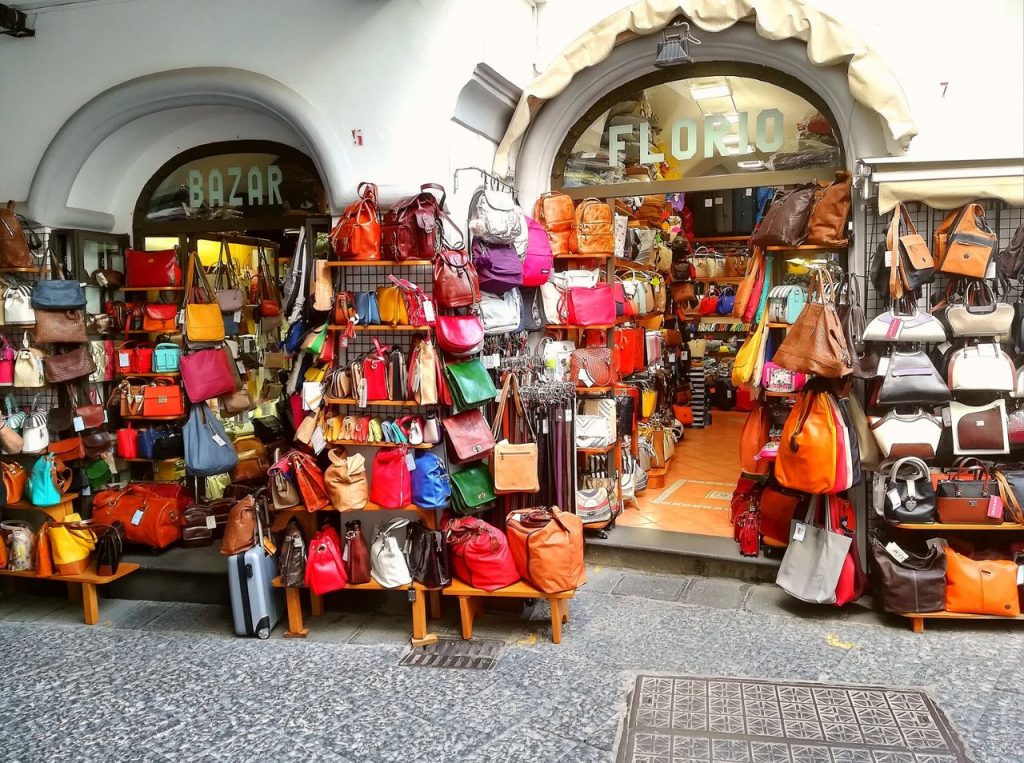 Want original, custom-made sandals? Then you should visit Creazioni Chris where you will get good quality sandals that will fit you perfectly! Choose from different styles, models, and decorations that you can put on sandals. Your sandals will be ready in less than 15 minutes, and the prices are great, unlike similar stores on the main street.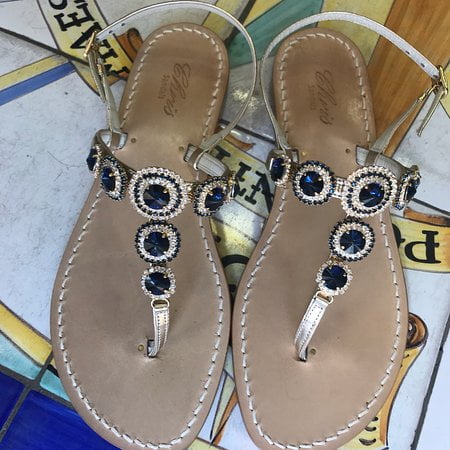 Another store where you can buy handmade sandals is Stefania Shoes. Choose from many models, designs, colors, and heel sandal heights. The store is a great choice for fashion lovers and those who need souvenirs that can be used every day.
Clothes
Those looking for unique and cool clothes should check Jp Boutique Amalfi. It is a shop run by a local artist and designer. You can see a lot of clothing, ceramics, accessories, jewelry, and more in the store. All products are unique and made with love. Prices are very reasonable for quality products!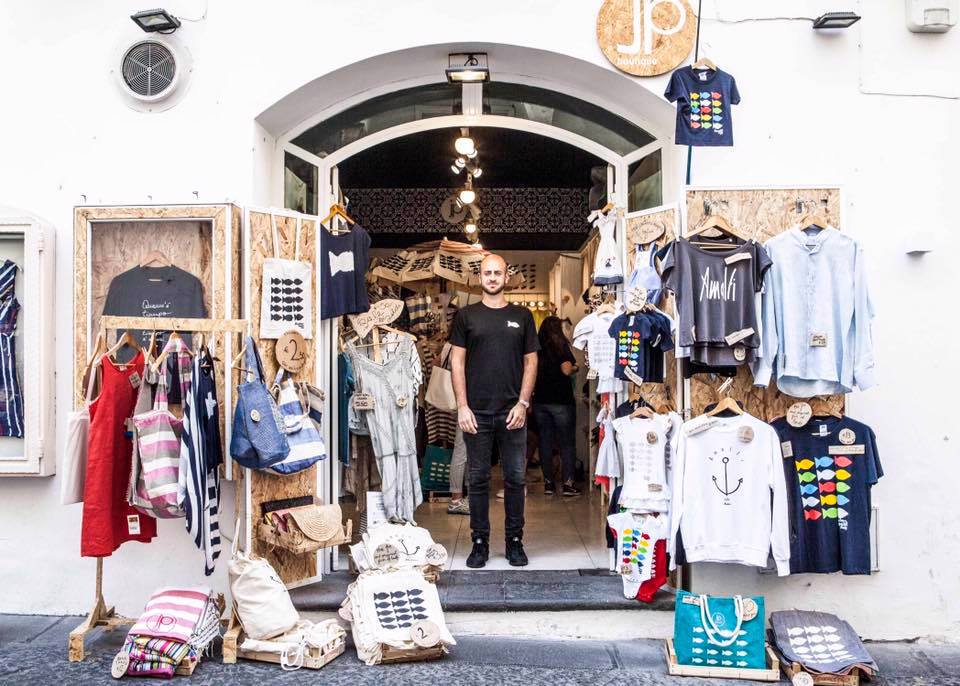 Scarves and ties
Are you a silk lover and want a scarf or Amalfi tie? Go to Vincelli Silk, and there you will find beautiful, soft, and affordable scarves and ties. The designs are very original and elegant, so you won't be disappointed!
Hike georgeous Valle delle Ferriere
The nature reserve Valle Delle Ferriere is one of the most beautiful places for hiking. In my opinion, this reserve is the most beautiful thing to see in Amalfi. It is named after the industrial past of the valley, of which some ruins of old ironworks still testify today.
The approximately 500-hectare area enchants with dense forests, unique flora, and many waterfalls. Visitors can also see rare animals such as salamanders and otters.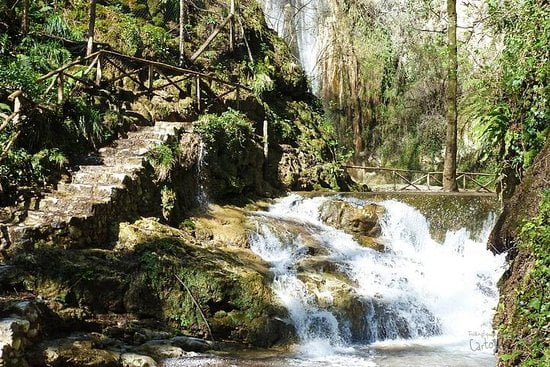 To get there, you need to walk through Amalfi's town and follow the signs for the walk as you take on the steep steps. During the walk, you can enjoy seeing lemon groves and ruined historic watermills used to power the old paper.
After around 30 minutes, you will enter the forest part of the walk. The hike continues for about an hour where you will come across the entrance to the nature preserve.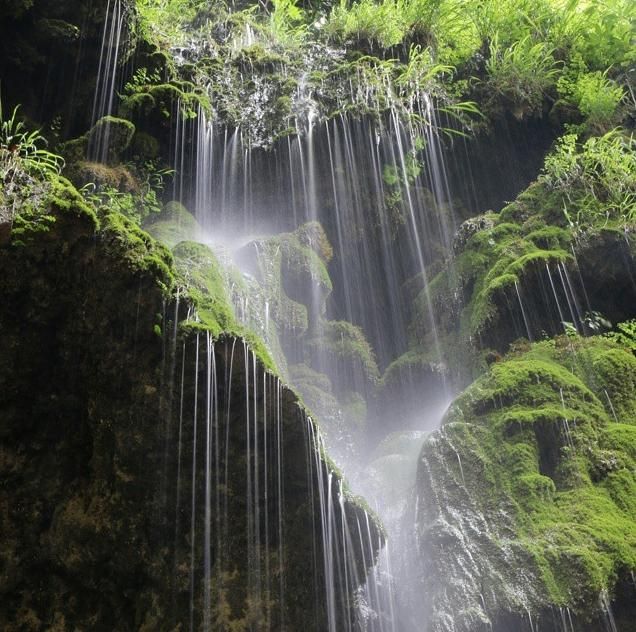 The hiking route around this magnificent nature reserve is 6 kilometers (3,7 miles) long. The entry ticket costs 5 euros per person, and you need to buy it online before you arrive. The hiking route has many climbing and descending turns, so you need to be in good shape and have proper shoes. At the end of the route, there is a spectacular waterfall where you can even swim.
Visit Atrani
Atrani is a beautiful authentic Italian fishing village that is still unspoiled by mass tourism. It is located in the divide of two cliffs on the shore of the Tyrrhenian Sea. Atrani is the perfect town for exploring because it is quiet, picturesque, and its winding streets have remained largely unchanged. This little hidden gem is only 15 minutes walk away from Amalfi.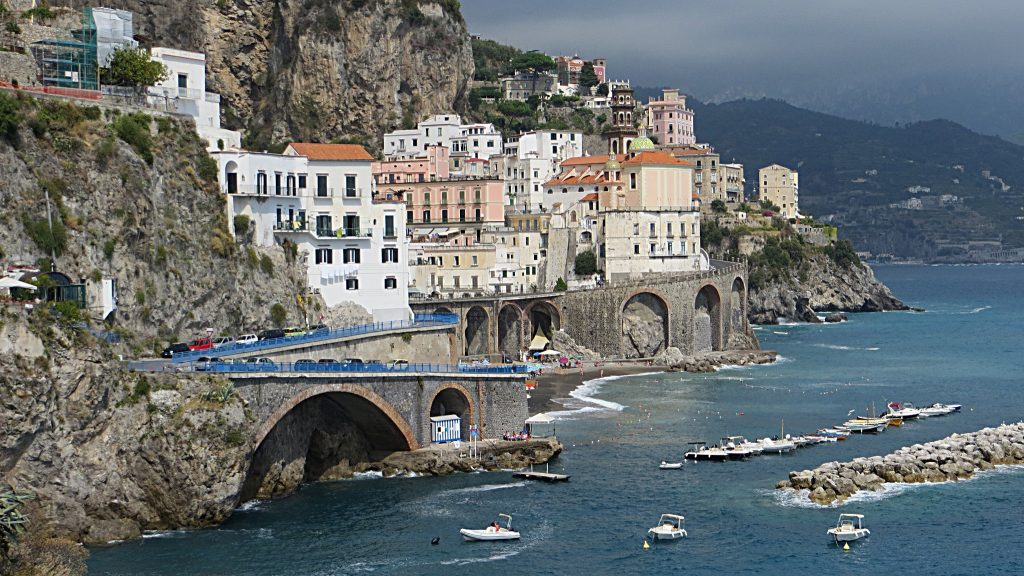 Atrani is the place to experience Italy as it should be. You can enjoy wandering through the narrow, winding streets among ancient houses, which boast beautiful balconies full of flowers.
Or you can discover thirteenth-century baroque churches and piazzas with spurting fountains. Take a break from urban traffic, noise, and the crowd and have a wonderfully relaxing day in Atrani.
Visit Emerald Grotto
If you visited all attractions and don't know what to do in Amalfi, you should visit this beautiful cave. Emerald Grotto or Grotta dello Smeraldo is one of the most famous caves on the Amalfi Coast. This magnificent cave is located in Conca Dei Marini, which is just a short drive from Amalfi. The cave, filled with seawater, is named after the emerald green light that floods its interior.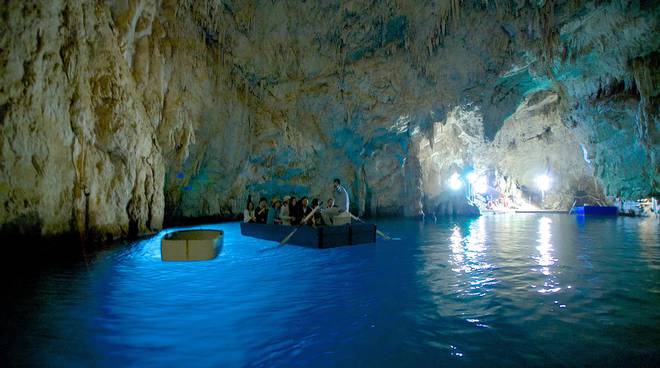 The entrance ticket costs 5 euros per person and visitors enter the cave through an artificial tunnel. The Emerald cave can be accessed by both land and sea. If you are coming by car, there is a small parking area along the SS 163 highway.
To reach the Grotta dello Smeraldo entrance, you need to take the stairs or elevator. If you don't have a car, you can book a private transfer by boat from Amalfi.
Try traditional Italian cuisine
Amalfi Coast is known for its tasty Mediterranean and Seafood cuisine. So in Amalfi town, you will find plenty of good restaurants with fresh local food. Having a nice delicious meal with your travel buddy will always stay in your memory. Therefore, you should at least once spend time in an authentic Italian restaurant while being in Amalfi town.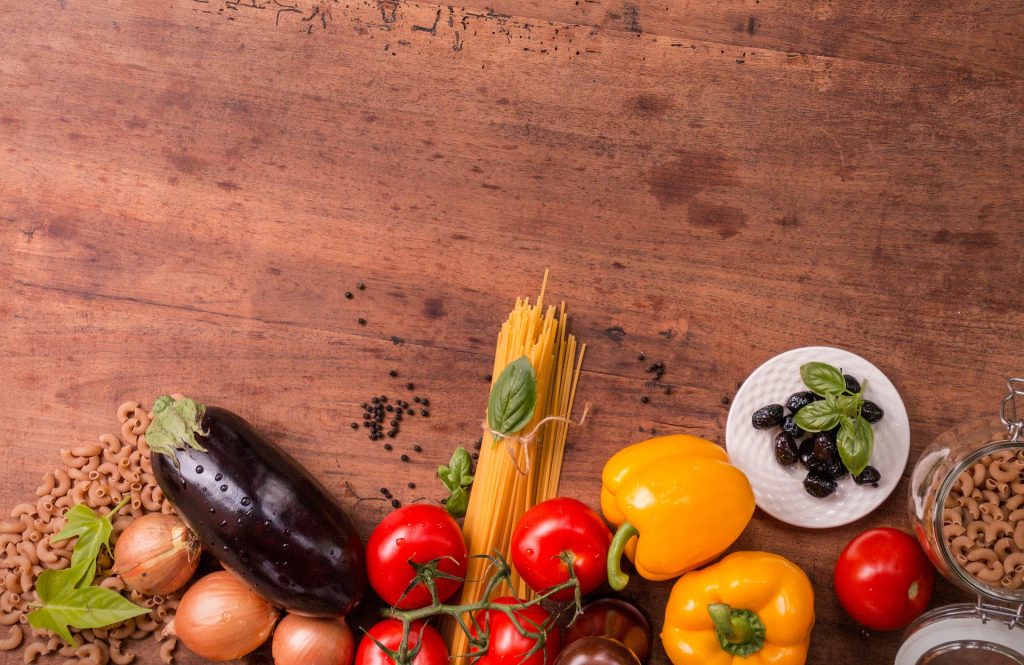 If you want to try authentic Seafood cuisine, we suggest you Taverna degli Apostoli restaurant. It is a family-run restaurant located on the main square next to the steps leading up to the Sant'Andrea cathedral. The menu is extensive and interesting and doesn't have the same repetitive menu you get everywhere else, without being too complicated, making this restaurant unique.
The price range of the food is from 15 to 40 euros per person. The service at this restaurant is first-class with exceptional attention to detail. The food is made out of freshly caught seafood and it tastes unbelievably good.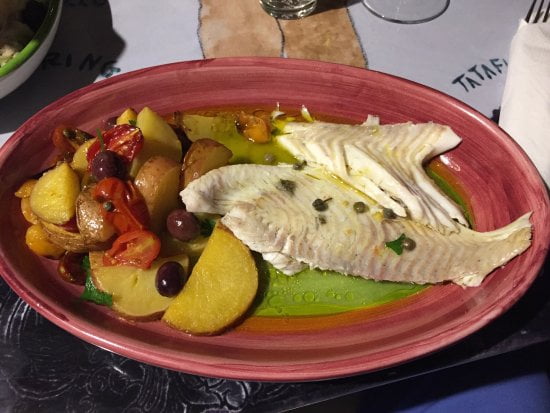 Those who are looking for a glamorous restaurant with artistic plates should visit the Sensi restaurant. It offers an amazing gastronomic experience at a reasonable price overlooking the ocean. The service is excellent, and the food is outstanding, very creative, innovative, and memorable. The price for fine dining at this restaurant is from 40 to 120 euros per meal.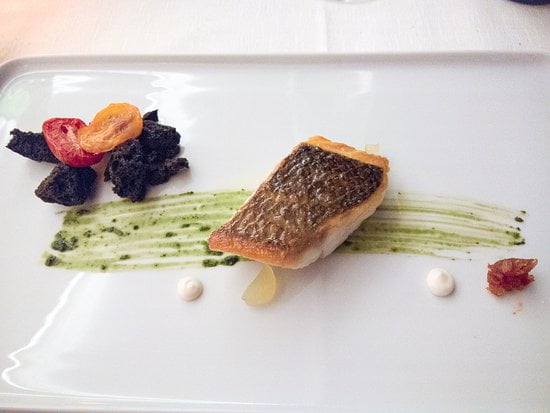 Read more: Amalfi town best restaurants
Go get some Pizza
If you are looking for a budget-friendly lunch and want to eat something Italian, you should go for a pizza. At La Rua Pizze E Delizie, you will get a homemade, high-quality pizza made with fresh ingredients.
This family little restaurant is located 150 meters (0.1 miles) away from the main square, but it totally worth it to walk extra 2 minutes uphill to get there. The restaurant has outstanding service, fresh-cooked huge pizzas for the price of a slice elsewhere, and drinks at supermarket prices.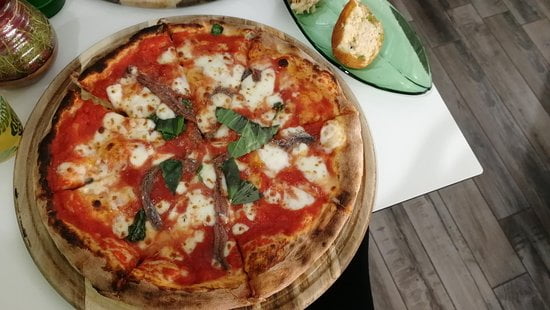 Try Fish & Chips
If you want to have a quick Seafood lunch for takeaway, you should visit Cuoppo D'Amalfi. It is a little fry shop tucked into a shady alley off the main square. For 5 euros, you can order fantastic deep-fried squid, prawns, and small fish and chips. The food is tasteful and salty, and they also give you a wedge of lemon to squeeze over it.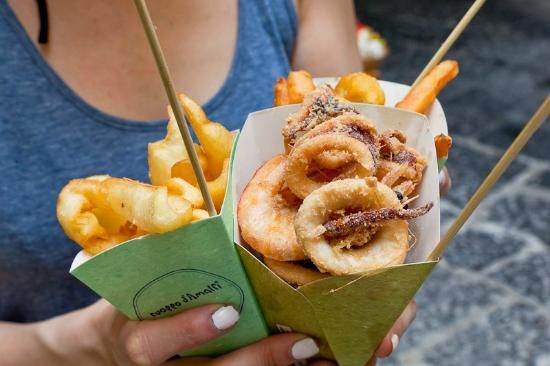 Don't leave Amalfi without trying Lemon Delight
Lemon Delight (Delizie al Limone) is a famous local dessert you need to try in Amalfi. It is a small sponge cake covered and filled with whipped and lemon cream, making it look like a lemon molten lava cake.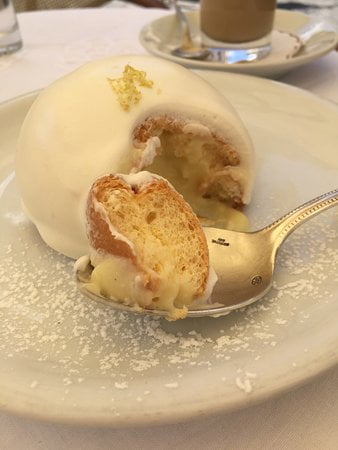 To taste the confectionery specialty of the Amalfi Coast, you should visit Pasticceria Andrea Pansa. It is founded in 1830 and located just a few meters away from the stairs leading to the Sant'Andrea cathedral. You can also get delicious coffee, tiramisu cake, candied lemon and orange peel, and other sweets.
Book Lemon Tour in Amalfi
If you want to experience something unique in Amalfi, you should take Lemon Tour & Meetings. In this tour, you will learn more about growing and harvesting lemons, and you will see workers in action in the gardens.
Then, you will taste amazingly good lemon cake and fresh lemonade in the lemon garden. Furthermore, you will visit the family's Museum of Arts and Crafts, where you can see how to make limoncello and taste their products.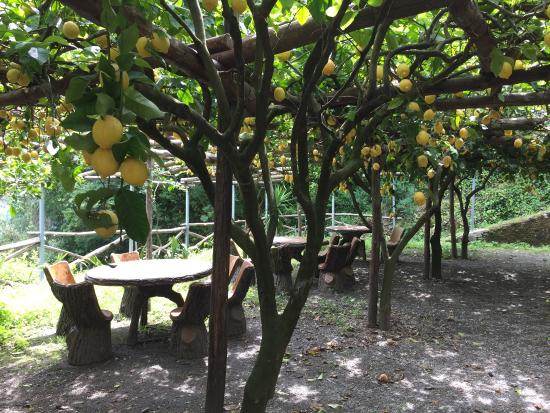 The tour lasts around 2 hours and costs 26 euros per person. The host, Salvatore, is super nice, friendly, and really had a lot of knowledge and stories about lemons. This tour is also in such a beautiful photogenic location where you will increase your Amalfi photo collection.
Book a Kayak Tour in Amalfi
One of the most amazing things to do in Amalfi is taking a guided kayak tour along the Amalfi Coast. With a kayak, you have a chance to discover the Amalfi Coast's hidden delights, finest beaches, and incredibly shaped rocks. Trust me, you will have an experience that will never be forgotten.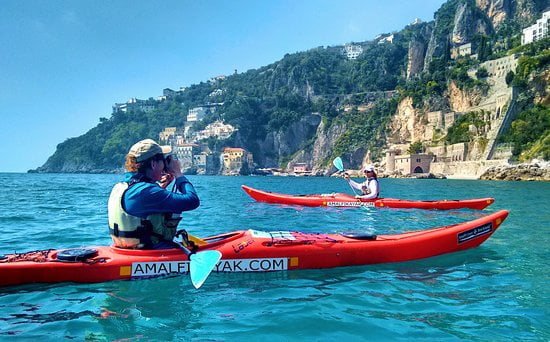 To book a kayak tour, I recommend Amalfi Coast Sea Kayak. They are local guides and instructors with a lot of knowledge and experience. The guides will introduce you to safety information and a simple kayaking technique. Also, they will always offer to take photos of you during the tour.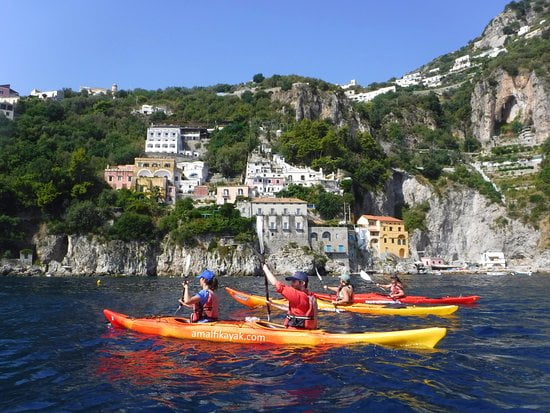 You can choose between half-day tours and full-day tours. Half-day tours last around 3 hours and cost 60 euros per person. On the other hand, full-day tours last around 7 hours and costs 160 euros per person.
Rent a bike or book a cycling tour in Amalfi
If you want to see more of the "real" Italy and move away from the densely packed tourist area, you should consider renting a bike or booking a cycling tour. Cycling through Amalfi Coast is a truly mesmerizing way to explore the stunning natural and cultural treasures. You can cycle through quaint fishing villages and towns while having the blue Mediterranean on one side and the sheer mountain cliffs on the other.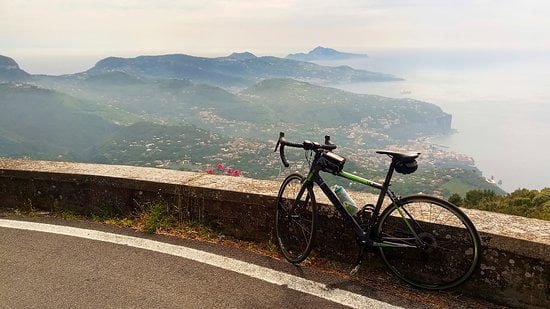 For renting a bike and booking a cycling tour, I suggest Cycling Amalfi Coast. You can rent trekking bikes (30 euros per day), road bikes (40 euros per day), or electric bikes (40 euros per day).
If you don't want to sweat, you should rent electric bikes because they will help you with uphill climbs. All bikes are smooth to ride, high quality, and in excellent condition. You can even order a bike delivery at your hotel.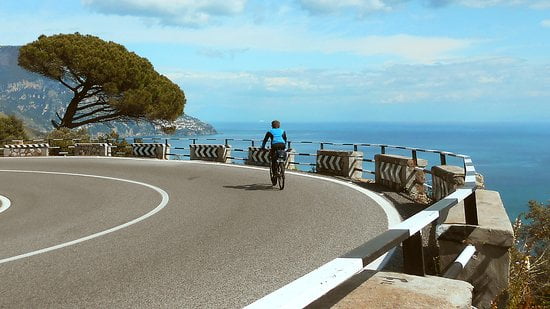 If you decide to book a guided cycling tour, you can choose between a half-day tour and a full-day tour. The half-day tour lasts between 3 and 5 hours and costs 100 euros per person. The full-day tour costs 160 euros per person, and it is better if you want to have a slow and relaxing experience with longer stops in the reached places. Your guide will be Daniele, who grew up in the area and knows the roads and mountains like a true professional.
Rent a boat in Amalfi
Renting a boat in Amalfi is another great way to see the beauty of the Amalfi Coast fully. By driving around your own boat, docking at different charming towns, and exploring hidden coves, you will have a one of a kind experience. Seeing the Amalfi Coast from the water gives you a different view of this beautiful area, and cruising away from the crowd makes your vacation very relaxing.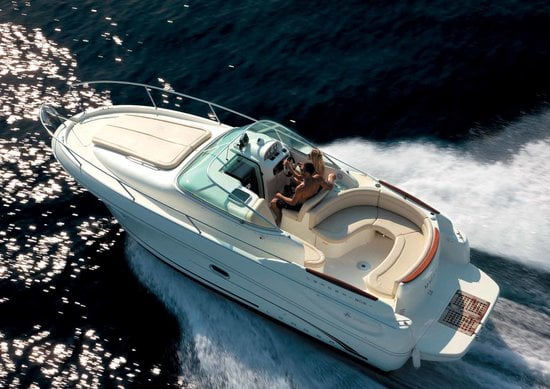 For excellent rental service, you should check Amalfi Marine. It is a rental company in Amalfi that offers various boats in different lengths, rubber dinghies, models that do not require a sailing license, and Jet Skis.
The company workers will take the time to show you how to operate the boat, answer any questions you have, and pick up the boat away from the dock so that you don't have to worry about docking it.
Go on a day trip
Besides Amalfi, there are plenty of beautiful little towns and villages on the Amalfi Coast that you should visit. If you are based in Amalfi for at least a few days, you should consider going on a day trip. For your transport, you can choose between a bus or a ferry. Here are the most popular day trips from Amalfi:
Day trip to Ravello
Ravello is a gorgeous hilltop village located more than 365 meters (1200 feet) above the Mediterranean sea. Because of its position, Ravello offers probably the best views that you can get on the Amalfi Coast. It is also famous for the magnificent Villa Cimbrone which is today a 5-star hotel.
But its beautiful gardens, preserved ruins, and Terrace of Infinity are open for visitors. There are an interesting Duomo and a small shop with homemade cookies and sweets in the village's little center.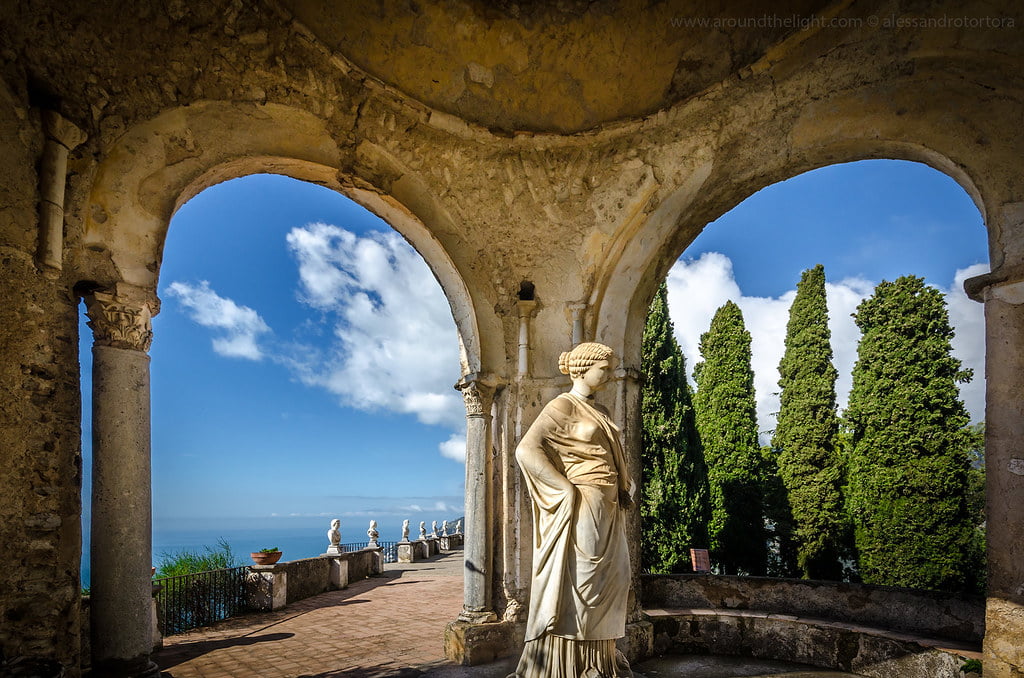 Ravello is only 7 kilometers (4.3 miles) drive away from Amalfi, so it is easily reachable by bus. The bus is heading from Amalfi to Ravello every 15 minutes, so you don't have to worry that you will miss it. It will take around 30 minutes to drive to reach Ravello, and the roads are very tiny with narrow turns, so be prepared for that.
Read more: Ravello things to do
Day trip to Positano
Positano is the most popular town on Amalfi Coast. It is known as "the vertical city" because it extends like a terrace over several steep slopes on which Arabic-style houses and villas are located. Furthermore, in Positano, you can relax on the huge main beach called Spiaggia Grande or you can visit nice restaurants and shopping boutiques.
There is also a 12th century Duomo with its colorful majolica dome that is worth visiting. Besides, there are many more interesting things to do in Positano, so you should definitely go there if you have an opportunity.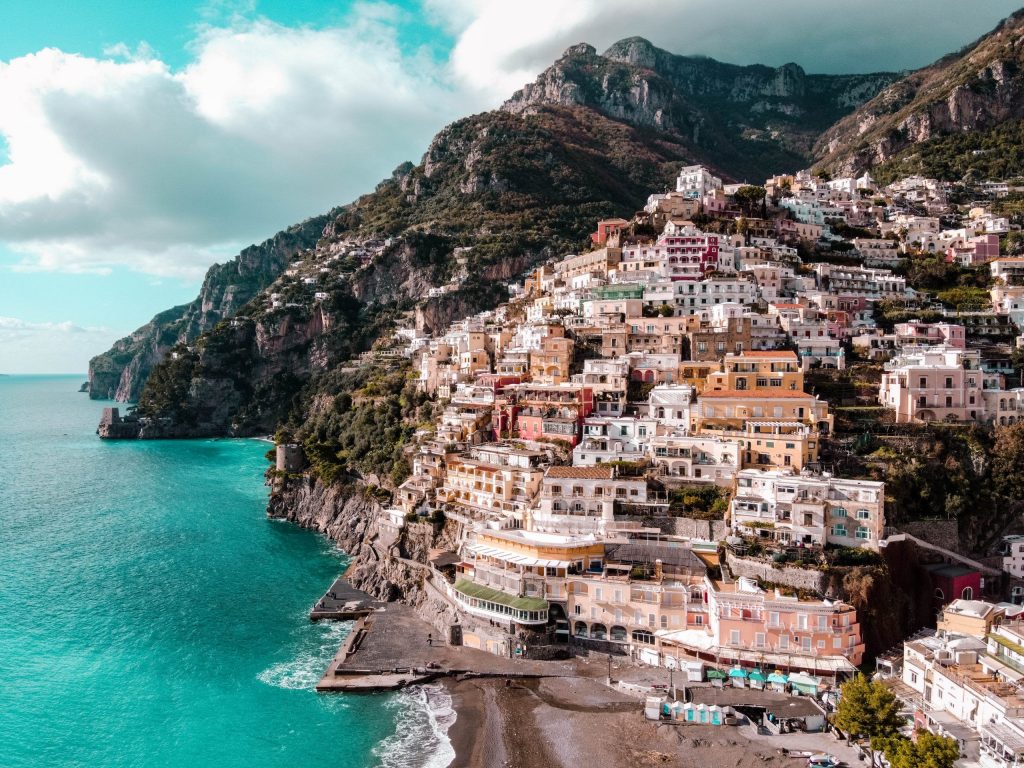 You can come to Positano from Amalfi either by bus or by ferry. Ferry services are more comfortable but also more expensive than the bus. The ferry ticket costs around 10 euros in one direction, and you will be in Positano after about 25 minutes ride.
If you want to save some money, you can take a SITA bus as your travel transport to Positano. It will take around 40 minutes to reach your destination. In summer, buses are usually very crowded so sometimes the ride could be uncomfortable.
Read more: Things to do in Positano
Day trip to Capri
If you want to enjoy a stunning landscape, glittering blue seas, and pine tree-strewn lands, you should visit the island, of Capri. It is located in the Bay of Naples, and it is known as a vacation destination for many celebrities and jet-set people.
Capri is known for its famous Blue Grotto, tiny streets full of flowers, amazing views, and glamorous shopping boutiques. Furthermore, you should not miss the ancient Tiberius villa while being in Capri.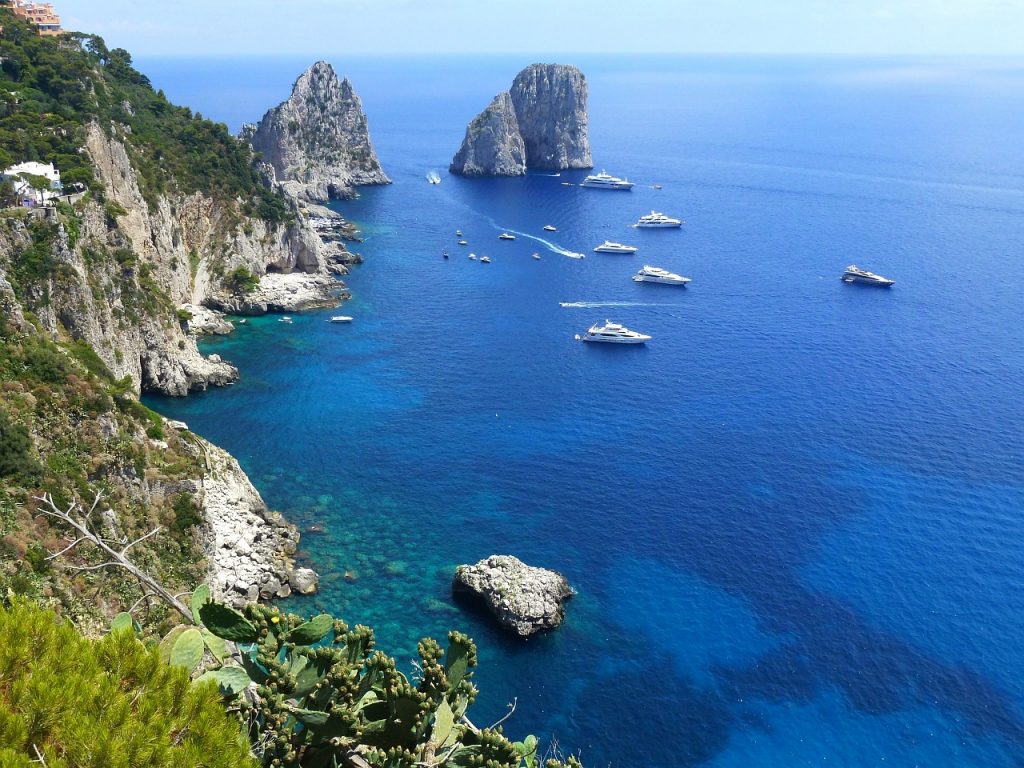 The only option to reach Capri from Amalfi is by ferry. It will cost you around 25 euros in one direction, and you will be at your destination in about 50 minutes.
Day trip to Sorrento
Sorrento is another beautiful town where you can enjoy excellent wines, and nice dining, or explore the streets. It is located closer to Naples and Rome than Amalfi, and it is known for its charming main square called Piazza Tasso.
Sorrento is situated on the hill, offering amazing views over the Bay of Naples and Naples itself. Furthermore, in Sorrento, it is nice to stroll in the historic part of the town where you can find many unique boutiques, limoncello, and souvenir shops.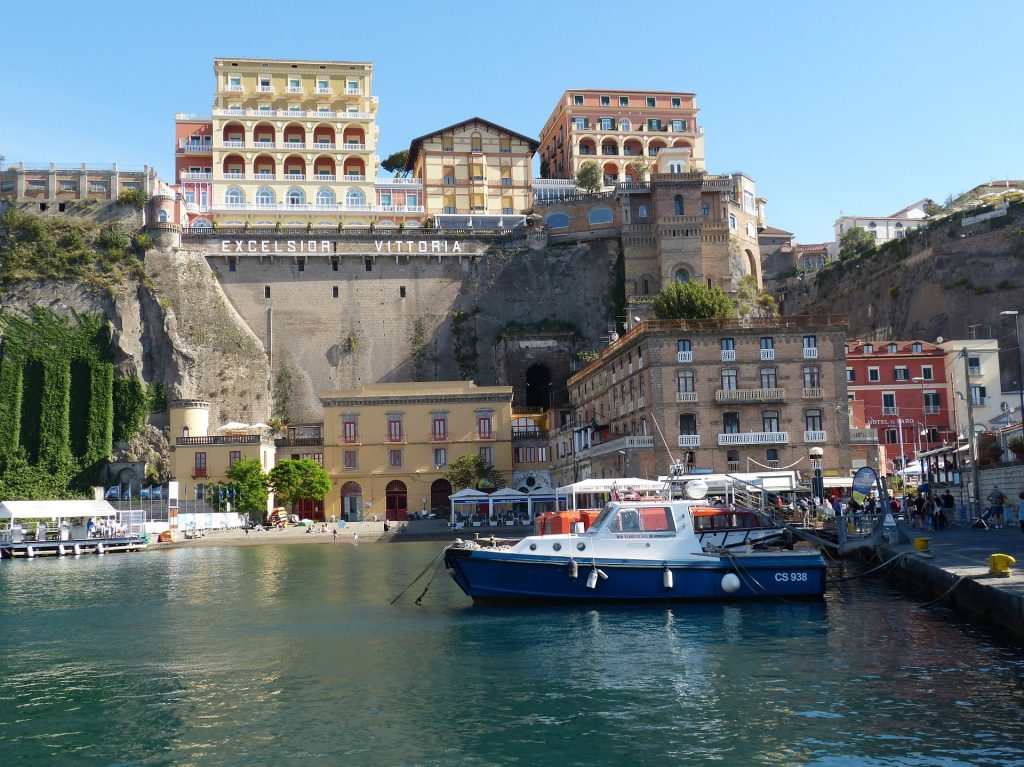 You can choose between a bus or a ferry to get from Amalfi to Sorrento. My suggestion is that you should take a ferry. It is a faster and more comfortable ride than by bus. The ferry ticket costs around 18 euros in one direction, and the ride lasts around 1 hour.
If you decide to take a bus from Amalfi to Sorrento, your travel will last around an hour and a half. Even though traveling by bus is cheaper than by ferry, I advise to take a ferry and spend more time exploring the town.
Read more: Things to do in Sorrento
Other things to do in Amalfi town
If you are in Amalfi on June 27th and November 30th, you can experience the Feast of Sant'Andrea. The event begins with a solemn procession with the saint's statue carried down the Duomo's steps through the city center to the Marina Grande beach, where fishermen welcome it.
After a blessing to the harbor and its boats, the statue is brought back by the fishermen who, in the end, run with it up the long and steep staircase that leads to the Cathedral. In the evening, there are games, music dances, and a beautiful firework display that light up the sea and the sky of Amalfi.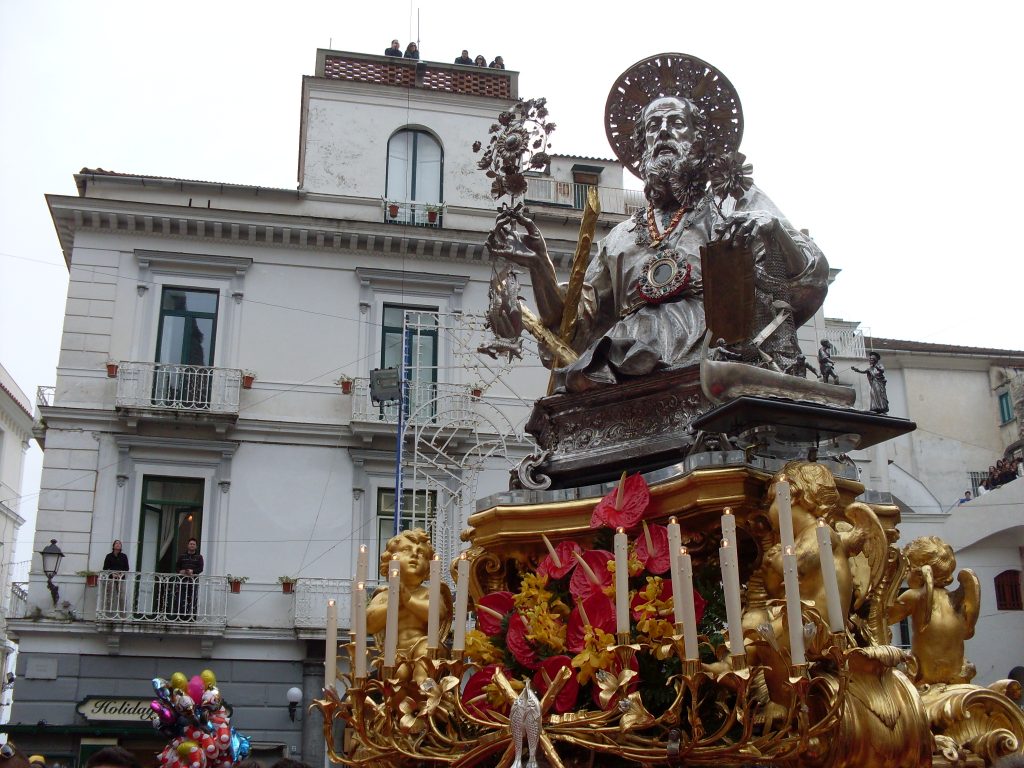 Another awesome event in Amalfi is the Regata Storica Delle Reppubliche Marinara which takes place every four years. It is a historic boat race that, for the last 68 years, has been held between Amalfi, Genoa, Venice, and Pisa, the city-states that dominated the Mediterranean Sea from the tenth to the eighteenth centuries.
During the historical regatta, a parade commemorates Amalfi's glory days as an independent maritime republic, where the participants appear in medieval costumes from various social classes.
Check out more articles about Amalfi town:
Hey there! Some links on this page are affiliate links which means that, if you choose to make a purchase, we may earn a small commission at no extra cost to you. We greatly appreciate your support!