Eating pizza in Italy is an adventure that every tourist should experience. Even though Amalfi town is a coastal town with mostly seafood restaurants, pizza should be at least once on your menu. There are not many pizzerias in Amalfi town but luckily they all offer very delicious pizzas for budget-friendly prices. All pizzerias have something unique, so it is hard to say which one is the absolute winner.
Italian pizzas are usually made in the Neapolitan way, with homemade fresh ingredients and many condiments, so they can taste different than pizzas in your home state. Furthermore, Italian pizzas are mostly based on tomato and mozzarella cheese, with olive oils and a lot of vegetables. Here are the best pizzerias in Amalfi town based on our experience.
(This article contains 5 pizzerias in Amalfi town, which are best in our subjective opinion. The order of the pizzerias is not related to the quality they offer. Every pizzeria has its pros and cons, so choose the pizzeria based on your personal preferences.)
Pizzeria Donna Stella
Pizzeria Donna Stella is a small pizzeria and a paradise for pizza lovers. You can enjoy in a beautiful outdoor setting situated in a lemon garden with lemons hanging above your head.
If you want to eat pizza in Amalfi and have a romantic experience, be sure to head here first. This family-owned pizzeria offers a large selection of delicious pizzas with amazing flavors and textures.
The pizza crust is also amazing. This lovely pizzeria has some other delicious food on the menu. Besides pizza, you can also order various salads, pasta, brochette, grilled vegies, chips, fries, bread, vegan and vegetarian food, gelato, and more. It also offers a decent selection of drinks like a decent selection of wines, beers, fresh juices, and spritz. Furthermore, you can order limoncello, lemon ravioli, and lemon tiramisu.
The prices are a little bit high but portions are generous. One pizza will cost you from 10 to 18 euros, and wine prices are even higher. Pizzeria
Donna Stella is located in Salita Rascica 2, which is around 350 meters (0.2 miles) far from Duomo di Sant'Andrea. You need to get off the main street and take a short walk to find it. Follow signs down through side streets and up some stairs because the restaurant is on the open-air rooftop, hidden amongst lemon trees.
It is opened every day from 12:00 PM (12:00 hours) to 2:30 (14:30 hours) and from 6:00 PM (18:00 hours) to 10:30 PM (22:30 hours). The pizzeria is very popular in Amalfi town and also offers takeouts, so don't be surprised if you wait a bit for your order. We recommend you make a reservation for a table in advance.
Location: Salita Rascica 2
Website: facebook page
Phone: +39 366 368 9666
Distance: 350 meters (0.2 miles) far from Amalfi center
Pizza price: 10 to 18 euros
Trattoria Da Maria
Trattoria Da Maria is a popular restaurant that is usually recommended by tourist guides, hotel owners, and locals. It offers a great number of authentic pizzas with a very tasty crust and local ingredients.
Besides, the restaurant is known for traditional cuisine that includes fresh fish, delicious meat, pasta, soup, salads, and desserts. There is even a vegan-friendly menu.
You will have to pay from 8 to 15 euros for a single pizza, which is a reasonable price for having pizza in Amalfi town. The atmosphere is at the same time friendly, casual, and romantic, while the staff is very professional from the welcome to the end of your meal.
Trattoria Da Maria is located in an amazing location, just off the main square in Amalfi, in Via Roma 10. It is open every day from 12:00 PM (12:00 hours) to 3:30 PM (15:30 hours), and from 6:00 PM (18:00 hours) until 11:30 PM (23:30 hours).
Distance: Right in Amalfi center
Pizza price: 8 to 15 euros
Pizza Express Amalfi
Pizza Express Amalfi is a tiny place with only a few tables inside for sitting. However, it is a great place for a quick meal because it offers takeaway. If you want something quick, cheap, and tasty for lunch, pizza in Pizza Express Amalfi is a great and budget-friendly choice.
This small pizzeria offers individual pieces of pizza, sandwiches, roast chicken, choose from a variety of delicious types of pizza ideal for lunch.
Various pizzas cost only from 5 to 7 euros which is very cheap for Amalfi town. You can also get a slice of pizza for only 2 euros if you are not very hungry.
Everything in this small pizzeria is fresh and tasty. The staff is also very kind and welcoming, and they even make pizza in front of you. If you are vegan, just talk to the chef and he will offer to make a customized vegan pizza with any veggies for you.
Most of the time, you will not wait long for your order, which is also pretty good for those who are very hungry or in a hurry. Pizza Express Amalfi is located in Via Pietro Capuano 46 which is around 300 meters (0.2 miles) far from Amalfi center. It is open every day from 9:00 AM (9:00 hours) until 10:00 PM (22:00 hours).
Location: Via Pietro Capuano 46
Website: facebook page
Phone: +39 329 046 9403
Distance: 300 meters (0.2 miles) far from Amalfi center
Pizza price: 2 euros pizza slice, 5 to 7 euros whole pizza
La Rua Pizze E Delizie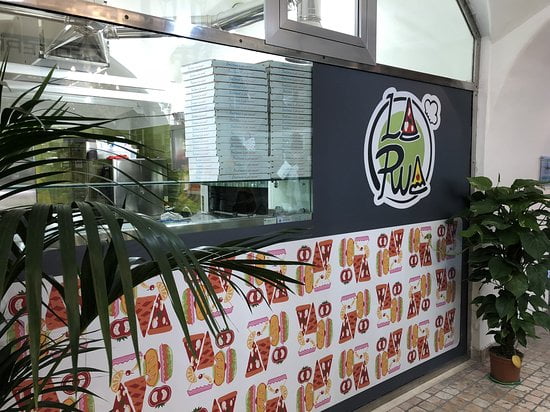 La Rua Pizze E Delizie is a little gem near the center of Amalfi. It offers delicious, homemade dishes that are also popular with locals. The pizza is excellent, with high-quality ingredients and tasty toppings, soft, and at reasonable prices. You can get hot, fresh-cooked big pizzas for only 4 to 9 euros.
This little pizzeria is not equipped with tables inside but it is only for take-away. For your order, you will have to wait about half an hour, which is not too long for this busy town.
This pizzeria is a great choice if you need a quick bite before you continue your sightseeing. With pizza, you can try an excellent beer named Peroni. La Rue Pizze E Delizie is located in Suppartico Rua 8, which is around 200 meters (0.1 miles) away from Amalfi's cathedral. It is open every day from 8:30 AM (8:30 hours) to 11:00 PM (23:00 hours).
Location: Suppartico Rua 8
Website: facebook page
Phone: +39 089 872306
Distance: 200 meters (0.1 miles) far from Amalfi center
Pizza price: 4 to 9 euros
Fiordipizza
Fiordipizza is a small takeaway pizzeria located just a few meters from the promenade by the sea of ​​Amalfi. Pizza dough is very tasty, ingredients are fresh, and the prices are very good, considering the location.
You will also be delighted by the size of the pizza. They also offer beer or cold coffee if you want to refresh yourself. If you are looking for delivery to your place, this pizzeria has that option!
The whole pizza will cost you from 7 to 12 euros, but you can also order pizza slices. Firodipizza is located in Via Pantaleone Comite, around 150 meters (0.1 miles) from Duomo di Sant'Andrea. This location is perfect for those who want to see the sea and mountains and be close to the beach while eating pizza.
Location: Via Pantalone Comite
Website: facebook page
Phone: +39 338 170 6044
Distance: 150 meters (0.1 miles) far from Amalfi center
Pizza price: 7 to 12 euros
Where to eat the best pizza in Amalfi town
A lot of restaurants in Amalfi town offer various kinds of pizza on their menu, but prices may vary. The best budget-friendly option is to buy a pizza at a small pizzeria for takeaway, because all restaurants have "coperto" or cover charge if you are sitting at the table. If you still want to sit down and have a nice and peaceful meal, choose restaurants that offer homemade pizzas baked in the oven.
Check out more posts about Amalfi town:
Hey there! Some links on this page are affiliate links which means that, if you choose to make a purchase, we may earn a small commission at no extra cost to you. We greatly appreciate your support!