An island in Italy's Bay of Naples, Capri is known for its beautiful scenery, thriving tourist industry, and abundance of designer and fashion shops. Home to the famous square Piazza Umberto I, where you can people-watch and enjoy an espresso, Capri offers something for every type of traveler. There are independent boutiques where you will find the latest in Italian fashion, rugged landscapes where you can enjoy a brisk hike, and exclusive beach clubs where you can soak up the sun with a cocktail. As with the rest of Italy, one thing you are guaranteed to find in Capri is good food.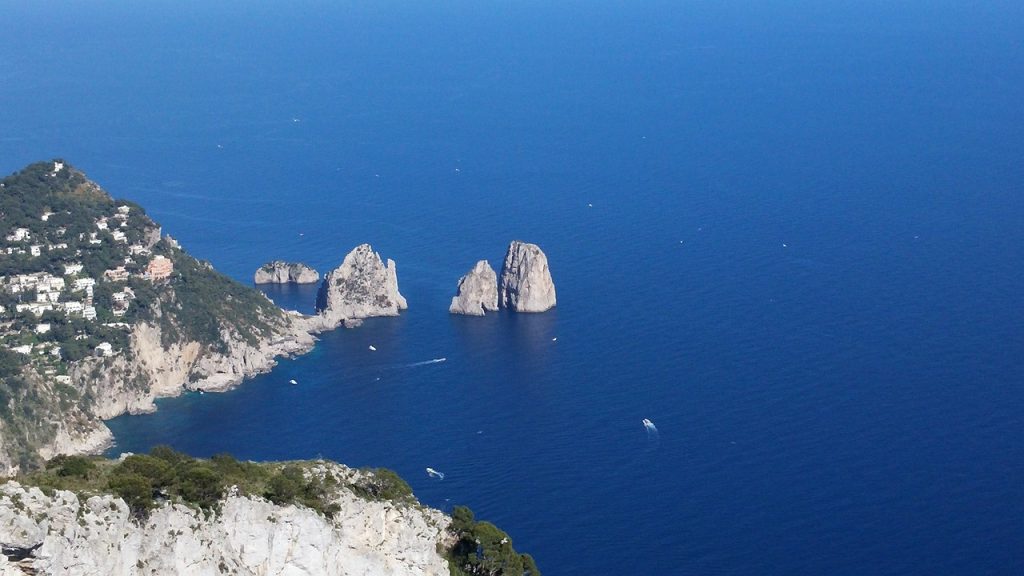 Of course, you will find restaurants serving up the Italian classics of pasta and pizza. Also, there is ravioli as a popular dish on this small island, but Italian food is so much more than that. In Capri, you will encounter fresh fish and meats, as well as innovative vegetarian and vegan dishes, all created with the finest ingredients from the region. If you're interested in exploring the island's food scene during your stay, here are the best restaurants in Capri:
(This article contains 5 restaurants in Capri, which are best in our subjective opinion. The order of the restaurants is not related to the quality they offer. Every restaurant has its pros and cons, so choose the one based on your personal preferences.)
Ristorante Pulalli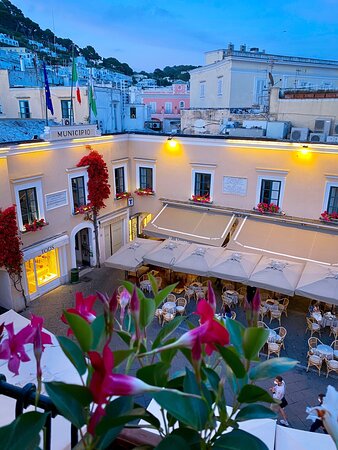 Ristorante Pulalli is one of the restaurants with the most impressive views in Capri. Blending traditional Italian cuisine with contemporary ingredients and styles of cooking, Pulalli has something to offer every visitor. As you would expect from an Italian restaurant, you will find delicious pasta dishes on their menu, made from fresh seasonal ingredients. As well as pasta, Pulalli offers an excellent selection of fish and seafood-based dishes, so if you are a fish lover, you are sure to find something for you in their selection.
 One of our favorites on the Pulalli menu is the seared octopus, which sits on a bed of hummus alongside salad, sundried tomatoes, and extra virgin olive oil created on the island itself. Furthermore, one of the best things about this popular restaurant is its simplicity. Pulalli never tries to overdo it with overly complicated concoctions and ingredients. Instead, this eatery focuses on creating flavourful dishes with fresh, simple ingredients, mainly of which can be found on the island of Capri. 
If you have got a sweet tooth, you are in luck because Ristorante Pulalli offers a mouth-watering selection of desserts to finish off your main meal with. You will also find a delicious section of local wines to choose from. If you want some advice on which one pairs best with your meal, just ask the friendly staff. 
Pulalli opens mainly for the tourist season, so your best chance of securing a booking is during the summer months. Due to its reputation for excellence, it fills up quickly, so get in touch at least a week in advance to get a seat at this sought-after eatery. Ristorante Pulalli is open every day except Tuesday from 12:00 PM (12:00 hours) to 2:45 PM (14:45 hours) for lunch and from 7:00 PM (19:00 hours) to 12:00 AM (00:00 hours) for dinner.
Location: Piazza Umberto I 4
Website: Capri.it
Distance: Right in the center of Capri
Phone: +39 081 837 4108
Lo Sfizio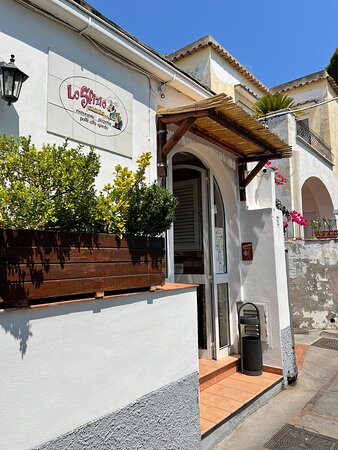 Located in a peaceful neighborhood of Capri that the locals know as 'di Tiberio' lies Lo Sfizio, a restaurant that offers excellent food at reasonable prices in a laid-back, friendly setting. If you are looking for honest, hearty food and don't want to be ripped off, you will want to pay Lo Sfizio a visit. 
Lo Sfizio relies on age-old recipes to produce delicious food that the whole family will love. Here you will find pizzas cooked in a traditional wood-burning oven alongside tasty meat and fish dishes and, of course, a specialty of the island – ravioli capresi. 
This traditional pasta dish comprises ravioli stuffed with pecorino, ricotta, and marjoram. Yum! Vegetarians needn't worry, the restaurant's aubergine parmigiana is second to none. In fact, it's good enough to convert even the most committed carnivores. One of the biggest advantages of visiting this spot for dinner is its location. It's far enough away from Capri's historic center to escape the crowds, while still being within walking distance of the action.
Enjoy your meal either in the main dining room or al fresco, on one of the small tables that line the pedestrian pathway. You will find extra tables in the picturesque garden next to the restaurant in the evenings. If you were ever in doubt that Capri could retain its authenticity and traditions while playing host to such a large annual crowd of tourists, this restaurant will change your mind. 
Lo Sfizio is open every day except Tuesday from 12:00 PM (12:00 hours) until 3:00 PM for lunch and again from 7:00 PM (19:00 hours) to 12:00 AM (00:00 hours) for dinner, with reduced opening hours over the winter months. If you are interested in checking out this authentic local eatery, we would recommend booking a table. The last thing you would want is to miss out on the sights, sounds, and flavors of this friendly Capri restaurant! 
Distance: 750 meters (0.5 miles) from the center of Capri
Phone: +39 081 837 4128
Da Tonino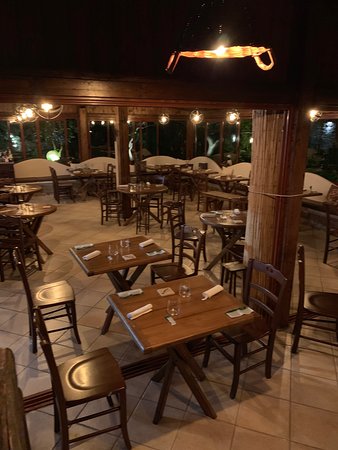 Founded in 1993 (so you know the staff have more than enough experience!), Ristorante Da Tonino is located in the Piano delle Noci area, less than 1 kilometer (0.6 miles) from its famous square. That means you can enjoy a pre-dinner aperitivo in the piazza before strolling along to Da Tonino, taking in the sights and sounds of Capri. 
The restaurant was originally created by old-school chef Antonion Aprea, who opened this meeting point for foodies in the 90s. Da Tonino honors the ingredients and traditional styles of cooking found across the island, by specializing in products such as rabbit and quail, which are firmly linked to the island's history. 
30 years after its inception, Antonio has passed the restaurant over to his children, making this eatery a real family affair. If you were in any doubt about the quality of the food, don't be – Da Tonino has a Michelin star to show for it. From meat and fish dishes to homemade bread, the recipes at Da Tonino aim to make use of seasonal goods, with traditional techniques and recipes being given a contemporary twist.
If you are in the market for trying something new, Da Tonino even offers a tasting menu that will take your tastebuds on a delicious journey around Italy. Also, if you have an unusual dietary requirement, the friendly and knowledgeable team here will be happy to do their best to accommodate it, from vegetarianism to celiac. When it comes to selecting a tipple to enjoy alongside your meal, you will be spoiled for choice. The restaurant's wine cellar is among the largest in Capri, with more than 2200 different labels to choose from.
Whether it's a rich, full-bodied red or a light, summery white you are in the mood for, you will find a bottle of something to perfectly complement your meal in Da Tonino's selection. If you are keen to sample the delicious dining experience Da Tonino has to offer, we recommend booking in advance to guarantee a table. Da Tonino is open every day except Monday from 12:00 PM (12:00 hours) to 2:30 PM (14:30 hours) and from 7:00 PM (19:00 hours) to 11:00 PM (23:00 hours).
Distance: 1 kilometer (0.6 miles) from the center of Capri
Phone: +39 081 837 6718
Ristorante Panorama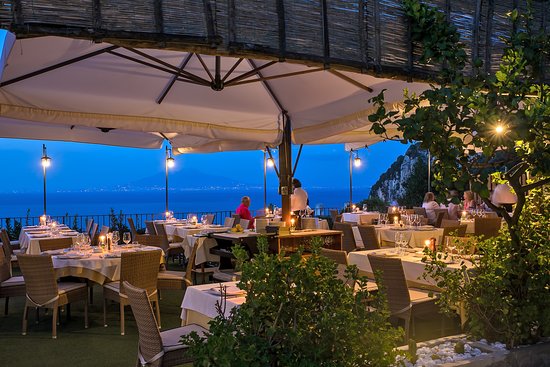 As the name suggests, if there is one thing Ristorante Panorama offers in abundance, it is breathtaking views. With a sought-after spot that overlooks the sea as well as Capri's iconic clock tower, Ristorante Panorama promises an enjoyable experience from start to finish, with the beautiful setting matched only by the high quality of the food. 
Despite its prime location, Ristorante Panorama is peaceful, so it is the perfect place to escape to if you want to get away from the hustle and bustle of the historic center of the island. The menu is as much of a work of art as the restaurant itself, featuring Capri classics updated with a modern flair. Here, you will find local specialties as well as a unique creation that changes daily based on the catch of the day. 
Pizza lovers are in luck, with Neapolitan pizza made in a wood-burning oven on offer, with a range of tasty toppings. The pizza is specially made with long-rising dough to give it the lightest, softest crust possible. If pasta is more your thing, you will also find something at Ristorante Panorama. In fact, the chefs make fresh pasta in the kitchen every morning, including gnocchi, scialatielli, and, of course, Capri's favorite dish, the ravioli capresi. 
For food that's as breathtaking as the views, look no further than this stunning island eatery. Furthermore, this restaurant has a very romantic setting, especially when the night falls, so it is the perfect place to surprise your love with dinner. Ristorante Panorama is open every day except Wednesday from 12:00 PM (12:00 hours) to 3:00 PM (15:00 hours) and from 7:00 PM (19:00 hours) to 10:30 PM (22:30 hours).
Distance: 350 meters (0.2 miles) from the center of Capri
Phone: +39 081 837 5290
Pescheria Le Botteghe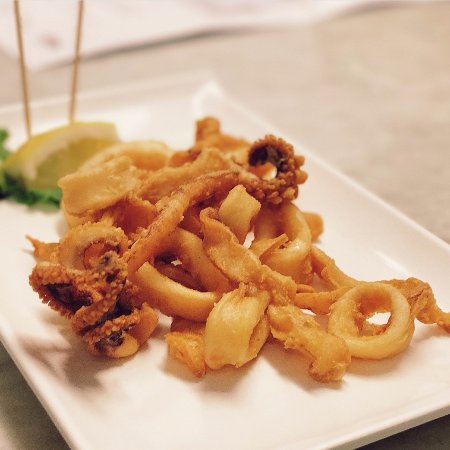 For fish lovers, there is one key place you should know about in Capri – Pescheria Le Botteghe. Located near the Piazzetta di Capri, in this charming eatery, you will find a wide selection of fresh seafood, including raw fish, oysters, tuna burgers, and fried squid with anchovies. Within just 30 seconds of standing outside this charming restaurant, you will be overcome by smells of delicious, high-quality seafood caught just that morning on the island itself. 
Fish and seafood are worked into traditional and contemporary recipes, so there is something to satisfy every tastebud, whether you prefer a piece of fish served up alongside fresh vegetables or a seafood pasta dish. Visitors praise the friendly and laid-back atmosphere as well as the prices, which are surprisingly low given the popular location and the quality of the food. The restaurant doubles up as a fishmonger, so you can take away fresh produce to enjoy in your holiday apartment or by the beach. 
One of the biggest advantages of this tasty eatery is its cozy atmosphere, with a friendly team of staff who are on hand to answer any query, big or small. The restaurant is compact, so if you want to be guaranteed a seat, booking in advance is a must. Pescheria Le Botteghe is open every day from 8:00 AM (8:00 hours) to 3:00 PM (15:00 hours) and from 7:00 PM (19:00 hours) to 11:00 PM (23:00 hours). On Monday, the restaurant is only open from 9:00 AM (9:00 hours) to 1:00 PM (13:00 hours).
Distance: 100 meters (0.1 miles) from the center of Capri
Phone: +39 081 837 6942
Where to find the best restaurants in Capri?
Capri is an island that is not too big, so you won't have a problem reaching most restaurants simply by walking. However, it is a popular vacation spot for many celebrities and jet-set people. Therefore, you can expect very high prices, but it doesn't mean you can't get a delicious meal for a decent price. Less expensive restaurants are located in small alleys a little bit far from the center, and they usually don't offer a view because the view always means higher food prices.
In this article, we included both expensive and budget restaurants. If prices don't bother you, you can check Ristorante Pulalli, Ristorante Panorama, and Da Tonino. On the other hand, if you want to enjoy delicious meals and not spend a fortune, check out Lo Sfizio and Pescheria Le Botteghe. Whichever restaurant you pick, we guarantee that you will get the most for your money.
Check out more articles about Capri:
Hey there! Some links on this page are affiliate links which means that, if you choose to make a purchase, we may earn a small commission at no extra cost to you. We greatly appreciate your support!