The island of Capri has been a much-loved vacation resort since the time of the Ancient Romans. For centuries, it has prioritized providing everything a visitor might need and want, from tasty dishes in quaint restaurants to washing machines in launderettes (though these weren't around in Ancient Roman times, of course). Also, Capri has some of the best gelaterias in this part of Italy. Gelato, a creamy ice cream, has been putting a smile on the faces of travelers for hundreds of years in Capri, and that long tradition continues today right across the island.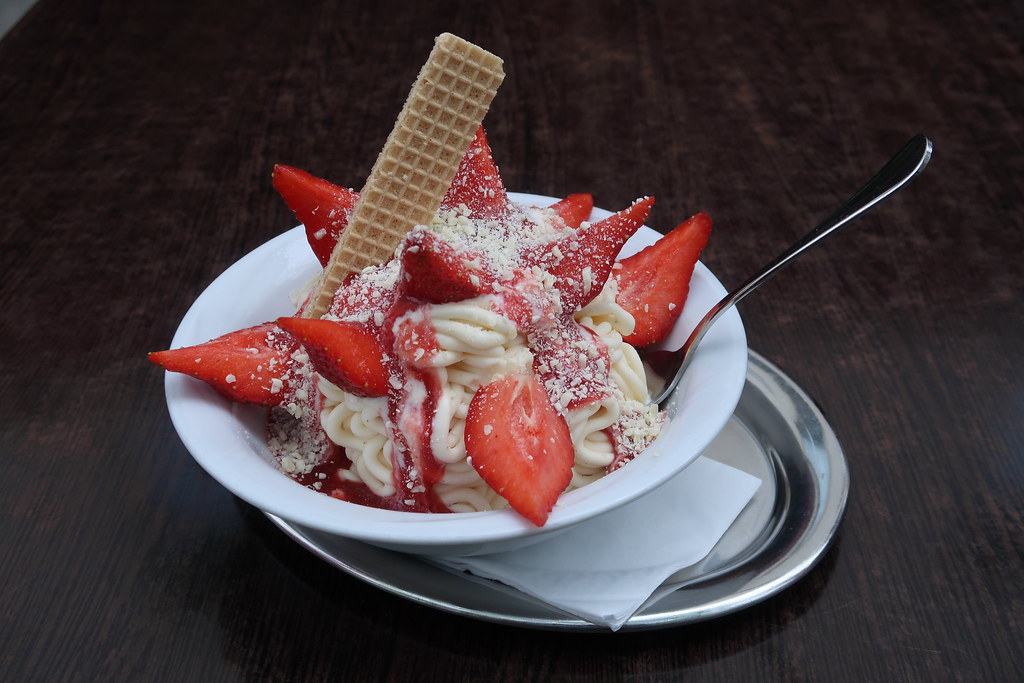 There are dozens of amazing ice cream shops to try on Capri Island, offering hundreds of exciting and unique flavors. The challenge is knowing which store to visit and which flavor to pick. In this article, we will help you to pick the right ice cream establishment in Capri for yourself. Each of these gelaterias offers fantastic service in beautiful shops and, most importantly, gelato you will keep coming back for. Here are the gelaterias where you can eat the best gelato in Capri:
(This article contains 5 gelaterias in Capri, which are best in our subjective opinion. The order of the gelaterias is not related to the quality they offer. Every gelateria has its pros and cons, so choose the one based on your personal preferences.)
Gelateria Buonocore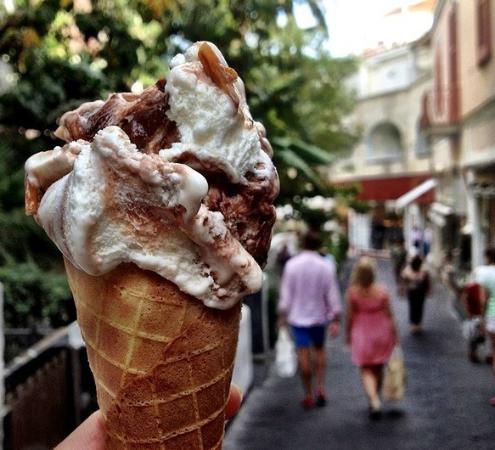 This gelato gem has been providing delicious sweet treats to the people of Capri since 1950. That is over 70 years of fantastic service and tasty ice cream! It is still run by the same family who started the business all those years ago, so you are guaranteed to find passionate ice cream lovers who are dedicated to creating mind-blowing flavors you will want to sample again and again.
Loved for its friendly staff and incredible range of flavors, this ice cream shop is the most popular one on the island. The first thing you will notice about Gelateria Buonocore is the smell, which reaches your nose as soon as you step onto Via Vittorio Emanuele. Follow your nose, and you will arrive at ice cream heaven. Flavors at Gelateria Buonocore include Caprese lemon, their famous mulberry, and pistachio, a much-loved flavor among Italians.
You will also find delicious vegan and gluten-free options, making this the ideal sweet spot for all types of foodies. Gelateria Buonocore also sells cookies, pastries, and biscuits. It is no wonder this amazing store gets so many positive reviews from customers. There is indoor seating for those who want to savor the flavor inside, or you can take it away and find an outdoor bench nearby.
The gelato on sale at Gelateria Buonocore is great value for money, and the venue itself has a great atmosphere. Of course, it does because nothing makes people happier than delicious ice cream on a beautiful island. Gelateria Buonocore is open every day except Tuesday from 8:00 AM (8:00 hours) to 10:00 PM (22:00 hours). On Saturdays, it operates extended opening hours to 11:30 PM (23:30 hours). However, no time is too early or too late for a tasty ice cream in this lovely gelateria!
Distance: 100 meters (0.1 miles) from the center of Capri
Phone: +39 081 837 7826
Gelateria Bar Nonna Carmela
Located on Piazza dela Vittoria in Anacapri is Gelateria Bar Nonna Carmela. Open seven days a week from 10:00 AM (10:00 hours) to 9:00 PM (21:00 hours) and serving delicious ice cream flavors throughout the day and night, this gelateria is not to be missed. It is one of the very best on the island! Nothing beats that feeling of browsing the flavors and sampling a few before making your selection. The only question is, will you get one scoop or two? (Note: the answer is always two.)
Flavors at Gelateria Bar Nonna Carmela include chocolate sorbet, caramel, lemon blossom, strawberry, and pistachio. Each offers a unique taste, and mixing two complementary flavors is sure to create a taste sensation. That is not all! You will also find mouthwatering cakes and taste bud-tantalising pastries here. Kind staff is always on hand at this cute gelateria with recommendations to make sure you and your traveling party are matched to the perfect ice cream flavor. There truly is a flavor for everyone here.
Positioned in front of rolling hills and close to restaurants, bars, and shops, it can be easily incorporated into an afternoon plan. There is no better way to finish off a stroll around the Anacapri than with a delicious ice cream cone full of exciting flavors. Expect creamy and soft ice cream sitting neatly within a crunchy wafer cone. At 4.50 euros for a cone with two flavors, this gelateria promises great quality products at low prices. You will save money by choosing a cup, but we recommend the cones. These cones are delicious and made fresh every day!
Location: Piazza dela Vittoria 13
Distance: 2.5 kilometers (1.5 miles) from the center of Capri
Phone: +39 081 1853 2138
Chiosco Tizzano di Natalia e Antonio Tizzano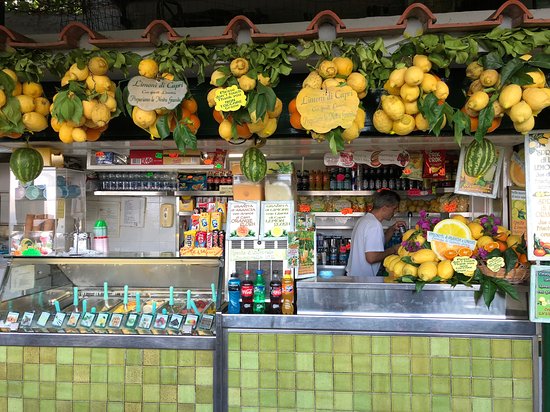 As you stroll along Via Matteotti, you may notice the delightful smell of wafer cones, creamy ice cream, and citrus fruits. As you desperately try to find out where the smell is coming from, you realize it is the undeniable scent of Chiosco Tizzano di Natalia e Antinoo Tizzano. Easily identifiable from its hanging lemons and green tiles, this much-loved Capri gelateria is always worth a visit on a hot summer day.
Whether you are in the area already or need to make the journey, it is worth checking out this small stand. They make their own waffle cones here, as well as all their own ice cream flavors. As you approach the counter, you will notice the bright colors of these great ice creams, each offering customers a unique taste sensation. There are over a dozen exciting flavors to choose from, but the most popular ones are chocolate, strawberry, and pistachio. The lemon sorbet is served in a very unique way that will be perfect for your Instagram Story.
Your scoops are placed inside a lemon half, adding extra zest to your sweet treat. If ice cream isn't your vibe, try a cup of their limoncello or orange slush, each guaranteeing a refreshing burst of taste. They are made from genuine fruits, and it is hard not to want more after you drink it all. Chiosco Tizzano di Natalia e Antonio Tizzano is very close to the Augustus gardens, which offer fantastic views of the sea. Alternatively, you can find a nearby bench or eat as you stroll and take in the sights.
Location: Via Matteotti 2
Website: no website
Distance: 400 meters (0.2 miles) from the center of Capri
Phone: no phone
BGA in Piazzetta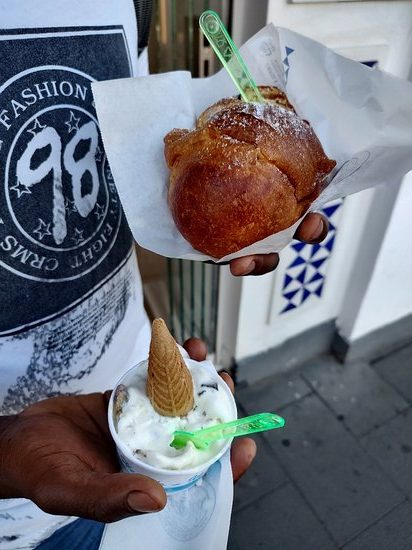 Offering gelato anytime between 8:30 AM (8:30 hours) and 11:30 PM (23:30 hours), BGA in Piazzetta on Via Roma is an obvious choice for ice cream lovers old and young. Whether you crave a brioche breakfast, ice cream lunch, or Prosecco-fuelled dinner, this is the place for you. Customers love the high-quality ingredients, great service, and variety on offer. A quintessential Italian gelateria, it is identifiable by its blue and white tiling and stone back wall. The sorbets here are served inside a cold lemon, adding a citrusy kick to your dessert. There are additional gelato flavors available here too, where quality has been prioritized over variety.
They stick to the classics, and we love them for it! Everyone in your traveling party will find something they love here. We recommend the sweet brioche bun with ice cream stuffed inside. It is a unique pairing that is sure to amaze your tastebuds. BGA in Piazzetta is so much more than just a gelateria. You will also find brioche, croissants, tiramisu, cakes, and sandwiches.
Plus, there is a selection of alcoholic and non-alcoholic drinks to complement whichever sweet treat you choose. Coffee, slush, prosecco, they have it all here. Furthermore, you will also find larger cakes that can be taken home and shared with those you love. From chocolate and apricot to pistachio, there is sure to be a flavor your whole family will enjoy. They also sell make-at-home ravioli kits, which are sure to impress your family and friends back home.
Distance: 200 meters (0.1 miles) from the center of Capri
Phone: +39 081 379 5041
Capri Crema Cafe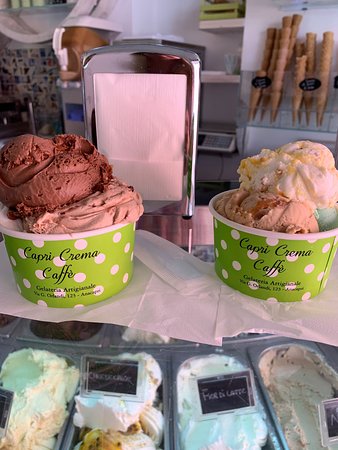 If you are visiting the Church San Michele, be sure to visit Capri Crema Cafe, a traditional gelateria on Via Giuseppe Orlandi. This eatery opens every day until 12:00 AM (00:00 hours), making late-night ice cream a possibility. Few experiences beat finding an ice cream shop that is open at the end of a fun night, drinking cocktails, and eating delicious Italian seafood. There is outdoor seating here, permitting customers to kick back and relax while eating gelato, cookies, and cake slices. Alternatively, you can order to go and enjoy a stroll around the local area. 
Gelato flavors at Capri Crema Cafe include strawberry, yogurt date, mint chocolate, dark chocolate ricotta, and tiramisu. We recommend stuffed cookies or waferino gelato. There are also vegan options to try, suitable for both vegans and non-vegans. There is no difference in the quality and taste of their dairy and non-dairy products, making this an inclusive gelateria. Plus, you will find gluten-free choices and cones too.
If gelato, cookies, and cakes aren't enough, you will also have the option of milkshakes, espressos, crêpes, orange juice, and lemonade. Capri Crema Cafe is near bars, restaurants, and wine shops, meaning it is worth visiting as part of a wider day of exploring. Within walking distance of Capri Crema Cafe, you will reach the northern shore of the island, where you can look out across the Gulf of Naples and see the Italian mainland. It is a perfect spot to sit and enjoy whichever sweet treat you purchase.
Distance: 2.7 kilometers (1.6 miles) from the center of Capri
Phone: +39 081 837 3196
Where to find the best gelato in Capri?
Capri is full of various gelaterias, so you won't need to walk far to get one delicious ice cream for yourself. Overall, all gelaterias on the island have pretty good gelatos. Even if you choose one blindly, you won't make a mistake. However, if you really want true value for your money, choose those that are known and specialized in making homemade and fresh creamy gelato. Whichever gelateria you choose from our list, we guarantee that you will have the best among the best gelato in this region.
Check out more articles about Capri:
Hey there! Some links on this page are affiliate links which means that, if you choose to make a purchase, we may earn a small commission at no extra cost to you. We greatly appreciate your support!