Ask yourself a quick question, when it comes to vacations, do you consider yourself a day person or a night person? This question might seem a little confusing at first, so let's elaborate a bit further. Vacation activities can be broadly broken up into two categories, the ones that take place during the day and the ones that take place during the night. So, whether you prefer to spend your time tanning on the beach after breakfast or enjoying a candlelit dinner accompanied by a glass of wine after the sun goes down, this will most likely tell you what kind of tourist you are.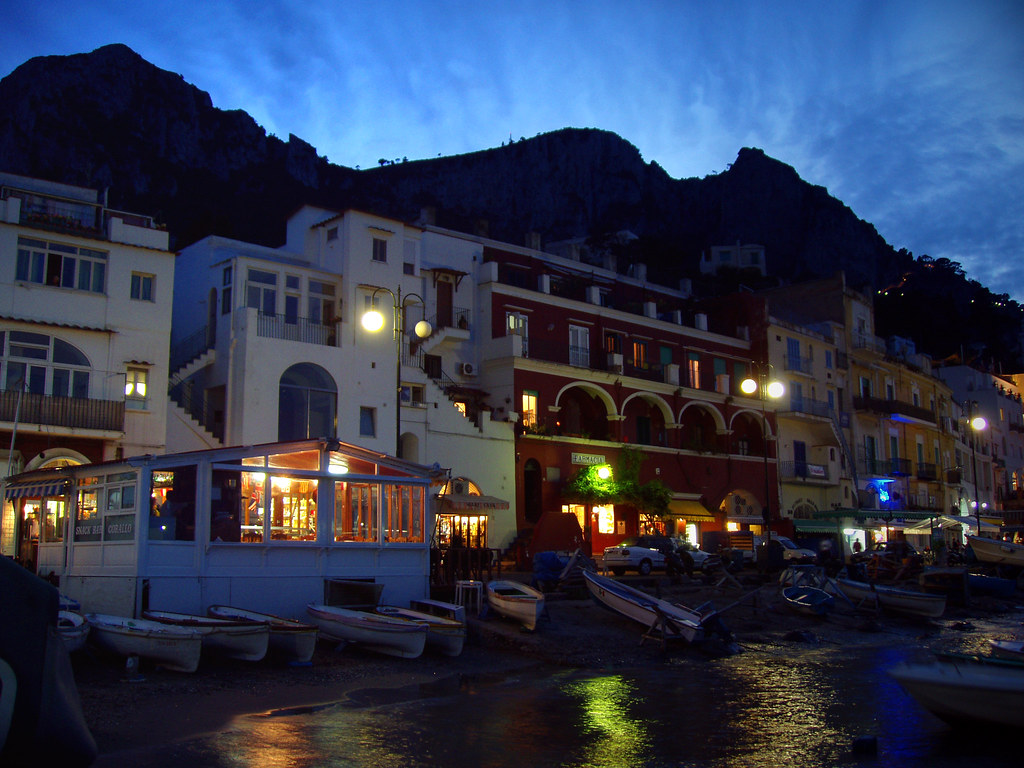 If you are someone who enjoys the nightlife, then there is no better place to find in all of Italy than on the glamorous Island of Capri. It is the home of so many incredible things to do, many of which can be enjoyed day or night. From stunning views to luxury shopping and pool parties to the finest Italian cuisine, it is no surprise why Capri is such a popular holiday destination, especially in the peak summer months. When the sun goes down during this time, the island comes alive, assuring a unique holiday experience not to be forgotten. Join us now as we take a look at some of the best things to do in Capri at night.
Summer nightlife in Capri is like no other
If you are looking for a place to party, you will most certainly find it in Capri. The island is a famous celebrity vacation spot, so it has one of the best "party" reputations in Europe, with several great nightclubs and late bars. Throughout the summer months, from July to August, there is also an array of live music, beach parties, and other exclusive events.
During these busy summer months, the downtown plaza can also get very lively with restaurants and bars opening late and large gatherings of people throughout, providing a good time and friendly atmosphere. Nighttime in Capri is the perfect time to take a walk around the streets, window shopping, and take in the sights, and a walk through the Luna Gardens at night is highly recommended.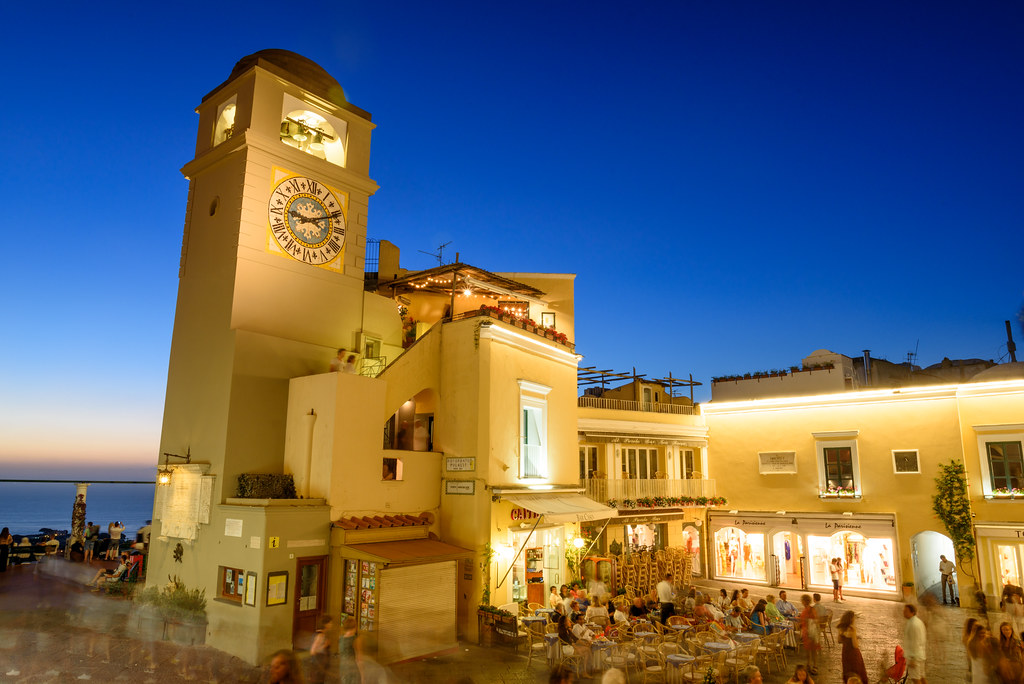 In terms of finding somewhere to drink, dance, party, and enjoy some excellent live music, Capri has several establishments that come highly recommended by online reviewers. The Villa Verde Club (VV club) is the number one club that will keep you dancing until sunrise and buzzed all night with its great selection of cocktails. You might even spot a celebrity or two also. Bar Maliblú is also known for its cocktails, has a DJ until late, and has a romantic view of the Punta Carena lighthouse.
If you would rather have something a little more cultural and ethnic, Capri also has you covered. The historic Taverna Anema e Core can be found near Capri main square and has live Neapolitan music every night. With improvised sets and appearances, crowd involvement, and a traditional feel, it is easy to see why this nightclub is a hit with audiences.
Caprese cuisine by candlelight
Everyone knows that Italians like to eat dinner late. Not only does a sunset backdrop or starlit sky greatly add to the ambiance and romantic mood of an evening meal, but it also allows for a cooler and more enjoyable experience overall. Online studies have shown that dining in the evening promotes a sense of relaxation and appreciation for life that is largely lacking in lunchtime meals.
This has been linked to the fact that our ancestors most likely only feasted at night after a long day of hunting and gathering, and might also be one of the reasons why Italians live so long. Another reason why Italians are credited with being so healthy is the quality of their diets and the richness of their cuisine. Capri is no exception, and the island has lots of amazing restaurants and dishes exclusive to the region.
However, also keeping the backdrop of a spectacular nighttime view in mind, there are some restaurants that stand out above the others, both literally and figuratively. One such restaurant is Le Grottelle. Perched above the town, the nighttime terrace view at Le Grottelle is second to none, and with meals cooked on an outdoor grill, it is the perfect spot for a romantic evening meal.
There are several other restaurants known for their breathtaking terrace views, with La Palette, La Terrazza Di Lucullo, and Ristorante Panorama being among the most highly rated online. If you are more accustomed to a restaurant with a seaside view, La Fontelina and Ristorante Da Gemma are just two of many restaurants by the beach where you can bask in the sound of the calming waves with a glass of limoncello and some fantastic Caprese cuisine.
The night is yours
Although Capri can be quite active at night and energetic on the weekends, throughout the week, twilight on the island is fairly slow-paced and easy-going. This relaxed atmosphere allows you to take full advantage of pretty much everything the island has to offer. After you finish your evening meal, you are free to walk the island, seeing the sights without most of the crowds of tourists present during the day.
Most people like to explore and take pictures of the island's many monuments and selfies at places of interest during the day, but the real photographer knows that it is often during the night when the most magical, most memorable, and most photogenic pictures are taken. Not only is the light of night more elegant and flattering, but there is also less chance of your pictures being photobombed by other tourists.
Furthermore, most people like to spend the afternoon on the beach, but it is an evening stroll on the beach only after the sun has gone down that is undeniably the most romantic and intimate. Although most of the shops and attractions are closed at night, they can still be walked through and appreciated. So, whether you want one last nightcap before you go to bed or a private dip in the ocean, remember this, the night is yours.
Check out more articles about Capri:
Hey there! Some links on this page are affiliate links which means that, if you choose to make a purchase, we may earn a small commission at no extra cost to you. We greatly appreciate your support!