If dining on scrumptious food and sampling the very best Italian wines is your idea of a good time, you will simply adore the stunning town of Positano on the Amalfi Coast. A popular tourist destination, this coastline is regularly rated as the most beautiful place on the planet (and we think it just might be).
If you are looking for a place that overlooks magical views, offers high-quality service from friendly staff, and serves Italian staple foods such as pizza, pasta, and gelato, you will find it here. The food scene in Positano will blow your mind and delight your tastebuds in equal measure.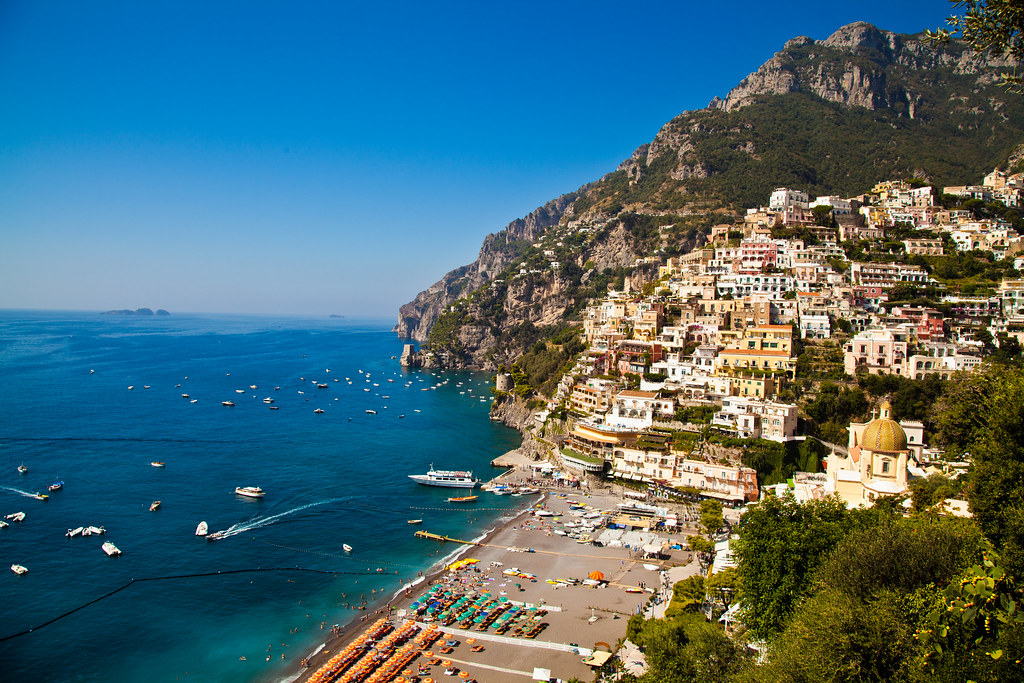 Despite having a population of only 4,000 people, Positano is filled to the brim with charming restaurants that are loved by residents and visitors alike. In this handy guide, we will fill you in on the very best restaurants in this gorgeous Campania village. Here are the best restaurants in Positano:
(This article contains 4 restaurants in Positano, which are best in our subjective opinion. The order of the restaurants is not related to the quality they offer. Every restaurant has its pros and cons, so choose the one based on your personal preferences.)
Ristorante Da Costantino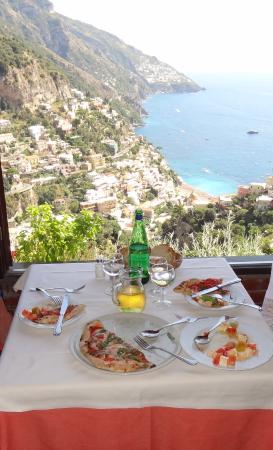 Looking for a beautiful restaurant overlooking the Amalfi Coast? Look no further than Ristorante Da Costantino. This traditional Italian eatery serves mouthwatering seafood dishes alongside hearty Italian plates, including pizza and pasta.
As you tuck into delicious food and sip on flavorful Italian wine, you will marvel at the sites of the coastline below through the restaurant's big open windows. We recommend that you book ahead to reserve this special table in the window.
Thanks to its exceptional view and classy interior, this space is the ideal spot for a date night or popping the question. During the evening, the lights of the town below will delight you and shine with a promise of endless memory-making opportunities. Located on Via Corvo, this much-loved establishment is a great space for those who enjoy a relaxed atmosphere.
It's also one of only a few places on the Amalfi Coast that cooks pizzas in a wood-burn brick oven – ensuring they deliver only the very best-quality pizzas to their customers. Our food recommendations at Ristorante Da Costantino are the arancini to start, gnocchi for the main, and lemon cake for dessert. Arancini, for those unfamiliar, are rice balls that are coated with breadcrumbs and deep-fried. They are a traditional Italian staple and are absolutely delicious. Your only regret will be that you didn't order more.
We also love the zuppa di cozze con crostini (mussel soup with croutons), spaghetti alle vongole (spaghetti with clams), ricotta and pear cheesecake, tiramisù and romana pizza – a tasty pizza base with tomato, mozzarella and anchovies. Vegetarians wishing to dine here are in luck – three of their pizzas are meat-free. Would you even be in Italy if you didn't finish your meal with a glass of limoncello?
At Ristorante Da Costantino, they serve all of their customers a complimentary limoncello at the end of the meal. The citrusy burst of limoncello is a must-have for fans of refreshing drinks with an alcoholic kick. Given its hilltop location, you would be forgiven for not wanting to make the climb to this eatery.
Fortunately, they provide a free shuttle bus service from the town below up to the restaurant. Even without the shuttle bus, the friendly service and delicious food here are worth the effort. Ristorante Da Costantino is open every day except Wednesday from 12:00 PM (12:00 hours) to 3:30 PM (15:30 hours) and from 6:30 PM (18:30 hours) until 11:00 PM (23:00 hours).
Distance: 1.1 kilometers (0.7 miles) from Positano's center
Phone: +39 089 875 738
Da Vicenzo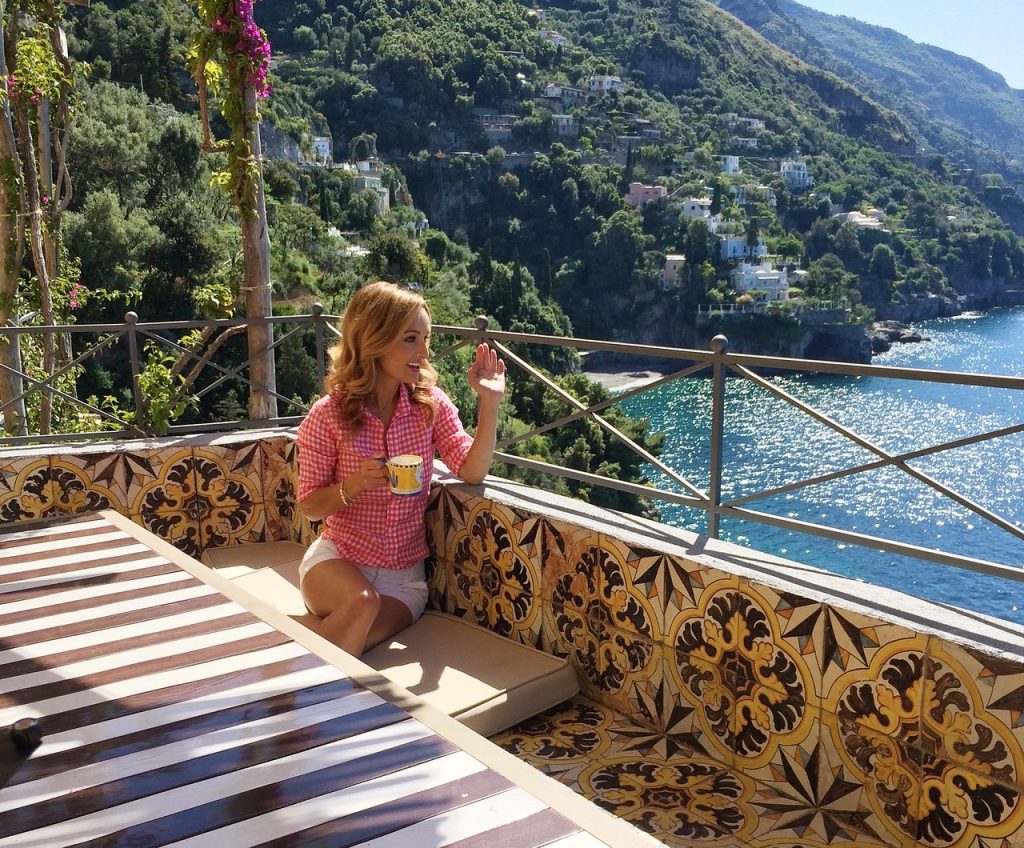 Advertised as an LGBTQ+-friendly establishment, Da Vicenzo Positano 1958 is one of the very best restaurants in Positano. With an informal dress code, you won't feel any pressure here as you kick back after a relaxing day on the Amalfi Coast and dine on grilled octopus, pasta, and pavlova.
It's an incredible 400-step journey to reach the restaurant, but the view is worth the effort. Once you arrive, you are guaranteed a night of happy memories – and air conditioning (which is a much-needed delight after all those steps).
Great service, breathtaking views of the coastline, and delicious food – you will find it all here. But why should we humans be the only ones who can relish in the delights of Da Vicenzo? They allow your four-legged friends to join you in the restaurant too. Da Vicenzo is a hugely popular establishment, meaning that you might wish to book ahead to avoid disappointment.
The staff here know how much little touches can make, so they provide all members of your traveling party with a glass of prosecco while you wait to be seated. It's thoughtful considerations like that that have made this eatery so popular with locals and tourists alike. The food and drink here definitely do all the talking, but if you need evidence of their high-quality dishes, note that they are a Michelin-star restaurant.
Deserving of their accreditation are dishes including homemade ravioli stuffed with ricotta, cherry tomato salad, and lamb chops. For dessert, expect classic Italian gelatos and sorbets, including lemon, mango, and chocolate flavors. Fans of local wine – Da Vicenzo has you covered.
Offering white, red, and sparkling varieties, we guarantee that there is wine here for every type of person. Unless you don't like wine, in which case there are beers and spirits available too. Da Vicenzo is open every day for lunch from 12:15 PM (12:15 hours) to 2:45 PM (14:45 hours) and for dinner from 6:15 PM (18:15 hours) to 10:45 PM (22:45 hours). Keep in mind that it is only open for dinner on Tuesday.
Distance: 400 meters (0.2 miles) from Positano's center
Phone: +39 089 875 128
Il Tridente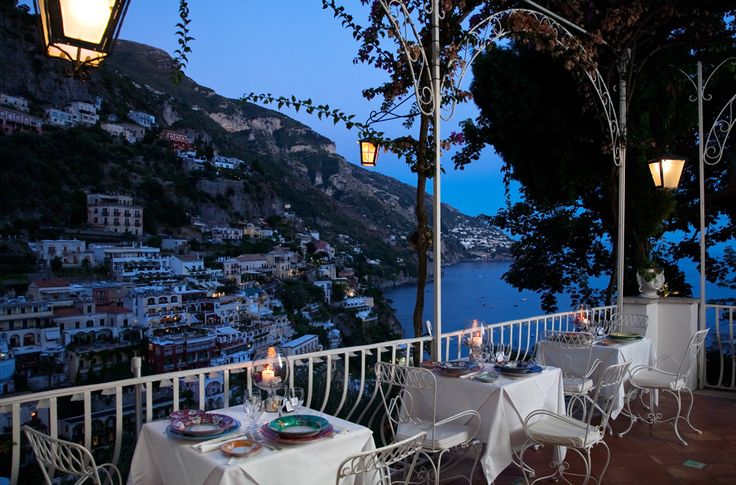 The Italians describe nice people as "bueno come il pane," meaning that they are "good as bread." At Il Tridente, you will find attentive staff who are definitely bueno come il pane. They are well-dressed and always on hand to make recommendations, seat you at your table and help you with anything you might need during your visit.
Il Tridente is in a unique position compared to competitors on this part of the Amalfi Coast. The restaurant is high enough up the hill to offer incredible views of the town and sea below while remaining not too far away from the beach. It has been designed with the view in mind, being a rooftop restaurant and cocktail bar. Makes sense – after all, why would they design something with overpowering walls in the most beautiful place on Earth?
The open landscape offers a perfect opportunity for creating pictures – and the staff here are always happy to take that extra special snap for your holiday photo book. Il Tridente also offers all their guests access to free Wi-Fi – perfect for sending pictures back home to make your friends jealous. Located by the sea, you can expect to find spectacular seafood dishes.
We recommend the Poseidon sandwich – seared tuna, lettuce, tomatoes, red onion, and oregano. If you are interested in something more quintessentially Italian, look no further than the homemade basil Scialatielli pasta with eggplant, cherry tomatoes, and provolone del Monaco. Vegetarians – great news! The menu at Il Tridente offers great plant-based alternatives that have been crafted with the same love and attention as their meat dishes.
The vegetarian burger comes with melted provola cheese, arugula, and pistachio pesto – a delightful combination of flavors and textures. This eatery doubles up as a cocktail bar, meaning you will find some of the best tipples around. If wine is your drink of choice, you will find a wide selection of fine European wines available to buy here.
On certain nights, guests can expect live music from some of the best musicians the Amalfi Coast has to offer. What could be better than great food, soothing tunes, and remarkable sea views? This restaurant has to be seen to be believed. Tables at this unique eatery are limited, so it's recommended that you book in advance. Il Tridente is open every day from 12:15 PM (12:15 hours) to 2:30 PM (14:30 hours) and from 7:00 PM (19:00 hours) to 10:15 PM (22:15 hours).
Distance: 600 meters (0.3 miles) from Positano's center
Phone: +39 089 811 111
Casa e Bottega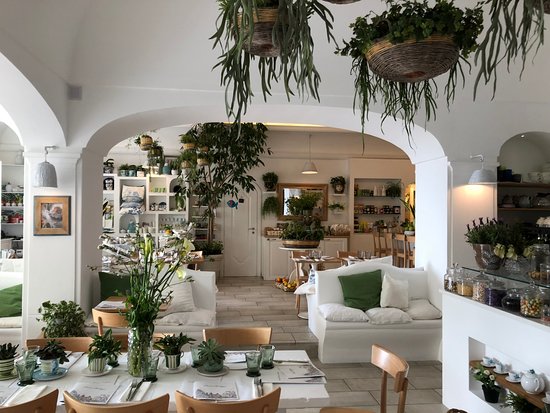 Casa e Bottega opened its doors in 2013 and has been delighting visitors ever since. This is definitely an eatery to add to your bucket list, promising nutritious meals that are low in calories but high in taste.
Casa e Bottega is passionate about healthy detox food – and it shows. From detox raspberry water to beetroot, their dishes are filled with fresh ingredients that make your body and mind feel great.
You won't find evening meal options here, but you will be able to enjoy delicious breakfast and lunchtime dishes. On the breakfast menu, you will find yogurt bowls, croissants, poached eggs, French toast, pancakes, and avocado toast. You will also discover refreshing fruit smoothies, including pineapple, carrot, cucumber, and orange flavors.
On their lunch menu, we recommend sampling their tuna tartare with green apple and burrata cheese. What meal would be complete without a mouthwatering sweet treat? At Casa e Bottega you will find citrus crème brulèe, tiramisù, and homemade ice cream, as well as authentic Italian espresso coffee. No one – and we mean no one – makes coffee quite like the Italians, and this restaurant is ahead of the pack for quality and affordability.
Casa e Bottega is a quaint venue that is perfect for building family relationships. Nothing supports great conversation and reconnection quite like an airy and light space with friendly staff that are on a mission to ensure happy memories are made. This elegant and stylish restaurant doubles up as a store selling designer kitchenware, including decorated plates, high-quality glasses, cute candle holders, and fashionable mugs.
The items on sale here mean you can take a little bit of Italian coastal beauty with you wherever you go. You will come to Casa e Bottega for the stunning interior decor and coastline views, but you will stay for the tasty meatballs and high-quality sparkling wines. Casa e Bottega is open every day except Monday from 9:00 AM (9:00 hours) to 3:00 PM (15:00 hours).
Distance: 550 meters (0.3 miles) from Positano's center
Phone: +39 089 875 225
Where to find the best restaurants in Positano?
Positano is a popular place among celebrities and jet-set people, so it is no wonder that the town is full of lovely restaurants. Many of them are located on the cliff offering breathtaking views of Positano, the sea and the beautiful landscape around them. But, keep in mind that there are also many tourist traps, so it is advisable to always check reviews of a specific restaurant before entering. The best restaurants in Positano are usually a little bit away from the center, in small streets on the cliff. Even though you will have to walk a bit to reach them, your effort will be worth it.
Check out more articles about Positano:
Hey there! Some links on this page are affiliate links which means that, if you choose to make a purchase, we may earn a small commission at no extra cost to you. We greatly appreciate your support!