The former maritime town of Positano is famous for its beautiful location on the Amalfi Coast. It extends like a terrace over several steep slopes on which the brightly painted, almost Arabic-style houses and villas are located. From a distance, it appears to the viewer as if the place had been glued to the slope.
Positano is mainly made up of alleys and stairs that meander along the slopes down to the sea. Once at the bottom, there is a pebble beach and a small picturesque harbor, the Marina Grande. Other beaches can only be reached from the sea. The view of the sea, the lush vegetation of lemon, orange trees, and bougainvilleas, and the unique location of Positano make the place one of the most visited on the Amalfi Coast.
Even though this beach town is tiny, there are a lot of things to do in Positano. There you can enjoy the sunshine, history, and long, beautiful days by the warm waters of the Mediterranean Sea. Positano offers a variety of different activities for everyone.
Although Positano is a famous jet-set destination, you don't need to be a luxury traveler to have an amazing time. A lot of activities there you can do for free. Here are top things to do at Positano:
Walk around the town
Positano is perfect for walking around because there are so many tiny streets, each with its own charm. Since Positano is built vertically, you will have to walk uphill a lot. If that walk isn't for you, there is a local bus that drives from the center of town to the top and back. But keep in mind that often those buses get crowded. The streets of Positano are full of beautiful plants and colorful flowers, so you will have a feeling like you are walking in a garden.
Take beautiful photos
Positano has a thousand spots for taking amazing photos. Every corner of the town hides beautiful houses, streets, and views that can be captured with your camera. One of the best photo spots in Positano is the top of the town, where you can take stunning photos of the Amalfi Coast.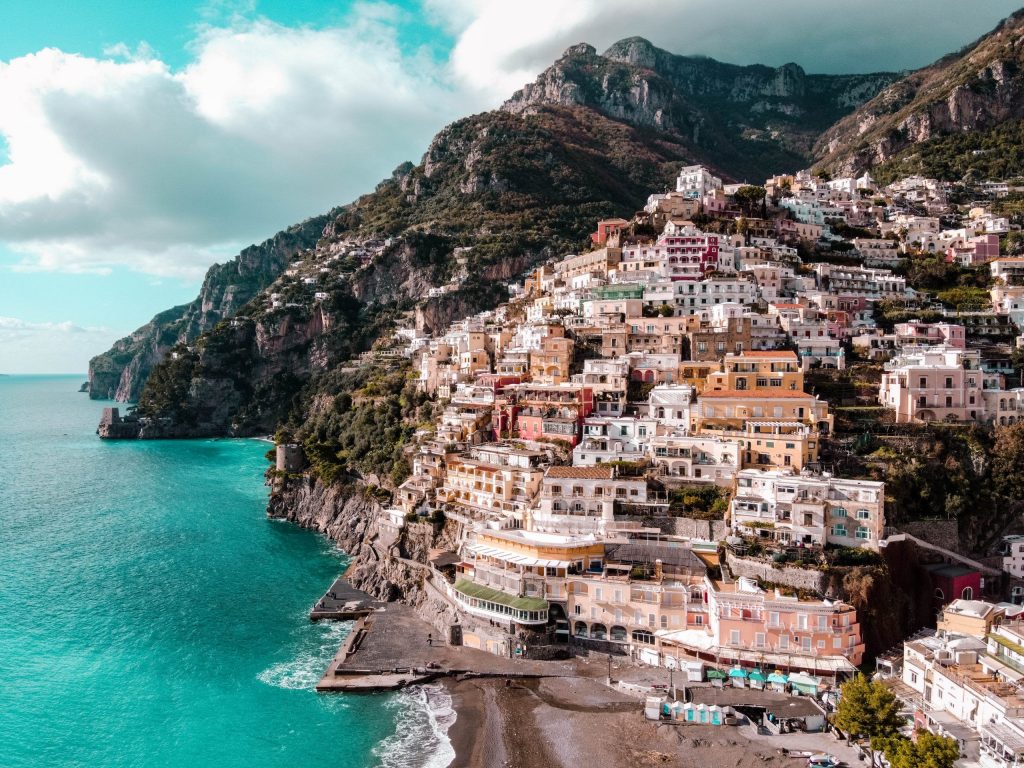 Visit historical attractions in Positano
This beautiful town is not only visited for its beautiful beaches and views, but it also has exciting historical and cultural attractions. It is believed that Positano was founded in the 9th century. It was, like nowadays, a very popular vacation place for the Ancient Romans. They built their glamorous villas on the coast of Positano, and you can even find its ruins today near the Church of Santa Maria Assunta.
Beside them, here are historical attractions you should not miss when visiting Positano:
Church of Santa Maria Assunta
During a walk through the village, you will pass the three village churches of Santa Maria Assunta, Madonna del Carmine and Madonna Delle Grazie. The small church of Santa Maria Assunta by the sea with its colorful majolica dome is particularly pretty. It originated from the 12th century, and it is one of the town's most prominent sights because of its location and beauty.
The church is located right in the center of Positano, just a few steps from Marina Grande beach. Inside the church, there is a fascinating altar above which you can see a Byzantine painting "Black Madonna" from the 13th century. Entrance in the church is free, and you can take photos in there, so take a look inside.
Museo Archeologico Romano
If you are passionate about history and archaeology, then you must see the Museo Archeologico Romano. The museum is located underneath the church of Santa Maria Assunta, and it is literally a hidden treasure.
It is actually a well-preserved ruin of a Roman villa with beautiful wall paintings, old crypts, and artefacts from the Middle Age. The ticket for the museum costs 15 euros which is a little bit pricey. but you will receive a guided tour as a part of the price.
Also worth seeing are the Saracen towers standing all over the coast. They once served the coastal residents as signal towers during attacks by the Saracens.
Visit Positano's beaches
Beaches are one of the main reasons that make Positano the perfect summer travel and dream destination. Each of the beaches in Positano provides you with new discoveries and the landscape of the Amalfi Coast. The beaches in Positano are composed of rounded pebbles and small stones. On the beaches, you will find parasols, sunbeds, showers, changing cabins, restaurants, cafes, bars and shops.
In addition to the services that are charged, each beach has a section that is free to spread out a towel. You should take bathing shoes if you are bothered by pebbles under your feet. Also, keep in mind that beaches are often crowded so you should head to the beach early to catch your perfect spot on the beach.
Spiaggia Grande beach
The main and most famous beach in Positano is characterized by colored umbrellas and pebbles. When you enter the water, you will notice an amazing view of the houses of pink, white and yellow shades that stretch vertically across the hill in Positano. Entrance to this 300 meters long beach is free of charge.
Since this beach is close to the center it is often full of tourists during the summer months so consider renting an umbrella and sunbed. Sunbeds in rows facing the beach are charged around 25 euros per day. Of course, there are parts of the Spiaggia Grande beach without sunbeds where you can put a towel and enjoy it completely for free.
On the beach, you will find changing cabins, showers, bars and restaurants. The beach is also popular for those seeking good vibes because there is a famous discotheque called Music On the Rocks.
Don't miss watching the sunset on the beach, it is something you will remember forever. If you like taking photos or you would like a quieter walk through the streets to this beach, you should choose the early morning for that to avoid the crowds and catch the best shots. Pebbles on the beach get very hot during the hot summer months, so be sure to bring suitable summer shoes.
Fornillo beach
Just 10 minutes of a walk from Positano center there is another smaller but beautiful beach called Fornillo. It is a much peaceful beach with a lot more room to swim than Spiaggia Grande beach. You can enjoy this beach for free, or you can rent an umbrella and sunbed for around 25 euros per day.
Fornillo is a pebbly beach, so don't forget to bring your water shoes. The beach is very clean, with wonderful views and cristal sea with a lot of small fish. There are also a good couple of cafes and restaurants to enjoy some food and drink while relaxing on the beach.
Take a look at Positano's art galleries
If you are an art lover, there is another great thing to do in Positano. In the very center of the town, you can visit small but stunning art galleries. Of the many places in Positano where you can buy handicrafts and art, the Absolute Positano Gallery and Art and Craft Gallery stand out for their uniqueness and diversity.
The main motive of the artwork in the gallery is, of course, the breathtaking landscape of Positano. The Absolute Positano Gallery is the main choice of many travelers. If you are a fan of ceramic handicrafts, unique souvenirs, glassware, oil on canvas made by local Italian artists, this gallery is the right place for you.
Whether you choose paintings, art glass and amazing, unique souvenirs, a look at them will always remind you of the perfect time spent in Positano.
Also, the Gallery of Arts and Crafts is a place where you can find, at reasonable prices, art souvenirs of various Italian artists. There you can find a variety of unique paintings, sculptures, and ceramic handicrafts that are an ideal souvenir or gift.
Most galleries open around 9 a.m. and close around 8 p.m. Please note that some of the galleries may be closed in the afternoon for a lunch break.
Shopping in Positano
Positano is full of cute little shops and boutiques located in or near the center of the town. Even though Positano is popular for its lemon products and ceramics, beside them you can find beautiful fashion pieces, souvenirs, and gifts. Keep in mind that the more you are going away from the center, the prices in the shops will be lower.
Fashion lovers
Want to wear a piece of fashion from Positano? Be sure to visit Antica Sartoria, where you can buy a variety of cotton garments, especially fluttery and lace dresses. Other great shops are Idillio and Pepito's where you can find linen clothes with plain styles.
In other shops at the bottom of Viale Pasitea, Piazza Dei Mulini and the walkways between the piazza and the beach, you can find crochet and white linen dresses, tops, and pants.
Custom-made sandals
Want a unique reminder of the perfect Positano that you can wear every day during the summer days? Then you must visit Nana 'Positano and see the numerous models of sandals made just for you! You can buy a custom-made pair of leather sandals. Choose the model, color, height and shape of the heel and you can decorate them with Swarovski crystals in different colors.
The sandals stand out with their exceptional uniqueness, leather quality and well-attached crystals. Prices of sandals with Swarovski crystals range from 90-300 €. If you miss buying them in Positano and regret it, don't worry, you can always order them online!
Lemon sorbet and lemon everything
You can't leave Positano without trying the famous lemon sorbet! Enjoy lemon sorbet served inside a frozen lemon at Covo Dei Saraceni Hotel.
In addition, in many stores, you can find lemon-flavored candies and chocolates, a bottle of limoncello, lemon body care products, lemon-scented perfume, lemon soap, clothes, tablecloths, ceramic with lemon pattern and so much more. These are great souvenir and gift ideas that you can get at Sapori di Positano on Via Dei Mulini.
Ceramics
In Positano, you can find handmade ceramic vases and utensils, especially ceramic plates and cups of various patterns and designs.
Visit the Emporio Della Ceramica on Via Cristoforo Colombo which is full of a variety of high quality, handmade ceramics. Even better is that they can send everything to your home address!
Hike famous Path of the Gods
The Path of the Gods or in Italian "Sentiero Degli Dei" is a walking trail with the view on Amalfi Coast that you will never forget. The trail is about 7 km (5 miles) long so you will need 2 and a half hours to complete it. On the whole hiking journey, you will have some of the most breathtaking views of the sea, islands, mountains, and towns.
The Path of the Gods starts in Agerola and ends at Nocelle, the hamlet above Positano. So to start your journey you need to take the SITA bus from Positano to Amalfi and from there the bus to Bomerano stop in Agerola. After you come to Bomerano stop, walk to the left a bit, cross the road and walk up to the main piazza and the church. There you will see the signs for the Path.
The trail is suitable for kids and beginner adults, but keep in mind that you need to have proper footwear, snacks, and lots of water. When you end your hiking at Nocelle, you can either take the SITA bus or walk to Positano. If you choose the second option, you will have to cross around 1500 steps down the road to reach Positano.
Have some party!
If you're looking for some late night fun visit the nightclub Music on the rock located inside a cliff under Rada Restaurant. The ceiling of the nightclub is the rock of the cliff, so you really have the feeling that you are in a cave. They often have themed evenings and dress codes. For more information check out their site.
The club is small, but the mix of fun music and lighting make the atmosphere great! At the club, you can hear the waves crashing into the rock which is a unique experience. This is the only nightclub in Positano and a great place to meet other visiting tourists.
The club is performed by different DJs, so sometimes a ticket is needed. The club opens around 10 p.m. and the queues to enter can be long so come before the crowd. Party really gets started around 12:30 am!
Eat, drink, enjoy the view!
In the Positano Paradise Lounge Bar, you can enjoy drinks, but also food and desserts with an amazing panoramic view of the Tyrrhenian Sea. This bar is perfectly located close enough to the port and beach. You must visit this bar if you want to start the day with a delicious coffee or refresh yourself with an iced coffee or maybe a cocktail.
The atmosphere is relaxed, the food is very tasty and especially the desserts. They serve great cakes and desserts in a glass. Many say that the best ice cream in Positano is in this bar, so don't hesitate to try it! Prices are very great and reasonable too! This place is famous for being a self-service bar. Don't wait for the last day to go to this bar and treat yourself!
Another great bar in Positano is Franco's Bar. The location of this lovely bar is stunning. I promise you will want to take a lot of photos there because the view is exceptional. The bar is small but lively and stylish with great music and vibe.
Keep in mind that cocktails can be a little pricey. This bar does get quite busy, so come before the opening to get the best spot with a view. The best experience in this bar is the afternoon sunset drink!
Rent a kayak in Positano
One of the most popular activities in Positano is the kayak tour. While kayaking you can see the beautiful landscape of Positano and the surrounding places. With a kayak, you can explore incredibly shaped rocks and a blue cave.
A great thing to do is to stop for a swim on completely private beaches. If you are an adventurer, you will have the opportunity to go jumping off a cliff. Excellent guides will acquaint you with the history of Positano and the surrounding places and will be happy to answer all your questions. Also, the guides introduce you to safety information and a simple kayaking technique. Great guides always offer to take photos of you and record videos that they email you later!
Numerous tourists say that this is an indispensable part of the trip to Positano and that they will return again. What to bring? Hat, sunglasses, sunscreen, snacks, waterproof bag, swimsuit, and camera. Be sure to wear a bathing suit or clothes that dry quickly as you will definitely get a little wet while kayaking and going to the beach. We wholeheartedly recommend this kayak tour at affordable prices!
Rent a boat in Positano
The only way to fully see Positano and the Amalfi Coast is by the sea. On a boat trip along the Amalfi Coast, you can see colorful houses descending on cliffs. A boat tour will be the highlight of your trip! In addition to sightseeing, enjoying the unreal landscape and the blue and turquoise sea, because, with a boat, you can stop at various locations.
Choose between a private or a small-group boat tour. If you take a private tour, you can rent a boat with or without a skipper at Positano Boats. In this case, you have a boat just for yourself and you choose wherever you want to go! Go to all the gorgeous, secret grottos, magical waterfalls, beaches where you can swim and canyons.
For most boats for the rental, you do not need to have a boating license. For your safety, it is always recommended that you choose to rent a boat with a skipper. In a small-group boat tour, you share the boat with other passengers which is a cheaper option. In both cases, you can enjoy Prosecco and do a few stops at beautiful places for some amazing pictures.
Choose between boat tour from Positano to Capri, Capri island tour, private romantic tour for couples, sunset tour and many more! There is no better way to spend a beautiful day, rather than on the water!
Rent a scooter in Positano
Renting a scooter to visit the surroundings of Positano is the best idea that a curious traveler can have. The curvy, narrow roads of the Amalfi Coast are perfect for exploring with Vespa scooter. They are easy to drive, you can enjoy spectacular views while driving them, and finding parking spots is quite simple.
Furthermore, riding the scooter you will feel like a local Italian. You can rent a private scooter for about 65 euros per day or 300 euros per week and explore Amalfi Coast on your own. Or you can book an Amalfi Coast Vespa tour with a guide for around 350 euros that lasts one full day.
Activities
Positano is a seaside resort and an ideal starting point to explore the Amalfi Coast. All places on the coast and in the mountains can be reached quickly from Positano. Amalfi, Ravello, Vietri Sul Mare, Praiano and Furore are particularly worth seeing. Many places can also be explored on foot on charming hiking trails with fantastic panoramas. Some of the paths are quite steep but well signposted. Positano is also a paradise for water sports enthusiasts. The sea invites you to surf, water ski, sail and dive. From the sea, you will have a completely different perspective of the picturesque Positano.
Related posts: