Just like other towns and villages on the Amalfi Coast, Maiori also has a big parking problem, especially in the summer months. This means that parking in Maiori is very challenging and expensive. When the summer season begins, there are more cars in the town than parking spaces, so you have to be lucky to find an available one. Furthermore, the other aggravating factor is that Maiori has very narrow streets, so those with bigger cars may not fit in parking spaces on the street.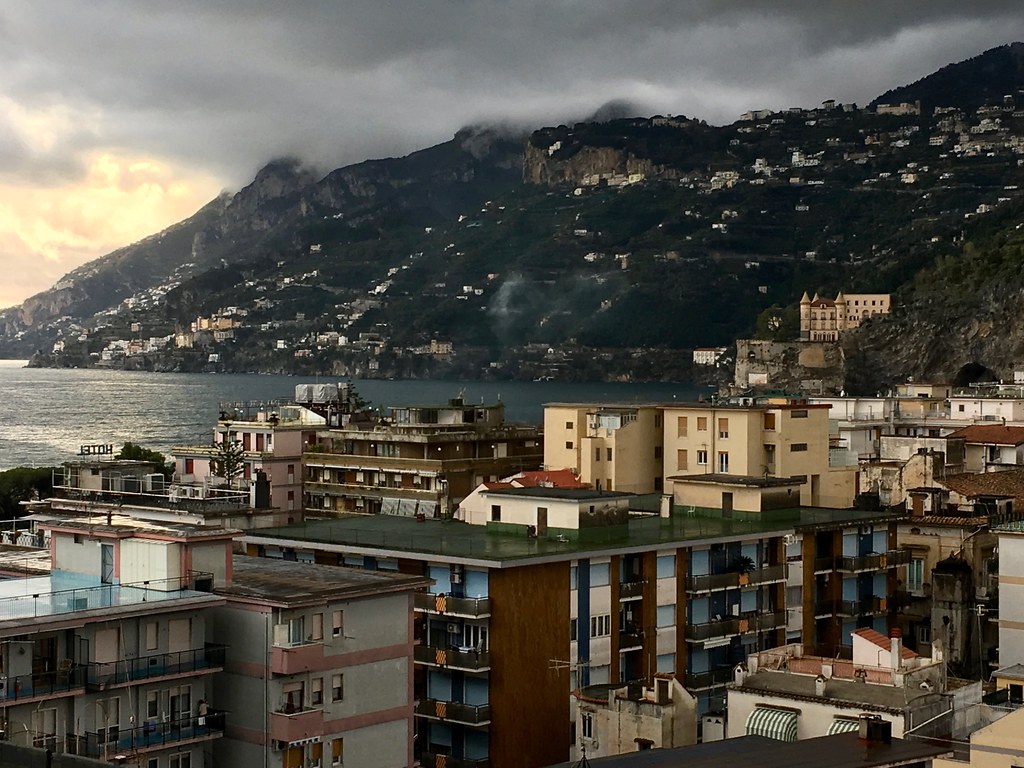 In most cases, the only option for tourists is to pay for a private parking garage or stay in a hotel that provides free or paid parking. As you can imagine, parking in Maiori can be very stressful, so we advise taking public transportation instead of a car. The other option is taking a taxi, but it will cost you a fortune. Sita bus is an official bus that runs along the coast, so there are also a few lines from Maiori every day. You can also travel by ferry, which goes from Maiori to other popular coastal towns like Amalfi and Positano.
Where to park in Maiori?
You can find paid parking along the street that runs next to the seafront (Strada Statale Amalfitana). Those parking spaces are marked by blue lines and parking there costs 3 euros per hour. It is a very expensive price, especially if you have to leave your car for a few days. But, believe it or not, this is still cheaper than parking in Amalfi town or Positano.
Keep in mind that finding an available spot on this street during the season is like winning a lottery. However, you will more easily find your spot in paid parking on Via Chiunzi, which is around 2 kilometers away from the sea. Besides parking on the street, there are three private parking lots and garages in Maiori. Let's check them out.
La Grotta Parcheggio
La Grotta Parcheggio is a private parking lot located near the port, on the Amalfi State Road 163, in the direction of Minori. It will cost you 3 euros per hour and 20 euros per day. Keep in mind that usually, in the season, there is a minimum of hours you have to leave your car there in order to be able to park in this parking lot. Also, you will have to leave car keys inside the car on the windshield so that the owner can move your car if he needs to fit more. The good thing is that you can also pay the parking price with a card.
Garage Mandara
Garage Mandara is another private parking lot located in Via degli Orti 16, around 30 meters away from the seafront. It is pretty expensive with a price of 5 euros per hour and 40 euros for the whole day. If you choose to park there, bring cash, because it is the only payment option. Also, you will have to leave your car keys, so keep this on your mind.
Milito Pagliara Giulia
The last private car park is called Milito Paglara Giulia, and it is located in Via Nuova Provinciale Chiunzi 1, also very close to the seafront. Just like the previous one, this parking lot is also very expensive, with a price of 5 euros per hour and 30 euros per day. The rule here is also to leave your car keys in the car.
Free parking in Maiori
Sadly, there are no free parking spaces in Maiori near the sea. Don't make a mistake and park inside yellow lines, because these are parking spaces reserved for locals, and you can get a pretty expensive fine. However, if you don't mind leaving your car far away from your hotel, you can find free parking at the end of Via Chiunzi.
After you see blue lines just go further towards the mountains, and you will see very small free parking marked with white lines. Still, the others also know this trick, so keep in mind that you may find yourself going round in circles for quite a while before you find your free spot.
Motorbike and scooter parking in Maiori
If you are heading to Maiori with a motorbike or scooter, you can park it on the seafront or behind the Cocktail Bar Matineé. This parking is visible on the right as you drive along the Amalfi State Road 163 in the direction of Minori. Also, you can park it in one of the private parking lots that were mentioned in this article.
Check out more articles about Maiori:
Hey there! Some links on this page are affiliate links which means that, if you choose to make a purchase, we may earn a small commission at no extra cost to you. We greatly appreciate your support!