Ravello is a very popular town on the Amalfi Coast located at the height of over 300 meters above the sea, in the hills and mountains. Therefore, many tourists come to this romantic place to experience one of the best views on the whole Coast and take amazing pictures.
They mostly choose a bus as their transportation to Ravello in order to avoid clogged roads and search for free parking. During the summer months, especially in August, the roads are busier, so traveling by car is not recommended while driving in the off-season is very pleasant.
But, it is encouraging that it is much easier to find a parking space in Ravello compared to other places on the Amalfi Coast. Still, coming on vacation by car has some advantages. For example, the buses can be full of locals and tourists and move more slowly through the steep and narrow streets than cars. So, if you have decided to come to this lovely town by car, here is where you can find parking in Ravello.
Parking in Ravello
First of all, Ravello is a pedestrian village, which means there is less choice for car parking. You have to be careful where you stop because the center of Ravello is a restricted traffic area marked with the sign ZTL (Zone traffic limited). This restriction is logical because the most popular attractions in Ravello are located near the center.
There are cameras in that area that monitor incoming and outgoing traffic, so you can get a ticket for illegal stopping. Parking spaces are usually very busy, especially near the main attractions. Therefore, it is advisable to come early in the day to have a better chance of finding available parking space.
Where to park in Ravello
Even though Ravello is a pretty small town, there are still few parking lots available. They are not so big, but they usually serve a purpose. Here are all the parking lots in Ravello:
Duomo di Ravello parking lot
Right below the main square, there is the large Piazza Duomo parking lot. This is the most popular paid parking lot and has 140 parking spaces, so you can easily find your spot thanks to the signs along the route. Although it is close to the center, the Duomo di Ravello car park offers very favorable and competitive prices. The price of parking per hour is around 2.50 euros, which is one of the lowest prices on the entire Amalfi Coast.
The good thing is that you will get a discount if you stay longer in the parking space. After you have been in the parking lot for 10 hours, you will pay a fixed daily parking price in the amount of 20 euros. Keep in mind that this parking is charged upon exiting the parking lot. Duomo di Ravello parking lot is located at Rampa Gambardella and is open 24 hours a day.
Oscar Niemeyer Auditorium parking lot
Another car park in Ravello near the center is the Oscar Niemeyer Auditorium car park. It was named after the Auditorium of the same name, the work of the famous architect Oscar Niemeyer. The Auditorium is a shell-shaped building that rises above the sea and hosts many musical events in Ravello every year. These events alone attract many tourists, so it is logical to have a parking lot there.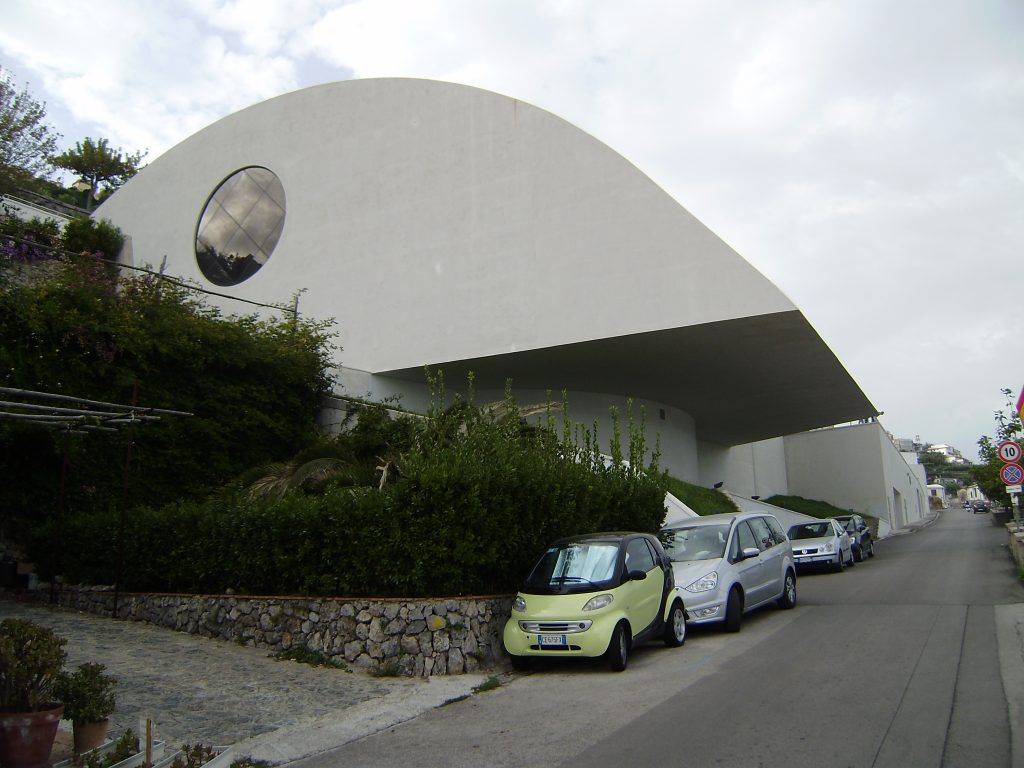 The parking lot consists of 80 parking spaces at a price of 2 euros per hour, while the daily ticket is 20 euros. It is located in Via della Republica 12, which is only a 5-minute walk from piazza Duomo. If you decide to park here, you can buy a parking ticket at the nearby bar.
Parking Al Ponte
There is also a possibility of parking in a parking lot a little further away if that suits you. The Al Ponte di Ravello parking lot is located outside the city center, in Via Sant'Alfono Maria De Liguori 14, at the neighboring settlement.
This parking lot has about 80 spaces, and it is a guarded parking lot, so you will leave your car keys with the staff and collect them with your car on your return. It has a fixed daily price of 20 euros, which is taken into account from the moment of arrival until midnight.
This secure car park is an excellent choice if you want to park your car in Ravello for a few nights. Also, Parking Al Ponte is an ideal option if you want to park your car for a long time and explore the village by public transport. Because of its great service, the parking lot is very popular, so it is recommended that you reserve parking in advance.
Alternative parking in Ravello
There are also some other parking options in Ravello for you to consider. Remember that parking spots marked with blue lines are paid per hour, while the white lines are free. Finding a free parking space may not be easy, but if you are lucky, you will find your spot. There are parking spots marked in blue in Via G. Boccaccio, from Hotel Villa Fraulo to the garage of Hotel Palazzo Sasso.
Furthermore, you can park on spots marked in blue in Viale Parco della Rimembranza, from the Gradillo crossing to the entrance to the staircase connecting to Via Roma (on the road to the Duomo parking lot).
Reserving a parking space at your hotel is also not a bad idea. But, you have to book in time because hotels with parking in Ravello are very desirable and wanted. Keep in mind that the parking lots within the hotel are sometimes quite far from the hotel itself, which can be a problem if you have a lot of heavy luggage. Still, parking within your hotel gives you flexibility and the opportunity to plan excursions and explore places in the area with local transportation.
Check out more articles about Ravello:
Hey there! Some links on this page are affiliate links which means that, if you choose to make a purchase, we may earn a small commission at no extra cost to you. We greatly appreciate your support!