Located high on a hillside on the Amalfi Coast stands Ravello, a charming, picturesque town offering some of the best views available over this breathtaking region. Transport options to access Ravello include a car, bus, or a hike from Minori or Amalfi. Centered around Ravello's main square, Piazza Centrale, you will find gorgeous villas and gardens as well as historical sites dating back ten centuries or more.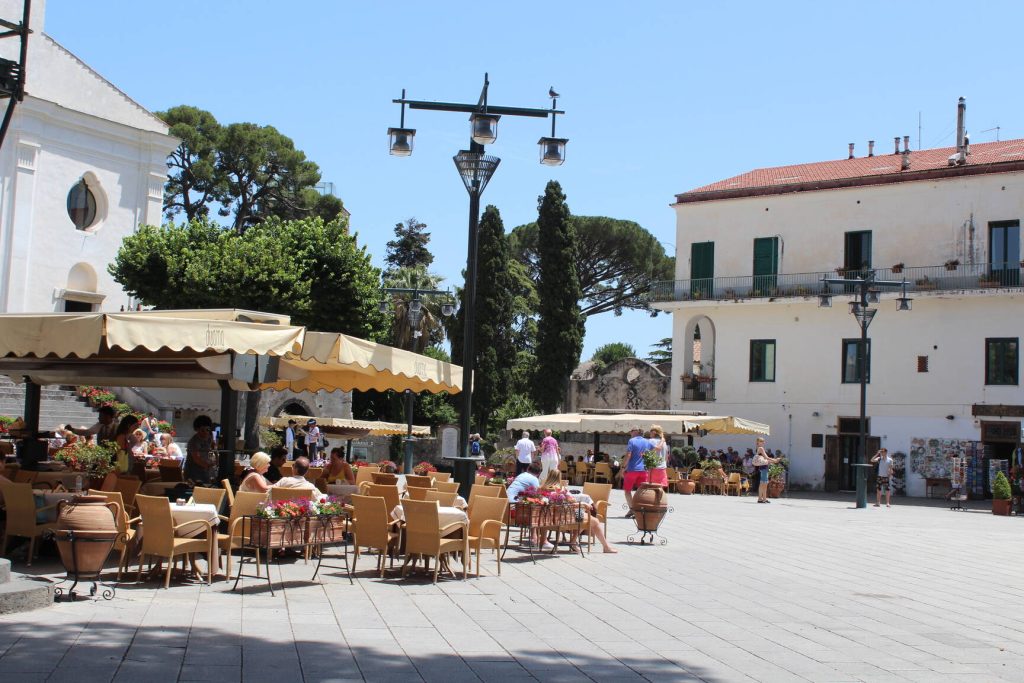 Thanks to Ravello's altitude, privileged visitors have access to some of the best sites this region of Italy has to offer, so don't forget your camera! Ravello has long been home to artists, writers, and musicians. You can count Tennessee Williams, Virginia Woolf, Greta Garbo, and Joan Miró amongst Ravello's previous frequent visitors.
This appreciation of culture extends to its culinary scene, which boasts some of the most delicious food available to diners. You will enjoy Italian classics like pasta, pizza, and risotto while dining in high-quality restaurants and exploring local wines. If food made with a personal touch is your thing, you will find it here in Ravello. Read on to find out more about the best restaurants in Ravello!
(This article contains 5 restaurants in Ravello, which are best in our subjective opinion. The order of the restaurants is not related to the quality they offer. Every restaurant has its pros and cons, so choose the one based on your personal preferences.)
Mimi Ristorante Pizzeria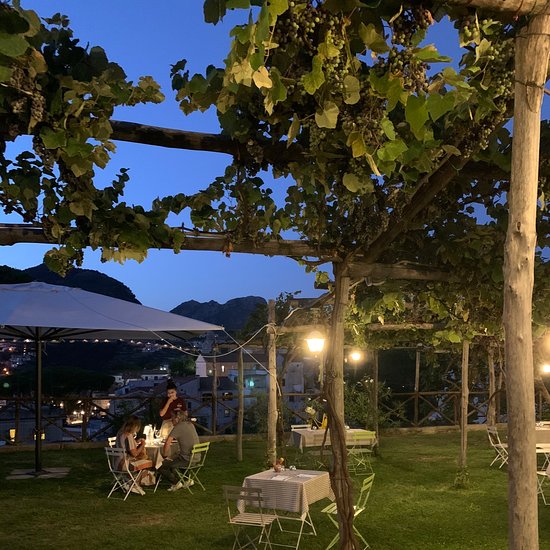 If dishes expertly crafted with only the freshest local ingredients are your thing, you will absolutely adore Mimi Ristorante Pizzeria. Guests can sit on Mimi's garden terrace, which is located on a steep hill, offering picturesque views over the Amalfi coast.
If you prefer to sit indoors, the interior is stylish and charming, with arches and shelves of wine adorning the wall. You will no doubt be hit with the smell of the restaurant's well-known pizzas upon entering the restaurant, where you can take in the friendly, vibrant atmosphere.
Limoncello lovers, rejoice! Limoncello liqueur is Mimi Ristorante's specialty, so not only are you encouraged to enjoy a small tipple at the end of your meal, but you will also be greeted by bottles of delicious lemon drink upon arrival. If wine or cocktails are more your thing, you will find extensive menus for both.
The restaurant's most iconic dishes include spaghetti di mezzanotte, made using the freshest ingredients, and i paccheri, a type of pasta in the shape of a large tube served with cod, capers, olives, and the juiciest tomatoes. Then there are the pizzas. From classics like Margherita, featuring mozzarella that simply pulls and the softest dough, to Mimi's own pizzas like the Rebellum, you are sure to find a pizza you fall in love with.
The best part? You will be able to visit Mimi's at any point during your visit since the restaurant is open seven days a week. The hours vary depending on the time of year, but the restaurant is mostly open every day from 10:00 AM (10:00 hours) to 9:00 PM (21:00 hours).
Distance: 200 meters (0.1 miles) from Ravello's center
Phone: +39 089 857134
Babel Wine Bar Deli & Art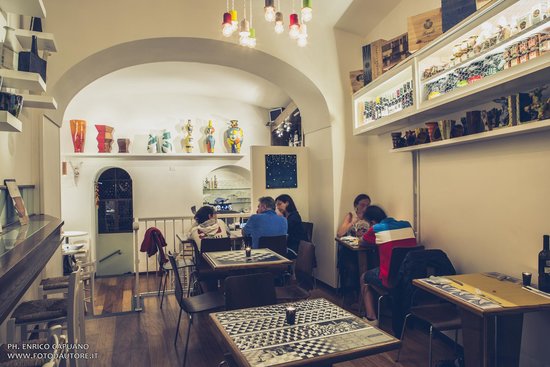 Babel was created as a respite from the hustle and bustle of the tourist-heavy Amalfi Coast, and it certainly lives up to its objective. Located just a one-minute walk from the Duomo di Ravello, Babel is the perfect pit stop after a day of exploring Ravello's many sites.
Upon entering this charming space, you will note stunning displays of local ceramic art commissioned by the globally acclaimed Scuola di Vietri. As well as celebrating local cultural heritage, Babel offers a contemporary twist on classic Italian cuisine.
Using fresh ingredients from the local area, Babel revels in creating mouth-watering dishes that feature a wide variety of flavors and textures. You can expect to find platters containing a selection of delicious nibbles, as well as Roman-style pizza slices.
If you are a wine lover, you will be spoiled for choice with Babel's vast selection of hand-picked local wines. Each bottle is specially selected to complement a dish on the menu. Prefer beer? You are in luck since Babel also prides itself on having a varied selection of craft beers from Italy's most exclusive breweries.
Babel is one of the rare places that has a vibrant atmosphere, delicious food, wine from local producers, and a focus on wholesome, organic produce. This charming place is open every day from 11:30 AM (11:30 hours) to 3:30 PM (15:30 hours) and from 7:00 PM (19:00 hours) until 10:30 PM (22:30 hours).
Distance: 100 meters (0.1 miles) from Ravello's center
Phone: +39 379 1138524
Belvedere Restaurant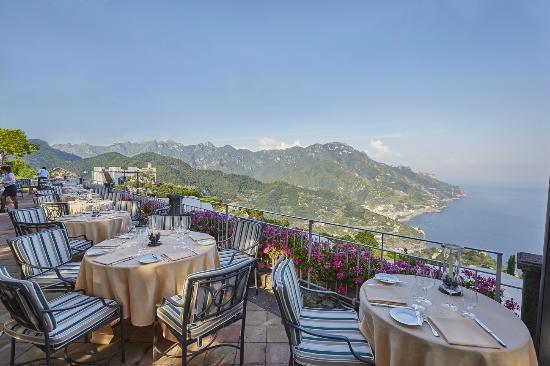 The Belvedere Restaurant is perched overlooking the Amalfi Coast at the Hotel Caruso. When it comes to views, this eatery is almost unparalleled, with breathtaking views of the picturesque coastline. Even if you are not a foodie, it's worth a trip just for the views!
The staff is exceptionally friendly, ready to cater to your every need, and prepared with recommendations and pairing to make sure you get the most bang for your buck. The team behind Belvedere's food is masters at transforming local produce into a contemporary, delicious twist on Italian classics. There is even a range of allergy and vegetarian-friendly options for diners with specific needs.
If you are in the market for a pre-dinner aperitif, Belvedere has them in abundance, whether your favorite is a Negroni or one of Belvedere's own concoctions. The wines on offer are some of the tastiest and boldest you will try, while you can wash your meal down with one of Belvedere's delicious digestifs.
Foodwise, Belvedere has a fish-heavy menu, with dishes ranging from lobster and honey mushroom risotto to sea bass. If you like to try something new, there is a tasting menu on offer, with a collection of the chef's signature dishes available for you to try across multiple courses.
The meals here are on the pricier side, but the price tag is well deserved given the high quality of the ingredients, the perfect flavor pairing, and that incomparable view. The restaurant is closed during the autumn/winter season, but if you visit during the summer, it's a must-see. In the season, Belvedere restaurant is open every day from 7:30 PM (19:30 hours) to 10:30 PM (22:30 hours).
Location: Piazza San Giovanni del Toro 2
Website: Belmond.com
Distance: 400 meters (0.2 miles) from Ravello's center
Phone: +39 089 858801
Ristorante Raffaele dell'Hotel Parsifal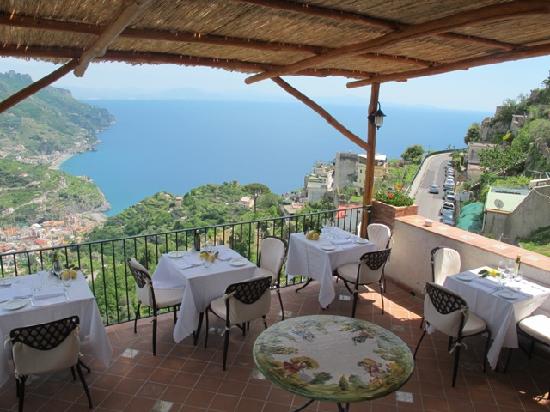 Open seven days a week for lunch and dinner, Ristorante Raffaele boasts an outdoor terrace with picturesque views of the Amalfi Coast and food that's just as beautiful to match. The service is elite, with attentive staff who go out of their way to make your experience an unforgettable one.
There are set menu options for those on a budget, but if you are willing to splash out, you can order from Raffaele's a la carte menu, which features tasty dishes such as beef sirloin, veal escalope, and baked lamb chops accompanied by vegetable confit.
Start your meal with one of Ristorante Raffaele's famously delicious appetizers, such as wild boar ham with goat's cheese or a classic caprese salad. Fish lovers will be thrilled by Raffaele's selection of fish dishes, including mouth-watering seafood pasta and a selection of fish and shellfish that comes directly from the fish net to the table.
For those who d prefer a meal without meat or fish, the restaurant offers exquisite buffalo ricotta cheese ravioli in a creamy lemon sauce. The restaurant is open year-round, and the hotel in which its located is equally breathtaking, so it's well worth a stay if you are on the hunt for accommodation. Ristorante Raffaele dell'Hotel Parsifal is open every day from 12:30 PM (12:30 hours) to 2:00 PM (14:00 hours) and from 7:30 PM (19:30 hours) to 9:00 PM (21:00 hours).
Distance: 600 meters (0.3 miles) from Ravello's center
Phone: +39 089 857144
Il Flauto di Pan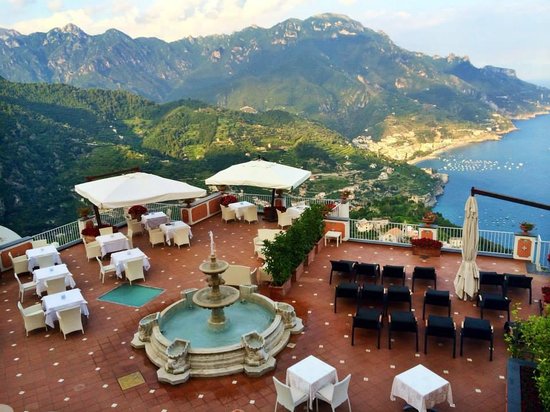 Brought to you by innovative chef Lorenzo Motoro, the Michelin-starred Il Flauto di Pan showcases the finest cuisine that the Mediterranean has to offer. Located within the Hotel Villa Cimbrone, this restaurant has its own botanical garden, from which most of the dishes' ingredients come.
The setting offers stunning views over the scenic Amalfi Coast, with attractive decor and a vast terrace with outdoor seating. The menu itself offers a culinary journey through the beloved Amalfi Coast, borrowing dishes and flavors from around one of Italy's most beautiful regions.
For an experience you will never forget, you can try one of Il Flauto di Pan's 10-course tasting menus. Alternatively, order from Il Flauto di Pan's set menus, each of which is expertly cultivated for a blend of tastes and textures that complement one another.
One of Il Flauto's menus is ideal for fish lovers, with seaweed, butter, and smoked anchovy pasta, sea bass, and a shrimp and lemon pane salad. Meat lovers can choose from menus featuring specialties such as goat tartare and spicy snail pasta.
No meat? No problem! There's even a menu for vegan and vegetarian guests featuring meat-free Italian classics such as pasta pomodoro and roasted aubergine bruschetta. Il Flauto di Pan is open daily from 7: 30 PM (19:30 hours) to 10:30 PM (22:30 hours).
Distance: 650 meters (0.3 miles) from Ravello's center
Phone: +39 089 857459
Where to find the best restaurants in Ravello?
Thanks to its stunning views, thriving culinary scene, and abundance of fresh local ingredients, Ravello is a food lover's paradise. Whether freshly-caught seafood is your thing, or you prefer a pizza made with light, pillowy dough, you will be spoiled for choice in this charming Italian town.
However, Ravello is a tiny town, so there are not as many restaurants as in other places on the Amalfi Coast. Therefore, you will find your perfect place to eat quite easier. Also, all restaurants are within 5 minutes of walking distance at most from each other, so you can visit another one if your preferred restaurant doesn't have available seating.
Check out more articles about Ravello:
Hey there! Some links on this page are affiliate links which means that, if you choose to make a purchase, we may earn a small commission at no extra cost to you. We greatly appreciate your support!