Sirmione is a tiny town in the Province of Brescia, in Lombardy (northern Italy). The town is located at Lake Garda, and it is the best connection between history and tourism. On the one hand, Sirmione is a luxury summer resort with beautiful parks and walking trails, and on the other hand, it is a place with a rich history.
This beautiful town had become famous in the 1st century BC when wealthy families from Verona started to come on their vacation. The main attraction is definitely The Scaligero Castle, which was built in the 13th century. Sirmione is one of the most popular "sights," with thousands of visitors flooding each day to view the picturesque town.
In this Sirmione travel guide, we hope that we will answer all your questions about Sirmione. We are not paid to advertise any hotel, restaurant, coffee bar, or another service. All reviews are based on our personal experience.
Sirmione Italy: Location
Sirmione is a peninsula that divides the lower part of Lake Garda. It is 28 miles (45 km) far from Verona and Brescia and 12 miles (20 km) far from a famous amusement park named Gardaland. Below you will find a link to a map of Sirmione, Italy.
Best time to visit Sirmione
The best times to visit Sirmione for ideal weather are April 23rd to October 14th. The average temperature in May and September is 66.2 °F (19 °C). The busiest month for tourism is July, followed by June and August. In these three months, the average temperature is 74.3 °F (23.5 °C). Winter is too cold to be enjoyable for warm weather travelers, so that time of year is fairly slow with tourists.
Reasons to visit Sirmione, Italy
History & Culture
The beautiful and historically charming Sirmione has been a subject of admiration to poets and writers for many years. It was the home of the ancient Roman poet Catullus, the founder of the love poem. Top historical sights include the Scaligera Fortress, Grotto di Catullo, Centro Storico, and Chiesa di San Pietro.
An excellent choice of accommodation
Sirmione has more than 300 hotels and more than 200 apartments to choose from. If you travel with your family and want enough space and comfort for all of them, you can choose a private villa for your accommodation.
Good value for money
Even though Sirmione is considered a luxurious place, prices are the same or even cheaper than other famous Italian cities like Verona. This little town has a lot to offer for your money: various activities, historical sights, a choice of restaurants, great bars, cafes, and night clubs.
Beaches
Within a few minutes' walk of the incredible castle and the historic town, Sirmione's beaches have beautiful locations and offer Lake Garda's clearest water. You will have to walk 10 minutes from the car park, but it is well worth the effort. Our favorite beach in Sirmione is definitely Jamaica Beach. You have to visit it!
Thermal baths
The thermal baths of Sirmione are more than wellness. It is not just about feeling good. It is about healing, about feeling better about oneself, and above all, health. The local thermal baths are with sulfate-containing water from an underwater spring, which promises relief for various diseases.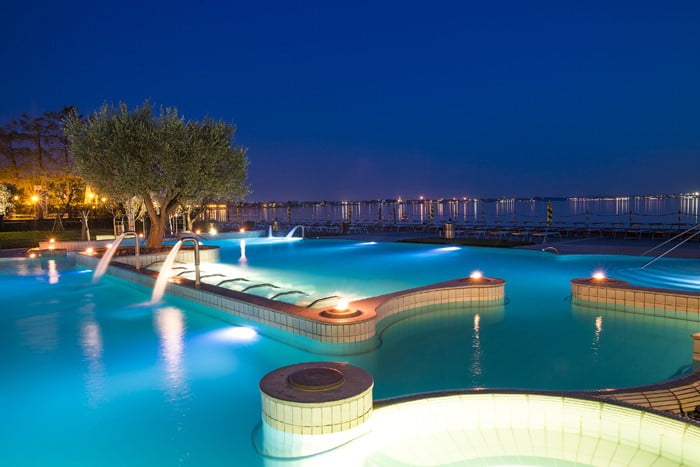 The thermal center of Sirmione includes two separate thermal baths, the Terme di Virgilio and the Aquaria wellness center. Overall, the thermal center of Sirmione offers modern and quality service. The visitor is king there with his wishes and health needs.
Free attractions
Centro Storico, Chiesetta di St. Anna, Jamaica Beach, Parco Maria Callas… All of this and much more charge nothing for visiting and enjoying.
Explore Garda Lake
When in Sirmione you have to explore Garda Lake and other little towns on the lake. To do that, you can book a boat tour or rent a boat. If you are into sport, you should consider renting a kayak or a bike.
What to do in Sirmione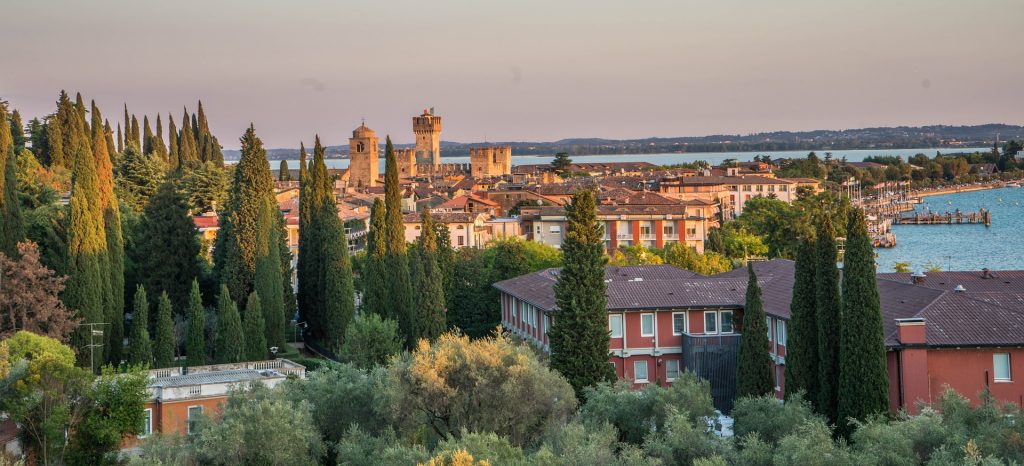 Explore the old town
Explore the stunning historical town with castle, Roman ruins, beaches, and gorgeous walks around the town. Sirmione is very small, so it takes up to an hour and a half to visit all the sights. The old town is quite charming and has very narrow streets with quaint shops. If you plan to visit Sirmione in the summer, you will experience the crowded city, so I suggest you stay in another city near the lake and come by boat for a day.
Swim in Garda Lake
If you want to swim in Garda Lake, you should visit Sirmione from June to September, when the water's average temperature is above 73.4 °F (23 °C). There are plenty of beaches to choose from, but personally, we like Jamaica beach the most.
Jamaica Beach is a flat rock beach with no entrance fee. There you will find beautiful clear blue water and a beach bar servicing decently priced drinks. In summer, shallow warm water over huge smooth stones allows you to lay on the rocks and bask in the area's beauty. It is never too crowded, and it is very clean. To conclude, Jamaica beach is one of the most beautiful places ever to relax in the water totally.
Book a boat tour
The harbor usually lines up some small boats near the castle offering boat trips around the peninsula. You can choose various boat tours, but the most popular are 30 minutes sunset tour and a half-day tour. If you decide to take a boat tour, we recommend you to go with Bertoldi Boats, because they have the best-rated service. For information about prices and their tour program, you should visit their official website.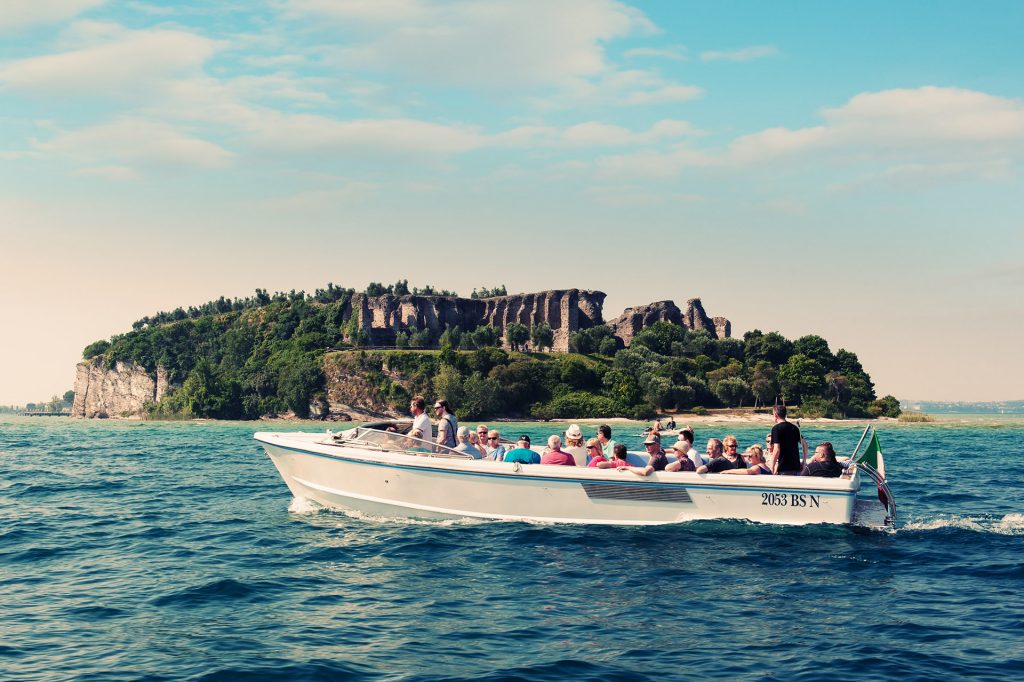 Walk in the park
The park is located on your right side when you walk from central Sirmione towards the Catullo Caves and Jamaica Beach. It is named Parco Maria Callas, and it is completely free of charge for visitors. The park itself is a great shady haven at the top of the old town and is a lovely place to sit under a tree on a hot afternoon. A lot of visitors think that the park is part of the nearby Villa Cortina Palace hotel and spa, but it is not. It is definitely a public place which anyone can enjoy.
Rent a bike in Sirmione
Riding a bike is healthy and will make you feel better. You will exercise without pushing your body too hard. While all major muscle groups are used when cycling, it is less stressful on your bones and muscles than many other kinds of exercises.
If you want to rent a bike in Sirmione, Il Ciclista di Sirmione Bike Rent is the best option. It is a small family business. They all know their stuff, give great advice on cycling in the area and some entertaining banter, and they speak English very well. But most importantly, they supplied well set-up, properly sized, quality bikes at a reasonable price (13 euros per bike/day).
Learn how to surf
It is always amazing to try something new and adventurous while traveling that will be remembered for the whole life. In Sirmione, you can visit Claudio Lana Professional Surf Center. It is a professional school that offers windsurf, kitesurf, and SUP courses. The instructor, Claudio Lana, is a great guy with a great sense of humor. He speaks English, German, French and Italian. All courses are adjusted to beginners and also to experienced surfers. I promise you that you will have so much fun if you try one of these courses. All courses and their prices you can check here.
Visit Desenzano del Garda
Desenzano del Garda is one of the largest towns in Garda Lake. It is well-connected with rail service, autostrada, and ferry boats, and has great access to surrounding cities like Brescia and Verona. The city is big enough to offer everything in the way of services and fun, and even nightlife, while being small enough to be enjoyable.
The main attractions in Desenzano del Garda are Porto Vecchio, Duomo di Santa Maria, La Capella Ossario di San Martino, and Castello di Desenzano. You can come to Desenzano from Sirmione with a local bus or with a taxi, it is only 10 minutes far.
Read more: Things to do in Desenzano del Garda
What to see in Sirmione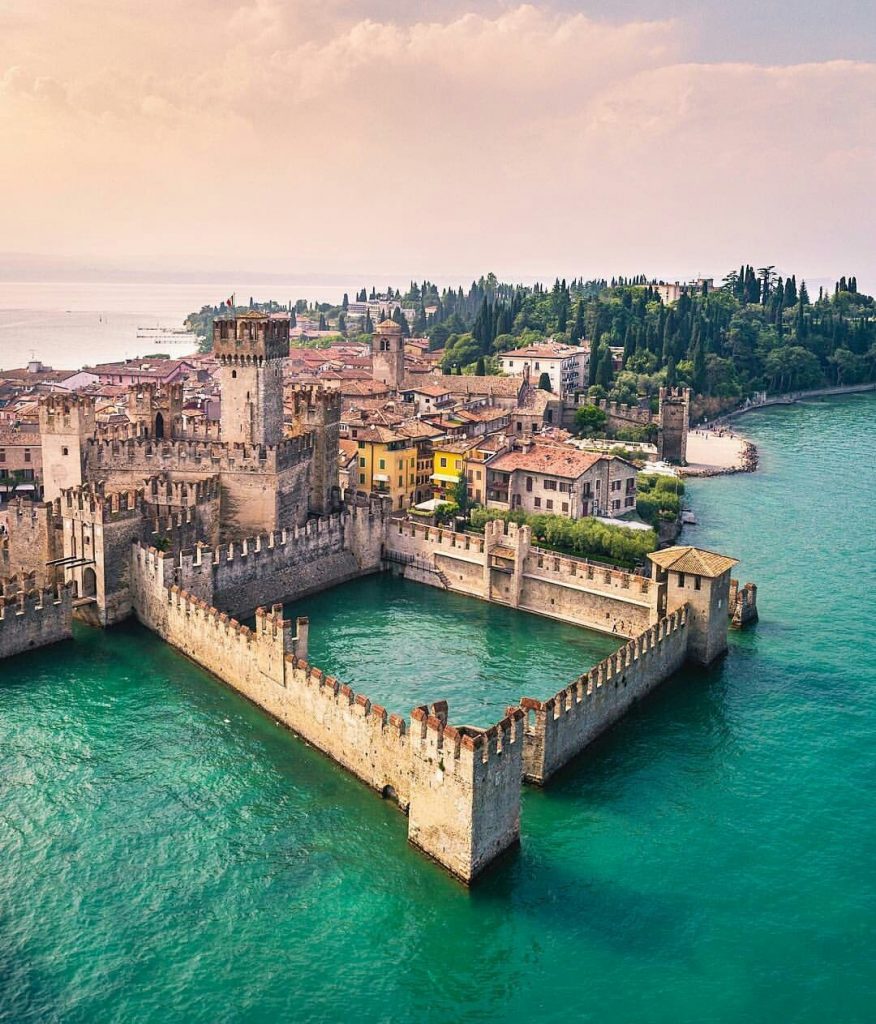 The Scaliger Castle
The Scaliger Castle is located at the entrance of the peninsula. It was built in the 13th century, and it is one of the most complete and well-conserved of Italy's castles. The Scaliger Castle is a simple castle with an enchanted view. It is not a castle with any furniture or expositions, but you can go to the top of the highest tower and have a breathtaking view of Sirmione and Lake Garda. The entrance ticket costs 6 euros. But if you are planning to visit Grotte di Catullo and Sirmione's archeological museum too, then you should buy a cumulative ticket (biglietto cumulativo) for 12 euros, which will save you some money.
Grotte di Catullo
Grotte di Catullo is the remains of a large Roman villa. The building was built between the end of the 1st century BC and the beginning of the 1st century AD. If you travel to the end of the peninsula to jamaica beach, you will see Grotte di Catullo on the top of the hill. From there, you will have truly breathtaking views and the panoramic sight of the lake. The entrance fee is 8 euros per person.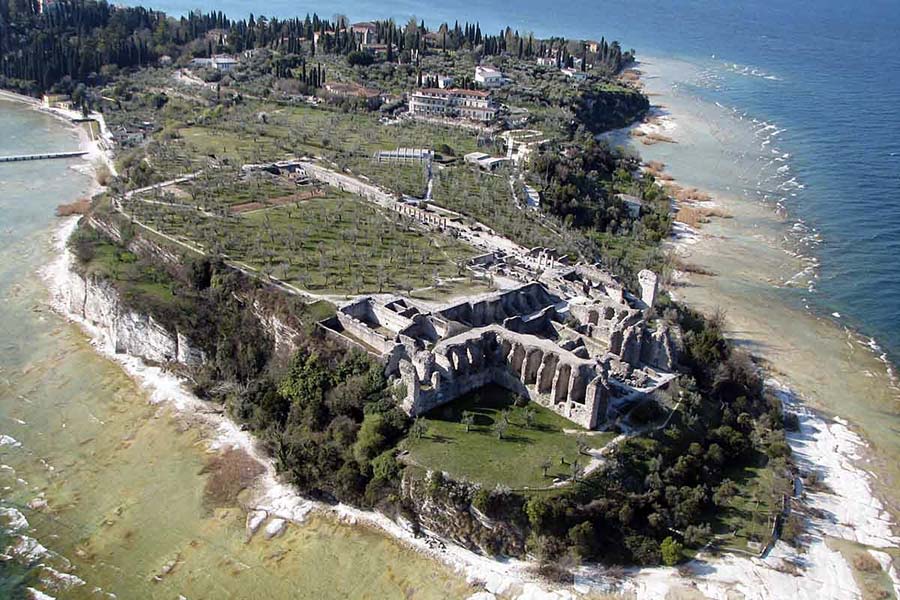 Archaeological Museum
Inside Grotte di Catullo, there is a charming little museum with remains that might please Roman enthusiasts. The museum is stylish and includes artifacts found during excavations. It is surrounded by meadows with old olive trees, so you will always find some shade. If you buy a ticket for Grotte di Catullo, the entrance to the museum is included.
Chiesetta di St. Anna
Chiesetta di St. Anna is a small church next to the Scaliger Castle that was built in the 12th century. You will recognize it by the "Ave Maria" sign above the entrance. This beautiful and peaceful little chapel is full of stunning artworks and decorations. It is free to enter for all visitors, so do not miss this little hidden gem.
Chiesa di San Pietro
Chiesa di San Pietro was built in 765 AD, and it contains frescoes dating from the 12th to the 16th century. The church is located a few minutes on the way to Grotte di Catullo. It is a serene location with some beautiful stained glass windows and art. There is no entrance fee, so it is definitely worth a visit.
Centro Storico
Centro Storico is the main center of the old town of Sirmione. It is full of narrow streets with shops, restaurants, gelaterias, hotels, and friendly ducks. Also, it is clean and cozy, and the people are very friendly. In the evening, all the streets are decorated with lights, and usually, there is some live music which is very romantic.
Food and restaurants in Sirmione- where to eat in Sirmione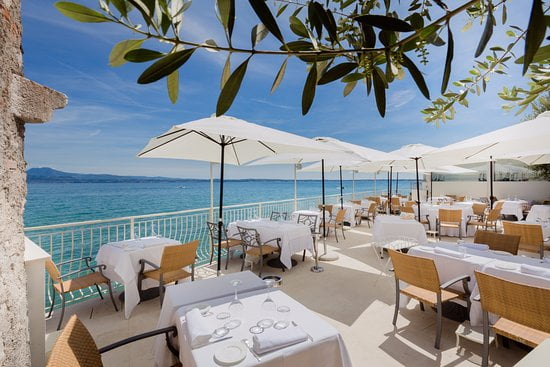 Lunch and dinner
In Sirmione, you will find a variety of restaurants. Most of them have a large selection of food: grilled meat and fish, pasta and risottos, seafood and pizza. Almost every restaurant has a cover charge fee (coperto) so take a look at the menu to see how much is coperto fee per person (it is usually shown at the end of the menu). The majority of restaurants post their menus outside, so you can check the prices before walking in.
If you are looking for a budget option, we suggest you Enoteca delle antiche mura restaurant. It is a small restaurant in a tiny street so that you can feel the real Italian lifestyle. Also, it has authentic and tasty food at a reasonable price for the old town of Sirmione. You can order there some lovely wines too, and the restaurant has a veggie menu for vegetarians.
If you want to visit a mid-range restaurant, we recommend you Il Girasole restaurant. It offers Italian, Seafood, Mediterranean, Lombard, Northern-Italian, and Pizza cuisine. The restaurant has vegetarian and vegan-friendly options, and price ranges are from 15 to 40 euros per meal. It has excellent food, a great location (historic center of Sirmione), and a perfect atmosphere.
For those who are looking for fine dining restaurants, we suggest Ristorante Risorgimento. It is a fabulous restaurant with more than 100 years of tradition. Ristorante Risorgimento is a famous resort in old town Sirmione where you will find an excellent traditional cuisine served in a warm ambiance, a wide range of wines with more than 1100 labels from all over the world, vegetarian and vegan menus, and an exclusive "Cigar-Room." The price ranges for a meal are from 80 to 160 euros.
Dessert
The most popular dessert in Sirmione is ice cream, or in Italian "gelato." If you love ice cream with natural flavors which is not too sweet, we recommend you Cremeria Bulian. There is a good selection of flavors, the ice cream is very creamy, and it has an excellent taste. The price per scoop is 2 euros.
Accommodation in Sirmione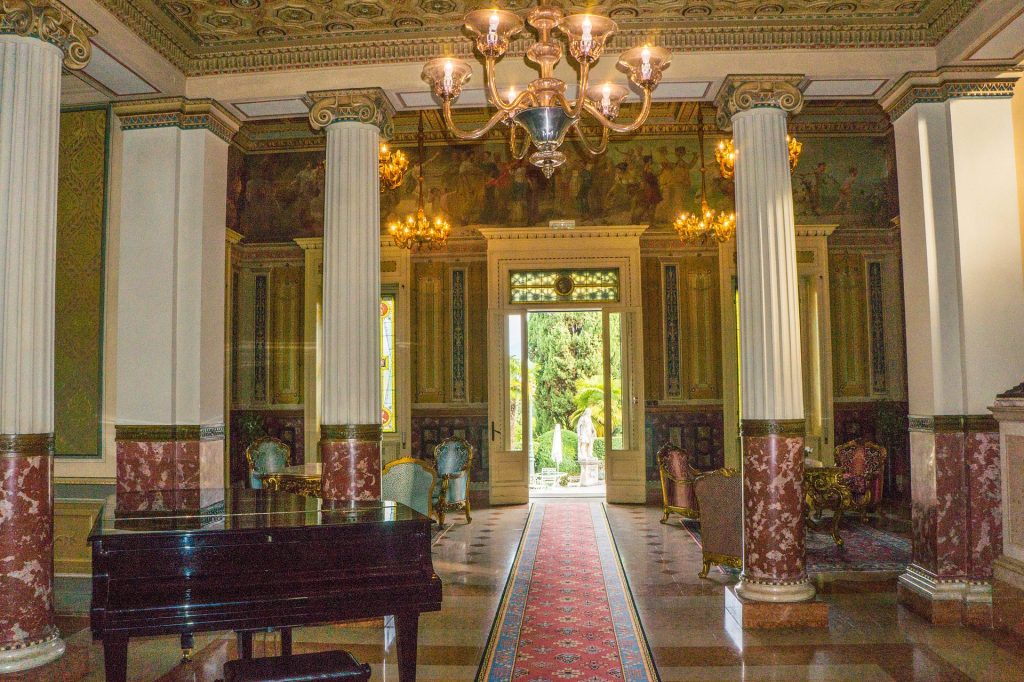 There are plenty of hotels in Sirmione, but we like the most hotels near the old town. Most of them offer free breakfast and rooms with a lake view. It is always hard to pick the best hotel so we will try to help you. We have to mention that we are not paid to advertise any of the hotels.
3-star hotels
If you search for a 3-star hotel, the best options are the Hotel Marconi and the Hotel Catullo.
Hotel Marconi is an excellent 3-star hotel near all attractions of Sirmione. It offers free breakfast, as well as a lakefront terrace and a private beach. The breakfast is superb with a large selection, pastries, fresh fruit, orange juice, bacon, egg, and a choice of hot drinks. The hotel also has free parking, free high-speed internet (WiFi), and allows pets. You can choose between rooms with lake views, family rooms, and non-smoking rooms. The rooms are very clean, and the staff is always very friendly.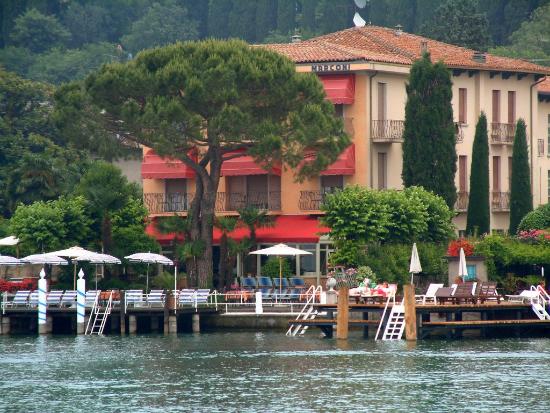 Hotel Catullo is an ideal family-friendly hotel near the old town. It also offers free breakfast, as well as a private lakefront pier. The breakfast is largely continental, but you can also have freshly cooked eggs. The hotel also has free parking, free high-speed internet (WiFi), and it is pet-friendly. You can choose between family rooms, non-smoking rooms, and suites. The rooms are very comfortable and clean, and the staff is very polite, professional, sincere, and helpful.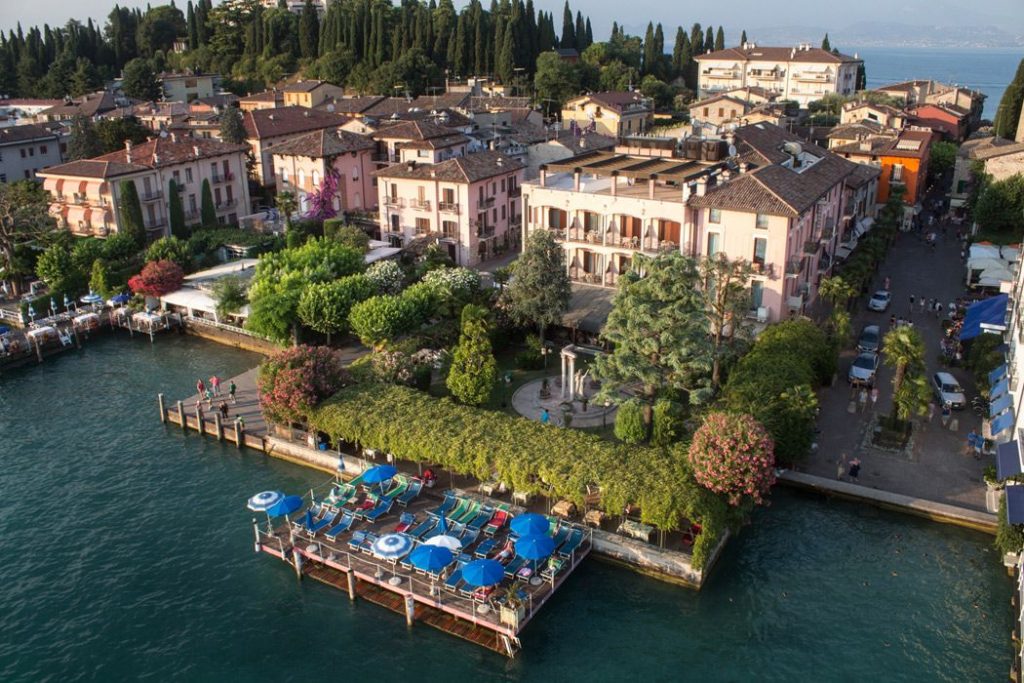 4-star hotels
The best 4-star hotels near the center are the Hotel Eden and the Hotel Olivi.
Hotel Eden, which has recently been totally renovated, is situated at a short distance from the famous Catullo and Virgilio Spa establishments. It offers a free breakfast buffet, free pool, free high-speed internet (WiFi), and it allows pets. The breakfast is excellent, there are free snacks at tea time, and you will have wonderful lake views from the front rooms. Also, a ferry stop is just by the hotel, which is very convenient for visiting other locations. The hotel also has 2 bicycles you can borrow free of charge. You can choose between a bridal suite, suites, and non-smoking rooms. The rooms are very clean and have a great bathroom. The staff is always happy and smiling and will do anything for you.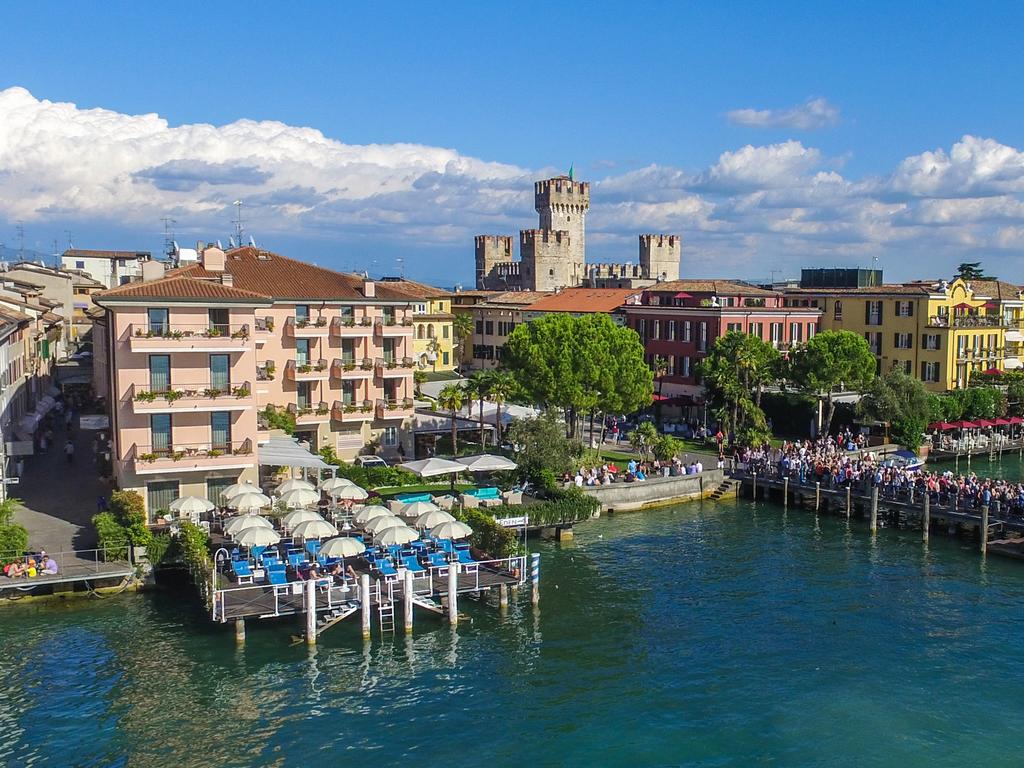 Hotel Olivi is a beautiful hotel surrounded by centennial olive trees. The hotel offers a free breakfast buffet, free spa, free pool, free parking, free high-speed internet (WiFi), it is pet-friendly, and there is an airport transportation option. The breakfast has a great choice of food, and coffee is excellent. Also, a free afternoon tea, including coffee, is served in the pool bar/restaurant at 4.30 p.m. You can choose between lake view rooms, family rooms, non-smoking rooms, and suites. The rooms are cleaned every day, have quiet air-condition, and every day you get new fresh towels. The reception staff is very polite and helpful.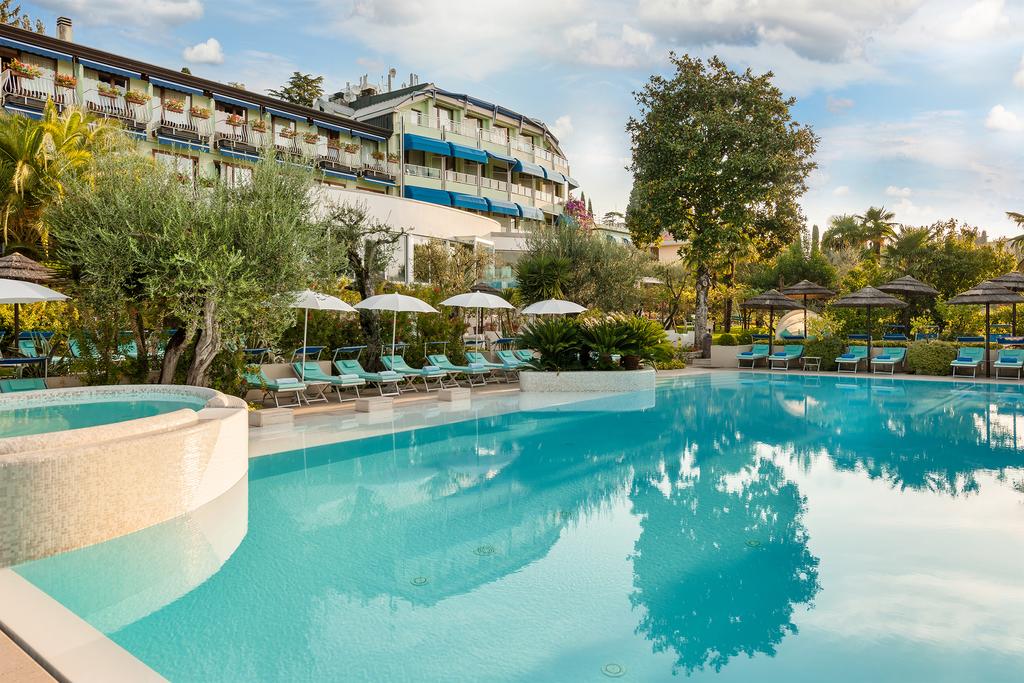 5-star hotels
5-star hotels in Sirmione are really top-class hotels. We guarantee that you will be treated like a king all the time. 5-star hotels with the best service in Sirmione are the Grand Hotel Terme and the Villa Cortine Palace Hotel.
Grand Hotel Terme is a prestigious and historic hotel with unique and charming surroundings that is only a 2-minute walk far from the old town center. It offers free breakfast, free parking, free high-speed internet (WiFi), a luxury thermal spa, an outdoor thermal pool, a small gym, and it allows pets. The spa is private, and it is equipped with a sauna, waterfall shower, Jacuzzi, tables for massages, steam bath, icefall, emotional showers, and a relaxation area with a lake view.
Also, the hotel has an intimate lounge with a fireplace and a herbal tea corner. The breakfast is luxurious and superb, the hotel has excellent modern spa facilities, and the staff is very professional, patient, and kind. You can choose between rooms with a lake view, non-smoking rooms, family rooms, and suites. All rooms are very luxurious with a super comfortable bed.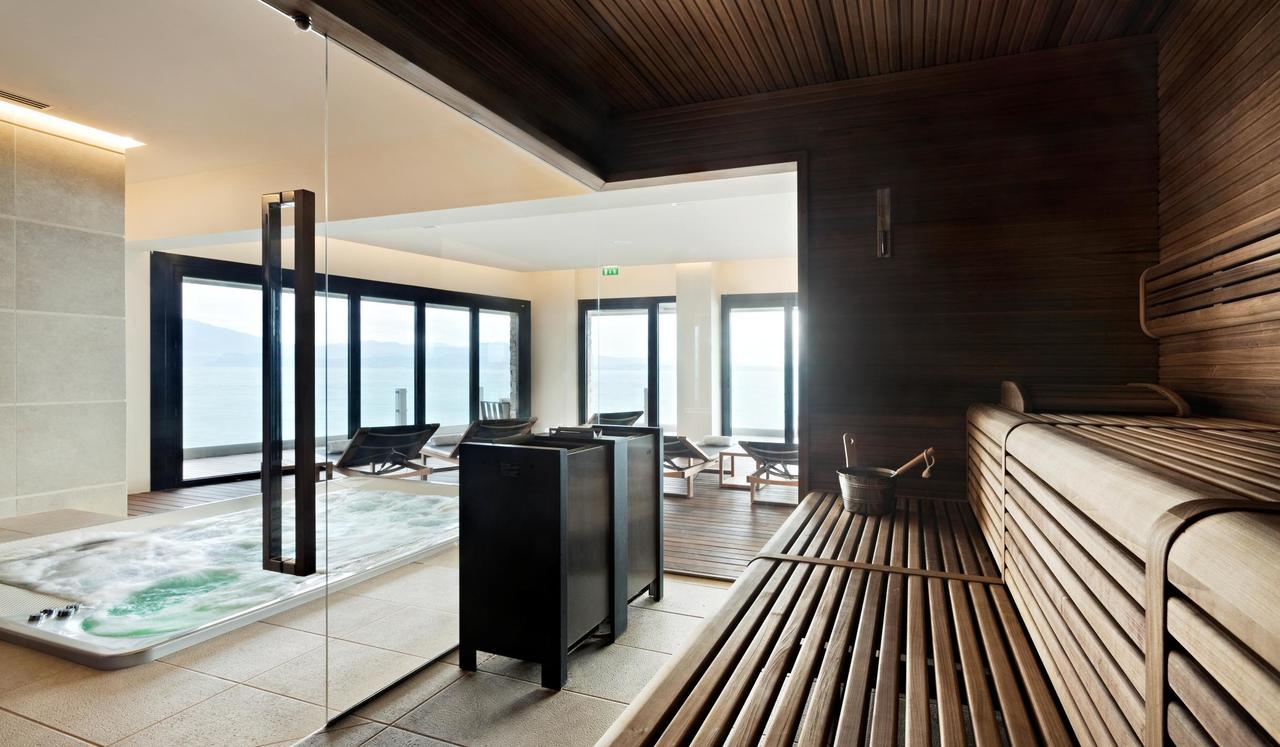 Villa Cortine Palace Hotel stands on a green hill overlooking the entire peninsula of Sirmione. The hotel is surrounded by 5 hectares with oleander bushes, ancient trees, lush palms, romantic sights, majestic fountains, and ancient marble statues. It offers a free breakfast buffet, free parking, free high-speed internet (WiFi), free pool, private pier, and a tennis court.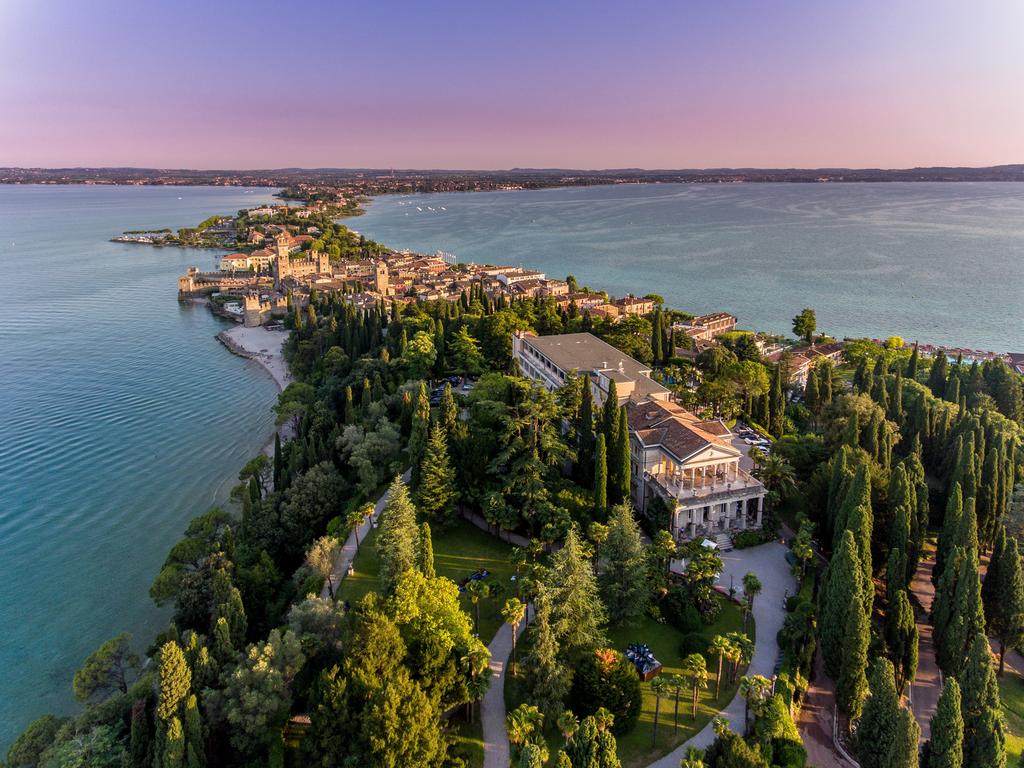 If you are unlucky and have bad weather, spending a day at the hotel is a wise investment. You can explore the gardens, lounge at the pool, enjoy the beach restaurant and private pier, or relax in the beautiful bar with a spritz and enjoy a book. The breakfast is very rich with excellent taste. The rooms are covered with elegant parquet floors and are decorated with precious carpets and antiques. There is a lot of staff that are always smiling.
Apartments
If you rather choose apartments over hotels while searching for accommodation, we suggest you look for apartments in the old town so that you do not need to walk a lot to see attractions in Sirmione. In our opinion, the best apartments are Sirmione Old Town Apartment (check details here) and Casa Graziella (check details here).
Camping
Sirmione has a pretty modern and well-equipped camping village on the shores of Garda Lake. The village is rated with 3 stars, and it has a pool, parking, free high-speed internet (WiFi), football pitch, playground, and direct access to the beach with trampolines. Also, the village is very clean, has a good restaurant and average washing facilities.
Popular events in Sirmione
Mille Miglia- Thousand Mile Car Race
"Mille Miglia" is a famous race of classic cars that starts in Brescia and passes through Sirmione on the way to Rome. The race with more than a hundred classic cars is held every year in May, and there is no entrance fee for visitors. You can read more about the race here.
Flag of the lake (Bandiera del Lago) Bisse Race
Bisse are long, narrow boats, a bit like gondolas that are rowed by teams of 4 standing up and competing for the Bandiera del Lago. Sirmione is one of the towns that compete, so if you stay in Sirmione when it hosts the regatta, it is well worth heading to the lake for a fantastic evening cheering on your local team. The race takes place every year in June, July, or August, and you can read more about the race here.
Cento Miglia- The Longest-running Sailing Race
Cento Miglia is held in Lake Garda every September. In the race participate hundreds of competitors every year, including some of the world's best sailors. You will find more information about the event here.
How to get to Sirmione
You can come to Sirmione by car, by plane, by train or by bus.
By car
If you are heading to Sirmione by car, you need to get onto the A4/E70 motorway, which stretches between Milan and Venice. The Sirmione exit is situated to the east of the turn-offs for Verona. The route then follows main country roads for the few kilometers (miles) to the town. Sirmione is 138 km (85 miles) far from Milan, 157 km (97 miles) from Venice, and 43 km (26 miles) from Verona. Road tolls apply on A4/E70 motorway. For information about prices, check here.
By plane
Sirmione has plenty of choices regarding airports, many of which are served with flights from low-cost airlines. When traveling to Sirmione by air, the most popular airports are Venice (Marco Polo) Airport and two airports in Milan (Milan Linate Airport and Milan Malpensa Airport). You can also come to some smaller airports like Verona Airport, Gabriele D'Annunzio Airport (outside Brescia), and Orio al Serio Airport (outside Bergamo).
When you arrive at the airport, you need to take a train or a bus heading to Peschiera del Garda (it is the nearest railway and bus station connected to other cities). Peschiera del Garda is only 10 minutes away from Sirmione, so you can get a taxi or a local bus after you arrive at the railway or bus station. To find the best and cheapest transport from your airport use this website.
By train
The nearest railway stations to Sirmione are at Peschiera del Garda (11 km- 6 miles) and Desenzano del Garda (10 km- 6 miles). Check the official Trenitalia website for the train timetable and ticket prices. From either train station, local buses or a short taxi ride are necessary to get to Sirmione. Check local bus prices and the timetable here.
By bus
Traveling to Sirmione by bus is similar to traveling by train. First, you also need to get to Peschiera del Garda or Desenzano del Garda, and then you need to take a local bus or a taxi to get to Sirmione. You can check the timetable and ticket prices here.
Transport in Sirmione and in nearby cities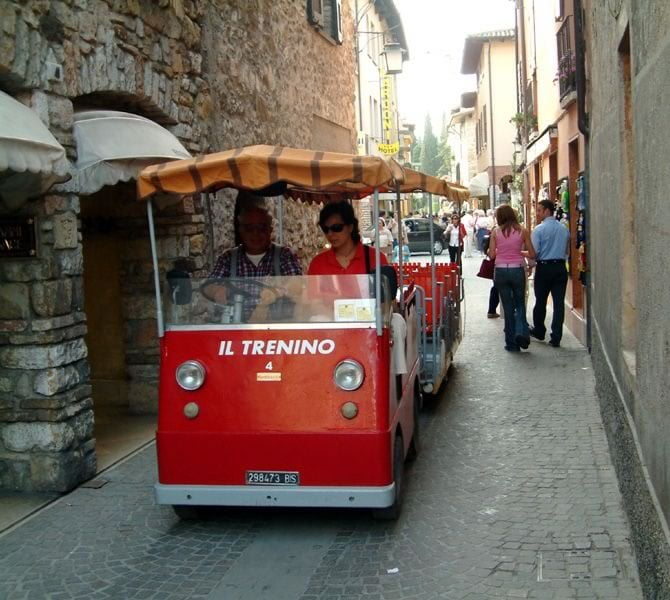 Tourist train
The electric tourist train goes from just outside the town center to the Grotte di Catullo (Roman ruins). The price for the ride is 1 euro in one direction.
Local bus
There is line 26 that connects Brescia, Desenzano del Garda, Sirmione, Peschiera del Garda, and Verona. The ticket costs 1-2 euros in one direction, and you can check the bus timetable here.
Taxi
If you are looking for a taxi, you will always find at least one on the bus and the train station. A taxi ride from Sirmione to Desenzano del Garda or Peschiera del Garda costs 16-20 euros in one direction, which is pretty expensive, so you should take a local bus.
Ferry
If you would like to visit other towns on Garda Lake, you can ride across the lake with a ferry. Check ticket prices and timetable here.
Car rental in Sirmione
Our advice is to use public transportation to see other towns near the lake because it is much cheaper and the roads are usually very busy with a lot of cars. But, if you still want to rent a car, the best option is Hertz in Peschiera del Garda. Remember that non-EU citizens require an international driving permit for Italy.
Parking in Sirmione
Sirmione has large and easy to find car parks, but they are often very busy. There is a very large car park close to the old town on Via XXV Aprile, number 1. The price for each hour is 1,80 euros and for 24 hours 11,90 euros. Another large car park is in Via Salvo D'Acquisto, number 23, and the parking is free there. You can check other parking places and their prices here.
ATM
ATMs are called "Bancomat" in Italy. There are two ATMs from UBI Banca in the old town of Sirmione, both in Piazza Castello.
If you like our article, please share it on social media. It would not only make our day, but it will make our year.
Have a safe and wonderful trip to Sirmione!
Check out more about Sirmione:
Hey there! Some links on this page are affiliate links which means that, if you choose to make a purchase, we may earn a small commission at no extra cost to you. We greatly appreciate your support!