5km from the edge of the Sorrentine peninsula, the island of Capri is one of the loveliest resorts in Italy. It is overrun by tourists during spring and summer and is popular with local and international travelers, drawn here by the sun, sea, and romance. This friendly island is easy to get around. Your ferry/hydrofoil will dock at the Marina Grande. All major hotels, cafes, and restaurants are on the steep hill facing the harbor. There are funiculars that will take you to and from the clifftop. A short distance from Capri is Anacapri. Take a bus to get to this little settlement near Monte Solaro. Apart from this, the only other place you should visit on the island is the southern settlement of Marina Piccola. It has a big beach that is very popular. There are other beaches on the island and these are Punta Carnea and Bagni di Tiberio.
How to get there
You can get to Capri from either Naples or Sorrento. Ferries and hydrofoils drive from these two destinations several times a day. From Naples, the hydrofoil ride takes 40 minutes and one and hour and a half by ferry. From Sorrento, the hydrofoil takes only 30 minutes.
Moving around Capri
Travel light and avoid getting your car. This is the best advice for travelers to the tiny island of Capri. You wont find place to park you car since your hotel will probably be on top of the hill that can only be reached by funicular. There are plenty of taxis and buses for you to get around. The hotels are far from the docks and in case you have heavy luggage you can engage a porter whom you'll find near the Marina Grande jetty. Although fixing on a price for the service is most often a harrowing process, your porter will easily be able to guide you to your hotel through the narrow maze-like streets of the island. If you're staying at one of the luxury hotels on the island, they will send a porter to pick you up.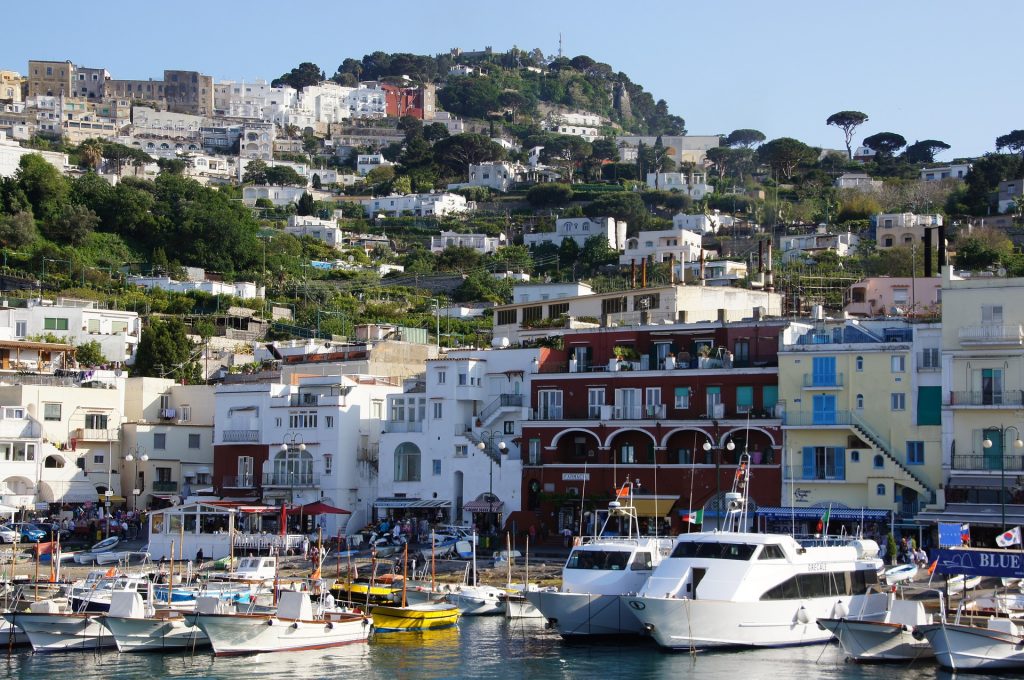 Piazza Umberto I is the Capri's nerve center with the most popular bars, restaurants, and cafes lining the street. Strolling around the center of the town is an excellent way to spend some time. The most popular route goes through Via Vittorio Emanuele, past the deluxe Quisisana hotel, and finally to Giardini di Augusto where you can get the best views of the water and a perfect place to relax. You can also see I Faraglioni, the legendary abode of the Blue Lizard. You can then continue to Certosa. That is a Carthusian monastery honoring St. James that was built in the 14th century. Admission to the church is free and is open on all days except Mondays between 9 am and 2 pm.
Another popular walk starts at Piazza Umberto I, going past Via Longano and Via Tiberio, to reach Monte Tiberio. Visit the Villa Jovis here. These are the ruins of an estate belonging to Tiberius, who ruled from A.D. 27 to A.D. 37. Apart from the ruins, you will be treated to fabulous views of the Bay of Salerno, the Bay of Naples, and the rest of the island of Capri. The villa is open from 9 am until one hour before sunset. An entrance fee is 3€.
Nightlife in Capri
There are quite a few clubbing opportunities on the island. You don't have to pay a cover to enter. Most clubs function only between April and September. The most famous club is Number Two on Via Camerelle. If clubbing isn't your thing, then you can spend your evenings at the numerous cafes, bars, and taverns in the historic center.
Shopping in Capri
You can shop for top-end products and designs on Via Camerelle. Check out Carthusia-Profumi di Capri for some exclusive perfumes that are made locally. Started in 1948, the scents are perfect and often considered a collector's item. You can also visit their perfume lab on Vialle Parco Augusto. It is open every day from 9:30 am to 6 pm.
Don't leave the island without buying a bottle of Limoncello. This local liqueur, made from lemon zest, was made by the Canali family from this island years ago. You can drink it as an aperitif or mixed with vodka or sparkling wines. In 1989, the Canalis established modern distilleries, and its popularity has soared ever since, with exports going to countries like America and Japan. Locally, buy it from at Limoncello di Capri on 79 Via Roma in Capri. In Anacapri, you can pick it up from Via Capodimonte.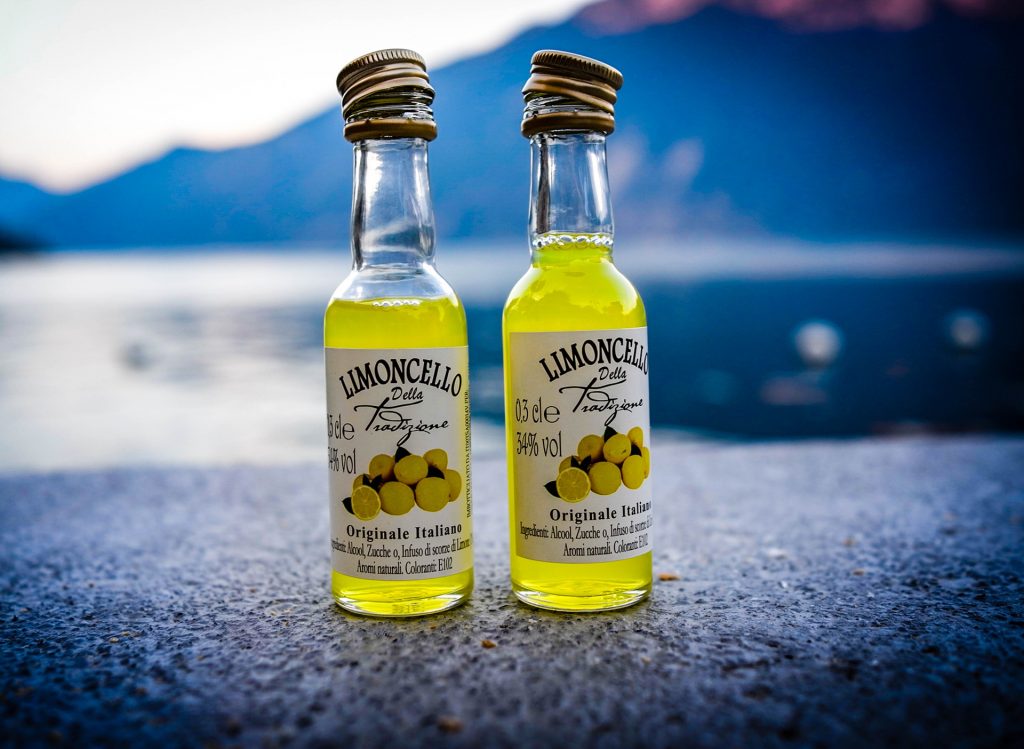 Capri is also the right place for footwear, clothes, and jewelry, and you can often find some excellent bargains. You can have custom-made footwear at Canfora on Via Camerelle 3. Antonio Viva has the best sandal maker, and you can buy his shoes from L'Arte del Sandalo Caprese on Giuseppe Orlandi 75, Anacapri. You can also have sandals made to your designs there.
Mamma Olympia's jewelry is most popular on the island. Located at La Perla Goielli, Piazza Umberto 10-15, this shop was started in 1936, and it is making the most exquisite jewelry that is popular all over Europe and America.
Regions of Capri
Marina Grande
Marina Grande is the port, and although it is the gateway to the island, it is not all that interesting. It has a sand and pebble beach that is frequented by sailors. The biggest attraction in this area is the Grotta Azzurra or Blue Grotto. Although considered a tourist trap, with the naturally lit cavern in the Mediterranean colors, it is wonderful and a must-see. Famous in ancient times, it was rediscovered in 1826 by an artist. A trip around the island will take you to the Blue Grotto, the Baths of Tiberius, Palazzo al Mare, the Green Grotto, and Faraglioni. The 25€ per person motorboat trip lasts an hour and a half.
Anacapri
Situated at a higher altitude, Anacapri is less crowded and more peaceful than the town of Capri, Italy. To get there, you will have to take the bus but be forewarned that it'll be a roller coaster ride. The ancient steps, Scala Fenicia, connected Anacapri with Capri earlier. The bus ride costs 2€ for a round-trip. The bus takes you till Piazza Della Victoria, and from there, you will have to take a La Segovia or chairlift to Monte Solaro. This ancient citadel is situated at 594m. The chairlift operated from 9:30 am up to sunset and this 12-minute ride costs 5€ (return ticket). From there, you can get the best views of the Bay of Naples, Italy.
There are other attractions back in the village. The Swedish writer/physician Axel Munthe's home is the Villa San Michele, Capodimonte 34. This beautiful and tastefully decorated villa houses some marble ruins of the imperial villa that originally stood here. A walk in the garden shows many scenic views. The villa is open everyday and charges an entry of 5€.
Marina Piccola
The southern shore of Marina Piccola with its emerald green waters and the majestic Faraglioni rock is a perfect place for lunch. It is only a 20-minute walk from Capri. If you don't like walking, you can take a cab or a bus. This place has many restaurants but you should definitely try La Canzone del Mare on Via Marina Piccola 93, famous of delicious seafood and authentic Neapolitan food.
Capri Beaches
Capri doesn't have luxuriant sandy beaches due to the mountainous terrain of the region. However, that hasn't kept the tourists from enjoying Capri during the summer vacation. There are a few good areas for swimming. These areas have clubs called Stabilimenti Balneari that charge an admission fee to visitors. The most preferred sunning option is lounging around the comfortable poolsides of hotels.
The best beach is Bagni Nettuno (on Via Grotta Azzurra 46). It is located on a short distance from the Blue Grotto in Anacapri. Charging 8€ as entrance this magnificent beach is enveloped by steep but scenic cliffs. Your admission fee includes the usage of a cabana, towels and deck chairs. Between mid-March and mid-November the beach is open from 9 am until sunset. You can do a bit of swimming from there up to the entrance to the Blue Grotto. There are boats that cover this distance during the day and it is advisable that you swim in this course after 5 pm.
Or you can save yourself the trouble and head to Bagni di Tiberio for a swim in the sea. This sandy beach is a short walk (30 min) from the ruins of an ancient Roman villa. Likewise, you can take a 15-minute motorboat ride from Marina Grande for 5€ per person.
The most crowded beach is Marina Piccola. This sandy beach is sandwiched between two lava rocks. Apart from sunning and swimming you could also take a motorboat to Bagni le Sirene. Prices vary depending on the size of the boat and the facilities offered onboard.
Have a nice trip to beautiful Capri island!
Related posts: