The Sinking Castle
At the south end of Sirmione, there is the defiant and at the same time graceful Scaliger castle, which has stood the test of time. At the narrowest, most strategically important place and surrounded by deep moats, the castle served primarily for defense. It is equipped with walls and towers reinforced with battlements, narrow loopholes, barriers, and drawbridges.
The only access to the old town of Sirmione was through one of its archways, which was reached via a drawbridge. A bridge has now replaced the drawbridge, but that archway still grants the only access to the almost traffic-free old town.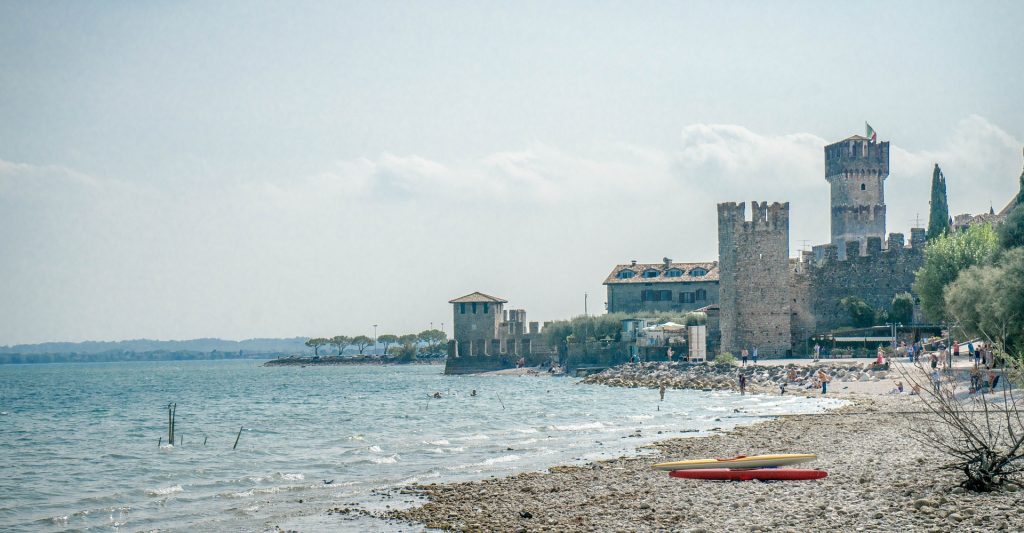 Today, the gorgeous castle is one of the most important tourist attractions on Lake Garda. After all, it is the best-preserved Scaliger castle and the only water castle on the lake alongside the shore of Lake Garda.
History of Sirmione castle
The current castle dates back to the second half of the 13th century. After the bloody conquest of Sirmione, Mastino I, from the influential Veronese noble family Della Scala, built it on the foundations of a Roman fort. With this gesture, he wanted to expand his power on Lake Garda and make it widely known. The main courtyard, the crenelated walls with the three corner towers, and the 47 meters high main tower also date from this period.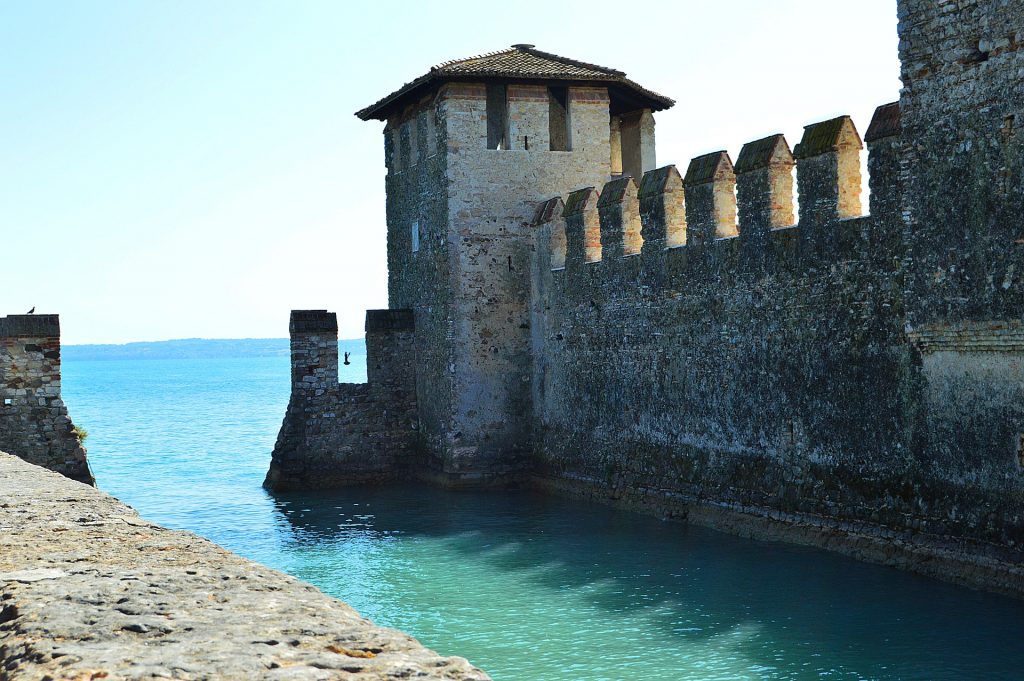 Over the centuries, the fortress was changed several times. According to this, the Venetians should be mentioned in particular, who have built the walled and crenelated harbor pool at the beginning of the 15th century. From that time on, the castle has ensured the supply and defense of the old town and house the fleet.
From fortified castle to tourist sights
The castle of Sirmione has retained its medieval character, but nowadays, it lost its defensive function. Instead, it casts a spell on thousands of tourists every year, who can access and walk around the castle walls via a steel staircase from the main courtyard.
Tourists can even climb on the main tower. Not only it makes you aware of the size of the castle and its sophisticated defense system, but it also offers a picturesque view of the old town of Sirmione and the surrounding area.
Details about Scaliger castle
The castle's name, by the way, refers to the original builders. The Scaligeri family preferred to decorate their buildings with these defensive and symbolic design elements, which made their social status widely known. The coat of arms of the Scaligeri family with the characteristic ladder and the Venetian lion still adorn the walls above the entrance to the castle. In 1917, Sirmione's Scaliger Castle was declared a national monument. For those who want to visit a castle, the entrance ticket costs 6 euros per person.
Check out more posts about Sirmione: