Are you staying in Sirmione for a few days and want to know what else you can do rather than visit Simione's attractions? Well, there is one event every week that can interest you. Every Monday and Friday in Sirmione, there is a weekly market held from early morning until lunchtime. To be precise, the market starts around 7:00 AM (7:00 hours) and lasts until 1:00 PM (13:00 hours).
The Sirmione weekly market is a vibrant and bustling event located in Colombare di Sirmione on Monday and in Localita Lugana on Friday. The market attracts many locals and tourists, so prepare yourself for crowds. Merchants are coming to Sirmione from nearby places to offer their fresh and authentic products, so the market is perfect for those tourists that want to bring home something unique and locally produced.
What to buy on the market in Sirmione?
The market offers a wide range of goods, from fresh local delicacies such as cheese, cold cuts, oil, fruit and vegetables, and bread to clothing, bags, leather goods, jewelry, handicrafts, and household items. Also, if you visit the market near lunchtime, you can even buy something for lunch. Usually, there are small delicatessens and rotisseries with fried fish, roast chicken, and other delicious ready meals.
Furthermore, the market is a great place to buy locally grown fruits and vegetables, cheeses, meats, and other specialty foods. Those products have much better quality than the ones you can buy in stores, and you can even get a better price. Prices on the market are created by merchants, so you can always negotiate with them to get some discounts.
Furthermore, buying at the weekly market in Sirmione will support local production, so you will help local families to stay in business. Therefore, don't miss the market and stock up on supplies for a picnic or to prepare a delicious Italian meal.
Besides delicious food, you can buy a variety of other goods. Clothing is a popular item, with merchants offering everything from t-shirts and shorts to dresses and shoes. Those clothing items are usually very cheap, so they are perfect for getting as souvenirs. There are also merchants selling jewelry and accessories, as well as handicrafts made by local artisans, that are worth checking up on.
Why visit the market in Sirmione?
The weekly market is a great place to explore and experience the local culture, as well as to pick up some unique souvenirs to take home. Another reason why tourists visit the Sirmione market is the atmosphere. The market is always lively and bustling, with many people chatting, hanging around, or negotiating prices with merchants.
The atmosphere is friendly and welcoming, and it's easy to get caught up in the excitement of the market. Even if you are not planning on buying anything, it is worth visiting the market just to experience the energy and the atmosphere of the event.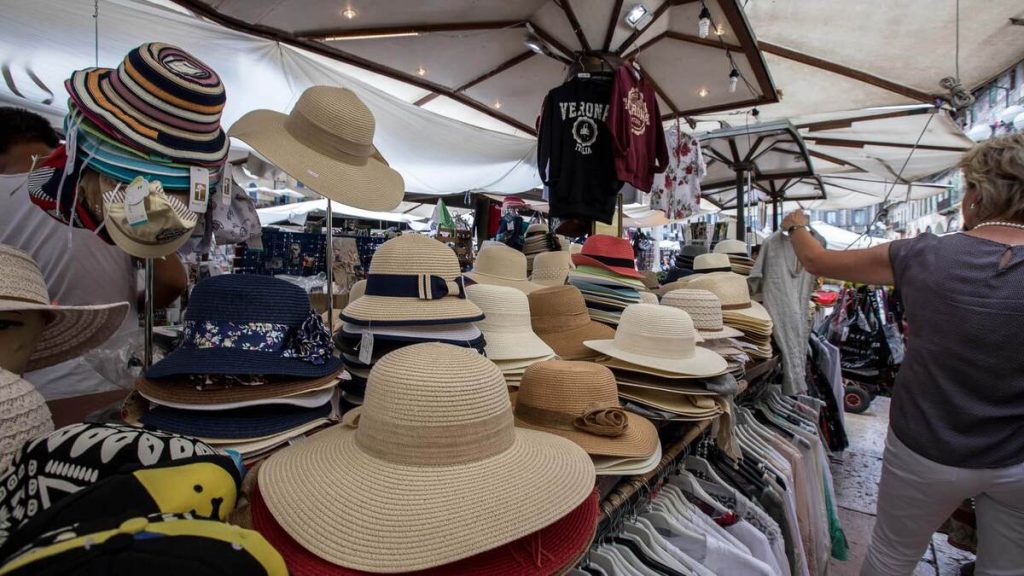 However, like any market, the Sirmione market can sometimes be a bit overwhelming. With so many products and so much to see, it can be challenging to know where to start. Our tip is to take your time and explore the market slowly. Stop only when some products catch your eye, and don't be afraid to ask questions or sample the products on offer. And if you are looking for something specific, don't be afraid to ask the merchants. They are usually more than happy to help.
Weekly markets near Sirmione
The weekly market in Sirmione is just one of many markets in the area. Therefore, if you miss the one held in Sirmione, don't worry. You can find another one nearby. Some other markets in the region include the Desenzano market, which takes place on Tuesday mornings, and the Lazise market, which is held on Wednesday mornings.
Furthermore, if you want to visit the market on Thursday, go to Bardolino, while Saturday morning is reserved for the market in Malcesine. For those who are not early birds and want to visit the weekly market afternoon, there is one on Saturday in Padenghe sul Garda.
Check out more articles about Sirmione:
Hey there! Some links on this page are affiliate links which means that, if you choose to make a purchase, we may earn a small commission at no extra cost to you. We greatly appreciate your support!