Camping holidays are perfect for those who are seeking a peaceful vacation and bonding with nature. Campsites near Sirmione Italy offer unforgettable holidays for families, couples, and groups of friends. They are modern, well-equipped and usually children friendly, so everyone can enjoy and have a good time.
Sirmione is for a few decades a very popular camping place because of its beautiful nature combined with great history. What is better than the sun, relaxation, freedom, and open-air in the most popular town on Lake Garda? Some campsites are so popular that they are open all year round, not just in the spring-autumn period like others. Here are the best campsites near Sirmione Italy: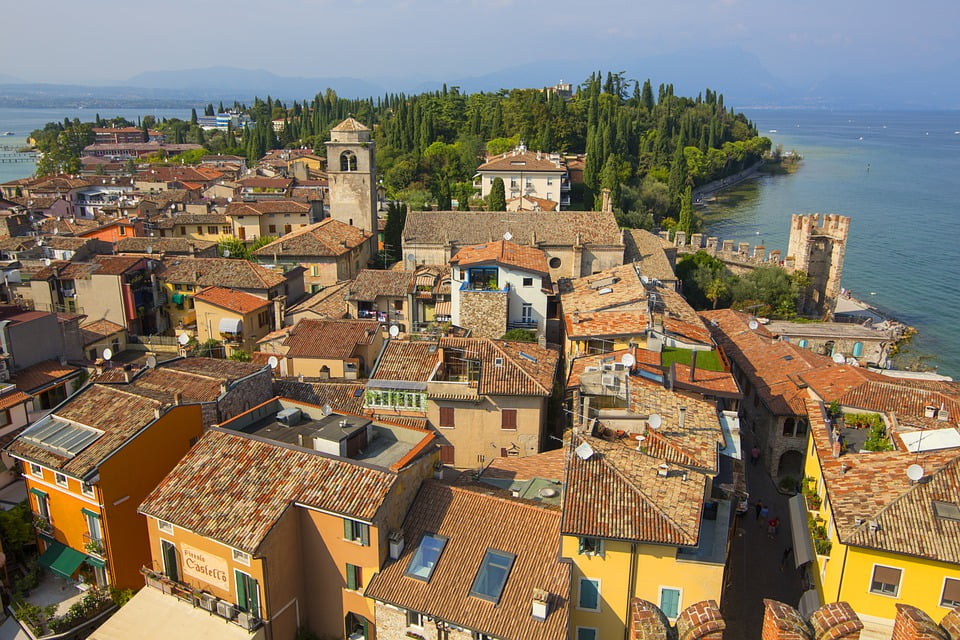 (This article contains 5 campsites near Sirmione, which are best in our subjective opinion. The order of the campsites is not related to the quality they offer. Every campsite has its pros and cons, so choose the one based on your personal preferences.)
Camping Sirmione
Camping Sirmione is a beautiful and the most popular campsite in Sirmione. It is around 30,000 square meters big and offers shaded and well-kept pitches, but also bungalows and apartments for those who want more comfortable accommodation.
Furthermore, there are 3 swimming pools included in the price for various ages, one for small children, teenagers, and adults. These pools are perfect for those who visit Sirmione in Spring or Autumn when the Lake Garda is too cold for swimming. There is also a solarium area for adults in addition to the deep pool with hydromassage.
This campsite is equipped with clean bathrooms, an excellent restaurant with breakfast, lunch, and dinner options, a chapel, and a small supermarket for shopping. You can book bungalows with and without a kitchen, equipped with a small terrace with a table and chairs for outdoor dining. There is also the possibility to choose between one and two-room apartments with a small kitchen, double bed, and overlooking the lake.
The main advantage of Camping Sirmione is the magnificent view of Lake Garda. This quiet and very clean campsite is located on Via Sirmioncino 9, with an exit directly on the cycle path. The only drawback is the distance from the center, which is about 40 minutes on foot and 10 minutes by bike. Also, keep in mind that the ground for pitching a tent is very hard, so it is advisable to take a hammer with you.
Address: Via Sirmioncino 9, Sirmione
Phone: +39 030 9904665
Average price per night: 50 euros
San Francesco Camping Village
San Francesco Camping Village is a well-structured, welcoming, very nice, and clean campsite located in an excellent location between Desenzano del Garda and Sirmione. It is equipped with super clean bathrooms, ATM, a minimarket, a tobacco shop, a restaurant, and a pizzeria.
There is also a large swimming pool divided into children's and adult areas. The area for children is about 20 centimeters deep with lots of water games, while the adult one has water ranging from 110 to 140 centimeters deep. Near the swimming pool, you can get paid sunbeds with umbrellas, or you can cool yourself in a small bar.
The next significant advance of this campsite is the possibility to bring your pet with you. There are even three different dog areas and a dog beach across the campsite. The San Francesco Camping Village got its name because of the mobile homes that you can find there in addition to the area with pitches. These homes have various sizes and are suitable for up to 7 people. They are equipped with a garden, a barbecue, sunbeds with umbrellas and awnings.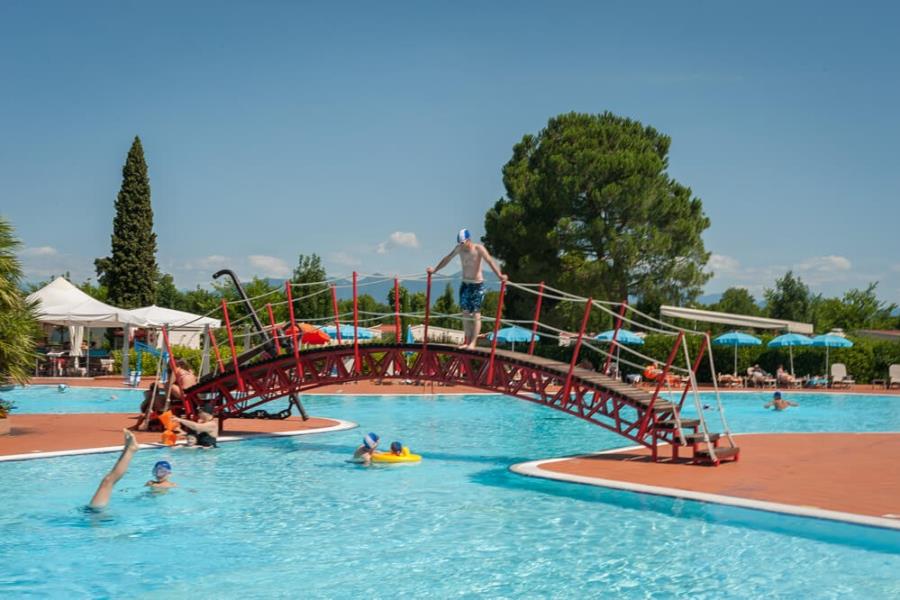 San Francesco Camping Village is located in Strada Vicinale San Francesco, around 4 kilometers (2.5 miles) away from Sirmione center. Next to the campsite, there is a beach where you can rent a bike or padel boat. The campsite offers two pitches: the so-called superior (7 × 11 meters) and standard (6 × 10 meters).
Keep in mind that many pitches have steep slopes and stones or roots that make it a bit difficult to arrange the vehicles. Also worth mentioning is that the campsite has free WiFi.
Address: Strada Vicinale San Francesco, Desenzano del Garda
Phone: +39 030 9110245
Average price per night: 55 euros
Camping Tiglio
Camping Tiglio is the perfect campsite for those looking for a quiet corner in the Sirmione area, suitable for families with children. It is located halfway between Peschiera del Garda and Sirmione, facing the lake and surrounded by nature. This pet-friendly campsite offers quite narrow pitches, but they are still accessible.
There are also open spaces for those who want to camp in tents and mini-apartments for those who are looking for a more comfortable staying. Furthermore, the campsite has two swimming pools, one of which is reserved for children, a small playground, a restaurant, and a minimarket.
Just a few minutes away you can find a supermarket called Eurospin that has much better prices and food supply than the minimarket inside the campsite. A bus stop nearby is very practical for those who plan to explore other Lake Garda towns. Camping Tiglio is also an excellent choice for sports enthusiasts. There are ping pong tables, the beach volleyball court, and tennis courts nearby, as well as pedal boats and sailing boats for rent.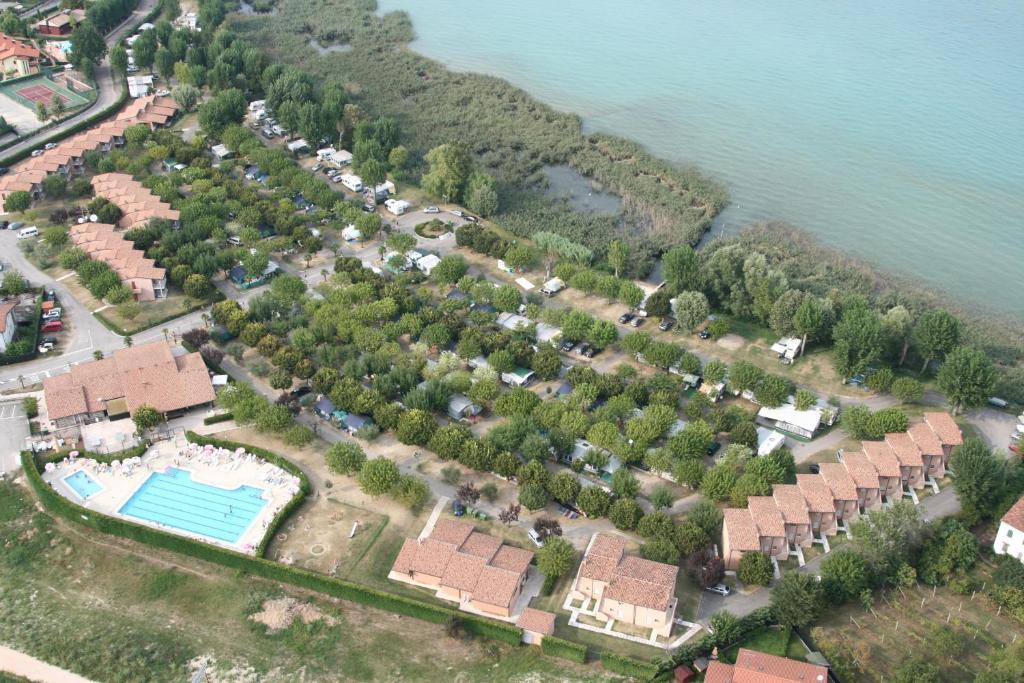 The only drawbacks of this campsite are paid WiFi connection and air conditioning per day, and no maintained beaches nearby (the sandy beach is reachable in about 500 to 800 meters). Camping Tiglio is located Via Punta Gro 6, which is around 6 kilometers (3.7 miles) far from Sirmione center.
Address: Via Punta Gro 6, Sirmione
Phone: +39 030 9904009
Average price per night: 40 euros
Website: CampingTiglio.it
Distance: 6 kilometers (3.7 miles) far from Sirmione center
Villaggio Turistico Lugana Marina
Villaggio Turistico Lugana Marina is a very nice and well-organized campsite where you can book mini-apartments and bungalows. You can choose between one-room, two-room, or three-room apartments. Bungalows are more comfortable buildings equipped with a small kitchen, one or two bedrooms, bathrooms, a living room, and a lovely wooden terrace with tables and chairs.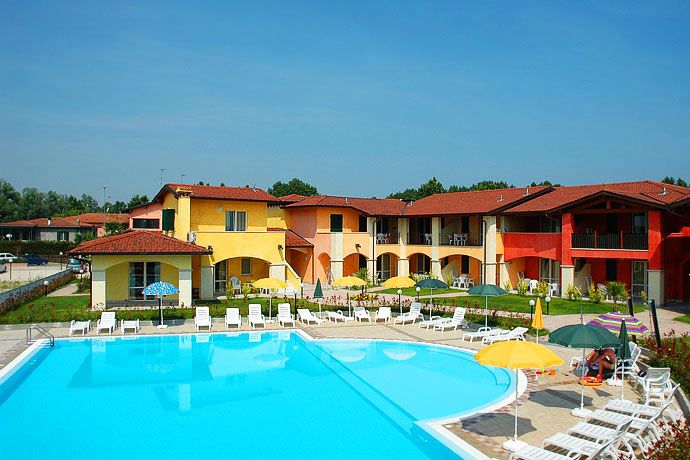 This little apartment complex is located only 300 meters (0.2 miles) far from the lake, in a quiet, convenient, and beautiful environment. There are two large swimming pools suitable for adults and children, a children's playground, table tennis, a restaurant, and parking. Those who love cycling can use an excellent free bike rental service. You can find Villaggio Turistico Lugana Marina in Via Verona 127, 5.3 kilometers (3.3 miles) away from Sirmione center.
Address: Via Verona 127, Sirmione
Phone: +39 030 919015
Average price per night: 60 euros
Website: LuganaMarina.it
Distance: 5.3 kilometers (3.3 miles) away from Sirmione center
The Garda Village
The Garda Village is a large but really quiet and relaxing place divided between campers, mobile homes, and bungalows. The camper area has direct access to the lake and has showers, washing points for dishes, electric columns, water loading, and unloading points.
Mobile homes and bungalows are equipped with essential things such as air conditioning, TV, and dishes. They are spread out in a beautiful, large garden, and everyone has enough space on their terrace.
This village has even 3 swimming pools, one for smaller children and the larger ones. Next to the pools, there is a very nice playground. Furthermore, the Garda Village has a bar, a restaurant, mini club, sports center, animation program, internal ATM area, supermarket, and conference hall. In the evening there is a mini disco, shows and club dancing with a lake view.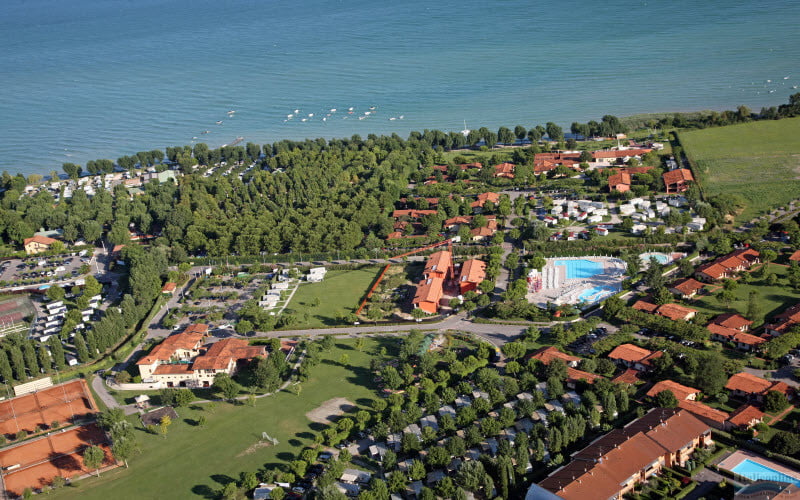 There are a few drawbacks of this village, for example paid WiFi, washing machine and dryer. The Garda Village is located in Via Coorti Romane 47, in a great location near the beach and around 4 kilometers (2.5 miles) far from Sirmione center. You can access the lake easily via two large, wide stairs.
Address: Via Coorti Romane 47, Sirmione
Phone: +39 030 9904552
Average price per night: 90 euros
Website: GardaVillage.it
Distance: 4 kilometers (2.5 miles) far from Sirmione center
Why choosing campsites near Sirmione Italy is a good idea?
Sirmione and its surroundings are full of lovely campsites and for decades known as one of the best places for camping in Italy. Tourists love to come to the Sirmione area because of its wonderful nature, great location, and beautiful beaches.
Camping in Sirmione is also great if you bring your children with you. Most of the campsites have playgrounds, pools, and some other activities for the youngest ones. Also, campsites are the places to go if you are going on vacation with your pets because most of them are pet-friendly. Therefore, you should come at least once in your lifetime to one of Sirmione's campsites and spend a fantastic vacation with your loved ones.
Check out more related articles about Sirmione:
Hey there! Some links on this page are affiliate links which means that, if you choose to make a purchase, we may earn a small commission at no extra cost to you. We greatly appreciate your support!