If you are planning a Northern Italy visit this summer, preparing your itinerary can be overwhelming with all the region's incredible destinations. Visit Lake Garda, and your journey will probably bring you to the charming town of Sirmione. This quintessential Italian commune is situated on a peninsula on the lake's southern tip and is home to old castles, churches, and archaeological sites that earned it a UNESCO World Heritage Site designation.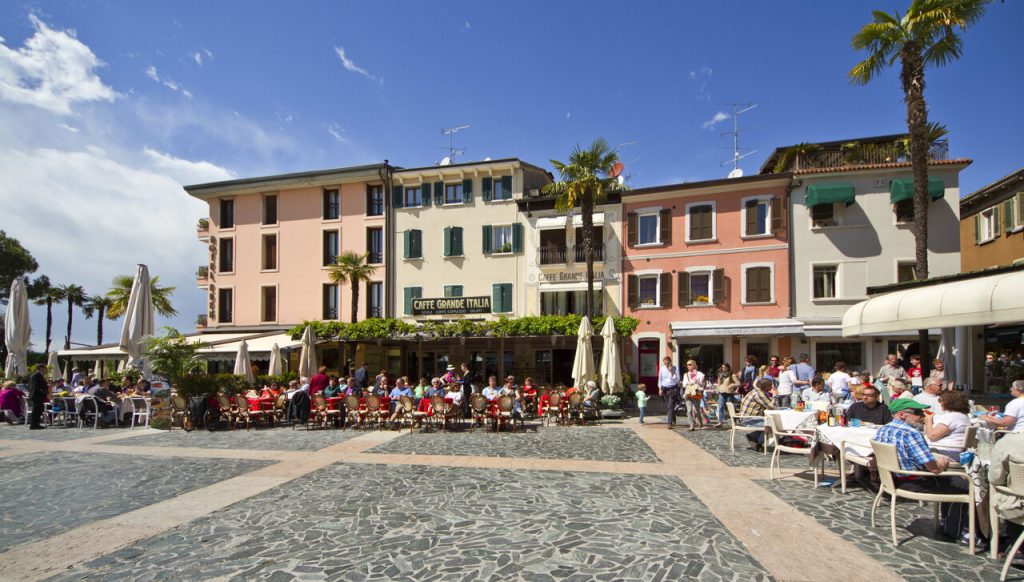 Though small in size, the town is packed with things to do and is well-developed for tourism. Food options in this area vary greatly in price and quality. It's no secret that big, touristy areas are plagued with expensive food and sub-par service. However, with a little research, you can find a spot in town whose food and ambiance will blow you away. You will find some great places to try local specialties like rainbow trout. Read more for our guide to the best restaurants in Sirmione, Italy!
(This article contains 5 restaurants in Sirmione, which are best in our subjective opinion. The order of the restaurants is not related to the quality they offer. Every restaurant has its pros and cons, so choose the one based on your personal preferences.)
Ristorante L'Incontro
This first spot is a stone's throw from the shores of Lake Garda at the base of the peninsula. It offers a unique dining atmosphere with an amazing view from the terrace, which is nice and secluded, so you will get some peace and quiet no matter how busy the town is in the summer.
Ristorante L'Incontro is a classic fine dining establishment and a real treat for seafood lovers. Not only do they serve some of the best fish in town, but their presentation is unmatched. The staff is known for their kindness and helpfulness in making recommendations. They are passionate about food and know just what you need. Make sure to get their help on a wine pairing too.
Though their menu changes for every season and holiday that passes, you can count on a big variety of delicious seafood and pasta dishes. For the first course, they offer delicious combinations of pasta and shellfish tossed in light sauces with lemon, garlic, and oil. Nothing beats a classic like linguini and mussels, but go in the right season, and you'll get to try their squid ink ravioli.
Second plates are also fish-heavy, though there is always a lamb or pork-based alternative for those not feeling fishy. Otherwise, plenty of fish tartare, grilled trout, langoustines, and more are waiting for you! Ristorante L'Incontro is open from Tuesday through Sunday, from 12:00 PM (12:00 hours) to 2:00 PM (14:00 hours) and from 7:00 PM (19:00 hours) to 10:00 PM (22:00 hours). Due to Sirmione's heavy traffic during tourist seasons, you should reserve if planning to visit in the summer.
Location: Via Colombare Piazza Campiello 31
Website: Facebook page
Distance: 2.7 kilometers (1.6 miles) from Sirmione's old center
Phone: +39 030 990 5409
Antica Contrada Trattoria
This restaurant has been a Sirmione institution since 1991. It's a family business run by people who love food and value slow, home cooking. Most of what they offer comes from Lake Garda or the Mediterranean, and they have special recipes for both types of seafood. Fish caught from the nearby lake is grilled out back using a wood-fueled fire, just as it's been done for centuries in these parts.
For those who don't like fish, they always have a small selection of meat dishes on their menu with lots of fresh, seasonal vegetables grown in the region. They are proud of the impressive wine cellar they maintain, with over 150 labels, the majority of which are from the region. They will go wonderfully with one of their many antipasti, fishy delicacies like lake fish on corn croutons or roasted octopus and squid with tomatoes and polenta.
Their first courses are amazing pasta dishes infused with the flavors of the lake and sea. Try their legendary bigoli with lake sardines and cherry tomatoes. For something different, go with the casareccia with squid and coral sauce. The second plates offer endless choices. You can go meat, sea, or lake. For the carnivores, they have top-quality beef and pork fillets prepared with herbs and special spices and served with a side of potatoes.
Feeling a little more adventurous? Try the horse sirloin. It's served "tagliata" in thin slices with mustard sauce and tender spinach. They have several saltwater fish dishes, too, such as monkfish stew and salt-crusted seabass. But since you are visiting Lake Garda, why not indulge in the most local flavors? Caught fresh from the lake, they prepare pike "fisher-style" on a bed of hot polenta.
You can also get some of their freshly-grilled fish. The variety depends on seasonal availability. Antica Contrada is open Tuesday through Sunday from 12:10 PM (12:10 hours) to 2:30 PM (14:30 hours) and from 7:10 PM (19:10 hours) to 10:30 PM (22:30 hours). Keep in mind that Antica Contrada Trattoria is open only from 7:10 PM (19:10 hours) to 10:30 PM (22:30 hours) on Tuesdays. If you are coming in the busy season, they have the option to book your table through their website.
Distance: 2.4 kilometers (1.5 miles) from Sirmione's old center
Phone: +39 030 990 4369
Il Vicolo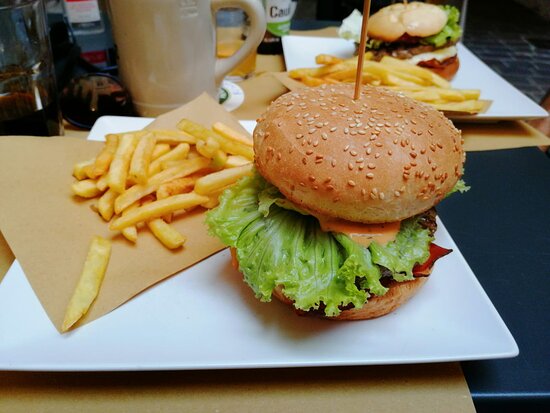 Located far out near the tip of the peninsula that Sirmione is situated on is a spot that is not your typical Italian restaurant. On the contrary, Il Vicolo is proud to be the best spot in town to get a beer and hamburger. They craft their burgers with top-quality ingredients and keep a big stock of craft beers from around the world.
They claim that they make their burgers in the Italian style. That's not to say that you will find burgers with tomato sauce and mozzarella on their menu. Rather, they take great pride and care in their cooking and make burgers that you will never forget. They keep it relatively simple, with most burgers resembling the classic beef patty with cheese, vegetables, and sauces.
Some go above and beyond, like the aptly-named "gluttonous" burger, which contains 200g beef, crispy speck, tomino cheese, lettuce, tomato, and burger sauce. There are also crispy chicken and pulled pork sandwiches, as well as a veggie burger for the herbivores in your group. Whatever you get, wash it down with one of their many tap or bottled beers.
They are big on German-style drinks, so you will find lots of Weizen, Dunkel, and hell. Il Vicolo is only open Wednesday through Sunday, but if you manage to go, it will be a real treat! You can visit them for lunch on those days from 12:00 PM (12:00 hours) to 3:00 PM (15:00 hours) and for dinner from 7:00 PM (19:00 hours) to 10:00 PM (22:00 hours).
Distance: 110 meters (0.1 miles) from Sirmione's old center
Phone: +39 030 557 8982
Ristorante Risorgimento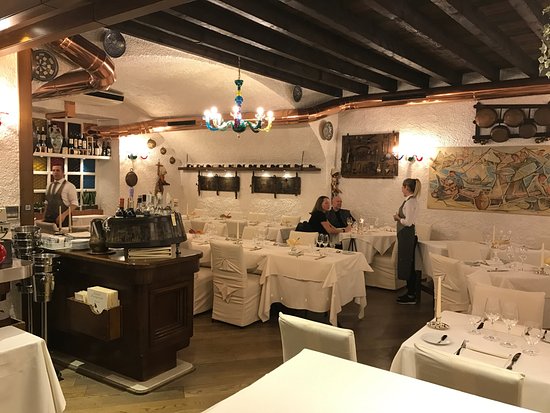 Tucked away in the historic old town near Castello Scaligero is this gem of a restaurant. Ristorante Risorgimento is one of the oldest eateries in the area, with over 100 years of great cuisine. Their most recent head chef has been on the team since 1999 and has brought a modern twist to their style.
Their lovely space can accommodate up to 50 guests at a time and 36 more on their patio during warmer months. These days they specialize in reimagined versions of Italian classics using the finest ingredients possible. Their menu draws heavily on flavors from the lake and sea.
Go all out on rich dishes like pumpkin gnocchi with shrimp and fondue or tataki tuna flavored with licorice jelly, bok choy, and gravy. You shouldn't be deterred if you are not into seafood, though. They have just as many meat dishes, such as grilled gnocchi with onion confit and bone marrow. Their second courses range from beef and pork fillets to wild game like rabbit and venison loaded with special herbs and sauces.
There is also a winery onsite that takes up a whole floor of the restaurant. Be sure to try one of their 600 labels of wines and grappa! Ristorante Risorgimento is open daily (except Tuesdays) from 12:00 PM (12:00 hours) to 2:30 PM (14:30 hours) and from 7:00 PM (19:00 hours) to 10:30 PM (22:30 hours. Get in touch with the restaurant through their website to secure your table.
Distance: Right at the Sirmione's old center
Phone: +39 030 916325
La Dolce Vita a Sirmione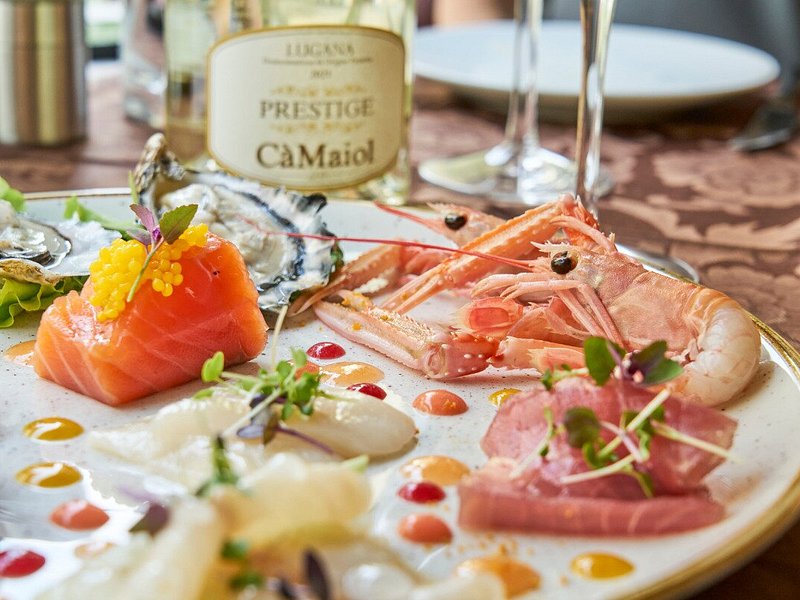 This place is conveniently close to Lake Garda but not in the crowded, touristy area on the outer reaches of the peninsula. Located further inland, you will have the luxury of tasting some amazing local food while avoiding the noisy city center streets.
Just like their name suggests, La Dolce Vita a Sirmione makes life sweet with specialty fish dishes prepared with love and care! It has garnered a few accolades from sites like Google and Tripadvisor for their good price-quality point.
Staying in Sirmione? Take a trip down to their restaurant. Its interior will make you feel like you never left the lake's shores. Their food will keep you coming back. They have most of the classics featured on restaurant menus in the area, but they put a lot of time and care into their cuisine, making every sauce from scratch and with locally-sourced ingredients.
You can sample local favorites like linguini with mussels, bigoli with sardines, or rigatoni in tomato sauce. The main courses are delicious, tender fish and cuts of meat. Go classic with a grilled beef sirloin and salad, or go local with grilled trout served with a generous portion of roasted potatoes.
La Dolce Vita a Sirmione is open daily (except Wednesdays) from 12:00 PM (12:00 hours) to 2:30 PM (14:30 hours) and from 7:00 PM (19:00 hours) to 10:30 PM (22:30 hours). On Mondays, they are only open for dinner. Browse their menu and contact them about reservations through their website.
Distance: 3.2 kilometers (2 miles) from Sirmione's old center
Phone: +39 389 109 7177
Where to find the best restaurants in Sirmione?
Sirmione is a tourist place, so there are plenty of restaurants to choose from. The most popular part of the town is an area around the old center and the Scaligero castle, where you will find more expensive eateries. On the other hand, for more affordable options, you will have to go further inland. Most of the restaurants have lake fish and meat-based menus, but there are also many classic places with pasta and pizza. It is always advisable to check out reviews before picking your restaurant because of many tourist traps.
Check out more articles about Sirmione:
Hey there! Some links on this page are affiliate links which means that, if you choose to make a purchase, we may earn a small commission at no extra cost to you. We greatly appreciate your support!