Hitting Northern Italy this summer? Preparing your itinerary can be overwhelming with all the incredible destinations in the region. Figuring out where to sleep can be challenging too. You want a place that's safe, affordable, and accessible. Visit Lake Garda, and you will likely end up in the charming town of Sirmione.
This historic commune is situated on a little peninsula on the lake and is home to stunning castles, churches, and archaeological sites that earned it the status of a UNESCO world heritage site. Though small, the town is well-developed for tourism and has abundant accommodation options.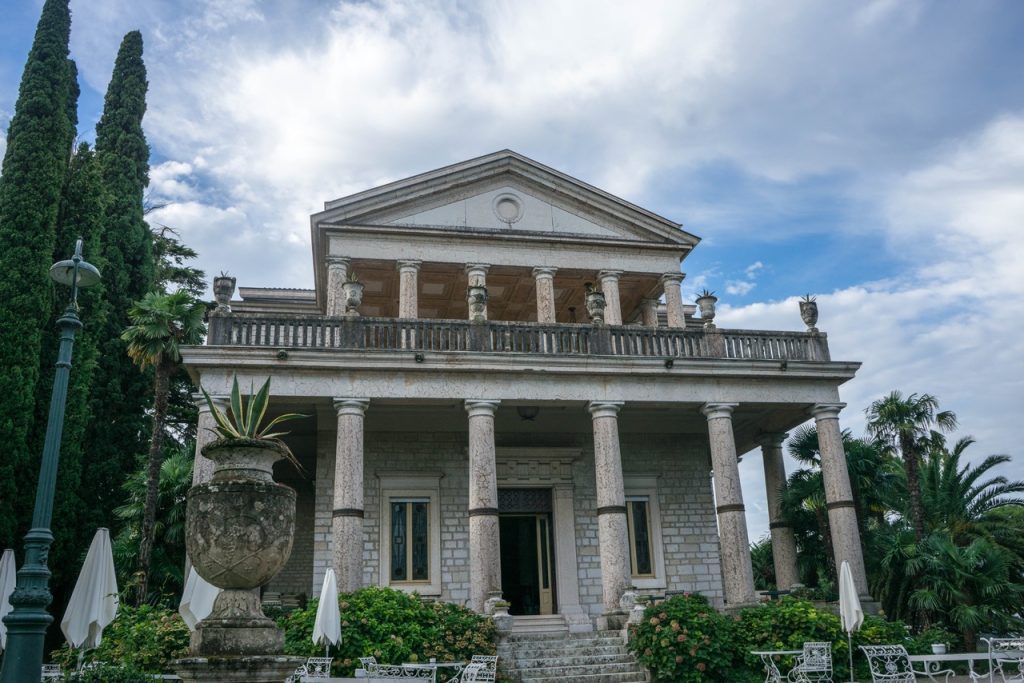 Accommodations in this area vary greatly in price and quality. From modest, family-friendly options to the most luxurious, top-notch suites fit for honeymooners, they have got something for everyone. We have rounded up the best 3,4, and 5-star options in the area. Read more for our guide to the best hotels in Sirmione, Italy!
(This article contains the best hotels in Sirmione. The order of the hotels is not related to the quality they offer. Every hotel has its pros and cons, so choose the hotel based on your personal preferences.)
Best 3 star hotels in Sirmione
Here are the best 3-star hotels in Sirmione:
Hotel Marconi
This lakeside hotel is the perfect place for any travelers coming through Sirmione. A family-owned and operated business, their hospitality will make couples, families, and solo travelers all feel right at home. Enjoy a peaceful getaway in one of their 29 rooms, many of which have a view of the lake.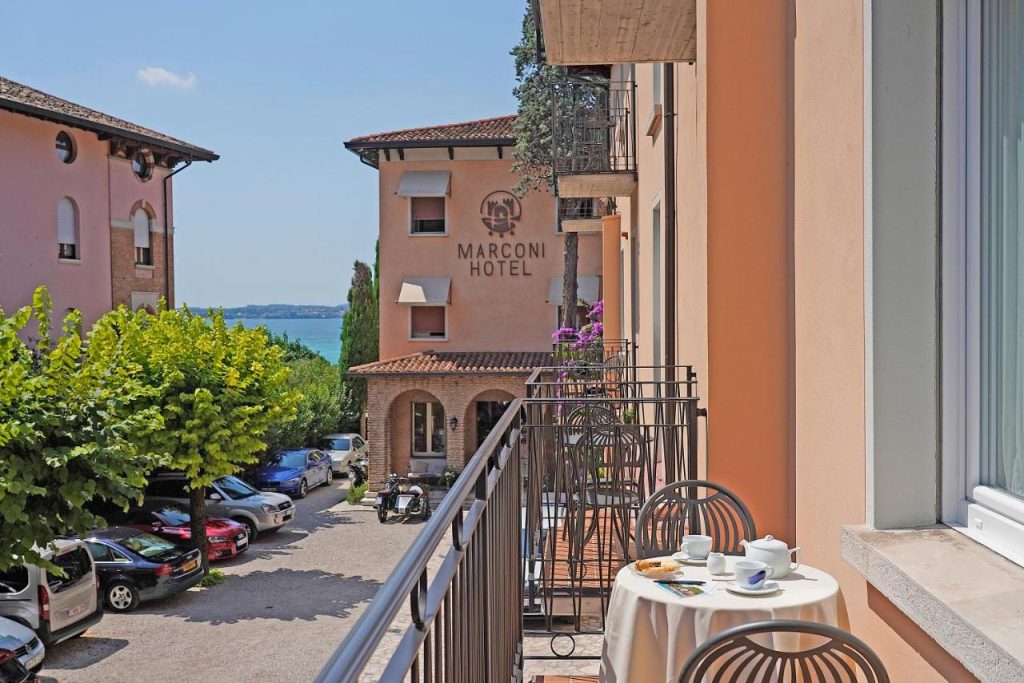 They offer single and cozy double rooms, and each comes with basic courtesies like satellite TV, private bathrooms, air conditioning, and many more. The hotel describes its aesthetic as "functionality and simplicity" and promises a comfortable stay in its nice, well-lit rooms.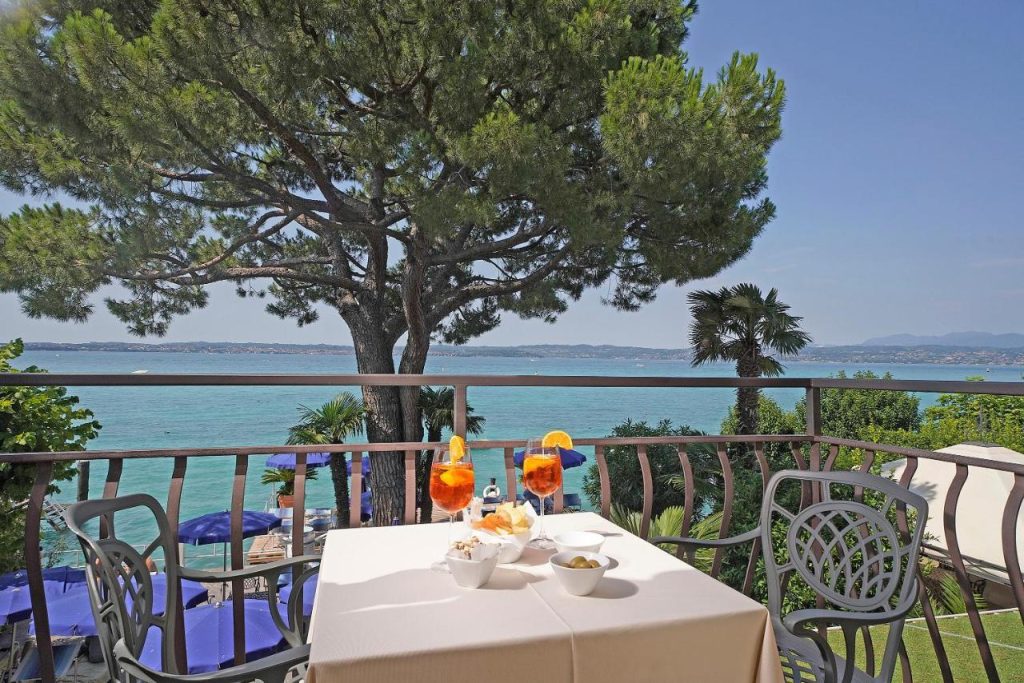 Didn't manage to get a lake-view room? Don't worry! Head down to the hotel's private garden and pier any time of the day to get up close and personal with Lake Garda. Enjoy the view any time from dawn to sunset, perhaps with a drink from the hotel bar in hand. The owners, proud Sirmione locals, are happy to advise you on the best attractions in town. They will even help make reservations for train tickets, the local castle, or the nearby Grottoes of Catullus.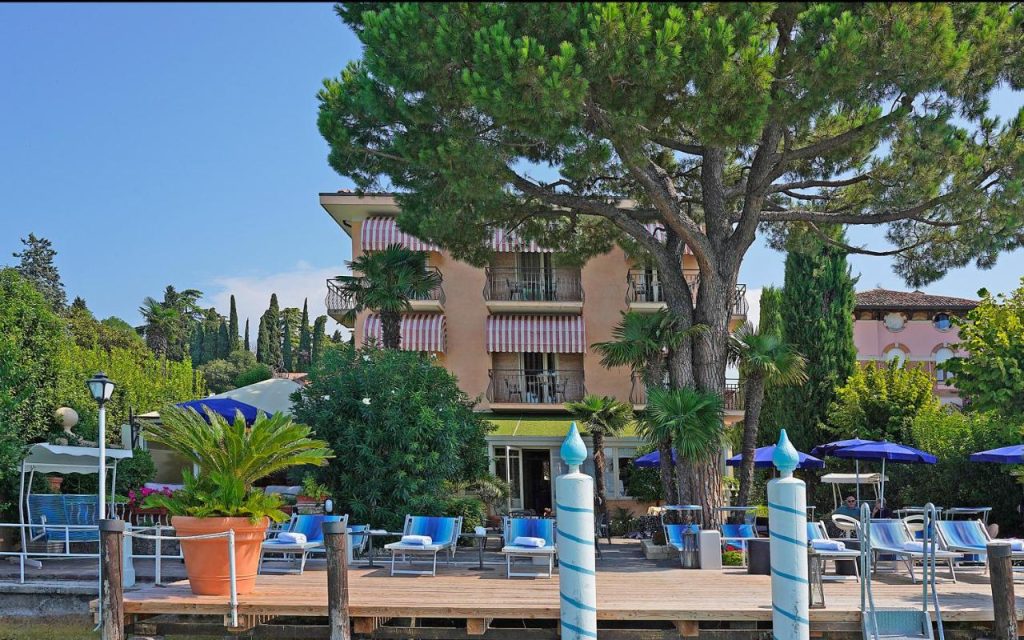 A word to the wise- get the full board package! Guests of Hotel Marconi are encouraged to dine with them as much as possible, from their breakfast buffet to gourmet lunches and dinners on the terrace. It's no secret that Sirmione is a tourist hotspot. Some restaurants are extremely pricey, and the quality leaves much to be desired. Not here. At Marconi, you get incredible meals prepared by the hotel's chef for reasonable prices. Traveling in the summer? Book as soon as you can to secure your room! The town is a popular choice for vacationers, and rooms often sell out.
| | |
| --- | --- |
| Pros | Cons |
| Excellent location | Paid private parking |
| Panoramic views of Lake Garda | |
| Children of any age are welcome | |
| Pets are allowed on request | |
Hotel Catullo
Just two streets over from the previous hotel, this is another lovely option for kicking back and enjoying the historical region and the beauty of the lake. Another long-time family business, they love spoiling guests from all over and can accommodate groups of all sizes in their many rooms. Pets are welcome, too! Their rooms come in two options: standard and superior.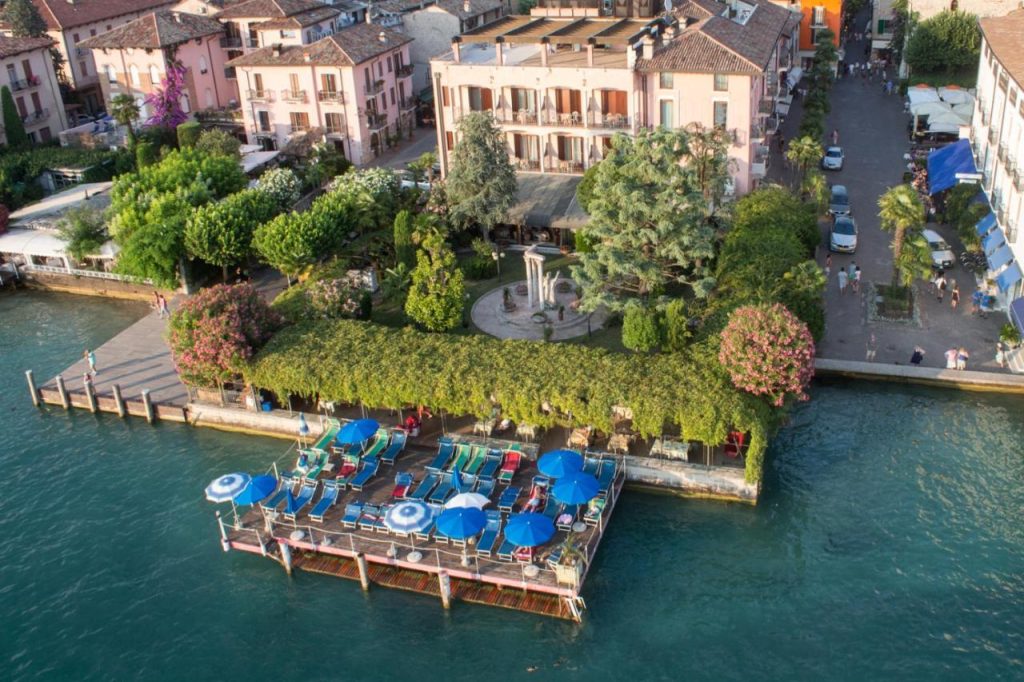 Book one of their 44 standard rooms and sleep cozily in Sirmione. Your room will come with modern furnishings which boast the creative flair of the owners. Some standard rooms have lake views. However, if this is important to you, upgrade and stay in one of their 10 superior rooms! They guarantee a panoramic lake view from their balconies, and the indoor furnishings are some of the most elegant in the whole town.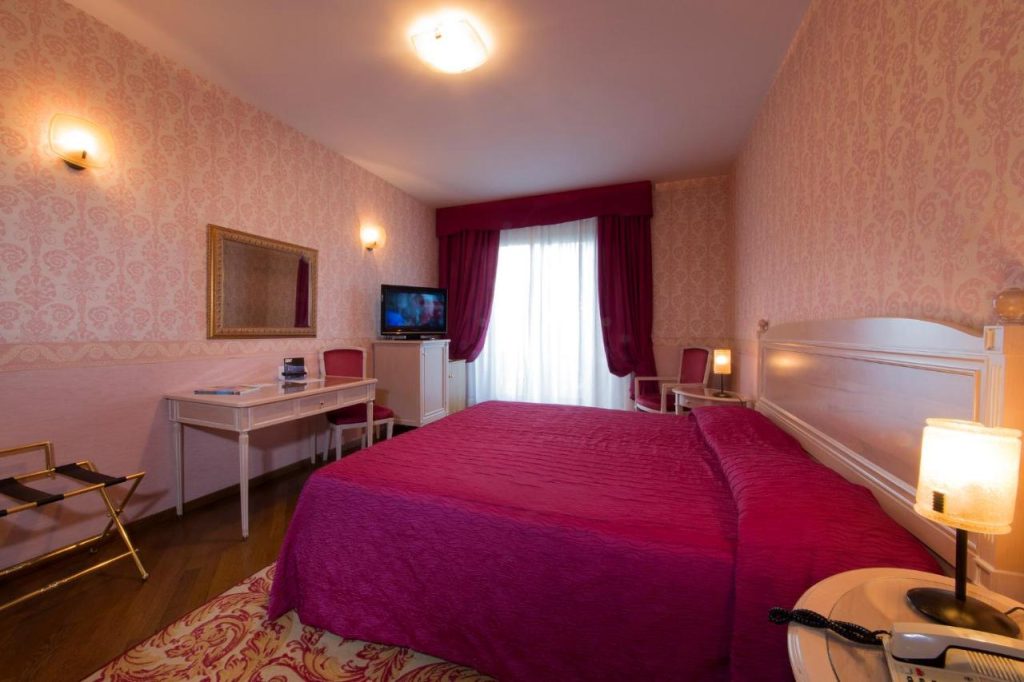 No matter which room you choose, rest comfortably, knowing you will get the most important amenities, such as free Wi-Fi and air conditioning to combat the Italian sun in the summertime. Speaking of the sun, there's hardly a better place in Sirmione to catch some summer rays than on the hotel's private jetty.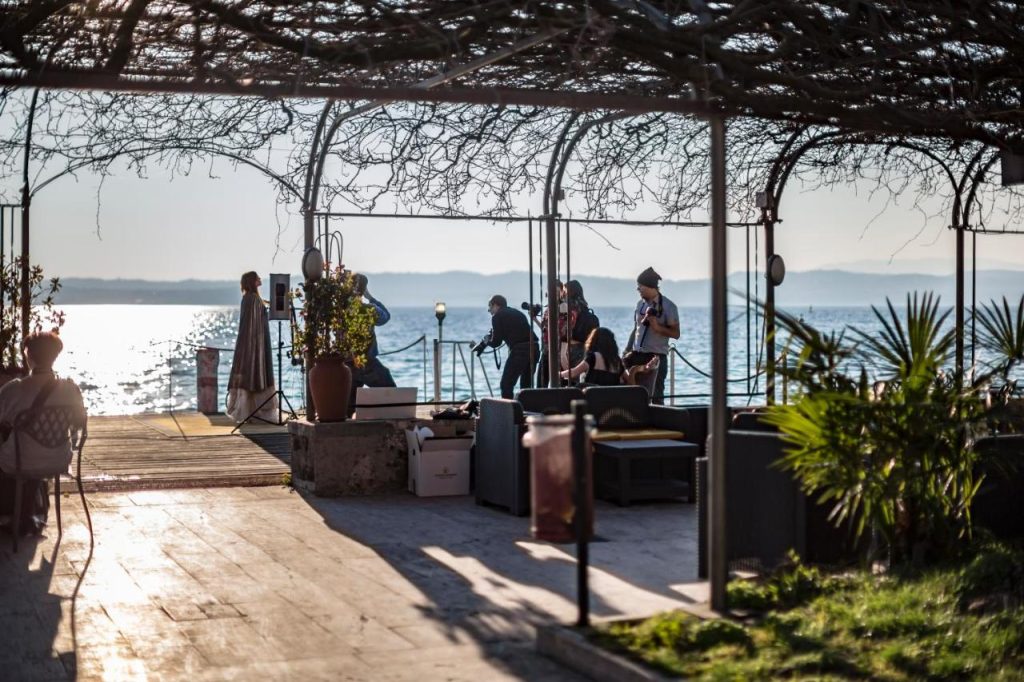 Relax on a deck chair or hop in the lake– the choice is yours! If you stay at Hotel Catullo, be sure to visit their restaurant at least once. They offer breakfast, lunch, and dinner prepared fresh with local ingredients. Best of all, it's also got a lake view!
| | |
| --- | --- |
| Pros | Cons |
| Excellent location | |
| Free parking | |
| Panoramic views of Lake Garda | |
| Children of any age are welcome | |
| Pets are allowed | |
| Private beach | |
Best 4 star hotels in Sirmione
Here are the best 4-star hotels in Sirmione:
Hotel Eden
Enjoy a comfortable stay in Sirmione in the recently refurbished Hotel Eden. Their 30 rooms vary in size, ranging from 19m² to 30m², and most offer a lake view. If not, you can still enjoy the view of a charming, old Italian town square from your balcony. The hotel strives to recreate a 1950s atmosphere with the room layout and furnishings.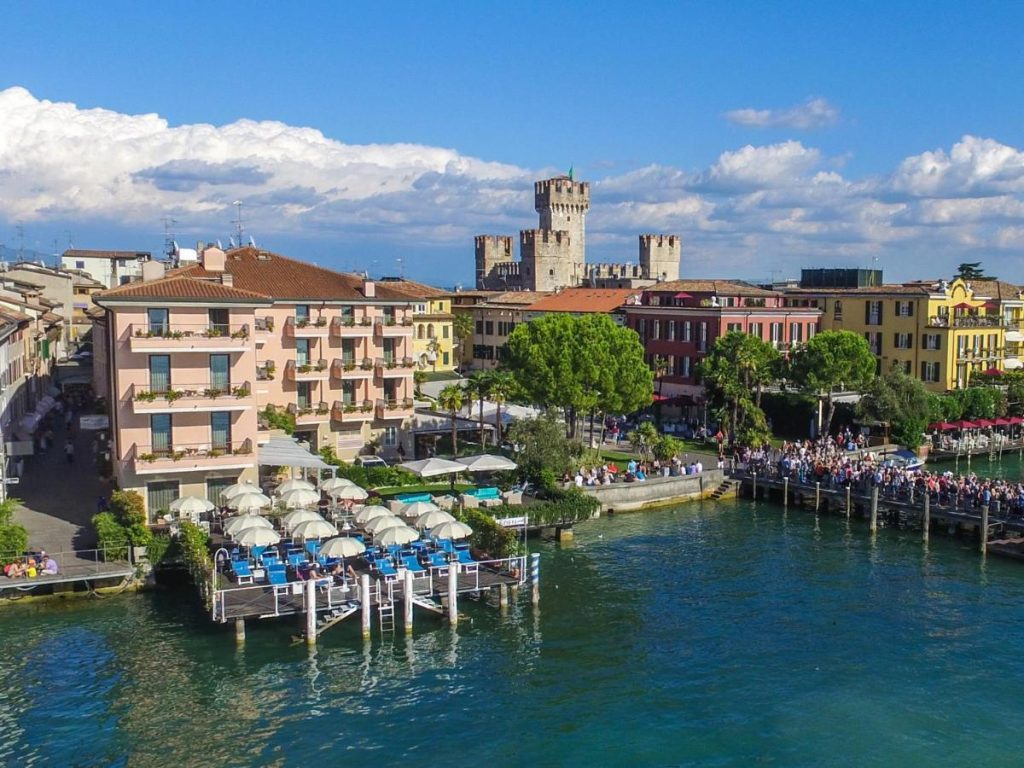 No matter the level of luxury you book, enjoy air-conditioned rooms with parquet flooring and gorgeous views. Should you book this hotel, be forewarned: you may not feel like leaving the hotel grounds! They have a variety of spaces dedicated to relaxation. Enjoy some peace and quiet at the hotel's Solarium.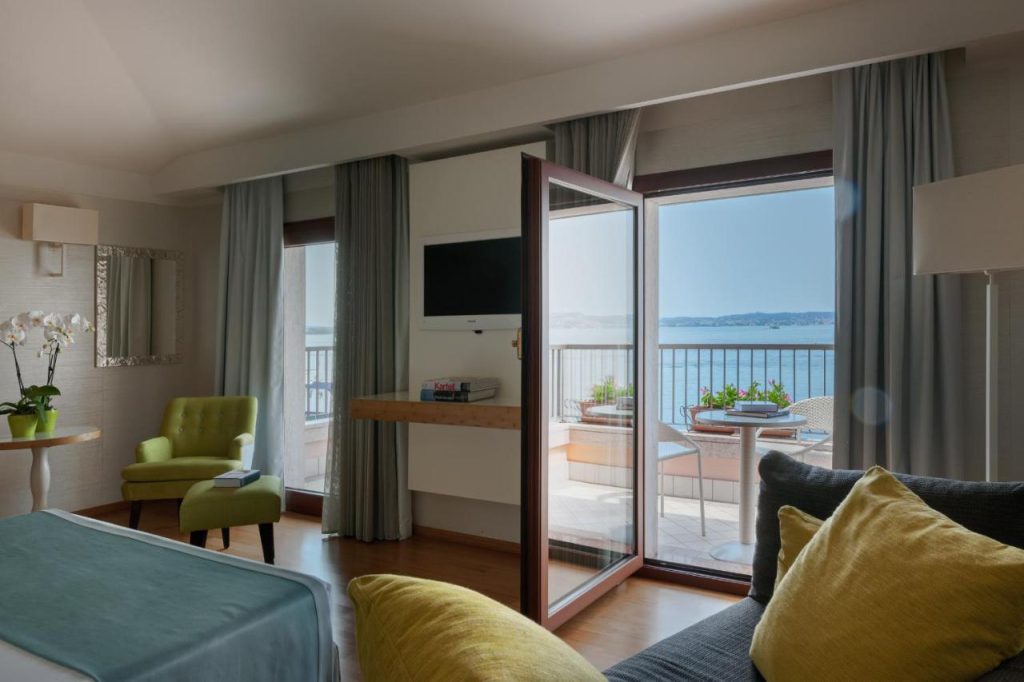 One of the premier spots to enjoy the sun by Lake Garda, it's a private, wooden platform built on the waterfront, complete with deck chairs, umbrellas, and water access. Not a fan of the summer heat? Spend the afternoon cooling off in their indoor lounge bar. The hotel proudly calls it their "oasis of peace in the center of Sirmione" and offers snacks, beverages, and occasional live music.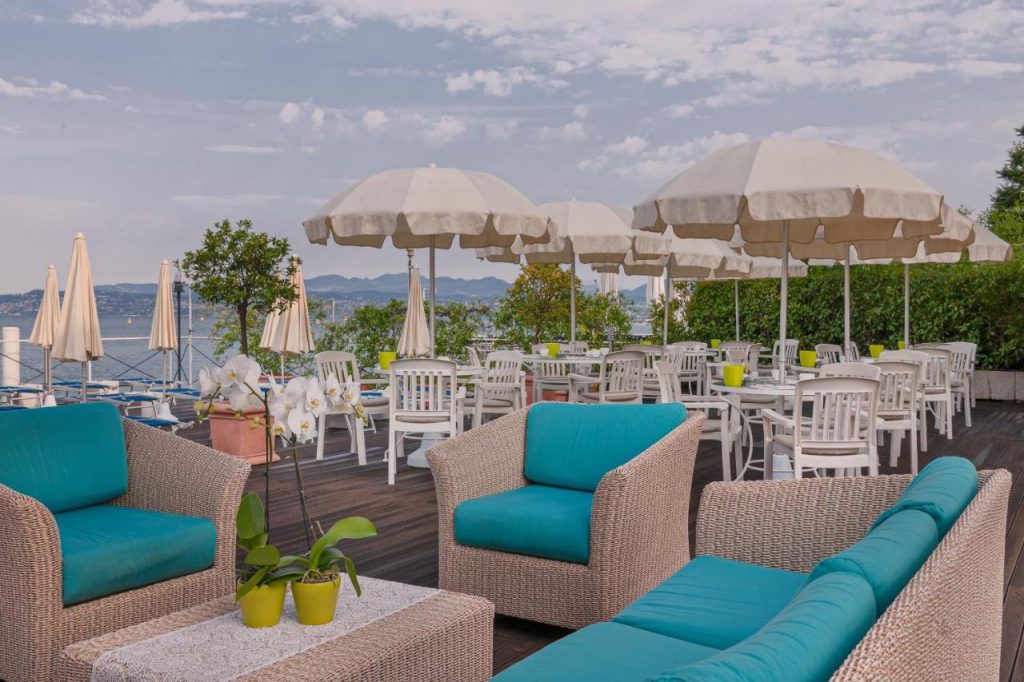 Join them for breakfast, a delicious buffet with over two dozen sweet and savory options. Take it in the breakfast dining room or on the hotel's lake-view terrace. Though they don't offer lunch or dinner, you can take advantage of their snack bar any time of the day! Indulge in many local and Mediterranean treats like charcuterie platters and bruschetta.
| | |
| --- | --- |
| Pros | Cons |
| Excellent location | Paid private parking |
| Panoramic views of Lake Garda | |
| Children of any age are welcome | |
| Pets are allowed | |
| Private beach | |
Hotel Olivi
Though it's the first hotel on this list that doesn't have direct lake access on its property, Hotel Olivi has so much more to offer, making it worth your consideration! Their large room offer makes them a great option for families or couples. From their most basic, "classic" room to the premier deluxe suite, all guests will feel like royalty in big, cozy beds and spacious rooms.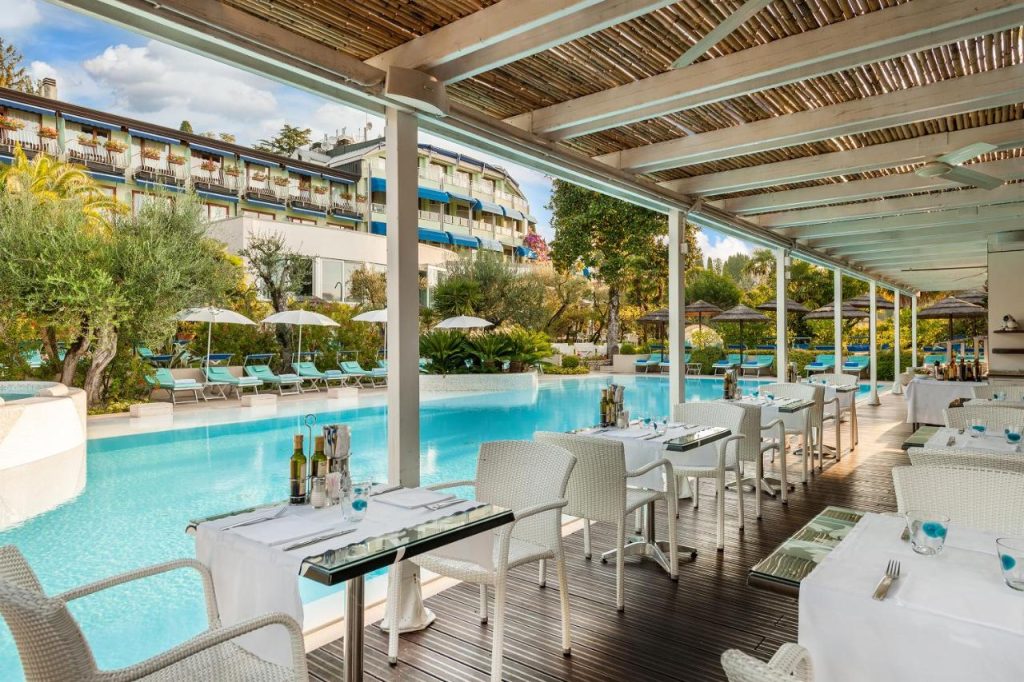 While staying here, take a short walk down to the lakefront and enjoy nearby sights like churches and the Grotte di Catullo archeological site, both of which are just a few steps from the hotel. But hurry back and enjoy a refreshing session in the hotel's spa! It's a state-of-the-art facility with saunas and steam rooms, but also an ice waterfall to cool off afterward.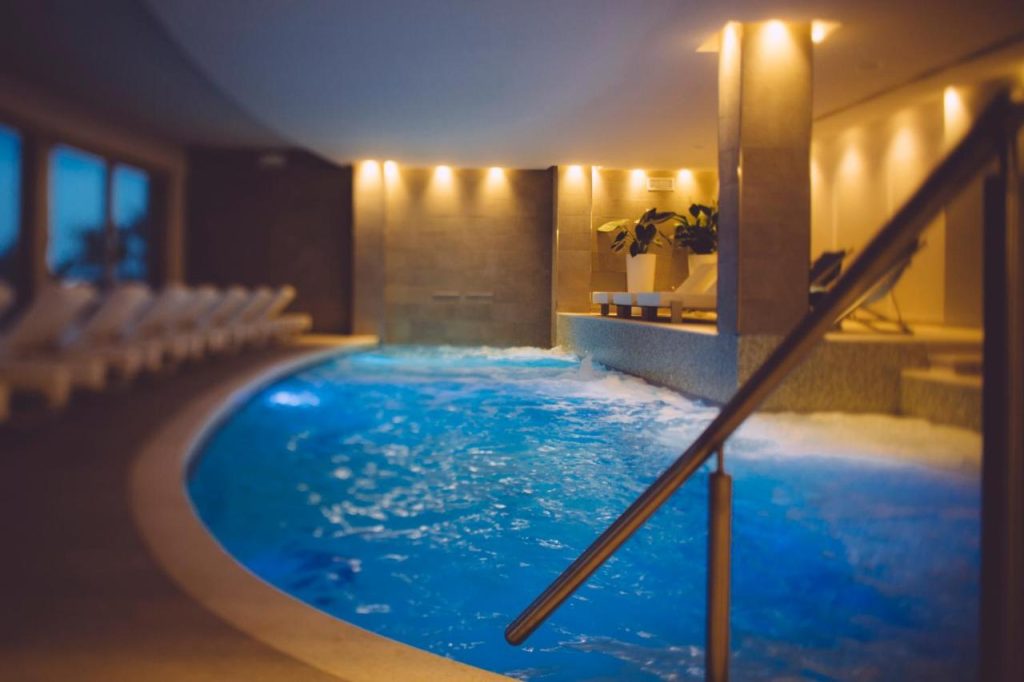 The hotel also makes up for its lack of direct lake access with a giant outdoor pool on the property. The hotel offers to make reservations for guests at local attractions (many of them, like the Grottoes, require one). They are also a tight-knit team of locals who are happy to make recommendations if you ask.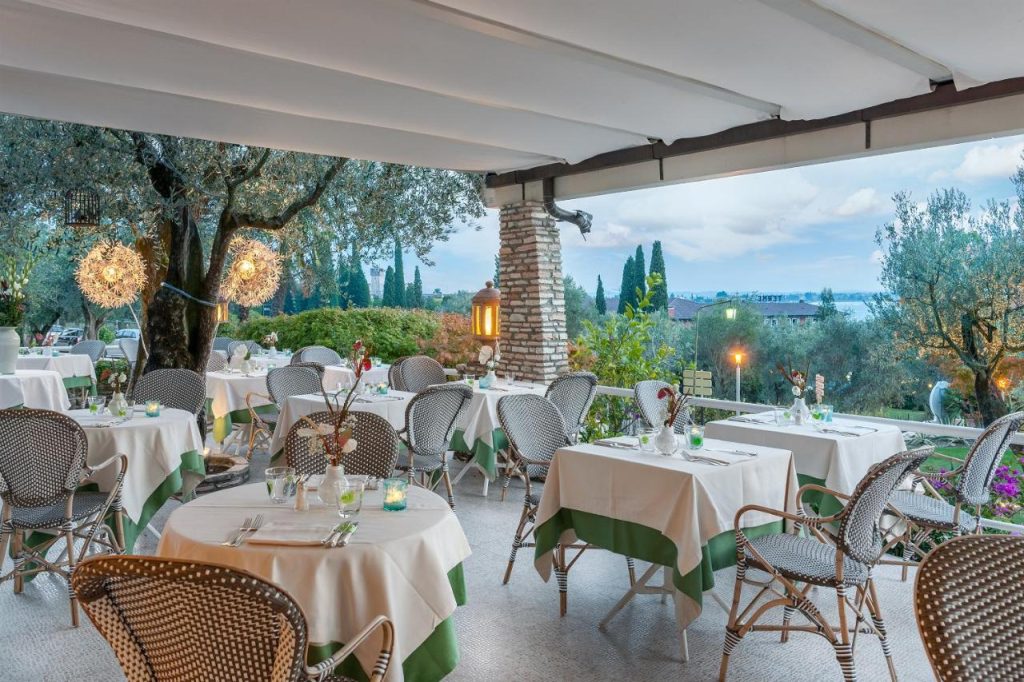 This hotel is the ultimate foodie getaway. They offer a breakfast buffet with local and continental flavors. What's more, they have a bistro, a full-service restaurant, and a lounge bar on the hotel property. Stop by and enjoy made-from-scratch Italian cuisine paired with regional and national wines. Stay there in the summer and dine on the Terrace la Limonaia, perhaps the most romantic restaurant patio in town overlooking Lake Garda.
| | |
| --- | --- |
| Pros | Cons |
| Excellent location | No direct lake access |
| Spa and wellness center | Paid private parking |
| Outdoor swimming pool | Children older than 17 years are welcome |
| Pets are allowed on request | |
Best 5 star hotels in Sirmione
Here are the best 5-star hotels in Sirmione:
Grand Hotel Terme
Enjoy an unforgettable stay in Sirmione thanks to this resort on one of the most exclusive stretches of land in town. The Grand Hotel Terme has got it all– comfortable rooms, extraordinary views, and top-of-the-line spa and dining facilities.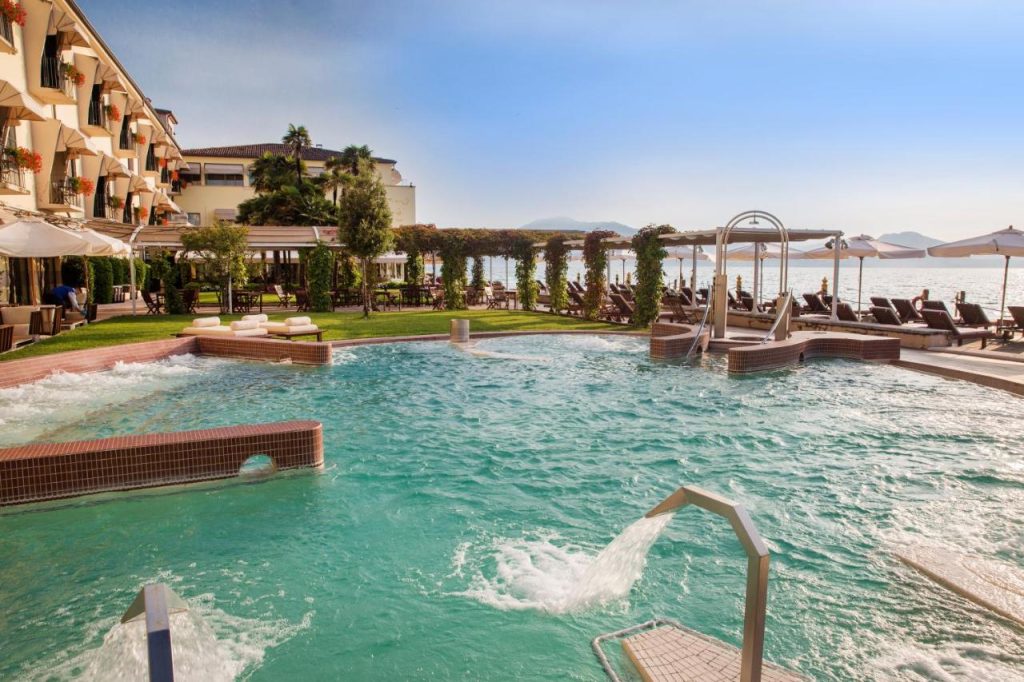 You can't go wrong with any of their rooms. Each includes a view of either the historic center or the lake. The spacious common areas all afford lovely views of the lake as well. Enjoy a breathtaking sunrise or sunset from one of the hotel's many viewing decks.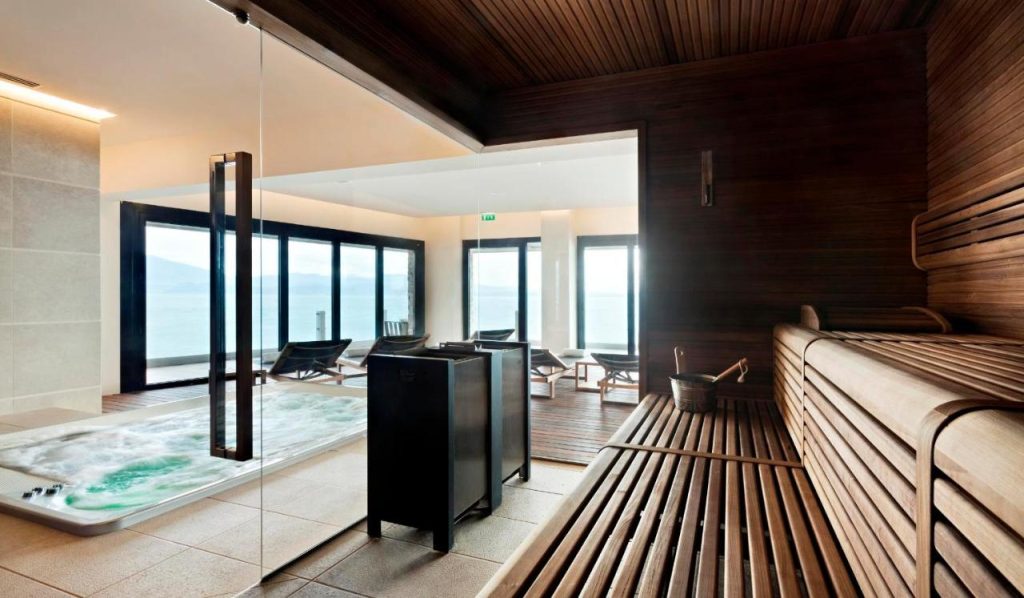 It's all about health and wellness at Grand Hotel Terme. Their Aquaria Thermal spa is world-class. Loved by guests and praised by health experts, the spa is said to have many healing and preventative qualities. Enjoy a hot bath in the thermal waters, but take full advantage of the facility equipped with saunas, mud baths, meditation rooms, and more!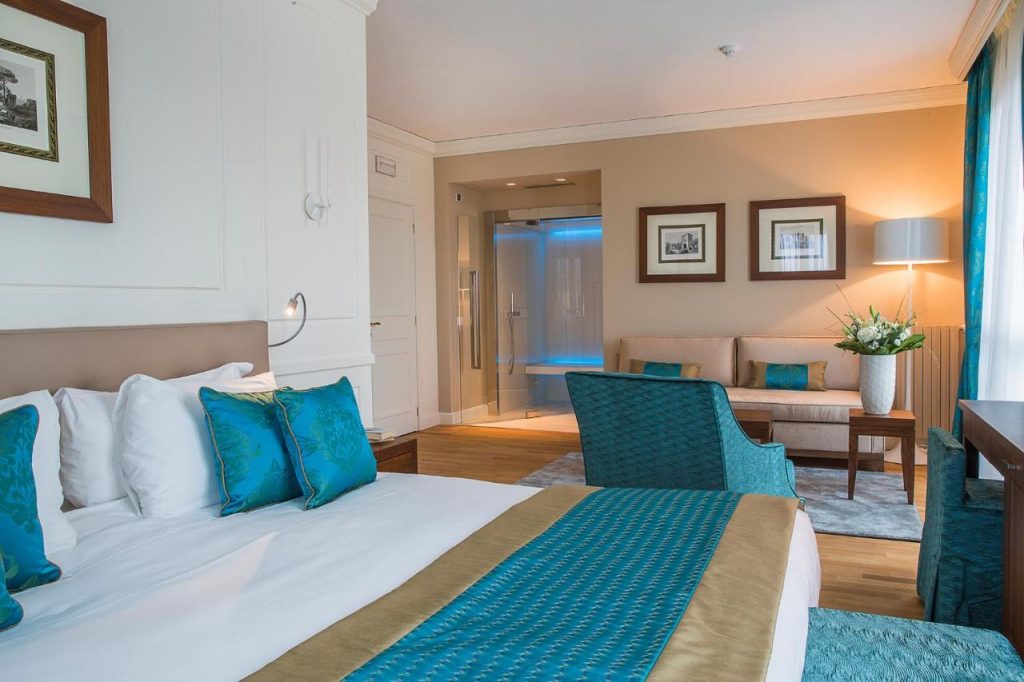 Of course, there's no shortage of delicious food options to please your palate. Visit the hotel's restaurant and indulge in fresh-made Italian cuisine made from the finest local and regional ingredients. These include a variety of pasta and seafood but also prime cuts of meat paired with top-quality wines!
| | |
| --- | --- |
| Pros | Cons |
| Excellent location | |
| Free private parking | |
| Pool with a view | |
| Panoramic views of Lake Garda | |
| Spa and wellness center | |
| Children of any age are welcome | |
| Pets are allowed on request | |
Villa Cortine Palace Hotel
There's hardly a better place to spend your time in historic Sirmione than in one of the historic residences that make up the community. Take a step into the past and stay at Villa Cortine Palace Hotel, a former baron's estate built in the 19th century.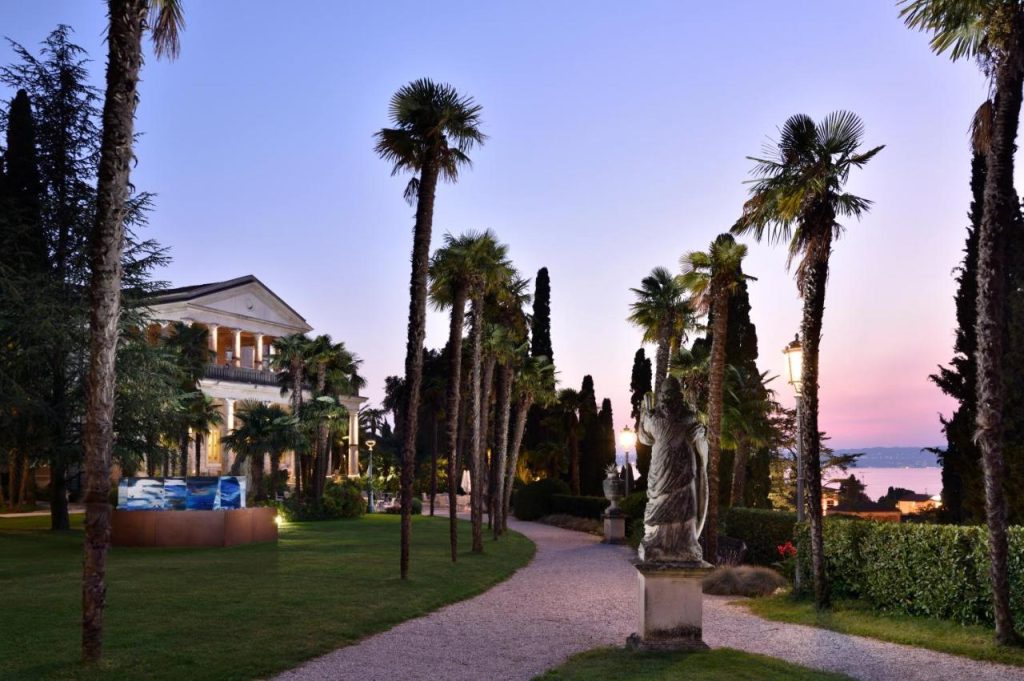 The rooms, though refurbished with modern amenities, still hold on to their aristocratic charm. They are incredibly spacious, and most have huge balconies that show off the blue expanse of Lake Garda below. Take a stroll around the private estate and its 5 hectares of park space.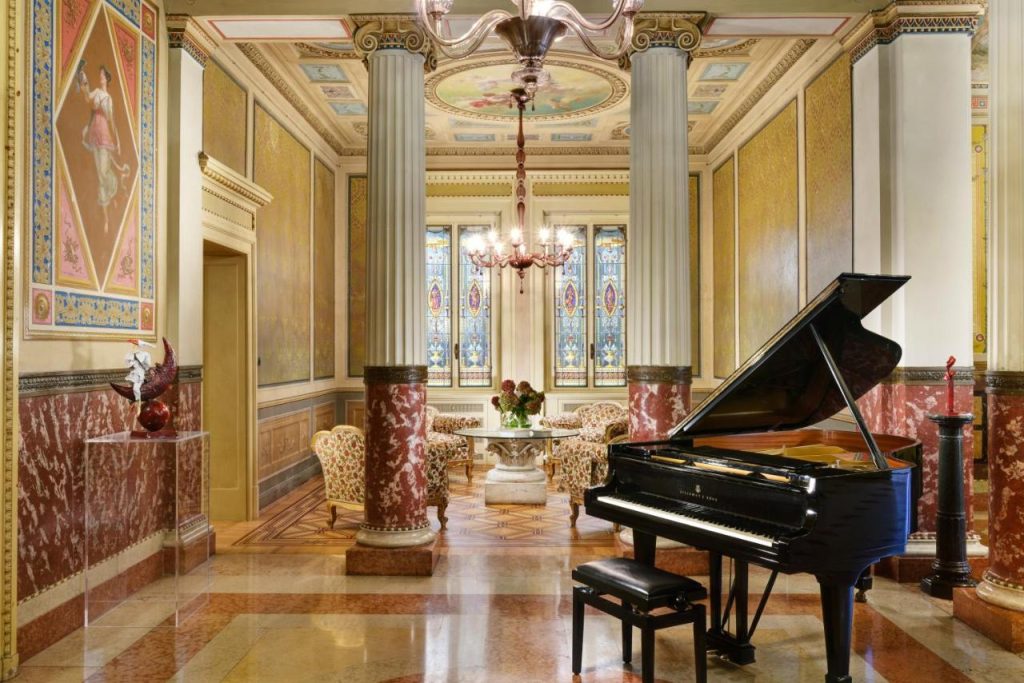 Gorgeous greenery is abundant in orchards and gardens across the site. And, of course, they have lake access! Stay here and enjoy one of the quietest, most secluded parts of Sirmione on a pier that calls images of the Maldives to mind.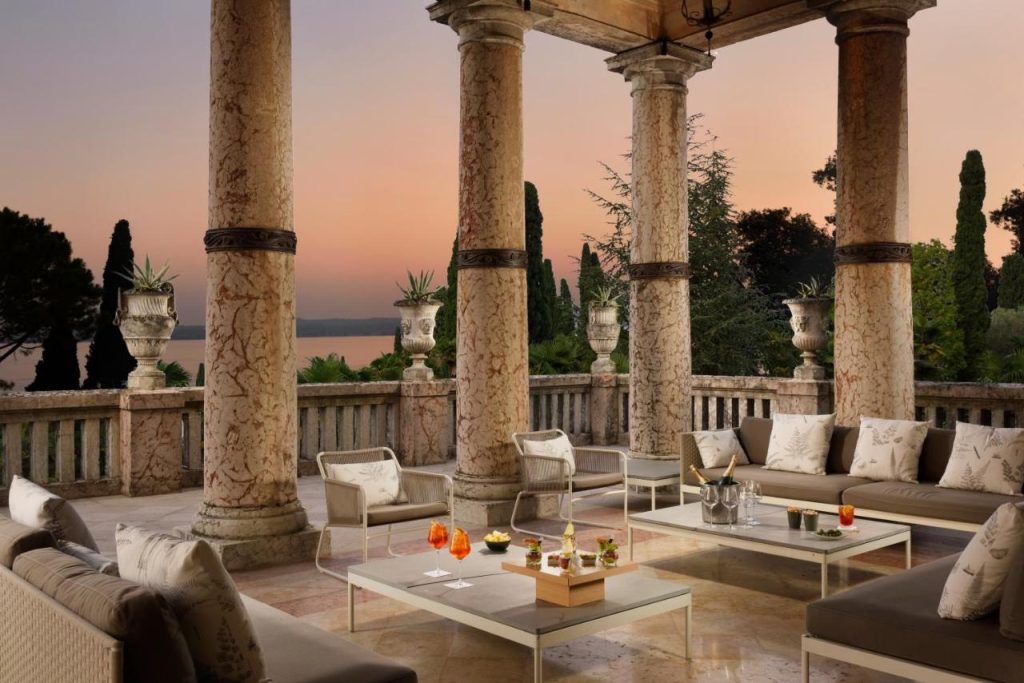 Dining onsite is one of the most unique, tailor-made experiences they offer. They have several bistros and dining rooms named and themed after the former residents of the estate. Have a seat in the Maria Callas bistro and enjoy cocktails inspired by the stories of Sirmione's famous figures. All of the hotel restaurants' dishes are made fresh by renowned chefs and served lakeside.
| | |
| --- | --- |
| Pros | Cons |
| Excellent location | |
| Free private parking | |
| Outdoor swimming pool | |
| Children of any age are welcome | |
| Pets are allowed | |
| Panoramic views of Lake Garda | |
| Beautiful gardens | |
Where to find the best hotels in Sirmione?
If you want to have the most of your vacation, you should stay in the middle of the action, in the old town. Well, there are some excellent hotels outside the center of Sirmione, but staying in this medieval part of the town is an experience in itself. Thankfully, there are all kinds of hotels there, from 3-star to 5-star, with or without direct lake access, with or without a spa, so everyone can find one that suits their budget.
Check out more articles about Sirmione:
Hey there! Some links on this page are affiliate links which means that, if you choose to make a purchase, we may earn a small commission at no extra cost to you. We greatly appreciate your support!