Sirmione is a small town located in the southern part of Lake Garda. Even though it is a very popular destination among tourists from all over the world, the town doesn't have parking problems like some other popular Italian cities. Usually, Italy has big parking problems in small, crowded towns where there are more cars than available parking spaces.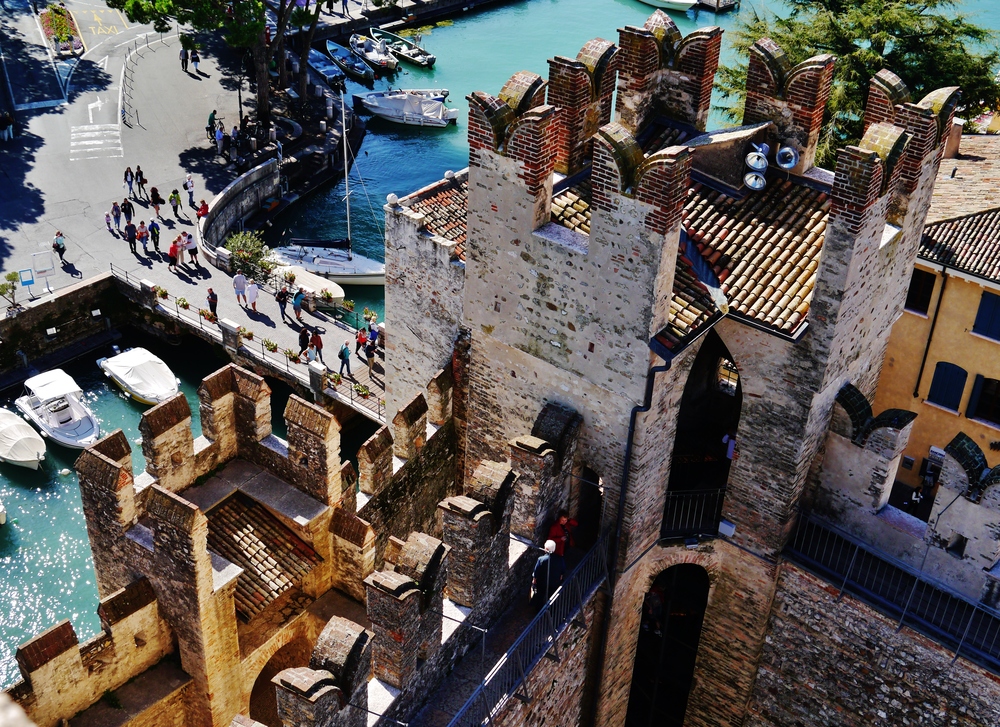 However, Sirmione has enough parking lots to withstand tourists coming by car, even during the busiest part of the year. Therefore, coming to Sirmione by car or renting one is actually a great idea. Not only will you be more flexible on your trip, but you will also have an opportunity to explore other towns on the lake.
Where to park in Sirmione?
As we mentioned above, Sirmione has many parking lots, so you have plenty of choices. Still, most tourists visit Sirmione because of its historic center and imposing castle. Therefore, they are searching for parking spots near these attractions. In this article, we will show you only paid parking lots near the main attractions so that you don't have to walk far. Here are the most popular paid parking lots in Sirmione:
Parcheggio Monte Baldo
The biggest and the most popular parking lot near the old town of Sirmione is located on Piazzale Monte Baldo, just 5 minutes walking distance from the castle. It has many wide parking spaces where you will easily find an available one in off-season time. However, if you visit Sirmione during the summer months, it is advisable to be in this parking lot before 9:00 PM (9:00 hours) to find your space.
Entry and exit are closed by a barrier at which you collect your ticket. You can pay by card and cash or with Telepass, if you want to avoid queues. The payment office is not far from the old town on the left. It has a big sign, "Cash", so you can't miss it. One hour of parking there costs 2.50 euros, while for the whole day, you will have to pay 18.00 euros. Check here if there are any available parking spaces in Parcheggio Monte Baldo.
Grifo Parking
Grifo Parking is another paid parking lot that is even closer to the castle than Parcheggio Monte Baldo. It is usually occupied by guests of hotels located in the old town because there is a shuttle service from parking to these hotels. However, you don't have to stay in one of these hotels to park there. Still, you will be able to park there only if you reserve in advance. The parking costs 2.50 euros per hour and 15 euros per day, it is guarded and located directly on the lake. We advise you to ask your hotel to reserve this parking for you.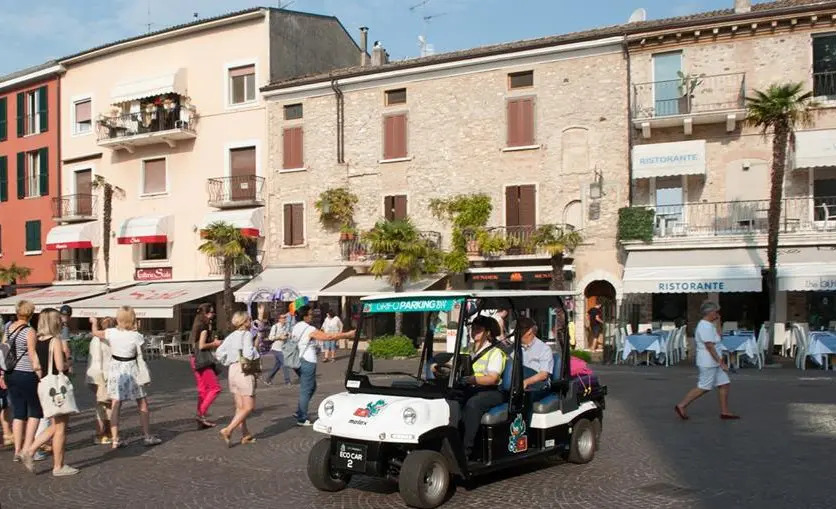 Lungolago Diaz Parking Area
This is the closest parking to the castle of Sirmione, and therefore a very crowded one. So, it is very busy even in the off-season, when you can park for free for up to 3 hours. If you really want to park there when there are no available parking spaces, just keep driving in circles until you get lucky and someone leaves. During the summer season, one hour of parking costs also 2.50 euros.
Parcheggio Via 25 Aprile
Parcheggio Via 25 Aprile is another good parking lot located around 2 kilometers from the castle in Sirmione. Being a little bit fahrer, this parking is also cheaper than other previously mentioned parking lots in this article, with an hourly rate of 1.80 euros. Parking here the whole day will cost you 12 euros, and you can even park your car for free every day from 12:00 AM (00:00 hours) to 7:00 AM (7:00 hours).
The good thing about this parking is that there are always available parking spaces whether you come in the morning or afternoon. Also worth mentioning is that its parking spots are in the shade of trees, which is great if you are visiting Sirmione on a hot summer day. Just keep in mind that there is no card payment available, so bring cash with you.
Free parking in Sirmione
There are many free parking spaces in Sirmione which are perfect for those who want to save a bit. Most of these free parkings are on various streets marked by white lines. Yes, those streets are a little bit far from the old town of Sirmione, but they are still reachable by walking. Some of these streets are in Via Giuseppe Mazzini, Via Lazzaretto, Via Salvo D'Acquisto, and Via Marzabotto. If you prefer parking on a parking lot rather than on the streets, you can park for free in Parcheggio dietro la Chiesa di Santa Maria Immacolata in Lugana or in Parcheggio Via Colombare.
Check out more articles about Sirmione:
Hey there! Some links on this page are affiliate links which means that, if you choose to make a purchase, we may earn a small commission at no extra cost to you. We greatly appreciate your support!