The town of Sirmione is located in Northern Italy, in the province of Brescia in Lombardy, just at the foothills of the beautiful Alps mountain range. This wonderful place has a very romantic history that has captured the hearts of many visitors. Even the world-renowned singer Maria Callas had a house in Sirmione.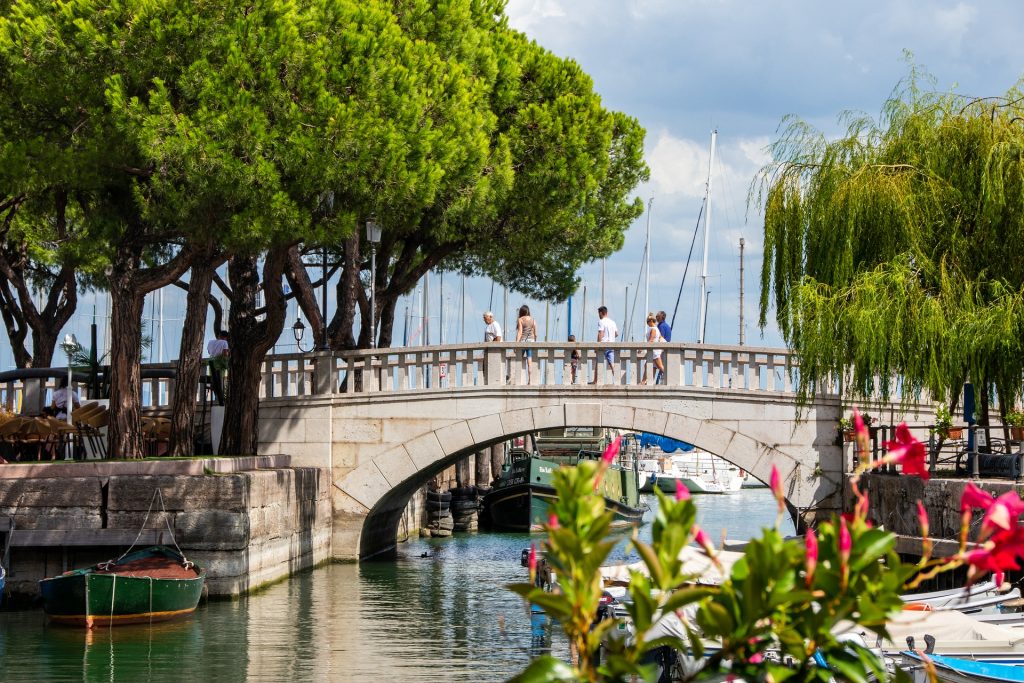 The spectacular scenery caused the ancient Romans to make it their special bathing place. Throughout history, the town has been protected very well because of its peninsula location. In 1990 it officially became a spa city, thanks to the great bathing spot and the hot springs.
Transportation in Sirmione
Many travelers choose to take a trip to Verona first, then come to Sirmione. To reach Sirmione from Verona, you can take a bus to Lazise and from there a ferry across the Garda Lake to Sirmione. There are a lot of other routes and options available.
The one you pick will depend on the type of things you want to enjoy doing and sights you maybe want to see. You should spend some time planning transportation and discussing it with your partner or tour group.
The streets in the old, walled town of Sirmione are extremely narrow, so they are closed for buses. Even though some vehicles are allowed to go inside walls, you won't often see a taxi service there. The best way to get around is by using the mini train service that you can catch at Aquaria. It goes through the town with several stops along the way and costs 1 euro. It's a wonderful experience, and it's not expensive at all.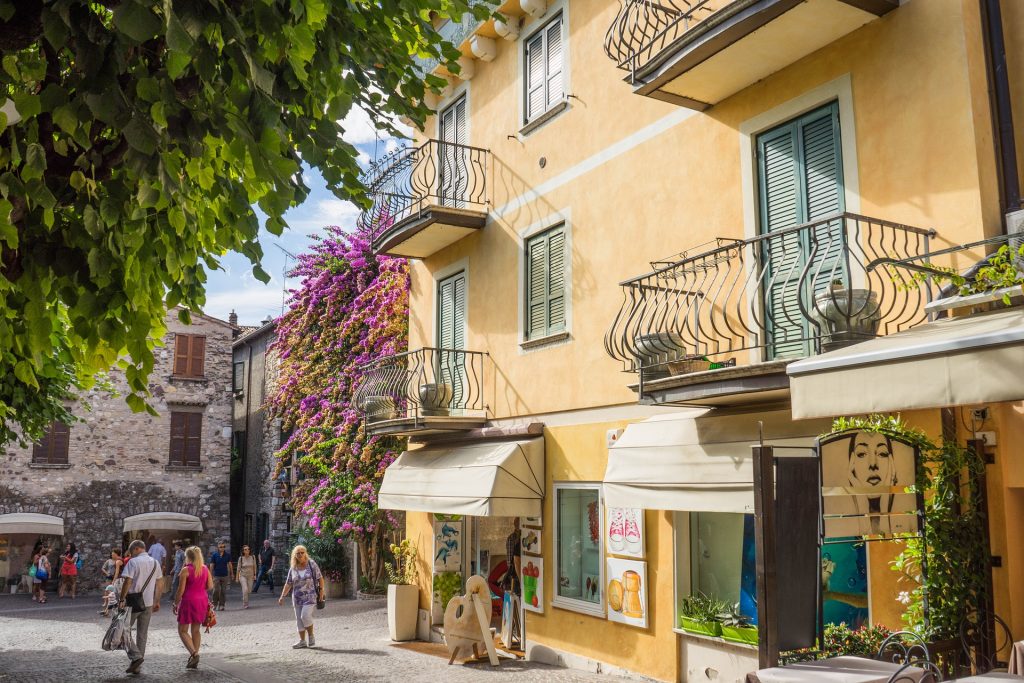 We are sometimes so caught up in our technologically advanced lives with computers and cars that we occasionally forget to switch off and go back to basics. What can be nicer than walking through lovely tiny streets and relaxing? With strolling around, you will forget all your problems for a while, admiring the beautiful surroundings of Sirmione.
Paddle Steamer Trip
You can also buy a ticket for a trip on the paddle steamer. You will be taken from Sirmione to Desenzano. It is a delightful way to cross Lake Grada but can get pricey if you plan on making a few trips.
The tickets are sold per trip, and they don't have a daily unlimited travel option. Remember to take your camera with you, because on the boat you will have great views, so you should capture them to remember your trip and share it with friends when you get home.
Accommodation in Sirmione
Your accommodation is something that you should discuss with your partner or tour group. There are many hotels and other options available, and they all have different things to offer. Sit down with pen and paper and make a list of all the types of facilities that you will need.
Do a few calculations to see your accommodation budget, based on the number of days you decide to spend in Simione.
You should pick a place where you can stay comfortably, but it should also be affordable. You don't want to spend all your money on a hotel and then end up having very little left for exploring and experiencing the true Italian culture. Check the Sirmione travel guide to find out more about hotels and apartments in Sirmione.
Roman villa
This little town has a lot to offer when you start looking for things to do. You cannot leave Sirmione if you haven't seen Grotte di Catullo. Due to its position, the peninsula of Sirmione, which penetrates deep into the Lake of Garda, was first colonized in the ancient pre-Roman times. The only remaining traces are known as Grotte di Catullo originate from Roman times.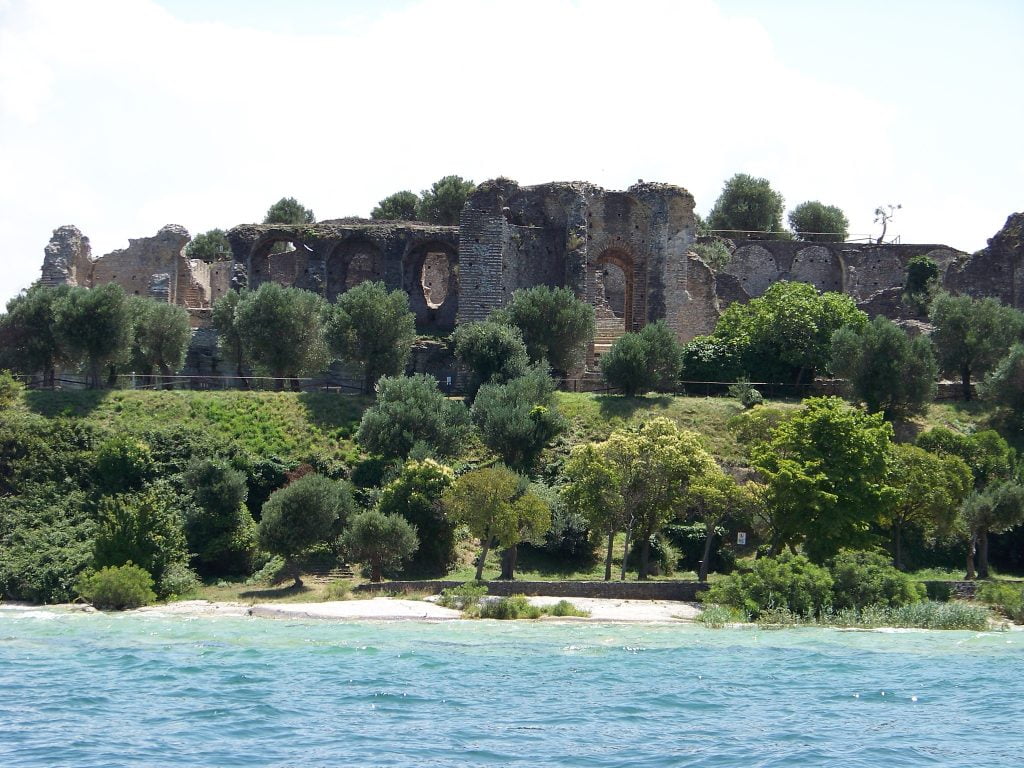 Scaliger Castle
Rocca Scaligera is the main and most popular attraction in Sirmione. Verona's ruling family built it in the 13th century. Encircled by the lake, the fortress, which dates from the 13th Century, stands imposingly at the entrance to the town. It's well worth paying a couple of euros to enter for the views of Sirmione from the top. The castle has been pretty well preserved, but the best thing is still the view.
Shopping in Sirmione
The center of Sirmione is perfect for those who love shopping. There are a lot of shops to buy souvenirs, clothes, and art. Due to the popularity of the town center, it's best to go early in the day to avoid most of the crowds. It also tends to be busier over weekends, so if you are looking for a more quiet day in the town, then your best bet is early on a weekday. You are bound to leave with a few shopping bags!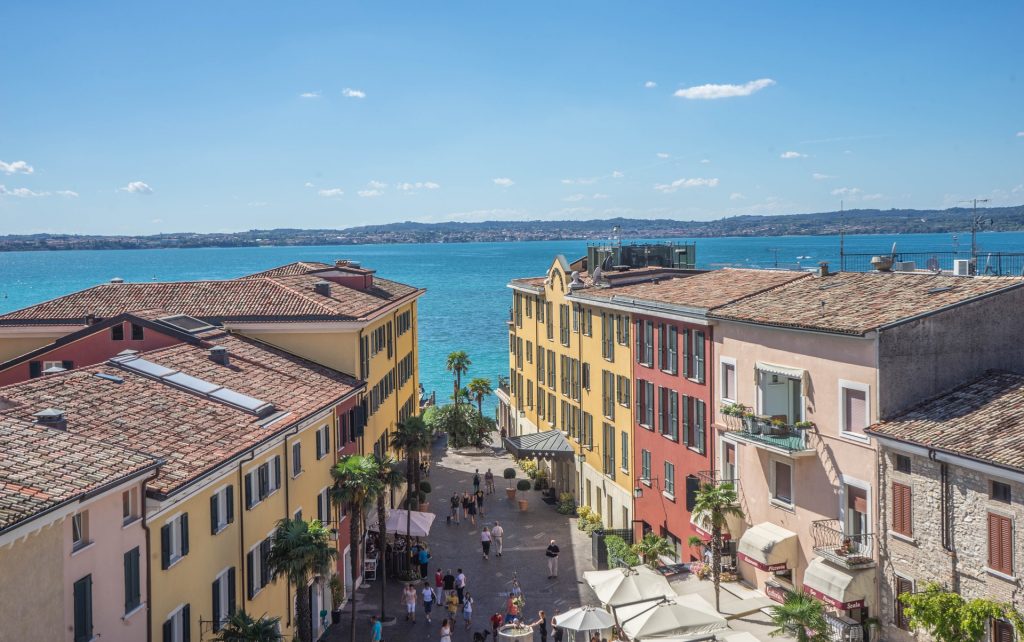 Food in Sirmione
One of the best restaurants in Sirmione is Enoteca delle antiche mura restaurant. It is centrally located in the old town of Sirmione and is completely covered by greenery. The atmosphere and the service at its beautiful terrace are top-class. The waiters will happily help you if you are unsure about what to order and explain anything that you might not understand on the menu.
There are several different cafes in the main piazza facing the harbor where you can look out over the water and watch the ferry boats while enjoying your favorite drink. Italy is also known for its creamy ice cream, better known as Gelato. So take a day to explore all the little cafes and enjoy a nice Gelato while watching old buildings around you.
Plan your trip to Sirmione
Taking a trip to a small, historic town like Sirmione requires proper planning. It is important to arrange something fun for everyone in the family and not only entertain a few members. As mentioned above, make a list of all the things you and your family enjoy doing. Together and separately.
Take that list with you when you visit your travel agent to make bookings. It will help the agent understand the things you enjoy.
Use the list to guide you as to what you want to do and see in Sirmione. Each family member can pick things they want to do, and you can then discuss it to see who will be doing what. This will keep the trip to Sirmione tense and stress-free. The whole family will go home feeling happy because they did what they wanted and shared it with everyone else.
Read more about Sirmione in our other posts:
Hey there! Some links on this page are affiliate links which means that, if you choose to make a purchase, we may earn a small commission at no extra cost to you. We greatly appreciate your support!