The stunning surroundings of the coastal town of Sorrento are some of the most magnificent and breathtaking in all of Italy. Located in the beautiful bay of Naples, close to the beautiful Amalfi Coast, Sorrento also has a rich heritage and culture all of its own. Known for its rugged cliff views, crystal clear waters, and bustling marinas, Sorrento is a popular tourist destination for those looking for a slice of Italian culture without the baggage that comes with visiting a big city.
It is also particularly appealing to tourists for its sandy beaches, abundance of boat tours and water-based activities, and coastline scenery that rivals any found in Europe. As the sun sets, Sorrento becomes even more colorful and vibrant as the lights go on and the doors open to all the town's best restaurants, bars, and nightclubs. Furthermore, this town is also known for its lemon groves and the production of its most famous export called "limoncello." This lemon-based liqueur is a must-try that is served in almost every bar and nightclub found throughout the region.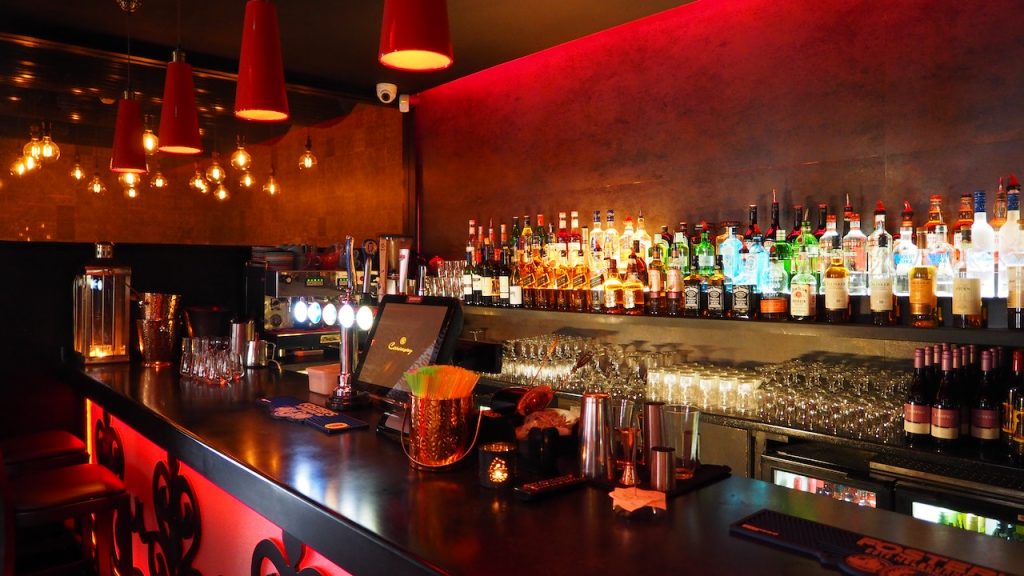 Sorrento's nightlife is also a main attraction of the town and is the type of location where you can easily enjoy an evening with quiet glass by the beach or a night of heavy partying. Either way, by the end of the night, you might likely find yourself in one of the town's many nightclubs or bars. Therefore, knowing the good from the bad and the ugly might just save you a lot of money and trouble. Here are the best clubs where you can spend your nightlife in Sorrento:
(This article contains 3 nightclubs in Sorrento, which are best in our subjective opinion. The order of the nightclubs is not related to the quality they offer. Every nightclub has its pros and cons, so choose the one based on your personal preferences.)
Daniele's Club in Sorrento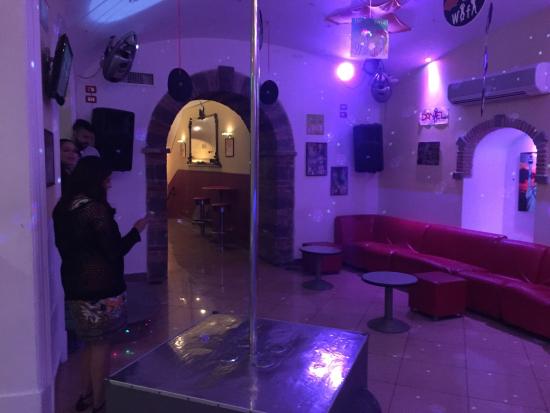 Daniele's Club or Bagattelle Daniele is Sorrento's leading hotspot when it comes to the party atmosphere of a nightclub, exclusive events such as singles nights and happy hours, karaoke, cocktail parties, and much more. Not too bad for the oldest club in town. One of the coolest things about Daniele's Club, though, is the venue itself.
Perched high on the ledge of the Piazza Tasso, in the heart of Sorrento, Daniele's Club provides some incredible views of the town below, the hills above, and the sea beyond, with an adjoining staircase that will take you down to a hidden port that looks especially romantic at night. The interior of the club is equally as eye-catching, with its magenta mood lighting inside and golden balcony outside, making this discotheque easy to spot a mile away.
With beer priced as low as 4 euros and the option of choosing the tracks you want when a DJ isn't performing, Daniele's Club is an excellent establishment if you are in the mood for a night to remember or not remember depending on how much you have to drink. The club is open all week long, with the party starting at 9:00 PM (21:00 hours) and closing around 2:30 AM (2:30 hours), except on Sundays when it closes at 1:30 AM (1:30 hours).
Location: Piazza Torquato Tasso
Distance: Right in the center of Sorrento
Fauno Bar in Sorrento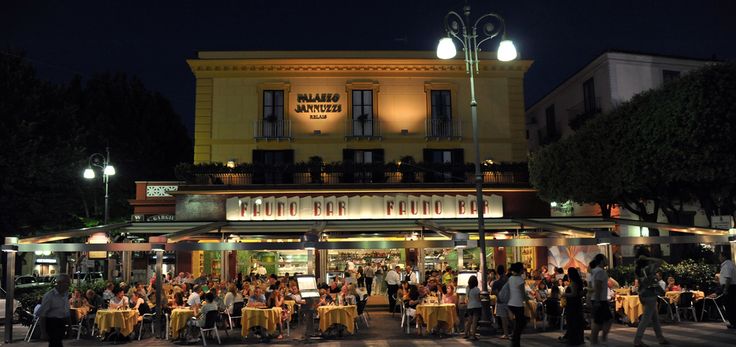 Fauno bar is a somewhat quieter yet just as highly-rated bar and restaurant. Known for its coffee and dessert menu just as much as its cocktails, Fauno Bar is the perfect setting for both an afternoon brunch to start the day or a late-night toast to end the evening.
Whether grabbing a table inside its doors or outside on the patio next to the square, Fauno Bar has a place for you for all your dining or adult beverage needs. Positioned in a prime location right next to the Palazzo Tasso, the main square of Sorrento, Fauno Bar is the perfect place to watch people go by while having amazing coffee or tasty cocktail. Also, you can order an authentic Italian meal or a glass of the finest Italian wines.
Whenever you come to this place, it is always full of people, which is a good sign. With such a reputation, this oftentimes comes great queues and waits for a table, so it might be best advised to book ahead of time, just in case. Even though the restaurant is always busy with buzz, you can still enjoy a drink at Fauno's bar and take in the serene scenery until your table is ready. Our recommendation, try the limoncello spritz.
Fauno Bar can be found at pinpointed walking distance between the Basilica Di Sant' Antonio and the Cattedrale Dei Sante Filippo and is easily tracked down. It is open seven days a week from 7:30 AM (7:30 hours) in the morning until 11:45 PM (23:45 hours) at night, with both food and drink being served until closing.  
Location: Piazza Torquato Tasso 13
Distance: Right in the center of Sorrento
Filou Club in Sorrento
If you are looking for a nightclub that opens "European style," meaning pretty much all night long, then Filou Club is definitely the spot for you. With the doors not closing until sunrise, Filous Club is the place where everyone is partying until the end of the night. Therefore it is one of the most vibrant and lively late-night venues in all of Sorrento.
Situated right around the center of the old historic town, in what is known as the most famous alley in Sorrento, Filou Club always attracts an energetic and international crowd with its amazing live music, delicious cocktails, and local wine and liqueur. For over 25 years, Club Filou has been entertaining both tourists and locals and has gathered quite a positive reputation as a result.
The décor and atmosphere at Filou Club are also noteworthy and, as well as being modern, sleek, and trendy, also remain in character with the heritage of the area. Both the inlaid wood and cast-iron ornaments adorned along the walls of this club are a throwback to the workshops that used to apply their trade from the alley throughout medieval times. This, mixed with the warm furniture and cool lighting, give Filou Club a unique and enticing vibe.
The club is open every day in the summer season except for Wednesdays. Opening hours are from 11:00 PM (23:00 hours) to 5:00 AM (5:00 hours), with drink and cocktail prices quoted as being reasonable by online reviewers, with the standard service charge reported to be around 20 euros.
Location: Via Santa Maria della Pietà 12
Distance: 100 meters (0.1 miles) from the center of Sorrento
How good is the nightlife in Sorrento?
If you like to party or want to have a memorable Sorrento nightlife, summer is the perfect period of the year to visit this town. During the summer months, Sorrento is full of tourists, so many young people (and those who feel young) party all night in clubs or on the beaches. Therefore, you can check all clubs and stay in the one that has the music and atmosphere for your taste.
However, if you are in Sorrento out of the summer season, don't expect to find big parties during the week. Usually, there are some themed parties at the weekend, but it depends on what time of the year you come to the town. The good thing is that nightclubs in Sorrento regularly post their events on social media like Facebook and Instagram, so you can always check if there will be some party or not.
Check out more articles about Sorrento:
Hey there! Some links on this page are affiliate links which means that, if you choose to make a purchase, we may earn a small commission at no extra cost to you. We greatly appreciate your support!