If you are going to Sorrento by car, the first question that will probably cross your mind will be: where should I park? Even though finding a place to park on the whole Amalfi Coast can be a bit of a challenge, the parking situation in Sorrento is slightly better. There are few parking garages and street parking, so you have a good chance of finding your parking space. However, finding available parking spots could be a problem during the summer months.
Therefore, it is advisable to book a hotel or apartment that has a parking option. The first thing you should know is that there are two types of parking in Sorrento, free ones, which are marked by white lines, and paid ones, marked by blue lines. Furthermore, keep in mind that the historical center of Sorrento is closed to traffic each evening after 7:30 PM (19:30 hours) and all day Sunday. Here are all the things you should know about parking in Sorrento:
Where to park in Sorrento?
There are two different types of parking in Sorrento. The first one is street parking, which is free on some streets but paid on most of them. Secondly, there are also parking garages, which offer more security and convenience. Here are all the parking options in Sorrento:
Street parking in Sorrento
Street parking can be a great option if you are willing to hunt for a spot. However, finding an unoccupied parking spot on the street in the summer months is like winning the lottery. Free street parking options are located on Via Bernardino Rota and on Via Parasano. These parking spots are perfect for those coming for a few days because you can leave your car all day there.
A better chance to find an available spot is on Via Bernardino Rota because this street is a little bit far from the center of Sorrento. On the other hand, Via Parsano is closer to the center, so it is more attractive. Also worth mentioning is that Via Parsano is a very narrow street, so it is not advisable to park there with a bigger car.
In the rest of Sorrento, street parking is paid. Usually, you will have to pay 1 euro for half an hour and 2 euros for every hour. There are parking meters near the parking spaces where you can insert coins to pay for a set period. After you pay, don't forget to take the printed ticket and display it on your car's dashboard.
Central Parking Sorrento
Central Parking Sorrento is a parking garage located on Corso Italia 319, only 10 minutes walking distance from the center. This garage has 150 parking spaces available and is open 24 hours a day, 7 days a week. The main advantage of parking there is that you can be 100% sure that your car will be safe. Not only this parking garage is in front of the municipal police station, but it is also under 24-hour video surveillance.
Furthermore, Central Parking Sorrento is guarded, so you will have to leave your car keys there, which is very convenient for anyone who wants to visit Sorrento without having your keys in your mind. It offers both hourly and daily rates. For every hour you will have to pay 2.50 euros, while the whole day costs 18 euros and you can pay both with cash or a credit card.
Parcheggio Comunale Achille Lauro
Parcheggi Comunale Achille Lauro is another parking garage open 24 hours a day and 7 days a week, located in Via Correale. It has more than 500 spacious parking spaces available and is only 5 minutes walking distance away from the center. This parking garage is equipped with CCTV cameras and guards, so you don't have to worry about your car.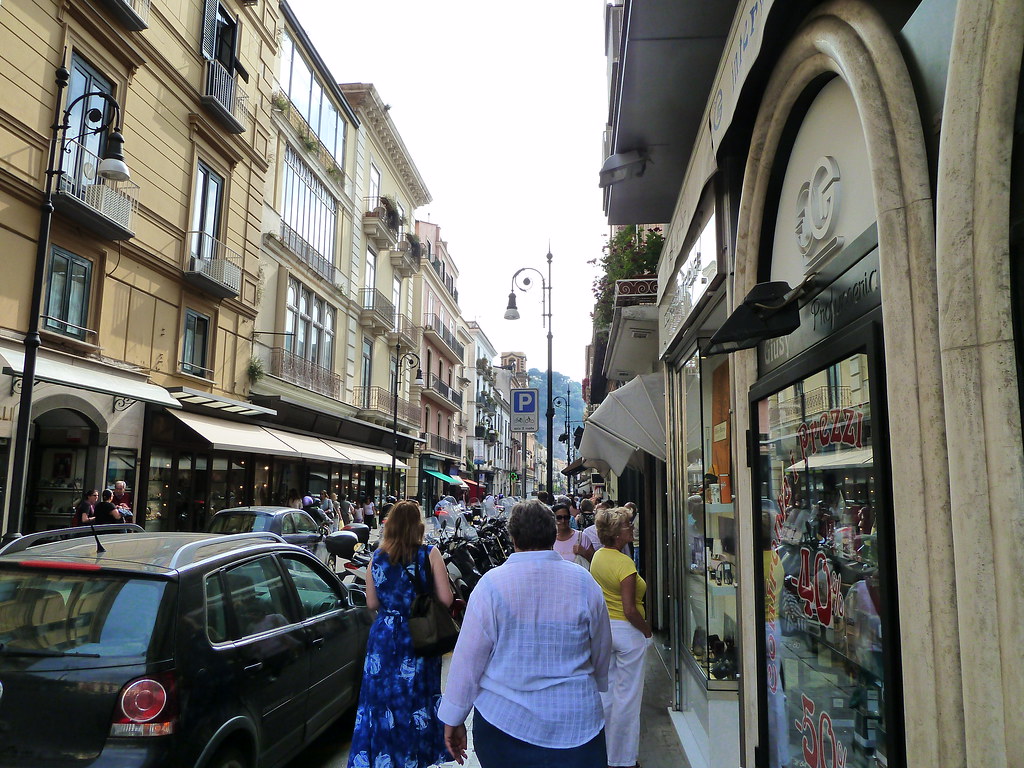 To park there, you will have to pay 2 euros per hour and 3 euros from the 4th hour onwards. The price for the whole day is 16 euros, and you can pay with cash or a credit card. There is also an elevator and a clean, paid toilet if needed. Overall, Parcheggio Comunale Achille Lauro is the perfect choice for anyone looking for safe and affordable parking near the center.
Garage Marina Piccola
Garage Marina Piccola is a parking garage located in front of Marina Piccola and the port of Sorrento. It is also open 24 hours, 7 days a week, and has 100 parking spots. This garage is not cheap, but it is perfect for those catching the ferries. Furthermore, this parking is great if you are visiting Sorrento in the summer because it is built inside the mountain so your car will stay cool.
Garage Marina Piccola also has CCTV cameras and guards, and there are luggage storage and a comfortable waiting room for ferries. Parking rates depend on the size of your car and the time you will use parking garages. To check all parking prices and discounts, visit their official website.
Parcheggio Stinga
Parcheggio Stinga is a fully automated outdoor parking lot set amongst an old lemon orchard in Via degli Aranci, a relatively quiet street, making it an excellent option for those looking for a peaceful place to park. It is open 24 hours and 7 days a week, a from there, you are only 8 minutes' walking distance from Sorrento's center. This parking has modern gates and an automated payment machine that takes contactless payment, so you can easily use it at any time of the day.
You get a ticket at the barrier, park your own car, and keep the keys. When you return, simply scan your ticket's QR code at the machine and pay cash, card, or contactless. The price for an hour is 2 euros, which is a pretty standard price in Sorrento.
Motorcycle and scooter parking in Sorrento
Motorcycles and scooters are a common sight in Sorrento, so you will see many parking spots available for two-wheeled vehicles. Most parking lots and garages in Sorrento have designated areas for these types of vehicles, so you will easily find your spot. Also, there are a number of spaces between Piazza Lauro and Via degli Aranci, so consider parking there. Always park only in marked spaces, or you will almost certainly get a ticket.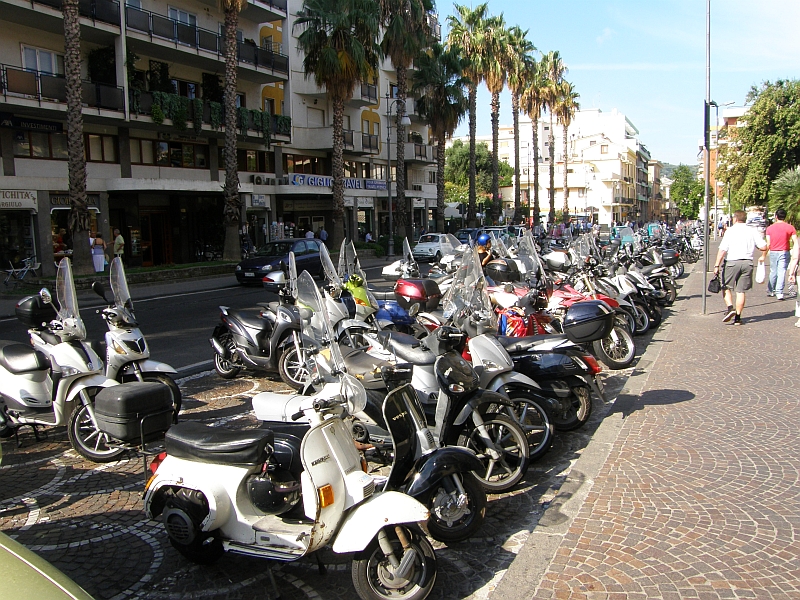 Tips for parking in Sorrento
First of all, a good option to consider is parking outside Sorrento and taking public transportation into the town. Sorrento is well connected with nearby towns by bus and train, so by staying nearby, you can save a lot and avoid any parking issues in the town. Secondly, it is advisable to plan your parking in Sorrento in advance.
It is smart to reserve your parking via official websites of parking garages, parking apps, or websites like Parkopedia.com. Furthermore, be aware of any driving, traffic, or speed restrictions so that you don't get a ticket which can be very expensive.
Check out more articles about Sorrento:
Hey there! Some links on this page are affiliate links which means that, if you choose to make a purchase, we may earn a small commission at no extra cost to you. We greatly appreciate your support!