Sorrento is a beautiful and picturesque town on the hill above the Gulf of Sorrento. It is a very popular tourist destination because of its perfect position. The town is between Naples and famous Amalfi Coast towns like Positano and Amalfi.
Also, there are many historical sights nearby, of which the most popular are Pompeii and Herculaneum. Therefore, Sorrento is usually the base for many tourists that come to this part of Italy.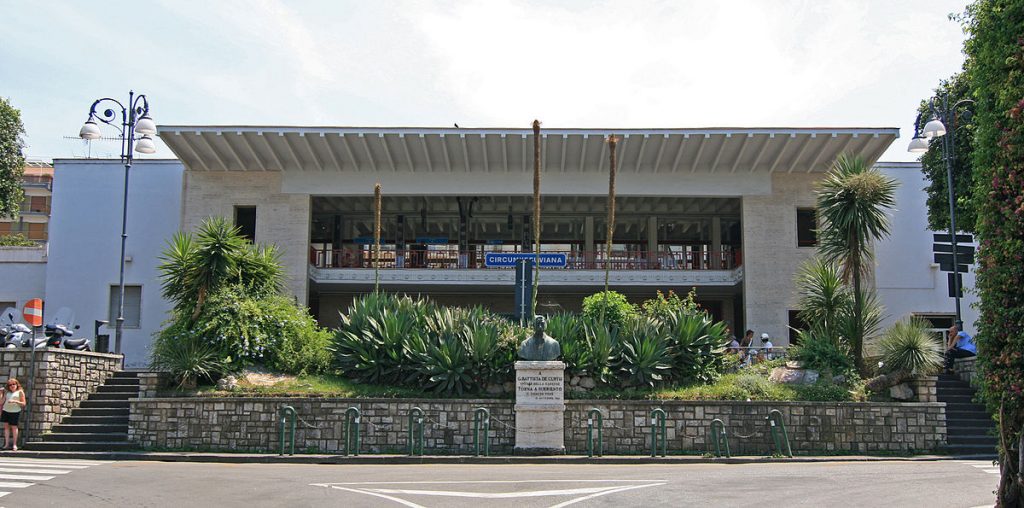 There are several ways to come to Sorrento, but the cheapest and fastest one is by train from Naples. A train station connected to such a big city like Naples is a significant advantage of this town. It is the only town on Amalfi Coast with a train station which is very important if we consider that every town on Amalfi Coast has big parking problems.
In this article, you can find out where the train station in Sorrento is, the pros and cons of traveling by train in Italy, and some other important information that you will need on your trip.
Sorrento train station
Sorrento train station was activated in 1948, and the only train company that operates is called Circumvesuviana. It is a regional public network of lines running from Naples to Sorrento, and ticket costs less than 4 euros. The station is equipped with a ticket office, information desk, toilets, newsstand, and luggage storage. There is also a bar for those who want to get a drink while waiting for a train.
The train station is very busy throughout the day because thousands of tourists are coming to Sorrento or heading to Naples. Also, many tourists come to Sorrento by train to continue their travel to other towns on Amalfi Coast, especially in the summer months.
Circumvesuviana train from Naples to Sorrento
If you are coming from Naples to Sorrento, you should expect a ride that lasts around 1 hour. There are many stops along the way, but Sorrento is the last one. Remember that it can get very crowded and you may not find seating, especially on Sunday morning and on national holidays. Also, the trains are very old, and they do not have air condition, which is pretty unpleasant, but it is what you get for a cheap ticket price.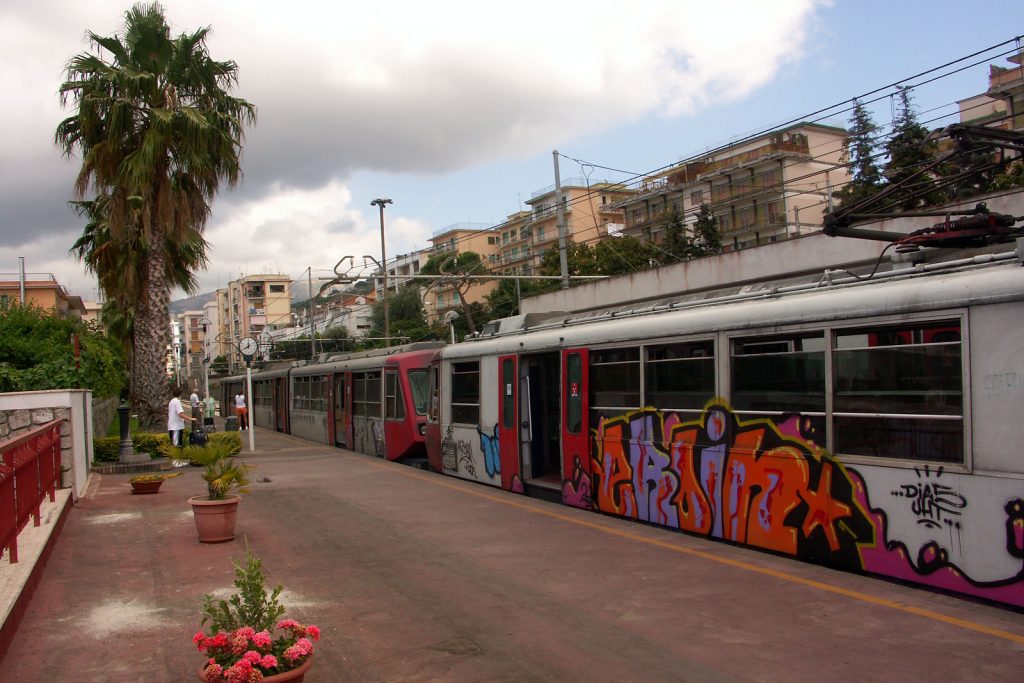 If you have many bags with you, keep in mind that these trains do not have special luggage storage, so you will have to keep your bags around your legs. Because of the popularity of Sorrento and big crowds, you should keep an eye on your valuables and documents.
Besides Naples, these trains can also transfer you to Pompeii and Herculaneum. The ride to Pompeii will last only around 20 minutes and to Herculaneum around 50 minutes.
Where is the train station in Sorrento?
Sorrento train station is located across the Piazza Giovanni Battista de Curtis, around 500 meters (0.3 miles) far from Piazza Tasso, which is considered the center of Sorrento. In front of the train station, there is a bus stop for a local bus 5070. It drives every 35 minutes and connects different locations in the town as well as some suburbs.
This is pretty convenient, especially if your hotel or apartment is far from the train station because the bus is much cheaper than a taxi. Also, near the Sorrento train station, there is a bus stop for routes between Sorrento and Positano, Amalfi, Praiano, and the rest of the Amalfi Coast.
Check out more articles about Sorrento:
Hey there! Some links on this page are affiliate links which means that, if you choose to make a purchase, we may earn a small commission at no extra cost to you. We greatly appreciate your support!