Are you visiting Sorrento this year and want to have some fun? Well, beach clubs are perfect places for that. Sorrento is hugely popular with tourists worldwide, and it is easy to see why! It has an enticing climate, friendly locals with tales to tell, and views of Naples, Capri Island, and the Amalfi Coast that rival paradise. It offers a fantastic range of beach clubs where you can lie back, drink cocktails, and even take a dip in the sea.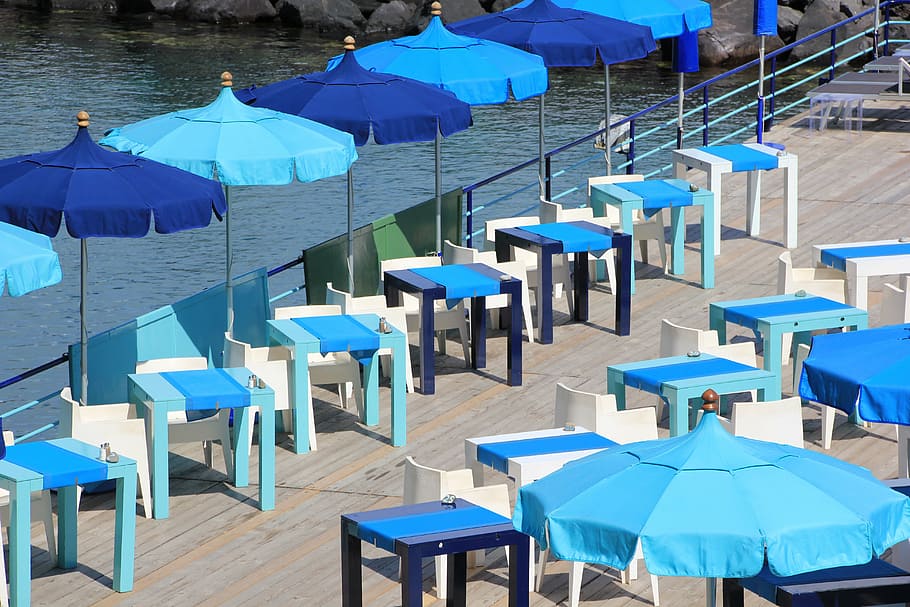 Each Sorrento beach club is as unique as the last and promises quiet time away from the many things to see and do in the town. Wondering where to start? Great news! We have compiled a list of the top three best beach clubs in Sorrento. Be sure to check out all three during your trip. Let's explore each of them.
(This article contains 3 beach clubs in Sorrento, which are best in our subjective opinion. The order of the beach clubs is not related to the quality they offer. Every beach club has its pros and cons, so choose the one based on your personal preferences.)
Bagni Salvatore Bar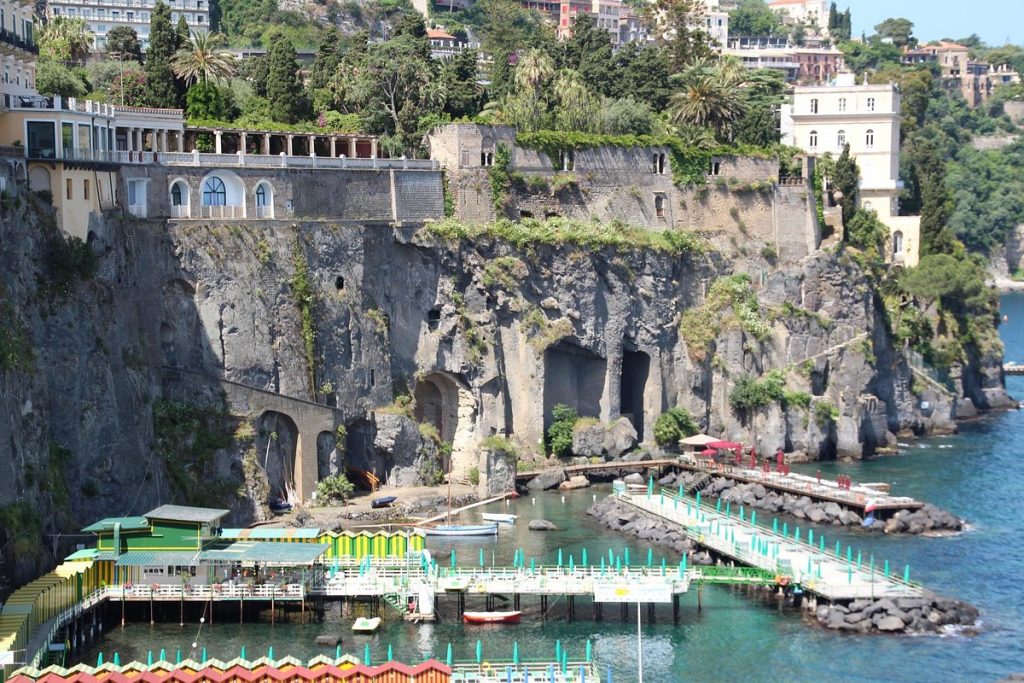 Don't be confused with former Italian footballer Salvatore Bagni because Bagni Salvatore is a unique relaxation spot unlike any other on this stretch of the Italian coast. You will find everything you need here for a fun day, including lounge chairs and umbrellas. It is easy to rent towels too, and goggles if you fancy a dip in the ocean.
Whether you are on the lido deck or in the clear blue waters, you can see ancient Roman ruins all around you. It is something special to this particular beach club. The Villa of Agrippa Postumo creates a unique environment in which to relax and unwind. Bagni Salvatore Bar is in a beautiful location, hidden away from the hustle and bustle of Sorrento's busy streets, and therefore perfect for kicking back with a book, listening to new music in your headphones, catching up with friends and family, or flicking through holiday snaps on your phone.
It is hard to describe just how secluded this area is. It really is a rare opportunity to step away from everything else and soak up the sun. You could use this downtime to plan your upcoming days in Sorrento, reflect on your life, or make big plans for the future. Or simply eat a sandwich and enjoy the view. Whatever you choose to do!
Bagni Salvatore is both a restaurant and bar, serving typical dishes from the region. Expect seafood, paninis, and sandwiches within an extensive menu of options. The bottles of wine for sale here are very affordable at around 15 euros, meaning you can stay for a whole afternoon without breaking the bank. The best part? Drinks are delivered directly to your sunbed, so you can continue to relax without skipping a beat.
Location: San Francesco Beach
Distance: 650 meters (0.4 miles) from the center of Sorrento
Marameo Beach Club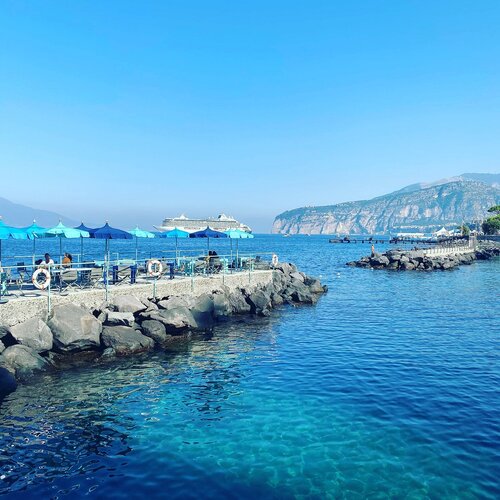 Stretching out into the Bay of Naples, you will find Marameo Beach Club. It is a fun hang-out where you can relax in the sunshine or dine on delicious food. Located near the city park and Grand Hotel la Favorita, this bar, restaurant, and lounge space is great for those prioritizing scenic views, clear waters, and excellent service. Marameo Beach Club has thirty changing rooms alongside dozens of sun loungers and armchairs, so there is plenty of space here for everyone at your traveling party.
There are even loungers in the water for easy access to the sea. Therefore, you can get closer to the action and take in glorious sunsets from the crystal clear sea. If that wasn't enough, this beach club also offers jacuzzis, permitting you to turn up the relaxation dial. What's a holiday for if not relaxing? The restaurant at Marameo Beach Club is out-of-this-world, serving cultural dishes with their roots in this Mediterranean food culture. From the starters menu, we recommend the aubergine parmigiana or octopus salad. The octopus salad and other seafood dishes on this expansive menu honor the local traditions in this coastal community. 
The pasta dishes are immense, with 10 different options to choose from. From spaghetti with cherry tomatoes and fresh basil to homemade dumplings with tomato sauce and mozzarella and from homemade pasta with shrimp and rocket to large pasta tubes with lobster, there is something for every type of pasta lover here.
Meat dishes include grilled squid, mixed fried prawns, grilled chicken breast, and tuna. There is also an omelet, sandwiches including a vegetarian option, and five pizza options including a gluten-free tomato, mozzarella, and basil. For dessert, try the tiramisu, gelato, or fresh fruit slices. Marameo Beach Club is only open between April and October each year. Factor this into your travel plans to avoid missing out on this great experience.
Location: San Francesco Beach
Distance: 450 meters (0.3 miles) from the center of Sorrento
Leonelli's Beach Bar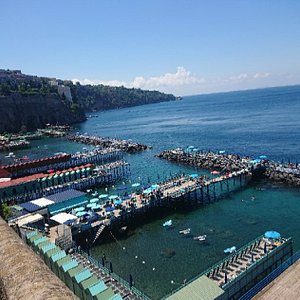 On the very edge of Italy's west coast is Leonelli's Beach Bar, a state-of-the-art bathing area with a high-end restaurant and loungers for relaxing by the sea. It is close to Marina Piccola and Peter's Beach, a beautiful sandy beach in Sorrento. At this establishment, you are sure to find staff who are dedicated to creating special memories. In fact, it's been managed by the Leonelli family for three generations, so you can guarantee quality at every level. That family feel is evident throughout, from the excellent hospitality to the delicious dishes.
Laying back on your lounger, you will enjoy great views of Naples and Mount Vesuvius, the volcano famous for its role in the Pompeii disaster of 79AD. As you gaze out across the ocean, you won't be able to avoid the feeling of wonder that overcomes you. The glory of the natural world is in full force here. The bar serves tasty snacks, including a great range of sandwiches.
Whether you like mozzarella cheese, tuna fish, or baked aubergines, there is a mouthwatering sandwich here for you. Meanwhile, in the restaurant area, we recommend octopus salad, salt, and pepper shrimp, spaghetti with cherry tomatoes, risotto with lemon and scampi, chicken cutlet, and white pizza with würstel and chips. Desserts include ice creams, fruit salad, and strawberry cups. 
Fancy entering the water? Leonelli's Beach club offers canoes and pedal boats that you can rent, letting you explore the sea in a safe environment with lifeguards. There are also steps that lead into the glistening blue waters if you fancy a swim, bob, or paddle.
Location: San Francesco Beach
Distance: 500 meters (0.3 miles) from the center of Sorrento
Where to find the best beach clubs in Sorrento?
If you want an exquisite vacation on the Sorrento coastline, go to San Francesco Beach and pick one of the beach clubs. All of them provide excellent lounge chairs and space, umbrellas, amazing views, and a more private way of enjoying your holiday. Furthermore, they offer various snacks and drinks, so you actually don't have to leave your sunbathing terrace until evening. How great is that? Of course, all of these services cost a bit, but you will be treated like a king, and we believe everyone can afford this at least once on their vacation. Have a wonderful time in Sorrento!
Check out more articles about Sorrento:
Hey there! Some links on this page are affiliate links which means that, if you choose to make a purchase, we may earn a small commission at no extra cost to you. We greatly appreciate your support!