Sorrento is a picturesque town situated above the Gulf of Sorrento with a beautiful view over the sea. When the visibility is excellent, you can see over the Gulf of Naples to Vesuvius on one side and Capri's island on the other. Sorrento is also a great base for those who are planning to explore Amalfi Coast. It is located only 45 minutes from Naples, and it is less crowded and cheaper than other popular cities on the Amalfi Coast.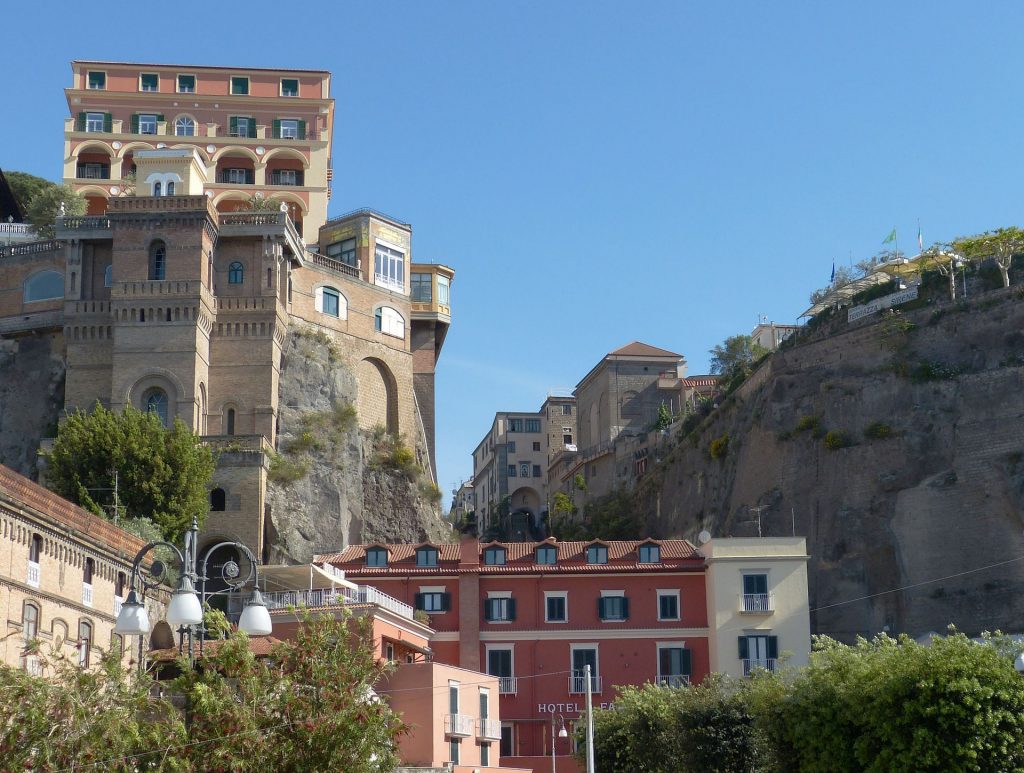 There are a lot of things you can do in Sorrento. One or two days should be enough to visit this lovely town. In any case, I advise you to spend at least one night there to make the most of your day and to leave the next morning.
This coastal town is known for its old town, lemon production, limoncello liqueur, sunshine, fantastic food, and much more. Here are the things to do and see in Sorrento:
Wander the narrow streets
The narrow streets in Sorrento are very romantic with their colorful shops, where locals are selling genuine local specialties, handicraft products, and of course, the large lemons typical of this area. These medieval pedestrian-only alleys and walkways are perfect for those who like to discover hidden churches, flower-filled gardens or fantastic restaurants.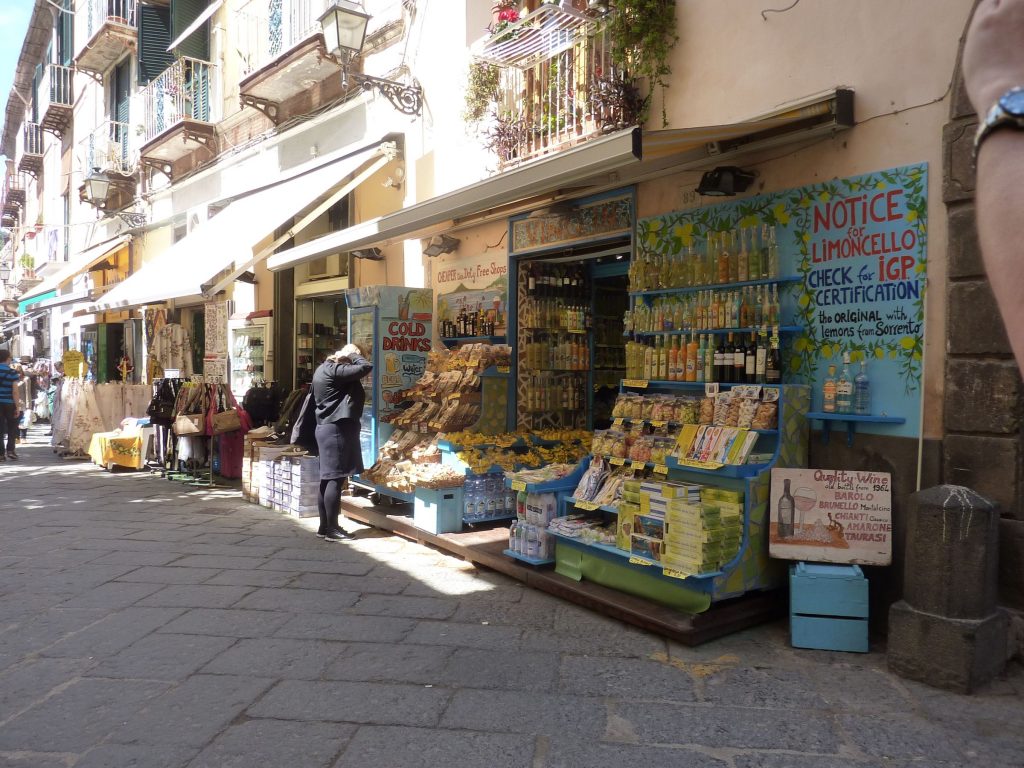 Since Sorrento is an excellent base for heading to Capri's island, it is better to go early in the morning to enjoy the streets before being overrun with tourists.
Visit cultural & historical attractions
Sorrento was home to the Greeks between 474 and 420 BC, and their influence is still visible today. After this period, Sorrento fell under the Roman influence and became a popular holiday destination in the Imperial age. In the 19th century, Sorrento joined Italy's Kingdom, and its tourism began to grow further. Here are the top cultural and historical attractions in Sorrento:
Piazza Tasso
Piazza Tasso is the central square of the city of Sorrento, always full of cafes and restaurants. There you will find the statue of the writer Torquato Tasso who gave his name to the place. This busy square is the perfect place to stop for an espresso or cocktail.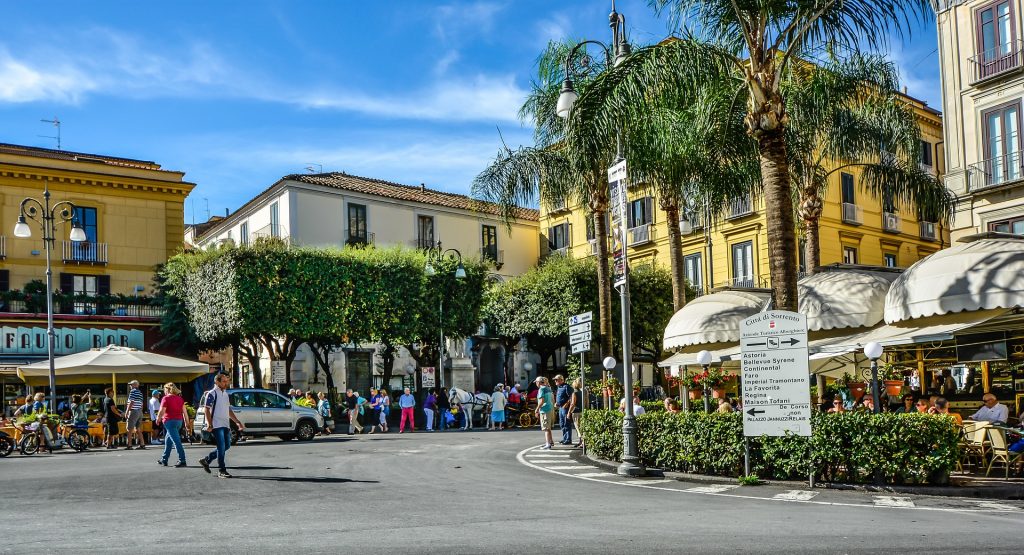 Sitting in a cafe or restaurant and watching the world go by is one of the best things to do in Sorrento. That way, you will look like a real Italian and feel the hectic atmosphere of Sorrento.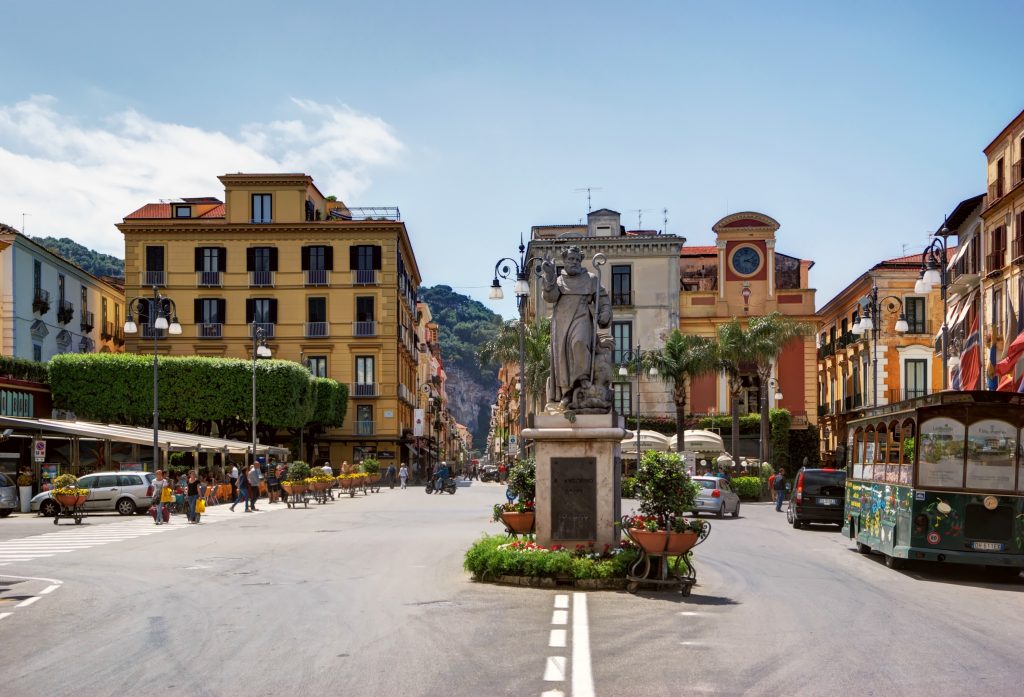 Piazza Tasso was built above one of the many small gorges. Therefore, you can have a stunning view of the cliff on one side of the Piazza while there are tons of restaurants on the other.
Villa Comunale
Villa Comunale is a beautiful garden with seating to enjoy the views. It is located high on the clifftop, over a couple of hundred meters from the sea so that you will have outstanding views. There is also a small bar nearby where you can sit outside and admire the view with a drink.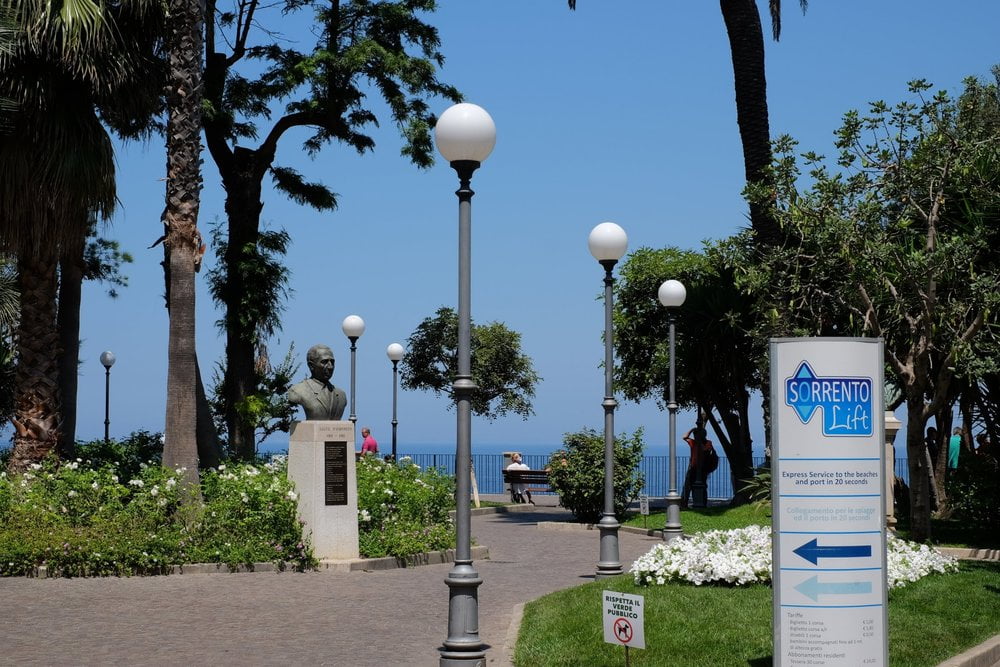 You can take the steps down to the marina or use the lift (1 euro fee) from the garden. Villa Comunale is definitely the best spot to get some great pictures and watch the gorgeous sunset. Enjoying the garden is completely free of charge.
Chiostro di San Francesco
Before the Villa Comunale gardens entrance, you'll find the 14th-century cloister through a small doorway on the right-hand side. This lovely cloister has an Arabic style portico, interlaced arches, and the garden in the middle. In the Spring, you can take amazing photos of the beautiful archways with hanging vines and flowers.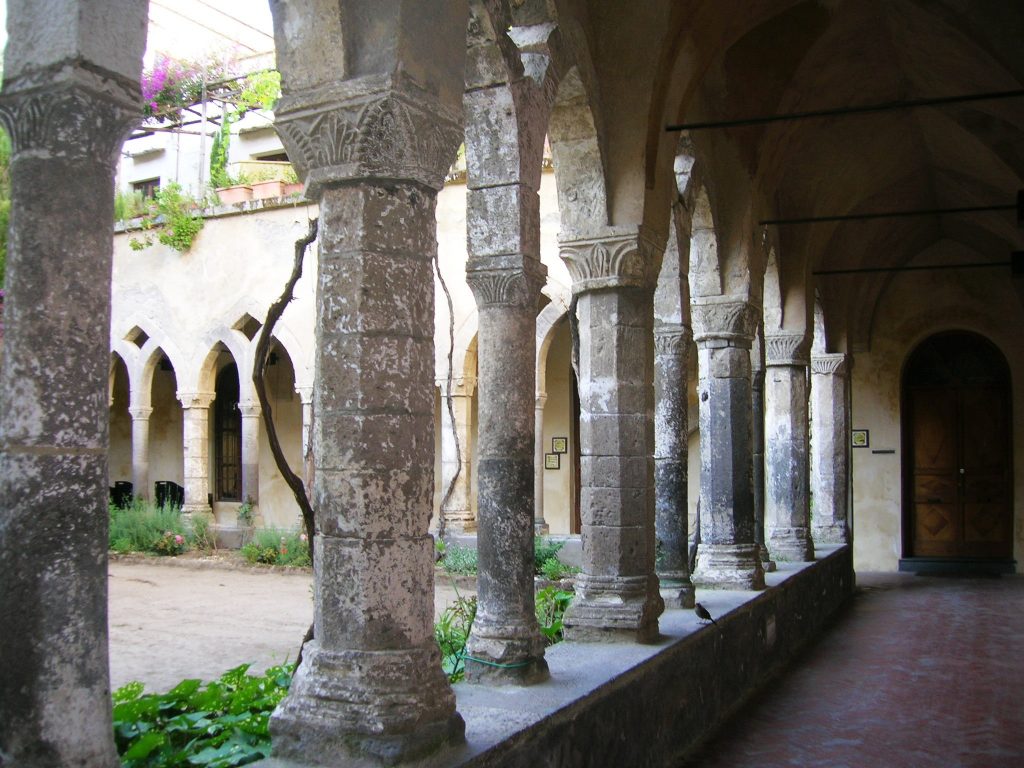 Everyone has free access to this peaceful and quiet place, even during wedding ceremonies. The cloister is a hidden gem of Sorrento, so please do not miss it.
Marina Grande
Marina Grande is a traditional fishing port that looks like you are in some old village. There is a small sandy stretch of beach surrounded by colorful fishing boats. Marina Grande is the best place in Sorrento to try fresh fish and local cuisine.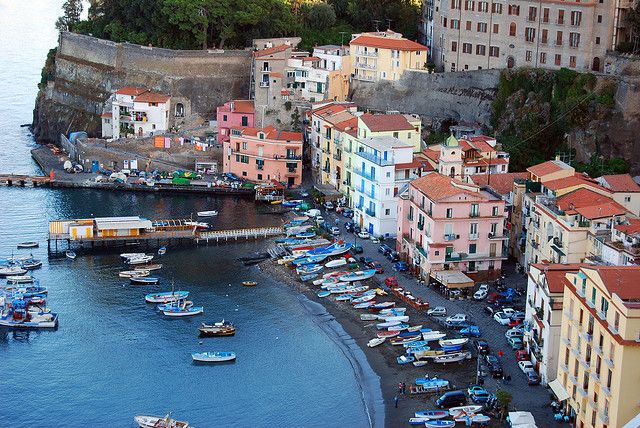 There is plenty of family-run restaurants where you can enjoy a tasteful meal while overlooking the sea. Furthermore, at Marina Grande, you can get your tickets for boat excursions to Capri or other destinations. This marina is only a short walk from the town center, and it is definitely worth seeing.
Corso Italia
Corso Italia is the most popular street in Sorrento that is always full of life. This lovely 1 kilometer (0.6 miles) long street has some of the most remarkable buildings in the town. There you will find a variety of shops for any taste, from highly expensive shops to nice leisure boutique and unique family shops.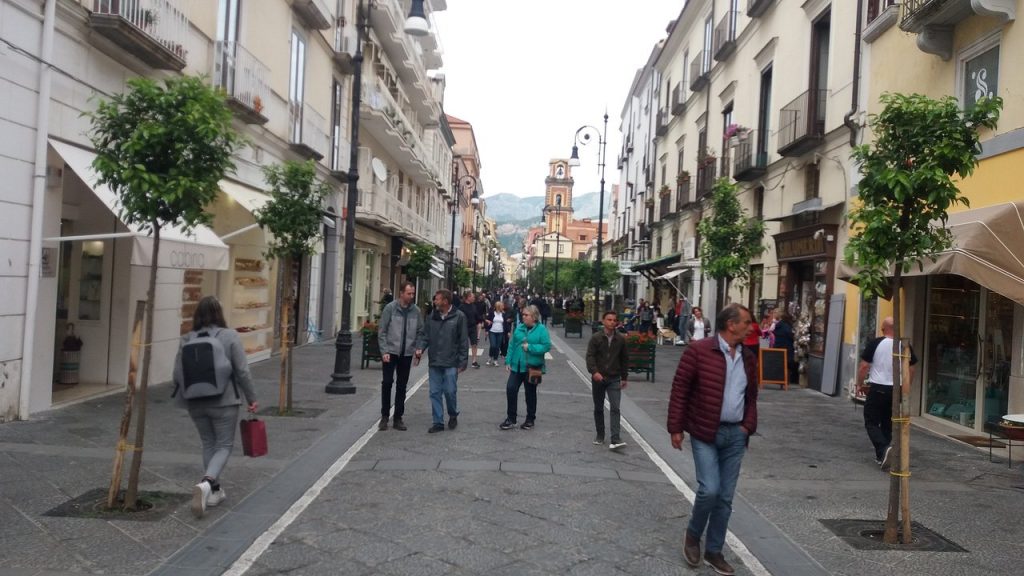 Walking at night in Corso Italia is one of the most romantic things to do in Sorrento. There you will always find buzzing teenagers, young adults, courting couples, and local Italian families. Half of the street is open to traffic (train station side), and another half pedestrianized (Piazza Tasso side).
Basilica di Sant'Antonino
Basilica di Sant'Antonino is a 17th-century church with a baroque style of the interior. The church has some incredible religious artifacts and paintings, including the amazing ceiling.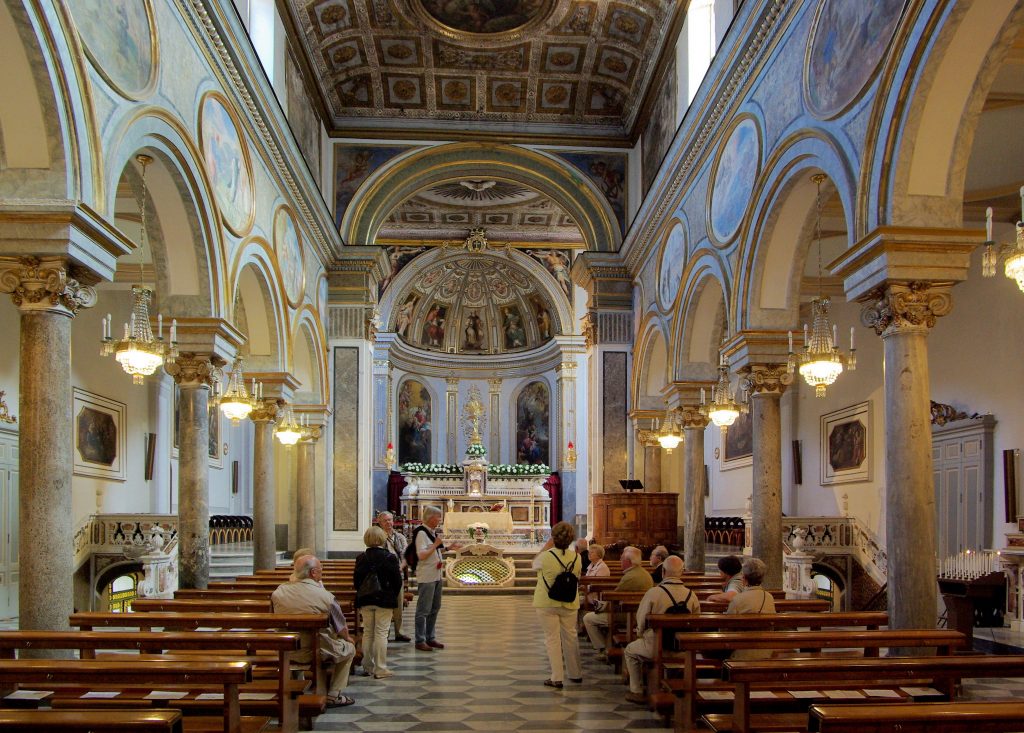 However, the church's exterior is not something special and tempting, and that's why many people miss it. But the interior is really something else. The entrance to this peaceful and interesting place is free, so it is definitely worth a visit.
Cathedral of Saints Philip and James
The cathedral, built in the 16th century, is located on the Corso Italia pedestrian street. Even though it has a rather standard exterior, that does not predict what you will see inside. The cathedral has quite an impressive marble altar and pulpit.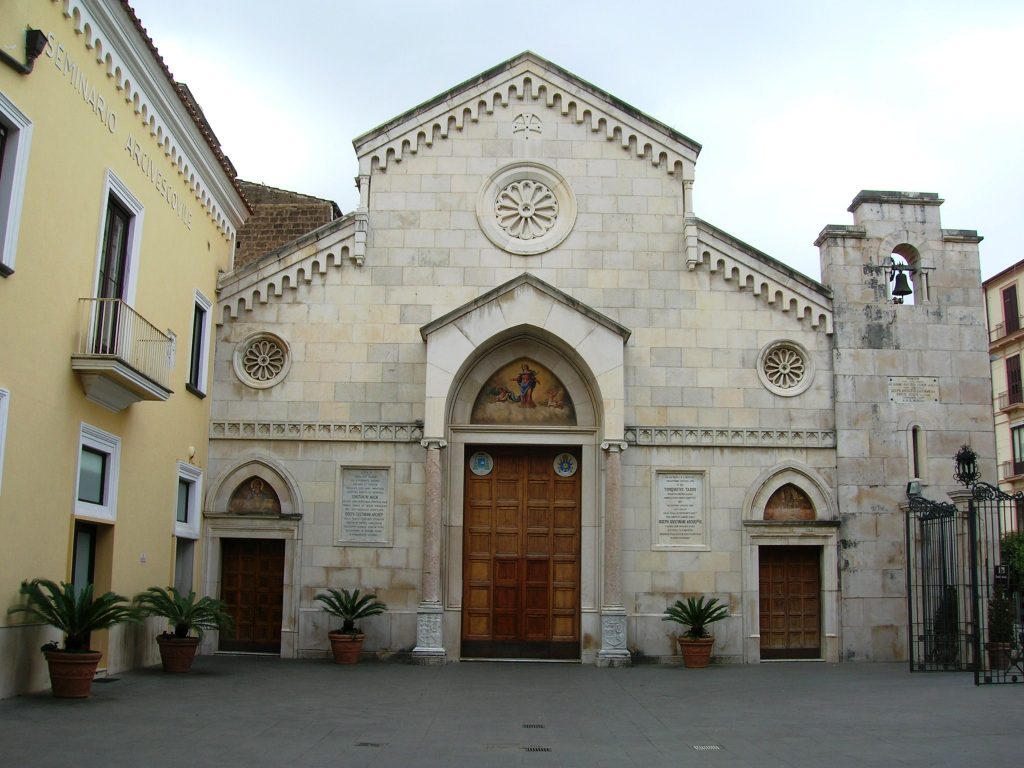 There are also paintings by Nichola Malinconico and Giacomo del Po. You should visit this lovely cathedral, especially because the entrance is free of charge.
Valley of the Mills
Valley of the Mills is an exciting place for a quick visit. It can be seen from the road and pathways above, where there is also a small information board and a bench. This old mill is located deep down in the gorge, which is an unexpected scenery in the middle of Sorrento.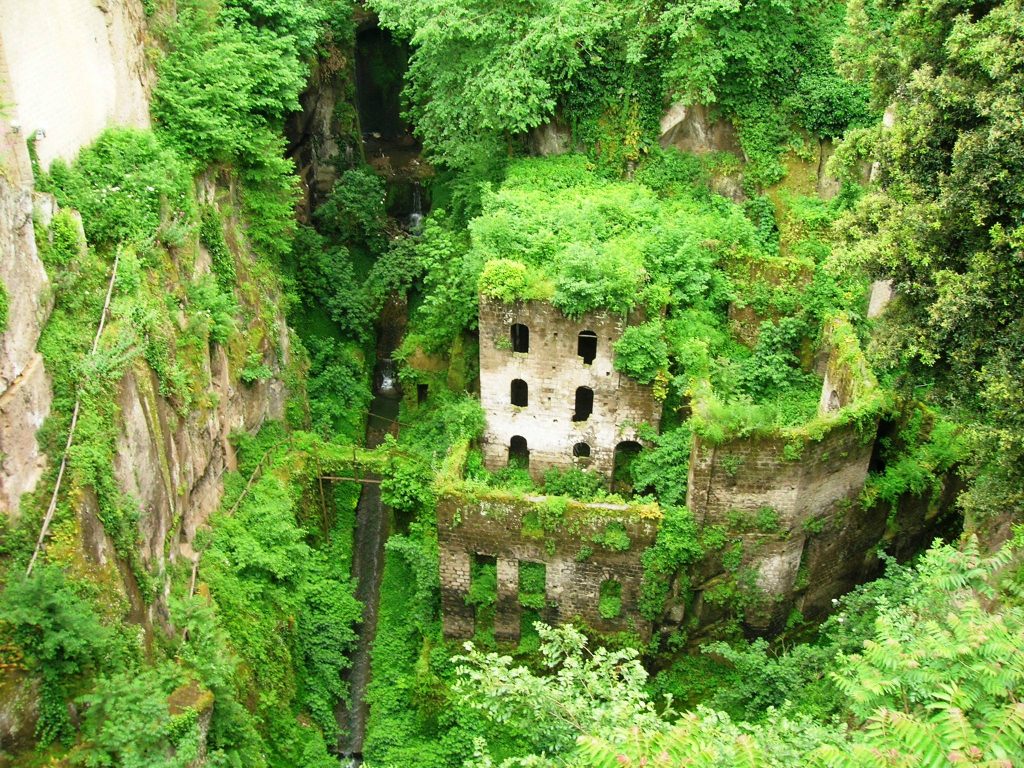 To see the old mill you need to walk around 2 minutes from Piazza Tasso and come to the Plaza Hotel. Next to the hotel, you can look down to see the mill while crossing the bridge.
Correale di Terranova Museum
If you want to see a varied collection of items ranging from Greek and Roman time, visiting the Correale di Terranova Museum is a great thing to do in Sorrento. There you will find a large collection of ceramics, fine art, and furniture.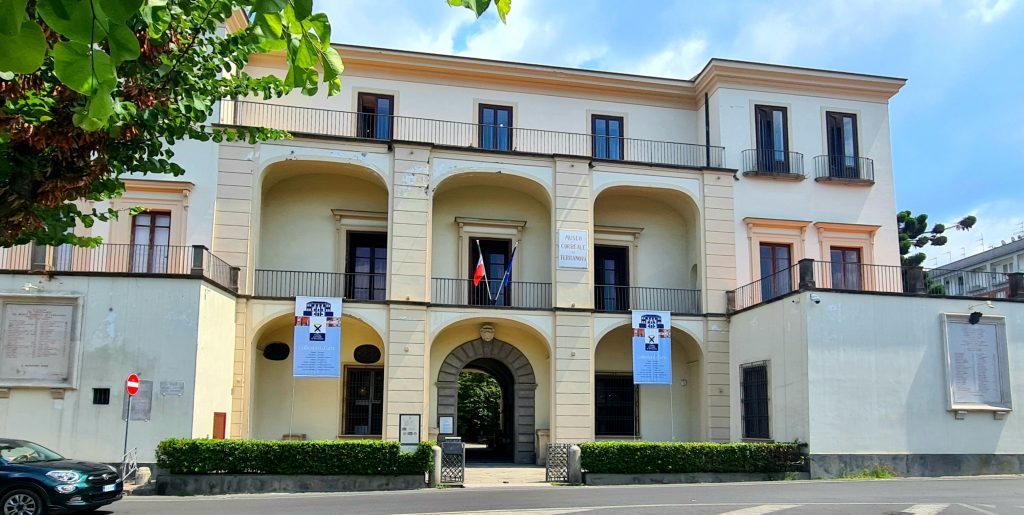 There is also a beautiful garden as a part of the museum. At the end of it, you will have an amazing view of the sea. The ticket costs 8 euros, which is a reasonable price for four large floors of exhibits.
Museobotegga della Tarsialignea
This small unique museum is definitely worth a detour to visit. There you will find three floors of antique, beautifully crafted furniture, tools, and pictures. The museum's owner is an architect and wood designer called Alessandro Florentino.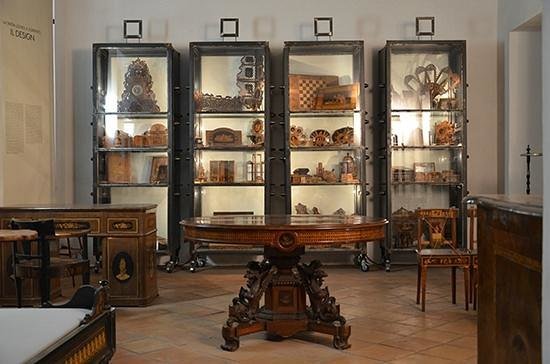 He has transformed the old villa into a showplace for the craft he admires and has collected. The owner will give a 5-minute intro, and then you will wander the four floors in your own time. The entry fee for this interesting museum is 8 euros.
Don't miss Bagni della Regina Giovanna
Bagni dell Regina Giovanna or in English "Baths of Queen Giovanna" is a natural pool enclosed by cliffs with a rocky beach. It is named after Giovanna d'Angiò, the legendary 14th-century queen from the Naples century who frequently used this amazing pool. To get there, you can take the bus to shorten the path, but if you are in good shape, I advise you to walk from the center of town for a long hike.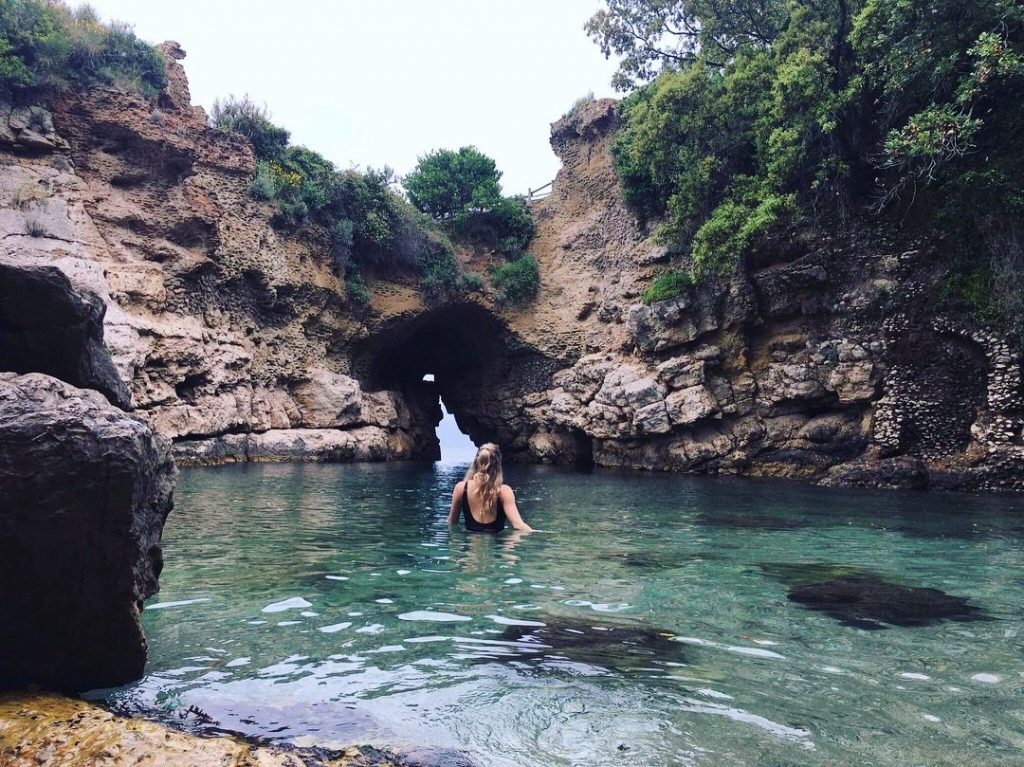 Just be careful walking along the road where the cars pass, as it can sometimes lack space. Luckily drivers are used to it. At the end of the path leading down to the sea, there is the end of Cape Sorrento in unspoiled nature. With a view of the Bay of Naples and a beautiful cove with the evocative name of the Baths of Queen Giovanna, this place is like a fairytale. If it's hot, you can take a swim there too!
Relax on Sorrento's beaches
Spending time on beaches is the thing you should definitely do no matter what season it is in Sorrento. Since the city sits on a clifftop, its beaches are not very long. However, there are many beautiful small coves, squeezed between rocky gorges, where you can enjoy swimming in crystal water. Here are the two most popular beaches in Sorrento:
Marina Piccola
Marina Piccola is the most popular beach in Sorrento. It is located 6 minutes walking distance from Piazza Tasso and is often very crowded during the summer. The beach is made of volcanic sand, which is very soft and pleasant for your feet. Furthermore, Marina Piccola is quite sheltered by rocks, so it is perfect for those who don't like the wind.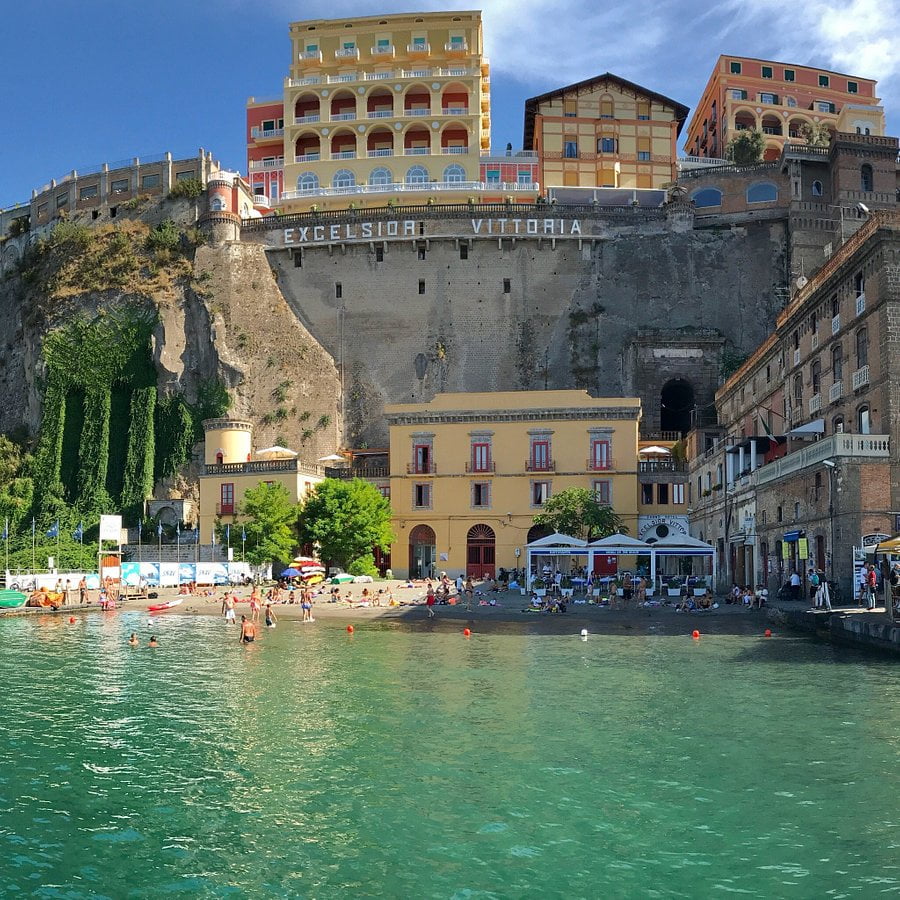 On the right side of the beach, you will find a little harbor. On the left, there are the main beach clubs in Sorrento. It is tough to find a spot on the beach during the summer, so I advise booking a sunbed and umbrella in advance. Sunbed and umbrella cost around 12 euros per day, which is a bit expensive. But, it gives you a private square on the beach and good protection from the sun.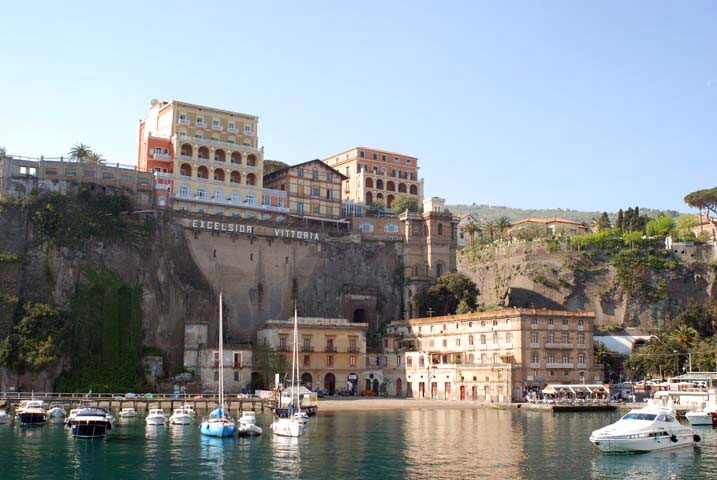 You will find a few restaurants, bars, bathrooms, places to shower, and access to diving tours on the beach. Marina Piccola beach is also a good spot for taking sunrise or sunset photos since it offers an outstanding panoramic view of the Gulf of Naples.
Puolo beach
If you are looking for a quiet beach without tourists, then Puolo beach is the right choice for you. It is a little bit far from Sorrento's center, but it worth it to come there. With a bus (A-line bus to Capo) you will be there in 10 minutes. There are sandy part and rocky part of the beach. Puolo beach is perfect for kids because there are many shallow parts of the water.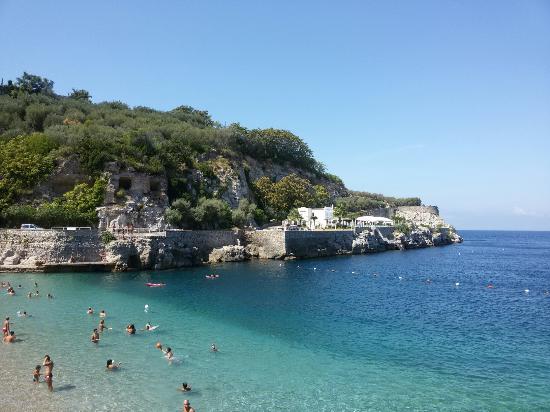 Furthermore, it is easy to get in and out of the sea because stones are not too sharp. On the beach, you will find a few great cafes and restaurants with prices a little bit cheaper than in other Sorrento's beaches. Sunbeds and umbrellas can be rented for around 8 euros per day.
Explore a lemon garden in heart of Sorrento
If you are asking yourself what the symbol of Sorrento is, lemon is your answer! While walking the streets, you will come across many lemon trees and shops offering products with the scent or taste of lemon. In the middle of Sorrento is a lemon grove called Giardini di Cataldo that you should not miss. There you can enjoy a peaceful walk in the amazing gardens and smell the fresh lemons on the trees.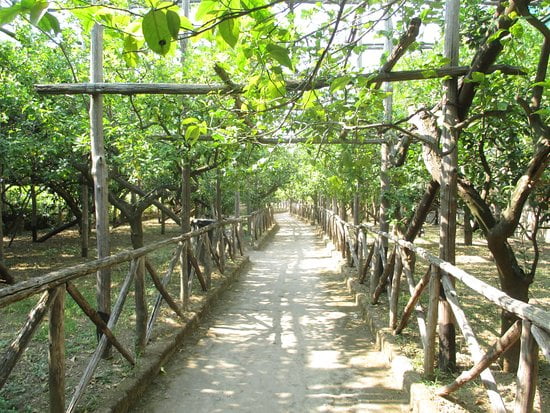 Escape from tourists and noise into this beautiful, hidden oasis. The entrance is free, and you can even get free liqueur samples of different flavors there. The limoncello you will find here has magnificent, fresh and pure taste, fresh and pure.
Furthermore, you can also try typical Sorrento products like oranges, mandarin, basil, fennels, nuts, marmalades, sorbets, sweets, and more. Or you can relax with cakes, lemonade, ice slush, and coffee. Many tourists say that you can try the best lemon gelato in the lemon garden!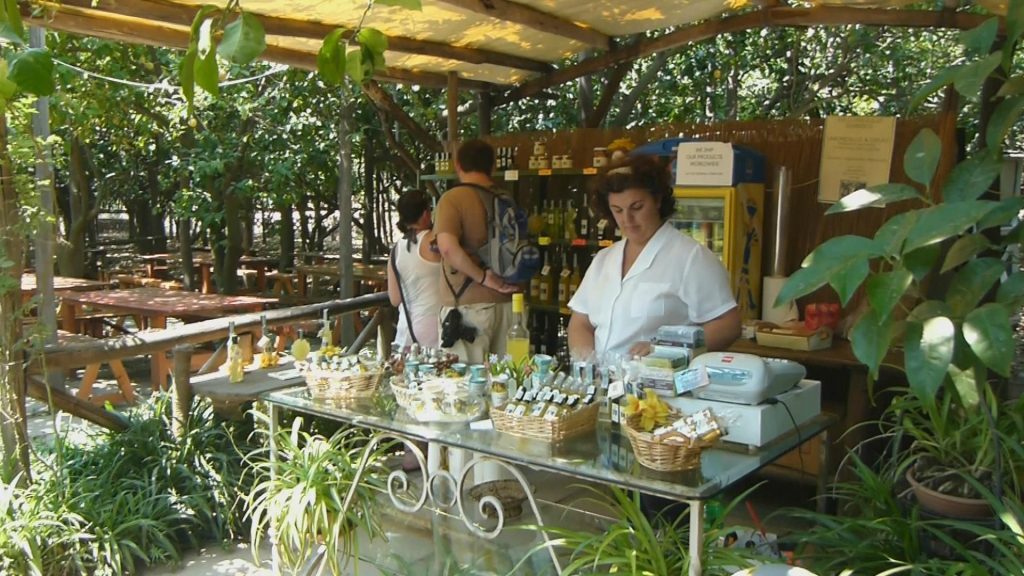 You can also book a tour with very kind and friendly staff who will introduce you to the whole limoncello-making process. Keep in mind that the lemon garden is small, and sometimes it is crowded with tourists. Also, the garden is an ideal place for delicious souvenirs and gifts. This lovely place in the middle of Sorrento is a must-see place!
Visit olive oil farm near Sorrento
You should visit the traditional olive oil farm Frantoio Gargiulo where you can try more than 15 different flavored oil samples. The farm is located around 10 minutes drive from Sorrento, so you will need to take a taxi to get there. If you are a fan of cooking, you will be delighted by pure olive oils for cooking and dressing purposes. When you come there, you will be served with bread that you can dip in many oils.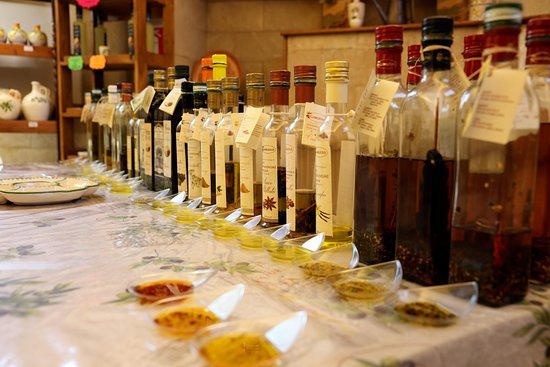 Furthermore, you will be able to try even lemon and orange flavored oils. The amazing thing is that you can try all samples for free without feeling pressure to buy something. After the delicious oils, you will try oils that are flavored with traditional Italian flavors such as peppers, basil, truffles, garlic, onions, and peppercorns. Also, try oils with less traditional flavors such as cinnamon, vanilla, and turmeric.
You will also find homemade wines, liqueurs, pasta, limoncello, beauty products, jams, and much more on this farm. Visitors can also explore the olive oil factory where this liquid gold is produced! You will be delighted by the many trees on which olive, orange, and lemon trees grow.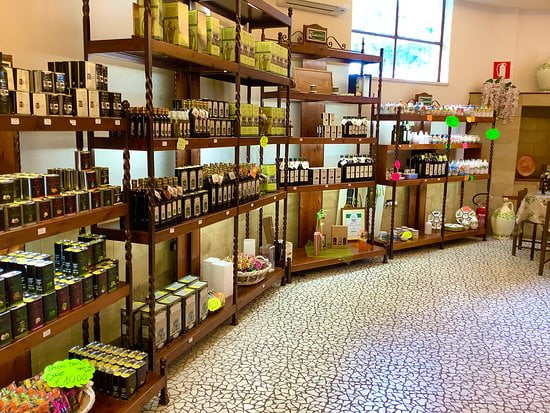 During this tour, you will see the olive grove, hear how they harvest the olives, see the olive presses, and find out how the olive oil is produced. The tour is very informative and interesting without being dry or overwhelming. Find out what extra virgin olive oil is and what makes it specific. These flavors and scenery will forever remain one of your best experiences in Sorrento.
There is the possibility of international shipping with minimal costs, which is the dream of every tourist who has little space in a suitcase. If you do not have ideas for gifts and souvenirs, here you can buy some gift sized bottles for your loved ones for very reasonable prices.
Shopping in Sorrento
Is it time to go shopping in Sorrento? You've seen numerous stores and opportunities and don't know what to visit first? In this section, you will find highly rated places to shop in Sorrento. Also, here you will find numerous ideas for original gifts and souvenirs.
Lemon, lemon and more lemons
Be sure to visit the Sapori e Colori Sorrento factory, a place of bright colors and strong flavors. An ideal store for purchasing gifts and souvenirs! Here you can find fresh Limoncello di Sorrento. Feel free to try a variety of samples! The staff is very kind and helpful.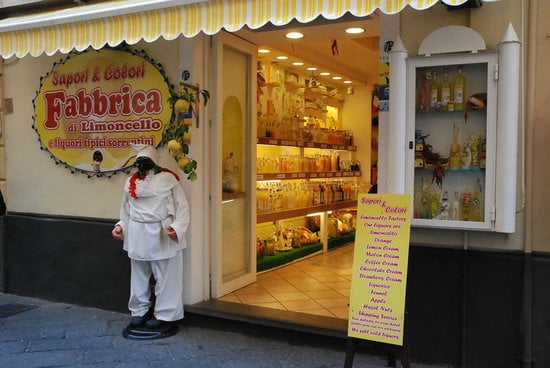 Here you can learn everything about limoncello production. In this factory, they produce limoncello and many other flavors such as pistachio, vanilla, and melon. In addition to liqueurs, you can buy homemade sweets, chocolates filled with liqueur, biscuits, and creams.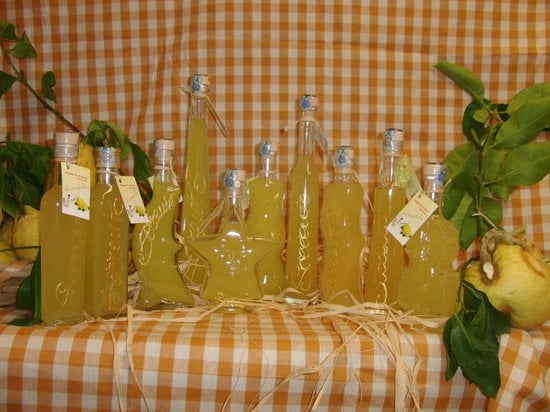 They also offer hand-painted, fancy and simple glass and plastic bottles. Want to order these great products from home too? Visit the online shop and bring a small part of Sorrento to your home! Among the many similar stores in Sorrento, this is the place where you can buy the best limoncello! Tourists always return to this store because of the excellent quality of the products and affordable prices.
Wine, oil, vinegar and more
Want to visit a place with a huge selection of fabulous local and Italian wines, Italian champagne, and prosecco? Then the Corner shop is the right choice for you! It offers the best wines in Sorrento, local extra-virgin oil, olive cold-pressed, truffle, and chili oil.
There is also a large selection of balsamic vinegar, all sorts of drinks such as a huge gin and whiskey display, a wonderful selection of liqueur, spirits, pasta, chocolates, biscuits, and other treats.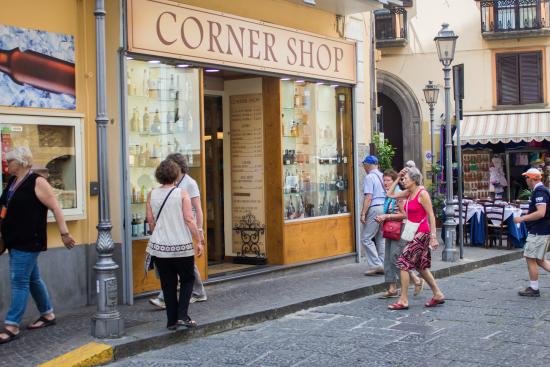 Feel free to try the taste of homemade limoncello, cream of limoncello, or melon liqueur. Note that prices are a little higher than elsewhere in Sorrento. This shop is a great place to buy lovely gifts for family and friends! The taste of the wine will take you back to your time spent in Sorrento! Wine lovers, you will not be disappointed if you visited this lovely shop.
Leather goods
If you a fan of soft leather gloves, bags, purses, wallets, you will be delighted with the choice in the Antonella Ferrante store and their prices. You can choose from a wide range of colors and unique designs. All products in this store are of high quality, made in Italy.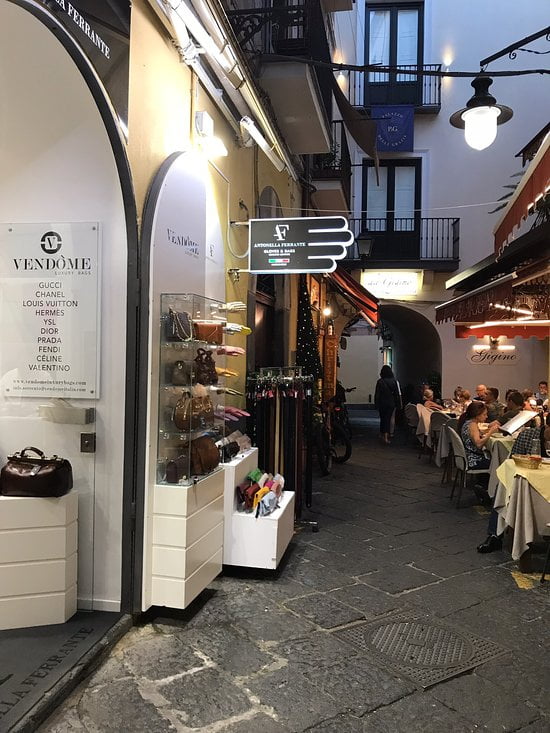 Treat yourself or buy a great gift with the help of friendly staff. It's great that you can order online too! Is there anything better than buying a souvenir that you can use every day?
Authentic, handmade ceramics, and other unique pieces
Terrerosse Sorrento is authentic and different from the other touristy shops in Sorrento. It offers beautiful handmade Italian ceramics and pottery with an exceptional design inspired by Sorrento's ancient history. The pieces are hand decorated, which makes them unique. This is where you can buy creative and original artworks by a local artist for reasonable prices.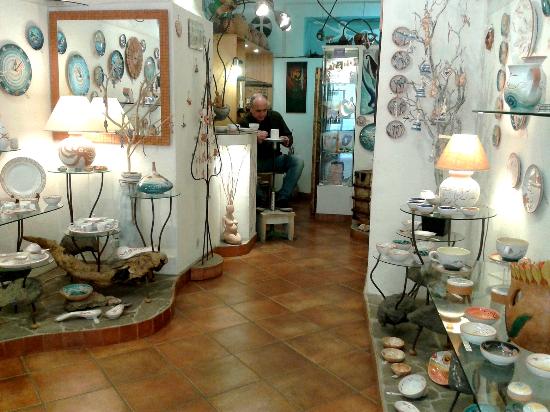 In this wonderful oasis of art, you can buy coffee cups, plates, spoons, bowls, dishes placed as a decoration on the wall, souvenirs, and other art pieces at different prices. You can also choose jewelry, vases, sculptures, and ornaments. In addition to this store, this is also a studio where the owners make everything you can buy! The store owners are very talented, passionate about what they do, kind, and ready to tell you where their inspiration comes from.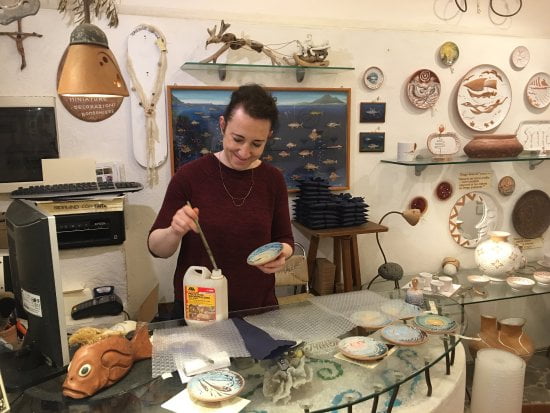 Each handicraft, color, and design are inspired by the sea and local mythology. You will learn that the name Sorrento derives from the ancient word "sirentum" which means mermaid. If you are looking for unique gifts for your loved ones, this is the ideal place! Furthermore, you will find pieces that are not like the mass-produced stuff that you can find everywhere in Sorrento. International shipping is also possible.
Wooden craftsmanship, ceramic souvenirs, and a huge selection of other things
You have to visit Gargiulo & Jannuzzi shop, famous for its music and jewelry boxes, which are unreal. There you can find stunningly beautiful hand-carved wood pieces, chess sets, and different furniture such as tables and chairs. This multi-floor building is like a museum with countless beautiful, high-quality pieces. The shop sells the most beautiful Italian wood products all over the world.
You will be delighted with the choice that ranges from traditional designs all the way to modern and contemporary inlays. The array of inlaid wood items is mesmerizing. You can even learn about making inlaid wood pieces from very friendly staff.
Furthermore, you can spend hours browsing amazing items in this store. In addition to wooden pieces, there are also ceramic souvenirs, pottery, jewelry, linen items, shirts, towels, bedsheets, and more.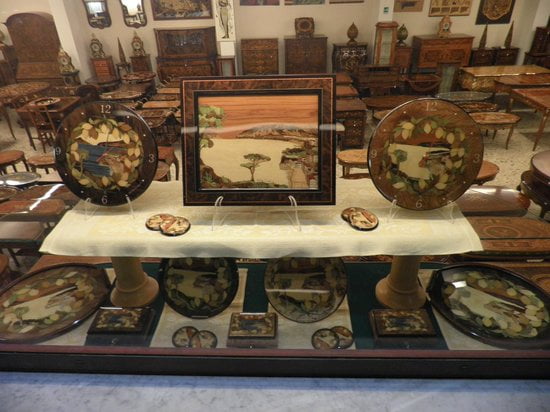 Tourists say prices can be high, but they are worth every penny. There are "how inlaid are done" presentations in the shop, which will surely delight you. If you want a unique piece that you have designed yourself, they will make it for you. International shipping is also possible. These pieces will forever adorn your home! This is a must-see place in Sorrento!
Order a glass of prosecco at Bellevue Sirene hotel
Some people might agree that admiring the view with a glass of prosecco is a very cliché thing to do. However, spending your time at a Bellevue Sirene is a unique experience. This 5-star hotel is built on a Roman villa's remains, but non-guests can also stop by for a taste of luxury.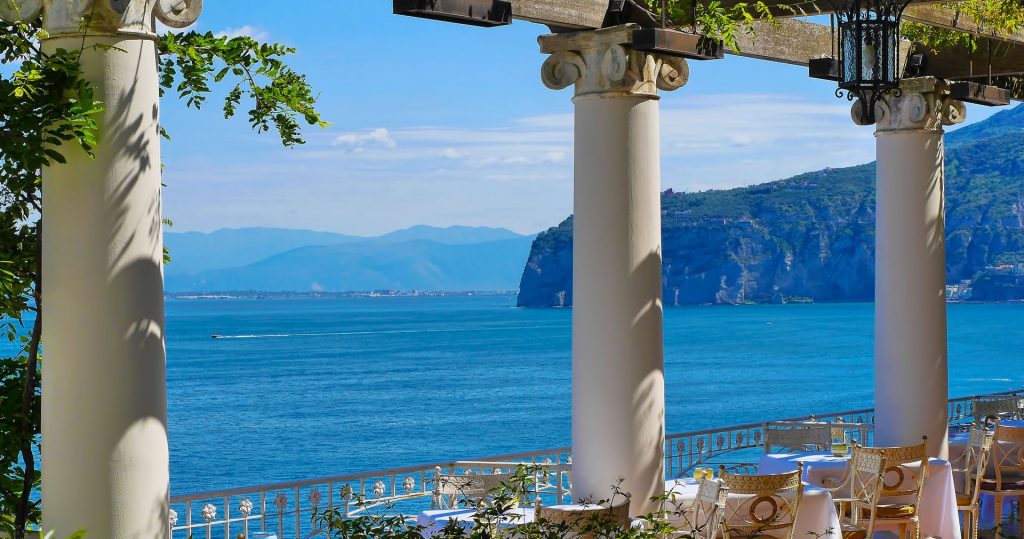 The hotel's terrace bar, which overlooks the sea, offers breathtaking views. Even though you can also have beautiful views at Villa Comunale, here, you will have your private spot for taking photos plus a drink in your hand.
Rent a scooter in Sorrento
If you wonder what you can do in Sorrento that is exciting and adventurous, you should rent a scooter. There is no such thing as exploring the Amalfi Coast on a Vespa scooter. For 30 euros you will have an amazing day of freedom.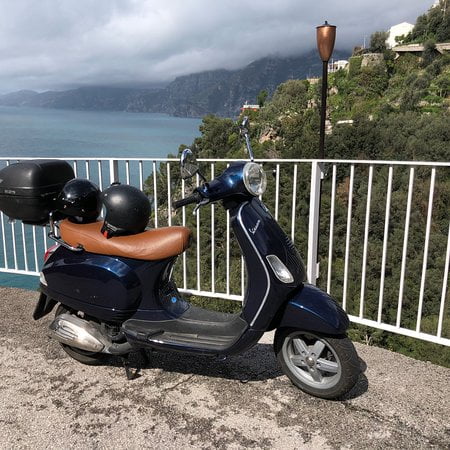 At Jollyrent, you will find scooters for rent in excellent condition. Furthermore, the service is very professional, informative, friendly, and quick. They also provide cars, bikes, and boats for rental.
Book a kayak tour in Sorrento
If you love adventures and want to have active holidays in Sorrento, booking a kayak tour is a perfect thing for you. With a kayak, you will admire the coastline, hidden caves, and coves while having a good exercise.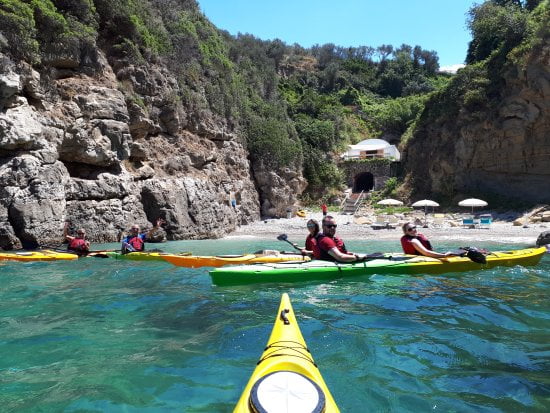 Kayak Sorrento offers a few tours at reasonable prices. Its kayak tours will take you to some of the most stunning locations. You can choose between different tours with prices from 40 to 100 euros per person.
Rent a boat or book a boat excursion in Sorrento
For those who want to explore the Bay of Naples or even the Amalfi Coast, renting a boat is the best option. Nautica Sic Sic is a boat rental company located at the port of Marina Piccola in Sorrento. You can rent exclusive luxury yachts or many different boats for private use.
Renting a boat is the best way to visit Positano, Amalfi, Capri, and many more places. You will have the opportunity to enter the caves or stop at some locations to swim and enjoy a cold drink.
Those looking for boat excursions can choose between excursions to Capri, Amalfi Coast, Positano, Nerano, Ischia, or Procida. The skippers are very kind, friendly, very experienced, and full of knowledge. They will even photograph you during a trip! Boat excursion prices depend on the type of boat you choose.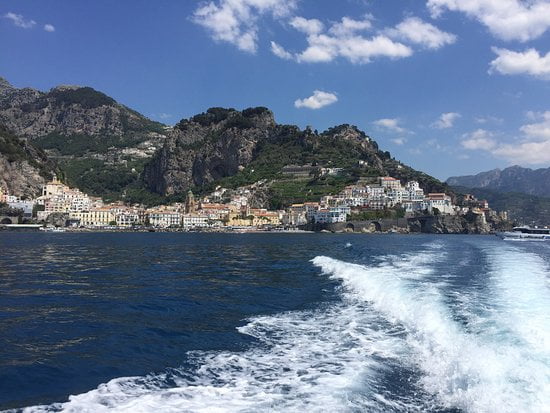 Please note that there are additional costs for certain services on board. You can rent a shade canopy for more comfort on the trip. Remember to bring a hat, sunglasses, sunscreen, and towels to protect yourself from the sun. On the boat, you can relax, enjoy the Mediterranean Sea, and have an unforgettable day.
Take a day trip
Sorrento probably has the best possible geographic location for those who love to go on day trips. There are plenty of popular towns and islands that are very close to Sorrento. Therefore, numerous group tours leave Sorrento every day. So you have many full and half-day tours to choose from. Here are the most popular day trips from Sorrento:
Day trip to Capri
Capri is a beautiful island and an absolute must-see place for those who have some free time in Sorrento. It is an exclusive holiday destination for jet-set people that can be explored in a day. Capri's most popular attractions are the Blue Grotto, Villa San Michele, Villa Jovis, Mount Solaro, and Anacapri town.
The island has plenty of tiny streets full of flowers, so walking there is an experience for itself. Furthermore, Capri has a few outstanding viewpoints that should not be missed.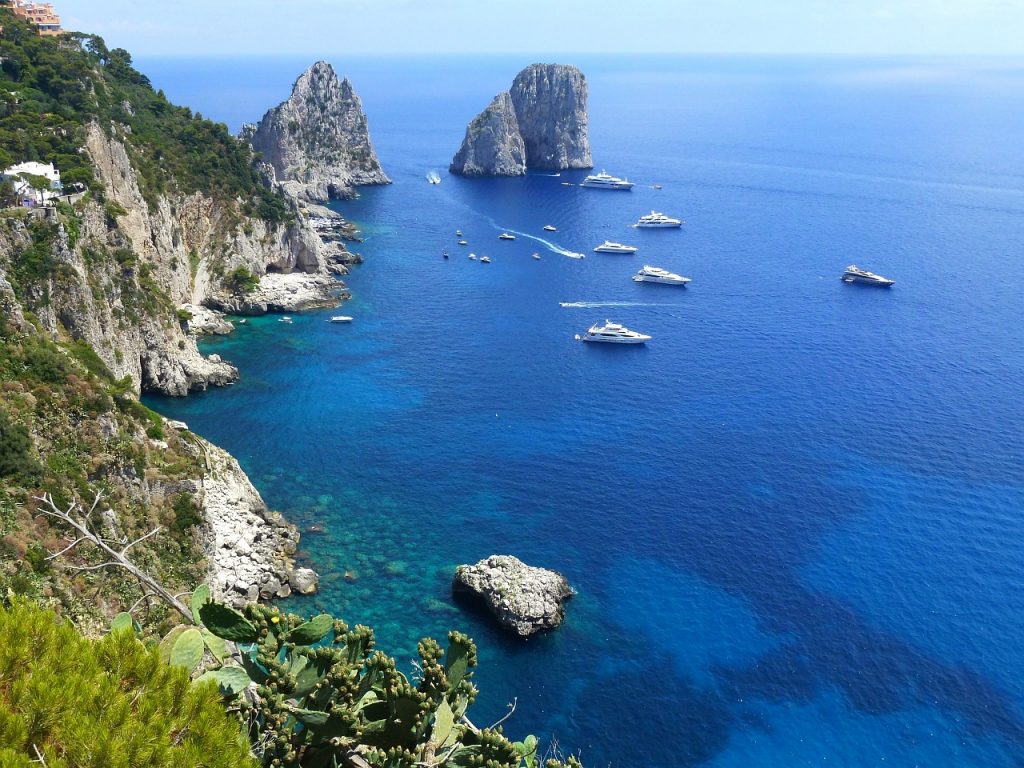 The only way to get to Capri from Sorrento is by ferry. It runs several times a day so you can easily plan your trip. The ferry ticket costs around 20 euros, and the ride lasts around 20 minutes in one direction.
Day trip to Positano
You have probably heard about Positano, the most famous place on the Amalfi Coast. It is known for its picturesque buildings that are spread vertically over the mountain. There you can relax on the long sandy beach called Spiaggia Grande. Or you can wander tiny streets and explore unique boutiques. Bring your camera with you because I guarantee you that you will take tons of photos.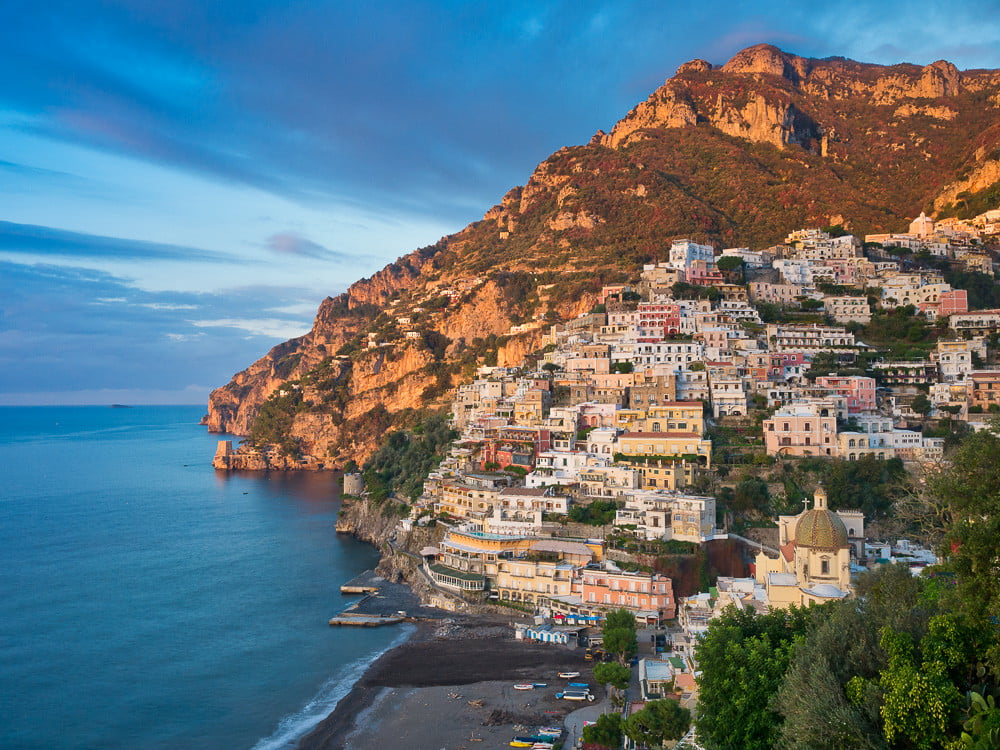 You can come to Positano from Sorrento either by bus or by ferry. Even though the ferry tickets are more expensive than bus tickets, the ferry ride is much more comfortable. The ferry will cost you around 16 euros, and you will be in Positano in about 40 minutes.
If you decide to take a bus to Positano, you will be at your destination in about 40 minutes. There is a chance that the bus will be crowded with tourists and locals during the summer, so keep that in mind while choosing your transportation to Positano.
Read more: Things to do in Positano
Day trip to Naples
Naples is another great place to see near Sorrento. It is the third-largest city in Italy and the birthplace of pizza. There are plenty of things you can do there. You can visit many different museums, piazzas, and other cultural attractions, spend your time in nice restaurants, walk by the sea, or shop in numerous boutiques and stores.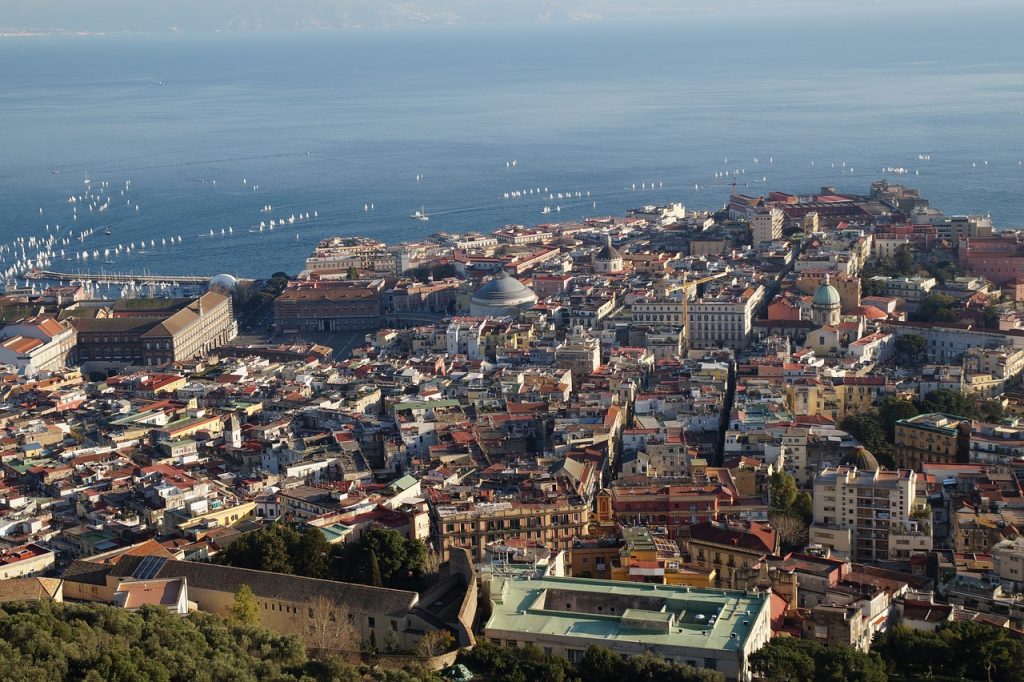 You can take a bus, ferry or train to get from Sorrento to Naples. The ferry ticket costs around 15 euros, and the ride lasts around 40 minutes.
If you decide to travel by train, there is a Circumvesuviana train that runs between Naples and Sorrento approximately every half hour. The ticket costs around 4 euros, and the ride lasts around 1 hour.
The last option is traveling by bus. It is the slowest and the most uncomfortable transportation. But, if you want to travel by bus, you will get to Naples in an hour and a half.
Day trip to Amalfi
Even though Amalfi is a little bit farther than other towns, it is totally worth getting there. Amalfi is known for its stunning 13th-century cathedral that has a unique golden mosaic on the top. Also, there you will find numerous narrow streets that are like a labyrinth.
Therefore, it is easy to get lost in them, which is super exciting. And of course, the view of the Tyrrhenian sea is as beautiful as in other towns on Amalfi Coast.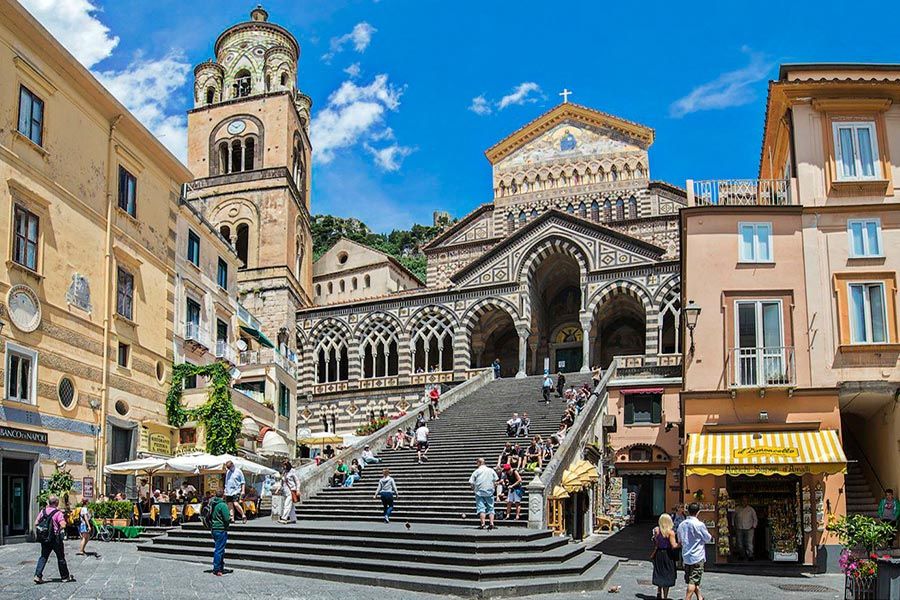 You can choose between a ferry or a bus to get from Sorrento to Amalfi. The ferry is faster and more expensive, but also more comfortable than the bus. The ticket costs 18 euros for a 1-hour ride.
Traveling by bus from Sorrento to Amalfi will take around an hour and a half in one direction.
Read more: Things to do in Amalfi
Day trip to Ischia
Ischia is an amazing volcanic island with a handful of traditional and unique towns. It is larger than Capri and known for its mineral-rich thermal waters. This quiet island is a combination of unspoiled nature and little towns with vibrant shops, restaurants, bars, and clubs.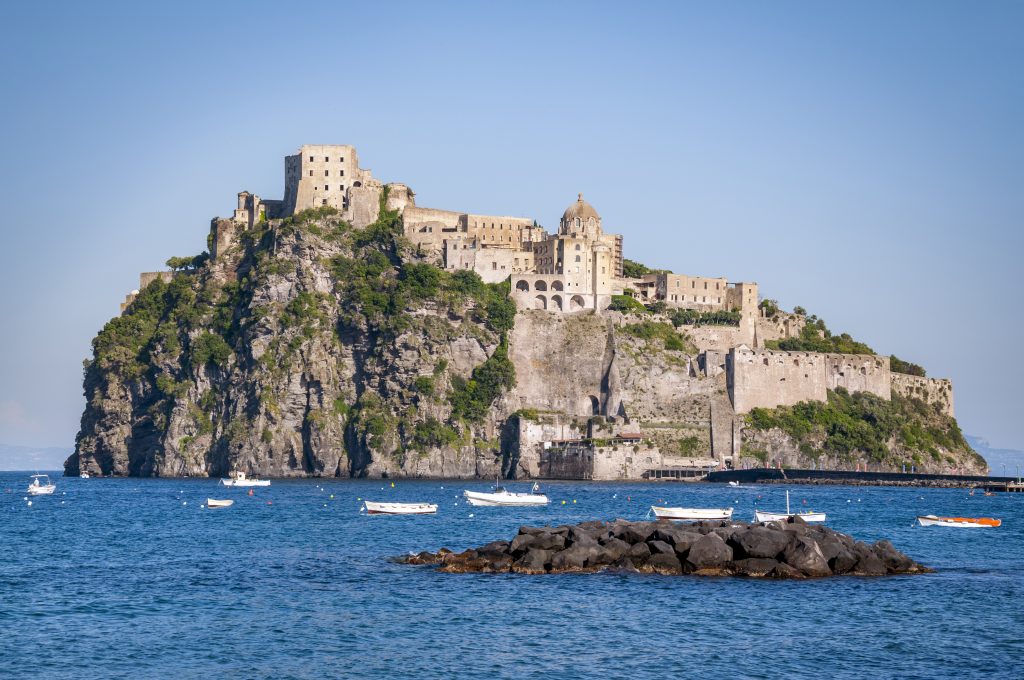 To reach Ischia from Sorrento, you need to take a ferry. The tickets cost 24 euros per person, and the ride lasts 1 hour.
Other things to do in Sorrento
Every December, there is an event called Sagra della Salsiccia e Ceppone in Sorrento. It is a celebration when locals and tourists cook and eat delicious homemade sausages barbecued over a huge fire. With food, you can also try many excellent local wines.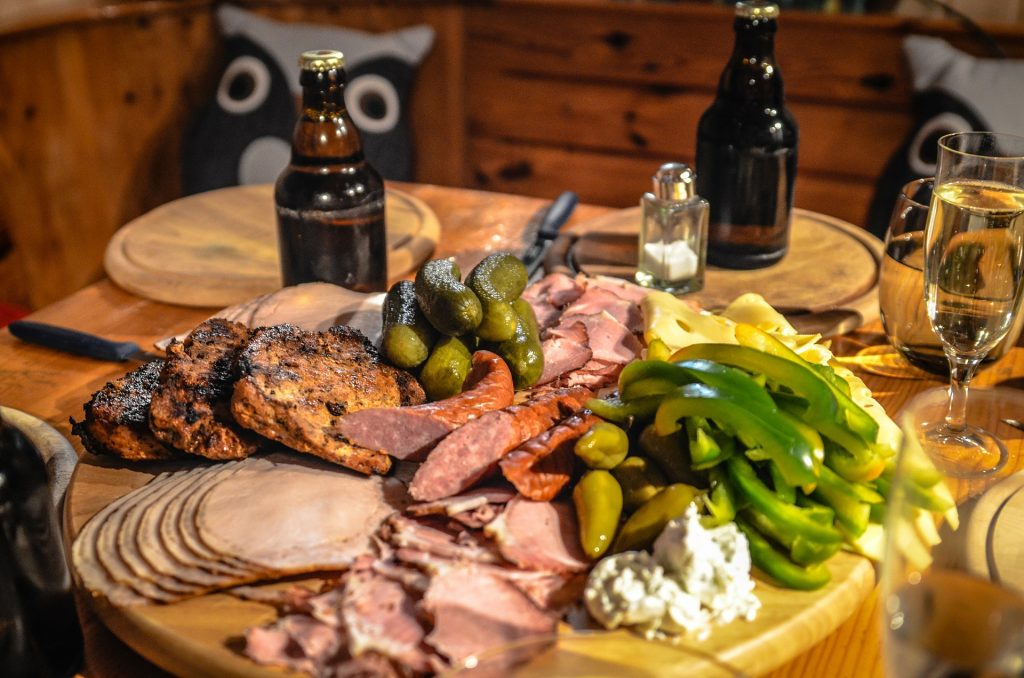 Check out other articles about Sorrento:
Hey there! Some links on this page are affiliate links which means that, if you choose to make a purchase, we may earn a small commission at no extra cost to you. We greatly appreciate your support!