Located between Verona, Brescia, and Trento, Lake Garda is one of the most popular places for vacation in northern Italy. It is the biggest lake in Italy, surrounded by charming villages such as Malcesine or Limone sul Garda and picturesque beaches and ports. Lake Garda is an excellent place where you can spend a refreshing holiday with your loved ones.
The lake is huge, therefore, full of surprises, fantastic landscapes, castles, and romantic lakefronts. Whether you want to relax in the shade of palm trees and olive trees or whether you are a lover of outdoor activities, you will surely find something for yourself. So why not start by looking for your cozy nest among a selection of the best Airbnbs in Lake Garda?
(This article contains Airbnb apartments on Lake Garda, which are best in our subjective opinion. The order of the apartments is not related to the quality they offer. Every Airbnb has its pros and cons, so choose the one based on your personal preferences.)
Malcesine
Malcesine is a popular picturesque town with less than 4,000 inhabitants, where everything spins around the Scaliger castle. Its construction is very well preserved, and it is a building that will captivate your eyes with its imposing tower of more than 30 meters high. From the top, you will get an incredible panoramic view of Garda Lake.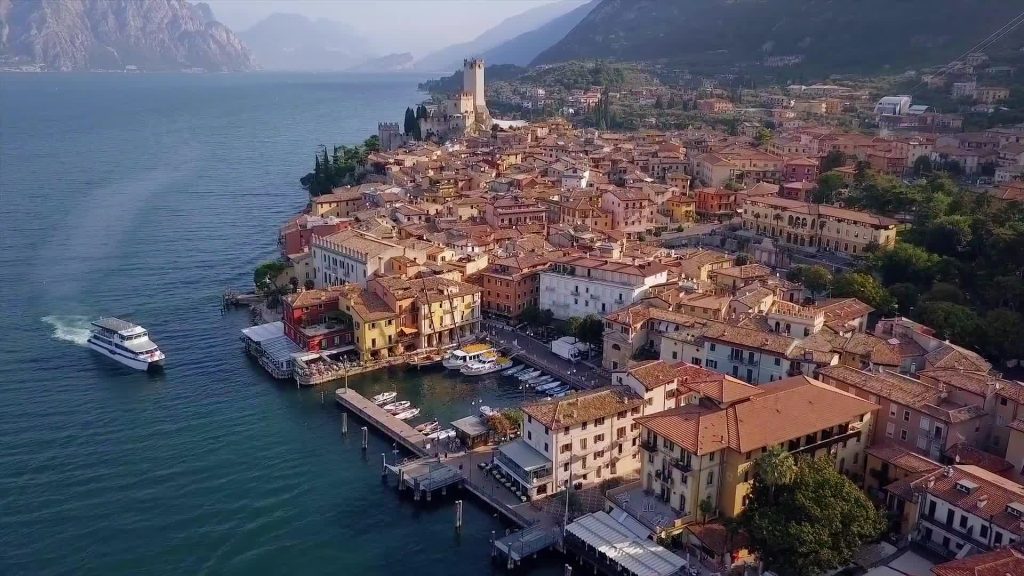 Malcesine is also popular with tourists looking for activities and sports in the middle of nature, such as windsurfing, kitesurfing, or enjoying pleasant boat trips. Near Malcesine, Monte Baldo, an imposing mountain range around 2,000 meters high, attracts many mountain bikers, hikers, and paragliders. From Malcesine, you can ascend the mountain through a spectacular cable car journey full of spectacular views.
Read more: Things to do in Malcesine
Relaxing and bright residence
This 5-star residence is located in the heart of Malcesine, away from the hustle and bustle of tourists. It has a very stylish classic interior and a royal balcony with an outstanding view. The residence has 3 bedrooms, so it is perfect if you are staying with your family. Because of its location, you can easily discover the surroundings, take a bath in the lake a few steps away, and enjoy dinner in the garden at the end of the day.
Minimum 5 nights
Three bedrooms
From 250 euros per night
For up to 6 guests
Ideal for family
Balcony with an amazing view
Limone sul Garda
Limone sul Garda is a charming little town on Lake Garda and the latest town in Lombardy region before entering the Trentino region on the north of the lake. It has around 1200 inhabitants in the low season, but this number increases notably during the summer. Limone is situated in a dreamy position, with panoramic lake views and photogenic mountains behind it.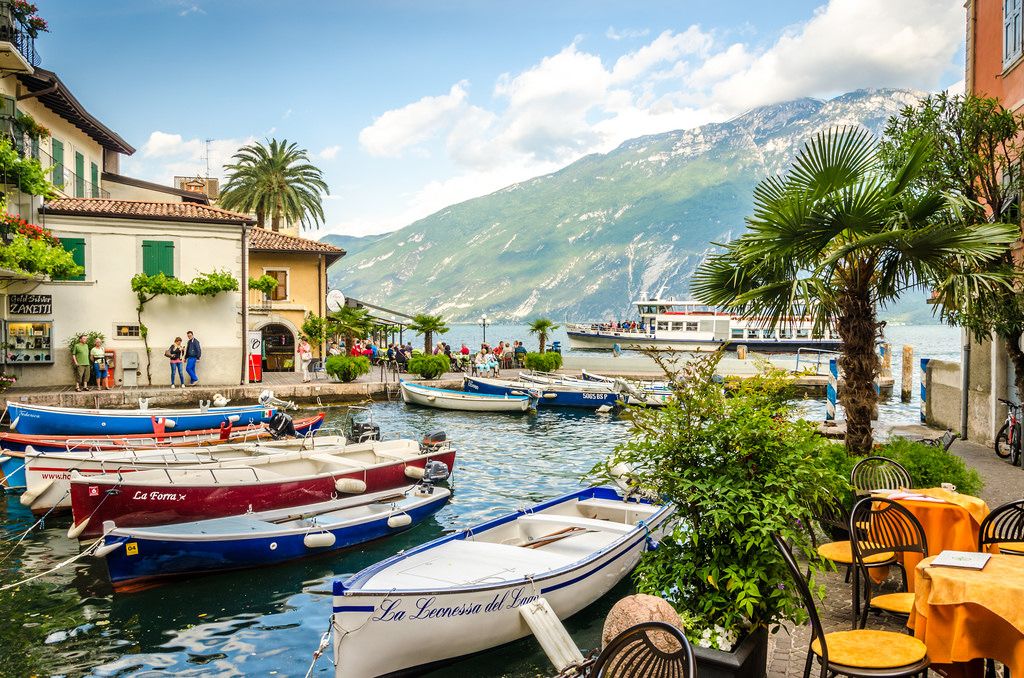 The old town of Limone sul Garda is characterized by its cobbled streets full of shops, bars, ice cream parlors, colorful flowers and houses, charming squares, fountains, and gorgeous views of the lake. During the summer, Limone is the place where many tourists come to enjoy the beaches and crystal clear water of Lake Garda.
Read more: Things to do in Limone sul Garda
Apartment Bouganville
Nestled in a historic building on the water's edge, this 65 m2 Airbnb apartment at Lake Garda is a fabulous place to stay for two. You can wake up to a tiled roof filled with bougainvillea, have a coffee in front of an incredible view of the lake and mountains, and plan your activities for the day.
Whether you spend your day hiking on mountain trails, sunbathing on the beach, or strolling through the alleys, you will need a good sleep and a place to relax. This romantic apartment with a modern, attractive interior will give you everything you need to have a fantastic cozy vacation in Limone sul Garda.
Minimum 2 nights
One bedroom
From 150 euros per night
For up to 4 guests
Ideal for couples
Balcony with an amazing view
Beautiful Holiday Limone
In the old town of Limone sul Garda, just a few meters from the lake, you will find this beautiful apartment from which you can easily explore the historic center. You can walk along the riverbanks, wander through the picturesque alleys or board a boat to visit Malcesine.
This clean and newly furnished apartment is an excellent place for staying if you are young and adventurous. At the end of your active day, you will love to enjoy in silence with a glass of wine or chat with your travel buddies until the end of the night.
Minimum 1 night
One bedroom
From 135 euros per night
For up to 4 guests
Ideal for young people
Excellent location
Desenzano del Garda
Desenzano del Garda, or just Desenzano, is the biggest city on Lake Garda with around 25,000 inhabitants. This city with a great history is a trendy destination for the thousands of guests who spend their holiday each year on Lake Garda. In Desenzano, you can enjoy walking down a cozy waterfront, tanning at lovely beaches, or wandering around the beautiful city center with lots of shopping opportunities as well as authentic Italian bars and restaurants.
All year round, you will experience a pleasant and mild climate in Desenzano, which is perfect for those who like to travel in different seasons. In the summer, there is plenty of life in the city, especially in the center. Desenzano is, in fact, a very popular nightlife destination, so even very late (or early n the morning), you will see plenty of young and party-minded people in the city's piazzas and bars.
Read more: Things to do in Desenzano del Garda
Home sweet home apartment
Home sweet home is a modern apartment full of bright colors with atypical decor and attention to detail which will make your vacation in Desenzano even more interesting. It has an amazing location, just a short walk from the center, lakefront, and beaches in Desenzano.
Another great advantage of this apartment is that you can park your car in a fully closed private garage. Furthermore, a night in the Home sweet home apartment is very affordable, so it is great for young travelers or those wanting to visit Lake Garda on a bit of a budget.
Minimum 2 nights
One bedroom
From 80 euros per night
For up to 3 guests
Ideal for young people
Unique design
Salo
Salo is a beautiful town on Lake Garda in the province of Brescia. It is a jewel that hides many beauties at every corner, from the fifteenth-century Cathedral of Sant'Annunziata, the alleys of the historic center, to the magical atmosphere of the lakefront. A veil of mystery surrounds the name Salo. In fact, its true origin is still uncertain.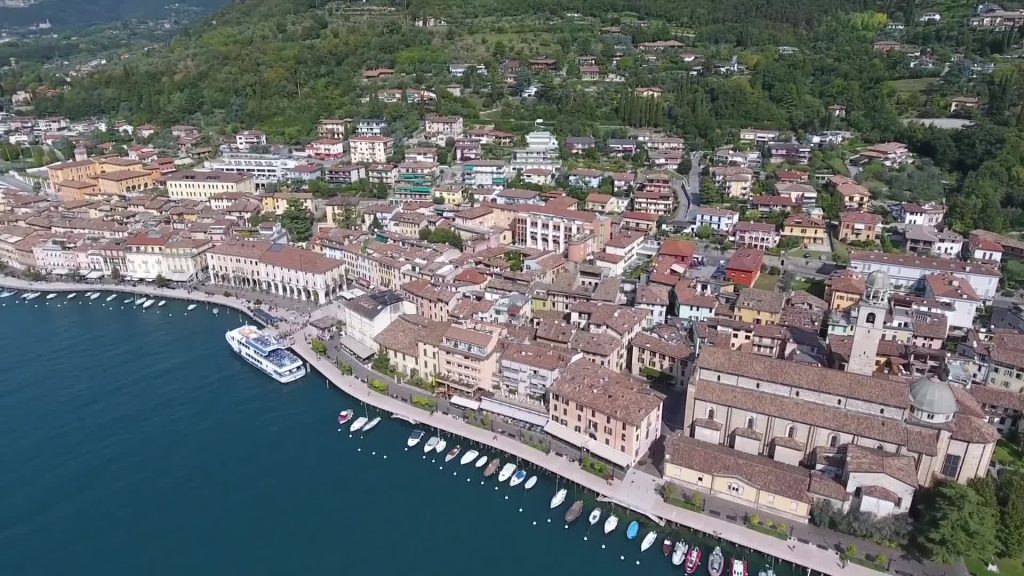 According to some, the name derives from an Etruscan queen, Salodia, while for others, it would be the name of King Saloo. In reality, the name is much more likely linked to the salt trade, as in the past, it was an important link between the lake and the Adriatic Sea.
Read more: Salo Lake Garda Things to do
Ambra's house
Ambra's house is an extraordinary apartment located just right in front of Lake Garda in a villa from the 1930s. Its interior is a mixing of vintage elegance with a more contemporary style. Furthermore, it has a beautiful garden which gives you private access to the lake.
You can jump straight into the lake through a small gate or get a tan on the meadow in front of it. This lovely apartment is only 5 minutes walking distance away from Salo center and the lakefront.
Minimum 2 nights
One bedroom
From 90 euros per night
For up to 3 guests
Private access to the lake
Big garden
Tremosine
Tremosine is a small village in the Lombardy region that is overlooking Garda Lake. It is made up of 18 hamlets, located between 400 and 600 meters above the lake. Around 2000 inhabitants live in Tremosine, but only 264 in the small hamlet called Pieve, which is the capital of Tremosine.
In the heart of the Alto Garda Bresciano Park, the entire area of ​​Tremosine, with its small villages, covers an area of ​​about 70 kilometers. It is a completely uncontaminated landscape with panoramas of extraordinary beauty.
Garden 5 apartment
Garden 5 is an amazing apartment nestled in the middle of a fabulous green setting in Tremosine. It is located on the hill so that you will have a breathtaking view of Lake Garda from its sunny balcony. This apartment is perfect for those who want a quiet and relaxing vacation away from crowds.
You will love to drink your coffee on the balcony in the morning while enjoying the nature sounds and beautiful lake and mountain view. If you want to go to beaches, you will have to drive around 10 minutes to get there. The apartment is very clean, cozy, and equipped with modern-style furniture.
Minimum 2 nights
One bedroom
From 85 euros per night
For up to 4 guests
Perfect for those who want a peaceful vacation
Outstanding views
San Felice del Benaco
San Felice del Benaco is a lovely municipality built on a morainic promontory that juts out over Lake Garda. It has over 3000 inhabitants and is made up of three ancient villages, San Felice, Portese, and Cisano. In the historic center of San Felice del Benaco, you can feel a relaxed and pleasant atmosphere in authentic Italian trattorias or bars.
During a walk through its narrow streets, you can explore some historic buildings, including the Palazzo Rotingo, a late nineteenth-century building that belonged to a wealthy family originally from Salo, nowadays the Town Hall. Entering inside, you can observe the precious decorations of the wooden coffered ceilings, the coats of arms, and the allegorical figures.
Lamasu Wellness
Lamasu Wellness is a modern luxury apartment, perfect for those who want to have a vacation like in a dream. Its biggest advantage is a gorgeous infinity pool that overlooks Lake Garda. Furthermore, this apartment has a small but useful garden and jacuzzi for private usage.
It is truly a fantastic place, perfect for relaxing and spending some days in real comfort. The apartment is very clean, well-kept and every single piece is thoughtfully decorated.
Minimum 1 night
One bedroom
From 200 euros per night
For up to 4 guests
Infinity pool with a view
Luxury apartment
Brenzone sul Garda
Brenzone sul Garda is a small town in the Veneto region with around 2500 inhabitants. It includes many hamlets and areas, including Castello, Castelletto, Marniga, Magugnano, Porto, and Assenza, as well as several small towns scattered along the slopes of the mountain, such as Sommavilla, Biasa, Marniga, and Prada.
Brenzone sul Garda is known for colorful houses, narrow streets, towers and walls, marinas, and panoramic terraces. Furthermore, it has beautiful beaches that are not so crowded, so you should go there if you want a peaceful vacation. In front of Brenzone, there is an island called Trimelone, which is worth visiting if you have some extra time.
Hillside apartment with lake view
Located in the small village of Castello, this Airbnb at Lake Garda is a delightful place where you can escape for a weekend or more. It is comfortable, spacious, and very well equipped, but the most popular part of this apartment is its terrace with a stunning view.
Even though the apartment is located in a nice old area, it is renovated in a modern way. Also worth mentioning is that the Hillside apartment is in a pedestrian area that cannot be reached by car, so you will have a quiet and charming staying.
Minimum 2 nights
One bedroom
From 170 euros per night
For up to 4 guests
Beautiful terrace with a view
Located in a quiet area
How to find the best Airbnb in Lake Garda
Lake Garda is huge, so there are many Airbnbs, and everyone will find the perfect one for themselves. Whether you are looking for villas, apartments, houses, or cottages, Lake Garda has it all. If you are looking for budget-friendly options, always check for apartments in less popular towns. Also, the prices are different in all seasons, so you should expect that you will pay the most in the summer, while winter has the best prices. In this article, Airbnbs have the best ratio of what you get and what you pay for, so you won't regret it whichever you choose.
Read more about Lake Garda:
Hey there! Some links on this page are affiliate links which means that, if you choose to make a purchase, we may earn a small commission at no extra cost to you. We greatly appreciate your support!