Positano is definitely the most famous town on the magnificent Amalfi Coast. It is known as a vacation place for many celebrities and jet-set people, which means that everything in the town is pretty expensive. The same applies to the hotels, which are more expensive than in other towns along the coast. But, they offer more luxurious features to fit in this top-rated tourist destination.
There are many 3 star hotels in Positano which are the best option for those who want to save a little bit. In Positano, it is very hard to see a difference between 3 star and higher stars hotels because every hotel tries to attract tourists with excellent service, wonderful views, and cozy rooms. Therefore, you should not think twice if booking a 3 star hotel in Positano is a good idea. Here are the best 3 star hotels in Positano: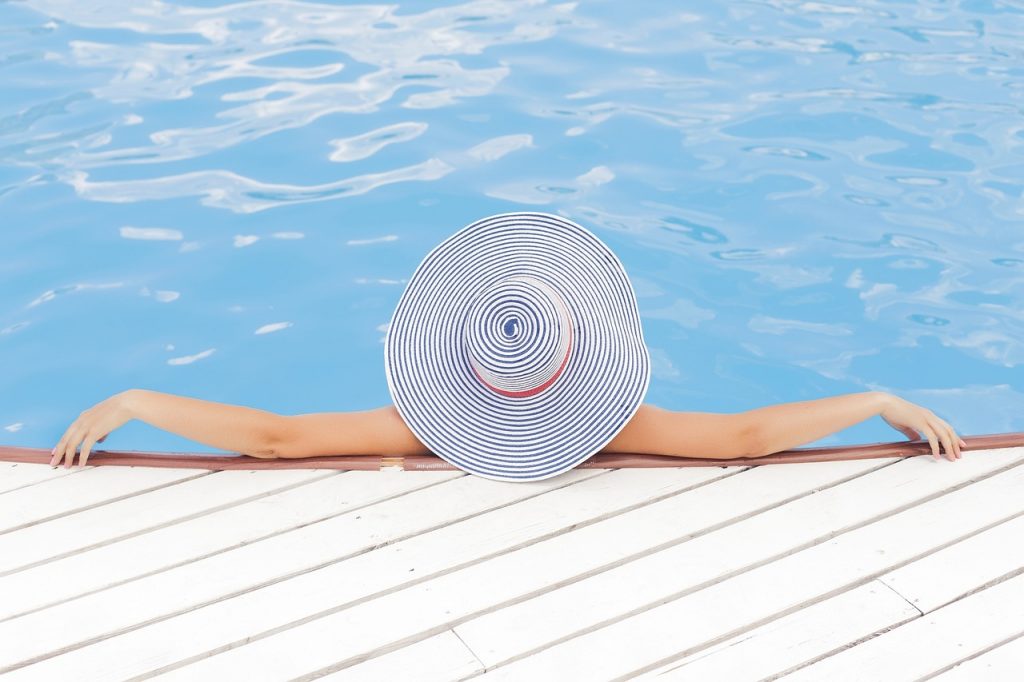 (This article contains 3 star hotels in Positano, which are best in our subjective opinion. The order of the hotels is not related to the quality they offer. Every hotel has its pros and cons, so choose the hotel based on your personal preferences.)
Hotel Vittoria
Hotel Vittoria is a fantastic 3 star hotel located above the Fornillo beach in a quiet area far from the tourist crowds. It is perfect for those who are coming to Positano for sunbathing because of private access to the beach and a special discount at the Pupetto beach bar.
But, the beach is only reachable by going down about 400 steps which can be an issue for those who are not in shape or older people. The hotel offers breathtaking panoramic views of Positano and the sea, which even many 5 star hotels envy.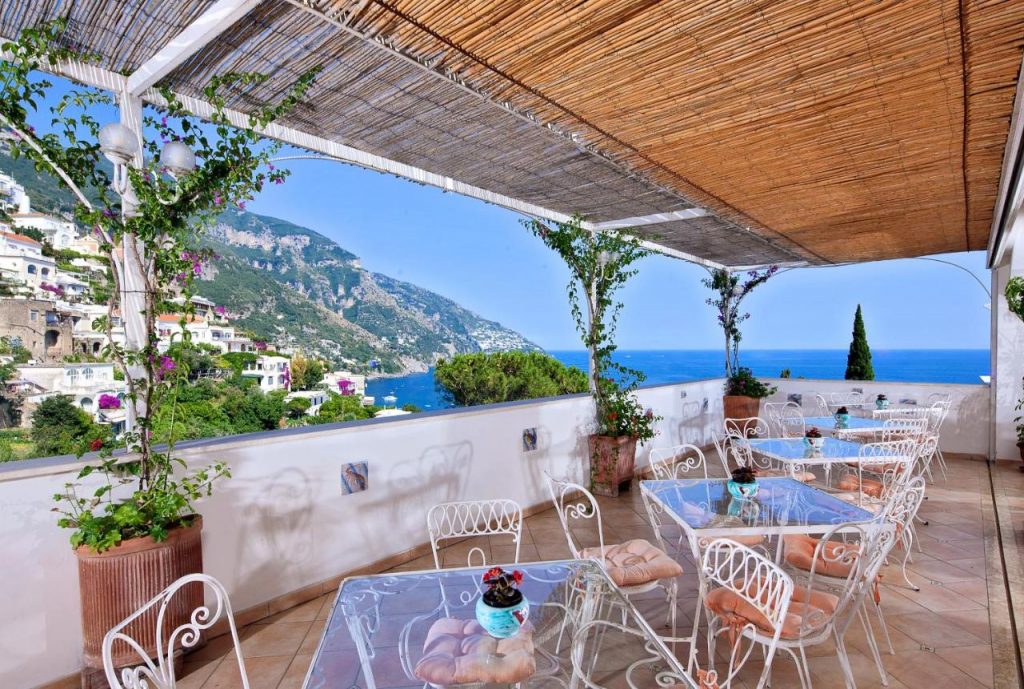 The buffet breakfast, which is included in the price of a room, is very delicious and served on the terrace with stunning views. You should expect a lot of fresh fruit, yogurt, fluffy scrambled eggs, and plenty of coffee Americana.
The rooms are pretty spacious, clean, equipped with everything that you need for a cozy staying, and decorated with beautiful coastal-style tiles. There is also a huge terrace with two sun loungers, a table, and chairs where you can enjoy sunsets or leisurely morning talks.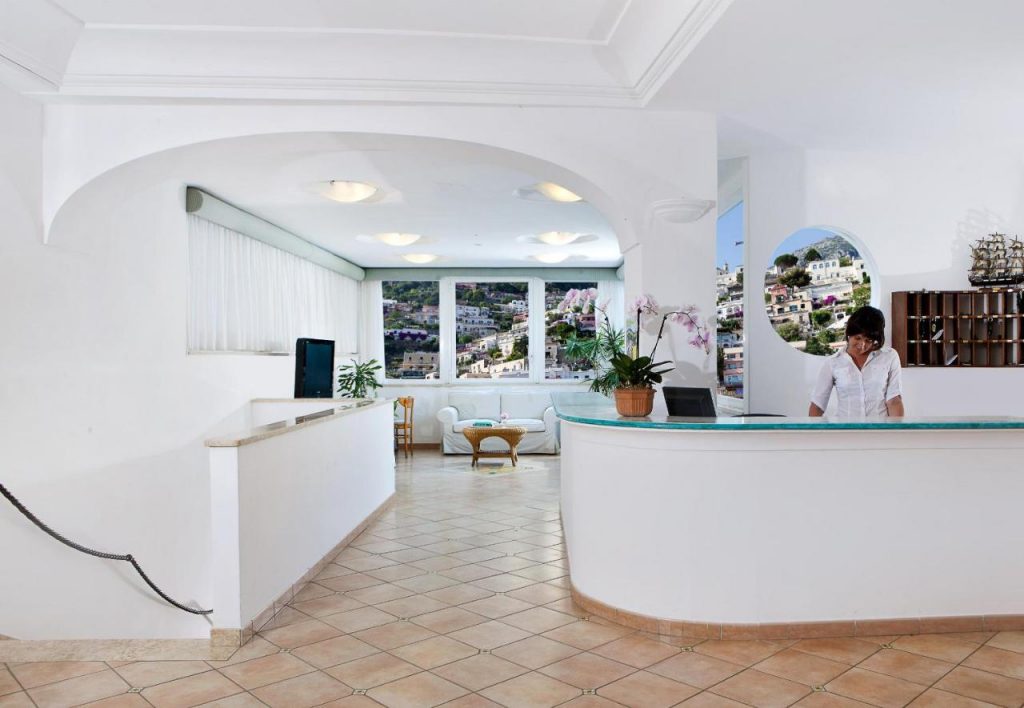 The bathroom is also very clean, stylish, and equipped with necessities like a hairdryer, towels, and other free toiletries. Worth mentioning is that the whole hotel is covered with a strong and fast WiFi internet connection. Hotel Vittoria does not have its own parking, so you will have to park nearby on private paid parking that costs 25 euros per day. If you are heading to the Positano center, you can either take a local shuttle bus or walk for 15 minutes.
| | |
| --- | --- |
| Pros | Cons |
| Beautiful views | Paid parking |
| Terrace with tables and chairs | Pets are not allowed |
| Children of all ages are welcome | |
| Close to the beach | |
| Quiet area | |
Al Barilotto del Nonno
Al Barilotto del Nonno is a lovely hotel located a little bit away from a busy part of Positano. It is perfect for those seeking a quiet vacation in beautiful nature. The hotel is known for its gorgeous gardens, terrace with greenery, and private balconies with a sea view.
Those who want to go to the beach have to go down 350 steps to reach the less crowded Laurito beach. This family-run hotel offers a basic but pretty tasty breakfast that includes various fruits, eggs, ham, cheese, croissants, and a cake.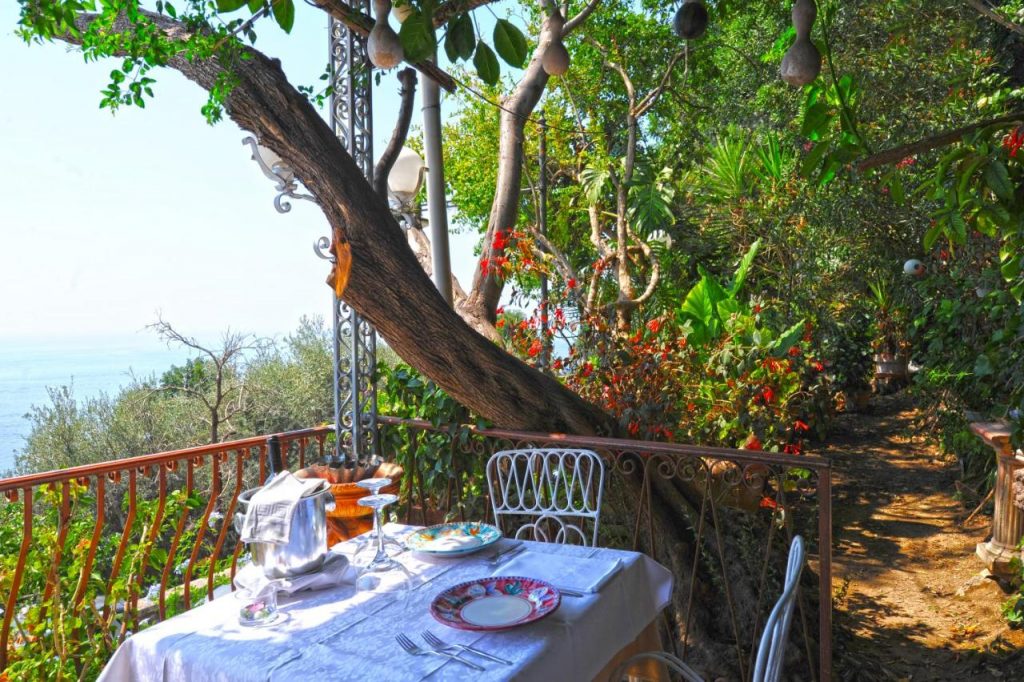 Even though the Positano center is around 1.8 kilometers (1.1 miles) away from the hotel, the owner will offer you a drive to Positano as well as pick up free of charge. Also, unlike most hotels in Positano, you do not have to pay extra for a room with a view, which is impressive. The rooms are very clean, comfortable, not too big, and slightly noisy. Bathrooms are pretty basic but very clean and functional.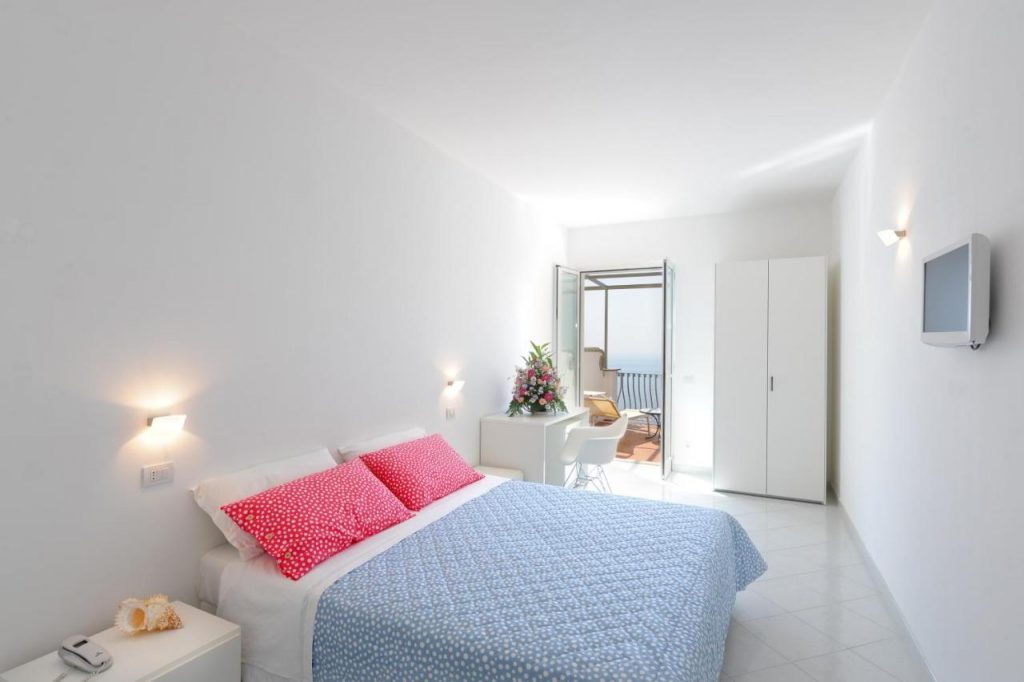 Al Barilotto del Nonno has a gorgeous rooftop with a fantastic garden and lemon trees everywhere. It is perfect for a bit of sunbathing or using the outdoor shower to cool off on hotter days. Furthermore, the hotel has free WiFi, and there is no parking available. Also, it is worth mentioning that no children or pets are not allowed in this hotel.
| | |
| --- | --- |
| Pros | Cons |
| Beautiful views | No parking available |
| Quiet location | Children are not allowed |
| Breakfast included | Pets are not allowed |
| Close to the beach | Noisy rooms |
| Rooftop with garden | |
| Affordable price | |
Hotel Dimora Fornillo
Hotel Dimora Fornillo is a beautiful romantic hotel with an excellent location right above Fornillo beach, accessible directly from the property. Like many hotels in Positano, this one is also located on a hill, so you will have to climb 150 stairs to reach it from the beach.
The hotel is located in a quieter area of Positano with spectacular views. Those who love nature will be delighted with the fact that this hotel has a beautiful garden where you can sit and relax.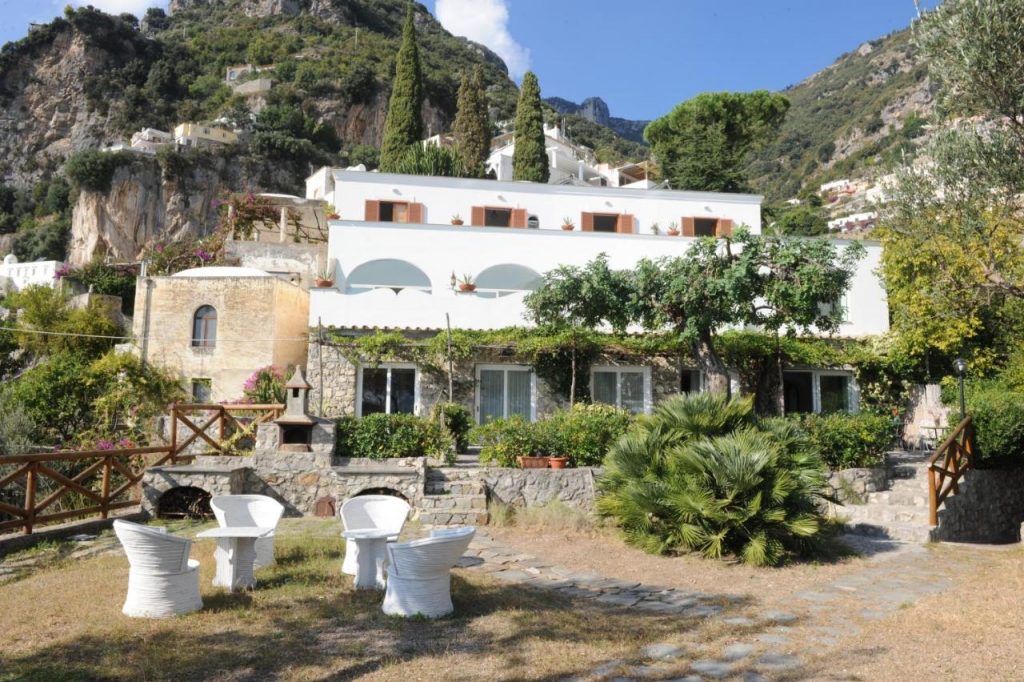 Breakfast, which is included in the room price, is both sweet and salty, very abundant and varied. Therefore, you will find plenty of meats and cheeses, cereals, yogurts, croissants, jams, juices, coffee, and good fresh fruit and pastries choices.
Also worth mentioning is that breakfast is usually served in the garden with breathtaking views and the smell from the lemon and orange trees in the distance, which is fantastic. The rooms are pretty big, very clean, and have a high ceiling, beautiful furniture designed in an old-fashioned way, and lovely views.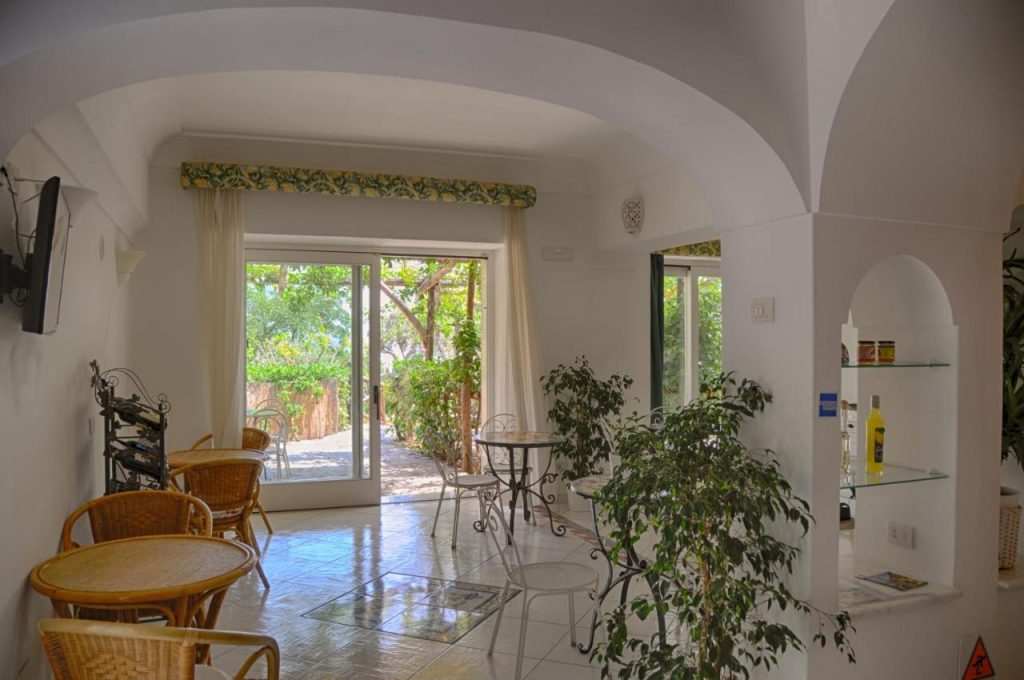 Bathrooms are also very clean and spacious, have everything you need, and from there, you will have a nice view of the hills of Positano. Keep in mind that the floor in the bathroom is tiled, so it can be pretty slippery, especially when it is wet. The whole hotel area is covered with fast WiFi connection, and parking is only available nearby for a price of 35 euros per day.
| | |
| --- | --- |
| Pros | Cons |
| Beautiful views | Paid parking nearby |
| Quiet location | |
| Breakfast included | |
| Close to the beach | |
| Lovely garden | |
| Pets are allowed on request | |
Check out more articles about Positano:
Hey there! Some links on this page are affiliate links which means that, if you choose to make a purchase, we may earn a small commission at no extra cost to you. We greatly appreciate your support!