Positano is one of the most charming towns in Italy. It is located on the Amalfi Coast and is well known by tourists because of its crystal clear water and its beautiful architecture. Even though Positano is one of the most popular summer vacation places, many tourists are coming to this coastal town only for a day. But, is a day trip to Positano worth it?
It is impossible to pass through Positano and not be captivated by such fantastic beauty all at once. An explosion of colors seems to have been placed there by a painter as if it were a huge painting. All intoxicated by a mix of scents and essences that fill you with joy, immediately triggering the desire for summer in you, even when you visit it at different times of the year.
Things to do in Positano in one day
Positano is a tiny place, so everything is pretty close to each other. Therefore, you will not have to spend a lot of time getting to the location of attraction you want to see. If you are only spending one day in Positano, you can still do many things. But, you will have to organize your time very well.
Keep in mind that Positano is usually very crowded, so you have to calculate waiting lines in your time. Here are some of the things you can do in Positano on one day trip:
Walk around the town
Positano is full of small narrow picturesque streets that are perfect for exploring. Every street has its own charm, so wandering around is a unique experience. Positano is a very small town, so on foot, it takes you half a day to visit every single street, every single building, and every single little shop or restaurant. Keep in mind that Positano is built vertical, so there will be many ups and downs as well as many staircases.
Admire historical buildings
The most famous historical building in the town is the Church of Santa Maria Assunta. It is practically the symbol of Positano, and you can find it right in the center of the town. The church is magnificent, shimmering under the Mediterranean light, with its yellow and green tiles that recall the sun and the vegetation of Positano.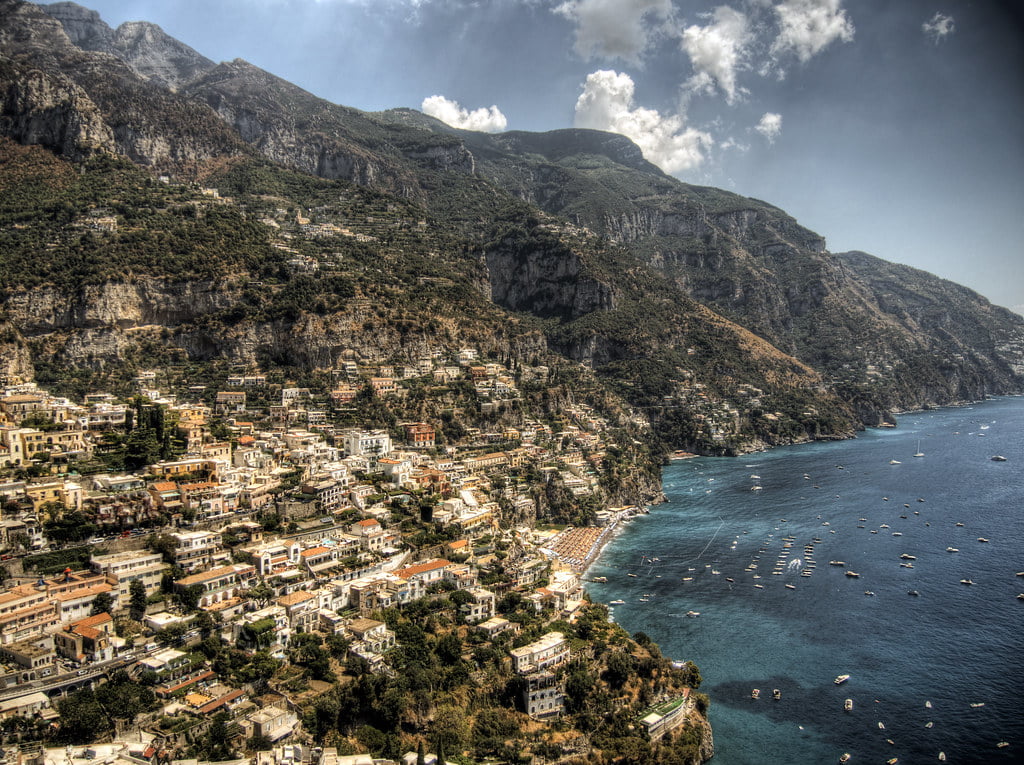 Another popular cultural attraction is the archaeological museum. It is located underneath the church in a well-preserved ruin of a Roman villa. The museum is full of incredible artifacts, old crypts, and beautifully painted walls.
Take a boat trip
Probably the best way to admire Positano and its magnificent landscape is from the sea. There are many small boat tours in Positano that can drive you along the Amalfi Coast for up to 2 hours. Even though it is not too much time, it is still enough to experience something new. If the weather is good, you can see some other neighboring villages from the boat.
Shop in small boutiques
Positano is truly a shopping mecca for those who love to buy high-quality and trendy clothes. There are many small boutiques with gorgeous leather products such as bags, shoes, and sandals. Also, Positano is known for its colorful linen dresses and modern bikinis. Furthermore, you should not miss Positano ceramics and lemon products, among which is the most popular lemon alcoholic drink called Limoncello.
Keep in mind that Positano is a jet-set destination so you will have to spend a little more on shopping, but in the end, it totally worth it. Not only that Positano shops offer high-quality products, but also each of these products will be a souvenir that will remind you of an amazing time spent in this lovely town.
Read more: What to buy in Positano Italy
Visit seafood restaurant
If you are hungry or love to eat in local restaurants with traditional food, Positano offers many seafood restaurants with fresh specialties. Fresh fish caught earlier this morning and served with Mediterranean spices are particularly tasty. Besides seafood, you can try various dishes from traditional Italian cuisines such as pasta, pizza, and meat dishes.
Read more: Things to do in Positano
Is a day trip to Positano worth it?
The best way to visit Positano is definitely to spend there at least 3-4 days/nights because it has lots of things to offer you. But, it is also totally worth it to visit Positano in one day. Even though the whole Amalfi Coast is gorgeous, Positano is somehow unique and special.
Therefore, you should see it for at least a short time and come back if it puts a spell on you like on other hundreds of tourists that are coming back to Positano.
Is one day in Positano enough?
It's beautiful, and if you want to see all attractions, one day is not enough. But, you can choose only the best attractions for you and come to Positano just to know it better. Remember, you can always come back.
Staying in Positano is pretty expensive, so you should visit it first for a day to decide if you want to spend your vacation in Positano or in some other cheaper place. One day is enough to stroll around the town, visit some historical sights and eat a delicious meal in a restaurant. If you are a good time manager, you can even go on a boat tour on the same day.
Read more articles about Positano:
Hey there! Some links on this page are affiliate links which means that, if you choose to make a purchase, we may earn a small commission at no extra cost to you. We greatly appreciate your support!