Positano is one of the most beautiful towns on the Amalfi Coast and the perfect place for those who love shopping. This picturesque and charming little town has become an exclusive and luxurious destination because many celebrities and jet-set people come to Positano for their vacations. Therefore, the town is full of small boutiques and craft shops. Still, many tourists do not know what to buy in Positano Italy.
In the main shopping street called Via dei Mulini and the nearby Viale Pasitea, it is possible to find many typical products of Positano. The town is globally known for "Moda Mare Positano" (Positano Sea Fashion), a recognizable style born in the 1960s in local dressmakers. Therefore, there are many small boutiques with magnificent colorful dresses and other clothes typical for Positano.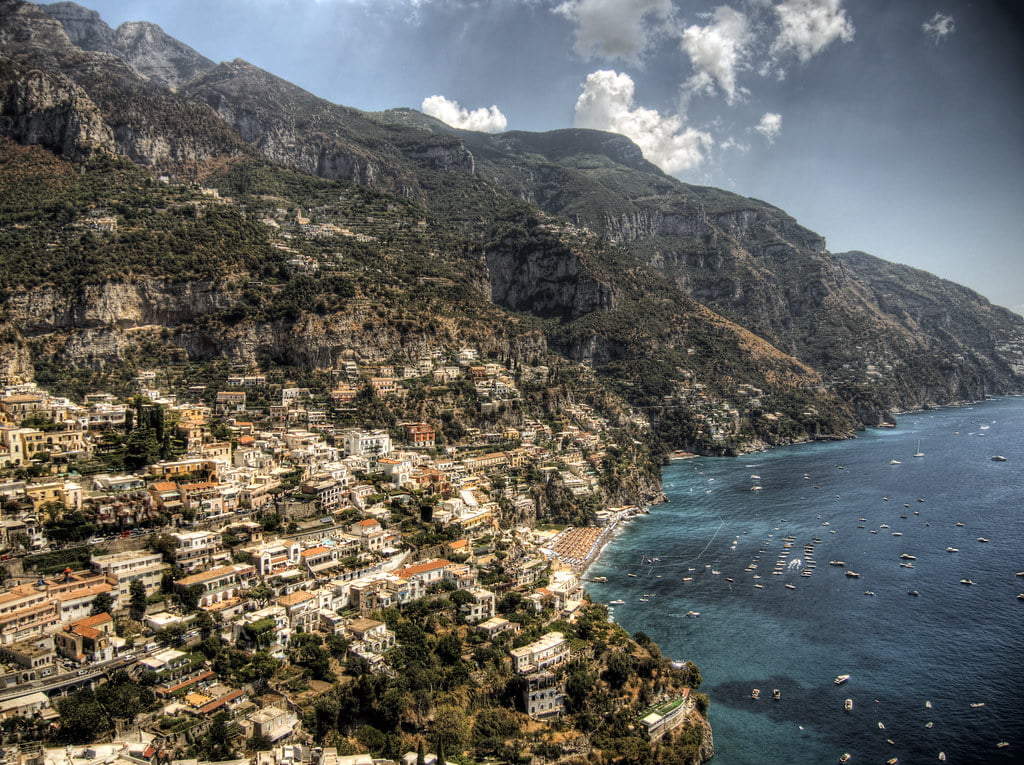 Other popular Positano products are handmade leather sandals, colorful ceramics, and various lemon products of which is the most popular lemon liqueur called limoncello. Here are the top typical souvenirs to buy in Positano:
Handmade sandals in Positano
Sandals are the main footwear in Positano, especially in the summer months, so it is not unusual to see many shops that sell typical handmade sandals. The tradition of producing sandals in Positano is very ancient. The birth date of these lovely sandals is unknown, but they definitely originate from the imagination and the creation of many artisans who invented very simple but durable shoes.
These beautiful shoes are handmade by skilled artisans who decorate them at the moment as they like. In sandal shops in Positano, you can find hundreds of different, entirely unique sandals. Also, you can even buy a custom-made pair of leather sandals. For these personalized sandals, you can choose the model, color, height, shape of the heel, and you can even decorate them with Swarovski crystals in different colors.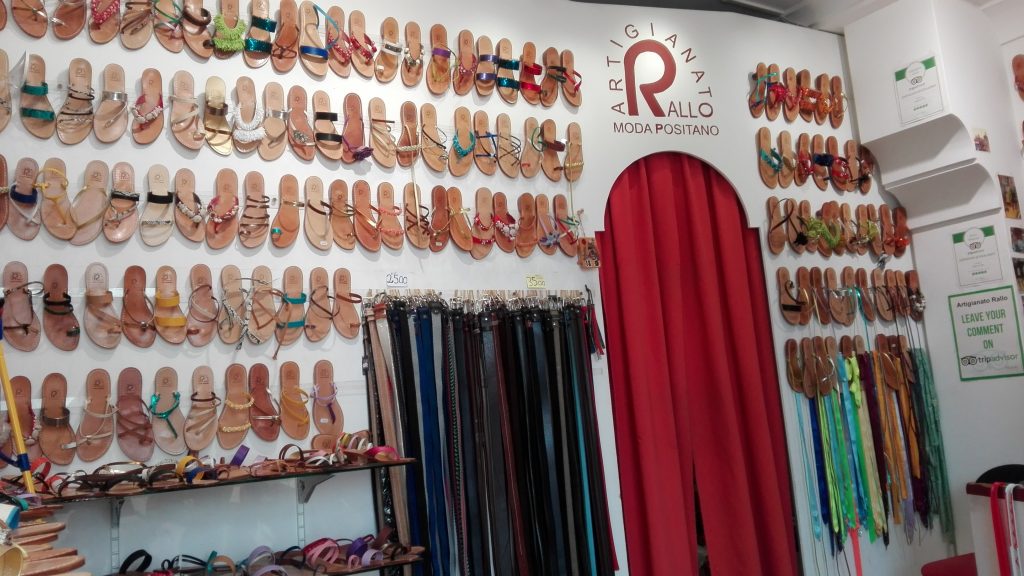 The most iconic and typical Positano sandals are low flip-flops jeweled with lively details, usually various crystals. You can mainly find leather sandals for women, but it is not so rare to find shops with sandals for men. Therefore, even men can buy a perfect and long-lasting souvenir from Positano.
Positano clothing line
Another typical product of Positano is a remarkable colored clothing line produced by precious tailors and sold in small boutiques in the town. Positano fashion is well known in the world due to the elegance of the clothes decorated with beautiful floral designs or bright summer colors. The most popular clothes are gorgeous dresses that are made of high-quality fabrics, such as fresh linen, organic cotton, or hemp.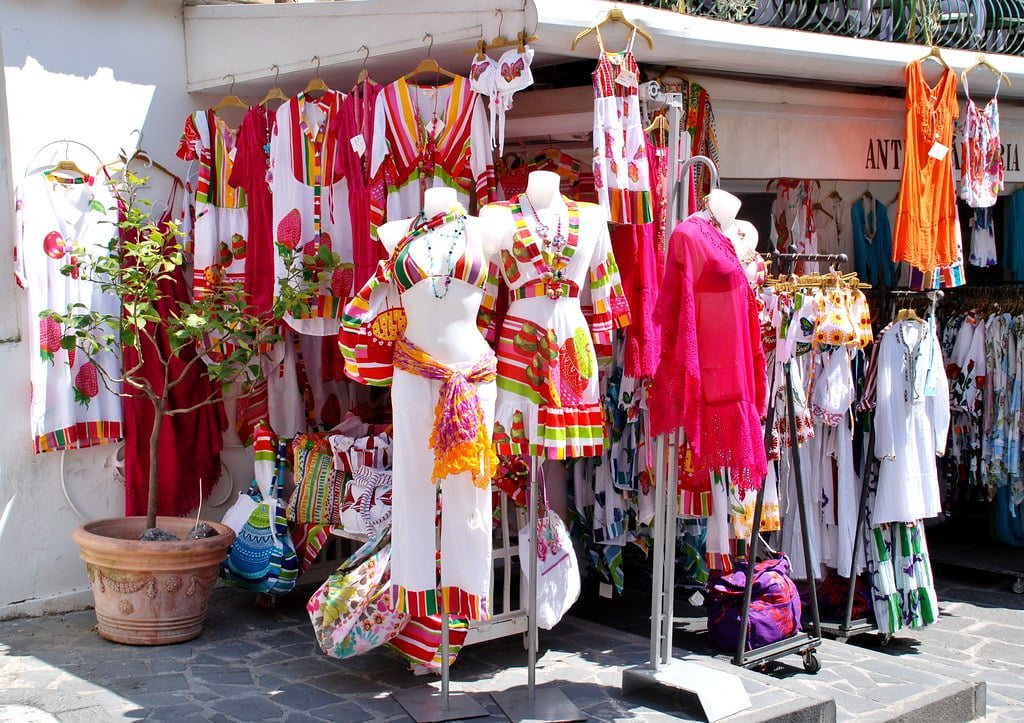 Besides dresses, very popular is unique and precisely handcrafted swimwear. You can find various designs of bikinis in Positano, often offered with lively and colorful patterns. There is also classical women's and men's swimwear, so everyone will find something for themselves. Furthermore, there are also numerous attractive accessories such as bags, skirts, trousers, shirts, hats, scarfs, and even elegant wedding dresses.
Positano ceramics
Positano and some other towns on the Amalfi Coast have an ancient tradition of ceramics production. It dates back to many years ago and has always been produced in this coastal area, initially for one's own use, while in recent years, ceramics has been sold as a souvenir for tourists. Nowadays, you can find high-quality ceramics in different shapes such as glasses, plates, statues, vases, paintings, tiles, and animals statues.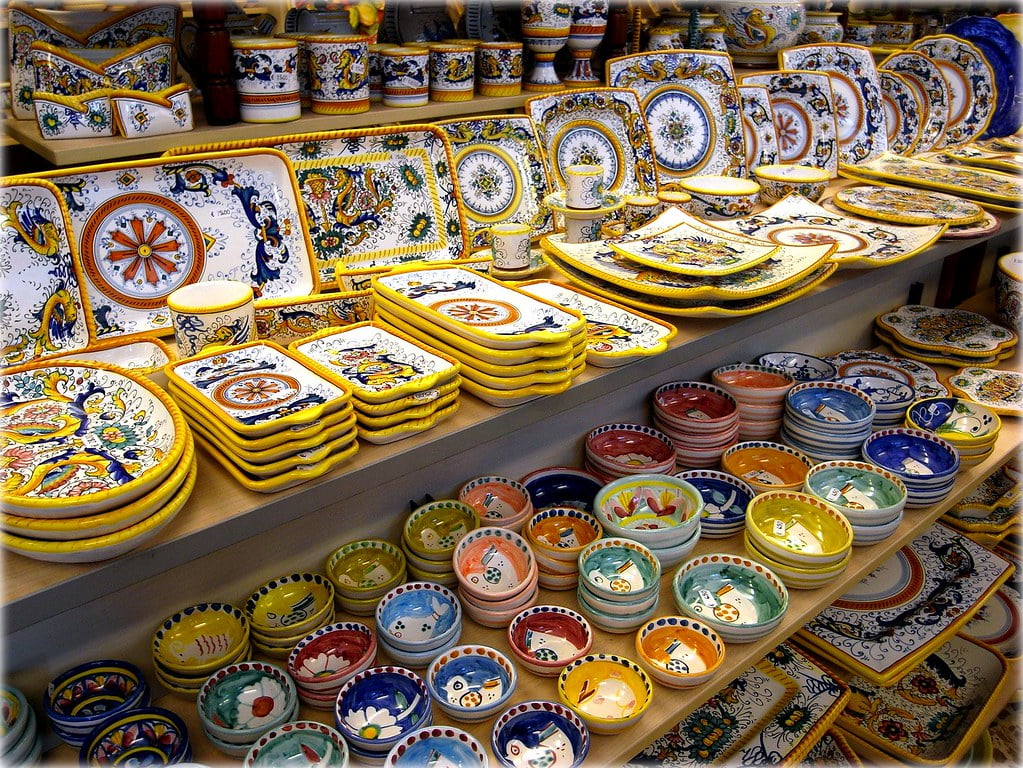 The most used colors to paint ceramics are beautiful pastel shades such as yellow and blue, which recall the splendid blue sea or the beautiful and fragrant lemons of the coast. Also, many ceramics show wonderful scenes of everyday life in Positano or beautiful sunsets. Those who want unique ceramics can create souvenirs with their own hands with the help of a craftsman. This way, you will bring the unforgettable moments back to your home.
Positano lemons
Those who do not want to take home only a wonderful souvenir of Positano can buy delicious lemons from the Amalfi Coast. This fruit grows on the many terraces overlooking the sea. Positano is known for its mild Mediterranean climate, perfect for growing tasty and fragrant lemons. There are many shops where you can find original lemon products like sweets, jellies, jams, sorbets, or honey. Some shops even organize tours for those who want to learn how the liqueurs and jellies are made.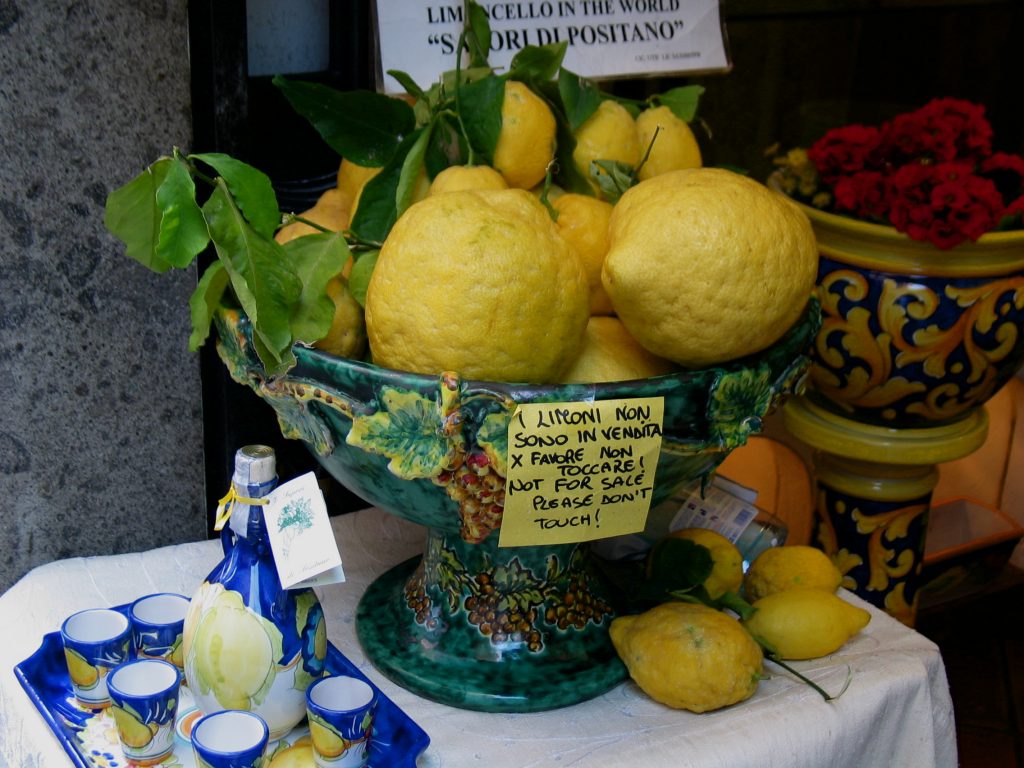 Also, you can leave Positano without a bottle of limoncello. It is a tasty lemon-based alcoholic drink and a typical product of Positano. The flavors from the lemon peel are used for production, as well as alcohol, water, and sugar. Restaurants on Amalfi Coast serve limoncello as a drink after a large meal, so if you just want to try it before buying, you can do it in numerous restaurants. A bottle of limoncello is perfect for relieving the best moments spent on vacation in Positano with some friends or family back home.
Read more: Where to shop in Positano
What to buy in Positano Italy
Positano is a very tourist-oriented place, so there are souvenir shops on every step. If you want a typical Positano product, then you should buy something mentioned in this article, if not all. Positano dresses and sandals are for those who are willing to spend some more, while ceramics and lemon products could be found for very good prices. Besides these typical products, you can find many other souvenirs with Positano motives, like little statues, postcards, toys, and so on. Whichever souvenir you choose, we are sure that it will remind you of breathtaking Positano forever.
Read more articles about Positano: