Shopping in Positano is a joy, a delight to the senses, and a great way to spend an afternoon in this little coastal town. In the main street of Positano, there are countless stores selling clothes, shoes, sandals, leather jackets, handbags, accessories, lemon products, ceramics, and other souvenirs.
There are also several jewelers selling stunning emeralds and diamonds. If you're going on a shopping spree in Positano, you will probably ask yourself: "where to shop in Positano?". It is worth knowing that only a few shops offer excellent prices.
The first one is a leather shop on the right side of the street from Marina Grande. They sell high-quality fashions made from top-quality leather at very competitive prices. After this store begins Via Colombo, which offers more elegant shops which sell expensive jewelry but lovely scarves with alluring designs at lower prices than elsewhere in Positano. If you walk down this road further, you will stumble across accessories that attract many tourists every day.
Where to shop in Positano?
Positano is a town full of tourists, so it is no wonder that almost every street has at least one small boutique or shop. Still, there are some streets that are the real shopping mecca with many different and exciting shops. The most famous streets in Positano for shopping are:
Via Cristofo Colombo: famous for its stylish boutiques and jewelers selling diamonds for those who are willing to spend more than the average tourist. You can find exquisite crystals, handbags, accessories, and scarves too.
Via Pasitea: here, you will find numerous stores with shoes and sandals. You can browse through the latest fashions in shoes and buy them at affordable prices. Numerous clothing stores can also be found on this street.
Piazza dei Mulini: you can find many exciting shops here selling paintings and artworks, clothes, accessories, and leather jackets made from top-quality leather.
Read more: What to buy in Positano Italy?
Is Positano expensive?
Positano is an expensive place to shop because of its location and the kind of items sold there. Clothes, shoes, bags, accessories and even groceries cost 20% more than in other areas in Italy. Keep in mind that Positano is a jet-set destination, so it's not surprising that you'll find high-end clothes, handbags, shoes, and other items made from top-quality materials.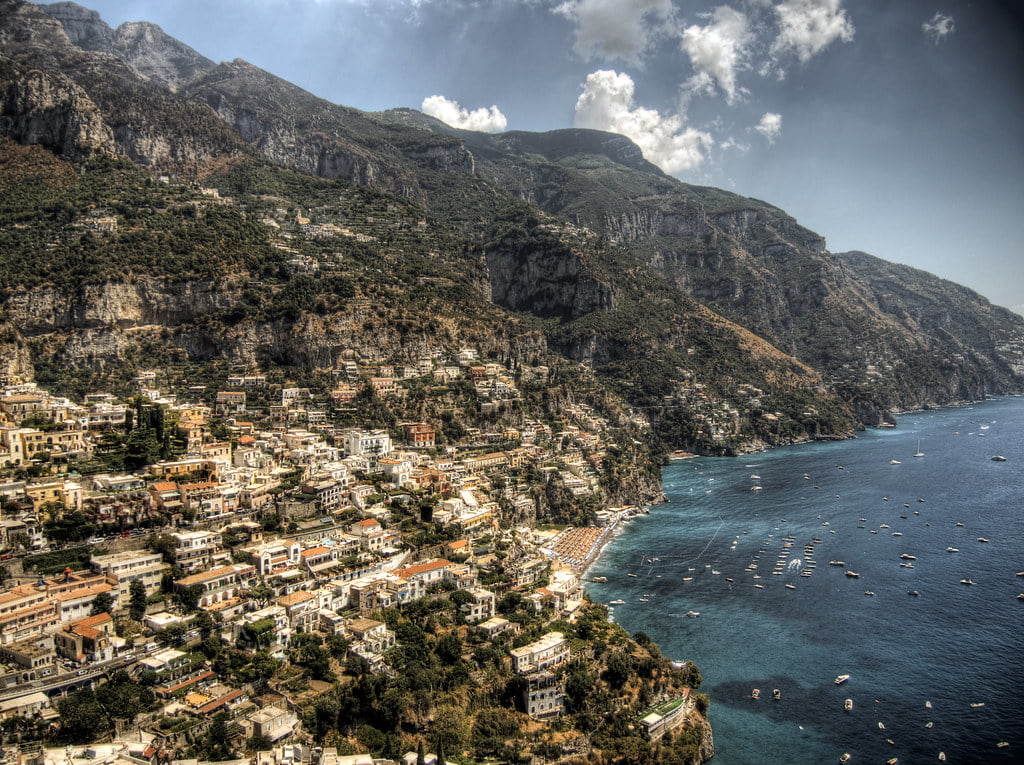 If you like shopping, but do not want to spend a lot, you can visit the neighboring towns of Positano to buy souvenirs or clothes, like Amalfi, which is just 20 minutes away by car or bus. Prices will be much lower than in Positano, and you can find the same quality clothes and jewels there. Also, Amalfi town is a beautiful and interesting place for a day trip, so it will be a win-win situation.
Why you should not miss shopping in Positano?
Positano is a unique and picturesque town on Amalfi Coast. With the beautiful beaches, picturesque hillsides, and delightful shops, it is no wonder that so many people visit this area of Italy every year. But what about those who want to buy something from their time in Positano?
Well, those tourists will have to pay more than usual for your purchase. Still, it will be totally worth it! If you're looking for high-quality items like jewelry, clothes, artwork, or ceramics, then head over to one of the numerous small boutiques on Via dei Mulini. Keep in mind that in Positano, everything is just as expensive as anywhere else in Italy (if not slightly pricier) but still affordable if you are buying only souvenirs.
Read more articles about Positano:
Hey there! Some links on this page are affiliate links which means that, if you choose to make a purchase, we may earn a small commission at no extra cost to you. We greatly appreciate your support!