Positano is a famous town on Amalfi Coast known for its comfortable Mediterranean climate with many sunny days. But still, even vacation places full of sunny weather can have rainy days. Do not be discouraged if you have bad luck and find yourself in Positano when it rains. You can do many different things that are enjoyable, even on a rainy day.
Firstly, Positano is a coastal town, so there is a good chance that rain will not last long. Even weather forecasts can not always hit the right weather for coastal towns. Therefore, you should always be open to the possibility of weather change, no matter what you read. Here are all the things to do in Positano when it rains:
What to do in Positano when it rains
Rain can disrupt your plans, but there are still some things to do in Positano. You can take a cooking class, explore the streets, stay in a hotel, get a massage, visit museums and churches, or other coastal towns nearby.
Take a cooking class
Cooking class is a perfect thing to do in Positano when it rains. You can meet new people, have a lot of fun and learn some new cool stuff. There are a few cooking classes in Positano to choose from, and they usually last from 2 to 5 hours. Classes are very easy to follow with lots of opportunities to interact with the chefs, and you will be guided to cook traditional Mediterranean dishes with local ingredients.
Cooking classes are also a great way of bonding with your partner or family. At the end of any class, you will enjoy a meal you made with good company with other class attendants and chefs. For those who are searching for something unique, there is also a Limoncello class in Positano, where you will learn how to make a traditional lemon liqueur.
Click here to read more about cooking classes in Positano
Explore narrow streets
Positano has many tiny streets, each with its own charm that you can explore even when it rains. Rainy days will usually send away crowds from Positano, so you can have a peaceful walk. Keep in mind that Positano is built vertically, so you will have to walk uphill a lot. Also, do not forget to wear proper footwear for rain because the streets could be pretty slippery.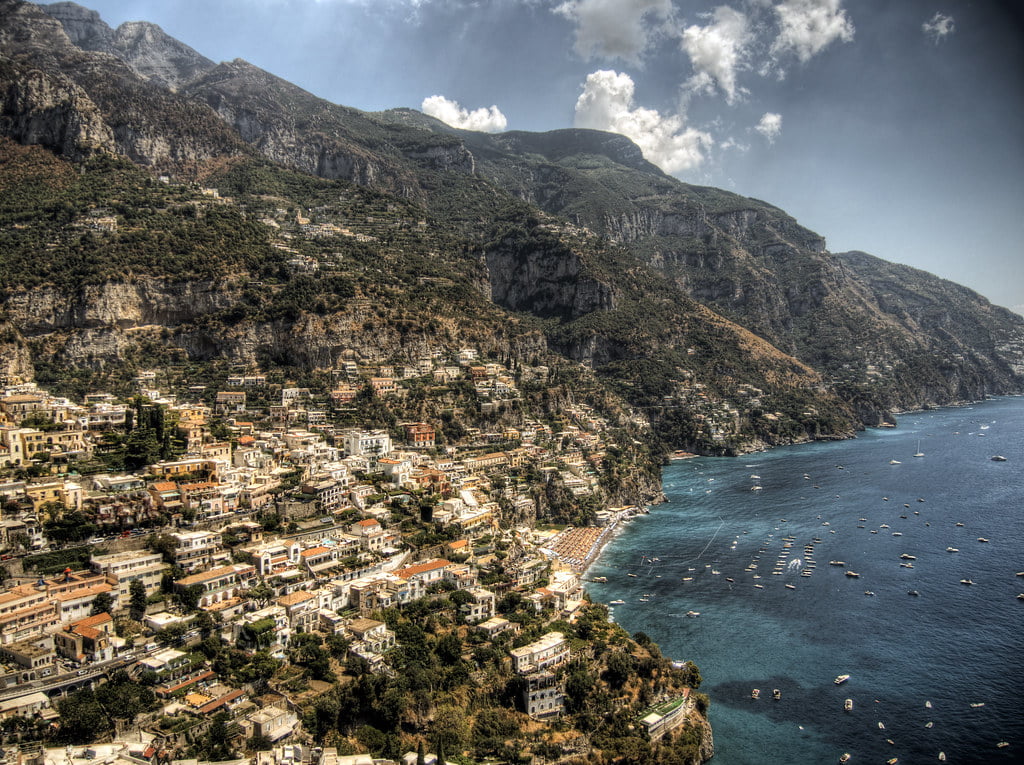 Visit museums and churches
Positano has exciting historical and cultural attractions that you can visit on a rainy day. One of them is the Church of Santa Maria Assunta from the 12th century, located in the center of the town. It has a beautiful colorful majolica dome, and inside, you can see a Byzantine painting "Black Madonna" from the 13th century. Entrance is free, so there is no reason you should not take a look inside. If you are into churches, you can also visit the Church of Madonna del Carmine and Madonna Delle Grazie.
Underneath the church of Santa Maria Assunta, there is an archaeological museum for those who like history. The museum is actually a well-preserved ruin of a Roman villa with beautiful wall paintings, old crypts, and artifacts from the Middle Age. The entrance ticket will cost you 15 euros which is a little bit pricey, but it is worth it.
Relax at your hotel or apartment
Positano is a favorite vacation place for many celebrities and jet-set people. Therefore, most hotels and apartments in Positano are very luxurious and offer numerous services to meet all your needs. If it is raining and cold outside, you can relax in a spacious, comfortable room, choose between satellite channels, free Wifi or a drink on your own balcony, and enjoy an unforgettable view of the Mediterranean Sea. Also, many hotels offer fitness centers, massages, saunas, spas, and swimming pools where you can quality spend your time.
Go on a day trip
If you stay in Positano for a few days or more, you can visit unique little towns and villages nearby. Positano is well-connected to other towns on Amalfi Coast, so you can choose between ferry, bus, or you can rent a scooter. The most popular towns in Positano's surroundings are Amalfi town, Sorrento, Ravello, and island Capri. There are also other exciting villages like Praiano, Cetara, Atrani, and more. Even when it is raining, these towns and villages have so much to offer, so each of them is an excellent choice to spend some time on a rainy day.
Check out more articles about Positano: