Planning a Roman vacation? Preparing your itinerary can be overwhelming with the huge number of attractions and restaurants. Figuring out where to sleep can be challenging too. You want a place that's safe, affordable, and accessible. Staying near the Spanish Steps, one of the city's many iconic landmarks, can guarantee that!
By sleeping near the Spanish Steps, you will stay in a part of town that's safe, a short walk from most attractions, and well connected by public transportation to other areas! Accommodations in this area vary greatly in price and quality. We've rounded up the best 3,4, and 5-star options in the area. Read more for our guide to the best hotels near Spanish Steps in Rome!
(This article contains the best hotels near Spanish Steps in Rome. The order of the hotels is not related to the quality they offer. Every hotel has its pros and cons, so choose the hotel based on your personal preferences.)
Best 3 star hotels near Spanish Steps
Here are the best 3-star hotels near Spanish Steps in Rome:
The Radical Hotel Roma
This little boutique hotel has eleven rooms, each featuring its own unique, minimalist style. You can view each of them on their Booking, each with a one-word name as intriguing as the room's design. Couples will want "Utter," a romantic suite with a massive, exposed bathtub in the middle of the room. Solo travelers and remote workers will immediately be drawn to "The One" as their dream office for the week, with its desk tastefully set next to a floor-to-ceiling window. Whichever you choose, ask for the gourmet breakfast delivered to your room daily.
Don't come here looking for a hotel where you check in and disappear from the minds of the concierge. The management's mission is to distance themselves from the "structural clichés" of a typical hotel visit. This doesn't mean you will be met by apathetic staff or lacking amenities. Instead, they focus on providing simple, authentic hospitality for their guests. The hosts are amicable, and their kindness is shown in the shining reviews, almost all of which mention the polite staff.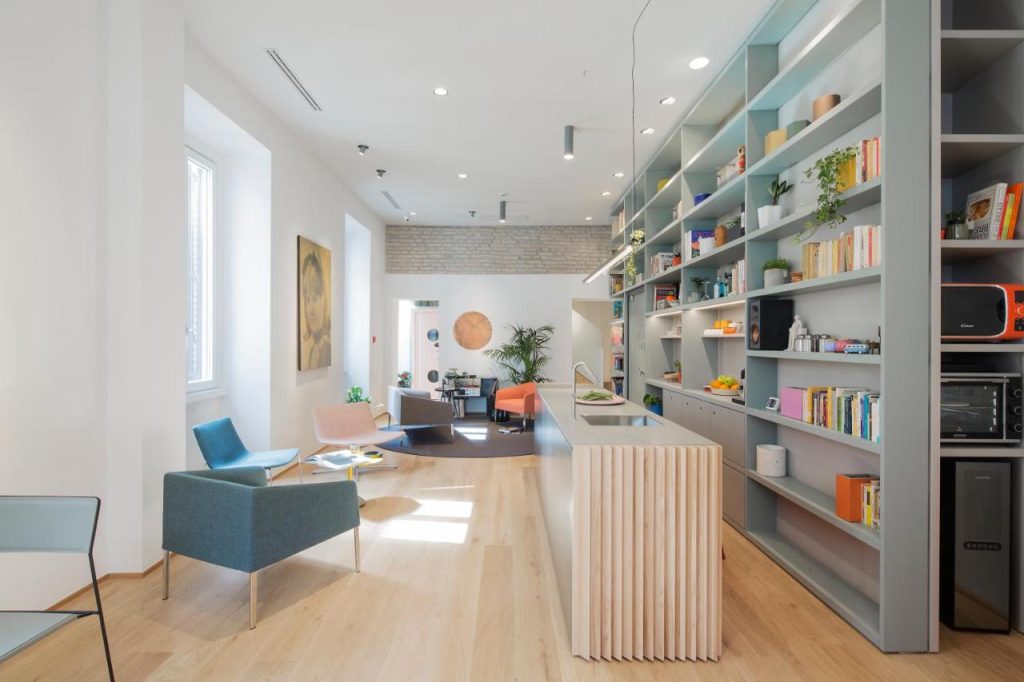 In the hotel's shared lounge, you can enjoy a respite from the hustle and bustle of the city without leaving the center. It's a cozy-yet-open space designed for one thing: unwinding. The spot has a bar and a listening lounge where guests can set the vibe with a selection from the hotel's vinyl record library.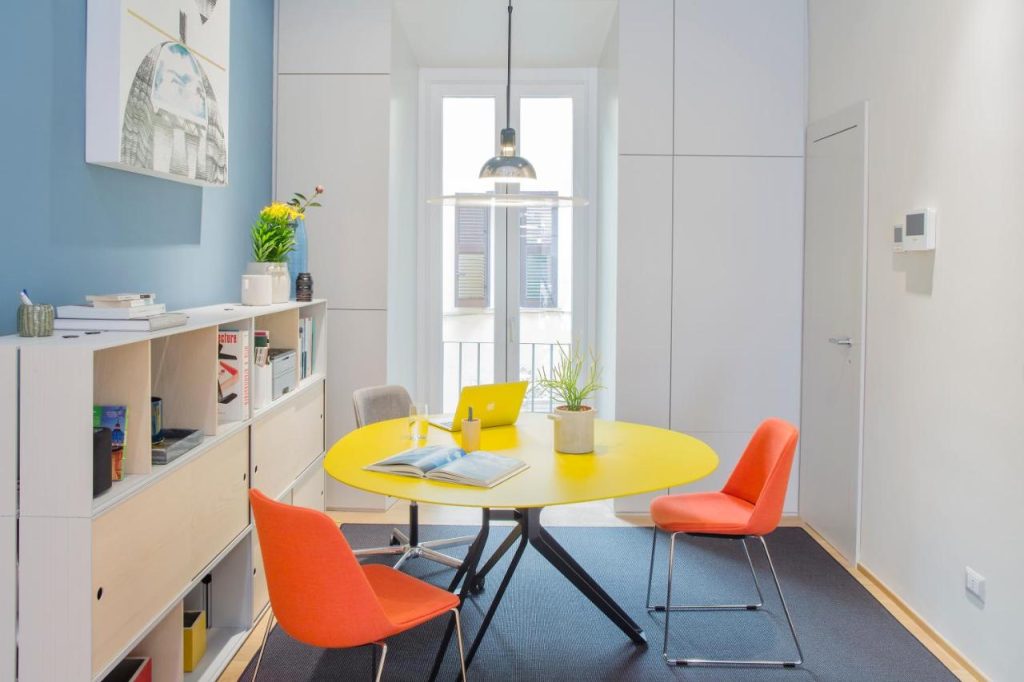 Act fast if you're thinking about sleeping at the elegantly understated Radical Hotel Roma! The location only has eleven rooms which often fill up on weekends and during busy seasons.
| | |
| --- | --- |
| Pros | Cons |
| Few minutes away from the metro station | No parking available |
| Beautiful design | Pets are not allowed |
| Children of all ages are welcome | |
| Easy to find | |
Tree Charme Parliament Boutique Hotel
This small chain runs a few different hotels of various sizes around town, but their gorgeous boutique option near the Spanish Steps is one of the best options if you want to stay in the middle of the action.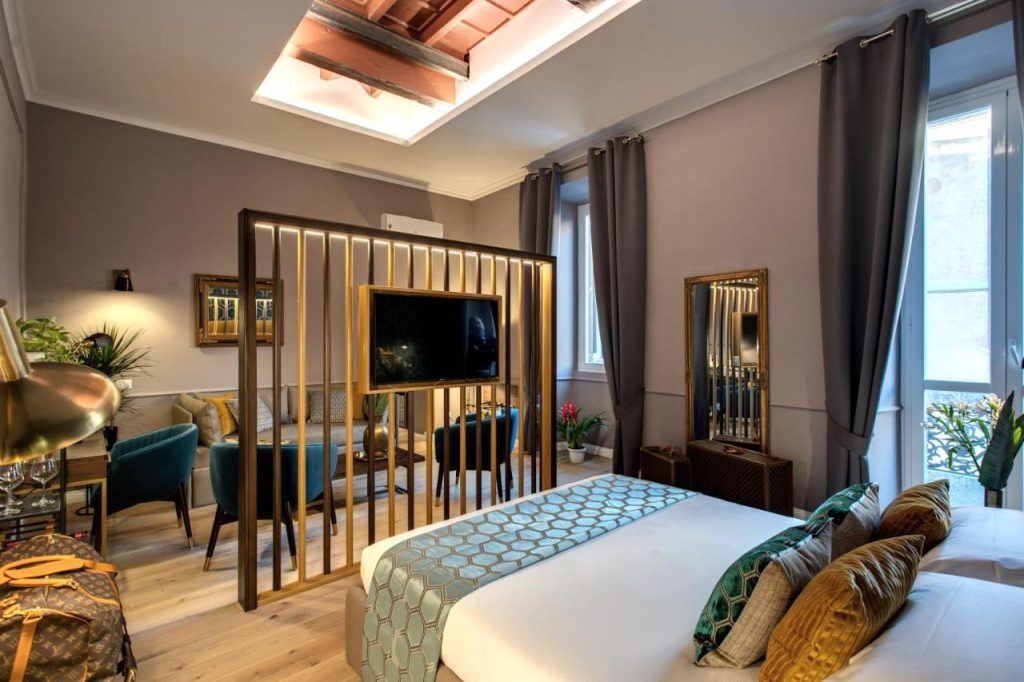 Most of their offers are double rooms, making for the perfect couple's getaway. They are small but cozy– peacock-colored wallpaper with dazzling patterns covers the walls and bedspreads, offset by ample wooden furniture and white space. A gallery of potted plants and flowers bring each room to life.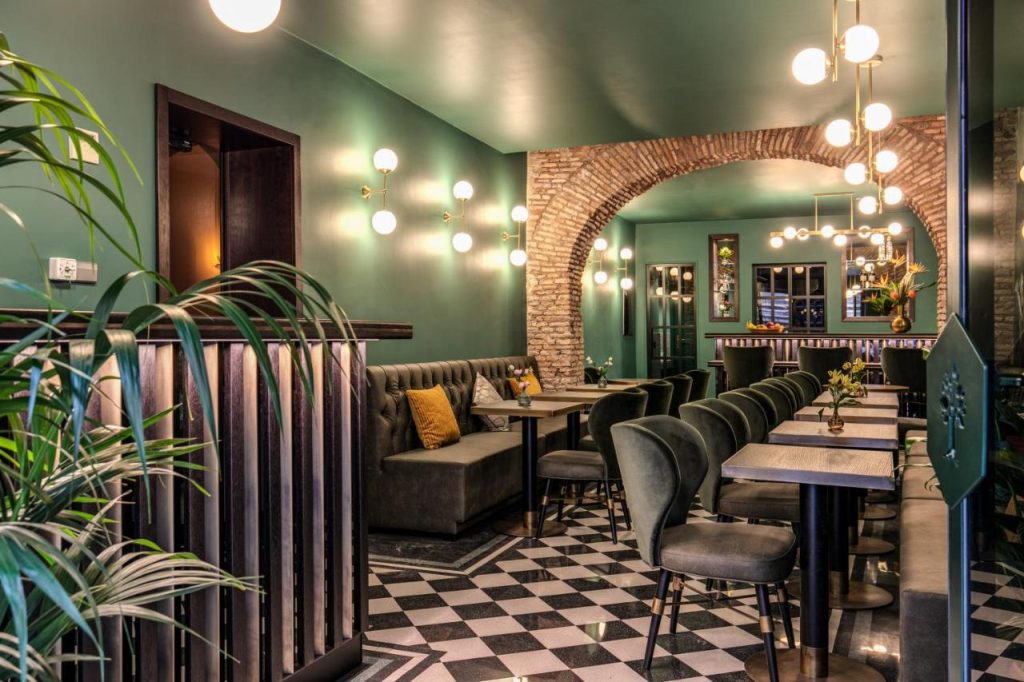 In addition to the rooms, the hotel offers to organize private tours for all guests and can also call the hop-on, hop-off sightseeing bus to pick up guests from in front of the hotel. All guests are welcomed to a traditional Italian breakfast every morning of their stay.
Their bistro, Prefetti 19, is sure to dazzle guests even further. This innovative little eatery serves an ever-changing menu of dishes of "European inspiration and Italian quality." It's one of the best spots in town to try traditional Italian cuisine with modern twists. Get a classic like ravioli, but instead of a tomato sauce, they'll throw a curveball by adding cacio e pepe or asparagus cream sauce.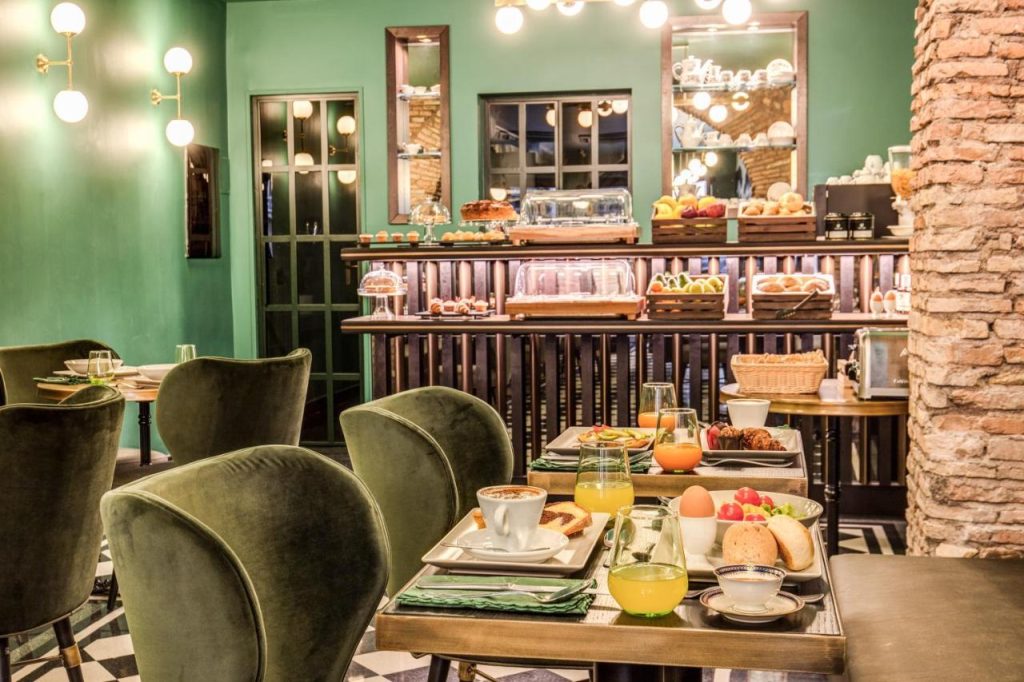 The hotel offers 23 rooms and suites. Most options are only suitable for two, but check Booking for the full list! Due to the hotel's prime location, it may be challenging to book last minute, especially during peak season.
| | |
| --- | --- |
| Pros | Cons |
| Great location | No parking available |
| Beautiful design | Pets are not allowed |
| Children of any age are welcome | |
| Paid airport shuttle option | |
Best 4 star hotels near Spanish Steps
Here are the best 4-star hotels near Spanish Steps in Rome:
U Visionary Roma Hotel
This hotel has a sleek design that's both modern in appearance and appropriate. It's futuristic on the inside, and the outside fits in with the historic neighborhood's architecture.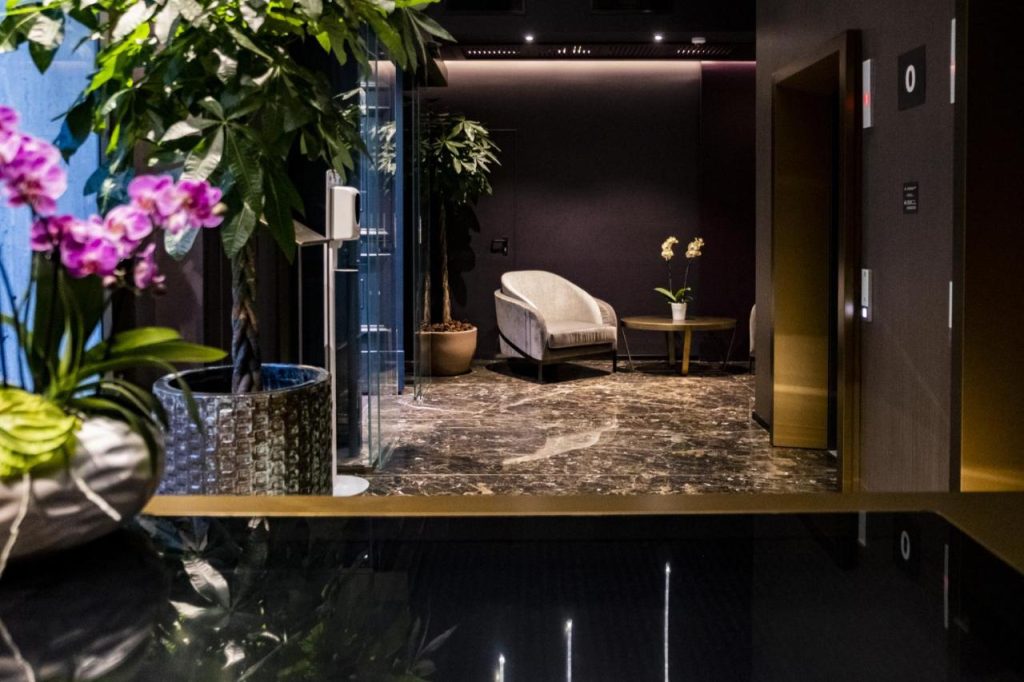 While most hotels boast bright colors and white space, U Visionary's rooms have a moodier atmosphere. From the most basic suite to the executive, they are all covered with stained wooden panels forming geometric patterns on the walls and floors. Though a dark color scheme, the beds brighten up the place with their white linens, and large windows allow plenty of natural light to spill in.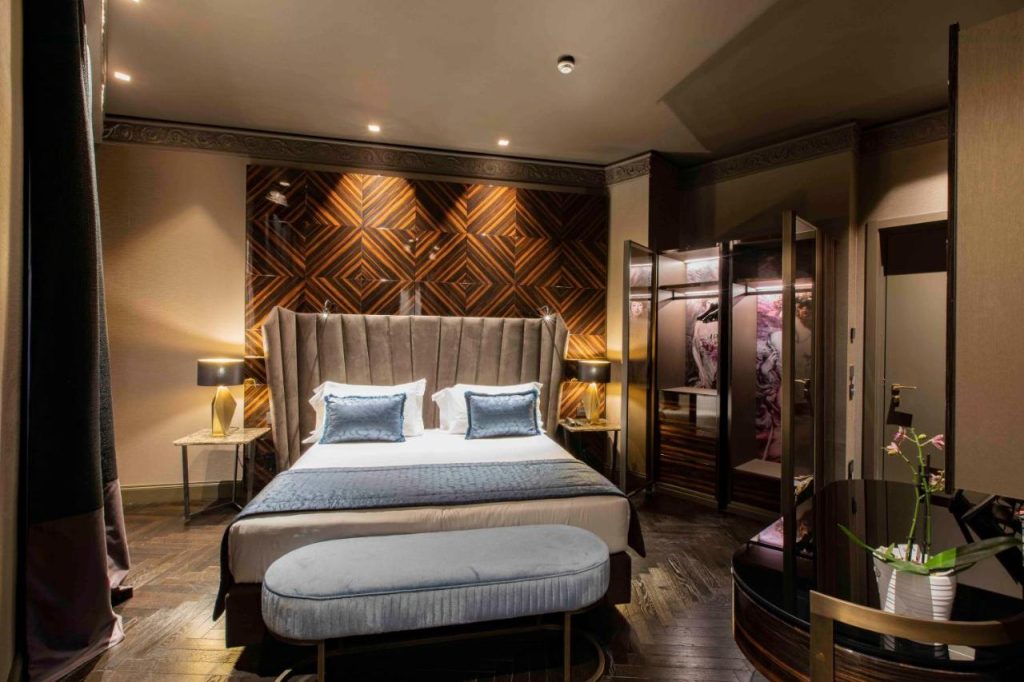 But that's not all. The hotel's vision is the future of travel and accommodation. The guest experience is totally personalized and automated through their smartphone. From controlling room functions like lights, TV, and AC to even ordering special services from the staff– it can all be done with a few clicks. This forward-thinking approach inspired the name U Visionary.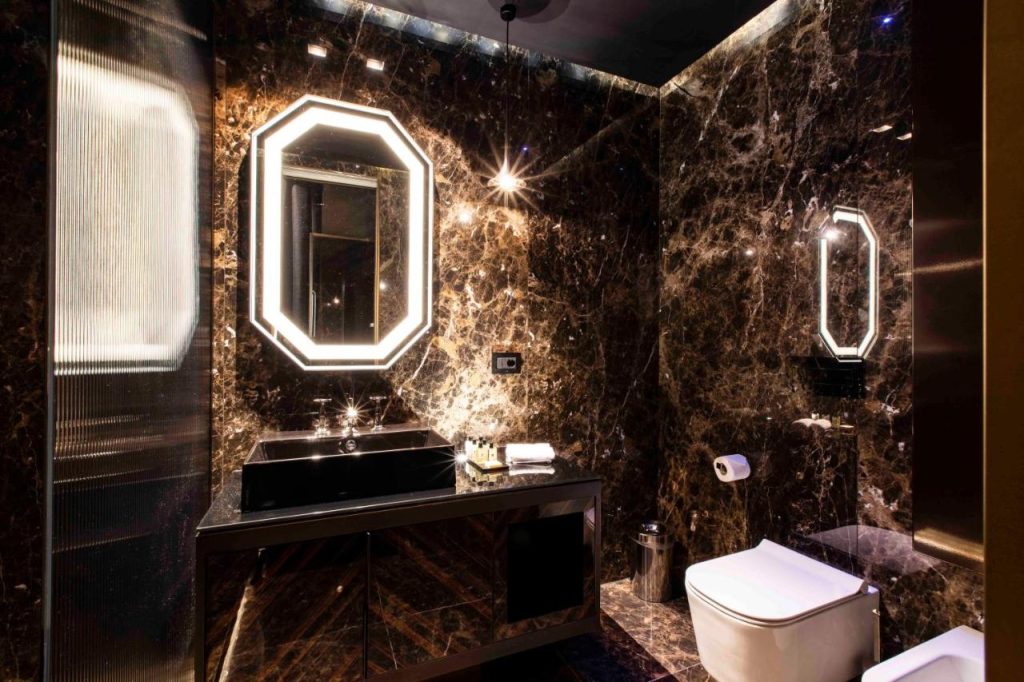 While you can enjoy breakfast, lunch, and dinner from the comfort of your room, be sure to pay a visit to the hotel's U Cafe! Take advantage of their huge breakfast offer, ranging from local flavors to pancakes and omelets. Come later in the day and sample a variety of cichetti (Italian tapas), pasta, and steaks.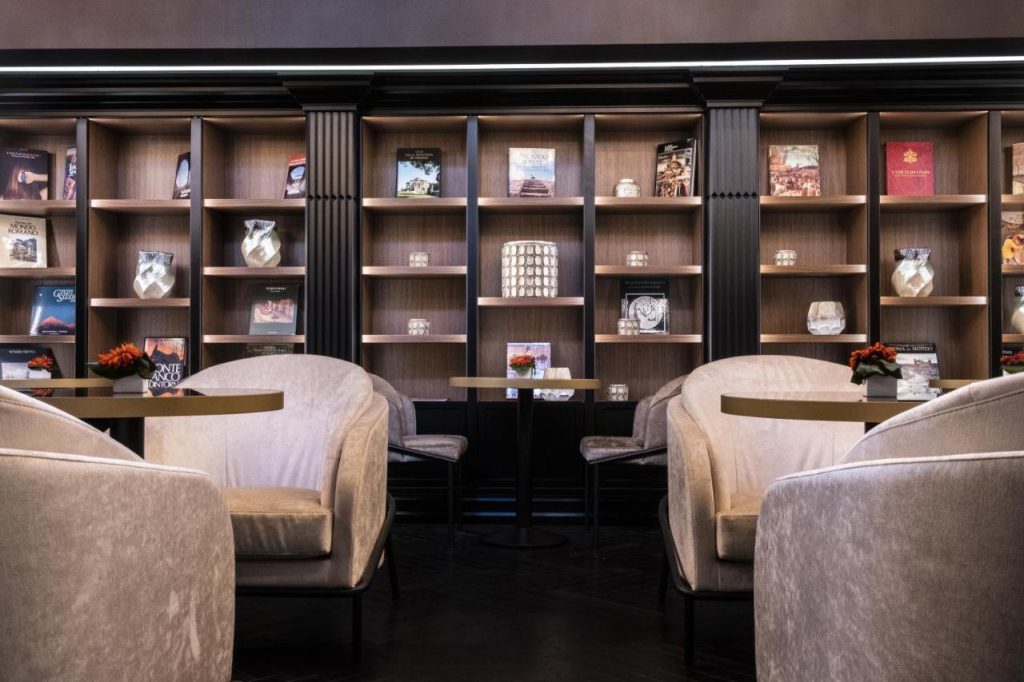 The hotel has over 30 rooms available for booking year-round. These range in size, but most options are for two. Book as far in advance as possible to secure a good rate!
| | |
| --- | --- |
| Pros | Cons |
| Great location | No parking available |
| Luxurious design | Pets are not allowed |
| Rooftop with great views | |
| Children of any age are welcome | |
Hotel Barberini
Perfect for a honeymoon or a business trip, Hotel Barberini is a sensible choice for anyone who wants to sleep comfortably in the heart of Rome. They offer a variety of single and double rooms and four spacious, luxurious junior suites. Each room, large or small, boasts a modern interior and views of the breathtaking surroundings with their rustic architecture.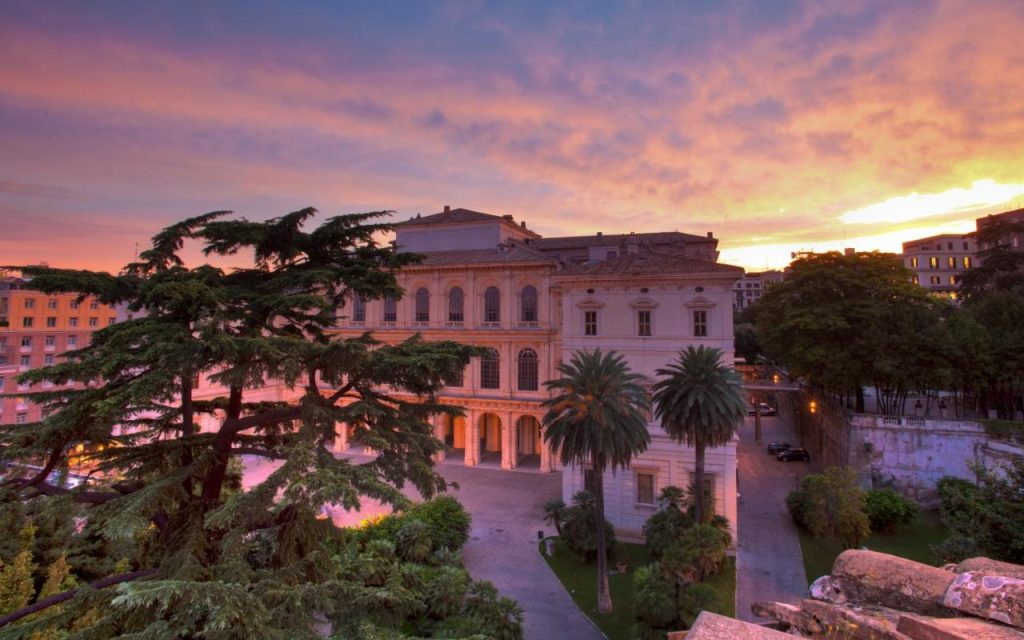 The concierge is there to assist you 24/7 and are locals who can help plan every last detail of your trip. From restaurant recommendations to organizing tours and filling out itineraries, use their expert knowledge of Rome's must-sees to get the most out of your trip. Staying here means breakfast with a view!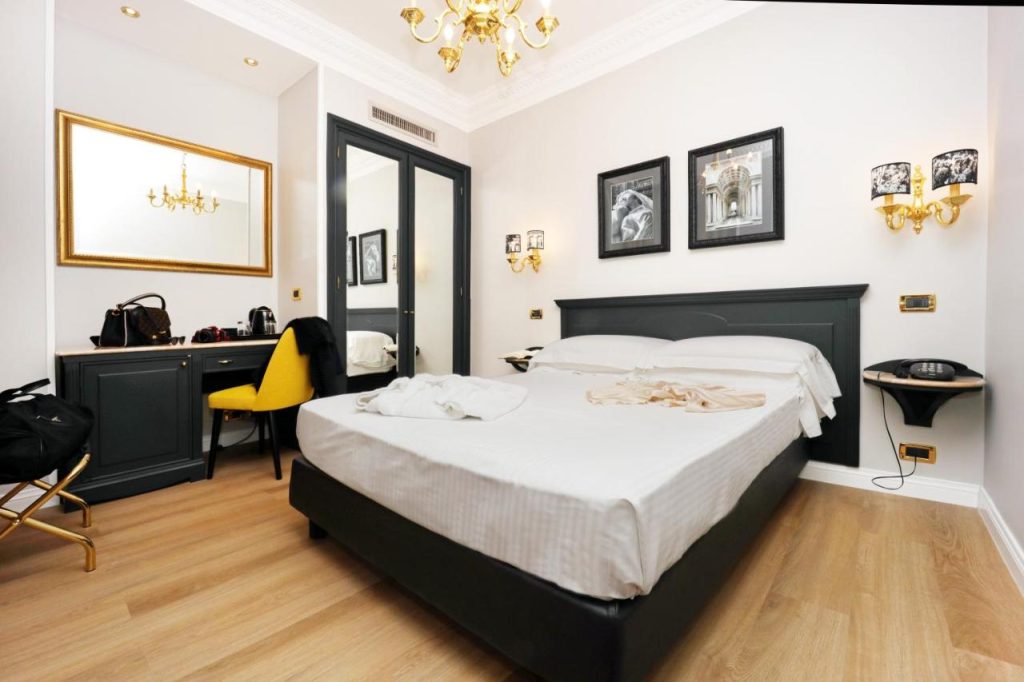 They offer all guests the chance to enjoy a fabulous breakfast buffet at Zaffiro, their rooftop restaurant. Come any time of day to enjoy a meal and see Rome stretch out in all directions. After a long day of sightseeing, regenerate at Barberini's state-of-the-art spa. The facility has cozy lighting, saunas, steam rooms, and baths to help you recover from your tiresome travels.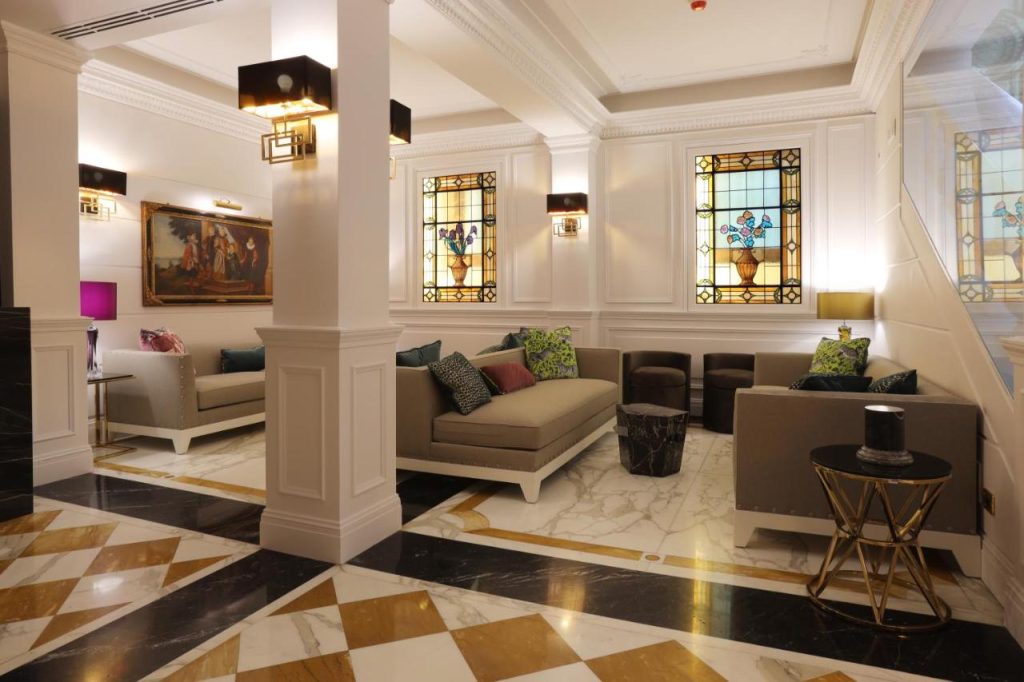 The hotel is a popular choice during the peak season. Book in advance to guarantee your rooftop breakfast and spa day! Though a luxurious spot, the hotel is known to offer discounts from time to time. Check out Booking often to be the first to know about special offers.
| | |
| --- | --- |
| Pros | Cons |
| Elegant design | No parking available |
| Rooftop with great views | Pets are not available |
| Children of any age are welcome | |
Best 5 star hotels near Spanish Steps
Here are the best 5-star hotels near Spanish Steps in Rome:
Baglioni Hotel Regina
A successful hotel and resort chain with locations across Italy and even in London, their flagship hotel is based right in the heart of Rome. Baglioni Hotel Regina emphasizes the importance of living the dolce vita by taking in the city's life and sights by getting immersed in them. What better way is there to do that than to sleep in the middle of the action?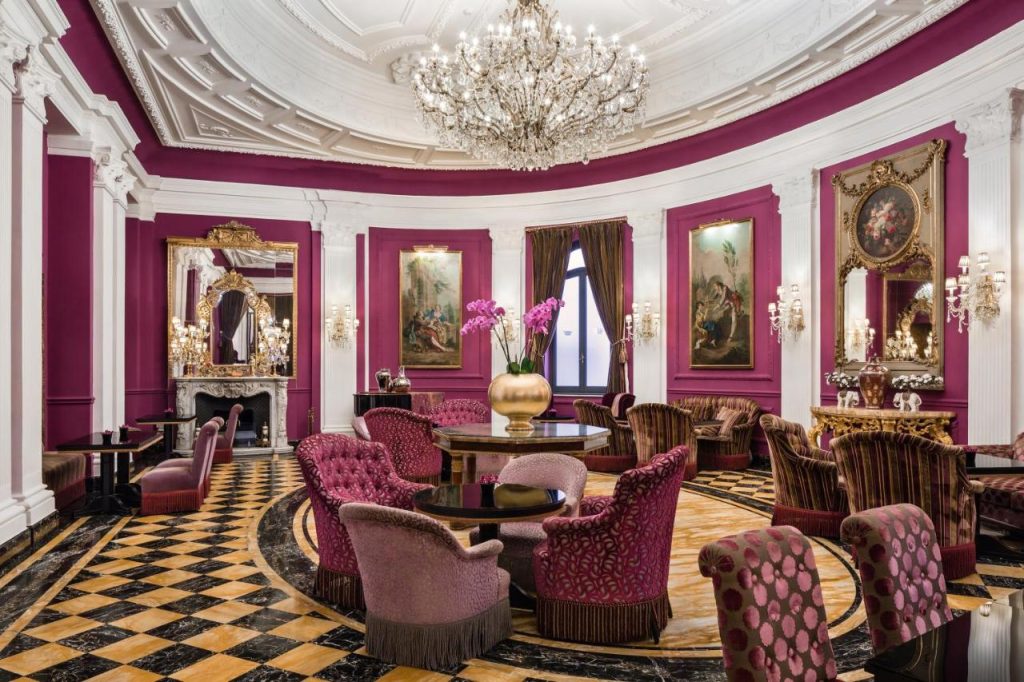 The building was completed in 1892 and is a living piece of Roman architectural history as an icon of the Art Deco movement. Choose from one of their many suites or the penthouse, all of which resemble private apartments more than typical hotel rooms. Each offer is decorated in different styles for your liking. Choose from classic Italian design, Art Deco, and more. Each room is shown with detailed photos on Booking.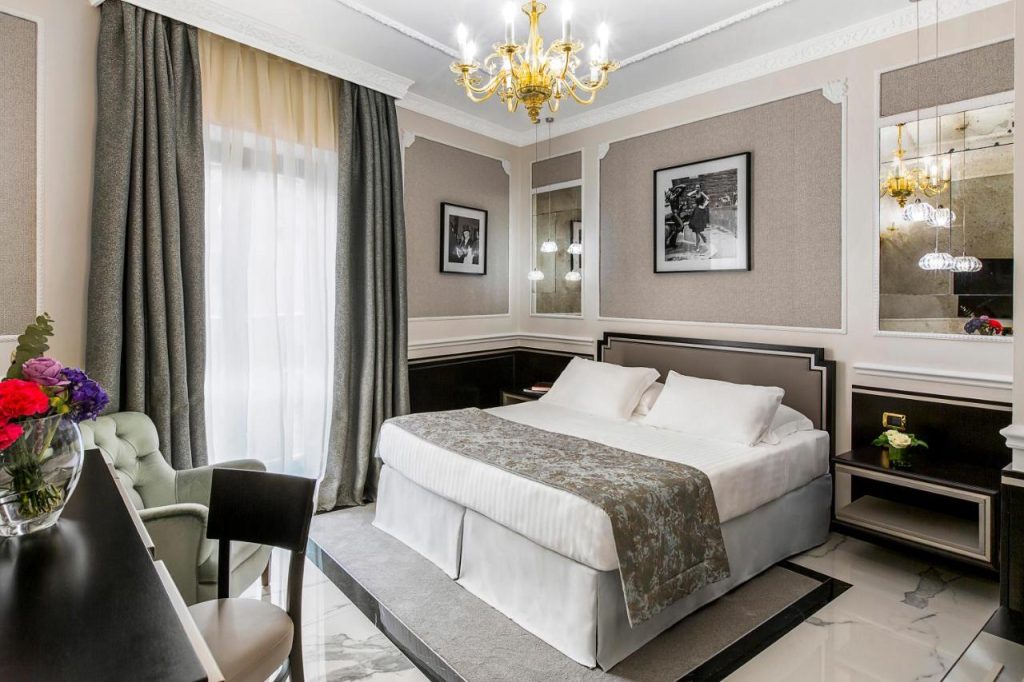 There are few better places to sample Roman cuisine than at the Hotel Brunello restaurant. Get modern takes on old classics like pumpkin tortellini or pig belly with chestnuts and mushrooms. The menu changes with the season, but it's a crowd-pleaser no matter what time of year you visit.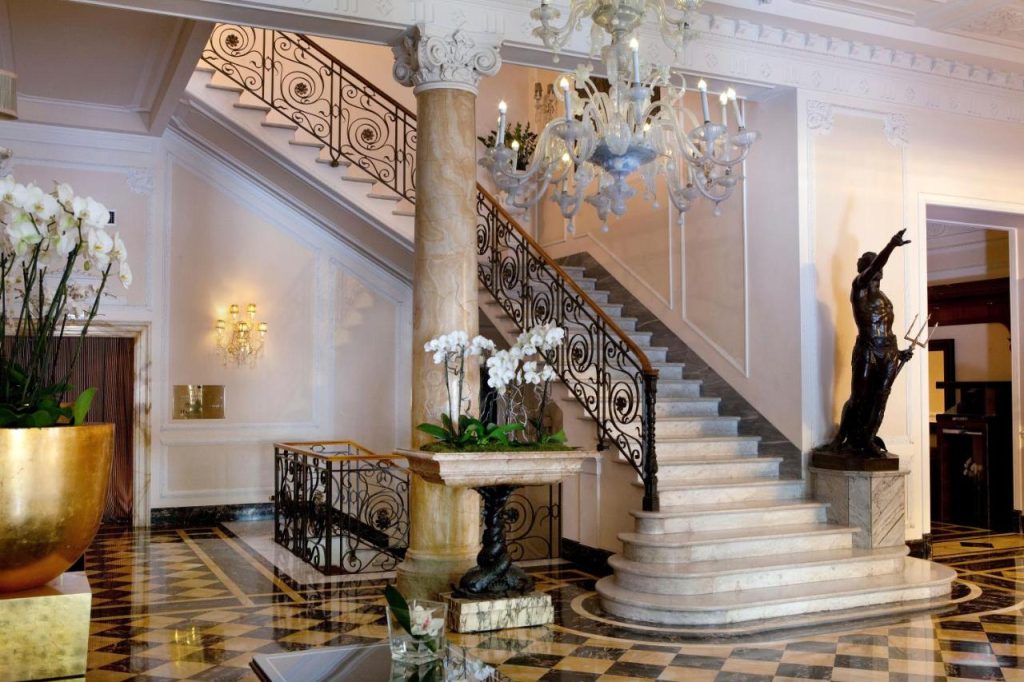 Baglioni welcomes families, honeymooners, business trippers, and more. To get the best rate, book as far in advance as you can. Early birds are often rewarded!
| | |
| --- | --- |
| Pros | Cons |
| Spa and wellness center | Paid private parking at a location nearby |
| Fitness center | |
| Elegant design | |
| Children of any age are welcome | |
| Pets are allowed | |
Hotel Vilòn
The building which houses Hotel Vilòn has a very interesting story. Serving once as a home to the royal Borghese family, you can now live like royalty as a guest in their suites.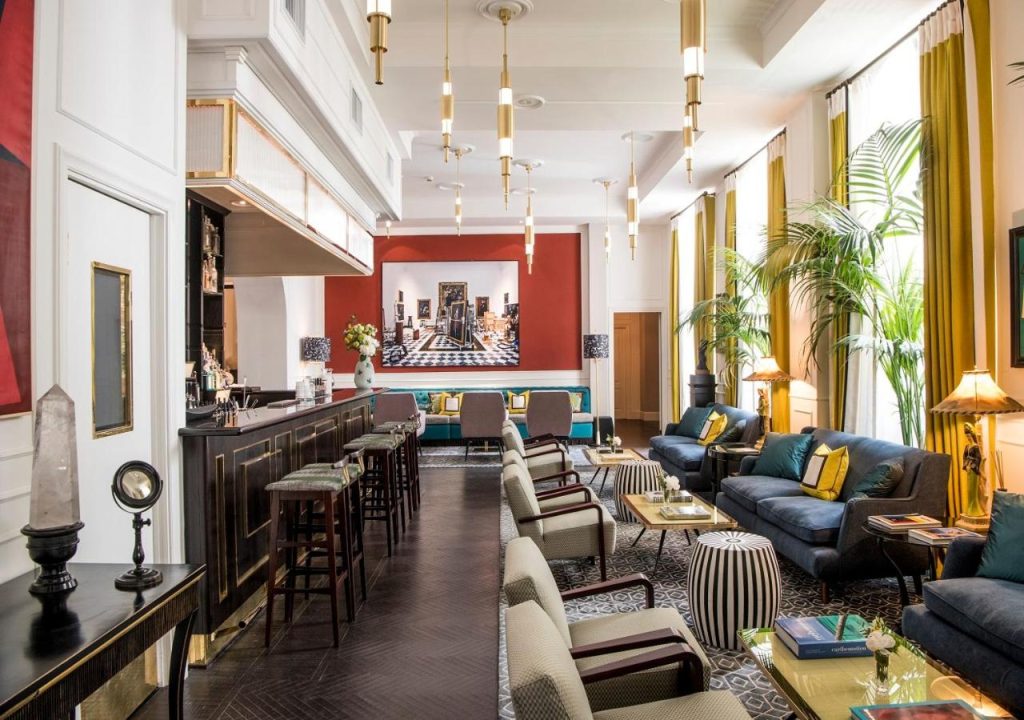 Stepping inside the hotel, you will think you have teleported into the future after seeing its 16th-century facade. Each room has a unique, subtle charm, as if showing off the personality of a royal family member who lived in each. Some include patios, so look at photos of each room online to see which is the best fit for you.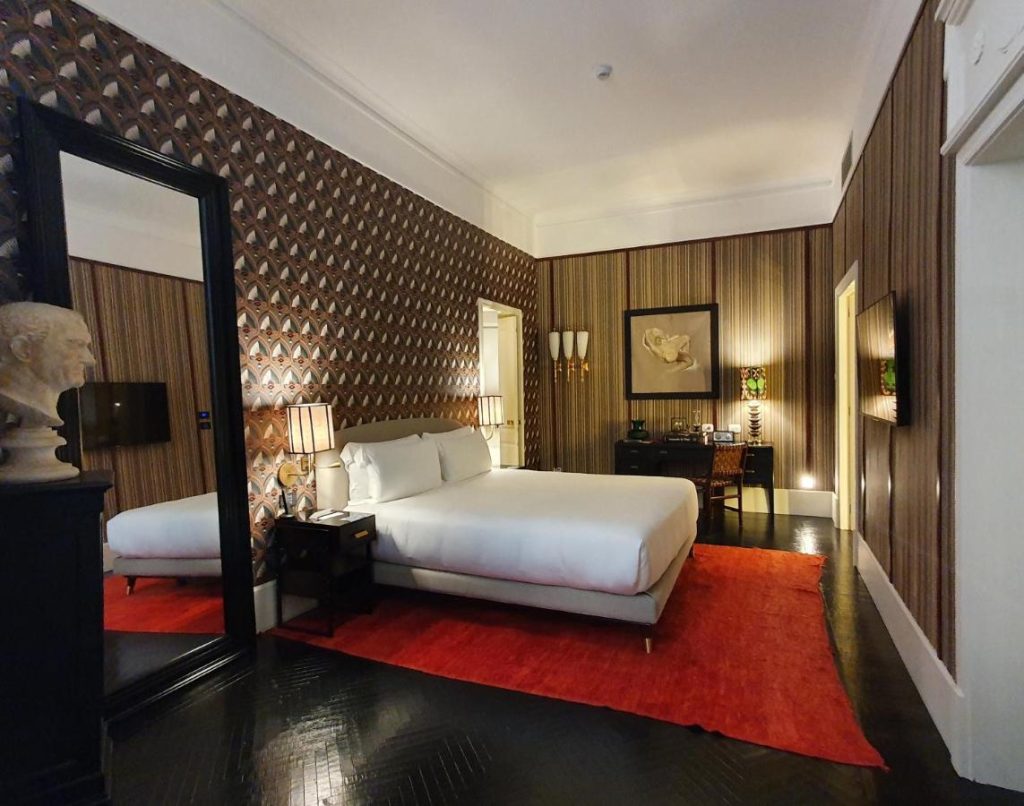 The concierge is dedicated to making your trip the best it can be. Let them help plan your day out on the town. As locals, they are sure to provide a wealth of insight and great advice that guidebooks could never provide.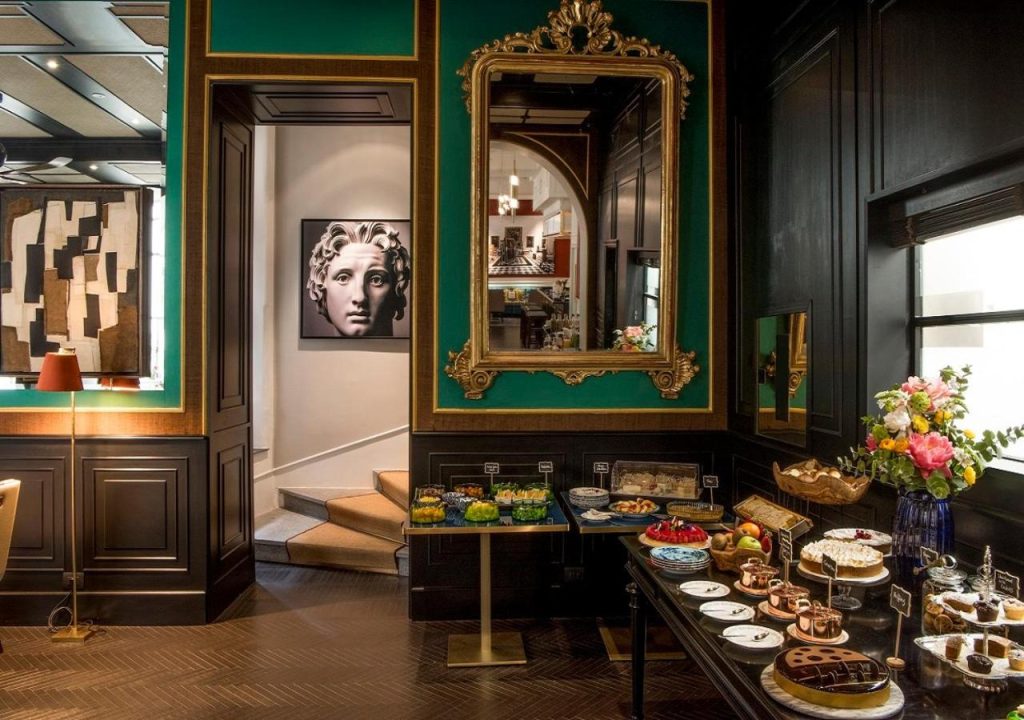 Restaurant Adelaide, named in honor of the princess who once lived here, is a must for anyone staying at the hotel. Perhaps the most elegant and luxurious room in the building, the show is run by Italian chef Gabriele Muro, who prepares the finest Roman cuisine and adds his own personal touches to them.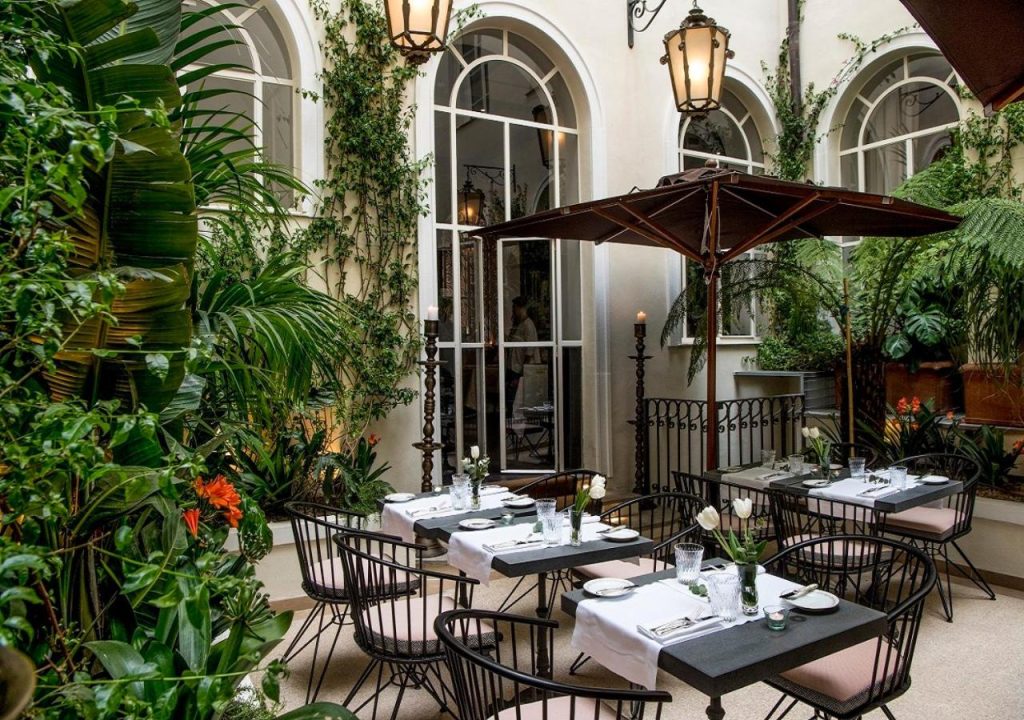 No hotel in Rome lets you sleep in royal quarters. Because it's such a unique experience, it's recommended that you book far in advance. This will also help the hotel prepare to make your stay the best it can be.
| | |
| --- | --- |
| Pros | Cons |
| Beautiful garden | Paid private parking on a location nearby |
| Classy design | |
| Pets are allowed | |
| Children of any age are welcome | |
Check out more articles about Rome:
Hey there! Some links on this page are affiliate links which means that, if you choose to make a purchase, we may earn a small commission at no extra cost to you. We greatly appreciate your support!