Planning where to eat on a Roman vacation is one of the most important parts of your itinerary. The Italian capital has thousands of food spots to choose from! Visitors can sample a huge variety of Italian cuisine, from pizza and pasta to fresh, new street food. On top of that, Rome has lots of signature dishes that every restaurant claims to make the best.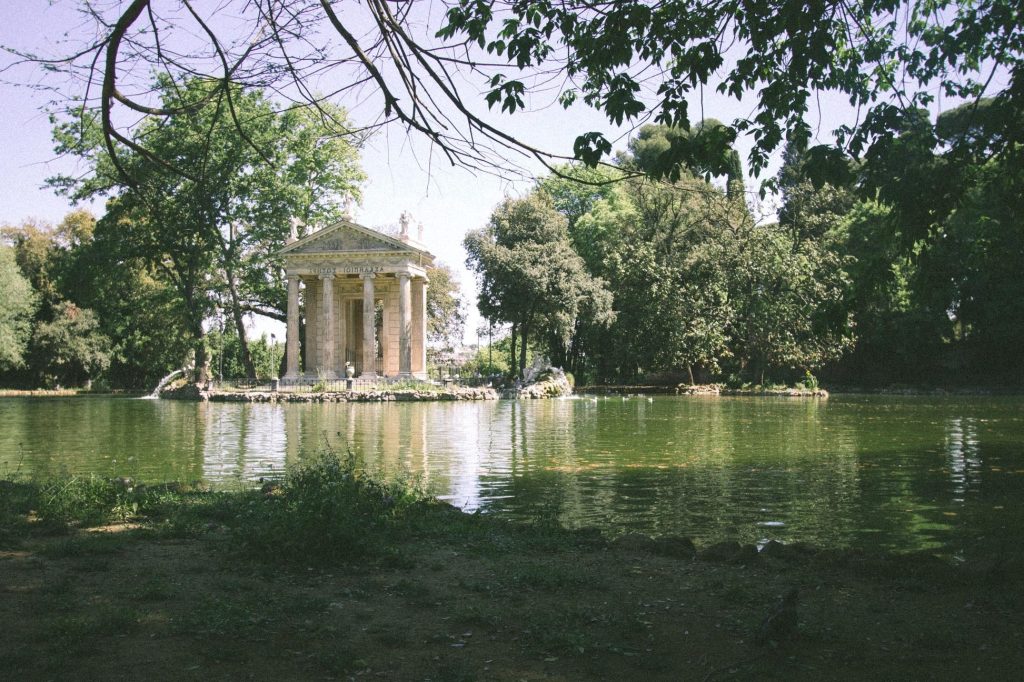 If your journey around the city brings you to Villa Borghese (and it should!), you ought to spend a couple of hours there. After a relaxing day sightseeing in the park, you will want to refresh yourself with something to eat. Luckily, you will be just a stone's throw from a huge selection of restaurants with great food.
These spots all serve up classic Roman recipes from scratch. The only hard part will be choosing the best one to visit. Read more of our guide to find out the best restaurants near Villa Borghese in Rome!
(This article contains 5 restaurants near Villa Borghese in Rome, which are best in our subjective opinion. The order of the restaurants is not related to the quality they offer. Every restaurant has its pros and cons, so choose the one based on your personal preferences.)
Babette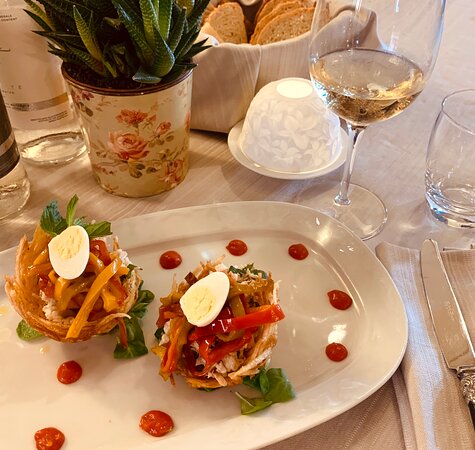 In the words of the owners, this place is a timeless building with delicate lighting, and the colors and atmosphere have been mixed by encounters and the passage of time. Knickknacks and books are hanging about, and the smell of fresh bread and herbs lingers in the air.
Throughout the restaurant's website, they refer to the restaurant many times as "she," and that "she" is Babette. At Babette, they are all about taking care of their guests with the finest Roman and Italian cuisine available.
This place operates a little differently from other restaurants in the city. They don't close down between lunch and dinner and have separate menus for the two, plus breakfast. If you are starting your day at Babette, you have plenty of typical breakfast items to choose from, including eggs, bacon, omelets, and more, with plenty of fresh bread and homemade jams on the side.
Lunch is all about light bites, with several sandwiches, hors d'oeurves, and salads on the menu. You can also get pasta if you need something more filling. Coming for dinner? You are in for a treat. They have all kinds of antipasti, pasta, and main courses waiting for you to try. You can get simple pasta and sauce or try one of their many stuffed pasta-like ravioli filled with burrata and anchovies.
If you still have room, get ready to be blown away by main courses like duck breast in orange reduction and pistachios or veal wellington. Babette is open Tuesday through Sunday from 9:00 AM (9:00 hours) to 11:00 PM (23:00 hours). The restaurant is a popular choice, so it is wise to contact them in advance for a reservation.
Distance: 400 meters (0.2 miles) from Villa Borghese in Rome
Phone:  +39 06 321 1559
Ristorante Vladimiro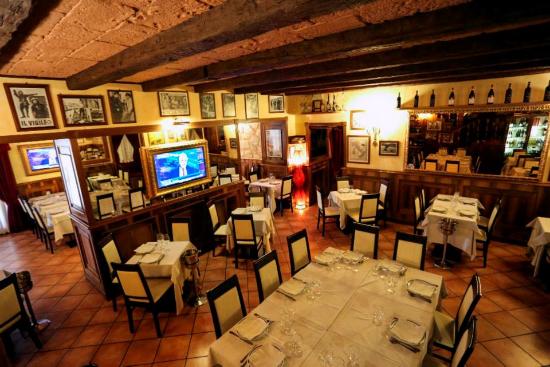 This restaurant prides itself on its emphasis on traditional Roman cuisine, which they make as authentically as possible with tons of flavor. They try to recreate an atmosphere that harkens back to the "Dolce Vita" years by sharing a peaceful night of quality food with loved ones.
The restaurant has a huge menu, specialized to accentuate local flavors but with something for every palate. They offer several antipasti, mostly seafood-based like salmon tartar or tuna carpaccio, but also fried artichokes and burrata with tomatoes.
For the first course, you cannot miss out on a Roman classic– cacio e pepe. This simple, most delicious dish is a plate piled high with tonarelli pasta that's been tossed in pecorino cheese and black pepper. No Rome visit is complete without trying it.
If you have already had cacio e pepe a couple of times on this trip, you can try one of their other first plates, like tortellini filled with burrata and pistachios and topped with yellow tomatoes! After that, they have a variety of meat and seafood main courses for you! For the carnivores, there is the classic Fiorentina steak. Grilled lamb chops are always a great choice too.
If you are feeling more adventurous, get the octopus au gratin with sauteed fresh chicory. Ristorante Vladimiro is open Monday through Saturday from 12:00 PM (12:00 hours) to 11:00 PM (23:00 hours). Due to heavy tourist traffic in the area, it's advisable to make a reservation.
Distance: 450 meters (0.3 miles) from Villa Borghese in Rome
Phone: +39 06 481 9467
Pastasciutta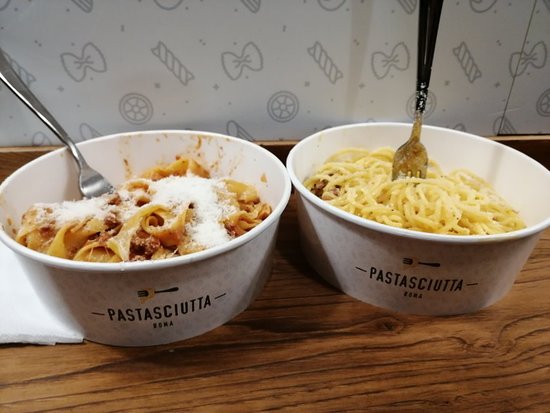 This spot is one of the best places to get some fresh pasta in the heart of Rome. Pastasciutta specializes in all things pasta, with a massive selection of different varieties with sauces.
Though the service is quick and you can get your food in a paper takeaway bowl, it's far from fast food. The pasta is made fresh that day, and all the sauces are from scratch. They don't skip out on flavor or quality.
You can sit down and enjoy your pasta in their big dining room, but another popular choice is to take it to go and eat as you sightsee around Villa Borghese. They keep their prices pretty low, too– most dishes cost between 6 and 8 euros.
The restaurant has a regular menu of classic combinations. Try spaghetti alla Amatriciana– a big pile of pasta loaded with lard cheek, tomato sauce, and cheese. There is also the Roman favorite cacio e pepe, but with thick rigatoni pasta for something a little different.
You can also get their rigatoni with truffle sauce and parmesan. In addition to their diverse menu, they always have daily specials. These vary but are always special. The sauces used in these dishes are exclusive to the daily specials and aren't used in their regular items. You should visit their official website to see these offers daily.
Pastasciutta is open daily between 11:00 AM (11:00 hours) and 10:00 PM (22:00 hours). Even on weekends and bank holidays, the place is open and ready to serve fresh, hot bowls of your favorite classic pasta dishes. Service is quick and efficient, so don't walk away if you see a crowd! Stick around, and you won't be disappointed.
Distance: 300 meters (0.2 miles) from Villa Borghese in Rome
Phone: +39 06 6933 6353
Ai Fienaroli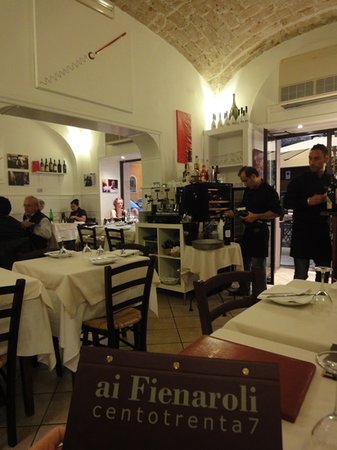 If you are worn out from sightseeing and need a calm, relaxing place to grab a bite and refresh, then look no further! Ai Fienaroli is right in the heart of the action but provides a quiet, friendly atmosphere for diners.
The place is run by a blue-blooded Roman family who is passionate about gastronomy and loves sharing their city's cuisine with all their visitors. They take their work very seriously and have dedicated their lives to food. Most of the family have studied culinary arts and have decades of experience as professional chefs.
Their menu puts Rome in focus but takes inspiration from all across Italy, both land and sea. If you are with a big group, consider skipping the appetizers and going for a pinsa. If this word is new to you, know that it's one of the city's many specialties and a must-try. Though it may resemble a pizza, it deserves a category of its own because of its thin, crispy crust.
You can get all kinds of toppings like mortadella, sausage, squash, potatoes, and more! If you didn't carb up too much with the pinsa, you will have to try one of the first dishes. Over a dozen pasta dishes are waiting for you to try, like carbonara, Amatriciana, and spaghetti with clams.
For the warriors who survived eating pinsa and pasta, finish off with a meaty main course. Sample delicacies like Saltimbocca veal cooked with ham, sage, and white wine or a black angus steak with caramelized pears and cinnamon.
Ai Fienaroli is open every day from 12:00 PM (12:00 hours) to 11:00 PM (23:00 hours). The restaurant is in a busy tourist area, so contact them through the information posted on their website if you want to make a reservation.
Distance: 400 meters (0.2 miles) from Villa Borghese in Rome
Phone: +39 06 4555 6436
La Terrazza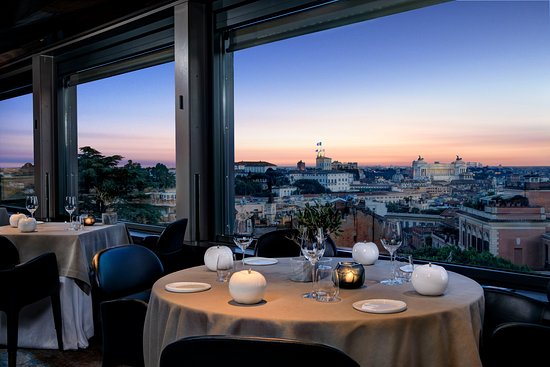 La Terrazza isn't just another downtown Rome restaurant. It's a Michelin-starred fine dining experience located on the Hotel Eden's terrace, affording one of the most incredible views in the city. The spot is hailed by critics as "a feast for the eyes."
The head chef is a native Roman and proudly showcases his city's culture through his product. He reimagines famous dishes using the finest ingredients possible.
Though their menu may be costly, it is no doubt worth the price for one of the best culinary experiences in all of Italy. You can order a degustation menu complete with wine pairings to get the most out of your visit. You will get several courses (they vary based on the day and season). These range from meat and seafood plates to various types of pasta.
The menu is subject to change daily, but most customers' meals here end the same way– their "Tiramisu with a twist!" What's the twist, you ask? The cream in the center is infused with iced wine. La Terrazza is open only for dinner, from 6:30 PM (18:30 hours) to midnight 12:00 AM (00:00 hours), and they take Sundays and Mondays off. Due to the limited opening hours and space, it is recommended to make a reservation.
Distance: 650 meters (0.4 miles) from Villa Borghese in Rome
Phone: +39 06 4781 2752
Where to find the best restaurants near Villa Borghese in Rome?
Villa Borghese is the third largest garden in Rome, containing a number of buildings, museums, and attractions. This beautiful garden is located close to Spanish Steps and Piazza del Popolo, so it is a very popular destination for many tourists. Even though you won't find any restaurants inside this huge garden, there are many of them nearby. Luckily, most of them are pretty good, so you won't have trouble finding one for yourself. It is advisable to always check reviews and prices on the internet before entering the restaurant.
Check out more articles about Rome:
Hey there! Some links on this page are affiliate links which means that, if you choose to make a purchase, we may earn a small commission at no extra cost to you. We greatly appreciate your support!