The Trastevere district of Rome is known for vintage clothing shops, quirky bars serving exciting cocktails, and cobbled streets combine to create a truly magical space that is loved by both those who call it home and those who are passing through. It is not full of tourists, meaning the streets aren't too crowded. Actually, this neighborhood is something of a hidden gem in Rome. While walking around, it is not uncommon to see street performers in Trastevere playing modern and traditional songs on guitar.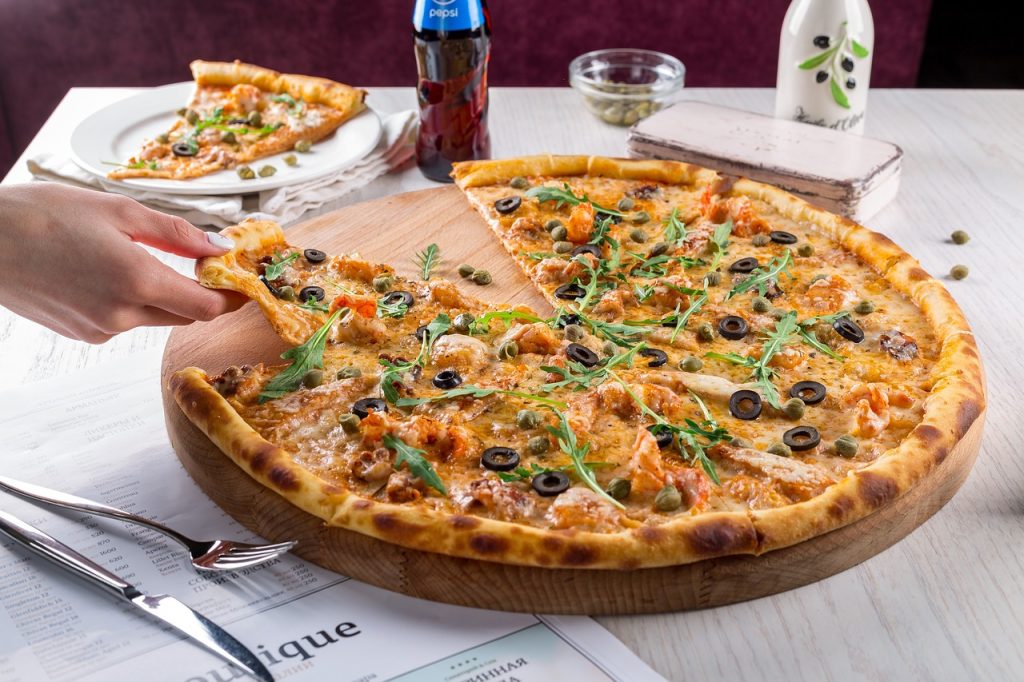 They help feed this uniquely buzzy atmosphere. There are friendly staff in every bar, restaurant, and shop here, too, who work together to make the district one of the most welcoming in all of Italy. Being in the heart of Rome, you would expect Trastevere to excel when it comes to pizza – and you would be right. It does! With pizzerias on nearly every street, this neighborhood is one of the best places to source great-tasting slices day and night. Here are the restaurants where you can eat the best pizza in Trastevere:
(This article contains 5 pizzerias in Trastevere, which are best in our subjective opinion. The order of the pizzerias is not related to the quality they offer. Every pizzeria has its pros and cons, so choose the one based on your personal preferences.)
Alice Pizza Trastevere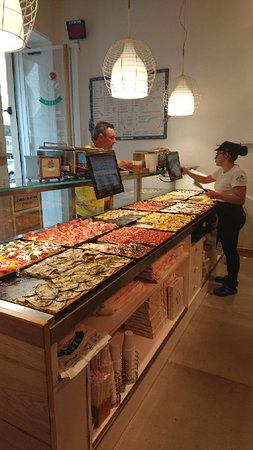 Located just a few streets away from the River Tiber, you will find Alice Pizza Trastevere. With dine-in and takeaway options, this small eatery is one of the best pizzerias in not just the Trastevere region but the whole of Rome. It opened its doors to hungry travelers over 30 years ago in 1989 and has been serving delicious pizza ever since.
What makes Alice Pizza Trastevere unique is the lightness of the dough used in its pizza recipe. This method of making pizza was unique to the area at the time and has since inspired pizzerias across Rome and beyond.
There are over two dozen tasty pizzas to choose from here, including Funghi Rossa (mushroom), Patate e Rosmarino (potato and rosemary), Margherita, Carbonara and Spinaci e Bacon (spinach and bacon). They also offer sweet pizzas at Alice Pizza Trastevere, which are a quirky twist that merges two courses – mains and desserts. Choose from Nutella, Mele e Cannella (apple and cinnamon), or Ricotta e Nutella.
There are plenty of drinks available to buy, too, including Heineken, Coca-Cola Zero, and a simple Acqua Frizzante (sparkling water). Alice Pizza Trastevere is a fantastic pizzeria in Trastevere and is deserving of its place on our list. There is free Wi-Fi, too, making it a great spot for remote workers who can stay motivated with tasty pizza and hydrating fizzy drinks.
It is a casual and relaxed environment that also serves mouthwatering supplì. If you have not had supplì before, you are in for a real treat! This much-loved Trastevere pizzeria is so popular, in fact, that they recently franchised and now have dozens of eateries right across Italy. You will find them everywhere, from Pisa to Genoa and Turin to Sicily. The one in Trastevere is open every day, so you can visit it Monday to Thursday from 11:00 AM (11:00 hours) to 10:00 PM (22:00 hours) and Friday to Sunday from 12:00 PM (12:00 hours) to 12:00 AM (00:00 hours).
Distance: 150 meters (0.1 miles) from Basilica of Santa Maria in Trastevere
Phone: +39 06 6935 5773
Sesamo Trastevere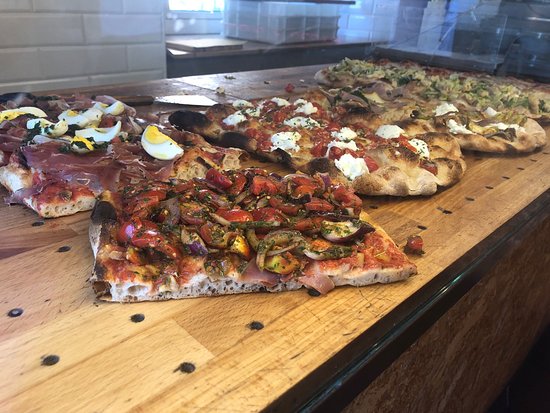 On Viale di Trastevere, just along the road from Ponte Garibaldi, is Sesamo Trastevere, a quaint pizza hangout worthy of a visit. It is open every day except Sunday and offers visitors to Trastavere the option to dine in or takeaway. There is delicious food, alcoholic drinks, coffee, and vegan options too.
This eatery's specialty dish is PizBurger, made with tasty dough, semi-wholemeal flour, and sesame seeds. Their PizBurgers come in nine unique styles: Original, Doppiopetto, Forestale, Stagionato, Campagnolo, Carbonara, Italiano, Pastrami, and Pulled Pork. However, if you are interested in something more traditional, you will love their range of seven pizzas. We recommend the Contessa with zucchini, mozzarella, guanciale, and provola cheese.
There are also four varieties of supplì, plus chicken options to boot. Pizza prices start from as low as 8 euros, with PizBurgers starting at 9 euros. The supplì here is a bargain at just 2 euros each. Beer and soft drinks are also available to purchase from this small place. You can source delicious Sesamo Trastevere food through Just Eat, Deliveroo, and Glovo, which is ideal for those staying in Rome but not visiting the Trastevere district. If you instead venture to the outlet, you will be pleased to know it is advertised as an LGBTQ+-friendly and transgender-safe space.
Sesamo Trastevere is trusted by the local people of the Trastevere neighborhood to provide great food at fantastic prices. And it is lived up to that trust at all times. The service is always quick here, too, making it ideal for those in a rush to explore more of the district and wider city. This small restaurant is open Monday to Saturday from 11:30 AM (11:30 hours) to 10:00 PM (22:00 hours).
Distance: 400 meters (0.2 miles) from Basilica of Santa Maria in Trastevere
Phone: +39 06 5184 7427
Pizzeria La Boccaccia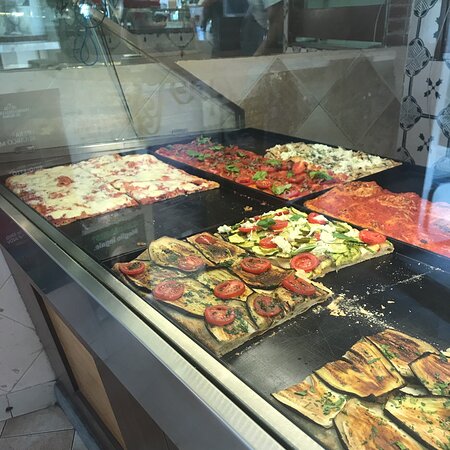 A stone's throw from Ponte Sisto in Trastevere is Pizzeria La Boccaccia. You will find it as soon as you are nearby because the doughy scents and expertly crafted tomato base fill the air around this eatery. Housed inside a small nook on the outskirts of the district, this food establishment is the right place for those who want to have a delicious pizza slice. Options include Margherita, Funghi (mushroom), and Crostino (ham).
They also sell a special potato-topped pizza which is joined on the canvas by sausage and cheese. You will also find scrumptious stuffed pizza with options including mushroom, ham, and pesto. Pizza slices at Pizzeria La Boccaccia cost just 3.50 euros a slice, meaning a family of four can eat for less than 15 euros. That is a bargain for such a city like Rome! Pizzeria La Boccaccia advertises itself as a vegetarian and vegan-friendly establishment, so be sure to ask for their best meat and dairy-free recommendations. There are wine, beer, and organic dishes too.
You will be pleased to know that there is seating available to customers just outside the outlet. It is the ideal spot to taste good pizza and watch people passing by. Trastevere is home to some of Rome's most interesting people, so you won't get bored looking around. Whatever you do, don't let the small size of Pizzeria La Boccaccia fool you. This pizzeria packs a punch! If you love affordable pizza with a variety of toppings and spending time watching the world go by, this is the Trastavere spot for you. This lovely spot is open every day from 9:00 AM (9:00 hours) to 11:00 PM (23:00 hours).
Distance: 400 meters (0.2 miles) from Basilica of Santa Maria in Trastevere
Phone: +39 339 581 1736
Supplì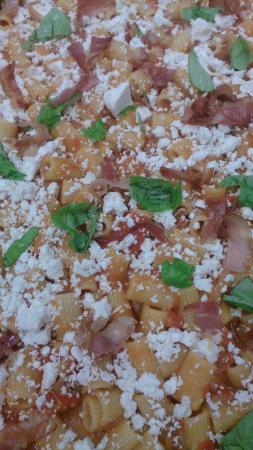 Open Monday to Saturday, from 10:00 AM (10:00 hours) to 9:00 PM (21:00 hours), Supplì promises Trastevere's guests a culinary treat like no other. Offering pizza by the slice, pasta dishes, and Italian fried meat snacks, this eatery is not to be missed. Let's start with their pizza. It is delicious and hand-crafted by professional chefs. Options include Margherita, ham, four-cheese, olives and pepper, tomato and mozzarella, and tuna fish with tomatoes. With so many fantastic options, it will be impossible to pick just one.
Onto Supplì's pasta dishes. These vary from lasagna with ragù sauce to mushrooms and peas and from squid and pesto to mussels and pecorino. The pasta dishes at this pizzeria are as good as their pizzas. Make no mistake – these aren't background plates. They deserve their spot sitting proudly alongside the pizza slices. Their fried meat snacks are quintessentially Italian, whether you order the supplì with ragù sauce, amatrician, cheese and pepper, or carbonara. Alternatively, we recommend their potato croquettes and arancini with mushrooms, peas, and aubergine.
Supplì offers special dishes throughout the week, such as gnocchi on Thursdays and spinach cannelloni on Wednesdays. Whatever you are in the mood for, Supplì has you covered! The casual atmosphere at this food outlet makes it appropriate for any vacation party, whether you are a solo traveler, visiting with another, or traveling as a family. Supplì is family friendly with food that kids will love. And with prices this reasonable, paying for the whole family doesn't have to break the bank!
Distance: 350 meters (0.2 miles) from Basilica of Santa Maria in Trastevere
Phone: +39 06 589 7110
Gli Specialisti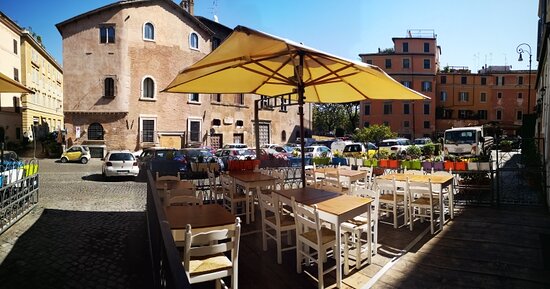 Unlike the other pizzerias listed in this guide, Gli Specialisti is a restaurant offering a wine-and-dine experience. It opens Tuesday to Sunday for lunch between 12:00 PM (12:00 hours) and 3:30 PM (15:30 hours) and for dinner between 6:30 PM (18:30 hours) and 11:00 PM (23:00 hours).
While it is possible to take away here, we recommend taking a seat and letting the amazing staff here look after you for the evening. There is a full menu on offer here that includes antipasti, secondi, and dolci. From the antipasti menu, we recommend the carpaccio di manzo con rucola e parmigiano reggiano (beef carpaccio with rocket and parmigiano). From the secondi list, we think you will love the tagliata di manzo alla griglia (grilled slice beef) or the scaloppine al vino blanco (scallops with white wine).
For mains, it has to be pizza. We love the four-cheese, mushroom, and margherita, but which you choose is up to you. If you or anyone in your party is vegan, the marinara pizza is a great choice. Not to be overlooked, this simple but effective pizza is always a triumph!
Gli Specialisti is just over the river from Isola Tiberina – an island in the middle of the river that is well worth a visit. It is also near Portico d'Ottavia (which are ruins of an Ancient Roman walkway) and the Jewish District – which, when done back-to-back, create an interesting and educational afternoon. Gli Specialisti is the ideal end destination for such an afternoon!
Where to eat the best pizza in Trastevere neighborhood?
Trastevere is a popular part of Rome precisely because it is close to popular attractions, yet not overcrowded with tourists. Therefore, those who want to distance themselves from the daily crowds and noise come to this quieter part of the city for lunch or coffee. Also, due to its location, Trastevere is an ideal place to book accommodation. As for food, this part of the city is one of the best areas if you want to enjoy delicious food without spending too much.
The same goes for pizzas. Here, you can find a wide selection of excellent pizzas at affordable prices. If you are in a hurry or prefer to eat while sightseeing, you have a good choice of small pizzerias that offer takeaway. On the other hand, Trastevere is full of various restaurants where you can try top-notch pizzas as well as other popular Italian dishes. Also, if you are the type of person who wants to experience as many different flavors as possible, small pizzerias usually offer pizza slices, so you can combine several for a better gastronomic experience.
Check out more articles about Rome:
Hey there! Some links on this page are affiliate links which means that, if you choose to make a purchase, we may earn a small commission at no extra cost to you. We greatly appreciate your support!