If sampling mouth-watering beer and hearty pub grub is your vibe, look no further than the Irish bar scene in Rome. Perfect for tourists and locals alike, these pubs offer a place to socialize with friends, meet new people, watch sports on the big screen and drink delicious pints of Guinness.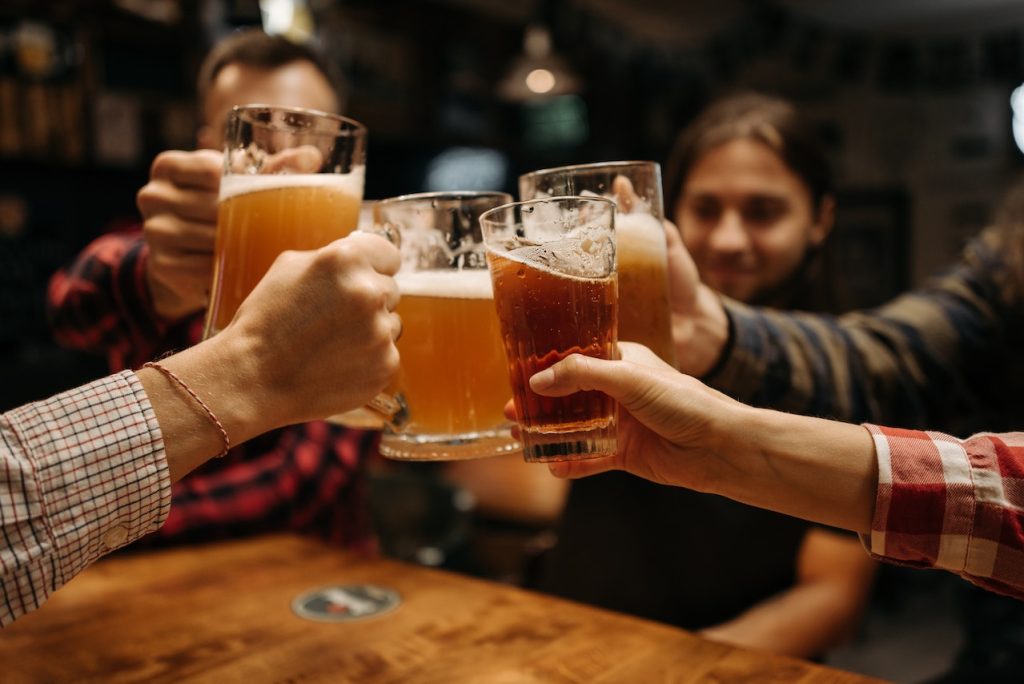 But with so many Irish pubs to choose from, it can be a challenge knowing which to try first. In this handy guide, you will discover our favorite Irish establishments in the vibrant city of Rome. We are confident you will share in the luck of the Irish as you enjoy the best Emerald Isle bars Europe has to offer. Here are the best Irish bars in Rome:
(This article contains 4 Irish bars in Rome, which are best in our subjective opinion. The order of the bars is not related to the quality they offer. Every bar has its pros and cons, so choose the one based on your personal preferences.)
Scholars Lounge Irish Pub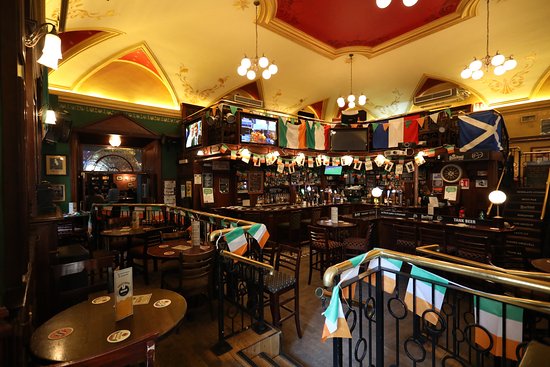 Looking for an award-winning pub in the center of Rome? Scholars Lounge Irish Pub was opened with you in mind. Having been crowned the European and World Winner of Irish Pub of the Year in 2017-2018, as well as the Irish Whiskey Bar of the Year in 2015, you are guaranteed to have a great night here.
Located on Via del Plebiscito, this establishment is a great spot for tourists hoping to find a buzzy atmosphere with friendly staff. You will feel like you have traveled from the center of Rome across to Ireland as you sample the many beer and whiskey delights on offer.
At Scholars Lounge Irish Pub, you will find delicious Irish beers, as well as European and Belgian ones, so good that they nearly (nearly!) rival Guinness. Alternatively, sip on one of the over 350 whiskies on sale in their quieter upstairs lounge area.
Our food recommendations here include beef cooked in Guinness, an Irish breakfast, and a vegan burger. It's a diverse menu with something for everyone. Expect to find the attentive staff here, who are on hand to make recommendations and ensure your trip to Rome is one to remember.
90% of the waiters and bar staff at Scholars Lounge Irish Pub hail from Ireland, making this eatery as authentic as they come. Sports fans rejoice! Scholars Lounge Irish Pub is home to multiple giant screens and projectors to ensure you won't miss a second of the big game. Surround sound makes this venue an immersive environment in which to watch rugby and football.
At this pub, you will be walking in the footsteps of Sean Penn, Brendon Gleeson, U2's Dallas Schoo, and Justin Bieber – to name just some of the famous people who have visited. Offering a large social space, this pub is the perfect place to dance the night away. With a packed live music program and regular DJ performances, your only wish will be that the evenings were longer. Scholars Lounge Pub is open every day from 11:00 AM (11:00 hours) to 3:30 AM (3:30 hours).
Distance: 800 meters (0.5 miles) from Trevi Fountain in Rome
Phone: +39 06 6920 2208
Abbey Theatre Irish Pub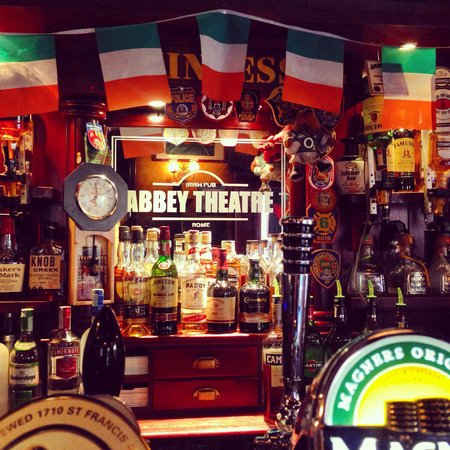 Abbey Theatre is a traditional Irish pub on Via del Governo Vecchio serving tasty Italian fare, including pizzas and pasta dishes, as well as authentic Irish plates such as shepherd's pie and Irish salmon fillet.
Drinks on offer at Abbey Theatre Irish Pub include beers, wines, cocktails, whiskies, gins, rums, tequilas, and vodkas. And, of course, being in Rome, there's always the option of a good-quality espresso.
Whichever night you visit, we promise you will be entertained at Abbey Theatre Irish Pub. From live Irish music to 6 Nations rugby games and from Premier League football matches to basketball tournaments, there is something here for everyone. There are an incredible 16 screens around the venue, meaning you won't miss out on the match wherever you sit.
The ambiance at Abbey Theatre Irish Pub is lively and energetic – ideal for tourists and locals looking to go abroad without the need to hop on a plane. Students are in luck since this pub offers various student discounts across the week on food and drink.
Abbey Theatre takes its name from the Irish National Theatre, and genuine stage props and costumes have been reimagined as unique decor. The bar is open every Monday to Friday from 12:00 PM (12:00 hours) to 2:00 AM (2:00 hours) and every Saturday and Sunday from 11:00 AM (11:00 hours) to 3:00 AM (3:00 hours). The kitchen has different opening hours, so it is open every day from 12:00 PM (12:00 hours) to 12:00 AM (00:00 hours).
Distance: 1.3 kilometers (0.8 miles) from Trevi Fountain
Phone: +39 06 686 1341
Shamrock Pub Roma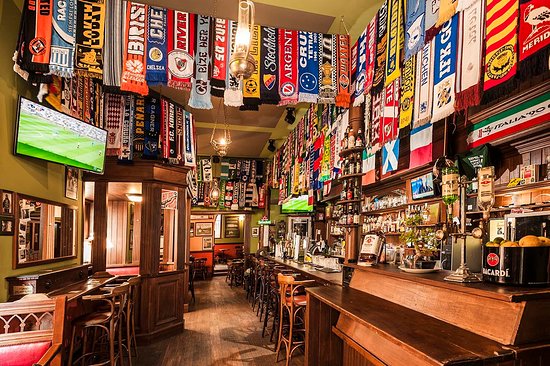 Anyone for nachos and a pint of Hop House 13? Located on Via del Colosseo, you will be right in the heart of the Ancient Roman world. You will be able to sip on a beer just a few streets away from the Colosseum on one side and The Forum on the other.
As you enter the front door, you will be greeted by a quirky decor of football scarves from around the world. There are 300 of them in total. Can you spot your favorite team among them?
In quintessential Irish pub fashion, you can expect to find the biggest games showing on screens around the bar. You can watch Irish sports here – something you won't find in many other places in Rome.
Shamrock Pub Roma has a football table, promising hours of fun as you sip on Guinness, Heineken, or one of the many other drinks on offer at the bar. It is open every day from 11:30 AM (11:30 hours) until 2:30 AM (2:30 hours), making it a great place for late nights with friends.
Distance: 1.1 kilometers (0.7 miles) from Trevi Fountain in Rome
Phone: +39 06 679 1729
Finnegan Irish Pub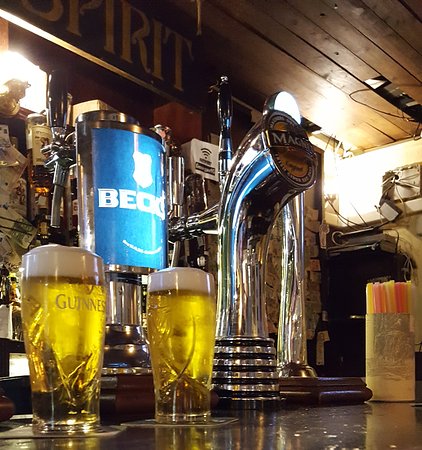 Picture the scene. Classic songs from the 90s are playing over the sound system as you throw your first dart. You are sipping a cool pint of Ireland's finest Guinness, and life is good. Chances are, you're in Finnegan Irish Pub. Whether you are in Rome for a long time or a good time, you will find plenty of excitement here.
You can expect to find great craic at this popular Irish pub, located in the heart of the Italian capital. One of a small chain of two pubs, this bar prides itself on being the only Irish-owned bar in all of Rome.
Sport is central to a great time here, with screens showing Sky Sports. English and Scottish premiership football, 6 Nations rugby, Formula 1, and American football – they have it all. Finnegan Irish Pub is home to a great selection of drinks at affordable prices, and, of course, it sells world-famous Guinness – a staple of Irish culture.
The bartenders here provide punters with lots of laughs and prompt, friendly service you can rely on every time you visit. Finnegan Irish Pub offers outdoor seating, which is ideal for sunny days in the Italian sunshine.
Whether you are looking for a taste of friendly Irish hospitality or just a sip of a perfectly-poured Guinness, you will find it in one of Rome's bustling Irish bars. Finnegan Irish Pub is open every Sunday to Thursday from 1:00 PM (13:00 hours) to 12:30 AM (00:30 hours) and Friday to Saturday from 12:00 PM (12:00 hours) to 1:00 AM (1:00 hours).
Distance: 1.2 kilometers (0.7 miles) from Trevi Fountain in Rome
Phone: +39 06 474 7026
Where to find the best Irish bars in Rome?
Whenever you want to drink delicious beer, hang with your friends, meet new people, or just watch sports live on TV, Irish bars are the perfect place to be. Luckily, all of these bars are very close to the center and main attractions in Rome, so you won't have to walk far. Whichever bar you choose, we guarantee that you will have an awesome time and you will bring some good memories to your home.
Check out more articles about Rome:
Hey there! Some links on this page are affiliate links which means that, if you choose to make a purchase, we may earn a small commission at no extra cost to you. We greatly appreciate your support!