Planning where to eat on a Roman vacation is no easy task. The ancient capital has thousands of eateries to choose from! Visitors can sample a huge variety of Italian cuisine, from pizza and pasta to delicious street food. On top of that, the city has its own signature dishes featured on restaurant menus in every neighborhood.
If you're in town for a while, why not take advantage of the city's bustling international food scene? From Africa to the USA and the Middle East, almost every kitchen of the world can be found somewhere among ruins and museums. Along with these are a plethora of tasty Indian restaurants serving up authentic flavors from across the subcontinent. Read our guide for the best Indian restaurants in Rome!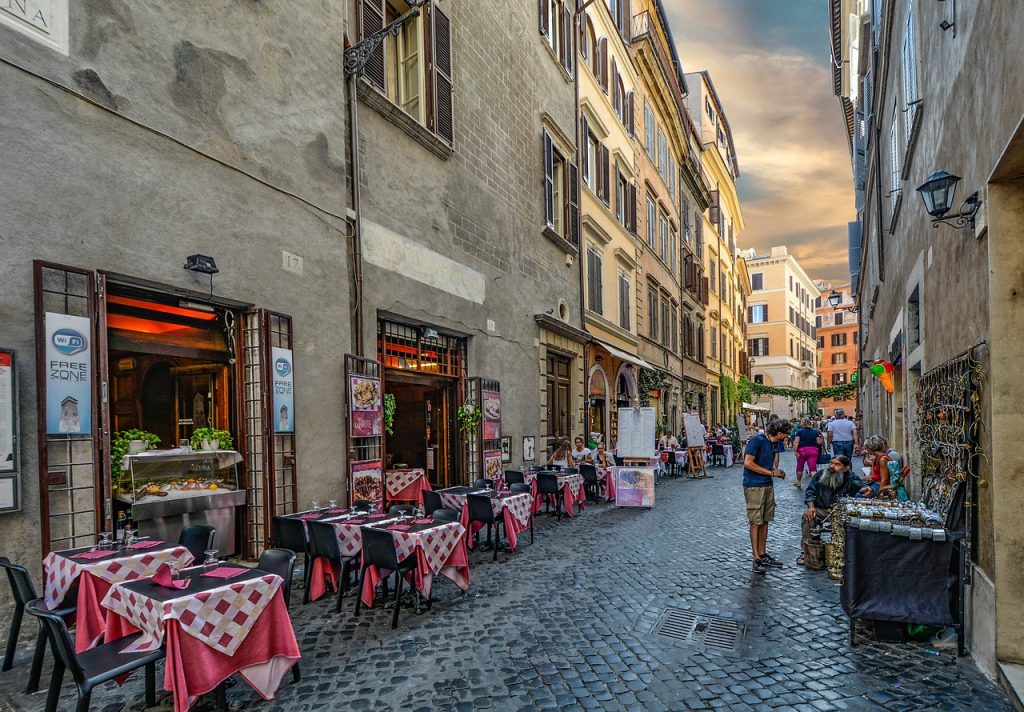 (This article contains 5 Indian restaurants in Rome, which are best in our subjective opinion. The order of the restaurants is not related to the quality they offer. Every restaurant has its pros and cons, so choose the one based on your personal preferences.)
Jaipur Ristorante Indiano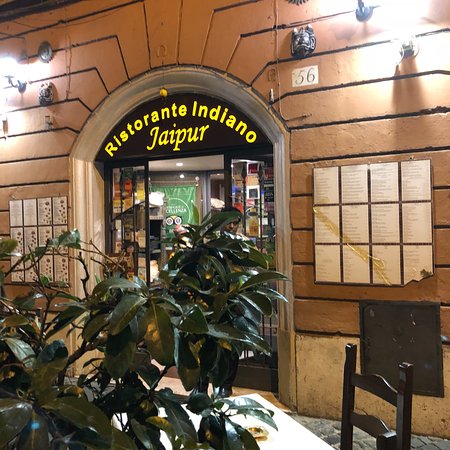 This first eatery is located in Trastevere, a district close enough to the action but with a more local, down-home atmosphere since many tourists barely miss it. Boasting a spacious dining room, they can accommodate any party, from date nights to birthday parties.
True to its name, the restaurant offers delicious Rajasthani specialties but also plenty of dishes from the rest of India. Each menu section has over a dozen choices with something for everyone!
Their tandoor oven-cooked meat dishes are the biggest crowd-pleaser. Try Jaipuri chicken Tikka, or maybe lamb Tikka, or why not both? They offer mixed meat platters for big groups. It's not all about the meat, though. Vegetarians, as in most Indian restaurants, will also feel at home here. There are plenty of killer curries based on paneer, chickpeas, or lentils.
Feeling more adventurous, try their house vegetarian specialty Baighan Bartha, a tandoor-roasted eggplant puree with no shortage of delicious spices. Not sure which dish to order? In addition to their regular menu offer, they have a special degustation menu for two. Get an all-inclusive taste of India with this special meal, complete with two starters, seven main courses, and even dessert!
Their degustation menu might change, but expect lots of tasty, spicy treats leaning heavily on paneer and tandoor meats. They have vegetarian and non-vegetarian menus. Reserve in advance and come hungry! Jaipur Ristorante Indiano is open for lunch and dinner Tuesday through Sunday, from 12:15 PM (12:15 hours) to 2:45 PM (14:45 hours) and from 7:15 PM (19:15 hours) to 11:45 PM (23:45 hours). On Mondays, they are only open for dinner. They offer free delivery for orders of 30 euros or more within 3 kilometers (1.8 miles) of the restaurant.
Distance: 2.2 kilometers (1.3 miles) from Trevi Fountain
Phone: +39 06 580 3992
Saaz Restobar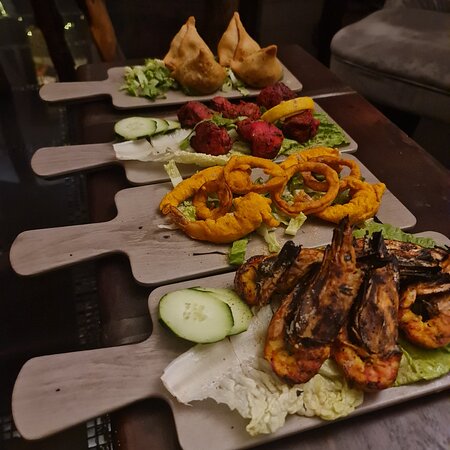 This delicious pan-Indian spot is right in the middle of the action. Saaz Restobar is actually an old and famous Indian restaurant called Indian Affairs. It's the perfect place to fuel up for an afternoon of sightseeing or maybe for a spicy pick-me-up after walking all day.
The owner and staff are famous for their kind, quick service and efficiently accommodating a high volume of customers in one of Rome's busiest areas.
Their massive dining room has an elegant, traditional look that transports you thousands of kilometers away. There are secluded dining rooms for private parties. Their hospitality is unmatched, too. One kind gesture is providing free water for guests while they wait for their food. This seems small, but it's not a common service in most local restaurants. Expect to pay a few euros to stay hydrated in other restaurants.
Start with one of their many appetizers, like samosas or crispy bread and chutneys. When it's time for the main course, they specialize in the classics we all love. Whether it's butter chicken curry, tikka masala, or something else, that tiny bowl is packed with huge flavors! Get something to soak up those incredible sauces– garlic Naan or bowls of jasmine rice piled high should do the trick. You will never go hungry here, nor will you be bored by its flavors!
If you have room for dessert, it's one of the best places to sample Indian sweets, like the famous Gulab Jamun. It's like a donut hole swimming in delicious syrup. If you are full, get a masala chai, a perfectly spicy, sweetened hot tea that Indian people drink day in and day out. The restaurant is open every day except Monday from 12:00 PM (12:00 hours) to 3:00 PM (15:00 hours) and from 6:30 PM (18:30 hours) to 11:30 PM (23:30 hours).
Location: Via Cavour 162
Website: none
Distance: 1.4 kilometers (0.8 miles) from Trevi Fountain
Phone: +39 324 600 3887
Bibliothe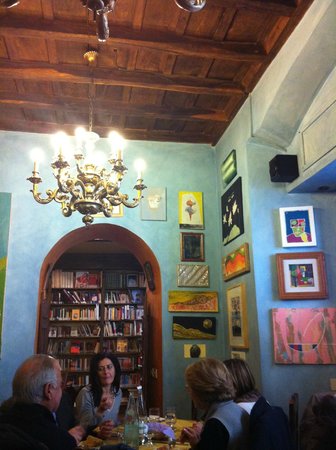 This spot offers both a unique menu and setting. If the name Bibliothe confuses you, you will understand as soon as you walk in the door. The restaurant is located in a small library that's part of a neighborhood cultural center. It's just one of the many quirks of the area near Largo di Torre Argentina, which is also home to a cat sanctuary inside some Roman ruins!
Their menu is inspired by the ancient Ayurvedic Indian diet. This is a special diet that's been around for thousands of years and is meant to promote long-term health by creating a balance between body and mind. The diet relies heavily on some staple ingredients while avoiding others.
The diet can't be boiled down to one or two rules, so it's important to do some research to learn its nuances and the spiritual significance it has. However, in general, the diet favors whole foods. Raw veggies, bitter herbs, and meat are limited. The restaurant's menu is all Ayurvedic, so you will be eating recipes developed over millennia meant to promote healing and a good lifestyle!
On any given day, you can sample one of their many curries, a sampler menu of several dishes, or the plate of the day. The plate of the day comes with a starter and soup and is a great deal for budget travelers! Vegans will jump for joy upon reading their menu. They have several options free of animal products and full of flavor.
They operate nonstop Monday through Saturday, from 12:30 PM (12:30 hours) to 10:30 PM (22:30 hours). If you arrive at an empty-looking library, don't be put off! You are in the right place, and the ever-so-kind staff will be around to help you.
Distance: 1 kilometer (0.6 miles) from Trevi Fountain
Phone: +39 06 678 1427
Gandhi 2 Ristorante Indiano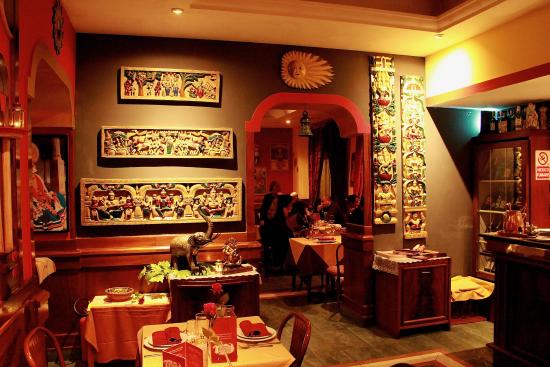 Here's another place to catch a break from sightseeing and fill up on tasty Indian food! Gandhi 2 is located in the heart of the Municipo I district, just over 10 minutes from Trevi Fountain on foot. The interior is cozy, painted in warm colors, and its walls covered with photos of famous Indian locations and the portraits of dozens of beloved national celebrities.
They offer a full-service menu of tandoori meat dishes, vegetarian curries, and several varieties of Naan and basmati rice! The staff are expert culinary matchmakers and often suggest combinations of dishes to give you the most memorable meal you will have in Rome.
Start by choosing from a range of different fresh Samosas or Pakoras, filled with everything from chicken or lamb to vegetarian choices like paneer or onion and spinach. Then, for the main attraction, you may have a difficult time choosing between lamb Vindaloo, fish curry, or dozens of other fresh-made dishes. For meat-free guests, they have several varieties of Dal, Paneer dishes, and much more. Be sure to get some Naan to accompany your food! Alternatively, they also serve Parantha, a delicious flatbread that can be made plain or filled with a variety of vegetables and meat combinations.
They also have one of the largest dessert menus among local Indian restaurants. Though Gulab Jamun is never a bad choice, you can spice things up with Khee, a traditional rice pudding with saffron on top. Gandhi 2 is open daily from 12:00 PM (12:00 hours) to 11:00 PM (23:00 hours). They don't close their kitchens mid-day, so stop by anytime for some of Rome's most amazing Indian cuisine! They can seat up to 175 people at any time, but due to the restaurant's central location, it's wise to reserve your table in advance.
Distance: 1 kilometer (0.6 miles) from Trevi Fountain
Phone: +39 06 4754 1259
Sitar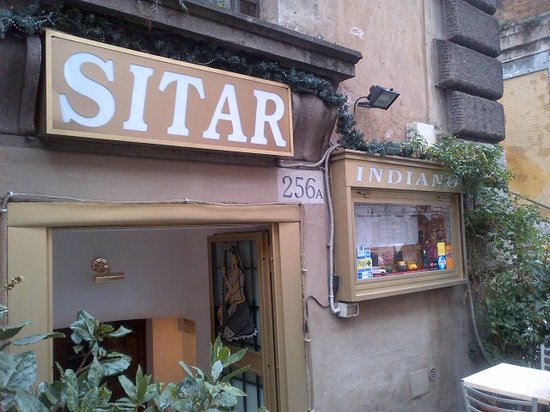 A piece of Northern India in Central Rome. Just minutes away from the Colosseum, this is one of the best, most authentic Indian eateries in all of Italy! It's a bit smaller than the other restaurants on this list, but the underground dining room is especially cozy, and the hosts warmly greet you with some of the city center's finest hospitality.
Their menu has a delicious array of Northern Indian cuisine and much more. Their appetizers are more than just pakoras and samosas. Indulge in some typical snacks like Papadum, crispy little bites made from lentil and rice flour. When it's time for the main course, you may get overwhelmed with the choices! They have all of the best dishes from India, and it may be challenging to pick the best one. Have no fear– the staff has a knack for helping you pick what's right for you. From fish curry to Mutton Rogan Josh, there's no chance you will leave dissatisfied!
They offer vegetarian, vegan, and even gluten-free options! The last one is especially challenging to find when visiting pasta-and-bread-loving Italy. More than half of the menu items feature the "GF" symbol, so you have wide gluten-free options to choose from. Sitar opens its doors Tuesday through Sunday. Lunch runs from 12:00 PM (12:00 hours) to 2:30 PM (14:30 hours), and it reopens for dinner from 7:00 PM (19:00 hours) to 11:00 PM (23:00 hours). Since it's right in the heart of the city, it's a good idea to reserve your table for the best results.
Distance: 1.3 kilometers (0.8 miles) from Trevi Fountain
Phone: +39 06 8902 6710
Where to find the best Indian restaurants in Rome?
Rome is a pretty big city, so you will not be disappointed with the choices of Indian restaurants. The good thing is that most of the good ones are located near the center and popular attractions in Rome. Therefore you won't need to walk far, saving you time and money. In this article, you read about the best Indian restaurants in Rome near the center. Still, if you find yourself near Termini station in Rome, we also suggest Annapoorna India and Himalaya's Kashmir restaurants.
Check out more articles about Rome:
Hey there! Some links on this page are affiliate links which means that, if you choose to make a purchase, we may earn a small commission at no extra cost to you. We greatly appreciate your support!