When it comes to all the great Italian dishes, there is one food that stands out above all the rest. Pasta is one of the heartiest and most versatile foods in the world. As a complex carbohydrate, it has been a staple of Italian food and the Italian diet for hundreds of years, resulting in a wide variety of different pasta dishes being available today. There are two primary categories of pasta, fresh and dried, both of which come in dozens of different shapes and forms.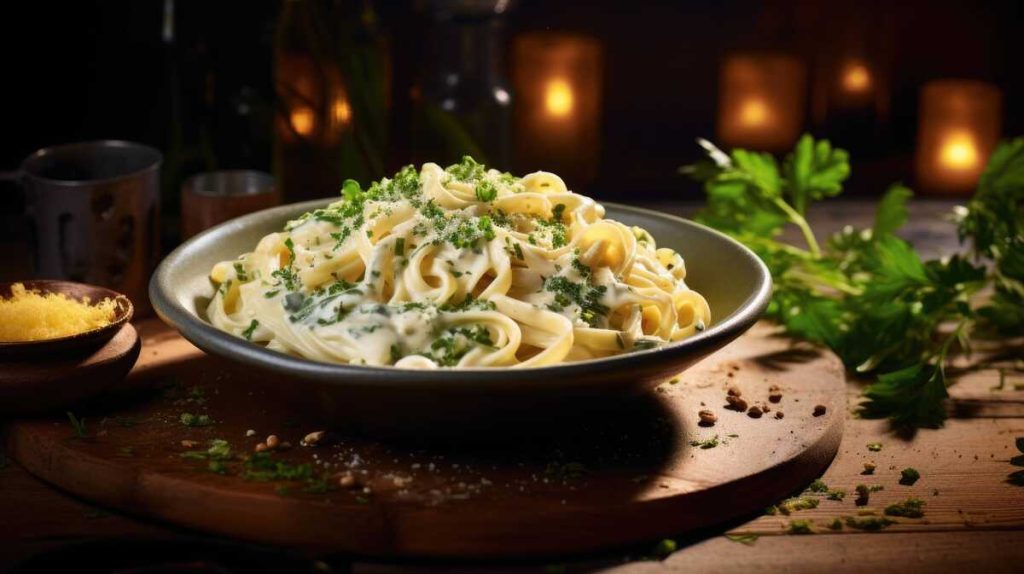 Dried pasta is what you would usually get from the supermarket, while fresh pasta is predominately used by restaurants. However, if you want to experience the realest, freshest, and best pasta, you simply must do so in Italy. When traveling to Italy, Rome is regarded as one of the greatest cities to visit, and Trastevere is one of the nicest neighborhoods you will find there.
Known for its historic architecture, cheap hotels, and terrific restaurants and bars, it is a popular spot for tourists to stay at during their trip. While there, you will want to experience the excellent food on offer, and to help you decide what to eat, here are the best pasta restaurants in Trastevere in Rome:
(This article contains 5 pasta restaurants in the Trastevere neighborhood in Rome, which are best in our subjective opinion. The order of the restaurants is not related to the quality they offer. Every restaurant has its pros and cons, so choose the one based on your personal preferences.)
Nannarella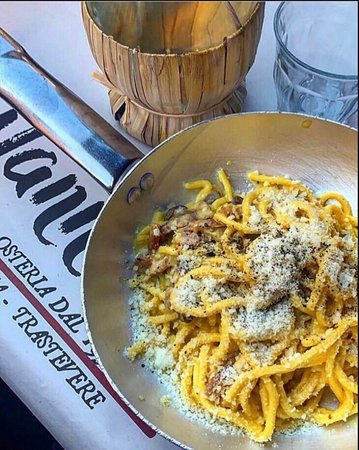 Osteria Nannarella, or simply Nannarella, is a spectacular home-style restaurant that prides itself on the Roman tradition and the cuisine of the culture. At Nannarella, you will find only the finest and most authentic Italian dishes made with the expertise and care of a restaurant that truly loves and is passionate about what they do. It is one of a select few restaurants to have received both a TripAdvisor's Travelers Choice award in 2023 and have an almost perfect 5-star review rating online.
The price range is reasonable, and they offer vegetarian and gluten-free options. There is a full bar and both indoor and outdoor seating. However, due to the popularity of the place, you might be waiting a few minutes for a seat, but it is well worth it. In terms of the food, words like amazing, exquisite, two thumbs up, and best-ever are used often in the reviews. Nannarella provides an excellent variety of traditional Italian and broader Mediterranean dishes.
All the dishes come highly recommended, but it is the pasta dishes that really impressed online reviewers, especially the carbonara, which was praised time and time again as being the best pasta ever. You can spot this lovely restaurant on the eastern side of the Basilica Di Santa Maria plaza, right across from the Chiesa Di San Callisto church. It is open all day long all week long, with the doors opening at 11:30 AM (11:30 hours) and not closing again until 11:00 PM (23:00 hours).
Distance: 100 meters (0.1 miles) from Basilica of Santa Maria in Trastevere
Phone: +39 06 581 5378
Tonnarello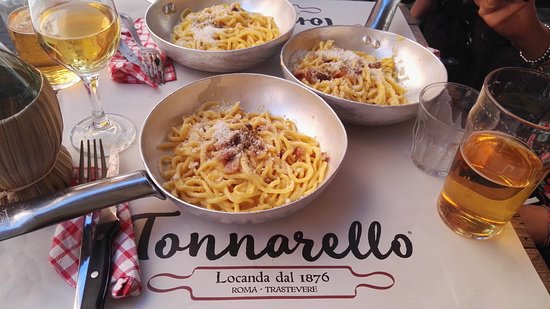 Trastevere is known as being one of the best places in all of Rome for food tours, and one restaurant that always appears near the top of the list is Tonnarello. Alongside Nannarella, Tonnarello holds a strong reputation in the area as being one of the top eateries for true, traditional Italian food.
In fact, both restaurants are owned by the same person and have worked tirelessly for years to become two of the most authentic places to eat in Trastevere. Being under the same ownership, Tonnarello and Nannarella share a lot in common. For starters, the food is absolutely top-notch, and you would be hard-pressed to find better food in all of Italy. Furthermore, it is also one of the few privileged restaurants to be awarded a 2023 TripAdvisor's Travelers Choice Award. Both the quality of the food and the quality of the service have been applauded by online food bloggers.
All the ingredients are freshly picked and locally sourced, resulting in some truly unforgettable dishes. The Nonna Nadia and the Cacio e Pepe are two of the most popular options on the menu, while the lasagna, pizza, and of course, the pasta, especially the spaghetti and meatballs, have all been met with champion reviews. Whatever you choose to eat at Tonnarello, you can be sure that it is cooked with passion and care.
Tonnarello is situated right around the corner from Nannarella on the northern face of the Basilica Di Santa Maria and less than a two-minute walk from the Fontana Di Santa Maria. The opening hours are also similar to Nannarella, with Tonnarello also being open seven days a week from 11:30 AM (11:30 hours) to 11:00 PM (23:00 hours).
Distance: 100 meters (0.1 miles) from Basilica of Santa Maria in Trastevere
Phone: +39 06 580 6404
Otello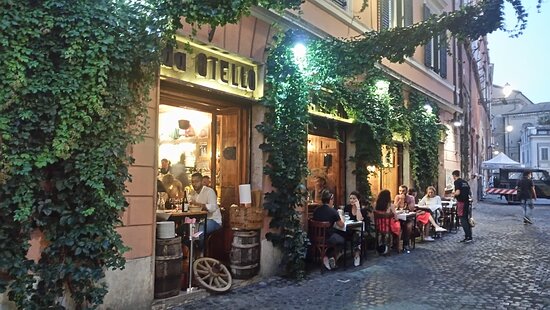 With so many incredible restaurants located throughout the city, finding one that stands out from the rest can be difficult. Otello aims to do this in a number of ways. With its ivy-bushed entrance, cozy wooden interior, friendly staff, and broader, more eclectic menu, Otello caters to both its local and tourist audiences. Like the restaurant's slogan says: "'At Otello, it's all better".
Having been open since the 1950s, Otello takes pride in the tradition of its rustic roots and dignifies itself in the fact that it uses no modern machine and makes almost all its dishes from scratch and by hand. This fact is reflected in the mouthwatering pasta, pizza, and delicious desserts. As Otello's primary clientele is tourists, they also provide some more touristy sides, such as French fries and some battered food. The cocktail jars are also quite cool, quirky, and unique in their presentation and are a perfectly distinct accompaniment to your meal.
It is located just up the street from Tonnarello, just beyond the Museo Di Roma and the Palazzo Velli Expo, on the right fork in the road of the Piazza Di Sant' Egidio. Otello is open every day of the week, with the opening hours being 5:00 PM (17:00 hours) to 12:00 AM (00:00 hours) Monday to Friday and 11:00 AM (11:00 hours) to 12:00 AM (00:00 hours) on Saturdays and Sundays.
Distance: 200 meters (0.1 miles) from Basilica of Santa Maria in Trastevere
Phone: +39 06 589 6848
La Tavernetta 29 da Tony e Andrea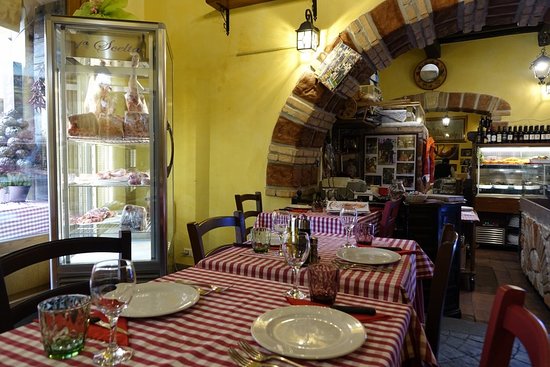 As a tradition often found throughout Italy, some of the best restaurants are found in the alleyways between terraces. La Tavernetta 29 da Tony e Andrea is one of those restaurants. La Tavernetta 29 provides the relaxing atmosphere and laid-back ambiance you would expect from an old-school Italian restaurant while at the same time delivering food of the finest variety.
As a family-run restaurant, it is known nearly as much for its friendly atmosphere and good-natured service as it is for its excellent food. With that said, though, it is the food that really makes this place worth visiting. Everything is made fresh to order and has that homemade feeling about it as it is cooked by Tony and Andrea, the restaurant's owners. As well as being amazing, according to reviewers online, the food is also incredibly reasonably priced for the quality served.
You can find this little hidden gem of a restaurant right down the street from Tonnarello in the direction of the river Tiber and right across from the Altura Scuola Di Vela sailing school. La Tavernetta 29 is closed on Mondays but open every other day from 12:00 PM (12:00 hours) to 10:30 PM (22:30 hours). La Tavernetta 29 da Tony e Andrea is the type of place you tell your friends about finding and have good memories of long afterward.
Distance: 150 meters (0.1 miles) from Basilica of Santa Maria in Trastevere
Phone: +39 339 841 9811
Meridionale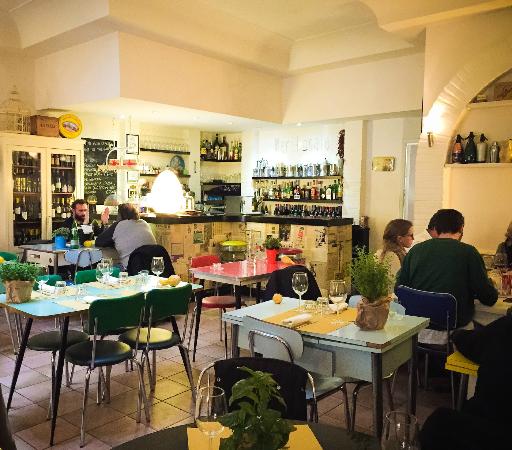 Like all the restaurants featured on this list, Meridionale has received the TripAdvisor Travelers Choice stamp of approval for 2023, and its reputation as a fantastic Mediterranean-themed restaurant is well-earned. As well as being known for its phenomenal pasta, Meridionale is also renowned as a vintage coffee maker and is the perfect place to frequent for either a multi-course meal or a quick coffee.
As well as the first-class pasta, the funky furniture and ornamentation that decorates Meridionale is also worth a mention. The retro theme mixed with the postmodern aesthetic and authentic Italian architecture really works well together and gives the restaurant a vibe that is both classy and, at the same time, unique and interesting. You certainly won't be bored anyway as you look at the vintage TVs, appliances, lighting, and movie posters while waiting for your food to arrive.
Speaking of the food, Meridionale offers a broad assortment of dishes that are both delicious and as uniquely presented as the restaurant's décor. Almost every dish is an eccentric combination of colors, shapes, and flavors packaged together into a finished product that is memorably satisfying and picture-worthy.
You can find this interesting restaurant just a couple of minutes southeast of Osteria Nannarella and the Basilica Di Santa Maria. It is situated just up the side street across from the Chiesa Dei Santi Quaranta Martiri e San Pasquale Baylon Catholic church. Meridionale is open seven days a week, with the opening hours being 7:00 PM (19:00 hours) to 10:30 PM (22:30 hours) Monday to Friday, and 12:00 PM (12:00 hours) to 2:30 PM (14:30 hours) and 7:00 PM (19:00 hours) to 10:30 PM (22:30 hours) on Saturday and Sunday.
Distance: 250 meters (0.1 miles) from Basilica of Santa Maria in Trastevere
Phone: +39 06 589 7196
Where to find the best pasta restaurants in Trastevere?
If you want to eat delicious homemade pasta in Rome, the Trastevere neighborhood is the perfect place to do that. It is full of small trattorias which offer amazing and memorable culinary experiences. Rome as a city is known as a place where you can eat exceptional food without paying too much for it. But, Trastevere is something else.
Whichever ally you enter, you will find at least one amazing restaurant where you can eat the best pasta you have ever had. These restaurants aren't flashy (because they don't have to be), so it is advisable to check online for the one that catches your eye. Wherever you order your pasta dishes in Trastevere, we guarantee that you will have excellent pasta and that the differences among the restaurants are really small and for most not noticeable.
Check out more of our articles about Rome:
Hey there! Some links on this page are affiliate links which means that, if you choose to make a purchase, we may earn a small commission at no extra cost to you. We greatly appreciate your support!