If you are looking for some of the best beaches in all of Europe, then look no further than the Amalfi Coast. With over 100 sandy shores dotted across the beautiful coastline as well as some of the most spectacular cliff and ocean views you will ever see in your life, taking a trip to the Amalfi Coast is one of the smartest and easiest decisions a soon-to-be tourist could ever make. To ensure that you have the best beach experience possible during your trip, it is crucial that you go to one of the Amalfi Coast's many beach clubs.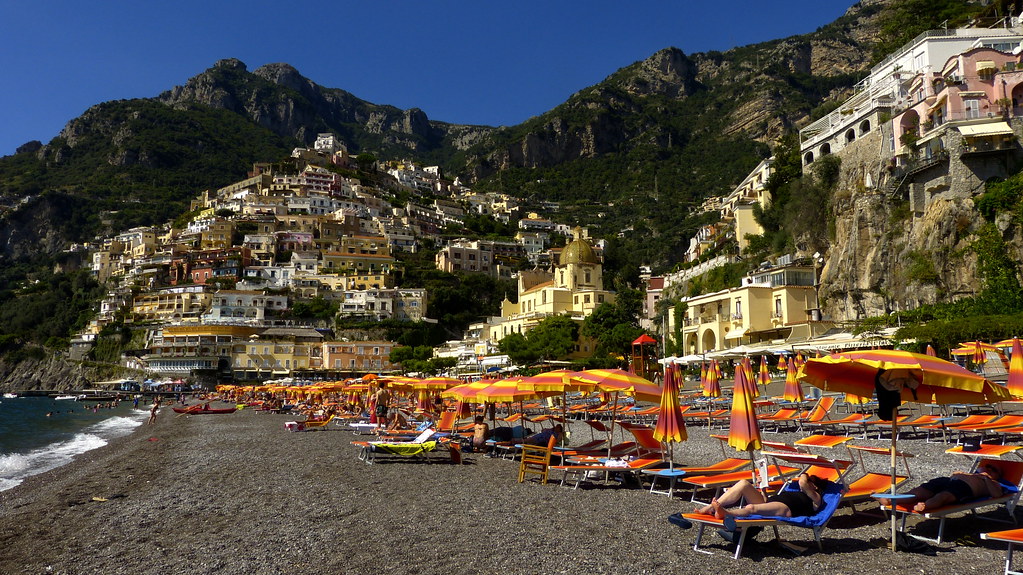 What is a beach club, you ask? A beach club is a privately managed beach that includes facilities such as toilets, showers, sun umbrellas, sun loungers, and, in many cases, cafes and bars. Most of the best beaches to be found on the Amalfi Coast are, in fact, beach clubs. For this reason, it is good to know what to expect before you arrive at one such beach. The following is a careful analysis of five of the Amalfi Coast's finest beach clubs, the highs and lows of each location, and, most importantly, how to get there.
(This article contains 5 beach clubs on the Amalfi Coast, which are best in our subjective opinion. The order of the beach clubs is not related to the quality they offer. Every beach club has its pros and cons, so choose the one based on your personal preferences.)
Lido Di Ravello Beach Club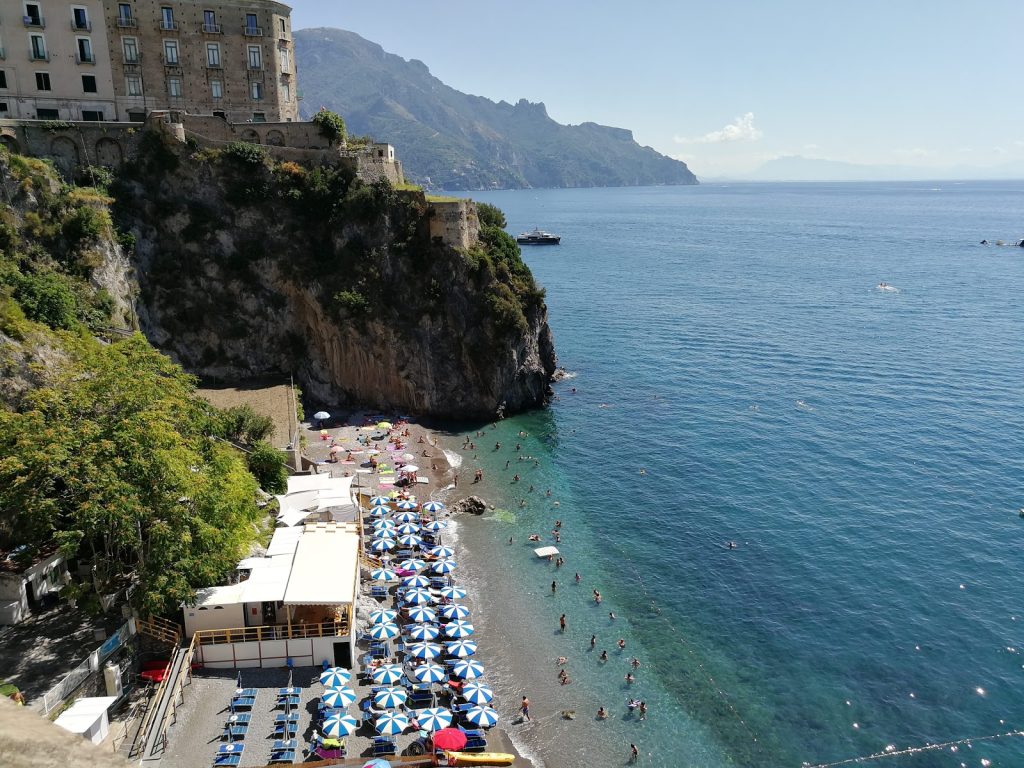 The first beach club on the list is the Lido Di Ravello Beach Club. Located in the lesser-known seaside town of Atrani, the beautiful Spiaggia Di Castiglione beach has both a private and public section to its sparkling shoreline. The beach itself is enclosed on both sides by scenic cliff faces and is reachable by relatively easy-to-climb stairs.
It is one of the quieter beaches you will find along the Amalfi Coast due to its relatively small size and the fact that it is a little bit stony compared to other beaches. It is perfect for a one-day visit. The beach has two free sections, with payment only required if you are looking to rent a private sun chair to relax in. This rental will also provide you with a table service for food and drink as well as access to the private changing rooms. The rental fee for the day normally runs for around 25 euros.
The Lido Di Ravello Beach Club can be found at Strada Statale Amalfitana 13. Atrani is only a couple of minutes east of Amalfi town and a fifteen-minute drive south of the town of Ravello. If you are driving, there are several roads that directly lead to Atrani. If you are relying on public transport, there is a Sita bus from Ravello that only costs 2 euros, or you can take a ferry to Amalfi. Traveling by boat is the most popular way to get around and see the many wonders of the Amalfi Coast.
Location: Strada Statale Amalfitana 13
Distance: 300 meters (0.1 miles) from Atrani
Lido Degli Artisti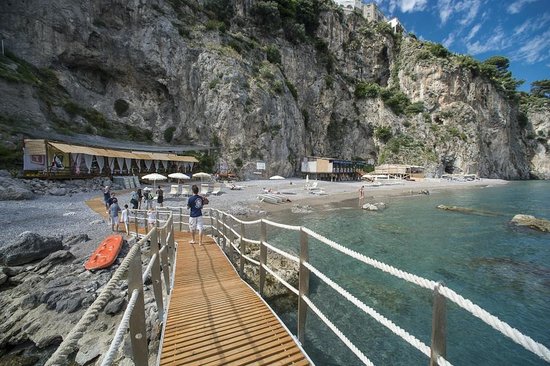 The next beach club on the list is the Lido Degli Artisti. This beach club is similar to the one mentioned above in the sense that it is hidden between the surrounding cliffs and located in a rather quiet location away from most of the hustle and bustle of its nearby tourist towns. With that said, the beach here has its own unique charm, scenery, and experience of relaxation and refreshments.
The Lido Degli Artisti Beach Club is a cool-looking little beach bar equipped with dining tables, sun loungers, and kayaks, all available to rent. Many who visit the Lido Degli Artisti have also commented online about the food and drink services available. For some, enjoying some authentic Italian food or a cold beer by the beach greatly enhanced the overall experience and atmosphere. For others, both the cuisine available and service were somewhat lacking.
It is worth keeping in mind that the Lido Degli Artisti is simply a café and bar and not a 5-star restaurant, so you should set your expectations accordingly. Most people who visited enjoyed themselves and were grateful for the services provided. The GPS address for the Lido Degli Artisti is Il Duoglio Spiaggia.
There are free boat transfers to the beach from the nearby town of Amalfi, and many boat and kayak tours stop by the beach. Renting an umbrella and two chairs costs around 25 euros but can cost a little more depending on the style you choose. It is always a good idea to reserve a spot ahead of time, but this is not a mandatory requirement.
Location: Il Duoglio Spiaggia
Distance: 1.7 kilometers (1 mile) from Amalfi town
One Fire Beach Club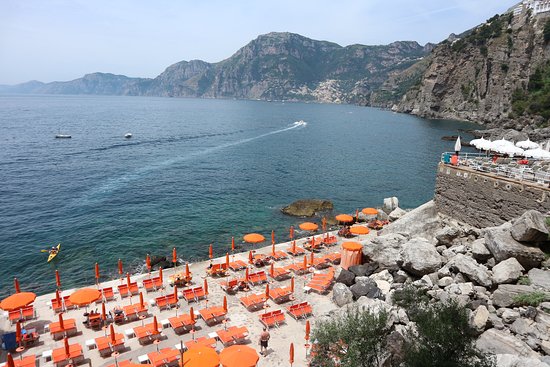 One Fire Beach Club, or Lido One Fire Beach as it is also known, is a public beach club in the town of Praiano, not too far from the much larger town of Positano. Known for its signature orange umbrellas, this small beach cove, like many others on the Amalfi Coast, is nicely nestled between the rocks and perfectly provides an escape from reality and the serenity one would hope to find on vacation.
As well as providing everything you would expect from a beach club, such as lounge chairs for sunbathing and a satisfactory food and cocktail menu, One Fire Club is also known for its music, party vibe, and late-night drinks. The club's defining attraction is "Melon Time," which happens every day at 4:30 PM (16:30 hours). As seating is limited, it is highly recommended to book your place ahead of time.
You will find One Fire Beach Club at Via Gavitella 1. As it is a twenty-minute drive from Positano and a twenty-five-minute drive from Amalfi, the best way to reach Praiano and One Fire Beach Club is by boat ride. You can catch a boat from either town easily and cheaply enough, while some hotels even provide free transport. If you are staying in Amalfi, there is also a bus to Praiano, but it only runs twice daily.
Location: Via Gavitella 1
Distance: 1.6 kilometers (1 mile) from Praiano
Il Pirata Beach Club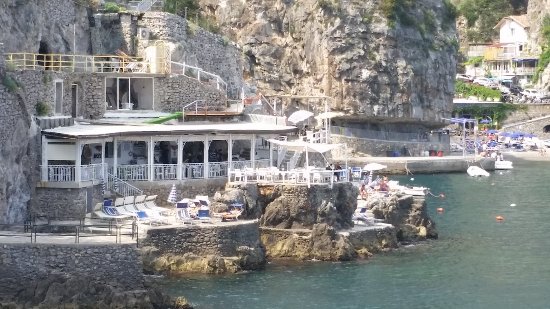 Il Pirata Ristorante, Lounge Bar, and Beach Club are also located within the panoramic cliffs of Praiano and boast one of the best patio views in all of Amalfi Coast. Even though Praiano is one of the lesser-known communes in the Amalfi Coast region, it is a prime tourist venue due to the fact it is located between Amalfi, San Michele, and Positano and has a good reputation for sightseeing, seafood, and sailing.
What makes Il Pirata Beach Club different from the other clubs mentioned on this list is the fact that it is actually built into the cliffside and offers a more comprehensive set of dining options. With no direct beach on the premises per se other than the adjacent pier, Il Pirata Beach Club is more for those looking to enjoy a romantic dinner or evening of drinks while appreciating the sea views from their table.
Il Pirata Beach Club is renowned for its mouthwatering Mediterranean seafood dishes and inventive cocktail menu. The price of a meal for two with drinks can range from anywhere between 50 to 100+ euros. The price for renting a sunbed is around 25 euros, but these are very limited and a reservation is a must. The club is just off the SS163 main road through Praiano, and the address for finding the Il Pirata Beach Club is Via Terramare.
Distance: Right in the heart of Praiano
Arienzo Beach Club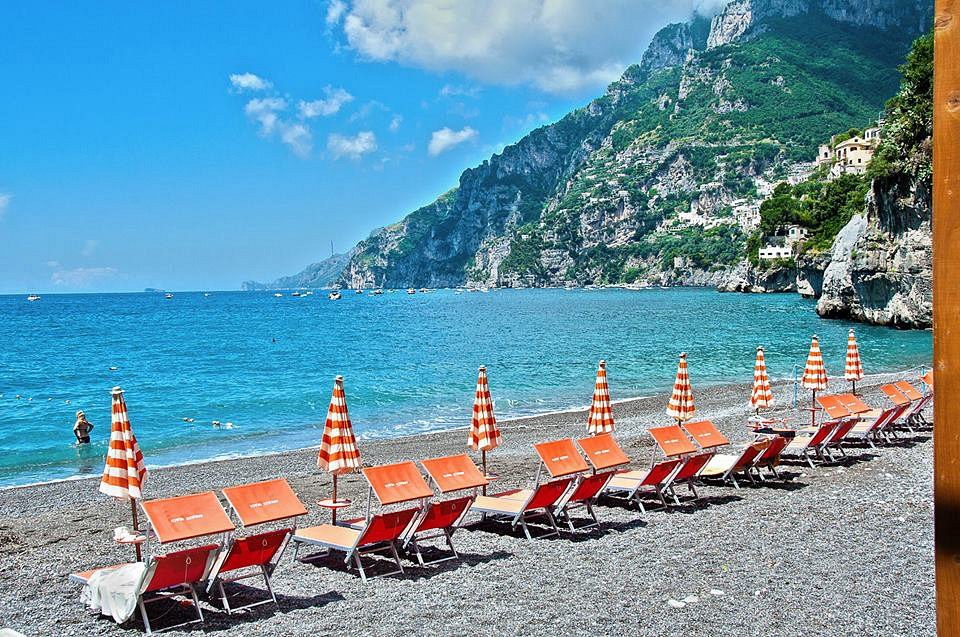 Arienzo Beach Club is one of the most popular beach clubs in one of the most popular parts of the Amalfi Coast, the town of Positano. Known throughout the region for the beauty of its beaches as well as its historic architecture, boutique shops, and its attractive cafes and restaurants. If you are traveling through the Amalfi Coast, like most people, you will probably end up in Positano at some point.  
If you are passing through, you will most certainly want to spend some time at the beach as Arienzo Beach gets more sun for longer than any other beach in the area due to it facing a southwesterly direction. The beach itself is divided into both private and free areas, but if you are looking to have the best experience possible, then you will want to avail of the services of the Arienzo Beach Club.
To start with, the Arienzo Beach Club offers a complimentary shuttle boat from the pier to the beach every morning at 9:50 AM (9:50 hours) to start the day off in style. There is also a return shuttle in the evening, so you won't have to worry about getting back to your hotel after enjoying a day of drinking cocktails. As well as reserving your sun lounger, the Arienzo Beach Club also provides guests with professional beach waiters, a cocktail bar, and a highly-rated cuisine menu.
If that wasn't enough, the club also a DJ on-site and a cliff jump if you are feeling extra brave. The Arienzo Beach Club offers a range of packages from 'basic' all the way up to 'VIP'. These packages cost anywhere between 200 to 700 euros. Due to the popularity and exclusivity of the club, it is essential that you make your booking online. This can be done through their official website. The club is open from 10:00 AM (10:00 hours) to 6:15 PM (18:15 hours) seven days a week.
Distance: 2.3 kilometers (1.4 miles) from Positano
Where to find the best Amalfi Coast beach clubs?
If you are looking for the best beach clubs on the Amalfi Coast, don't worry. There are plenty of them, ranging from simple ones to luxurious beach clubs. Almost every beach on the coast has at least one beach club that offers sun loungers and drinks. In the summer months, beaches are usually very crowded, especially those located in popular towns like Positano and Amalfi.
However, there are quieter beaches with beach clubs a little bit away from towns and villages. Still, you don't have to worry about how to get there because these beach clubs usually have free shuttles in the morning and evening. If the prices and services of beach clubs matter to you, we advise checking out online reviews and official pages before picking the right one for you.
Check out more of our articles about the Amalfi Coast:
Hey there! Some links on this page are affiliate links which means that, if you choose to make a purchase, we may earn a small commission at no extra cost to you. We greatly appreciate your support!