The Amalfi Coast is one of the most popular destinations in Italy. It is known for ancient medieval terraces, splendid pergolas overlooking the sea, luxury hotels, romantic restaurants, and elegant private villas with their gardens. This steep coast is on the UNESCO World Heritage List and has served as a special backdrop for many filmmakers.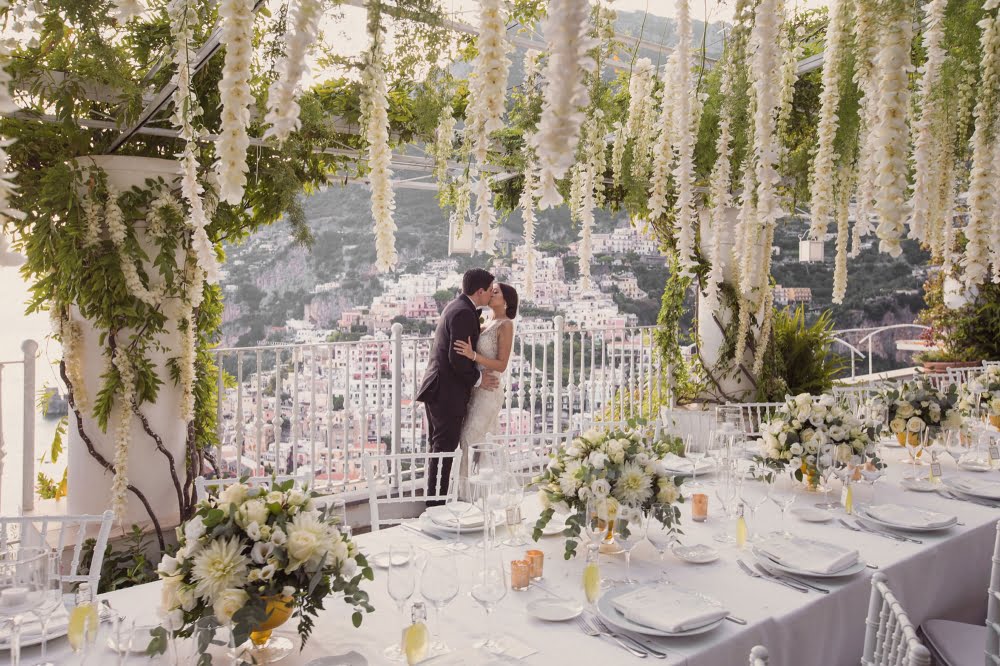 This striking coastal stretch is considered one of the most beautiful in the world, with its sweeping views of the blue Mediterranean sea, colorful buildings set along the coast, sensational food and wine, quaint towns, and almost perfect beaches. Therefore, it is not surprising that many couples dream of getting married on the Amalfi Coast.
How to organize a wedding on Amalfi Coast
From the dress to the cake, there are plenty of details involved in organizing a wedding. While most work falls to the bride and groom, a good wedding coordinator can help simplify the process. Before settling on a date, you should set aside time to visit potential locations.
Travel agents and wedding planners can assist in the entire process. Depending on your preferences, you may want to hire a single person or a team. Either option will likely charge a percentage of the total amount.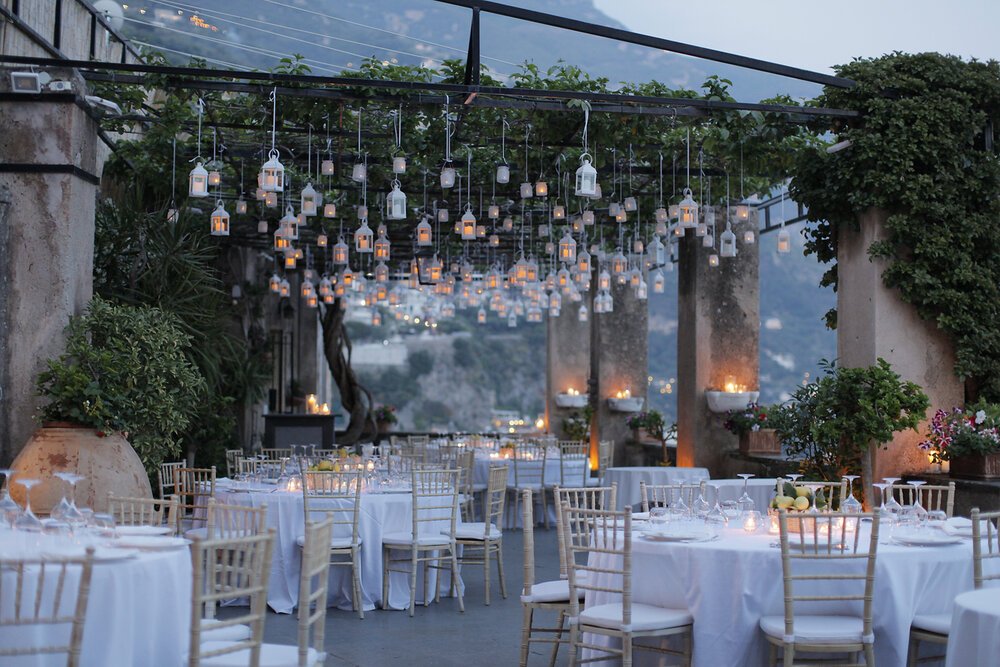 Your first step is to determine where you want to exchange vows. Consider visiting churches and castles in the area to see if you feel drawn to a particular setting. Take advantage of free information sessions hosted by the tourism office to gain insight into the region's history.
After selecting a location, you must now begin working on invitations. Decisions regarding food, decorations, attire, music, and entertainment should be addressed once the date is confirmed.
Before sending invitations, you should finalize guest lists to ensure everyone gets adequately invited. As for wedding dresses, bridesmaids' dresses are traditionally chosen last. After shopping for shoes, accessories, and gowns, consult with a seamstress. She can arrange fittings and alterations for you at her shop.
Amalfi Coast wedding photographers and videographers
Wedding photographers are essential tools for documenting your big day. Before hiring a professional, compare pictures from various sources. Check out online reviews and portfolios to learn about their approach to photography. Ask to speak to former clients and read testimonials.
Hiring a videographer is optional. Many couples forego video altogether, opting for photographs and memories instead. Videographers typically charge per hour for filming and editing.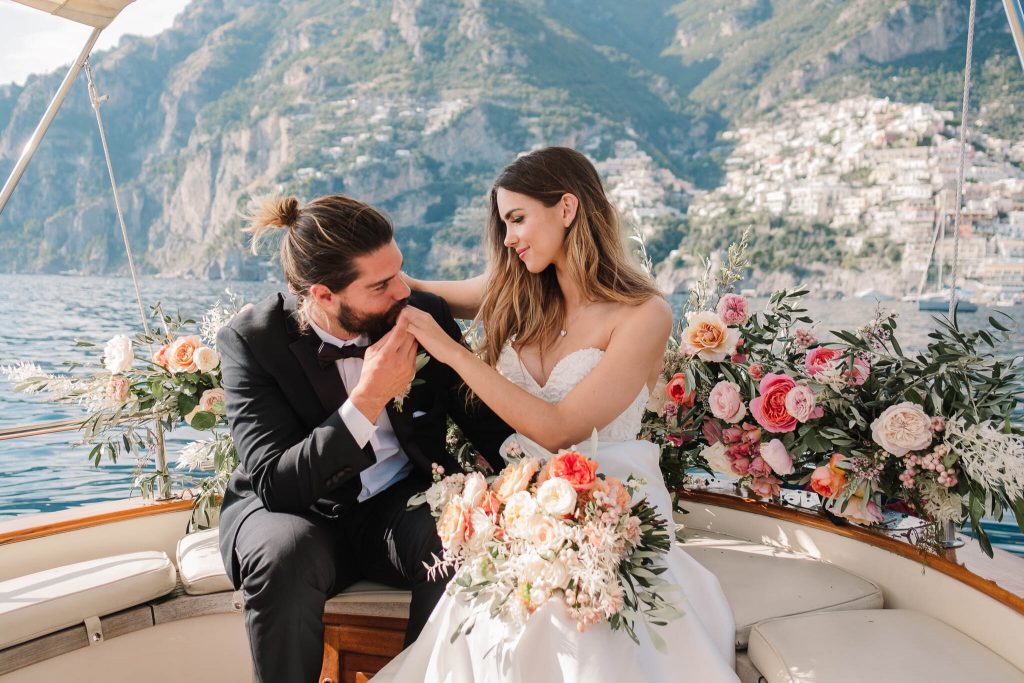 Depending on the type of wedding, you may want to engage family members, friends, and neighbors to assist with tasks such as cooking, serving, cleaning, and driving cars. To keep expenses down, consider hosting the reception at the exact location of the ceremony.
You should start making arrangements for hair, nails, makeup, and limousine rides on the morning of the wedding. Remember to factor in additional expenses such as parking, tips for drivers, and gifts for those assisting.
Amalfi Coast wedding venues
There are several different options when choosing a place for your wedding. Some locations have been used for hundreds of years, while others are relatively new additions to the area. You could host your wedding at one of the many hotels on the Amalfi Coast. However, if you are looking for an extraordinary moment surrounded by breathtaking views, it is best to book a villa or castle.
Villas on the coast are ideal because they offer privacy and intimacy but still allow you to enjoy the view. When searching for a location, you should check out photos taken at past events. It doesn't hurt to inquire about any concerns you might have about the facility. Some places require advance reservations, while others accept walk-ins. Call ahead to confirm availability and pricing. Here are the best Amalfi Coast wedding venues:
(This article contains 5 wedding venues on the Amalfi Coast, which are best in our subjective opinion. The order of the venues is not related to the quality they offer. Every venue has its pros and cons, so choose the right one based on your personal preferences.)
Villa Cimbrone
Villa Cimbrone is one of the most prestigious and picturesque buildings in Ravello and the entire Amalfi Coast. This luxurious and exclusive villa consists of a historic building built on a rocky spur in Ravello, overlooking the Amalfi Coast, surrounded by a six-hectare park full of statues, fountains, and antiques. The kitchen is the flagship of this beautiful location. It offers the classics of Campania cuisine prepared only with organic ingredients produced in the Villa's gardens.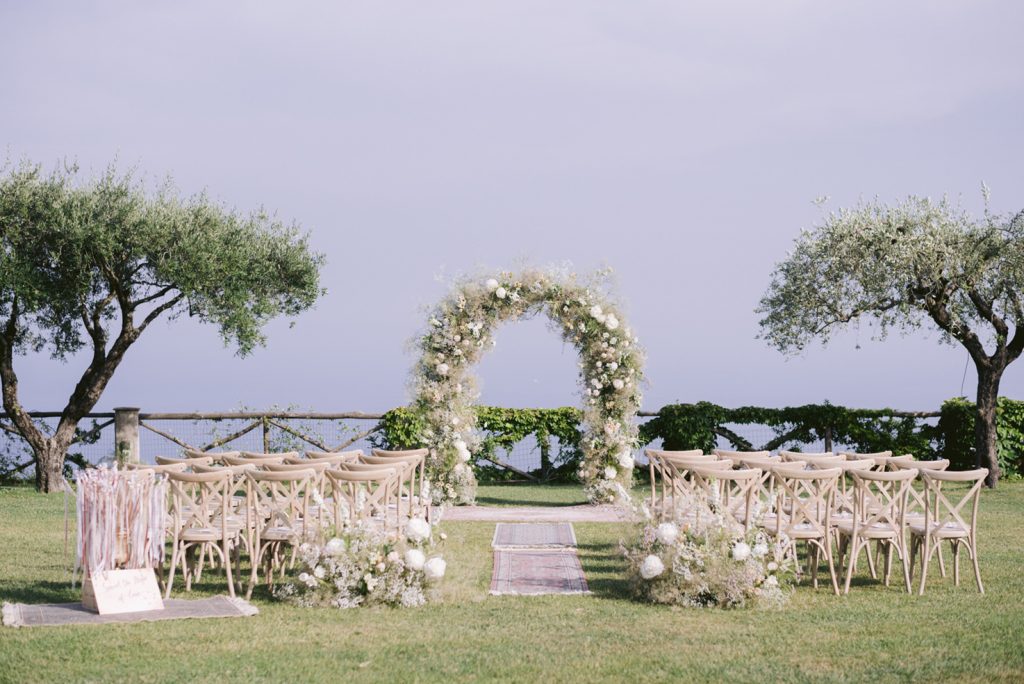 The Belvedere of Villa Cimbrone, also known as the "Terrace of Infinity," offers panoramic views as far as the eye can see. Although the terrace is not large enough to host large weddings, it can still be the venue for more intimate ceremonies with a few guests. Also, the villa's magnificent gardens and refined rooms make it a unique and elegant location and the ideal backdrop for couples who declare their eternal love for each other.
Villa TreVille
Villa TreVille is a five-star luxury hotel located on the cliff overlooking Positano, in the heart of the Amalfi Coast. It consists of 4 independent buildings located on a 2-hectare estate and features luxurious rooms and suites overlooking the Tyrrhenian Sea. Even though the villa is on the cliff, you can still access the beach directly via an elevator carved into the rock or along the marked trails.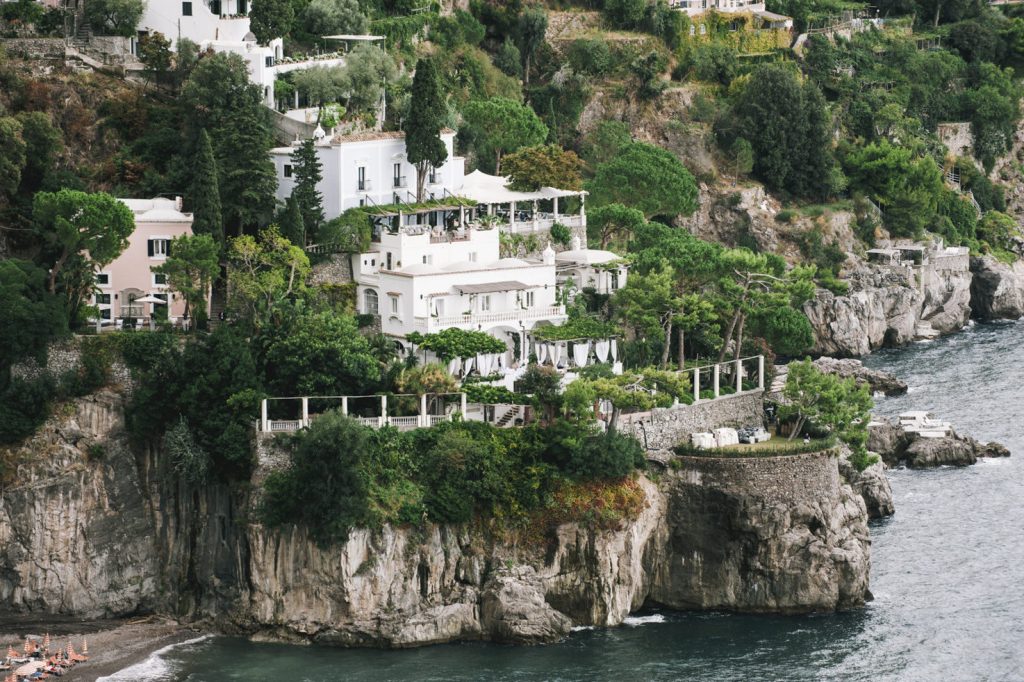 This exclusive oasis is located in Positano, a town famous for the colorful houses that dot the cliffs along the sea. The villa's clubhouse is only accessible by boat and reserved for guests or private yacht club members. The reception area at the rear of the Villa TreVille, complete with greenery and manicured lawns, can accommodate up to 200 guests for a wonderful outdoor meal. Therefore, this lovely hotel is perfect for a summer wedding.
Belmond Hotel Caruso
Ancient frescoes, panoramic views of the Amali Coast, and delicious Italian cuisine make Belmond Hotel Caruso another popular venue for weddings and celebrations in Ravello. Even though this palace is from the 11th century, it has been expertly restored to offer a mix of modern luxury with medieval artworks. One of the best locations in this hotel is the garden. It is embellished with olive groves and rose gardens and is a wonderful romantic place for an evening reception.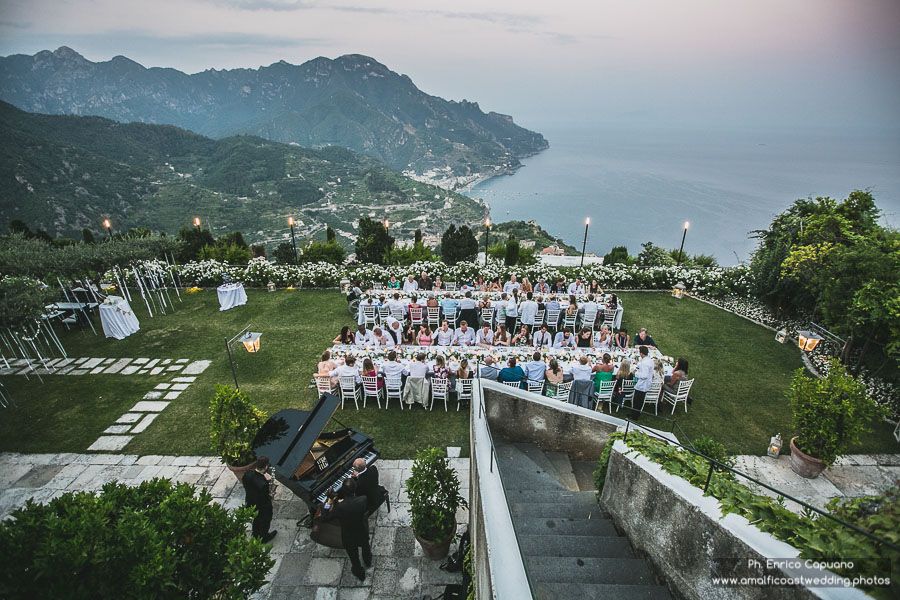 Furthermore, the hotel has a dedicated staff who will care for your every request. The swimming pool is the area generally used for cocktails time. There is also space for entertainment, with a deejay station and an area for dancing. Hotel Caruso can also be rented exclusively, which means that you can have the hotel all to yourself.
Hotel Bellevue Syrene
Bellevue Syrene is a five-star hotel in Sorrento and one of the most popular venues for honeymoons or weddings on the Amalfi Coast. It has a gorgeous terrace overlooking the Gulf of Naples with Vesuvius in the background. The whole hotel is full of references to the ancient Roman era, with sculptures and statues representing some of the most important emperors.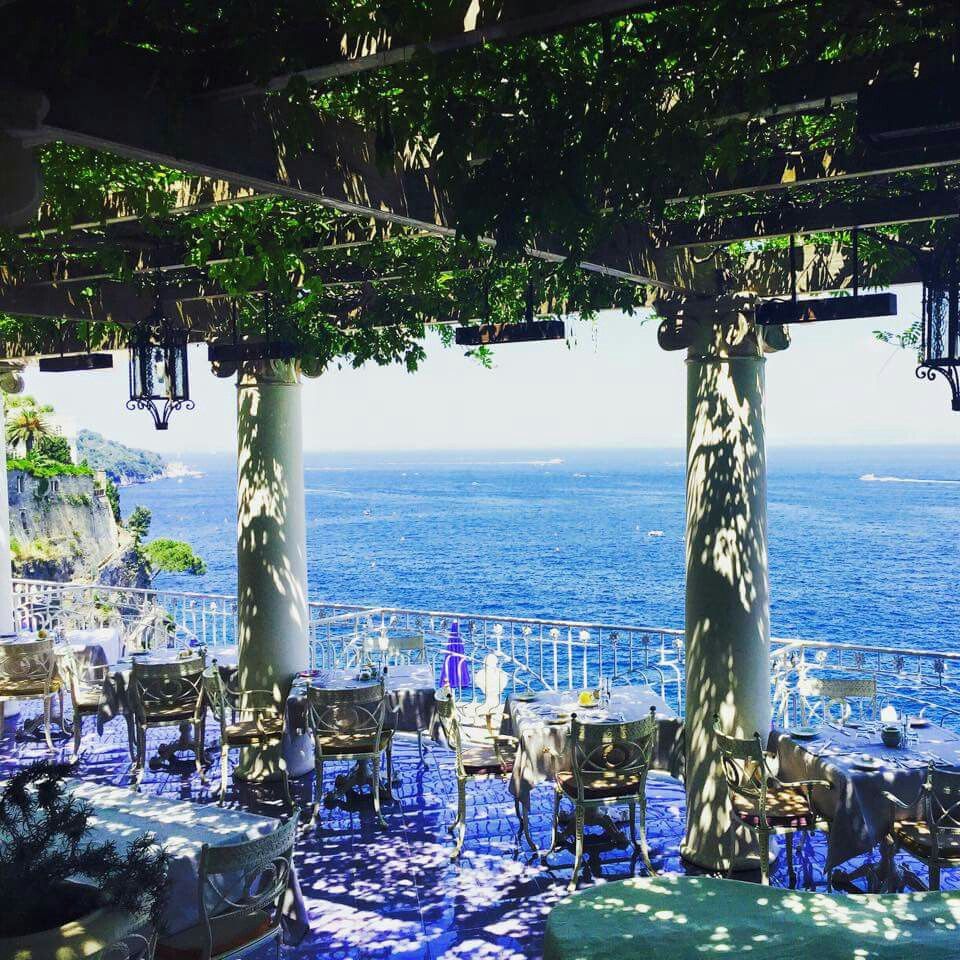 This magnificent hotel, nestled between rocks and sea, is tied with a legend that tells the hotel was so beautiful that the Sirens chose it as their home. Bellevue Syrene, which seduced intellectuals, artists, and heads of state over the centuries, is open all year round and offers modern hospitality with historical beauty.
Hotel Santa Caterina
Hotel Santa Caterina is the perfect example of the modern luxury and elegance of the 19th-century villa. It is located a short walk from the center of Amalfi town, a popular vacation place with vast historical heritage. This hotel will amaze you with the 19th-century architecture, lovely vegetation that surrounds it, and the rooms and suites with classic Italian interiors and fine furnishings.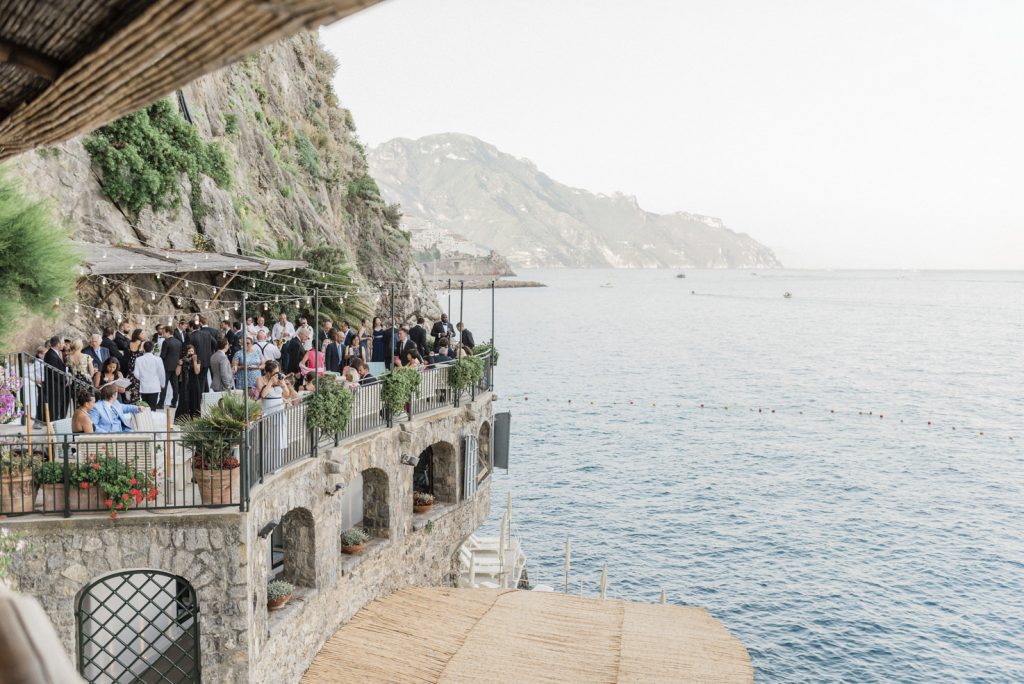 There is also a beach club, easily accessible by elevators carved into the rock, where you can spend the day with guests, whether before or after the wedding. The ceremony can be set up in two different locations. The beautiful internal garden on one of the panoramic terraces is for those who want a modern wedding, while the restaurant set in rock is for more classic and traditional weddings.
Amalfi Coast wedding cost
The Amalfi Coast is suitable both for those who want a luxury wedding and for those who expect a more "affordable" and no-frills ceremony. While prices vary depending upon location and seasonality, here is a rough estimate of what an average wedding on the Amalfi Coast would cost.
You have to choose between two main types of weddings. A civil ceremony takes place at a town hall, followed by a guest reception at a hotel or restaurant. You can also opt for a religious ceremony in a church, followed by a guest reception somewhere else like in a villa, for example.
In either case, you should be prepared to spend more than $15,000 on the event. If you want to save some money, look for a villa that does not require a rental fee for accommodation. There are some villas that you can rent only for a wedding day without bedrooms. Those villas have prices starting from $5,000.
Amalfi Coast beach wedding
In addition to the wedding venues mentioned in this article, there are many other places where civil marriages can take place as well. Weddings on the beach are just as possible as in the middle of a vineyard. If you also want to get married in the church, there are many ancient and picturesque churches along the Amalfi Coast. Some of them are only available for weddings, while they are closed for visitors the rest of the year.
Read more articles about Amalfi Coast:
Hey there! Some links on this page are affiliate links which means that, if you choose to make a purchase, we may earn a small commission at no extra cost to you. We greatly appreciate your support!