On the west coast of Italy, you will find one of the most beautiful stretches of coast in the world – the Amalfi Coast. There, the houses nestle tightly against the steep mountain slopes, creating a picture that is not easy to forget. You should come to this little heaven in Italy and enjoy these spectacular views in one of the following Airbnb apartments on the Amalfi Coast.
The Amalfi Coast in Italy is a place that you should visit at least once in your lifetime. It has already inspired quite a few artists and romantics and is still a dream destination for many travelers. Towns like Amalfi, Positano, Ravello, Scala, and Furore are so picturesquely beautiful and versatile that they know how to attract not only the romantics but also active travelers and recreational vacationers.
In this article, however, the focus is not on the Amalfi Coast activities but on beautiful Airbnb accommodations that make a perfect vacation. Here are the best Airbnb apartments on Amalfi Coast.
(This article contains Airbnb apartments on Amalfi Coast, which are best in our subjective opinion. The order of the apartments is not related to the quality they offer. Every Airbnb has its pros and cons, so choose the one based on your personal preferences.)
Furore – The village by the fjord
Furore is known for small houses that seem to defy gravity, built on the steep mountain slope, curved staircases and colorfully painted walls that lead through the village, and a beach located on a spectacular fjord. These are the reasons why Furore is one of the most beautiful villages in Italy!
The bridge that crosses the fjord has become one of the village's landmarks. So crossing this bridge during your vacation is a must! But Furore should not be on your list just for a day trip. After all, there you will find apartments that invite you to stay and enjoy your vacation.
The exclusive Airbnb apartment with a whirlpool
Five guests can easily find a room in this 90-square meters apartment with two bedrooms, but also two people can really make themselves comfortable there. The direct view of the sea from one of the two balconies will make your day end as beautifully as it began, with unique views!
However, the icing on the cake is the private Jacuzzi, where you can enjoy the view with a glass of wine or champagne. You will feel like you are in a 5-star hotel in this apartment, except it will cost you a few times less.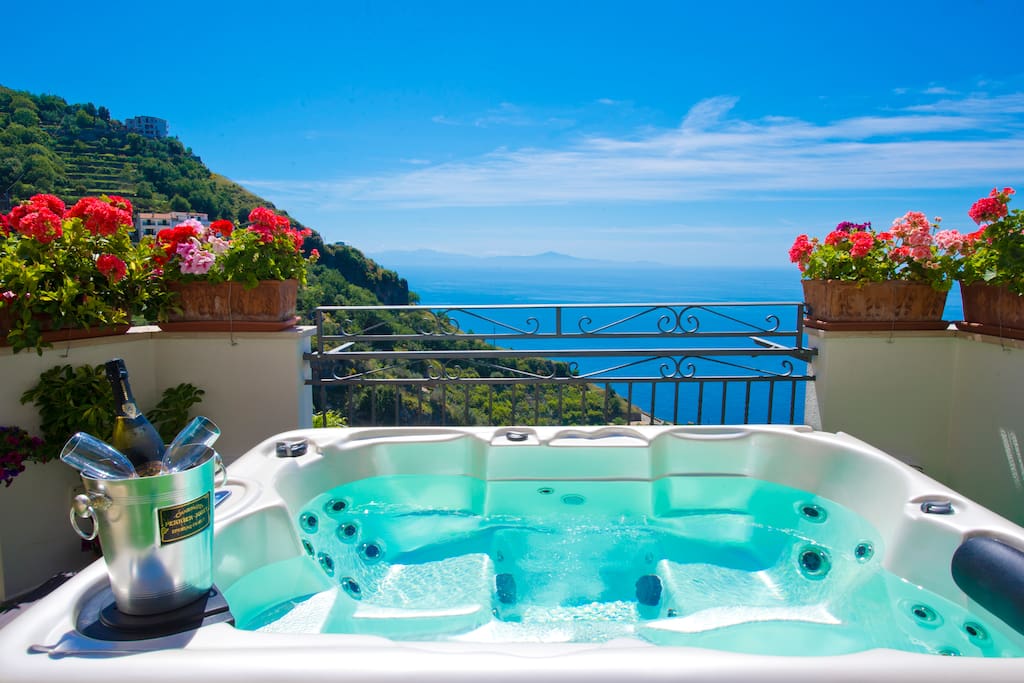 90 square meters
Two bedrooms
From 100 euros per night
For up to 5 guests
Jacuzzi
Ideal for couples
Casa Tiziana- luxury villa with a pool
It's hard to believe that you can book a night in this beautiful villa with access to the pool for only 140 euros. The villa looks like a slice of paradise suspended between the sea and the mountains.
Up to four guests can stay in the typically Italian furnished accommodation and enjoy the most beautiful sunsets in Furore on the terrace over the sea. On a hot summer day, you can fresh yourself in a pool with a modern and luxurious design.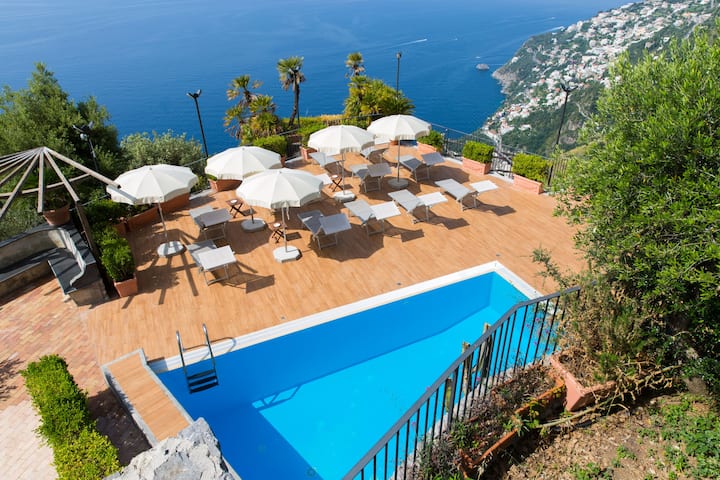 Two bedrooms
From 140 euros per night
For up to 4 guests
Beautiful pool
Amalfi- The town with a great history
Amalfi, the town that gave the Amalfi Coast its now world-famous name, is a popular historic place. This small town with just 5000 inhabitants was built on only three square kilometers, making it so unique. The colorful houses seem to be stacked on top of each other, and no square meters remain unused.
The most popular sight in Amalfi is a 10th-century cathedral with a shining golden mosaic on the top. On the small cathedral square, at the foot of the impressive cathedral, there are several small cafes where you can sit and enjoy the atmosphere after a walk through this lovely town.
Read more: Things to do in Amalfi town
Dipinta di Blu- lovely apartment with a sea view
Dipinta di Blu is a gorgeous and affordable apartment with a double room, a living with a kitchen corner, a bathroom with a shower, and a private terrace. From 105€ per night, you stay in the maisonette apartment with a sea view balcony, which is just perfect for couples. This Airbnb apartment is a perfect example of how you can get a lot for little money on the Amalfi Coast!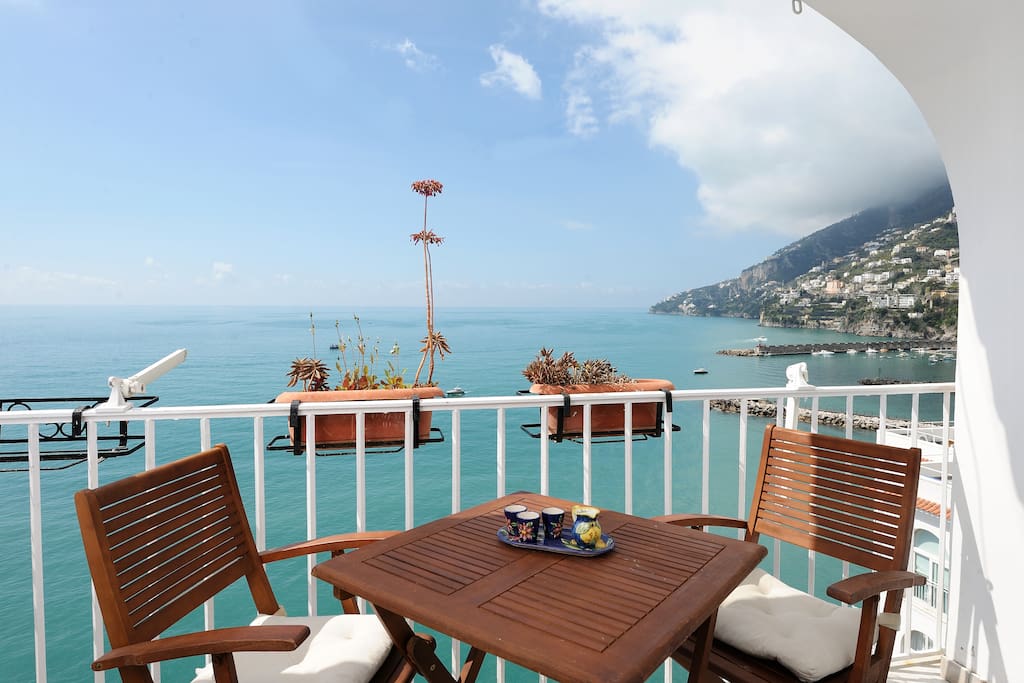 One-bedroom
From 105 euros per night
Outstanding view
For up to 2 guests
Ideal for couples
Amalfi Centre- the most central house ever
In this apartment, you are in the middle of it all. The 30 square meters accommodation offers many amenities as well as a sun terrace overlooking the beautiful Amalfi Cathedral. There is room for up to four guests in this cute apartment, perfect for a small family or couple. The price of 120 euros per night is another argument that clearly speaks for this Airbnb!
One-bedroom
Ideal for couples
From 120 euros per night
For up to 4 guests
Central location
View of the cathedral
Positano- the most popular town on Amalfi Coast
Positano, a small, humble fishing village some 80 years ago, is now one of the most popular destinations for bloggers and Instagrammers. And who can blame them? The beach Spiaggia Grande, which is all over Instagram, is just the perfect place for photos.
If you have sunbathed enough and already have the perfect vacation photo in the can, walk through the winding, steep streets of Positano or have a cappuccino in one of the village's small cafes. The vacation will be even better if you can start each day with a strong coffee on your own balcony, high above the rooftops of Positano!
Read more: Things to do in Positano
Villa Briganti- a romantic oasis with breakfast service
Are you looking for romantic accommodation in Positano where you can spend some quality time with your sweetheart? Then this Airbnb apartment is just right for you! The price of 250 euros per night is not quite cheap, but you will spend the night in an absolute top location.
After romantic sunsets and a restful night, you will enjoy a delicious breakfast on the large terrace. There is also a luxury hot tub on the terrace where you can relax and enjoy the view.
One-bedroom
Top location
Huge terrace
From 240 euros per night
For up to 4 guests
Breakfast included
Ideal for couples
Hot tub with a view
Panorama apartment with large terrace in Positano
The first word that will come to your mind when you visit this Airbnb on the Amalfi Coast will be: WOW! The terrace of the apartment alone is 55 square meters and offers unique views over Positano.
Up to five guests can find space in the apartment's three bedrooms, making the price of 255 euros per night more than reasonable. Furnished with great attention to detail, the apartment is an ideal base for exploring the Positano, which can be reached in a few minutes.
Huge terrace
Three bedrooms
From 255 euros per night
Gorgeous views
For up to 5 guests
Excellent location
Ideal for families
Full of flowers
Villa Mareblu- a quiet villa over the sea
Located in a quiet neighborhood of Positano, the pictures of this villa alone give you wanderlust! The idea of sitting on this terrace in the morning with a view of the breathtaking stone cliffs and the boats in the blue Mediterranean Sea and drinking freshly squeezed orange juice is also just too tempting, right? Starting at 200 euros per night, the villa is perfect for a couple. By the way, the beach is also directly below the apartment!
One-bedroom
Private staircase to Arienzo beach
From 200 euros per night
Beautiful terrace with a view
For up to 2 people
Ideal for couples
Quiet location
Close to beach
Maiori- a perfect place for beach lovers
Maiori is one of the most beautiful towns on the Amalfi Coast. But there is one special feature that distinguishes this small town from others: the 930 meters long and 40 meters wide sandy beach. The beach is particularly popular with those seeking relaxation.
Every year it brings crowds of sun-worshippers to this community of 6,000 inhabitants during the high season. From Maiori, there are also ferries to the popular island of Capri. But who would want to leave this piece of the earth anyway?
Villa Torrette- a stone cottage with a pool
If you are not traveling with a large family and are looking for a small place to stay, Villa Torrette is the perfect place for you. This cozy stone house with a pool is a lovely apartment where up to four people can move in from 200 euros per night.
Surrounded by pine and olive trees, this villa is a haven of peace and wonderful smells, especially in the hot summer. Since natural materials such as stone were also used in the house, the cottage remains wonderfully cool even in high summer.
Two bedrooms
Private little pool
From 200 euros per night
For up to 4 guests
Ideal for couples
Shady location
Luxury villa with heated infinity pool
Hidden in a grove of trees lies the luxury villa with an infinity pool, making a vacation with friends or family perfect. Even 14 people can be accommodated in the spacious villa, whose simple but chic furnishings harmonize perfectly with the cooling stone's building elements.
Lunch under shady trees, sunbathing by the pool, or have a trip to Maiori. This villa will satisfy even the most demanding guests.
Six bedrooms
Large infinity pool with a view
From 460 euros per night
For up to 14 guests
Ideal for families and friends
Privacy due to a hidden location
How to find the best Airbnb in Amalfi Coast
It is impossible to say which Airbnb apartment in Amalfi Coast is the best. Amalfi Coast is full of luxurious apartments with outstanding views, so it will not be hard to find an amazing place for your stay. If you want budget-friendly apartments, always look for accommodation located in some smaller, less popular villages.
Check out more articles about Amalfi Coast:
Hey there! Some links on this page are affiliate links which means that, if you choose to make a purchase, we may earn a small commission at no extra cost to you. We greatly appreciate your support!