Positano is a trendy town located on the amazing Amalfi Coast that was declared a World Heritage Site in 1997 by UNESCO. The town is in the middle of a spectacular landscape and is known for its beautiful sandy beaches, pastel-colored houses, steep little streets, and luxurious villas and hotels. Furthermore, it is not unusual to see many celebrities like famous actors, singers or sports in Positano on their vacation. Therefore, many are wonder what to wear in Positano.
Positano has a Mediterranean climate which means there is lots of sun with few rainy days every month. This lovely place can be visited all year round, but the best part of the year is definitely from April to June. In these three months, the weather is perfect, it is easier to find available hotel rooms or apartments for good prices, and the town is not so crowded.
What to wear in Positano in Spring?
Temperatures in Positano in that period of year are very comfortable. You can expect a daylight temperature between 18 and 29 °C, while in the evening, the temperature is between 15 and 22 °C. Therefore, most women in Positano wear cozy dresses with long sleeves or jeans with trendy t-shirts. When the temperature is a little bit colder, women can wear a denim jacket because it is a lightweight alternative to a coat, and it matches every single outfit.
Keep in mind that Positano is very steep, so women usually have either comfortable sandals or sneakers. It is almost impossible to see a woman without accessories like a leather handbag or jewelry. If you do not bring your fashion accessories to Positano, do not worry because the town is full of small fashion boutiques and jewelry stores.
Men usually wear light clothing during the day, such as a short-sleeved or long-sleeved t-shirt, trendy jeans, and sneakers, suitable for strolling both the alleys and for walks in the mountains. For the evenings, a trendy sweater or light jacket is recommended.
What to wear in Positano in Summer?
Summer is the most popular part of the year in Positano. Thousands of tourists come to Positano in July and August for their summer vacation, so the town can be pretty crowded. But, if you like social life, parties, the warm sea, and lying on the beach, summer in Positano is something you should not miss. In the summer months, there are many concerts, parties, and festivals as well as breathtaking sunsets over the sea that you can enjoy.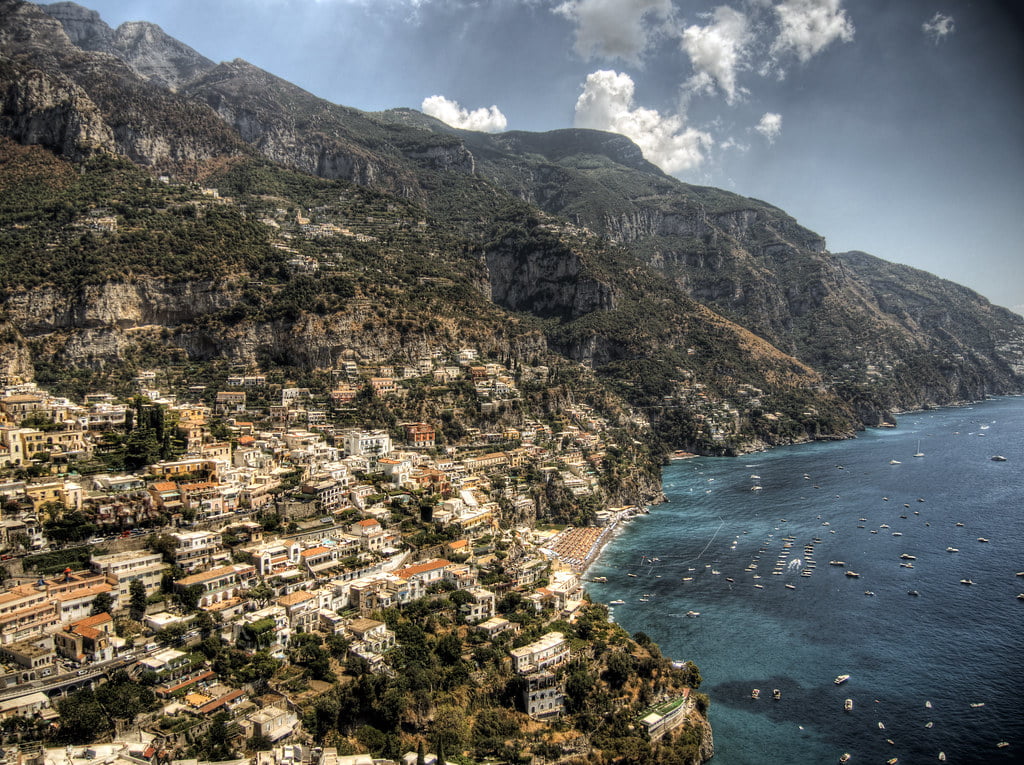 In summer, women wear linen or light cotton dresses, shorts, or skirts. On the beach, the most popular are lemon-patterned swimwear and colorful bikinis. On the other hand, men wear short sleeves, cotton shirts, or long sleeves rolled up to the elbow. Sandals are the only footwear because it is too hot for anything else. Also, do not forget to bring your sunglasses and hat because summer in Positano is very sunny.
Keep in mind that shorts are not well seen either in some trendy restaurants or in some luxury hotels. Furthermore, it is forbidden for those wearing dresses with bare legs and shoulders to enter the church. If you love summer but not crowded places, do not be discouraged from visiting Positano. There are many secret coves near Positano that can be visited by boat. Also, if you are a mountain lover, you can stroll along the paths that are not affected by mass tourism.
What to wear in Positano in Autumn
Early Autumn in Positano is similar to Spring, but the days are quite shorter. During this period, the town is not very crowded, and it is possible to enjoy one last swim before colder days. Therefore, you should bring both clothes for summer and spring with you because the weather can vary a lot.
The temperatures start to fall in late October and November, so you should expect 14 to 19 °C. Also, there is a higher risk of rain, so do not forget to bring your umbrella.
What to wear in Positano in Winter
Temperatures in winter range from 5 to 15 °C, so you should bring warm clothes, a coat, and comfortable shoes. Umbrella is also a must because of the high possibility of rain. Most hotels and restaurants are open in winter, so those who like cold weather could visit Positano, especially because of lower prices and fewer tourists.
Read more articles about Positano:
Hey there! Some links on this page are affiliate links which means that, if you choose to make a purchase, we may earn a small commission at no extra cost to you. We greatly appreciate your support!