Good food is an essential part of any unforgettable Italian vacation. In addition to its rich heritage and historic sites, Venice is a foodie destination as well. Over the centuries, the city has developed a unique food scene complete with several special dishes that no other Italian city can claim as its own. There's a huge variety of local dishes waiting for you to try.
However, if you crave something different, there are plenty of options around town for all tastes! Or perhaps Venetian food isn't for everybody. Not everyone may be a fan of such a seafood-heavy diet, and luckily there are options for you! From Africa to the USA and the Middle East, almost every kitchen of the world can be found somewhere along the canals!
Among these, several incredible restaurants are serving a variety of fresh, authentic Chinese and other Asian recipes. These establishments offer the opportunity to try dishes from afar in a different atmosphere, complete with canal views and Venetian hospitality. There's another side to the city's food scene waiting to be discovered. Read our guide to the best Chinese restaurants in Venice!
(This article contains 3 Chinese restaurants in Venice, which are best in our subjective opinion. The order of the restaurants is not related to the quality they offer. Every restaurant has its pros and cons, so choose the one based on your personal preferences.)
Ravioleria Venezia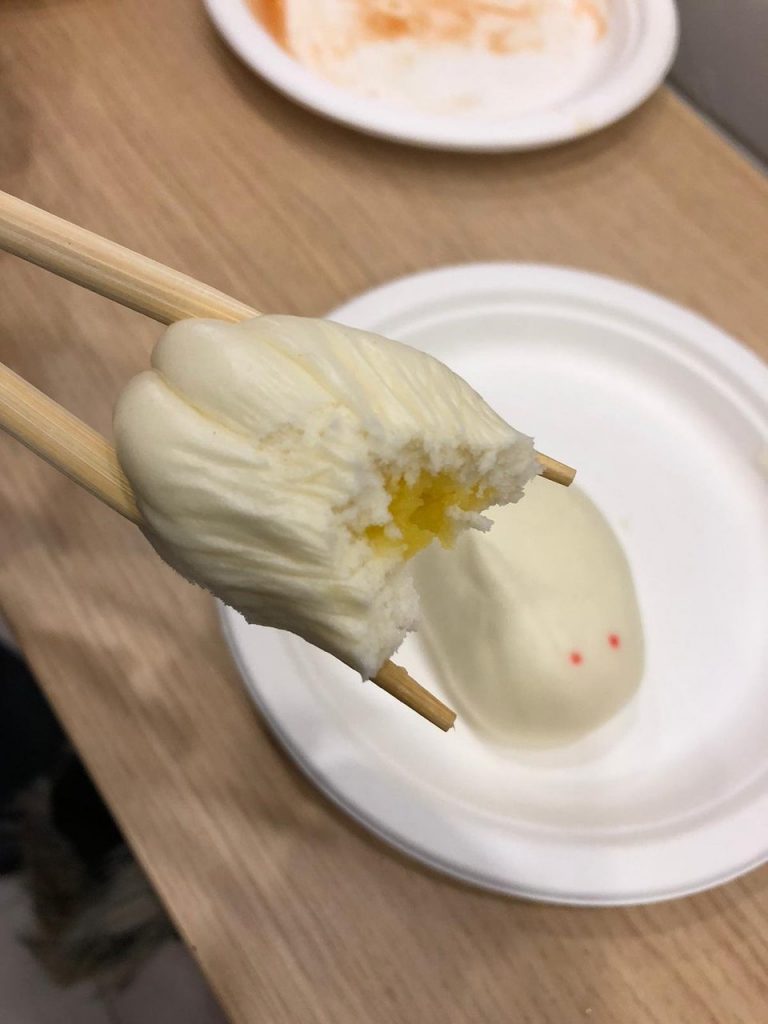 This popular spot is just a few blocks away from the grand canal in the San Polo district. It's widely considered to be a hidden gem since few come to Venice in search of Chinese food, so it's often undeservedly overlooked.
The word "ravioli" probably doesn't bring Chinese food to mind, as it's the name of a popular Italian dish. However, think of what ravioli is- meat, cheese, or vegetables encased in pasta. Is there anything similar in Chinese cuisine? If you guessed dumplings, then you were correct!
Neither fast food nor fine dining, Ravioleria Venezia is the city's number one spot to get dim sum, a type of meal comprised of small plates and snacks, usually including dumplings.
They're steamed and come with several fillings. You can try typical dim sum flavors like beef or pork, but they've given a local spin to these stuffed delights, making them with spinach and cheese or even cuttlefish with ink! Can't decide which to try? You can get a mixed plate with one of each flavor. In addition to dumplings, you can sample a few varieties of steamy, dense bao buns filled with different combinations of meat, vegetables, and spices.
There are also several noodle and rice-based dishes, and even their signature Chinese focaccia, a spicy pork sandwich. Most plates only cost between 3 to 7 euros, so you can try a lot for a little! They're open daily for lunch from 11:00 AM (11:00 hours) to 3:00 PM (15:00 hours) and for dinner from 5:00 PM (17:00 hours) to 10:00 PM (22:00 hours). The dining room is quite small, so in order to avoid waiting, you can call or email the restaurant to make a reservation.
Distance: 850 meters (0.5 miles) from St. Mark's Square
Phone: +39 041 458 4946
Yuga Sushi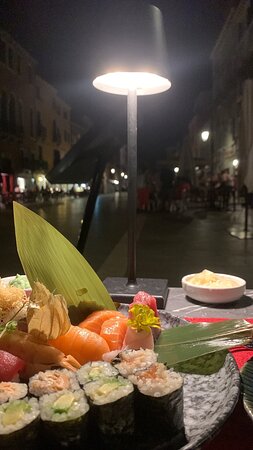 Italian food is delicious and plentiful in the city streets, but stay here long enough, and you may feel like having something else for a change. Stop here for your Asian food fix in Venice. Yuga Sushi provides a huge selection of sushi, sashimi, and other tasty treats on a boulevard that's just a few steps away from the grand canal. Though in a busy area, the small interior provides a tranquil getaway from the madness of the city center.
As their name suggests, they're primarily a sushi restaurant. Choose from over two dozen gourmet rolls with avocado, purple rice, different types of raw seafood, and sauces.
Their sushi is always prepared with the best local ingredients and is always made to order. It's presented like a work of art on your plate with garnishes of sauces drizzled on top with herbs and flowers for color. In addition to sushi rolls, you can get poké bowls. Best described as sushi unwrapped, it's all the tasty ingredients of your favorite rolls assembled in a bowl.
These are a healthy detour from carb-heavy pasta dishes and big cuts of grilled meat. Bonus: several of the rolls are vegetarian-friendly! To round out the menu, you can try some non-raw delicacies, like ramen, gyoza (Japanese steamed dumplings), and shrimp tempura! If you saved room for dessert, their matcha mousse is another massive hit.
You can stop by and try their sushi any day between 11:30 AM (11:30 hours) and 10:30 PM (22:30 hours). In the peak season, the restaurant may get full since it's located on a street that gets heavy pedestrian traffic. If traveling in a busy season like summer, it's best to reserve your table by calling ahead.
Distance: 1.3 kilometers (0.8 miles) from St. Mark's Square
Phone: +39 041 564 5785
Ristorante Cinese Giardino di Giada Sas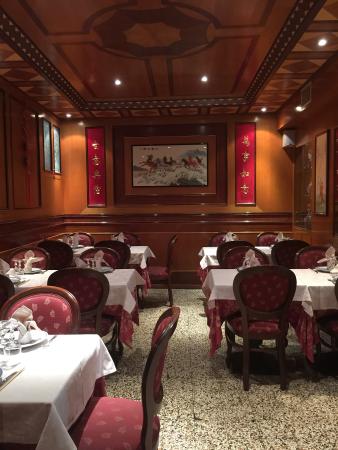 Located in the scenic San Cassiano district is Venice's most traditional Chinese restaurant. They've proudly carried this title for 30 years and consider their cuisine "a reference point for lovers of Chinese culinary art." It's frequented by locals and tourists alike, and its elegant dining room with Eastern-inspired decor can accommodate food lovers of all backgrounds and group sizes.
Start with over two dozen appetizers or soups. Those familiar with Chinese food will recognize favorites like spring rolls, various dumplings and buns, and hot and sour soup. However, you can't go wrong with any of the starters.
The rest of the menu is as long as a short novel. You may get overwhelmed by the choices, but you'd be right to order any of them! Whether it's a seafood stir fry with calamari and shrimp or spicy beef with peppers, you will be blown away by these delicious creations bursting with flavor. Vegetarians will feel at home here, too. You can find plenty of incredible meat-free options here, like sweet and sour eggplant, chili tofu, and many more.
Keeping with local customs, they close their kitchen mid-day to prepare for the dinner crowd. You can enjoy their authentic fare from Wednesday through Monday from 10:30 AM (10:30 hours) to 3:00 PM (15:00 hours) and from 5:30 PM (17:30 hours) to 11:00 PM (23:00 hours). Since it's a popular spot for date nights and family dinners, it's wise to reserve a table so you don't miss out! Contact them by phone, email, or through the reservation portal on their website.
Distance: 900 meters (0.5 miles) from St. Mark's Square
Phone: +39 041 721673
What are the best Chinese restaurants in Venice?
There are not so many Chinese restaurants on the main island of Venice, but still, there are a few which are pretty good. But, if you are a true fan of Chinese food, you should visit Mestre. This part of Venice is well connected with the city train and has many excellent Chinese restaurants for better prices than those on the main island. However, many tourists don't have enough time to spend outside the main island, so this article focuses on the best Chinese restaurants in the tourist part of Venice.
Check out more articles about Venice:
Hey there! Some links on this page are affiliate links which means that, if you choose to make a purchase, we may earn a small commission at no extra cost to you. We greatly appreciate your support!