While exploring Venice's charming canals and architecture, why not enhance your experience by eating as the locals do? As in many Italian regions, the city has developed its own exceptional cuisine. There is a huge variety of local dishes based on pasta, pork, and seafood.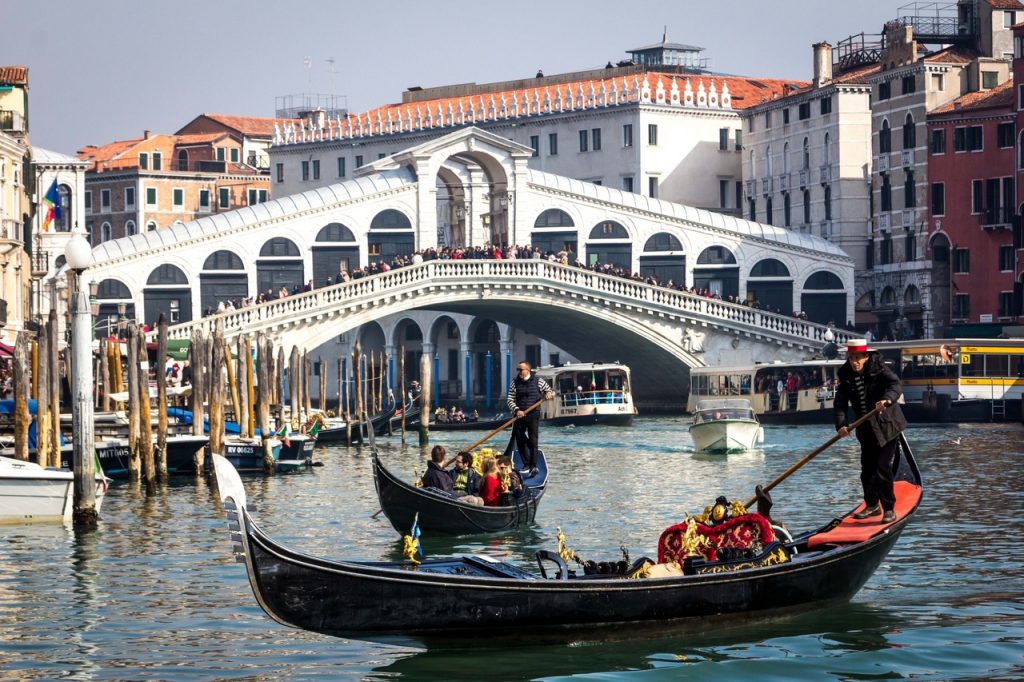 However, knowing Venice's reputation as a tourist city, lots of restaurants are mere tourist traps with inflated prices and not-so-great food. Still, there are some good restaurants often hidden from tourist eyes where you can eat delicious food for reasonable prices. Here are the best restaurants in Venice near Rialto Bridge:
(This article contains 5 restaurants in Venice near Rialto Bridge, which are best in our subjective opinion. The order of the restaurants is not related to the quality they offer. Every restaurant has its pros and cons, so choose the one based on your personal preferences.)
Sepa Osteria Gastronomica Veneziana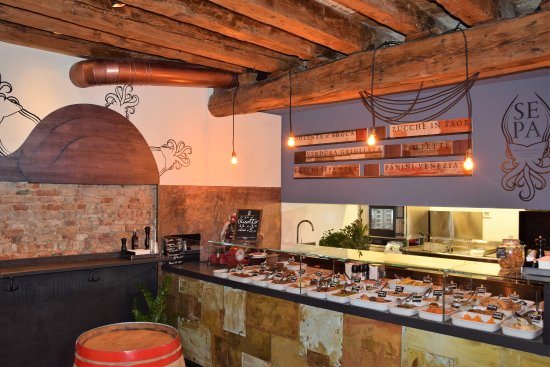 Situated just a few steps away from the bridge, this is not your typical Venice eatery. The place is a bar that serves a variety of Italian tapas and other small dishes alongside its impressive wine selection.
The spot boasts a rustic, laid-back interior with its exposed brick and casual dining room. You'll get high-quality food and won't need fancy clothes to get in.
Come in for the cichetti (tapas), and stay for the risotto! Both are among the top-rated in Venice and are the restaurant's claim to fame. The chefs live by their motto "oro benon" (fine gold) by pouring their hearts into each dish they prepare.
Moreover, they believe that preparing a good dish is more than just following a recipe. It takes passion and care. They use no pre-made sauces or other ingredients, and everything is prepared from scratch onsite.
Their menu varies from time to time, but you can count on an abundance of crunchy fried fish, a popular Venice snack. You will surely be offered risotto. Though seemingly a simple dish, to them, it's serious business, and they strive to make the best one you will ever taste. The rest of their offerings range from small pasta plates like bigoli in sauce to their famous polpetta meatballs, available in several flavors.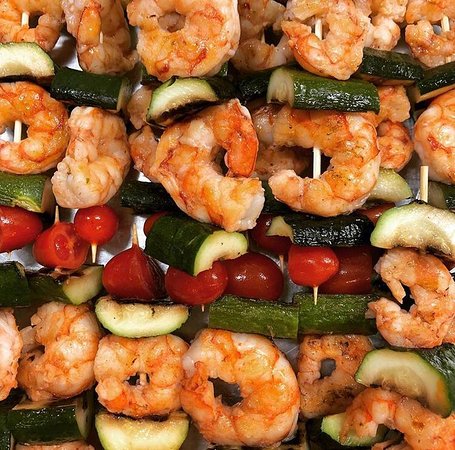 You'll be amazed by the menu's affordability, too. Two people can order a variety of plates and wine for about 20 euros! If there weren't enough reasons to love them, the restaurant is committed to being 100% plastic-free.
They abstain from plastic of any kind, opting instead for cups, plates, and cutlery made from recycled materials. Their water is filtered and served tap only. The place has longer hours than most Venice restaurants, with uninterrupted opening hours from 11:00 AM (11:00 hours) to 10:00 PM (22:00 hours) from Sunday through Thursday and until 11:00 PM (23:00 hours) on Friday and Saturday.
Distance: 150 meters (0.1 miles) from Rialto Bridge
Phone: +39 041 302 6336
Osteria Al Portego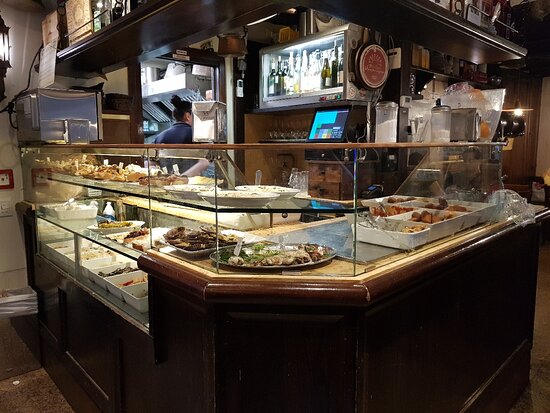 Just four minutes from the Rialto bridge on foot, this place works hard to preserve Venice's culinary traditions through its menu offers. Though centrally located, it's just out of reach from the massive tourist crowds because it's on a quiet side road. Most hungry wanderers won't just happen upon the place, so it awaits your discovery!
The interior is cozy and quiet with its dim lighting and wood-paneled walls. Summer visitors are treated to a stunning panoramic view from their outdoor tables. The restaurant welcomes all visitors with open arms and mentions on its website its dedication to accommodating disabled guests and giving them the best culinary experience possible "in the name of good food and Venetian wine."
Assembling dishes with only high-quality, hand-selected ingredients that are in season, the chefs prepare mostly Venetian dishes. They prefer to stick to tradition as much as possible, so you won't find many dishes with "a twist" or otherwise altered recipes here. However, there's nothing wrong with sticking to tradition here, as Osteria Al Portego invites you to taste Venice's rich cultural heritage in the way it's been done for centuries.
At the restaurant, you can try a variety of cichetti such as crostini and polpette. Later, you ought to move on to local dishes which also originated from the region, like Venetian liver and onions or baccalà, a cured cod dish.
They're open Monday to Sunday from 10:30 AM (10:30 hours) to 2:30 PM (14:30 hours) and for dinner from 5:30 PM (17:30 hours) to 10:30 PM (22:30 hours). Though off the beaten path, reservations are still recommended! You can make them by phone, e-mail, or through the restaurant's website.
Distance: 300 meters (0.2 miles) from Rialto Bridge
Phone: +39 041 522 9038
Osteria del Lovo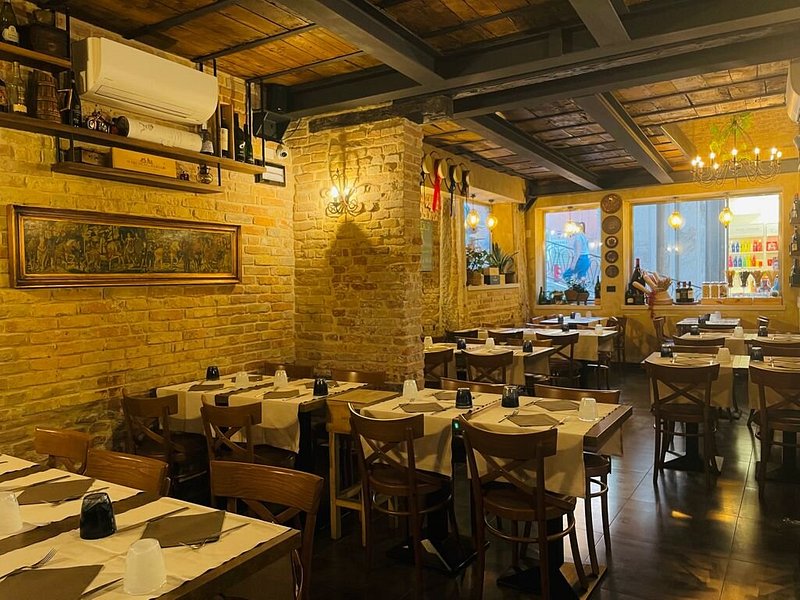 This local favorite is just three minutes away from the bridge and is located on a scenic corner overlooking a canal! Here you will be treated to all the Venice classics but with modern twists and new takes on classic dishes.
Located in the center at arm's reach from several attractions, they encourage those admiring the city to stop by and recharge with a spritz and tapas, a meal, or both!
All guests are welcome in this beautiful establishment. They know that lots of tourists stop by, so they won't turn you away if you come in casual clothes. The restaurant boasts a friendly atmosphere with scenes of Venice and gondolier hats hanging from exposed brick walls. They make a great place for any occasion, from date nights to birthdays. The caring staff will ensure you and your party have an incredible time.
Here you can sample their modern takes on local dishes. Unlike many restaurants which cater primarily to tourists, they make huge efforts to maximize their food's quality. You will only eat dishes prepared from local, whole ingredients when dining here. Tasty treats like mussels and bigoli pasta, lamb chops, and risotto are popular choices and are presented like works of art on your plate.
They also offer a huge selection of cichetti like fried calamari and polpetta. If you have room for dessert, their from-scratch tiramisu is one of the most popular in town. The restaurant opens daily from 10:30 AM (10:30 hours) to 11:30 PM (23:30 hours). Due to its location in the center, they recommend reservations to guarantee a spot. You can book your table through their website.
Distance: 200 meters (0.1 miles) from Rialto Bridge
Phone: +39 041 520 9889
Ristorante Pizzeria Al Gobbo di Rialto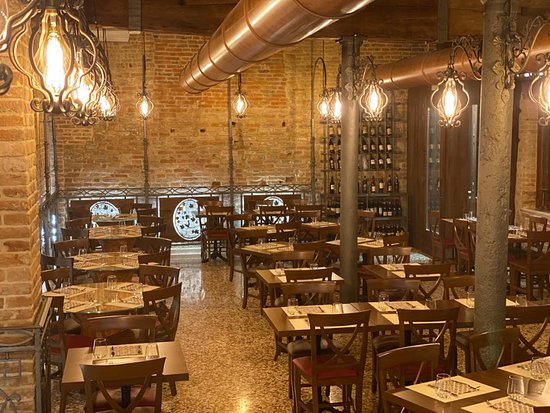 Pizza may not be a Venetian creation, but it's been adopted by eateries across the island, and this one does it extremely well! This place has something for everyone, complete with a massive menu of Venetian and other Italian dishes.
Visitors of this restaurant may not know it, but they're dining inside a piece of Venice's history. The building has withstood centuries and was renovated by hand by the owners into a large dining room with a minimal brick interior.
What you see inside is mostly the same as it was back in the day. They even commissioned the world-famous glassblowers in Murano to make some glass pieces which you can see in the restaurant. The food is sure to please, thanks to its large selection of dishes.
Start with one of their two dozen appetizers, such as marinated sardines or cod with polenta, both Venetian staples. You can choose your own adventure for the rest of your meal. Feeling fishy? Try bigoli with anchovies or ink spaghetti. On the other hand, there are twice as many meat dishes to choose from, including beef fillets and Venetian-style liver.
Don't forget to fit in a pizza. It's the restaurant's namesake after all. They have all the classics, from quatro formaggi to diavola. A true Venetian twist on pizza, however, is adding onions or anchovies to the mix.
The restaurant stays open from 11:00 AM (11:00 hours) to 11:00 PM (23:00 hours). Due to the high volume of tourists in the area near the restaurant, you should reserve a table for the best results. Their contact information can be found on the restaurant's website.
Distance: 200 meters (0.1 miles) from Rialto Bridge
Phone: +39 041 520 4603
Osteria Al Sacro e Profano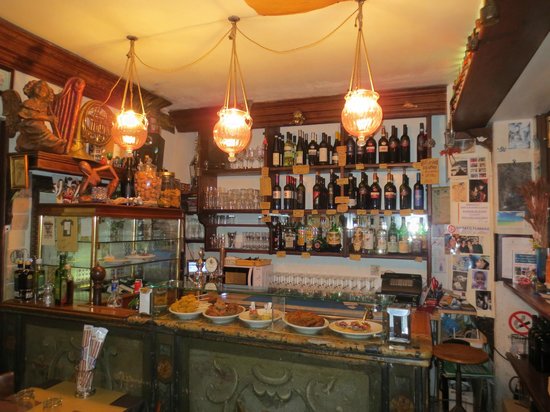 Located within sight of the Rialto bridge, this restaurant is extremely popular among tourists and locals alike. They offer Venetian and other Italian dishes in a down-home, cozy environment.
The locale is covered floor-to-ceiling in Venice memorabilia. Sitting at one of their few tables, you will be surrounded by old photos, musical instruments, and gondolier hats and shirts hanging from the wooden walls and beams overhead.
The small dining room provides an intimate atmosphere for an unforgettable dining experience. The restaurant's staff members are distinguished by their attentiveness and friendly service. This isn't always the case for restaurants located in busy tourist areas. However, you will be in good hands should you choose to dine here.
Visitors are invited to indulge in local and regional dishes. They have a wide variety of aperitifs and cichetti like bruschetta and polpetta to satisfy small hunger. If you need something else, their dinner menu has got you covered. If you're a first-timer in Venice, there's hardly a better place to try a dish prepared from cuttlefish ink, either in a risotto or with spaghetti.
It's also a popular spot for an afternoon recharge. Visiting an Italian city means grabbing an espresso or two and maybe a tiramisu if you crave something sweet! The restaurant is open Monday to Saturday, from 11:00 AM (11:00 hours) to 3:00 PM (15:00 hours) and again from 6:00 PM (18:00 hours) to 10:30 PM (22:30 hours). Their Sunday hours run from 11:00 AM (11:00 hours) to 5:00 PM (17:00 hours). Due to heavy tourist traffic in the neighborhood, reservations are recommended through their phone.
Location: Ramo Terzo del Parangon 502
Website: none
Distance: 50 meters (0.03 miles) from Rialto Bridge
Phone: +39 041 523 7924
Where to find the best restaurants in Venice near Rialto Bridge?
The area around Rialto Bridge is a very tourist place, so there are many different restaurants around. Still, many of them use good locations to attract tourists without offering quality food. Therefore, some good restaurants are often located off the beaten path, in small alleys, which are sometimes hard to find. It is advisable not to enter a restaurant in Venice before you read some reviews on the internet. Also, don't be put off if the restaurant doesn't have some catchy exterior. Quite the opposite, the best ones usually don't look especially attractive.
Check out more articles about Venice:
Hey there! Some links on this page are affiliate links which means that, if you choose to make a purchase, we may earn a small commission at no extra cost to you. We greatly appreciate your support!