Want breathtaking views with your food? Eat at altitude. Venice is known as a city that has pretty good weather throughout all year. Therefore, you don't have to worry that the weather will ruin your eating plans under an open sky. One of the best ways to enjoy a spot in the sun is at one of the best rooftop restaurants in Venice.
Although having a delicious meal in the clouds is best in the summer, most of these places have terraces that are open year-round, so you can catch a sunset whenever you like. Most tourists think these restaurants are reserved for special occasions like birthdays or anniversaries.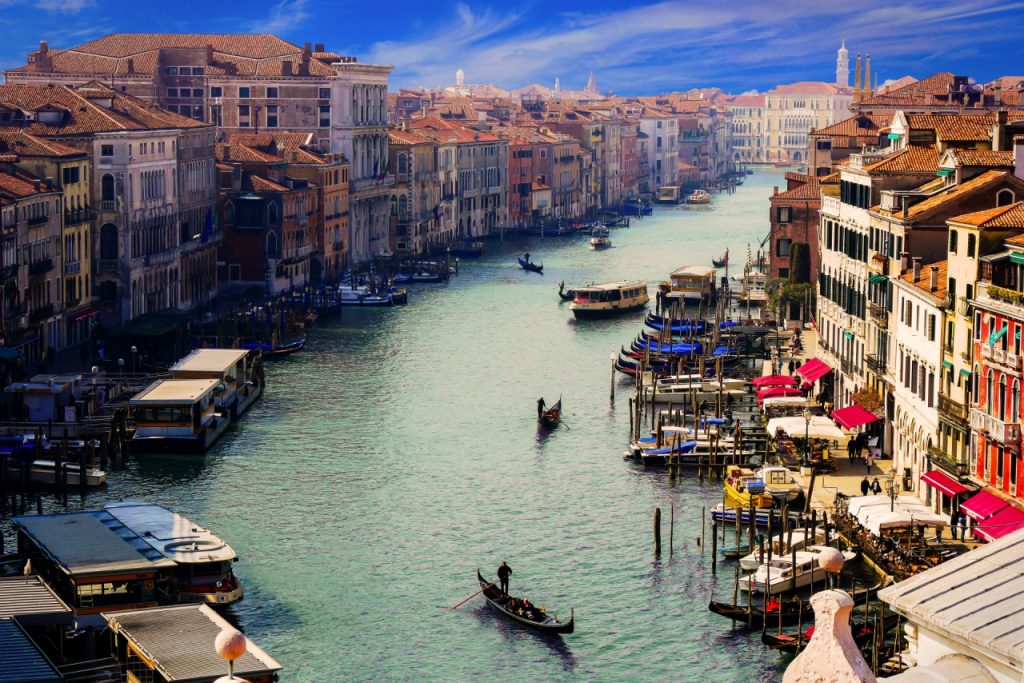 However, they would be surprised how many tourists visit those restaurants to have a casual meal. Still, if you want to take your partner to some special romantic place or you want to celebrate something, these restaurants are your safe bet. Here are the best rooftop restaurants in Venice:
(This article contains 4 rooftop restaurants in Venice, which are best in our subjective opinion. The order of the restaurants is not related to the quality they offer. Every restaurant has its pros and cons, so choose the one based on your personal preferences.)
Restaurant Terrazza Danieli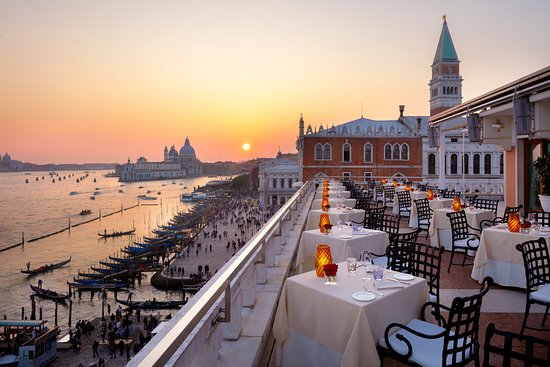 Restaurant Terrazza Danieli is an elegant restaurant located on the top of the famous Hotel Danieli. It boasts breathtaking views over the lagoon islands, as well as Santa Maria della Salute and the opening of the Grand Canal. Even though this place does not have a Michelin star, it does get a mention in the Michelin guide, so you should expect high-quality meals, great presentations, and high prices.
The restaurant has a lovely interior, but you should try to get outside tables with the best views in the whole of Venice, especially the far right front corner and side tables. The selection of dishes is not big. You can choose between a la carte options and the 7-course and 6-course tasting menus. Dishes are prepared pretty well, but the main question is if they are worth so much.
The 6-course tasting menu costs 150 euros per person, and the cover charge is even 16 euros per person. Those are pretty high prices for rather good than "wow" effect dishes. However, the main attraction in this restaurant is a view from the top, so that's what you are paying for.
Reservation in advance is mandatory, there is a minimum two guests rule, and you should expect a pretty formal atmosphere. Restaurant Terrazza Danieli is open every day from 12:00 PM (12:00 hours) to 3:00 PM (15:00 hours) and from 7:00 PM (19:00 hours) until 10:30 PM (22:30 hours).
Distance: 300 meters (0.2 miles) from St. Mark's Square in Venice
Phone: +39 041 522 6480
Sagra Rooftop Restaurant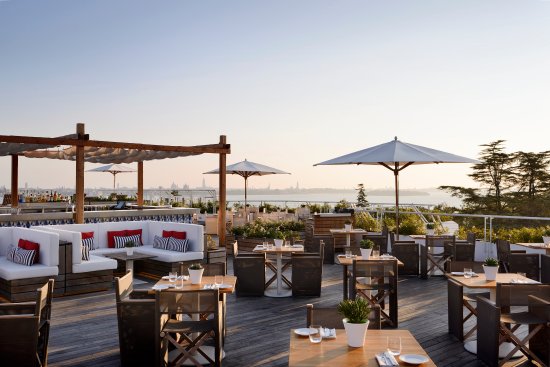 Sagra Rooftop Restaurant is a popular place located on top of the Marriott hotel on a private island. It offers stunning views across the lagoon in all directions, and that's why the restaurant is a very popular destination for couples on their honeymoon. To get there, you should take a free shuttle that leaves St. Mark's Square every 30 minutes while the trip takes around 20 minutes.
The free shuttle runs both ways, twice per hour, so you can easily get back after your meal. You can expect clean, minimalist decor and modern but very relaxing music. The restaurant has two parts, an interior part and a rooftop deck.
Keep in mind that the view cannot be seen from inside because of the lack of windows. So if you pick this restaurant because of the views, always check the weather report first. They serve very delicious food, drinks, and cocktails. Some plates and portions are very small, so be sure to ask a waiter about the size of the meal if that is important for you.
Also, this is a very pricey restaurant, so don't be shocked when you get your bill with 8 euros cover charge. Besides amazing views, the restaurant has excellent cocktails and desserts. Be sure to try their unique take on the traditional Tiramisu. It is worth every cent. Lastly, a reservation for dinner is a must because the place is very popular in peak season.
Don't set your sights too high on the food, and head to this place for a nice break from the hustle and bustle of Venice. For the best experience, you should go at sunset, both for the fantastic views and a more comfortable dining experience. Sagra Rooftop Restaurant is open every day from 11:00 AM (11:00 hours) to 10:30 PM (22:30 hours).
Location: Isola delle Rose, Laguna di San Marco
Website: Mariott.com
Distance: 2 kilometers (1.2 miles) from St. Mark's Square in Venice
Phone: +39 041 852 1300
De Pisis Restaurant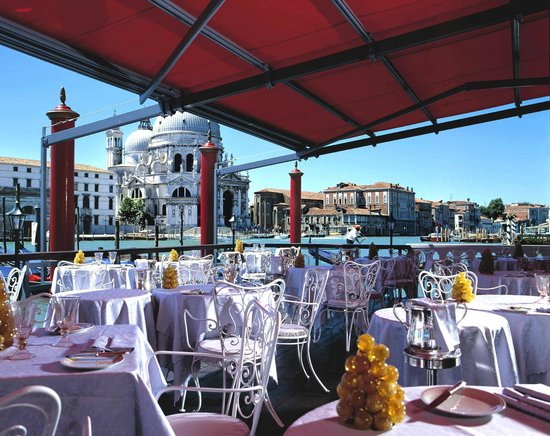 De Pisis restaurant is an exclusive restaurant located in the 5-star Bauer hotel on the Grand Canal. Nowadays, it is one of the most popular rooftops and fine-dining restaurants in Venice. The restaurant has a gorgeous terrace overlooking the Grand Canal and the Basilica di Santa Maria della Salute, so you can expect a phenomenal location, attentive service, and breathtaking views of the surrounding waterways.
Like a gondola ride, De Pisis is not for you if you will fret about the cost. But if you want a memorable, first-class experience, then this fits the bill. On the menu, you will find a good range of antipasti, pasta, and main courses. All of the dishes are well prepared from the freshest ingredients and pleasantly presented. There is also a huge list of national and international wines, which is very pricey but worth it.
The staff is very attentive while welcoming people in a pleasantly relaxing atmosphere. Those who like desserts can order delicious homemade Tiramisu. Overall, the service is first class, warm and personal, the food is excellent, high-quality, and beautifully presented, while the setting is pretty romantic with an enchanting view of Venice.
The restaurant is not cheap, so understand what you are getting into. Only cover charge is 15 euros per person. Therefore, this place is for anyone willing to spend money and is more interested in the setting rather than the food. De Pisis Restaurant is open every day for breakfast from 7:00 AM (7:00 hours) to 11:00 AM (11:00 hours), for lunch from 12:30 PM (12:30 hours) to 3:00 PM (15:00 hours), and for dinner from 7:00 PM (19:00 hours) to 10:30 PM (22:30 hours). Make sure to book your table in advance.
Location: San Marco, 1413/d
Website: Signa.at
Distance: 400 meters (0.2 miles) from St. Mark's Square in Venice
Phone: +39 041 240 6889
Top of the Carlton Sky Lounge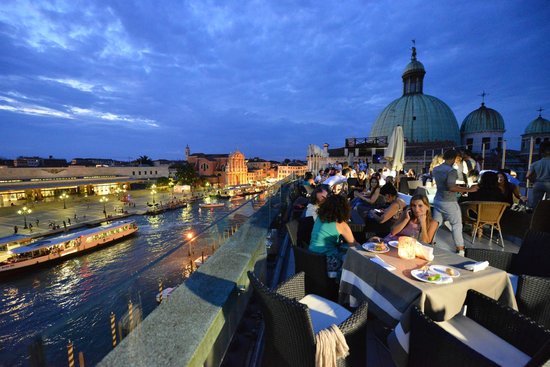 Top of the Carlton Sky Lounge is a lovely place located on the 4th floor of the Hotel Carlton on the Grand Canal. To reach it, you have to enter directly from the hotel, then take the lift up to the fourth floor. The restaurant is neat and modern in design and has a relaxed, informal atmosphere. The view on this rooftop restaurant gives you a beautiful view of the Grand Canal.
The canal traffic is always buzzing, so you have tons of things to watch and enjoy a relaxing drink and meal. The price level is a bit higher compared to ground-level restaurants, but the view is the reason why you are paying a higher price. There is an excellent cuisine with refined and gourmet dishes but also a stocked bar with wines, cocktails, and beers.
The menu has some interesting local options, and the food is pretty good and tasty, although some portions are small. Worth mentioning is that the restaurant is in front of the Santa Lucia station, which is very convenient for those who have an apartment in Mestre. Top of the Carlton Sky Lounge is open only from May to September from 12:00 PM (12:00 hours) to 9:00 PM (21:00 hours). It is advisable to book your table in advance.
Distance: 1.9 kilometers (1.1 miles) from St. Mark's Square in Venice
Phone: +39 041 275 2200
Where to find the best rooftop restaurants in Venice?
Even though there are a few thousand restaurants in Venice, not many of them are on rooftops. However, there are still some rooftop restaurants in Venice, and you can find them on top of elegant hotels. Prepare yourself for high prices because places with amazing views are always expensive in Venice. Keep in mind that the setting and views are things you are paying for. Rooftop restaurants are perfect places for anniversaries or romantic dinners, so don't expect that you will find your table without a reservation.
Check out more articles about Venice:
Hey there! Some links on this page are affiliate links which means that, if you choose to make a purchase, we may earn a small commission at no extra cost to you. We greatly appreciate your support!