While exploring the fascinating canals and architecture of Venice, you will want to stop somewhere for a bite. Why not eat as the locals do? Like most Italian regions, the city has developed its own special cuisine. There's a huge variety of local dishes. However, Venetian cuisine isn't compatible with all diets.
Visitors following Kosher law won't be able to try a handful of the local dishes in Venice. Their food leans heavily on a few problematic ingredients, including shellfish, sirloin, and pork. Finding a local spot to eat with Kosher options can be a challenge, but they exist! These are more than just restaurants with 2 or 3 menu options.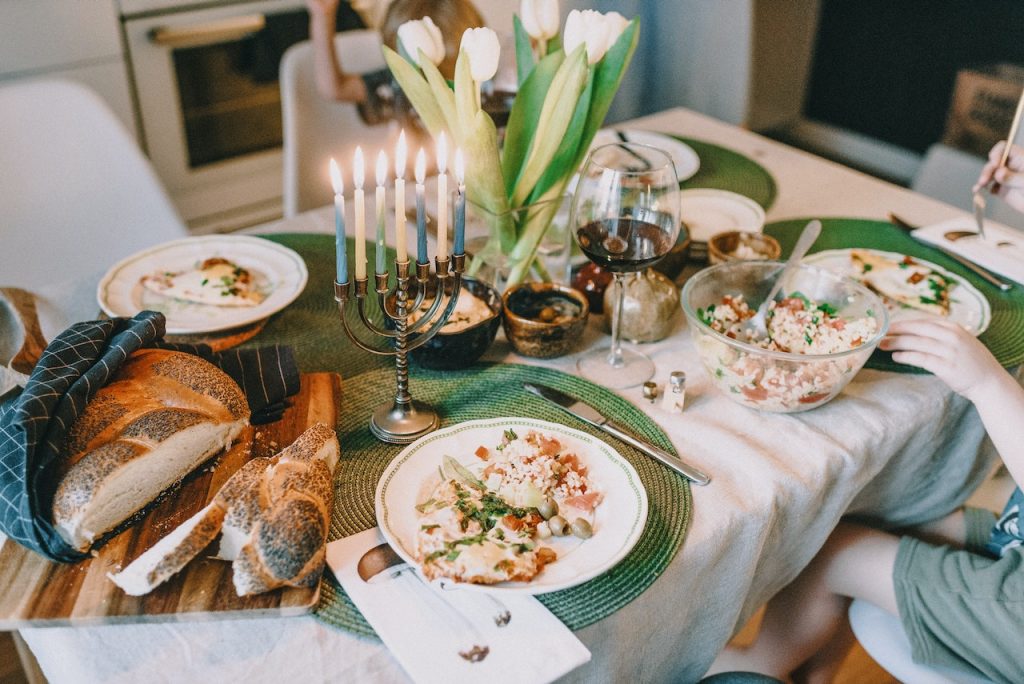 They're 100% dedicated to crafting an unforgettable dining experience catering to Jewish dietary needs. Each is approved by the chief Rabbi of Venice. These restaurants' menus feature some typical dishes from Kosher restaurants around the world but also some local flavors. Here are the best Kosher restaurants in Venice:
(This article contains 3 Kosher restaurants in Venice, which are best in our subjective opinion. The order of the restaurants is not related to the quality they offer. Every restaurant has its pros and cons, so choose the one based on your personal preferences.)
Ba Ghetto Venezia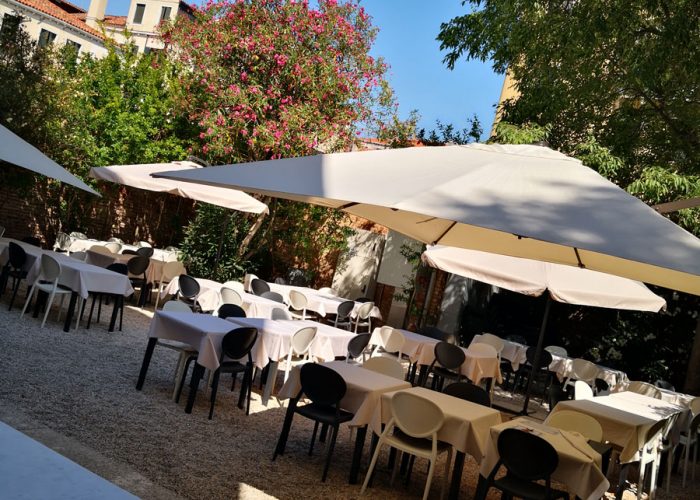 With a couple of locations across Italy, this particular one is tied to an integral piece of Venice's Jewish history. It's located in the heart of the city's small Jewish ghetto, the oldest of its kind, having been created in 1516. The name "ghetto" was even coined here. It meant "foundry," a reference to the metalwork industry in the neighborhood.
The neighborhood still has the same features as it did back in the day, complete with a synagogue, Jewish history museum, and a local population of about 450 Venetian Jews. The interior is rustic but modern. The exposed bricks, standing for centuries, blend perfectly with the tile floor and wine cabinets. From the outside, it appears more like the rest of the city's local eateries. But step inside for a real treat!
Their menu offers a unique blend of Judeo-Roman and Middle Eastern flavors. Try some more typical Kosher favorites like falafel, hummus, or chicken schnitzel. More local options include deep-fried zucchini flowers and various pastas. Some even feature alternatives such as pork-free carbonara made with goose breast!
Ba Ghetto also offers special Shabbat meals on Friday evenings and Saturdays. The spread varies each week, but you can count on them having the most typical Shabbat foods, such as challah bread, wine, and hors d'oeuvres. Bigger dishes often include cholent, a delicious stew simmered over 12 hours on Fridays, so no one has to cook on Shabbat. However, sometimes they prepare pasta dishes and more localized fare, all complying with Kosher law, of course.
The restaurant is open from 11:30 AM (11:30 hours) to 11:00 PM (23:00 hours) from Sunday through Thursday. Friday dinner and Saturday lunch are reservation-only for Shabbat. You can book online via the restaurant's website. Pre-payment is done to comply with Shabbat rules.
Distance: 2 kilometers (1.2 miles) from St. Mark's Square
Phone: +39 041 934 5962
Gam Gam Kosher Restaurant
This restaurant makes its home in the Cannaregio district, on the edge of the Jewish ghetto. Its canal-side location makes it the perfect place to grab a Kosher-friendly bite with a view!
Gam Gam has been serving Jewish cuisine to Venice for over 25 years. It's owned by locals whose lineage traces directly back to the local Jewish community of the 15th century.
The menu is equal parts Venetian and traditional Jewish food, but all of it's Kosher! Start off with Venetian deep-fried sardines, hummus, or both! For the first course, treat yourself to some lasagna or a couscous-based dish with meat or fish. Being Kosher doesn't mean missing out on seafood. They offer some tasty alternatives to the many shellfish-based local dishes, like red sea spaghetti, which includes spicy fish instead of mussels or shrimp.
For the second course, try one of several specially-prepare fish plates. From traditional Gefilte fish to baked seabass, you can choose your own culinary adventure. Gam Gam is closed to regular customers for Shabbat. They also offer a special takeaway menu for the day. Reserve your meals, and pick them up the day before! Hotel delivery is also possible anywhere in the city.
In the wintertime, they do open one hour after Shabbat ends on Saturdays and stay open until 11:00 PM (23:00 hours). They also open at noon on Fridays and close early, depending on when Shabbat begins. Besides these exceptions, they're open Sunday through Thursday from 12:00 PM (12:00 hours) to 10:00 PM (22:00 hours). They recommend reserving by phone and not e-mail in order to confirm your table as fast as possible!
Distance: 2 kilometers (1.2 miles) from St. Mark's Square
Phone: +39 366 250 4505
Panificio Volpe Giovanni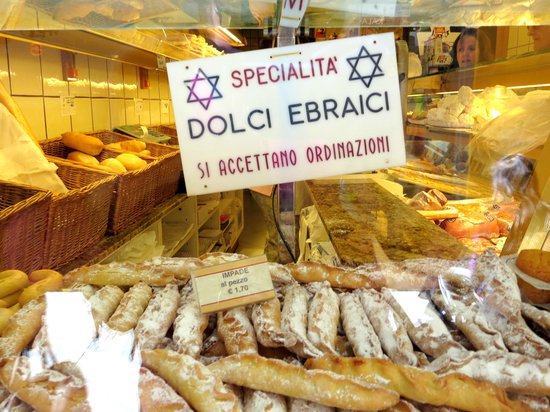 Situated in the heart of Cannaregio, this place is the only of its kind in Venice and possibly all of Italy! It's not a restaurant but a bakery churning out delicious sweet, and savory goods to the neighborhood.
Bakeries aren't an unusual sight in Italy. You can find them on most street corners pumping out delicious treats. However, like the first two places on this list, Panificio Volpe Giovanni serves an incredible blend of Italian and Jewish flavors to the neighborhood.
The best part is that everything is Kosher! The selection is massive, from bread to any little Italian pastry your heart desires. On any given day, you can most likely choose from focaccia or unleavened bread. Craving something sweet? They've got you covered. You can find fresh-baked cookies typical of all Italian bakeries alongside sweet matzo cookies with fennel seeds!
This is also a great opportunity to try a sweet Venetian delicacy called Pincia. Described as a cross between fruit cake and bread pudding, few places do it better than this spot. The best part is that they have something for everyone. Among their huge offerings are always a few Pareve (meat and dairy-free) choices.
This also makes the place a great choice for vegans, as many Italian pastries contain dairy of some kind. This bakery stays open from 7:00 AM (7:00 hours) to 6:30 PM (18:30 hours) from Monday through Saturday. However, get there as early as possible to have access to the biggest selection. It's a popular choice, so many items sell out, and you might have to wait until the next batch is done if they even make any more that day.
Location: Calle del Ghetto Vecchio Cannaregio, 1143
Website: Facebook page
Distance: 2 kilometers (1.2 miles) from St. Mark's Square
Phone: +39 041 715178
Where to find the best Kosher restaurants in Venice?
If you are looking for Kosher restaurants in Venice, the Cannaregio part of the city is the place you have to look at. This district in Venice is known for its Jewish quarter or Jewish ghetto. Besides Kosher restaurants, you will find old synagogues, art galleries, and the Jewish historical museum. Good to know is that Cannaregio is usually much quieter than other parts of Venice, so you can enjoy your meal better.
Check out more articles about Venice:
Hey there! Some links on this page are affiliate links which means that, if you choose to make a purchase, we may earn a small commission at no extra cost to you. We greatly appreciate your support!