Good food equals a good vacation, and Venice has plenty of opportunities for you to broaden your culinary horizons. The city has its own incredible cuisine, which it has developed over the centuries. Much of it is based on what's available from the nearby Venice Lagoon. Therefore restaurant kitchens across the island prepare a variety of seafood dishes that no other city can claim as its own.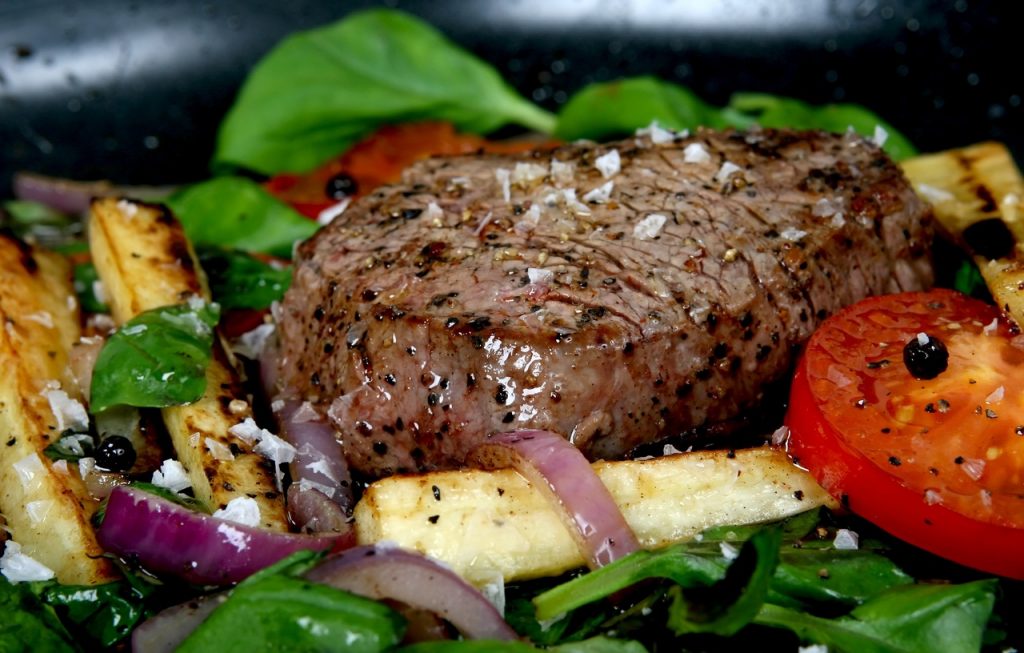 Sometimes, though, all you need is a good steak. Lucky for you, Venice has plenty of it! Juicy, top-quality steaks and other grilled meats are a popular second-course offering at most restaurants here, so it's nothing out of the ordinary. However, if a steak is what you're mainly after, it's best to stop by a restaurant that specializes in grilling meats. While most restaurants offer steak, you will find some places with whole menus of them! Check out our guide to learn more about the best steak restaurants in Venice!
(This article contains 3 steak restaurants in Venice, which are best in our subjective opinion. The order of the restaurants is not related to the quality they offer. Every restaurant has its pros and cons, so choose the one based on your personal preferences.)
Al Grill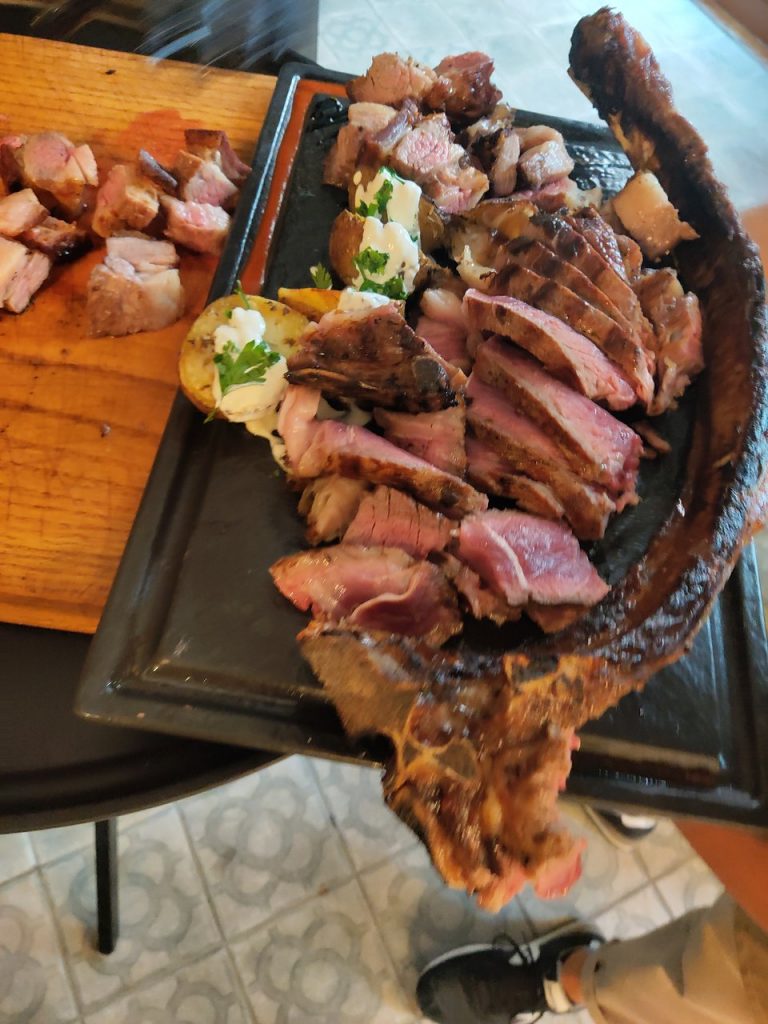 This meat lover's paradise is located in the heart of the historic San Polo neighborhood. As their name suggests, their primary mission is to serve up top-quality grilled meats to the city of Venice. In their own words, meat is king on their menu. They only purchase first-choice cuts from trusted suppliers.
Their aperitifs are a popular draw, and the dining room is usually full of locals before the kitchen opens for dinner. Here, you can try Venice's most famous cichetti (tapas), such as deep-fried sardines, creamed cod, and different varieties of polpette (meatballs).
When it's time for the main attraction, choose from a range of prime meats. Most are beef and include classics like the T-bone, tomahawk, or the Brazilian Picanha if you want something with a little more fat on it. Never short on meat, they also offer lamb chops, ribs, and plenty more! Meat dishes usually come with a side of roasted vegetables and potatoes. French fries are also available as a substitute.
Once you've been served, the staff are willing to cut your meat table-side as a complimentary service. However, it's up to the desire and comfort of each customer. Great meats have to be paired with equally great wines! Al Grill always has over two dozen different types on offer.
The staff, ever knowledgeable, will know straight away which ones to pair with your meal. They're available by the glass or bottle. Stop by the restaurant for a mouth-watering steak from noon to 10:30 PM (23:30 hours) any day except Tuesday. Since it's one of Venice's premier steakhouses, call the restaurant and reserve to ensure you get a table.
Distance: 1.2 kilometers (0.7 miles) from St. Mark's Square
Phone: +39 041 319 4621
Salus Grill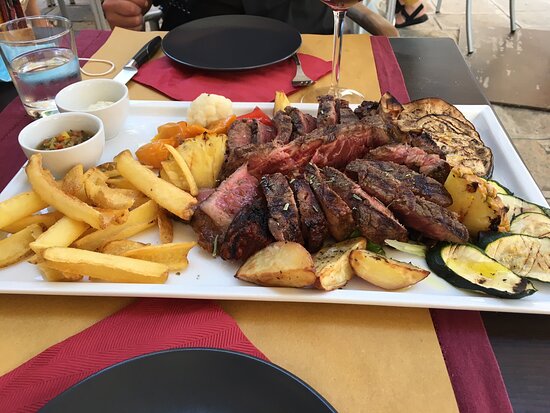 Located in the Santa Croce district, this steakhouse is easy to reach, as it's just a short walk from the grand canal. However, despite its central location, the neighborhood is off the beaten path and has a more down-home, local feel than nearby San Marco. This is a place to go if you prefer being around locals and tasting quality, slow-cooked meals.
The restaurant is a grill first and foremost, so expect a meat-heavy menu! Like the previous restaurant, most of the meats they offer are prime cuts of beef like T-bones, tomahawks, and ribeye. The staff may recommend you get your steak Florentine-style, but you can have it any way you'd like. Their ribs are a hit, too. Dine at Salus Grill, and you will probably see groups of locals devouring several racks of them.
Dining with friends or family? Feed your hungry party with a grilled mix. You will get a massive platter piled high with different meats on a bed of roasted potatoes and vegetables. On the other hand, they have plenty of individual plates if you're dining solo or for two. To spice things up, ask for the dried chili oil to go with your potatoes. It's a match made in heaven!
In addition to their impressive grill menu, you can get some other local choices. Choose from a variety of salads, pasta dishes, and even Chinese dumplings. Yes, you read that right! The head chef is especially proud of this menu item and has been known to go out into the dining room and watch guests try them to make sure they're happy with them.
The restaurant is open from 11:00 AM (11:00 hours) to 11:00 PM (23:00 hours) daily. It's recommended to reserve for dinner on weekends and during peak seasons like summer. Call them in advance, and try the dumplings. You won't regret it!
Distance: 1.7 kilometers (1 mile) from St. Mark's Square
Phone: +39 041 847 5676
RistoPub Rossini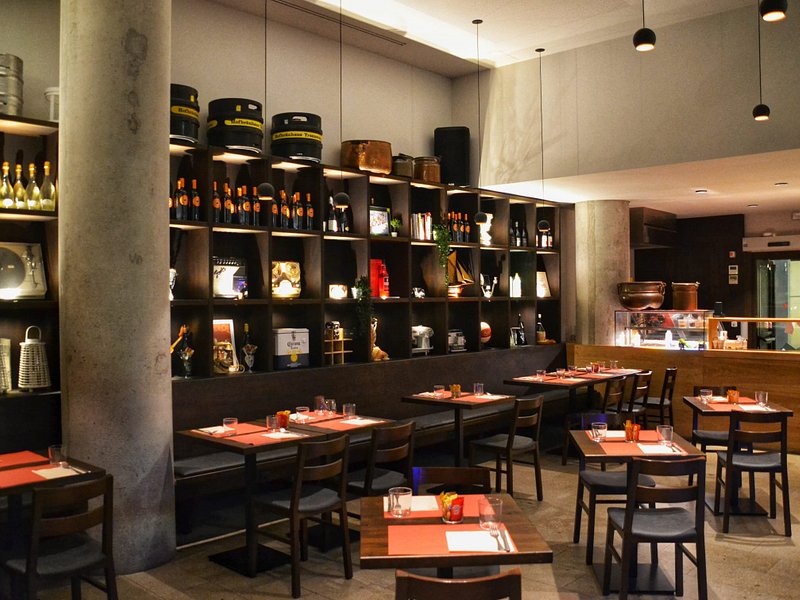 This grill house isn't like most Venice eateries. Located in the lively San Marco neighborhood, this place is all about meat and claims superlatives such as the best burger and longest bar counter in town!
Their restaurant is a unique locale, the atmosphere of which might remind you more of an upscale American sports bar. They broadcast big sports matches on TVs scattered across the dining room and host live music from time to time.
Their menu is equal parts Italian and American. For appetizers, you can try stuffed olives and fried polenta, or perhaps onion rings and chicken wings! Then, move on to your meaty main course. Choose from all the popular varieties of steaks like New York, Florentine, Picanha, and more. They also serve pork dishes like ribs and shank, both glazed in beer and roasted for hours.
Their burgers are their biggest claim to fame, though. You can keep it simple with an American cheeseburger or go all out with patties topped with pulled pork and coleslaw. For something totally different, get the tartare burger– a bun topped with top-notch beef tartare, arugula, and artisanal cheeses.
As to be expected, they carry a big variety of wines to accompany your meal. However, few Venice restaurants have a beer selection like RistopubRossini! They keep a regular rotation of local and international craft beers, all of which complement a burger or steak dinner flawlessly!
Stop by any day from 11:00 AM (11:00 hours) to 3:00 PM (15:00 hours) or from 6:00 PM (18:00 hours) to midnight for some unforgettable eats. They may have the longest bar counter in town, but the place still fills up most nights! Reserve a table via their website, and you're one step closer to one of the tastiest meals you'll have in Venice!
Distance: 550 meters (0.3 miles) from St. Mark's Square
Phone: +39 041 564 5541
Why should you visit the best steak restaurants in Venice?
Most restaurants in Venice offer pretty good meat dishes, but if you like T-bones, tomahawks, or ribeye, then you should pick a restaurant that specializes in grilling meats. Even though Venice is by the sea, and its main cuisine is seafood, it still has few high-quality steak restaurants. Whichever you choose, we guarantee that you will have an excellent meal with mouth-watering meat.
Check out more articles about Venice:
Hey there! Some links on this page are affiliate links which means that, if you choose to make a purchase, we may earn a small commission at no extra cost to you. We greatly appreciate your support!